A major new player in transpacific air travel has its newest U.S. destination planned.
Starting late this year, Taiwan-based Starlux Airlines will launch new nonstop service between its hub city of Taipei and San Francisco.
The service to San Francisco International Airport (SFO) will begin on Dec. 16.
Around since shortly before the start of the coronavirus pandemic in 2020, Starlux's latest service will mark its second U.S. destination; the carrier already serves Los Angeles International Airport (LAX).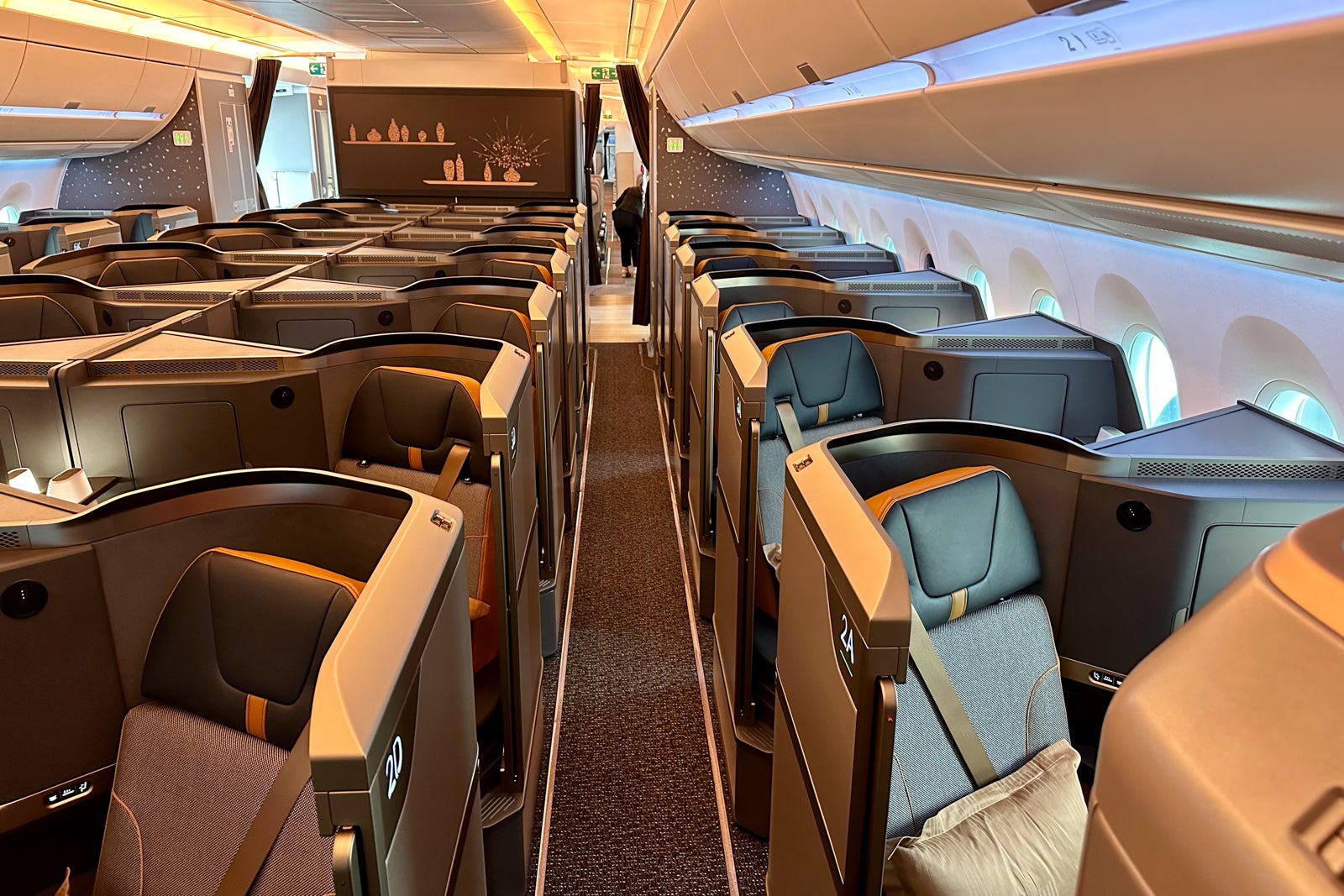 Flying aboard an Airbus A350 equipped with four cabins, Starlux will begin its Bay Area service with three weekly round-trip flights between SFO and Taipei Taoyuan International Airport (TPE) through the winter months.
Then, beginning next spring, the Taipei-based carrier will expand to daily service.
In announcing the new route, Starlux executives alluded to the demand it could see from business travelers, noting San Francisco's proximity to Silicon Valley.
"With one-third of its population of Asian descent, our new route will cater to these travelers' needs too, whether they are visiting family, vacationing, or traveling for work," CEO Glenn Chai said in a statement.
For U.S. travelers, the new route figures to be of interest to those looking to fly to Taiwan as their final destination or continue on to one of the carrier's many other destinations in the Asia-Pacific region, including Thailand, Vietnam and the Philippines.
Thanks to Starlux's partnership with Alaska Airlines, U.S. travelers also have opportunities to redeem points and miles with the carrier, despite Starlux not being a part of a major global airline alliance.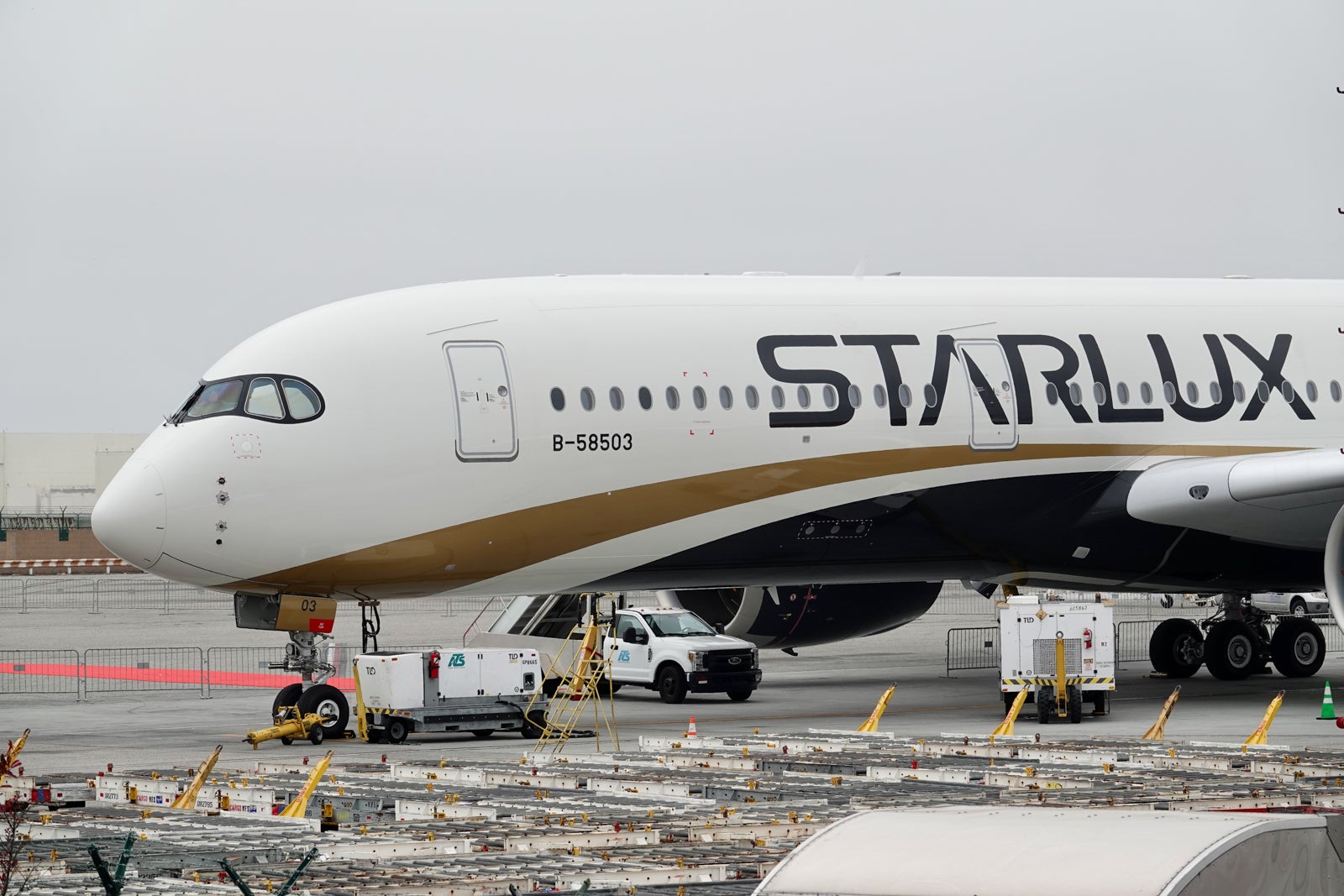 Route details
Starlux will operate three weekly round-trip flights between San Francisco and Taipei early on before expanding to daily service.
Details of the route are as follows: 
SFO-TPE (Tue/Thu/Sat): Departs at 11:40 p.m. PT, arrives at 5:30 a.m. local time two days later
TPE-SFO (Tue/Thu/Sat): Departs 11:30 p.m. local time, arrives at 6:15 p.m. PT
Starlux aircraft
Like its flights between Los Angeles and Taipei, Starlux will operate its San Francisco service aboard an Airbus A350 aircraft featuring new cabins and what the carrier describes as "exquisite dining" options.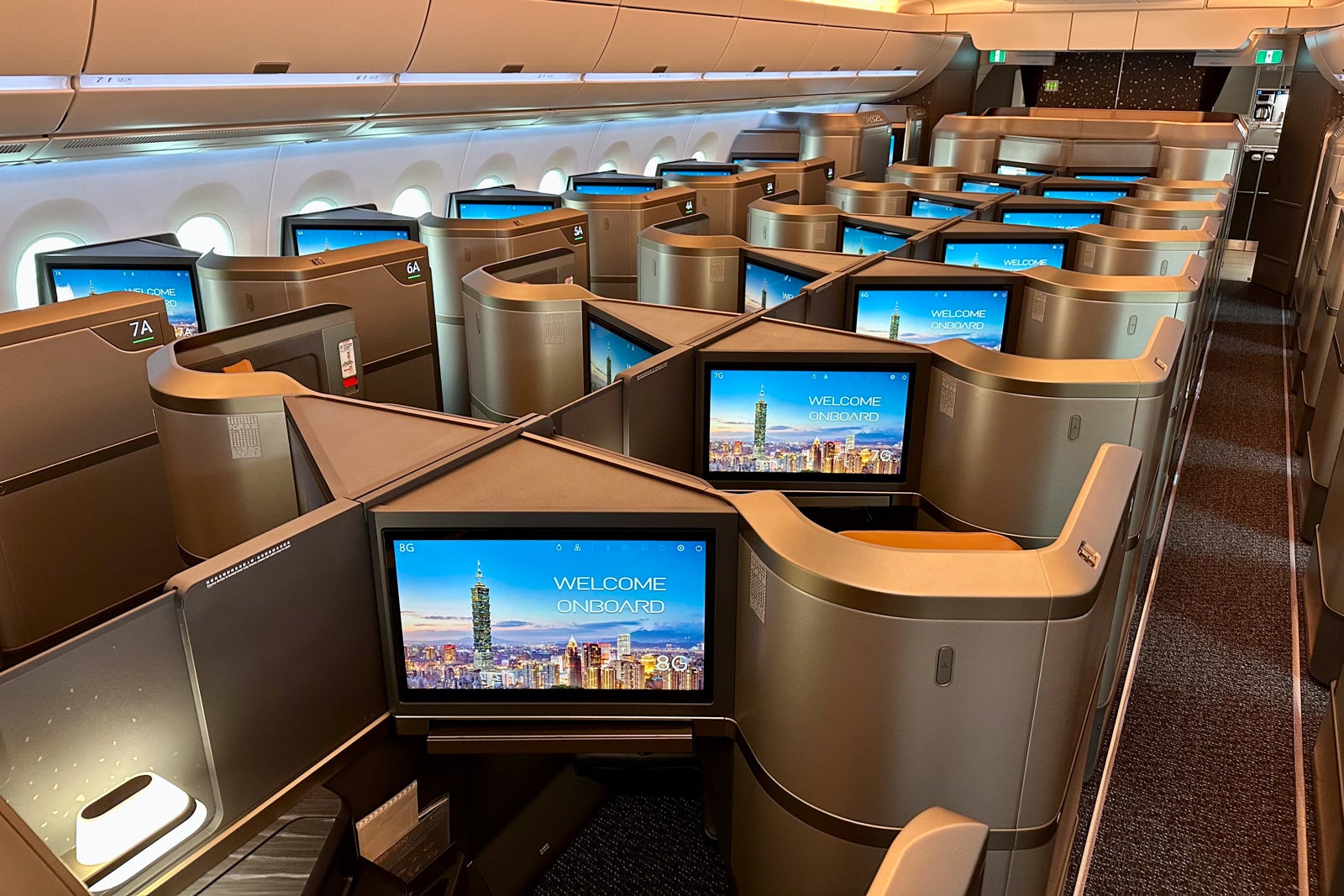 Cabins
Four first-class seats
Twenty-six business-class seats arranged in 1-2-1 configuration, each with lie-flat capability and direct aisle access
Thirsty-six premium economy seats, including more spacious accommodations and footrests
Two hundred and forty economy seats
In all, the aircraft seats 306 customers.
Even in coach, passengers will have access to 4K high-definition screens that are enabled for Bluetooth headphones.
How much does it cost to fly Starlux?
Starlux has already loaded its San Francisco flights into its booking channels. You can expect to pay transpacific prices when booking through the carrier's website.
For a seat on the inaugural flight in December (and a return a week later), the cheapest economy ticket we could find came to $1,861 round trip.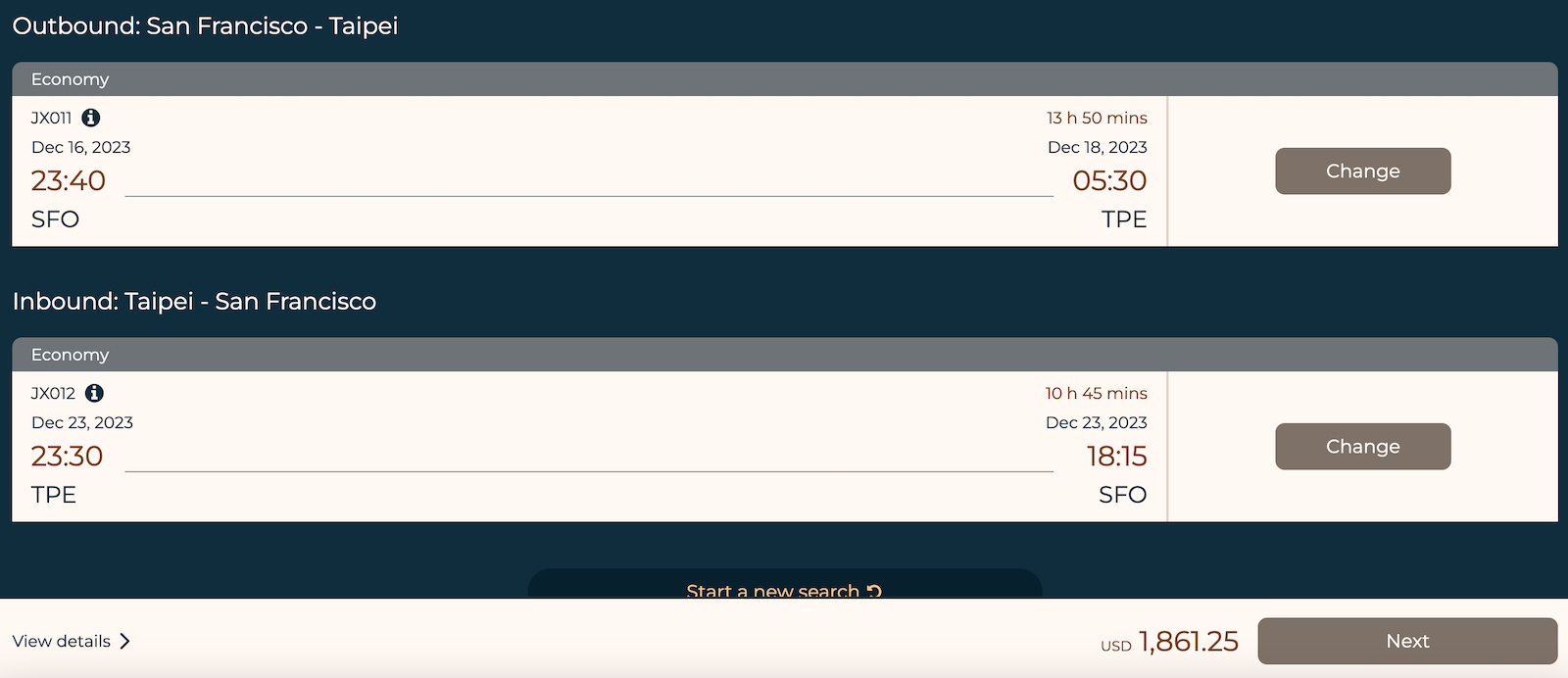 The same round-trip flight in business class came to a heftier price of more than $7,000.

However, for U.S. flyers, the best option for booking Starlux flights may involve going through Alaska Airlines' website since the two airlines have a new partnership. This is particularly true if you're hoping to redeem Alaska Airlines Mileage Plan miles earned directly through flying or transferred from a credit card rewards program.
There was a brief window when a round-trip flight in Starlux business class could be booked through Alaska for 75,000 Mileage Plan miles each way.  Unfortunately, it appears that availability has now dried up and the pricing has jumped dramatically to 165,000 Mileage Plan miles each way.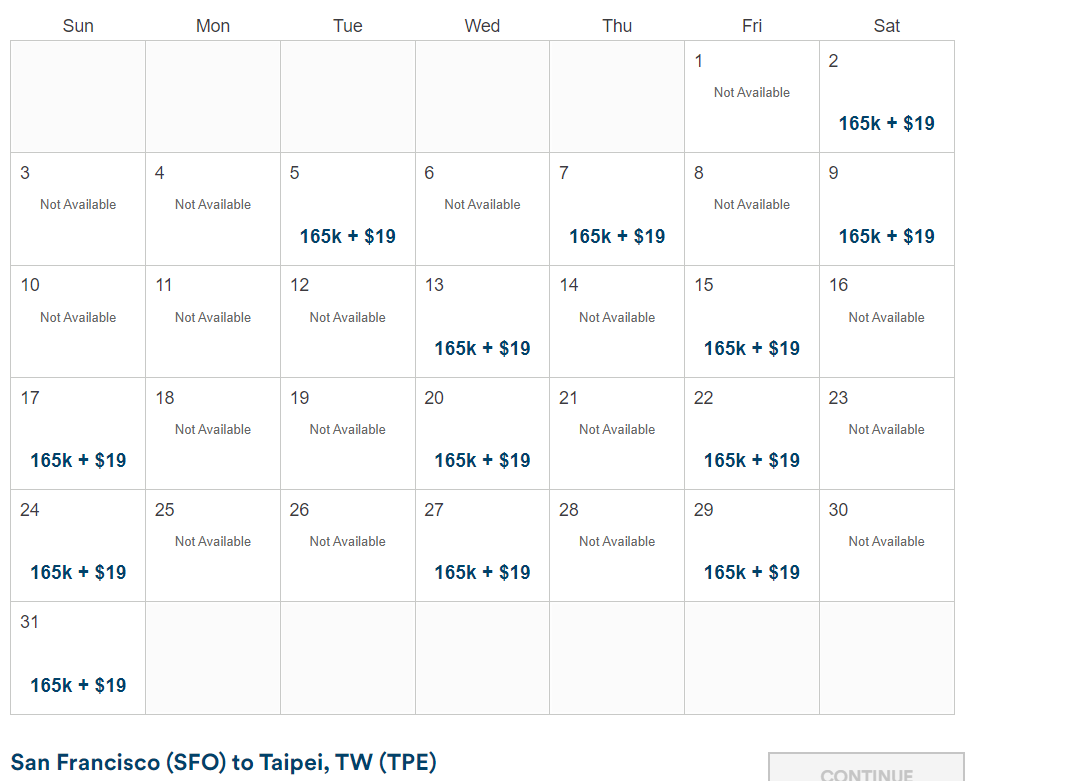 Bottom line
Starlux's latest route should provide new premium options for travelers considering a trip to Taiwan or elsewhere in Asia, especially those interested in earning or redeeming Mileage Plan miles.
This newest route isn't the only announcement expected from the carrier. Company officials recently promised details of a new route to Seattle sometime next year, signaling further expansion into North America is on the horizon.
Related reading: