I just returned from a five-night safari in Kenya, and while I've already reviewed the brand-new JW Marriott Masai Mara Lodge, what surprised me most about my trip was how I got to the property.
That's because my itinerary included two flights on AirKenya Express, a local carrier that offers scheduled flights to and from Masai Mara National Reserve.
While I had no idea what to expect from AirKenya Express, the experience turned out to be a highlight for this aviation enthusiast.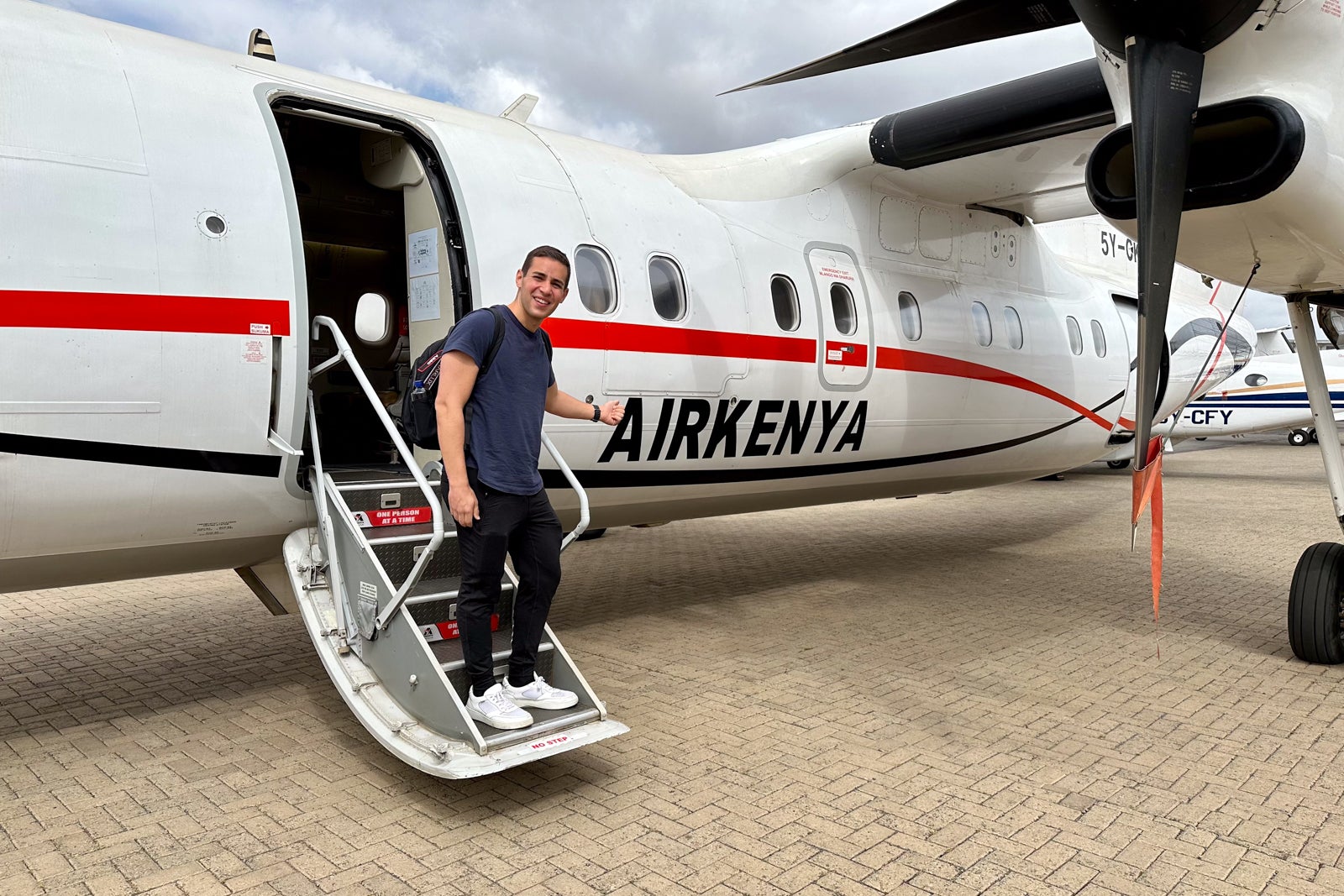 It started when I arrived at Wilson Airport (WIL) in Nairobi, Kenya, and gawked out the glass window near the check-in counter. Parked just steps away was a De Havilland Canada DHC-7 — or Dash 7, for short — an incredibly rare plane that's flying for only a handful of carriers worldwide.
Having never seen or experienced a flight on one of these nearly 50-year-old jets, I approached the check-in counter and asked if I could get a tour.
Want to read TPG's airline-specific news? Sign up for TPG's free biweekly Aviation newsletter.
After a bit of back-and-forth, the agent happily agreed and took me to see the plane, registered 5Y-BMP, which was first delivered to Henson Airlines (now known as Piedmont Airlines, a fully owned regional subsidiary of American Airlines) back in 1982.
When I stepped inside, it immediately felt like a blast from the past.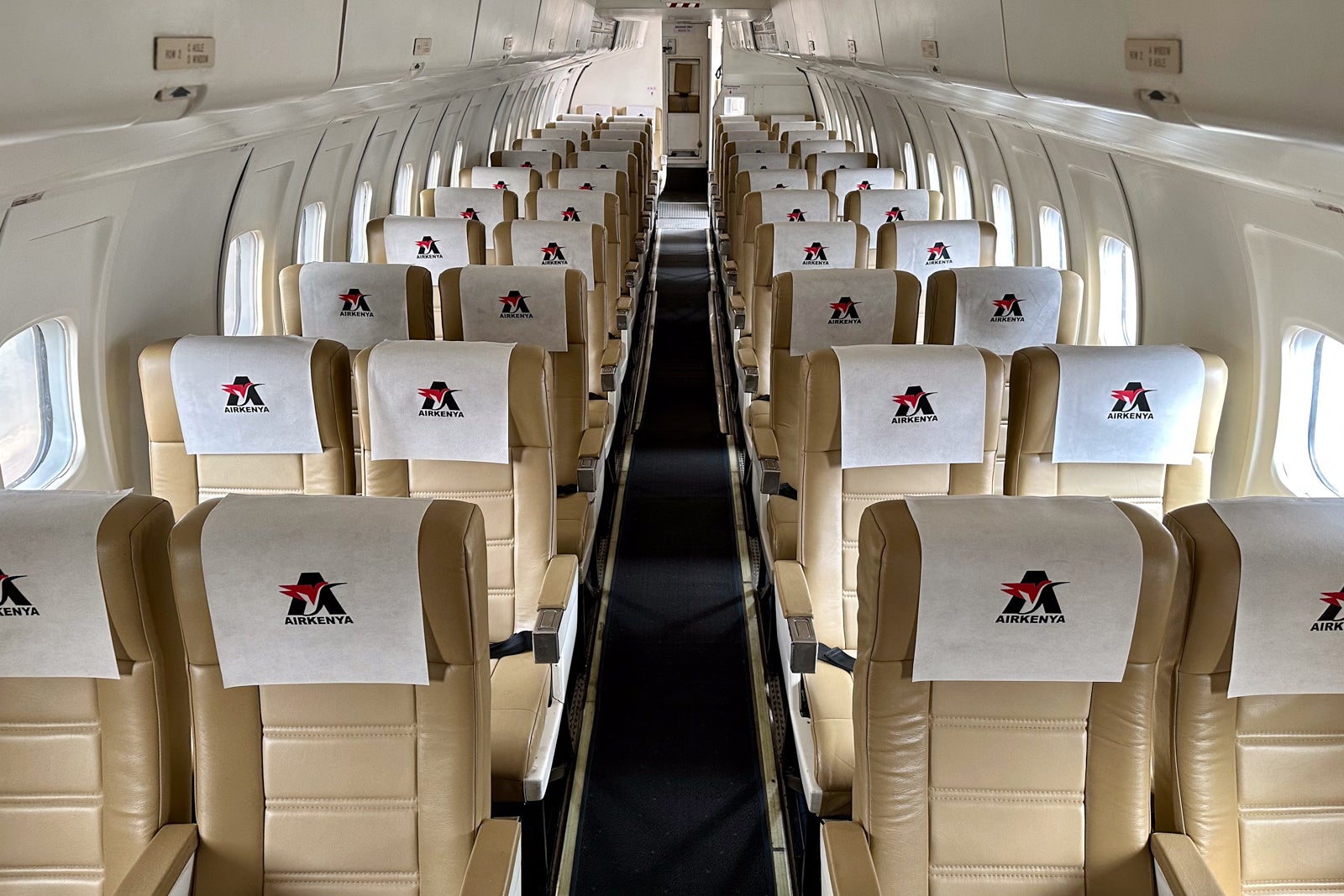 From the ashtrays on the armrests to the flight deck with virtually no electronic screens, this plane immediately transported me to another era.
I'm not sure if I've ever been on such an old aircraft. Even the old U.S. Federal Aviation Administration registration certificate was stuffed in a scratched-up display window behind the flight deck door.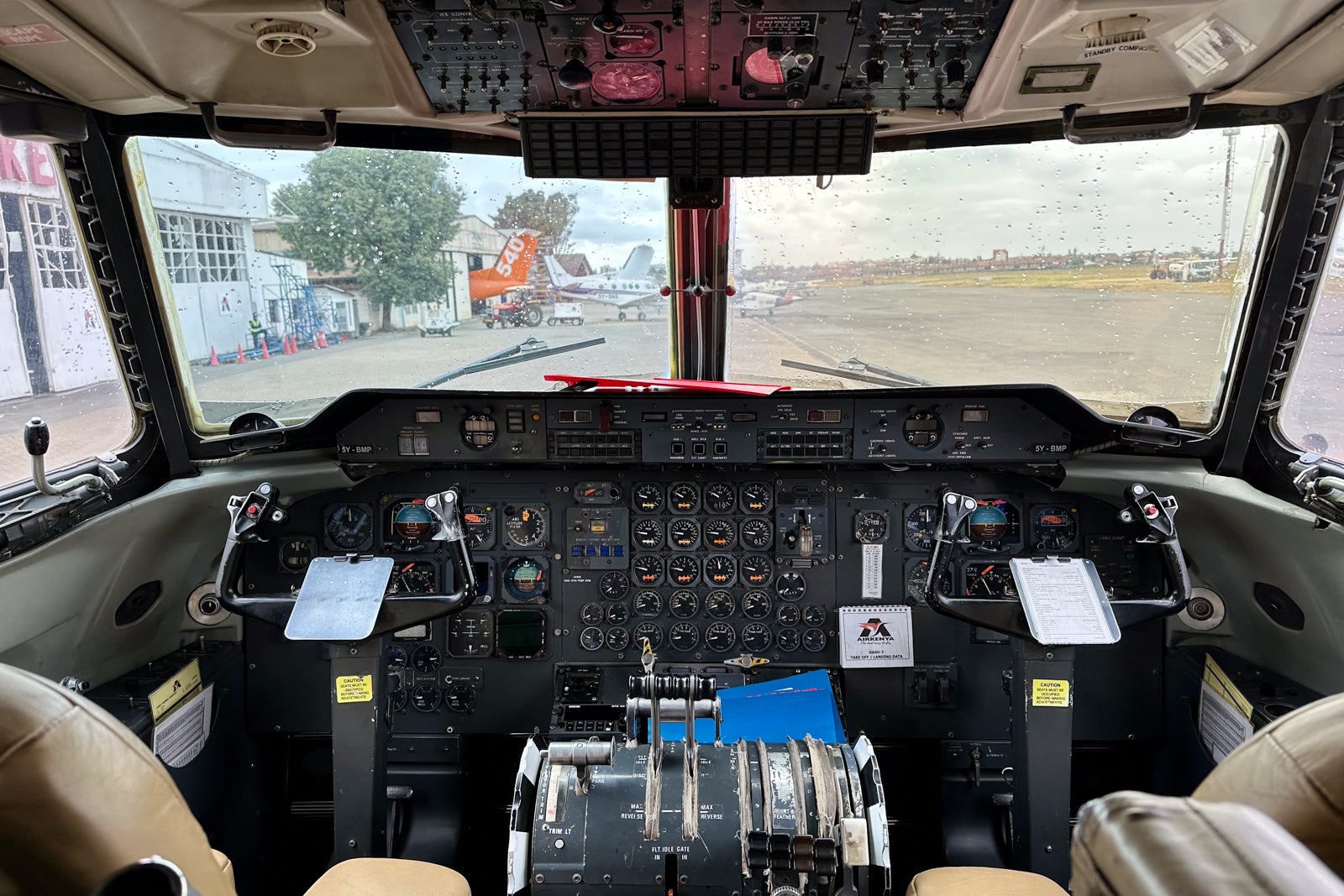 As for the cabin itself, I was surprised to see that the exit row had both rear- and forward-facing seats.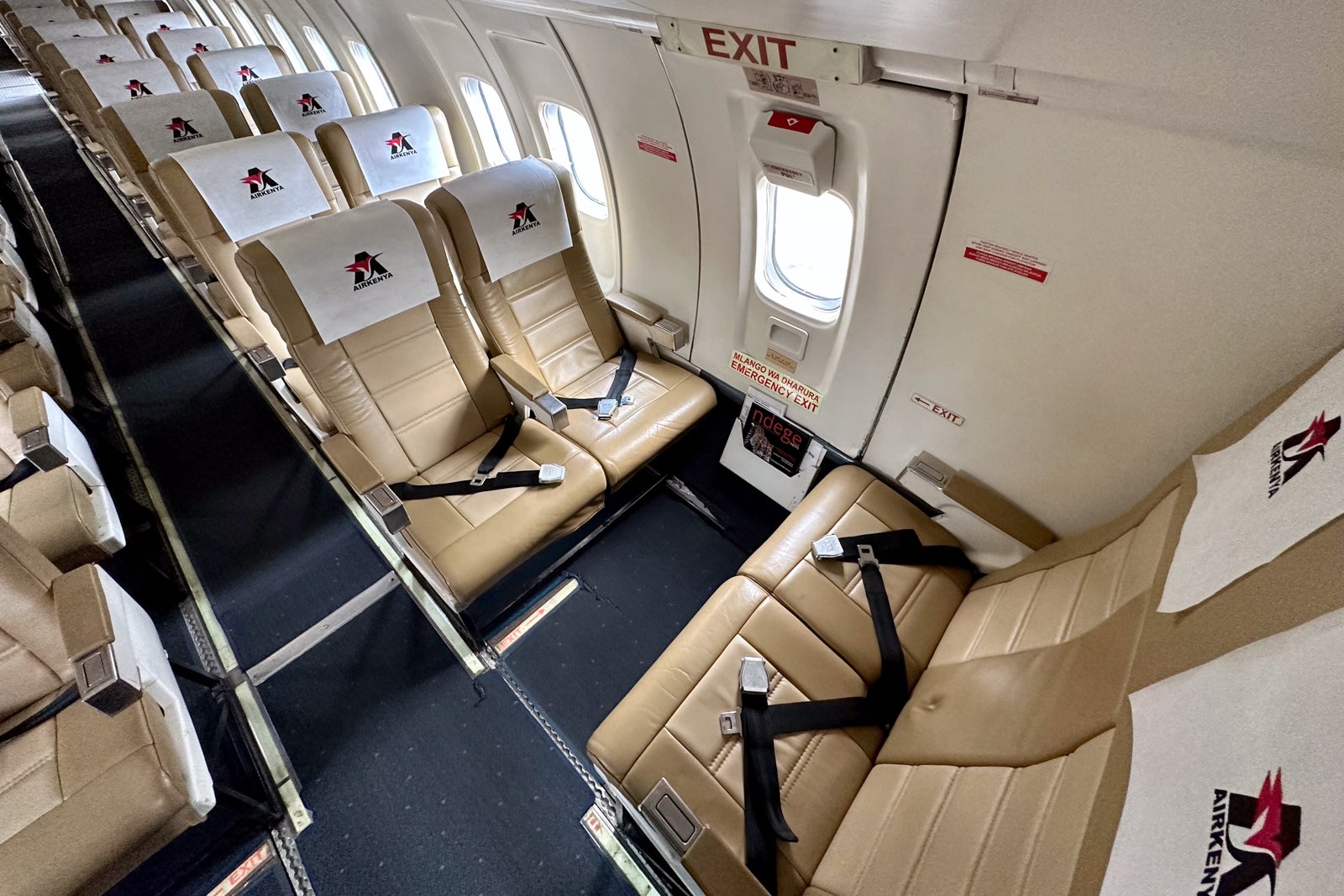 Another amenity I didn't necessarily expect but was pleased to see was a lavatory. It was actually quite spacious as far as regional jet lavatories go.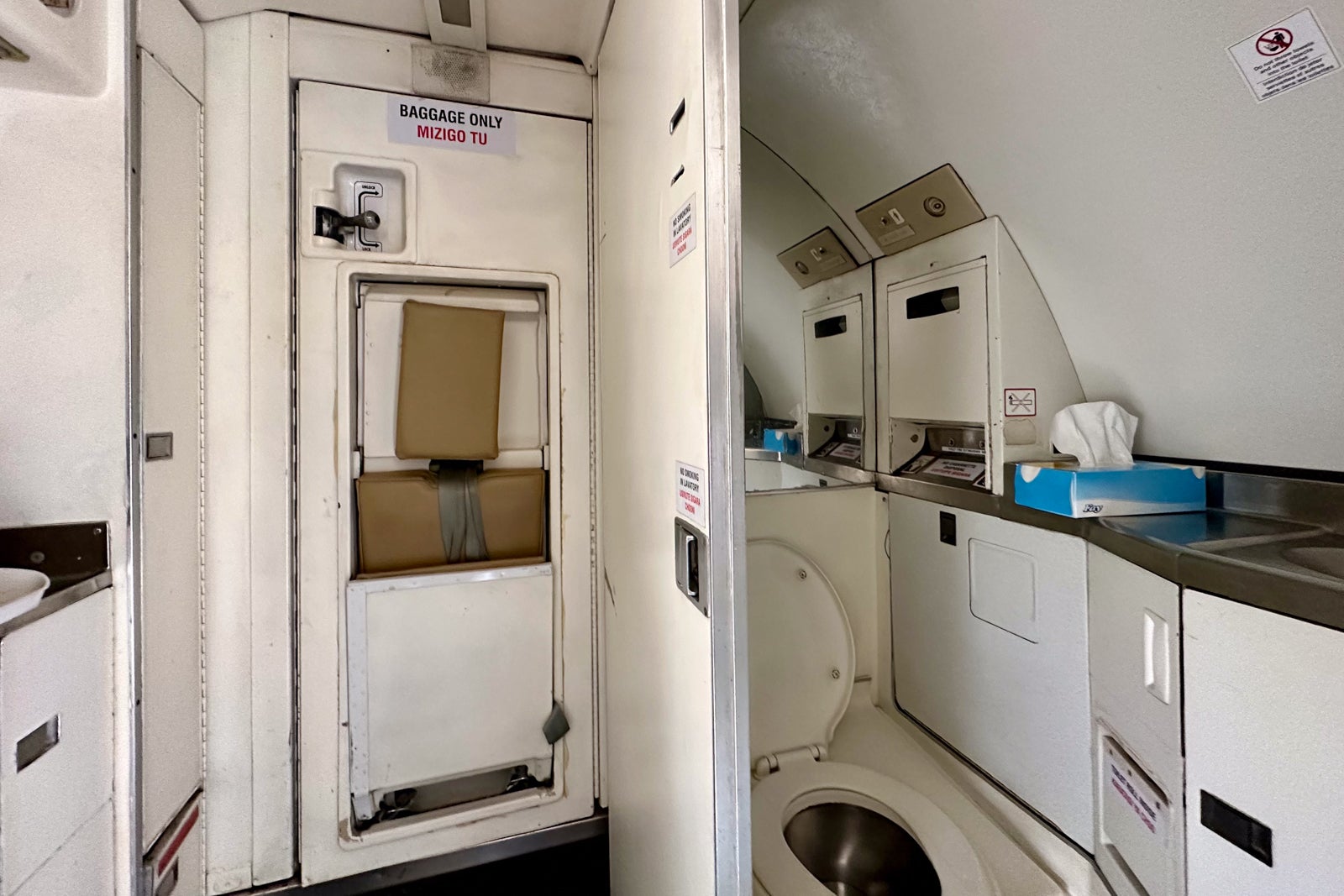 But what makes the Dash 7 unique is that it has four turboprop engines — a rarity for regional jets.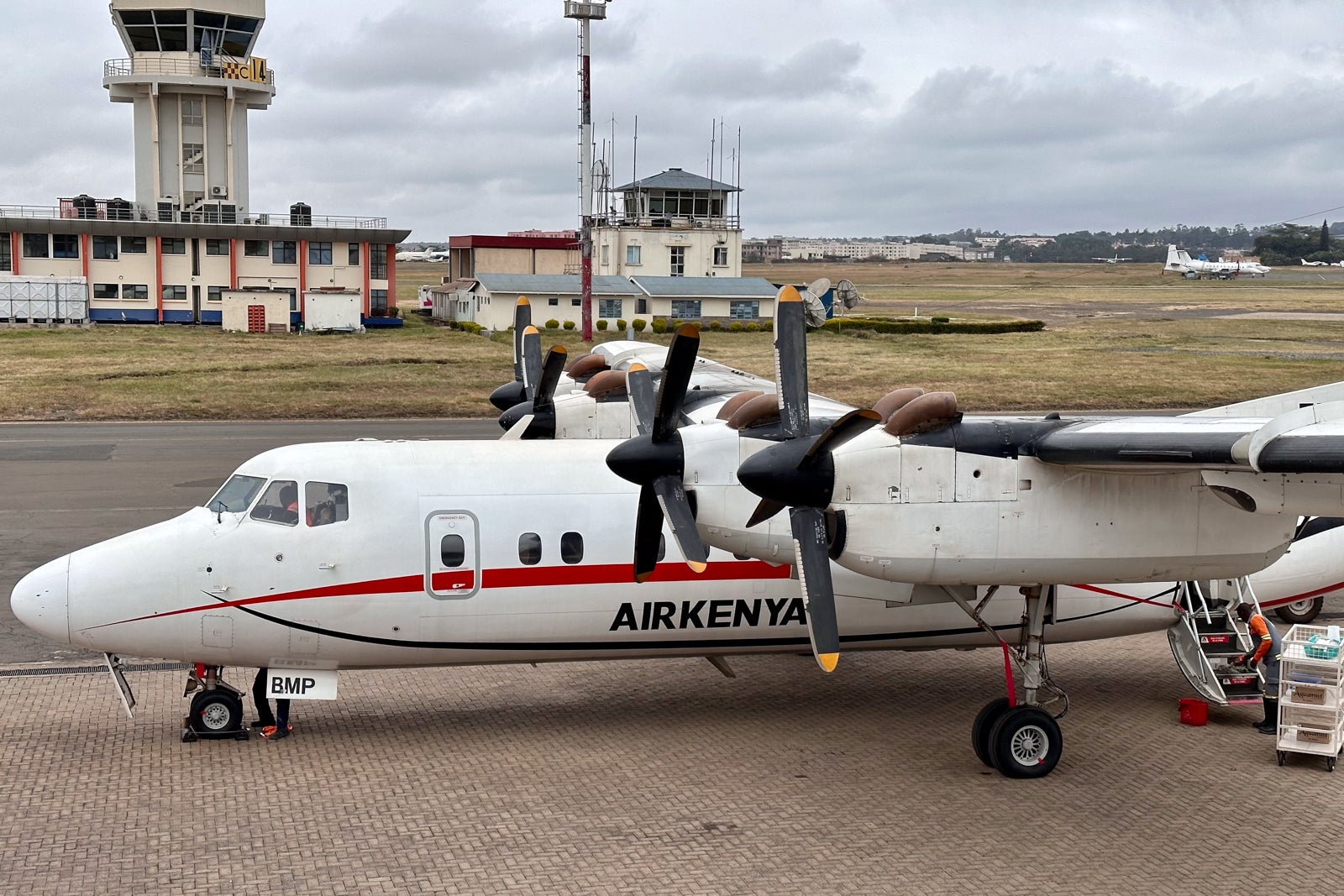 Though I thought that my quick tour of the Dash 7 would be the highlight of my AvGeek experience in Kenya, I was wrong.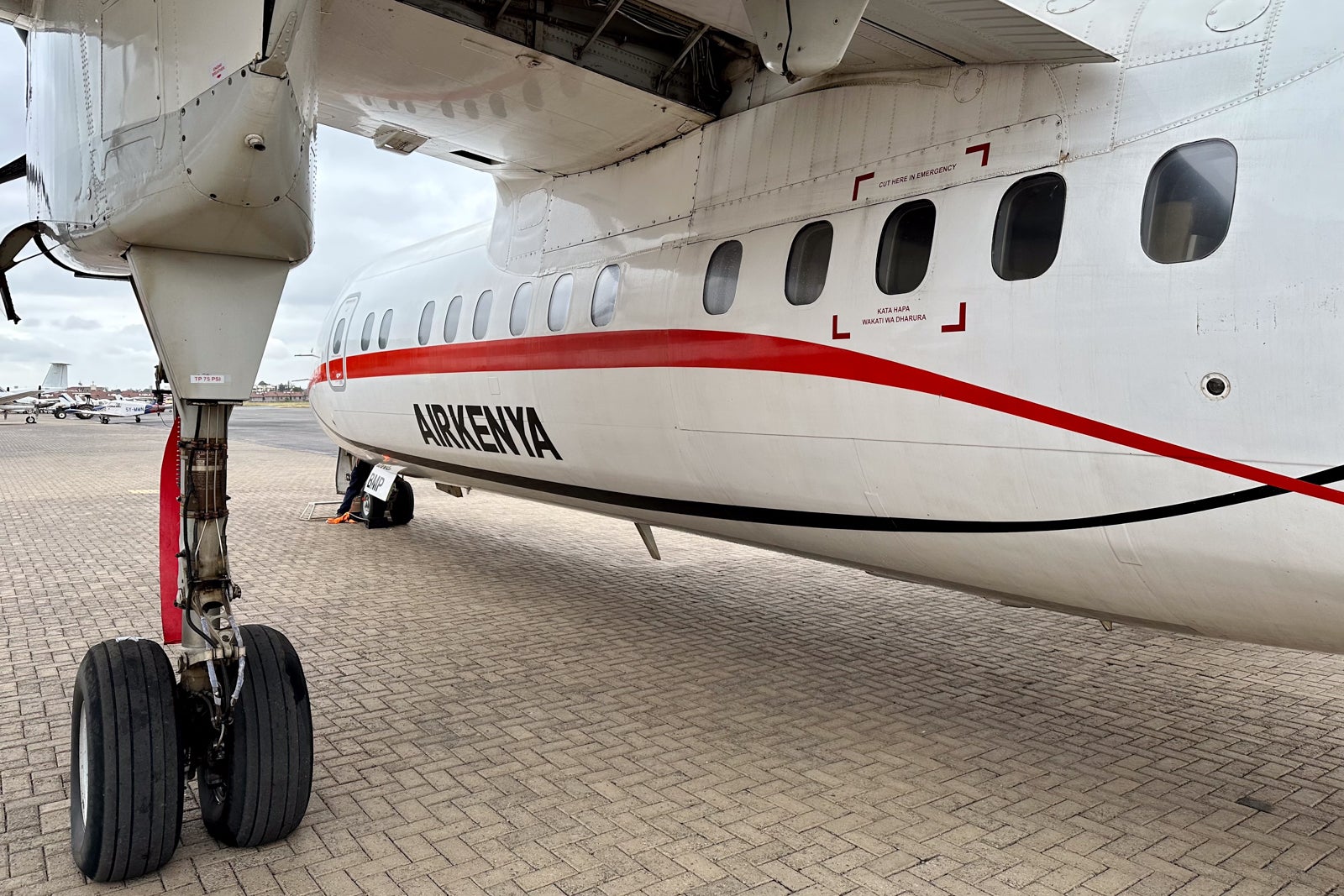 When it finally came time to board my flight to the game reserve, which was operated by a De Havilland Canada DHC-8 — aka a Dash 8 — the captain noticed me taking lots of pictures and videos of the cabin, including the rare five-seat last row.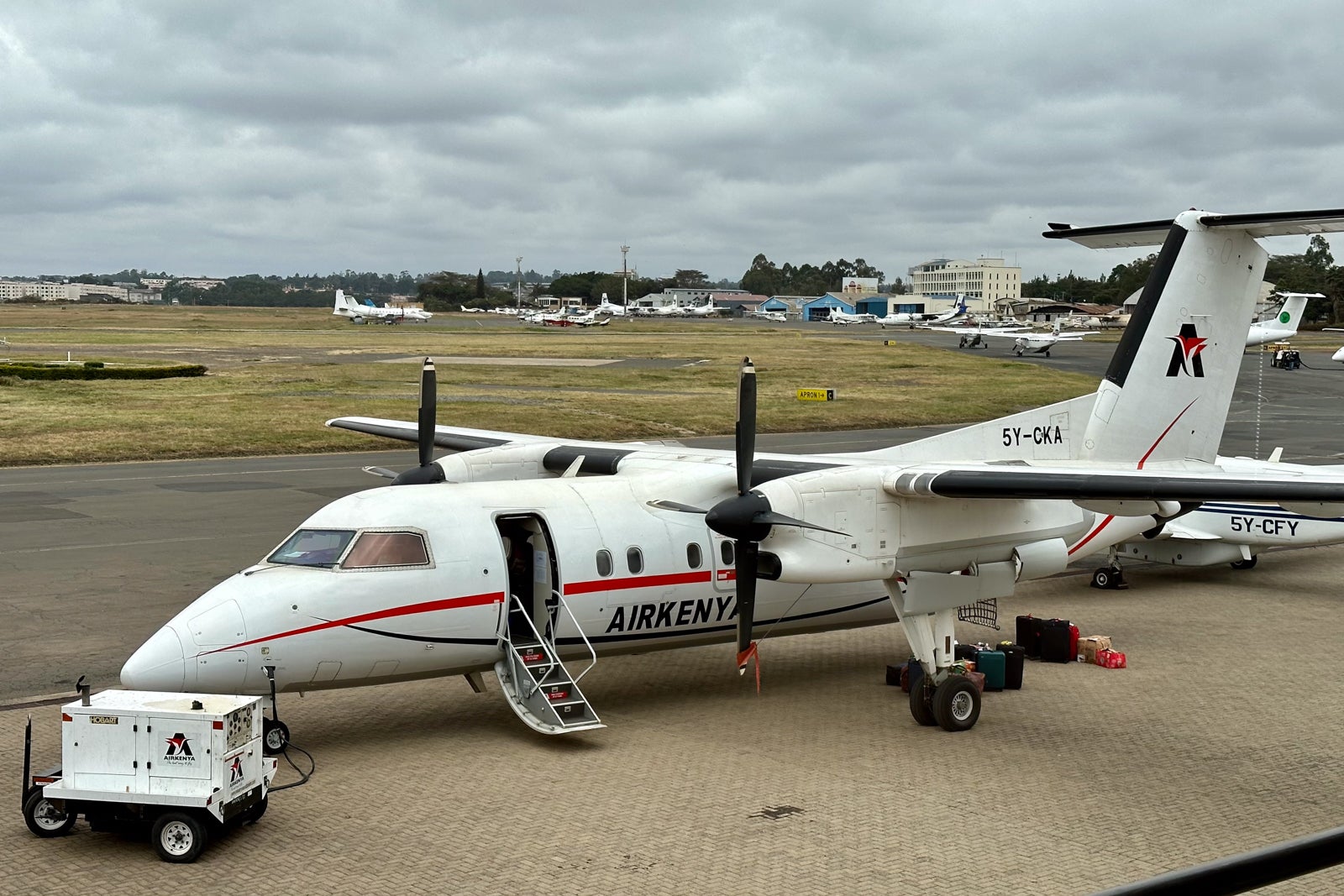 He approached me and asked what I was doing.
I explained that I am an aviation enthusiast and wanted to document my experience on this somewhat obscure airline.
His response was something I'd never hear back home: He invited me to ride in the jumpseat with him and the first officer.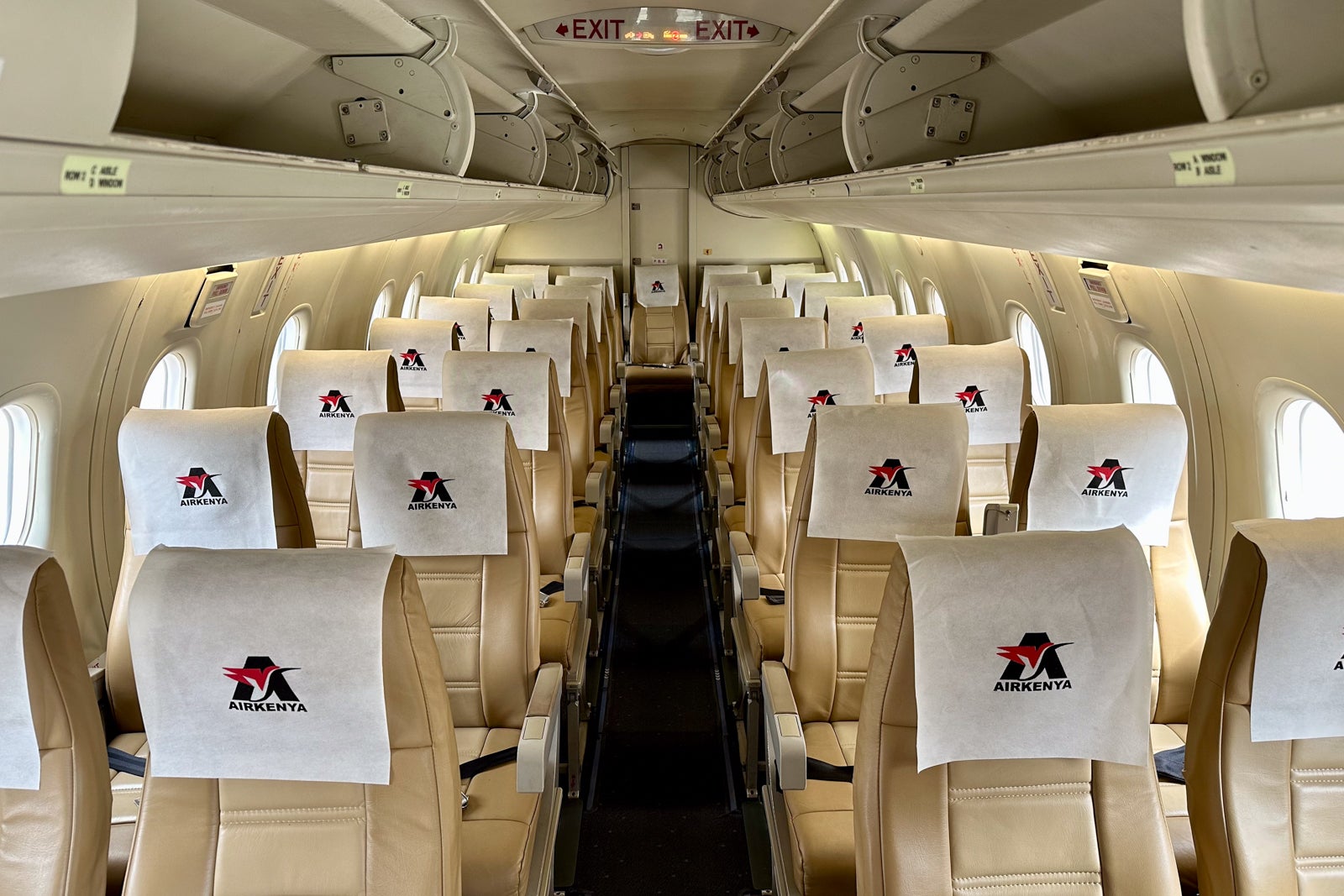 I enthusiastically said yes and proceeded to watch as the Dash 8 took to the skies from what's undoubtedly the best seat on the plane for an AvGeek.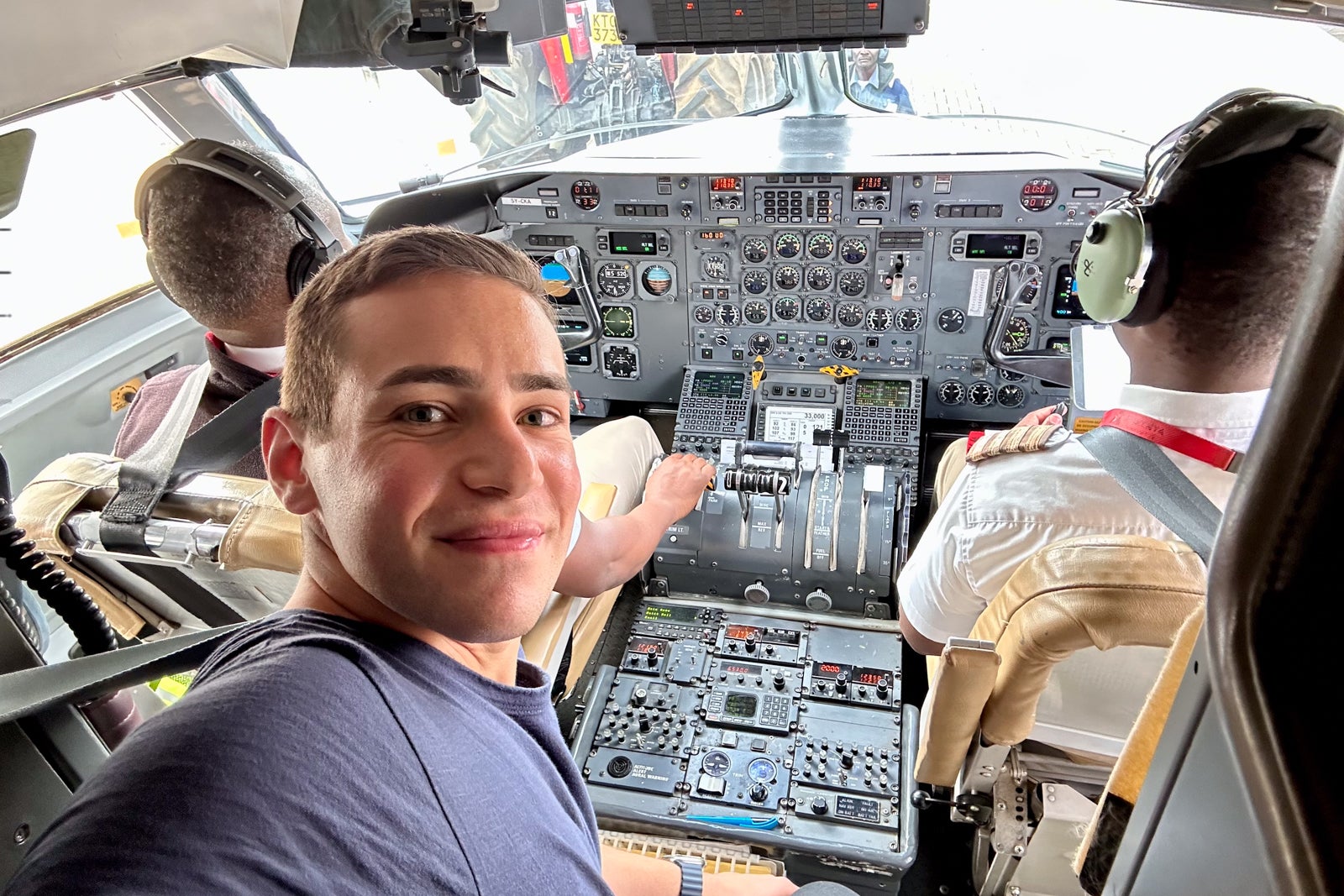 I've sat in the jumpseat once before, on an El Al Boeing 787 Dreamliner, but the AirKenya Express experience wasn't at all like the El Al one.
On the Dash 8, the pilots almost exclusively flew the plane by hand without using autopilot. Plus, the Dash 8 only features a few digital screens in the flight deck.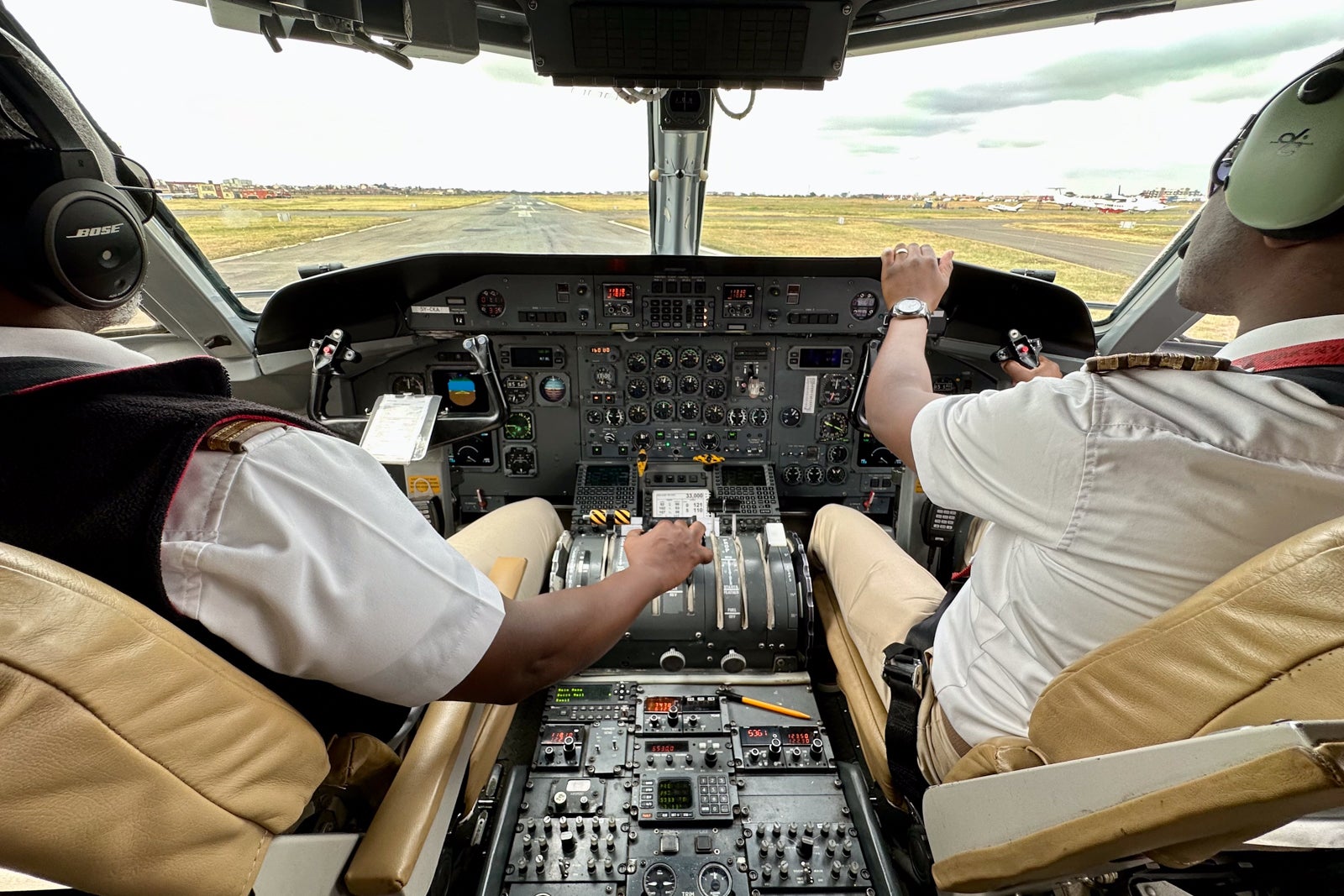 This was very different from my jumpseat experience on the Dreamliner, where sitting in the flight deck felt like I had entered a futuristic movie theater.
Before long, it was time to land in the nature reserve, but as I've experienced before on other safaris, this wouldn't be a traditional landing.
Instead, we'd be landing on a 4,200-foot-long gravel airstrip built directly into Masai Mara National Reserve.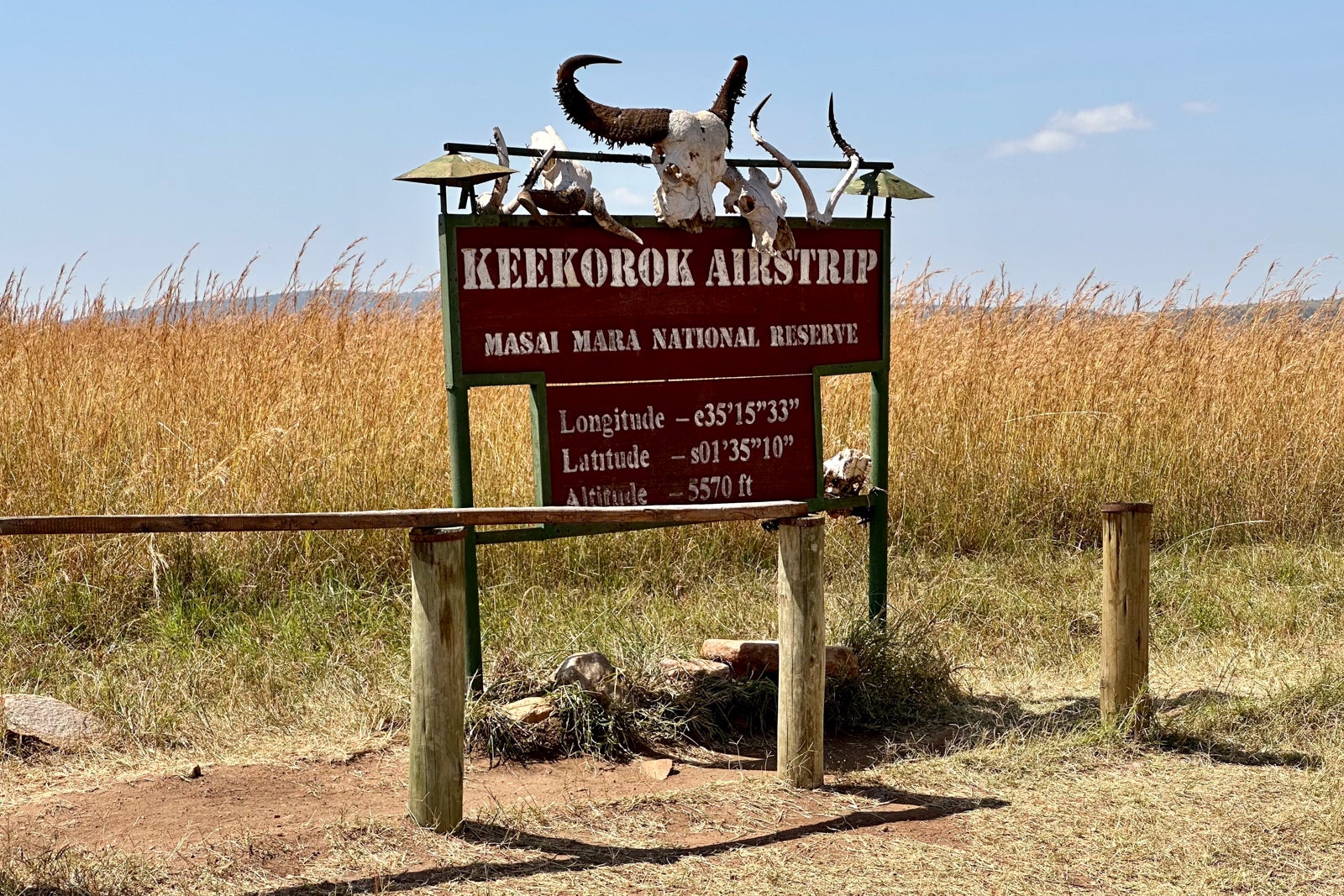 There were no air traffic controllers to communicate with nor any taxiways to use. Instead, the plane taxied to the end of the runway, made a U-turn and then dropped us off in a small pullout near the center of the runway.
That made for some incredible photos of the plane itself, capping off one of my most unusual aviation experiences to date.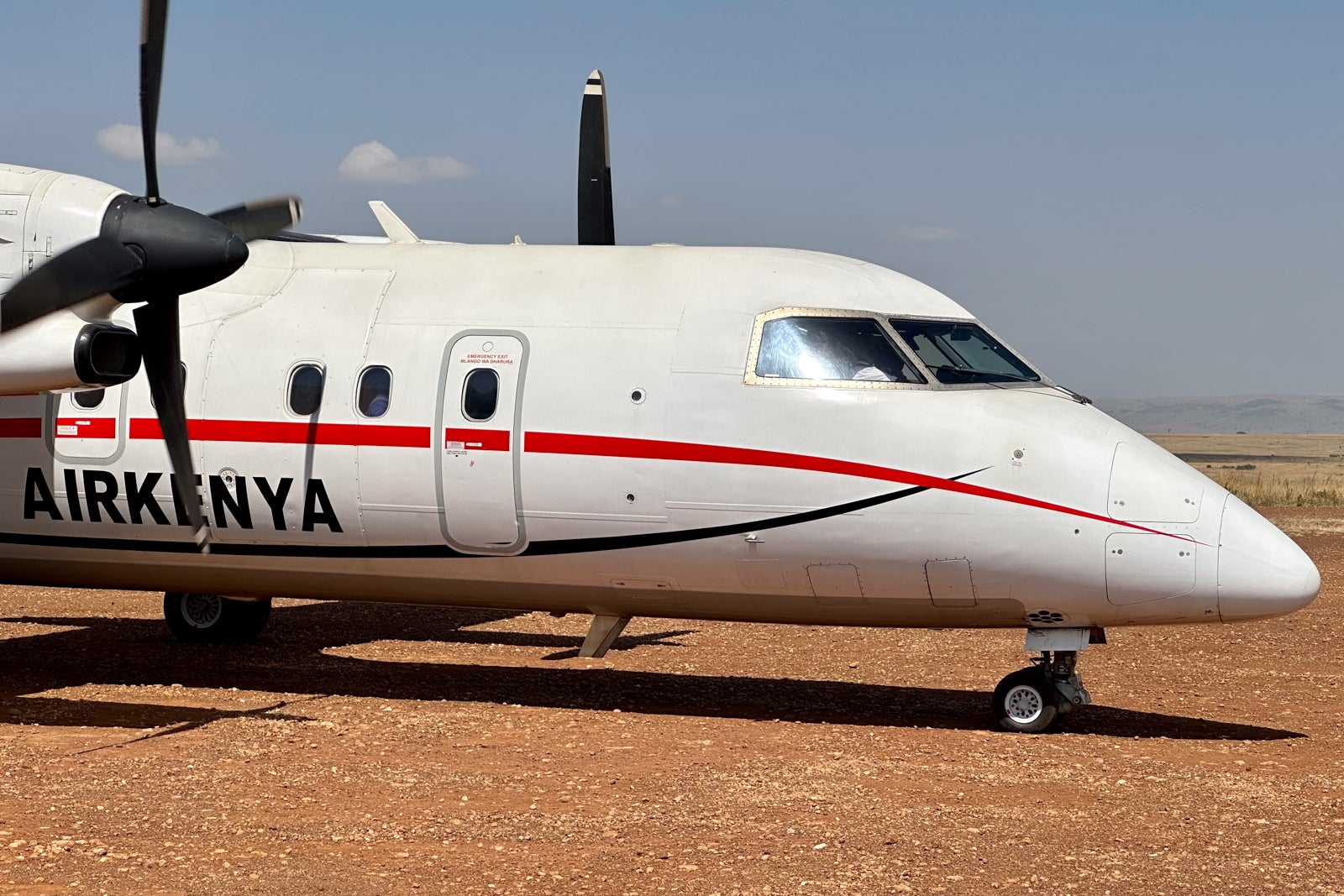 Just moments later, the Dash 8 taxied out again, heading onward to the next remote airstrip, where it would drop off some more safari-bound travelers.