TPG's Gene Sloan accepted a free trip from Ponant Cruises to sail on Le Commandant Charcot. The opinions expressed below are entirely his and weren't subject to review by the line.
I finally got a look at Ponant Cruises' new expedition cruise ship, Le Commandant Charcot, and it's making me rethink my loyalties.
As regular readers know, I like to rave about the two hardy new ships that Lindblad Expeditions recently unveiled for polar cruising: National Geographic Resolution and National Geographic Endurance.
I've called them the ultimate vessels for expedition cruises to the best-known polar destination, Antarctica.
For more cruise guides, news and tips, sign up for TPG's cruise newsletter.
But I may now have to split my devotion to the Lindblad vessels with an equal love for Le Commandant Charcot, too.
After two weeks aboard the vessel, which was specifically built for polar cruising, I am, quite simply, in awe of it.
Le Commandant Charcot is an expedition vessel capable of doing things that no other expedition ship currently afloat can or will ever be able to do.
What's more, that'll probably be the case for years to come. No other company will likely spend the enormous amount of money it took to build Le Commandant Charcot — reportedly $430 million for a ship with just 123 rooms.
Related: The ultimate guide to expedition cruising
Indeed, the CEO of one of Ponant's top competitors in the expedition cruise space recently told me the company looked into building a vessel like Le Commandant Charcot but concluded it would be so expensive that it would never turn a profit.
In other words, to the extent that Le Commandant Charcot is the new queen of the expedition cruise ship world, it could be a long reign.
The world's toughest expedition cruise ship
The designers of Le Commandant Charcot were given a simple mandate: Build a vessel capable of taking tourists to the North Pole.
That might seem like a narrow focus for a cruise vessel. But it was a mandate that was broader than it might have appeared at first. A ship tough enough to reach the North Pole — a destination far beyond the reach of any other built-for-tourists vessel — would be tough enough to go to just about any other spot on the planet.
It was, essentially, a mandate to build the ultimate expedition cruise vessel.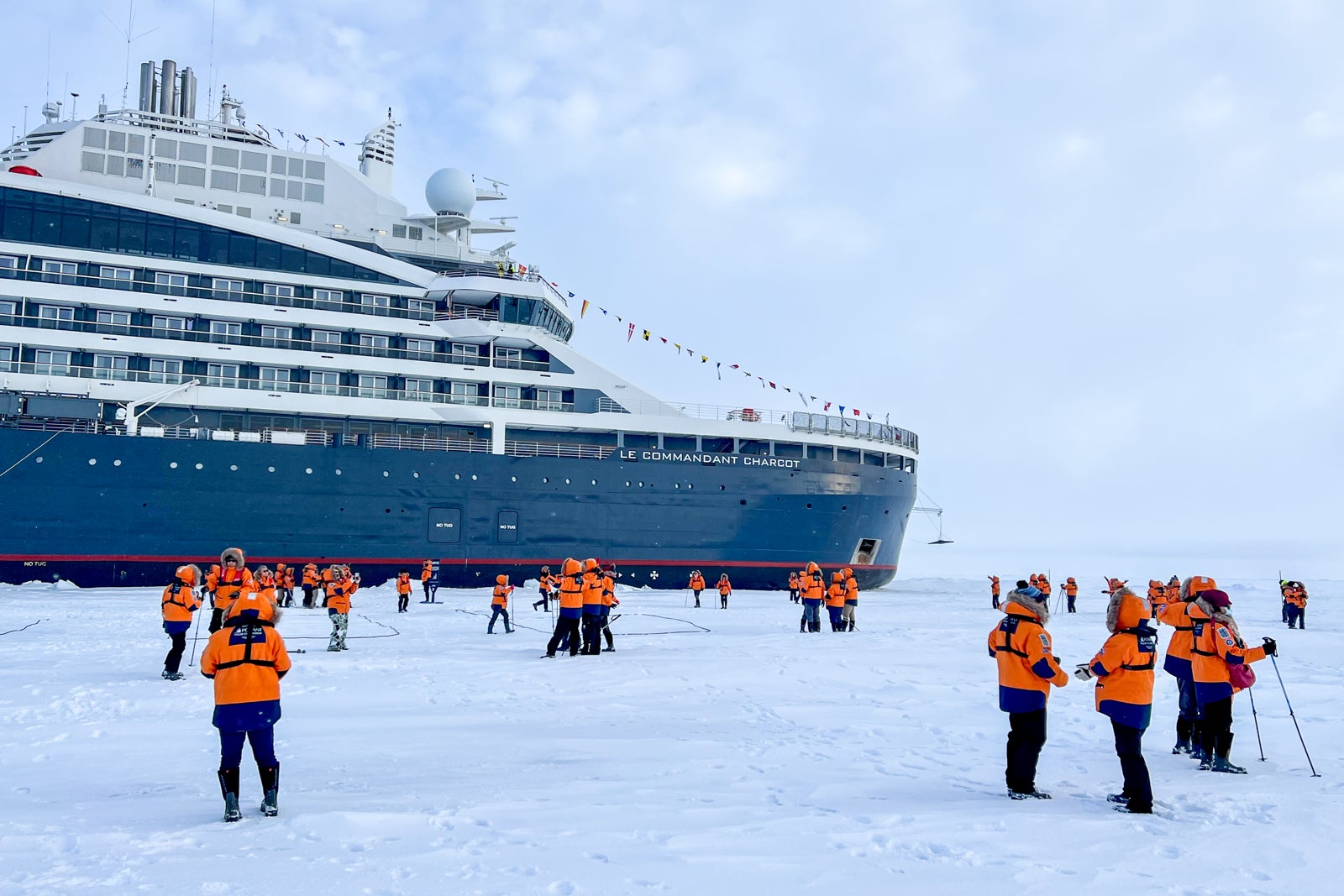 It also was a mandate that presented huge hurdles. As I saw recently on one of Le Commandant Charcot's first sailings to the North Pole, it would require the ship to be tough on a level that we have never seen before in an expedition ship.
Related: What it's like traveling to the North Pole on Le Commandant Charcot
To be able to travel to the North Pole, the 245-passenger vessel had to be built as a true icebreaker of the sort that only governments have operated until now — a vessel capable of cutting through the thick multiyear ice that is found across parts of the polar ice cap.
It also had to be built with redundancies in operating systems, emergency equipment, food storage and fuel storage that would allow it to survive long periods away from resupply and rescue.
To top it all off, Ponant also wanted Le Commandant Charcot to offer passengers a level of comfort rarely seen in the expedition cruise space. If the company was going to charge passengers tens of thousands of dollars to travel to the most remote parts of the world on the vessel (and given the cost to build it, that would be a must), it might as well make sure they would get a luxury experience.
Here, a look at what makes Le Commandant Charcot so special.
Le Commandant Charcot is built for power
Among the sometimes-over-the-top requirements that Ponant demanded from Le Commandant Charcot's designers was the ability to break through a ridge of floating sea ice 15 meters high. That's the equivalent of 49 feet — a height that icebreakers rarely encounter. (On my recent sailing to the North Pole on the ship, we mostly encountered ice just a couple of meters thick.)
The ship also had to be able to sail through 2.5-meter-thick ice at a constant speed and also operate in temperatures as low as minus 25 degrees Celsius.
To accomplish that, Le Commandant Charcot had to be built with an incredibly thick hull. At its icebreaking bow, the steel measures 6 centimeters thick — about six times the thickness of a typical cruise vessel. Even at its sides, the steel is 4.5 centimeters thick — more than four times the thickness of a typical cruise vessel.
In addition, the supporting beams for the ship's hull were placed 40 centimeters apart — five times closer than is typical on some cruise vessels.
The ship also has a power plant that can produce 34 megawatts of power — seven times the power of other Ponant vessels that carry a similar number of passengers, such as the 264-passenger sister ships Le Boreal and L'Austral.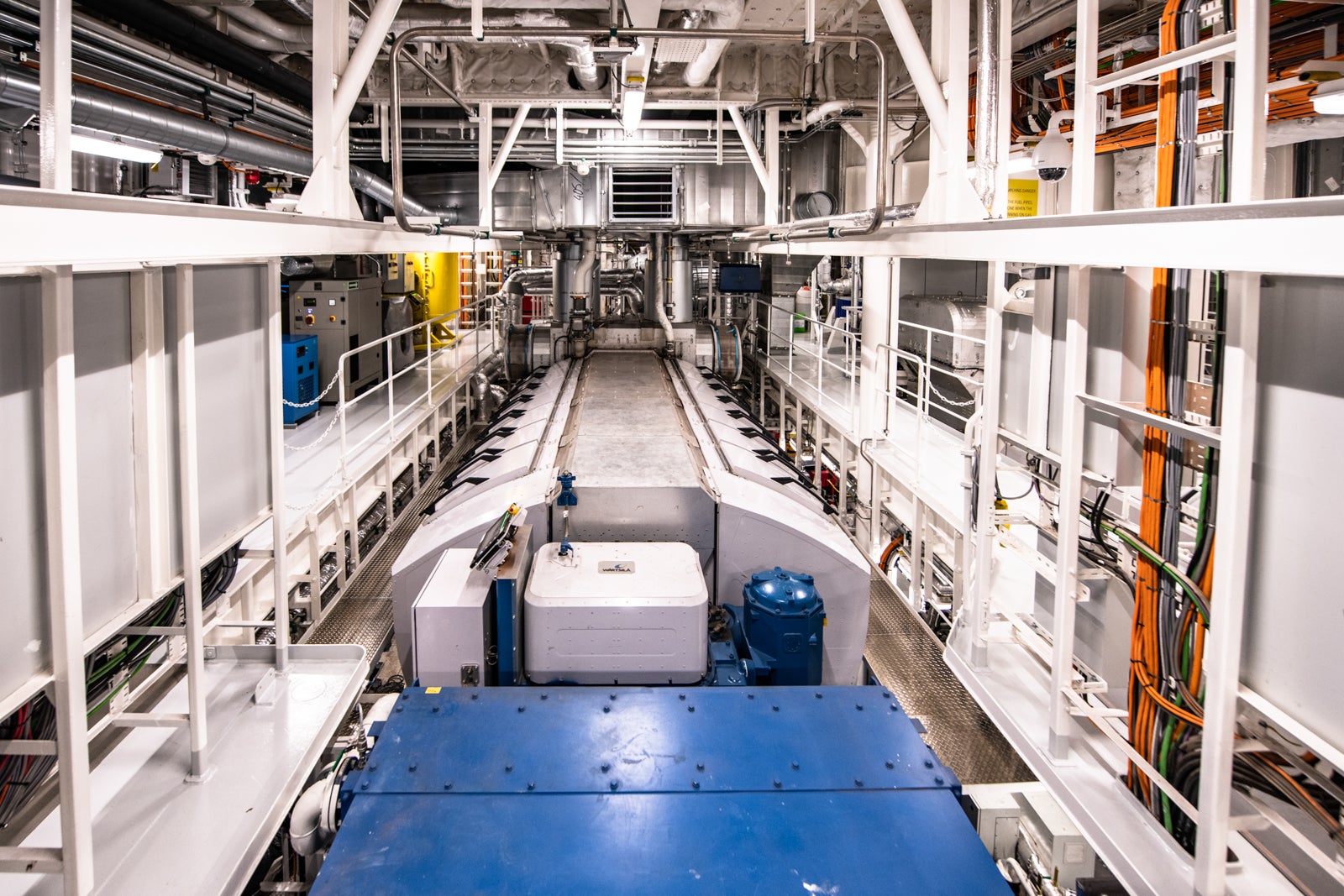 As Le Commandant Charcot captain Patrick Marchesseau noted during a talk with passengers on board, that's nearly three times more power than some other icebreakers operated by governments, including a British icebreaker in the Arctic that Le Commandant Charcot aided soon after its debut.
Related: I just snowshoed at the North Pole — here's how you can, too
The British icebreaker could only produce 11 megawatts of power, which meant that it couldn't move through ice nearly as fast as Le Commandant Charcot.
"She was capable to proceed in the ice condition where she was at half a nautical mile per 24 hours," Marchesseau noted. "And then we went to open a fairway for them, [and] within two hours we opened a fairway for them of 3 miles. So, we saved them a week of work, more or less."
For most people booking cruises, such details about a ship's engine power or hull thickness don't really matter. You don't pick a cruise ship based on its engine power. But such attributes are at the heart of what sets Le Commandant apart: its ability to go to more remote places around the world than any other vessel.
It's built for safety
When the end of the world comes, you'll want to be on Le Commandant Charcot. Because Ponant planned to send it to some of the world's most remote places, the line built the ship with backup safety features and self-sufficiency rarely seen for ships that aren't naval vessels.
For starters, the ship has enormous fuel tanks that allow it to operate in remote locations such as the Arctic for as long as four months without a resupply — many times longer than the typical cruise vessel. Its food storage areas are huge, too.
Oversized fuel and food storage areas are two of the attributes that define the most capable expedition ships, as it gives them a range that normal vessels don't have.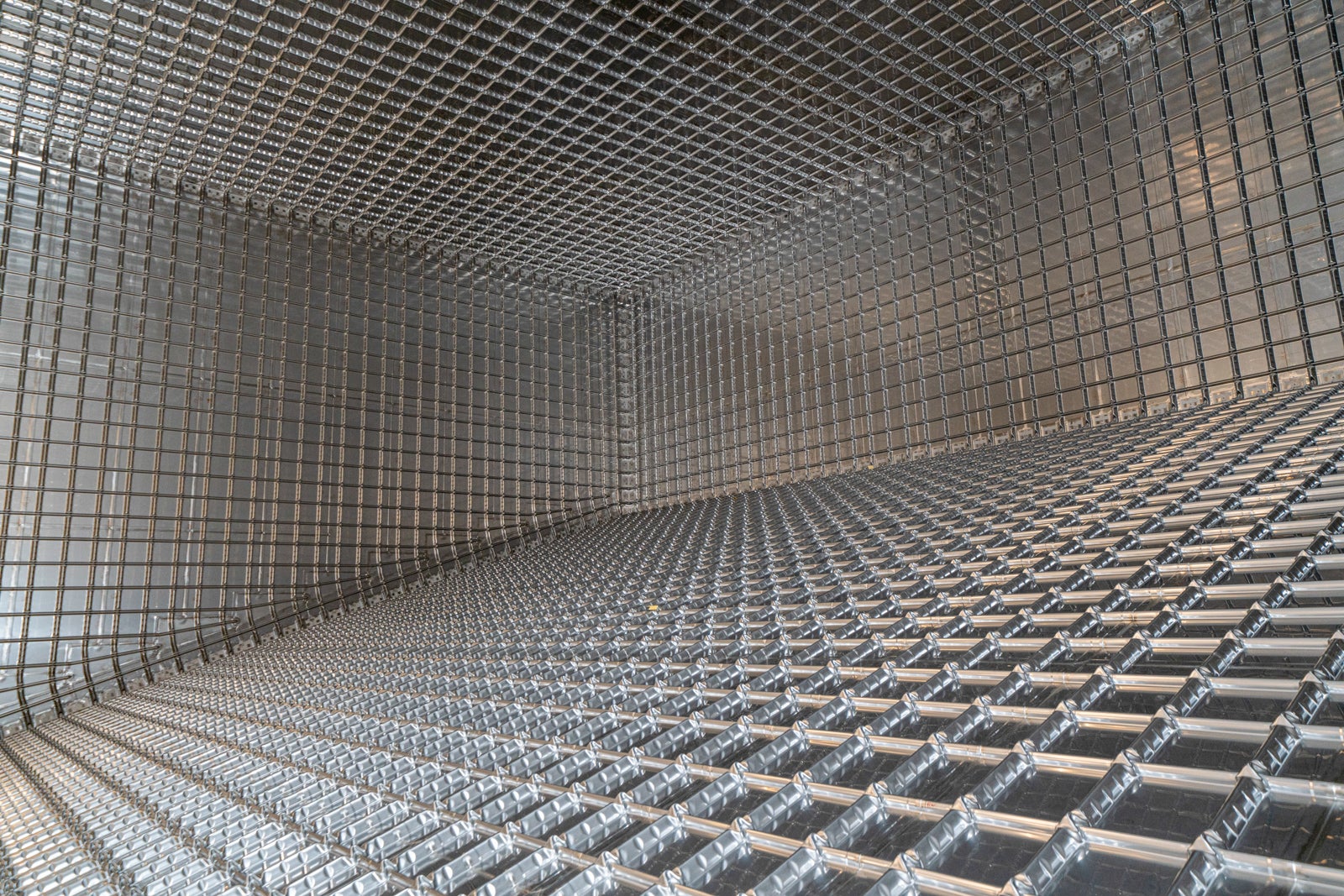 For safety, Le Commandant Charcot was also built with two engine rooms that are completely walled off from each other in a way that should allow the vessel to survive even a major catastrophe with one of them. In addition, in a very unusual twist, the self-contained motors in each of the ship's two Azipod propellers, which hang below the ship, have been split into two side-by-side half systems. Even if one of the half-motors blows, the Azipod should continue to run.
Plus, the ship has a battery backup system that can run the entire vessel for a short time if, for some reason, its main engines go down.
Related: The 5 best Arctic cruise itineraries, from someone who has done them all 
Perhaps the ship's most impressive safety feature is its extensive survival equipment, enough to keep the 400-plus passengers and crew on board alive and well for five days if they had to abandon ship, even in the most extreme Arctic or Antarctic ice conditions.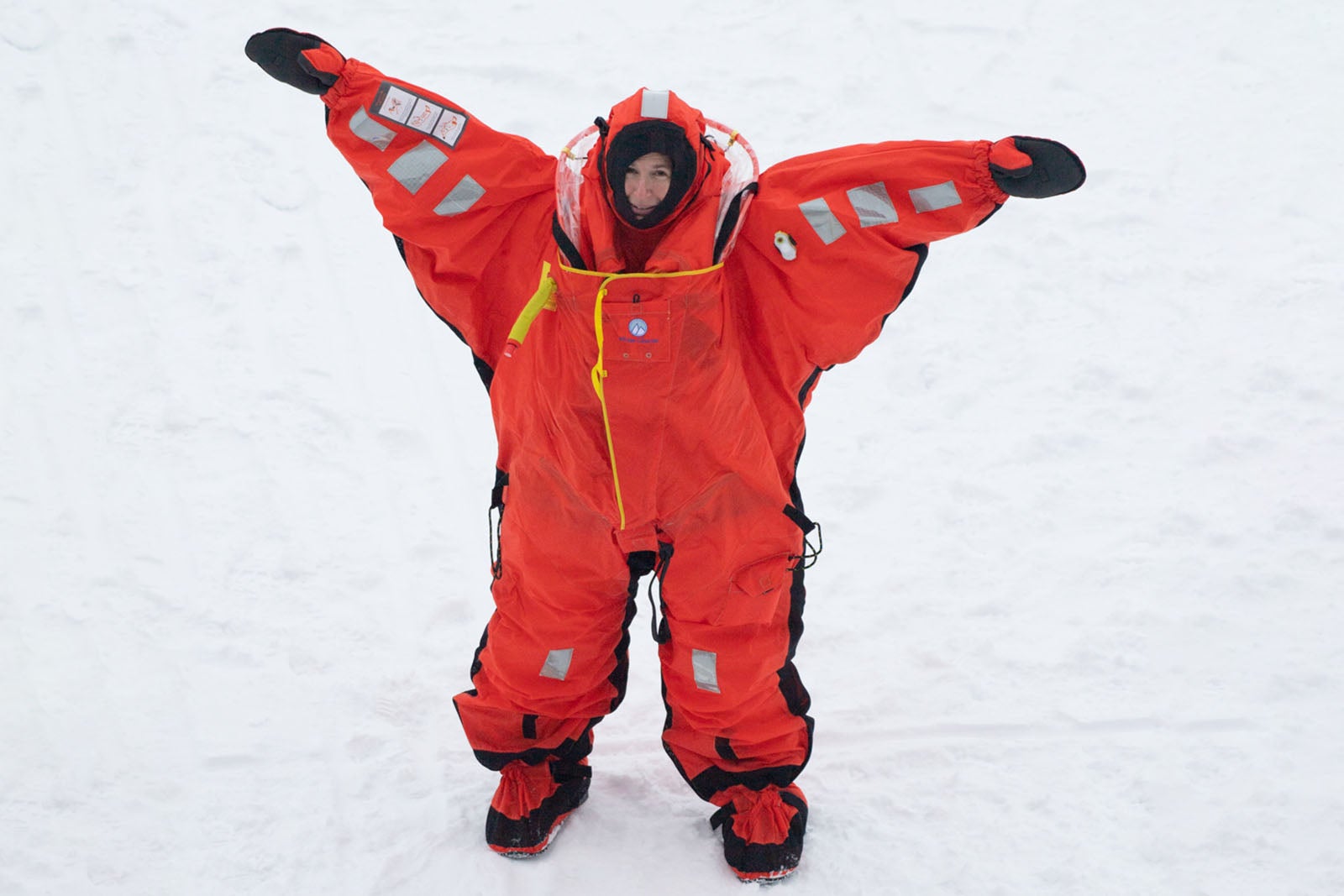 The equipment includes an entire pop-up polar survival camp, including inflatable polar shelters that can hold hundreds of people, survival suits that can keep people alive in freezing water and double as sleeping bags, and floatable food and water depots.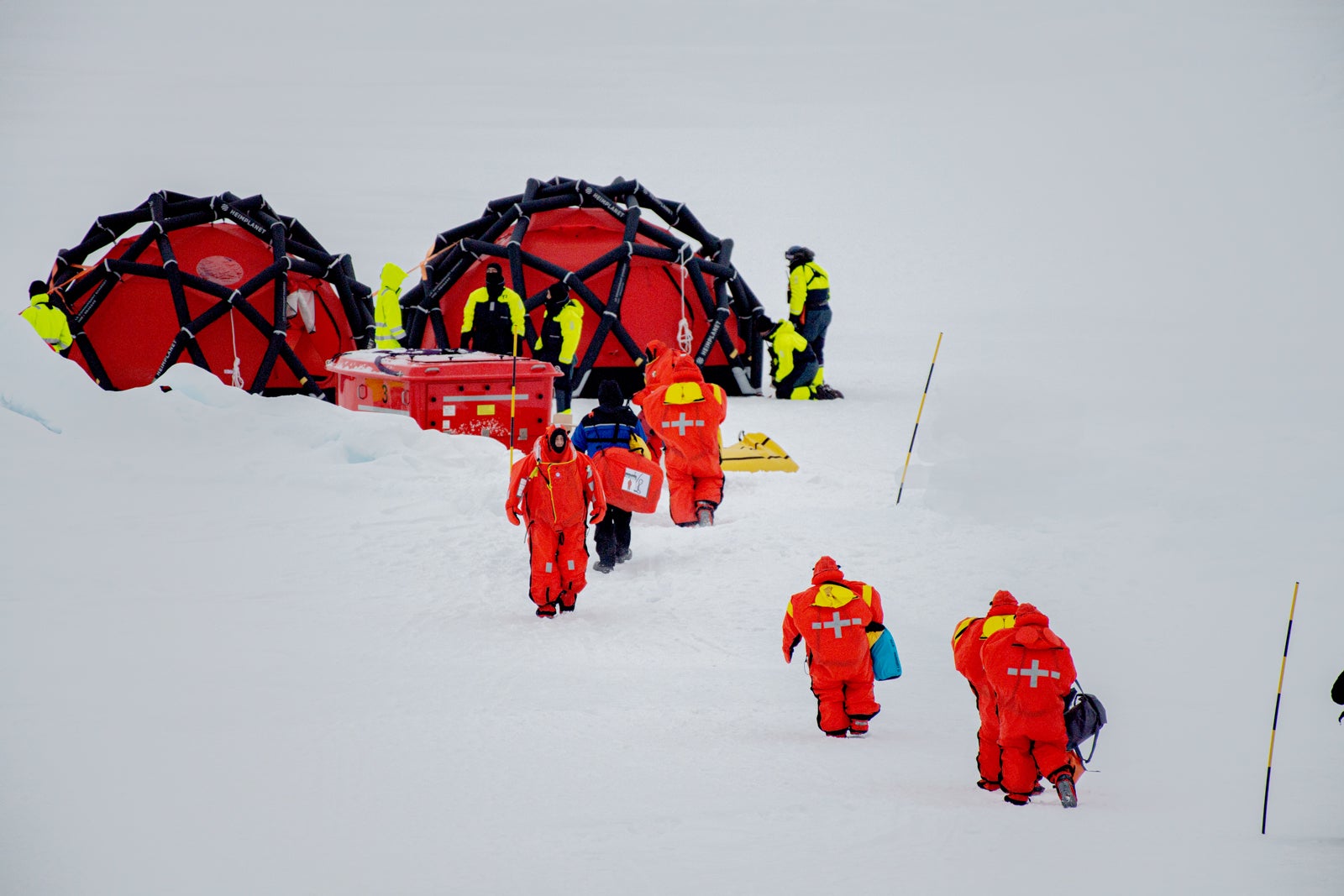 As part of the certification process for the ship, Ponant did a real-life test of the survivability of such a camp on frozen Arctic ice with dozens of volunteers, which was observed by coast guard officials from the United States, Canada and Norway.
It's built for comfort
Unlike any other vessel capable of breaking through Arctic ice, Le Commandant Charcot has all the elements of the most upscale hotels on land: spacious accommodations, elegant lounges, fine dining and a spa.
The cabins and suites on Le Commandant Charcot are among the most stylish I have seen on an expedition ship, with a sleek, contemporary feel. In my cabin — a "deluxe stateroom" that was far from the priciest accommodation on the vessel — lovely light faux wood paneling enveloped the bed area, covering not just the wall behind the bed but the ceiling above with a curvy transition between the two.
Ultramodern built-in furniture offered plenty of storage space while also giving the room a hip look. The bathrooms were sexy with dark granite countertops, gray stone shower walls and faux wood walls.
Among luxury touches, my room came with a high-end Nespresso coffee machine, with pods replenished daily, and a minibar stocked with complimentary drinks, including mini bottles of Jack Daniel's whiskey, Grey Goose vodka, Bombay Sapphire gin and Bacardi rum.
In addition, my cabin also came with a balcony, which isn't something you always find on similar vessels. Indeed, every cabin on Le Commandant Charcot has a balcony — a rarity for expedition ships.
Among other standout features on Le Commandant Charcot is a main restaurant (Nuna) with a menu designed by Alain Ducasse, the famed French chef. It's one of the best eateries I have ever experienced at sea. Meals at Nuna are included in the cruise fare, and you can dine there as many nights as you like.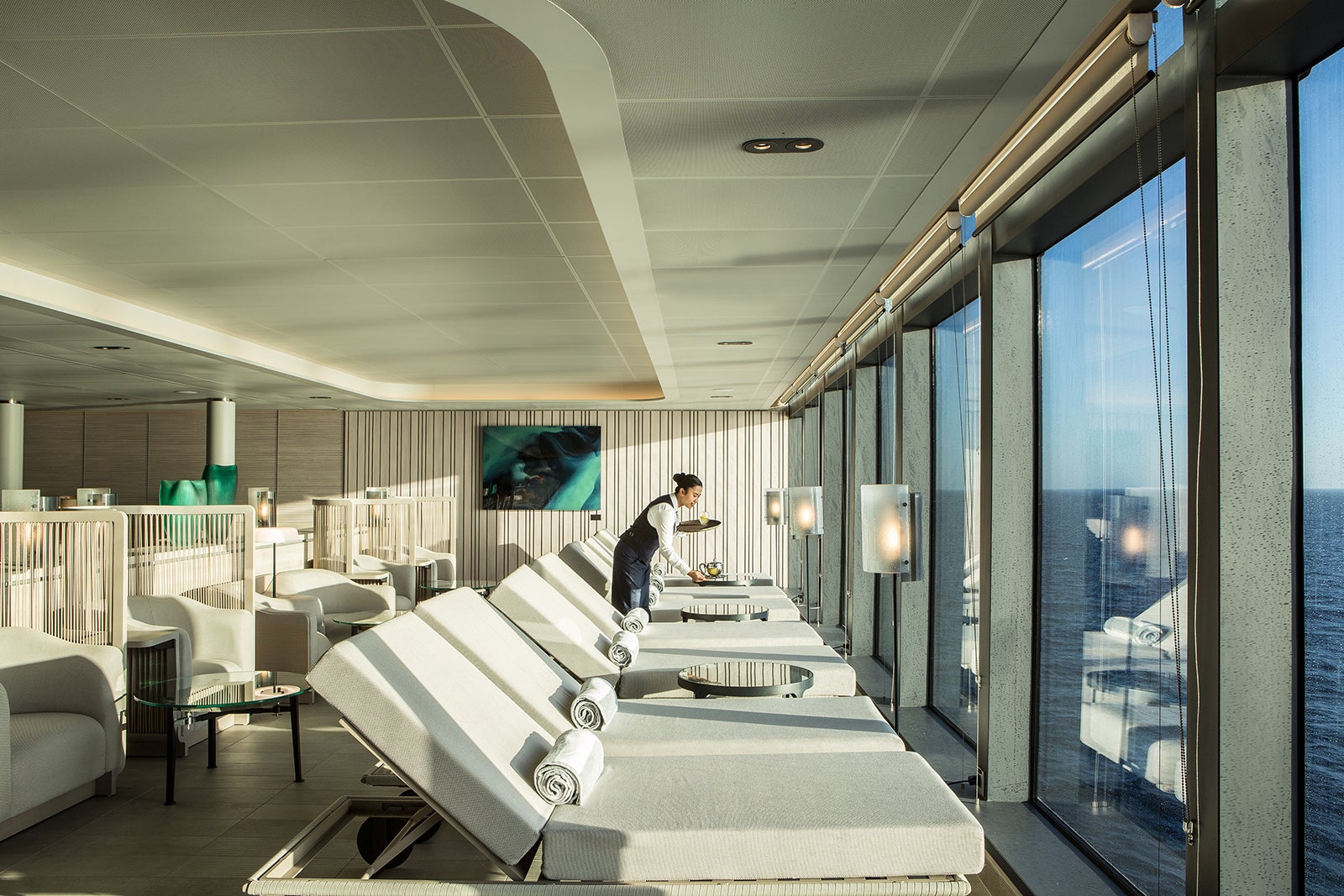 The ship's spa and wellness area boasts an indoor saltwater pool with plush lounge chairs facing the ocean through floor-to-ceiling windows, as well as a sauna, snow room and salon. An onboard fitness room offers cardio machines facing the sea. A super-heated outdoor wading pool beckons at the back of the vessel.
Service on board is high-level. There are roughly the same number of crew members on the vessel (201 when I sailed) as passengers. That translates into very attentive service.
Le Commandant Charcot's fares are not cheap
As you might expect for such a high-end, expensive-to-build vessel, sailings on Le Commandant Charcot are expensive.
Ten-night sailings along the coast of Greenland on the vessel start at $18,420 per person, based on double occupancy (in other words, $36,840 or more per couple for a cabin). The ship's most exotic itinerary, a 15-night sailing to the North Pole, starts at a sky-high $46,450 per person, based on double occupancy.
Bottom line
Le Commandant Charcot is, quite simply, the toughest expedition cruise ship ever built. It can reach places on the planet that no other expedition cruise vessel can reach, such as the North Pole. It's also a lovely, upscale vessel with top-notch service. The combination means it's a great choice if you're looking for a cruise vessel that can offer you an adventure like no other. Just be warned that a trip on Le Commandant Charcot won't come cheap.
Planning a cruise? Start with these stories: