As summer turns to fall, travel plans turn from visiting the beach to finding the best places to view autumn leaves. Leaf-peeping hot spots are plentiful – and often teeming with people during peak color times.
If you'd rather not fight the crowds, this list is for you.
We've picked 15 lesser-known fall foliage destinations perfect for a visit between late September and mid- to late October. From idyllic U.S. towns to stunning European national forests, these spots are ideal for enjoying vibrant colors without the throngs of other visitors who love leaf-spotting as much as you do.
Pine Creek Gorge, Pennsylvania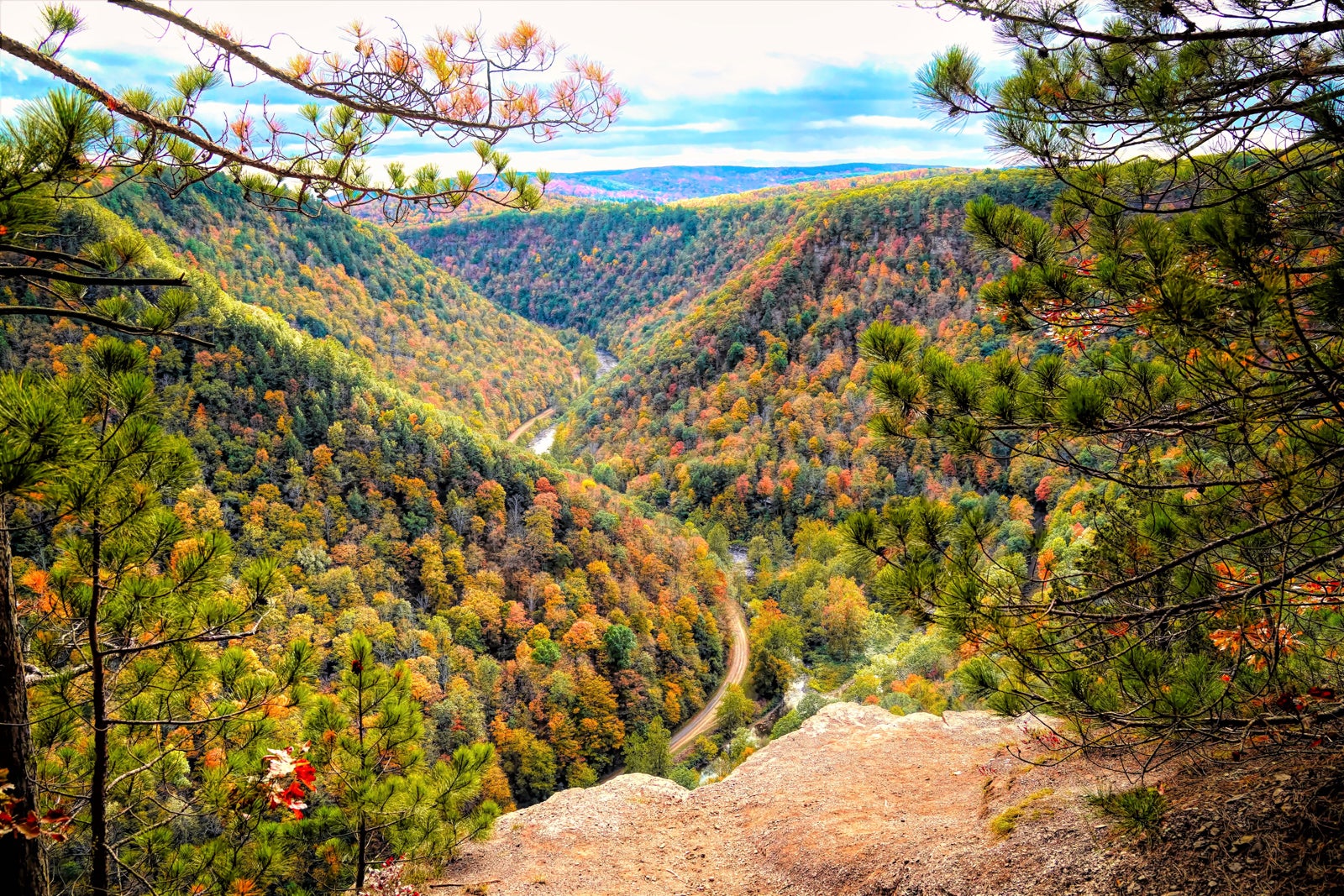 At its deepest point, Pine Creek Gorge extends 1,450 feet into the ground. Pine Creek flows through the gorge — often referred to as the Grand Canyon of Pennsylvania — and tree-covered, rolling hills flank each side.
The gorge runs for about 47 miles, with the deepest point near the southern end in Waterville. Pine Creek Gorge offers plentiful opportunities for walking, cycling, horseback riding or taking a scenic drive. You will want to ascend the Barbour Rock Trail in Tioga State Forest for one of the most memorable views of the gorge.
In the fall, those views will include a veritable rainbow of autumn leaves, made even more vivid by the evergreen trees that dot the landscape.
New Paltz, New York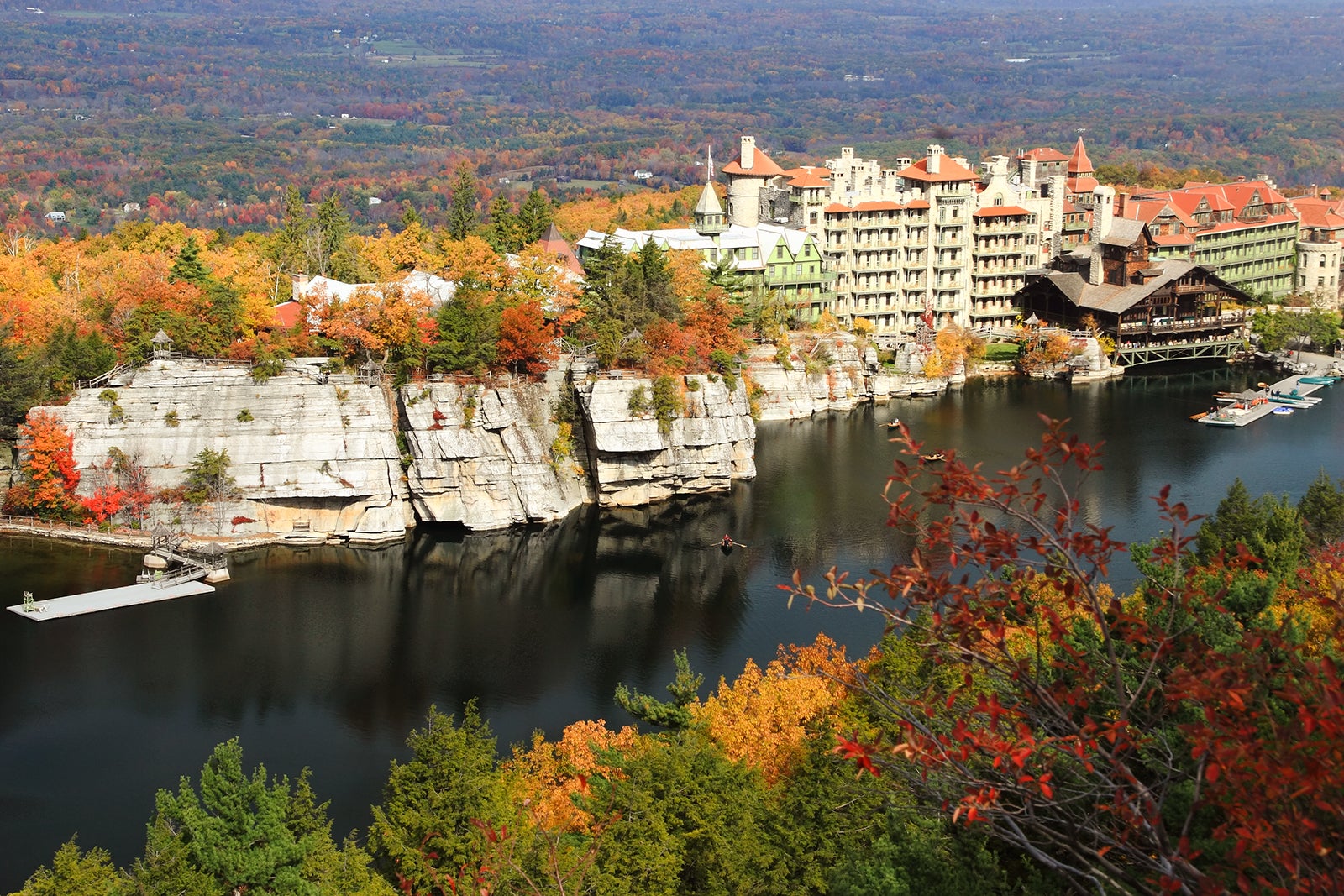 You can go pretty much anywhere in New York's Hudson Valley for resplendent fall foliage, but we suggest you zero in on the town of New Paltz for your leaf-spotting adventures.
The Mohonk Preserve's visitor center serves as a jumping-off point for nature trails, including the playful J & S Grafton Sensory Trail and Children's Forest for families. There is no fee to enter the visitor center, but there is a daily fee of $15 for hikers and $20 for cyclists, climbers and horseback riders. Children under 15 years of age are free.
If you prefer to extend your stay (and the views), book a stay at the historic Mohonk Mountain House, where you can hike or "rock scramble" around large boulders.
Jay Cooke State Park, Minnesota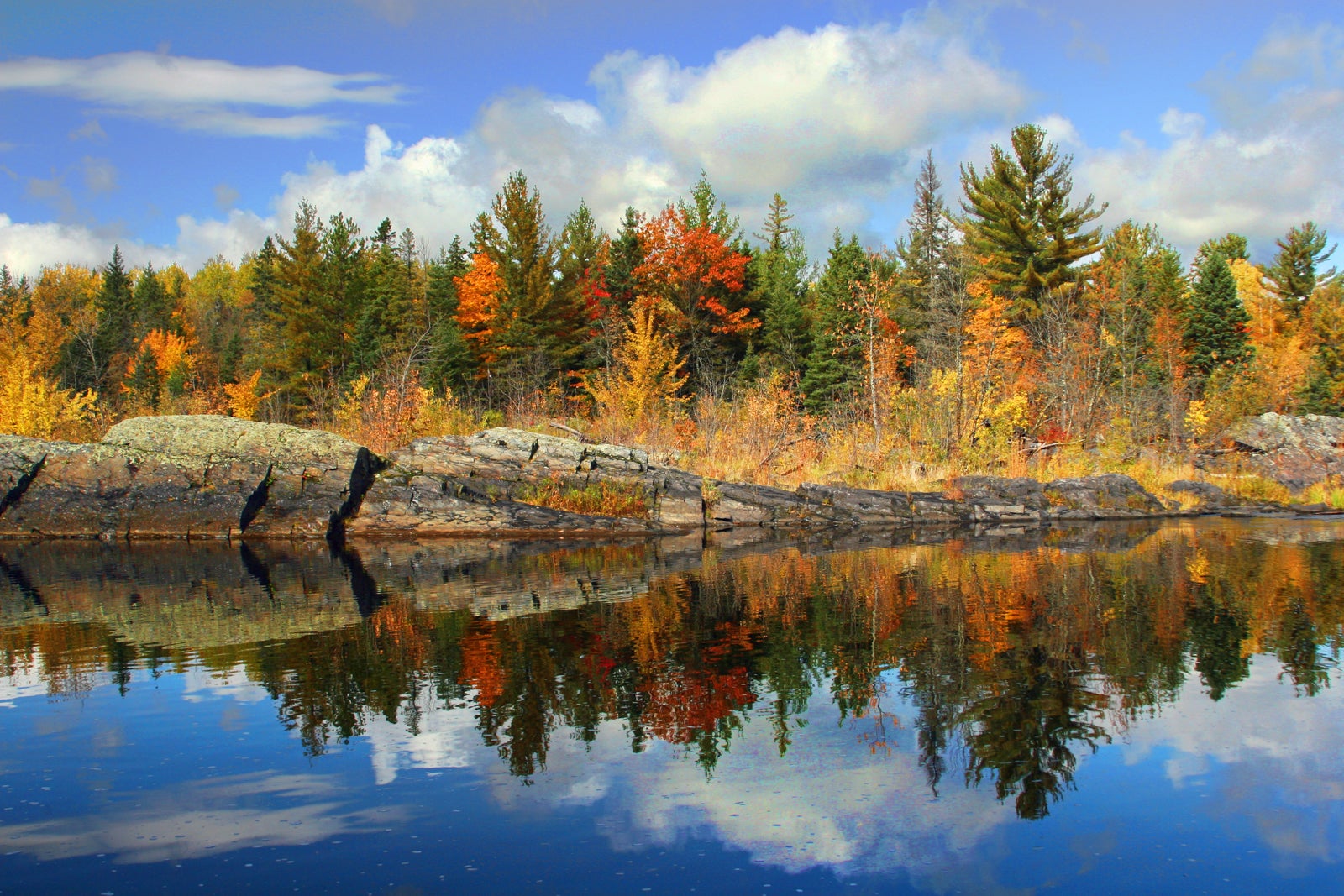 The St. Louis River intersects Jay Cooke State Park about 30 minutes southwest of Duluth, and where there's a river, there's a bridge. An impressive, albeit shaky, way to see the fall colors here is by walking across the park's 220-foot-long suspension bridge. You'll be treated to views of the river, the rocky outcroppings along the shoreline and the bright-as-gold fall leaves.
If you prefer to stay on solid ground, head for the Oldenburg Point overlook or take your pick of more than 50 miles of hiking trails.
Dubuque, Iowa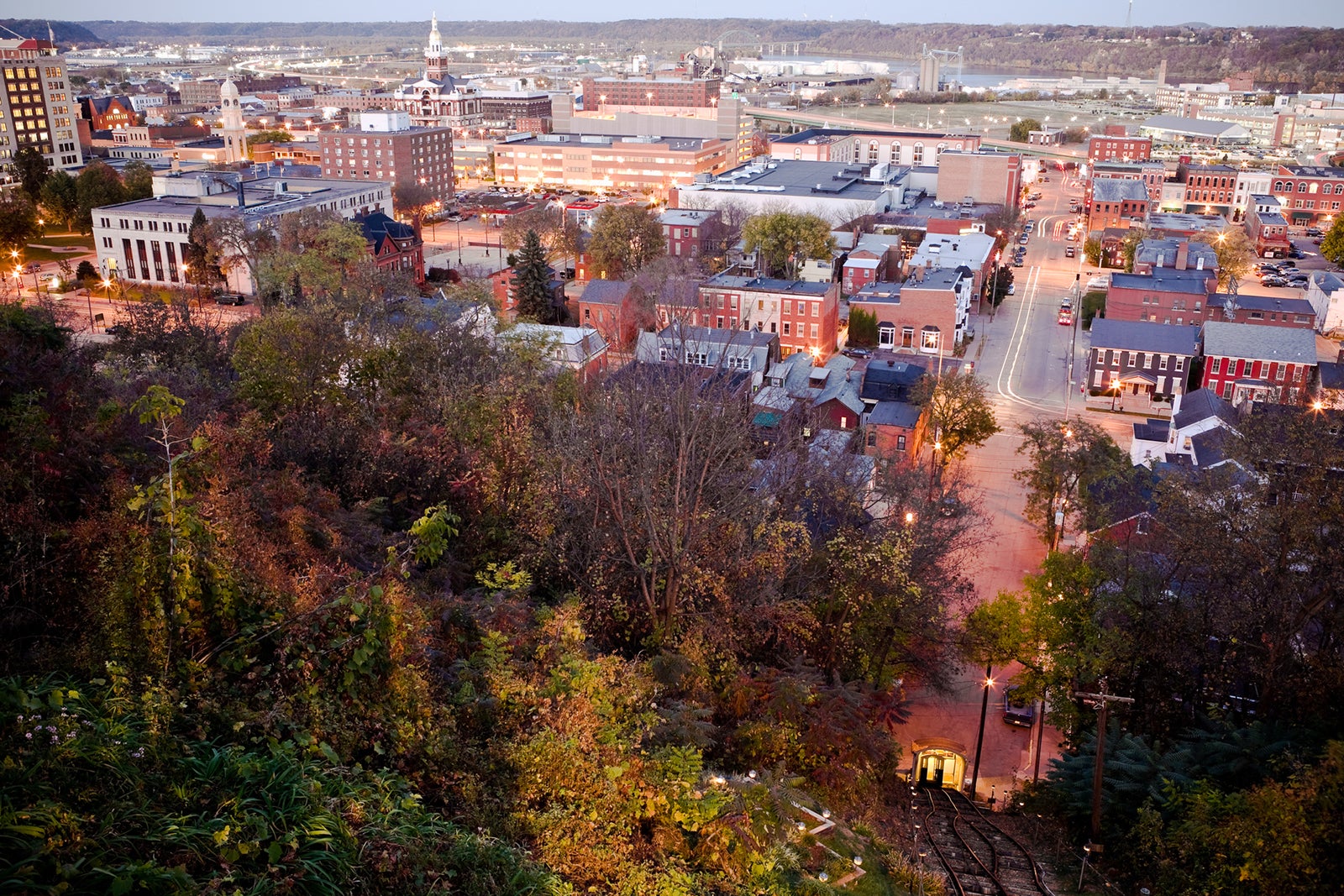 Bushy trees in varying hues against a bright blue sky with fluffy white clouds make Dubuque, Iowa, in fall look like something out of a Bob Ross painting.
Get a bird's-eye view of the landscape from the top of the Fenelon Place Elevator. Called the world's steepest, shortest scenic railway (though other funicular railways make the same claim), the 296-foot-long railway takes passengers on one-way or round-trip tours from Dubuque's Fourth Street up to Fenelon Place.
From the top, you can view downtown Dubuque, the Mississippi River and thousands of "happy little trees." There is a small fee to ride the Fenelon Place Elevator, and you must pay in cash.
McCloud Nature Park, Indiana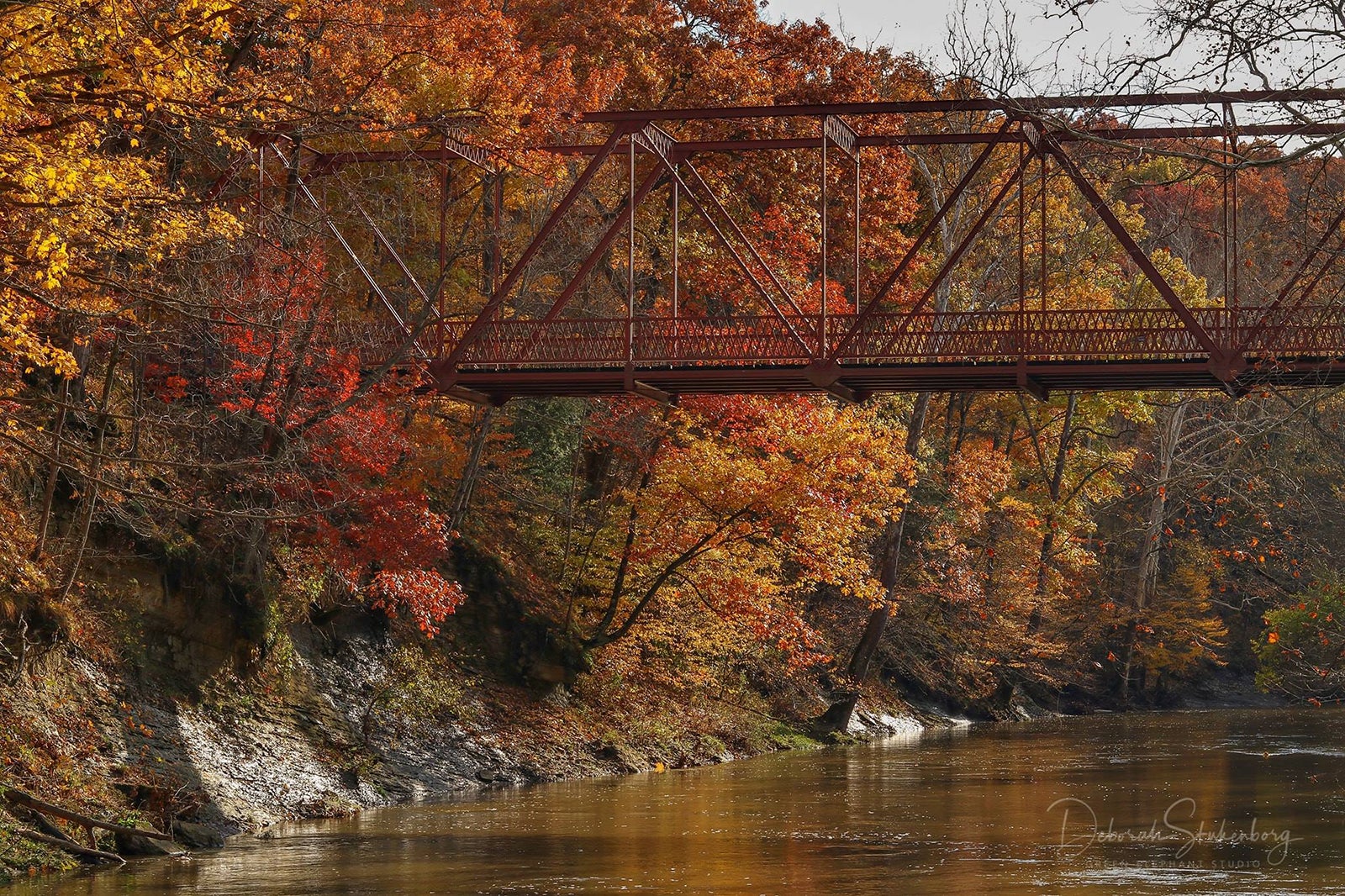 Indiana may be better known as a basketball state than a fall foliage destination, but you'll score big by visiting central Indiana's McCloud Nature Park to see the colorful trees. The 232-acre park boasts 6 miles of nature trails, one of which crosses a creek via a 100-year-old truss bridge.
The Big Walnut Crossing trail is a short, .4-mile walk that isn't short on gorgeous views. The park's Nature Center offers interactive exhibits and year-round programming to enhance your time in the great outdoors.
Lexington, Kentucky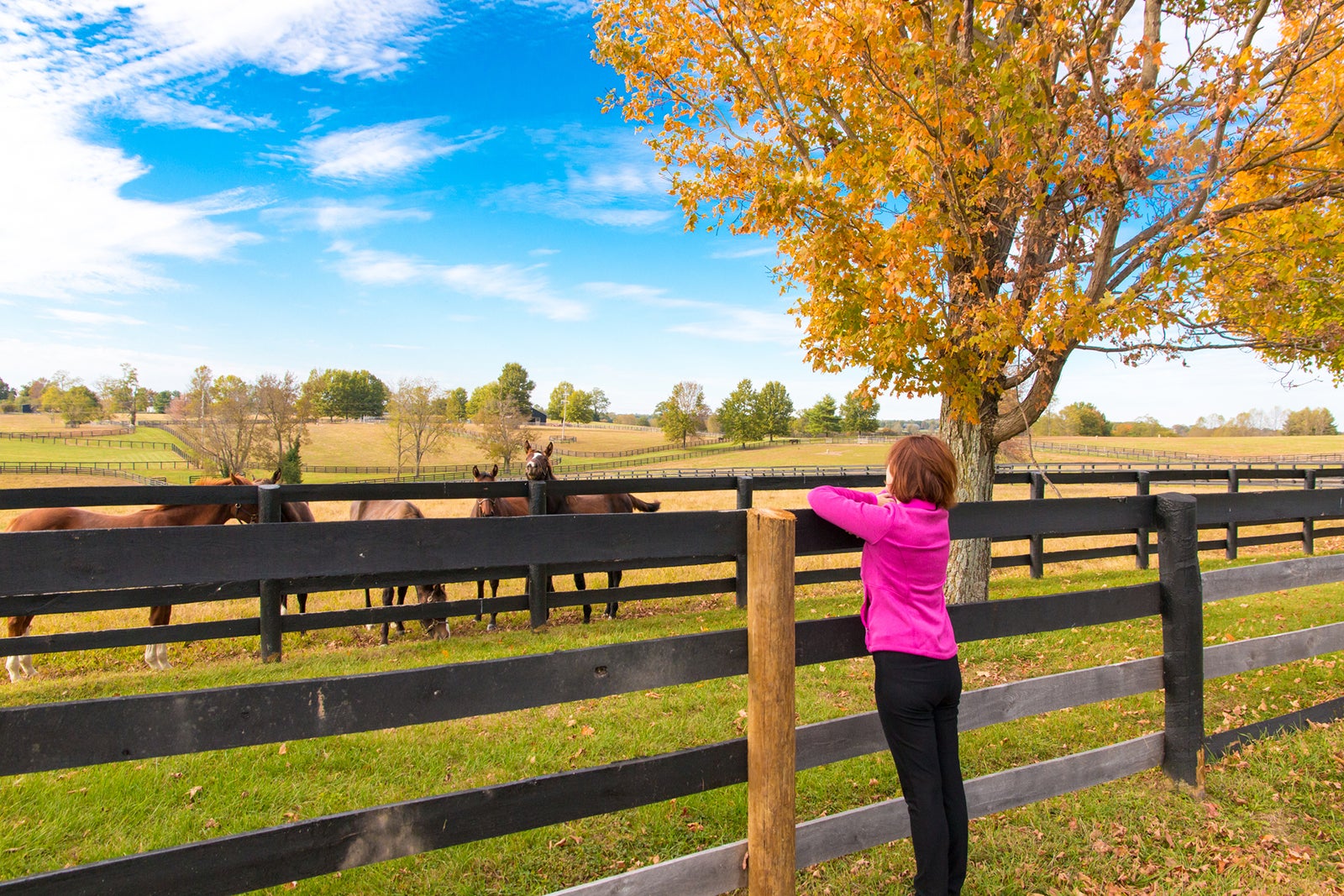 When you think of Kentucky, you probably think of horse racing and bourbon. You'll find both in Lexington, along with vibrant fall colors. To view the fall leaves on foot, hike the 3.8-mile round-trip Kentucky River Palisades Trail in Tom Dorman State Nature Reserve.
For the full Kentucky experience, try a picturesque horseback ride at Kentucky Horse Park or take to the skies with a treetop canopy zip line tour with Boone Creek Outdoors. If you want to combine urban exploration and leaf-peeping, check out the Town Branch Trail. The 5 1/2-mile mixed-use trail runs from downtown to Lexington's Distillery District, where you'll find dining, shopping and, of course, bourbon.
New River Gorge, West Virginia
It's practically a no-brainer that a state nicknamed the Mountain State would be a top destination for dazzling foliage. Each fall, West Virginia's peaks and valleys flaunt their beauty with hues of yellow, red and orange, and there's no better place to see them show off than New River Gorge National Park & Preserve.
The Grandview Main Overlook sits 1,400 feet above the New River and is only a short walk from the parking lot (the cement-and-stone path and overlook deck are also wheelchair friendly). If you are up for an adventure, you can raft down the New River with one of many licensed rafting outfitters.
Two driving tours are available — the Fayette Station Road Audio Tour and the African American Heritage Auto Tour — that offer historical facts about the park and surrounding area along with scenic views.
Katy Trail State Park, Missouri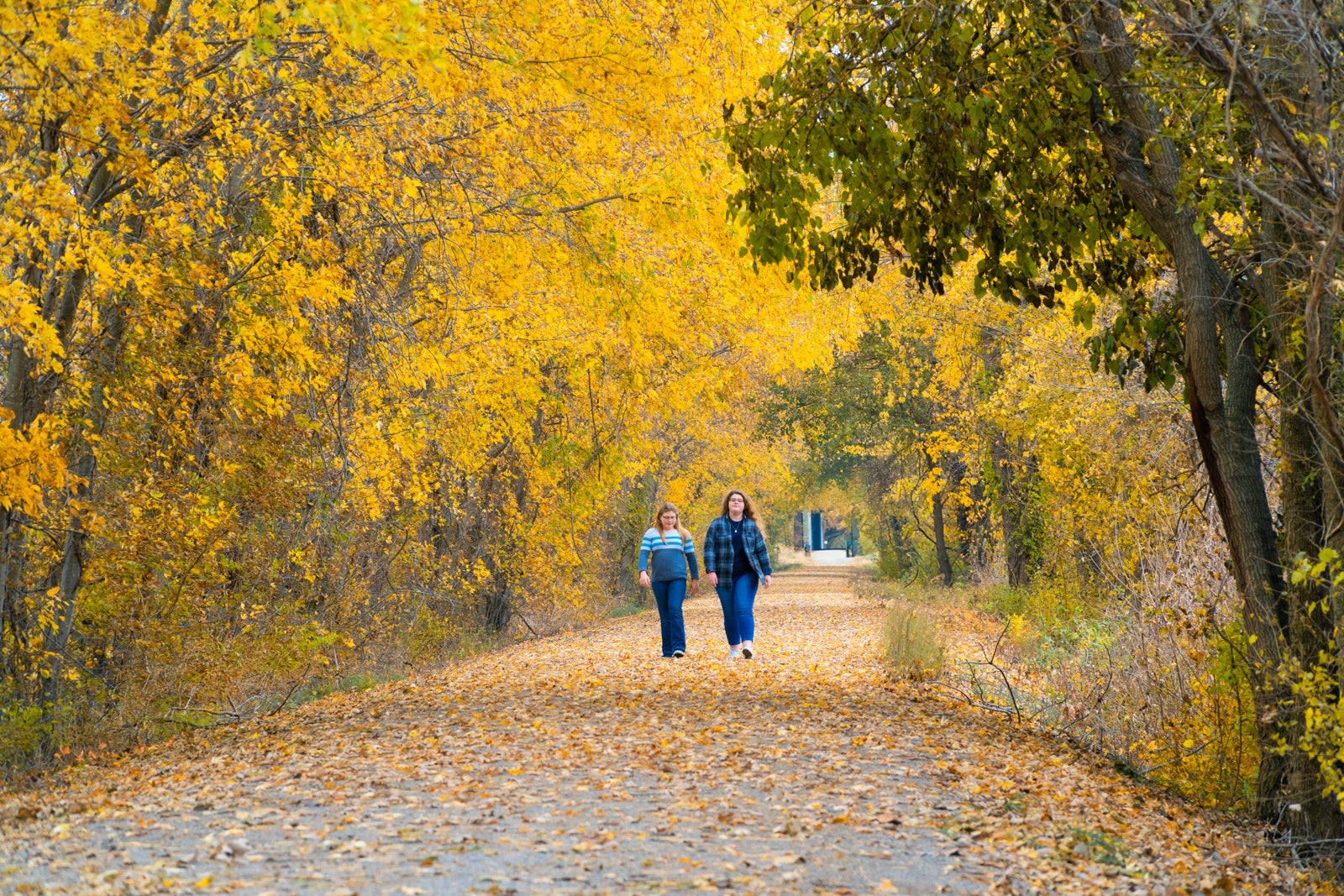 Katy Trail State Park is home to the country's longest recreational rail trail, which can be traversed by foot, bike or horseback. The Katy Trail follows the path of the Missouri River, offering many opportunities to take in the fall scenery along the way.
There are more than 26 trailheads along the 240-mile-long trail, many of which are close to bike rental facilities, dining and camping.
If you want to see the sights without having to do the legwork, seasonal tram tours are available two Tuesdays per month in May, June, September and October.
Cuyahoga Valley National Park, Ohio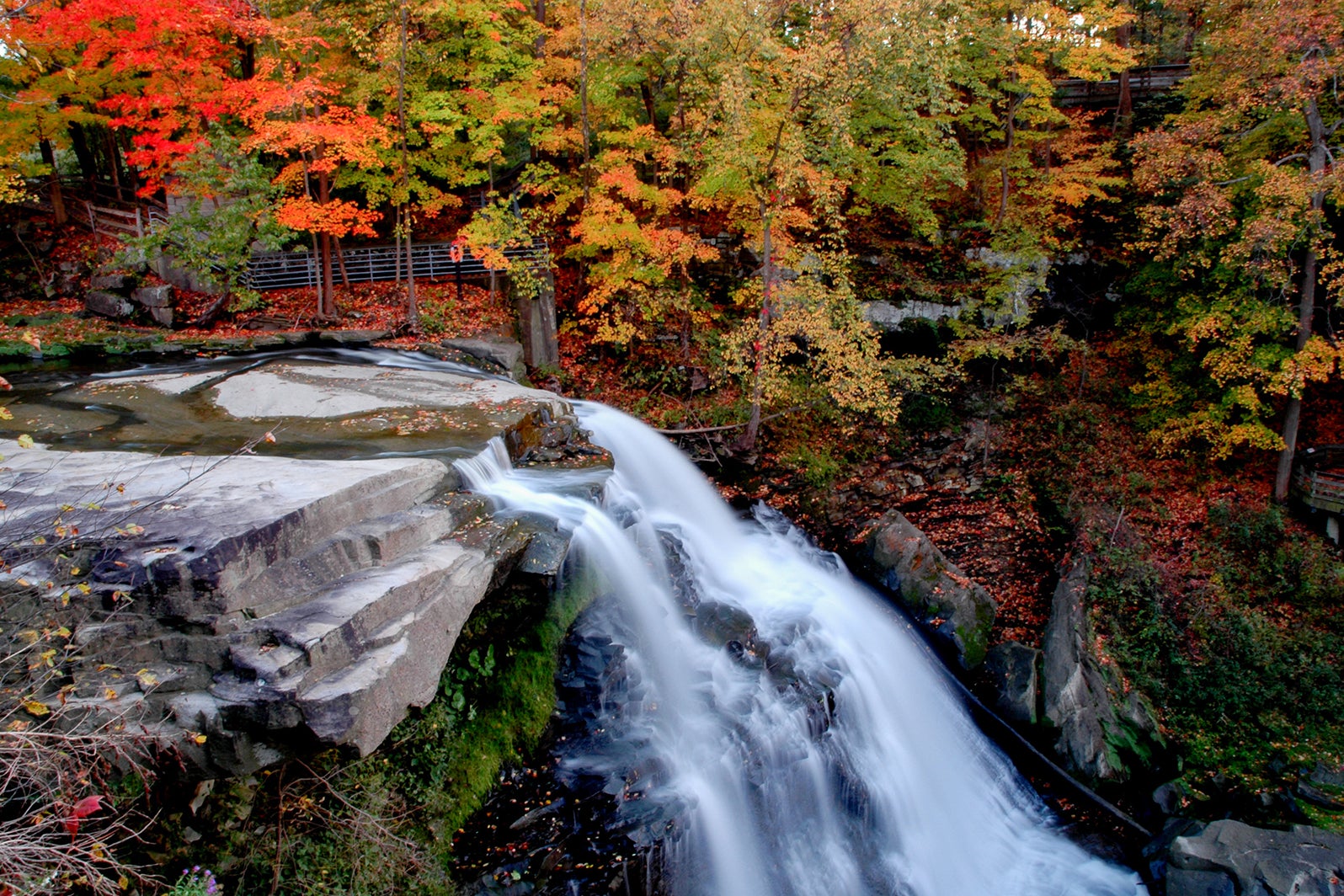 If your fall travels find you in the Buckeye State, Cuyahoga Valley National Park's vivid orange and yellow foliage will stop you in your tracks. The park has a scenic railway, hundreds of miles of trails and access to the Cuyahoga River, so you can experience the sights at your own pace.
If you just can't choose, the Cuyahoga Valley Scenic Railroad sells "Explorer" tickets where you can ride the train one direction and hike, run, bike or paddle back to your starting point.
Greenville County, South Carolina
While everyone else is heading into the Blue Ridge Mountains, in-the-know travelers will head to the mountain range's foothills for a visit to Greenville County, South Carolina. While downtown Greenville has all the shopping and dining you'd expect, you might be surprised to find that you don't need to leave downtown to experience the area's fall colors.
The best way to see the waterfalls, river and sweeping green spaces is on the Liberty Bridge at Falls Park on the Reedy, located right downtown. The uniquely shaped, curved pedestrian bridge spans 345 feet and has panoramic views of the changing fall leaves.
Killarney National Park, Ireland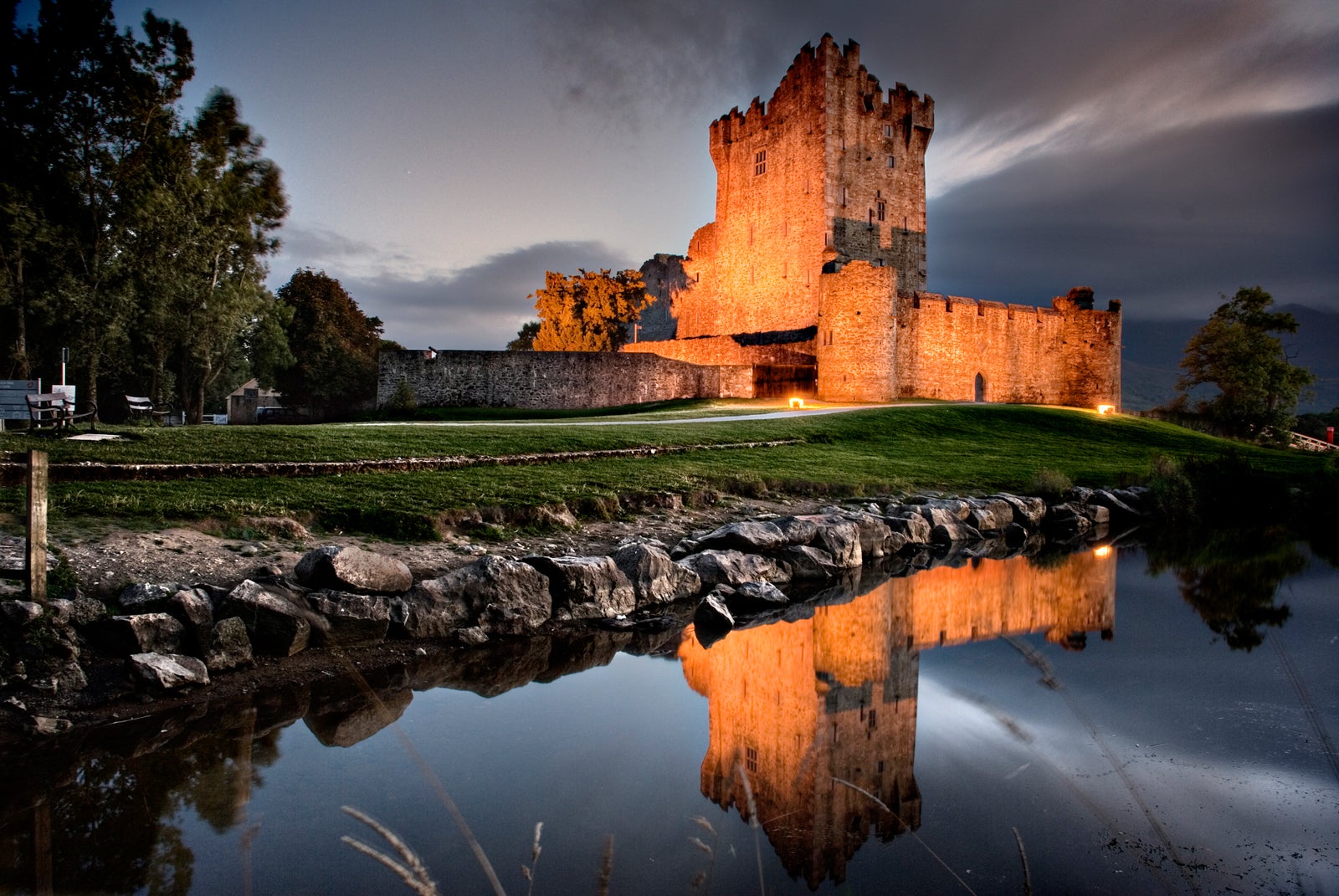 There's no shortage of natural beauty in Killarney National Park's 26,000 acres of tranquil lakes, craggy mountains and lush forests, but the area's history makes it even more alluring. You can visit a 4,000-year-old prehistoric settlement, a castle and abbey built in the 15th century and centuries-old grand estates.
Trails range from wheelchair accessible to the "very difficult" trail that leads to the summit of Torc Mountain. In addition to fall's fiery, red-hued leaves, you can try and spot a red deer. The park has the last surviving indigenous herd of red deer in the country.
Grizedale Forest, England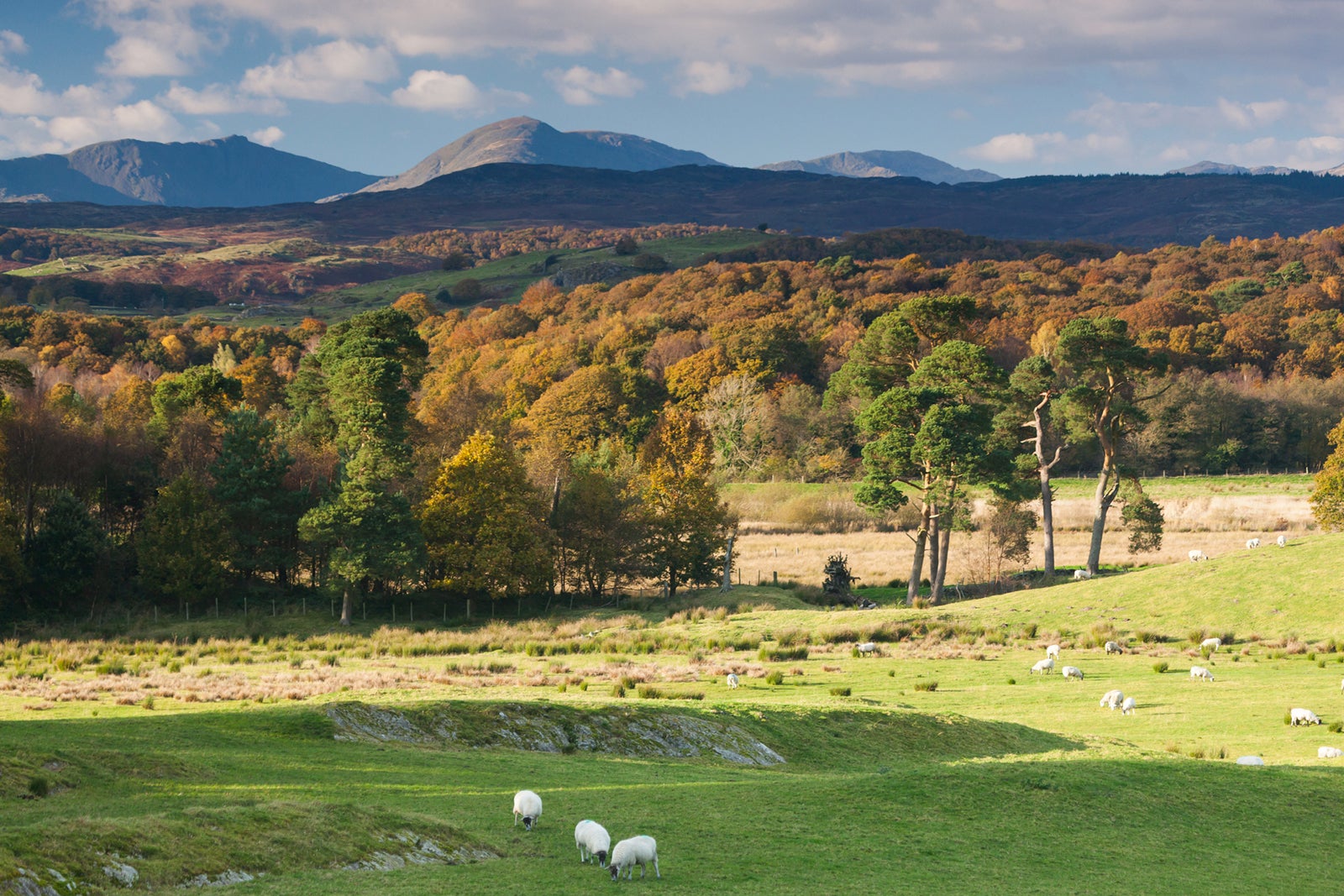 Grizedale Forest, named for the Grizedale Hall estate that once stood on the grounds, is in Northwest England's Lake District. The land is now under the management of Forestry England and provides ample opportunities for visitors to explore the area on foot, by bike or on a high ropes course.
The blanket of green trees that covers the hills and valleys in spring and summer gives way to a kaleidoscope of red, orange and yellow hues in the fall.
While enjoying the colorful leaves painted by Mother Nature, you can also see a sculpture trail with pieces forged from natural materials, as well as stop at a children's playground and a cafe.
Plitvice Lakes National Park, Croatia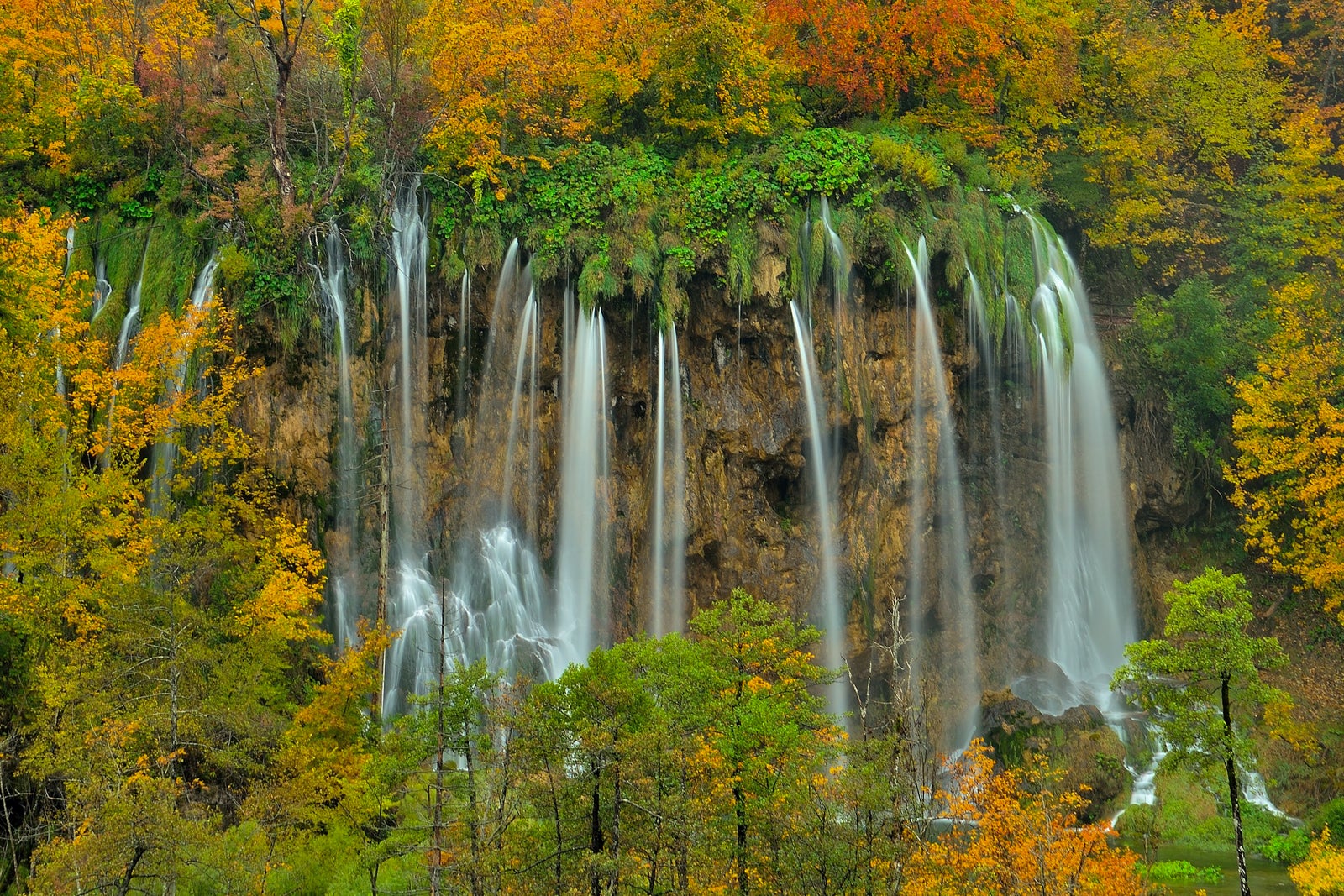 Opened in 1949, Plitvice Lakes National Park is one of Croatia's oldest and largest national parks, but the forces that carved the park's caves and water features are much older. Over thousands of years, water flowing over the park's rocks created unique, multilevel lakes and waterfalls that flow between them.
Related: A bucket list layover at Plitvice Lakes National Park for 38,000 points
There is a fee to enter the park, but admission includes access to sightseeing boat and train tours. You can also hike from the parking lot to see the lakes (and leaves) on foot.
The year-round dreaminess of Plitvice Lakes is enhanced further during fall when the turquoise waters contrast dramatically with the autumn-hued leaves.
Snowdonia National Park, Wales
WIthin Snowdonia National Park, you'll find Snowdon — the highest mountain in Wales. Luckily, you don't have to hike the 3,560 feet to the summit to see the brilliant fall foliage (unless you want to, of course). There are hiking, cycling and horseback riding trails to suit all levels, as well as paved paths that are accessible for wheelchairs.
Related: Castles, culture and Cardiff: 4 reasons why Wales is on my bucket list
If you visit in mid- to late October, you'll enjoy an array of orange and yellow leaves across the mountainous peaks. There are hotels, bed-and-breakfasts and campsites in the park if you want to truly immerse yourself in Wales' fall beauty.
Kyoto, Japan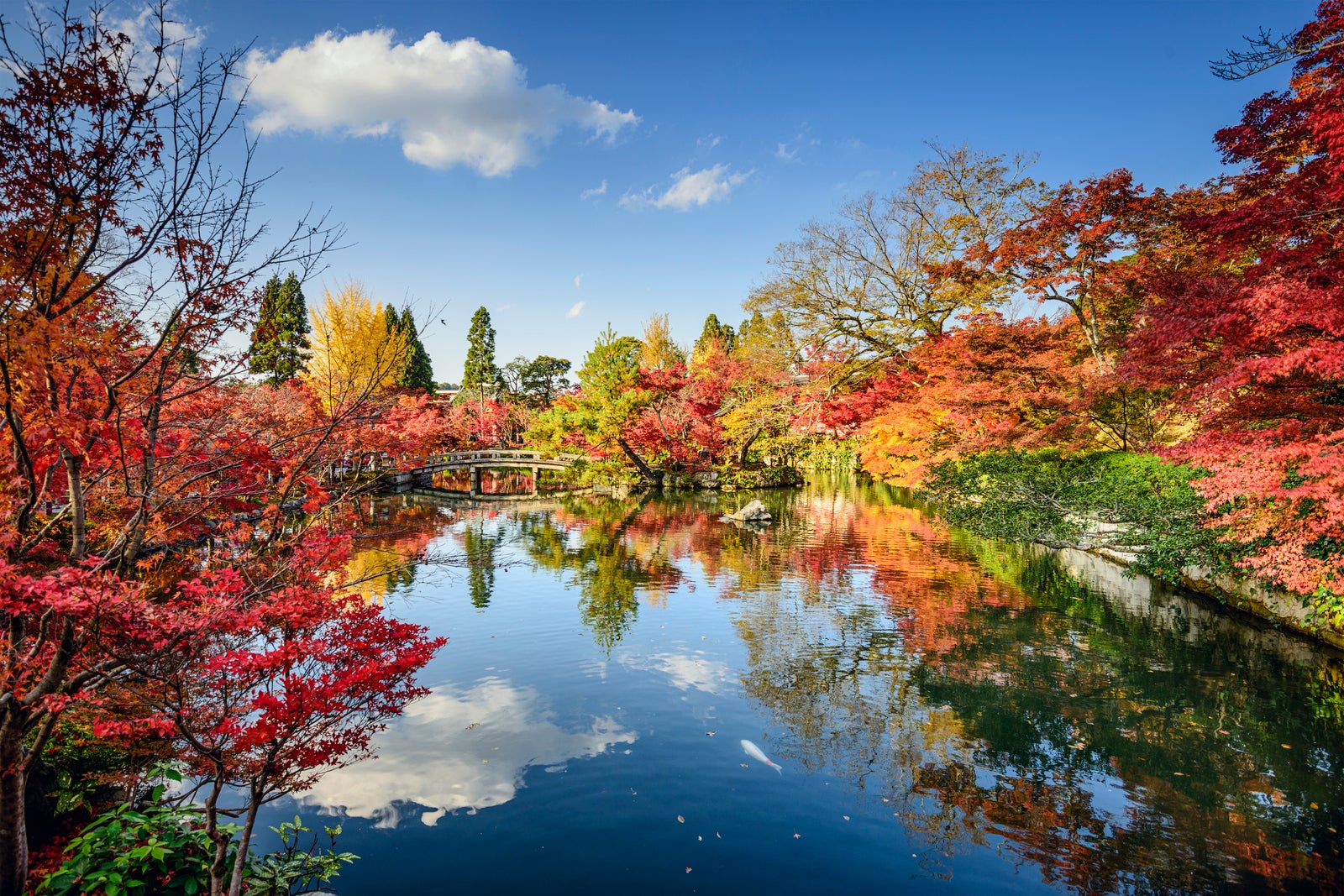 As beautiful as Kyoto becomes each spring when the cherry blossoms are in bloom, the city is equally magnificent in late fall when the trees take on a mix of jewel-toned garnet, rich yellow and fiery orange hues.
Related: Ritzy business: A review of The Ritz-Carlton, Kyoto
Kyoto's temples and shrines provide an extraordinary background from which to see the fall foliage and the city's top spots at the same time. Must-see stops include Kiyomizu Temple, Kinkakuji Temple and Ginkakuji.
Bottom line
Whether you plan to travel a short distance for a look at the leaves on a crisp autumn day or you want to fly to another continent for a full-on fall-iday, you'll find what you seek — without the crowds — in these destinations.