Editor's note: This is a recurring post, regularly updated with the latest information. Citi is a TPG advertising partner.
The new Citi travel portal launched earlier this year, offering an enhanced user experience, more hotel options and a new feature for booking activities and attractions. Citi Travel with Booking.com is powered by Rocket Travel by Agoda, utilizing the features and booking availability of Booking.com's brands.
In this article, we will explore the functionality of the new Citi travel portal, discuss any potential drawbacks and clarify who can access this booking engine. Additionally, we will provide a step-by-step guide on using the portal to book your desired travel experiences and explain how to pay using your ThankYou points.
What is the Citi travel portal?
There are four main selling points for using Citi Travel with Booking.com.
First, it provides a one-stop shop for travel that you can pay for with your Citi ThankYou points while booking multiple elements of a trip simultaneously. This can be simpler than transferring points to separate airline or hotel partners and booking your trip piece by piece — and you can even use as many or as few points as you want. The downside is that you might achieve less value from your points to gain simplicity.
Second, the portal allows you to use points to pay for travel beyond flights and hotels, such as guided tours and theme park tickets. You can't do this with Citi's list of transfer partners, and you may achieve better value paying for travel with points in Citi's portal than you would by cashing out your points.
Third, certain card benefits require using the Citi travel portal. This is true of hotel benefits built into the Citi Prestige® Card (no longer open to new applicants) and Citi Premier® Card (see rates and fees). We'll explore those below.
The information for the Citi Prestige has been collected independently by The Points Guy. The card details on this page have not been reviewed or provided by the card issuer.
Lastly, if you're paying for travel (and not using points), you may be interested in the bonus points available when using Citi Travel with Booking.com. Competitors like the Chase Ultimate Rewards travel portal, American Express Travel and Capital One Travel offer higher earn rates (depending on which credit cards you have) when booking your travel in the bank's portal rather than directly.
Through June 30, 2024, Citi cardholders can earn bonus points as follows:
The information for the Citi ThankYou Preferred card has been collected independently by The Points Guy. The card details on this page have not been reviewed or provided by the card issuer.
The fact that Citi's portal provides a one-stop shop for your vacation is its main strength. The ability to book hotels, rental cars and even entrance tickets to tourist attractions in one place (and even pay for these with your points) provides great simplicity.
Related: The ultimate guide to Citi ThankYou Rewards
How to use the Citi travel portal
Citi's portal sets itself apart from competitors by being available to anyone with a credit card earning Citi ThankYou points. For comparison, some travel portals reserve their best features for cardholders with expensive premium credit cards. Thus, you can access the portal with the $495-a-year Citi Prestige Card and the no-annual-fee Citi Rewards+ Card.
You can access Citi Travel with Booking.com by clicking this link and logging into your Citi account. If you have multiple Citi credit cards, you must select which card you want to use for booking travel.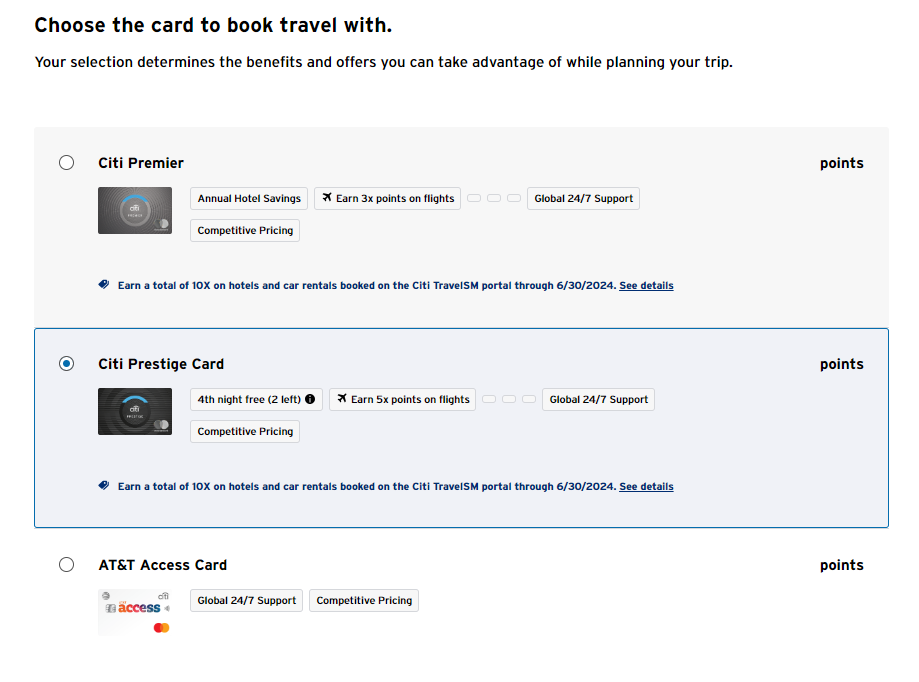 Once you select a card, you're ready to start booking travel.
How to book flights using the Citi travel portal
Booking flights in Citi's portal functions similarly to other portals. You'll choose whether this is a one-way or round-trip flight and provide the route, number of passengers, dates and class of travel. Unfortunately, you can't book multi-city itineraries.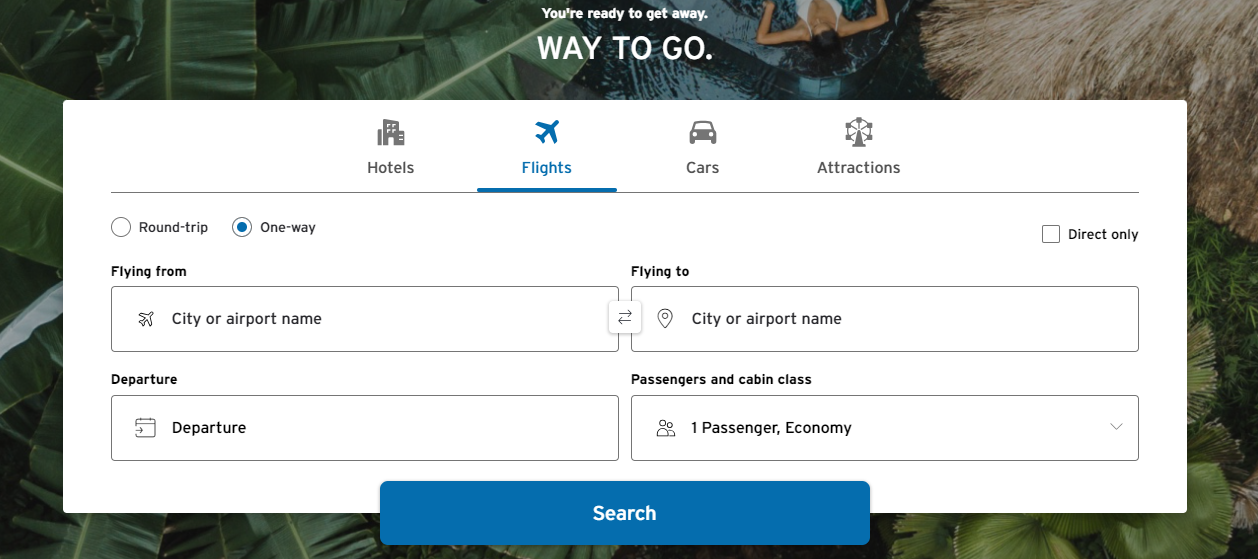 Here's an example search from Chicago to Los Angeles. Note that you can use cities for your search if you don't have a specific airport preference.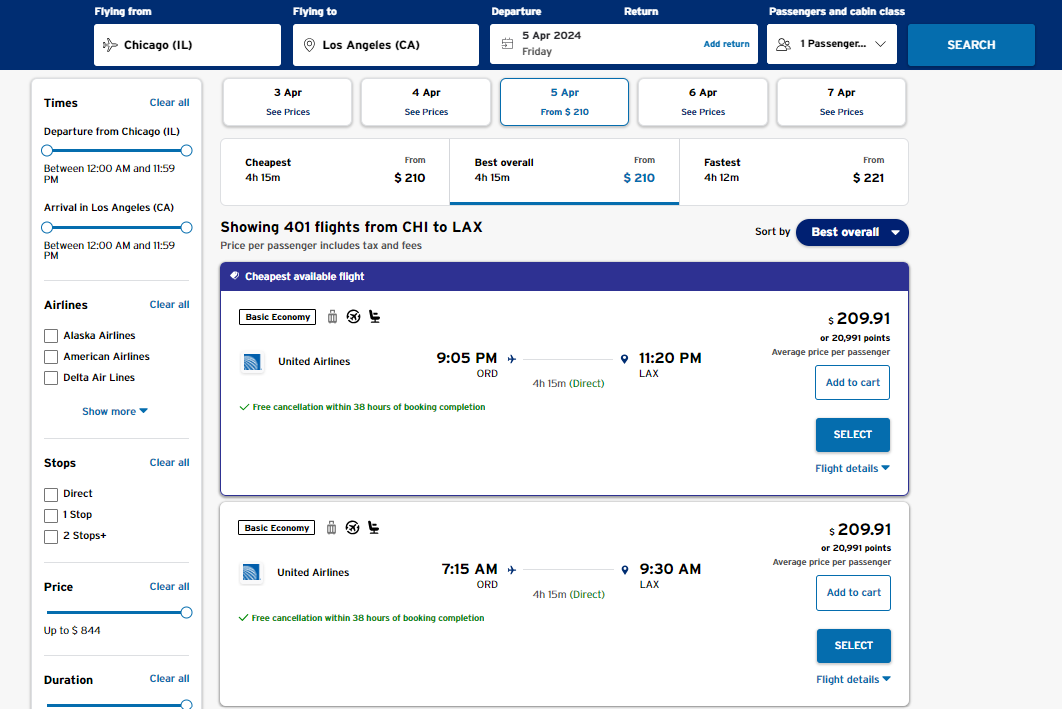 The Citi Travel portal offers many filters and sorting options to help you find the most suitable travel options. These filters allow you to refine your search based on price, duration, departure and arrival times, number of connections and even your preferred airline. Furthermore, you can sort the results using these options without losing any filtering choices.
To change the sorting order of the results, click on the "Best overall" drop-down menu on the right side above the price of the first result.
Once you have selected a flight, you will be prompted to provide passenger information, including names, dates of birth, frequent flyer numbers and known traveler numbers for TSA PreCheck and Global Entry (if applicable).
Additionally, before making your payment, you can upgrade to a higher class of travel if it is available. This is the first time you'll see the cost to book a main cabin fare instead of a basic economy fare.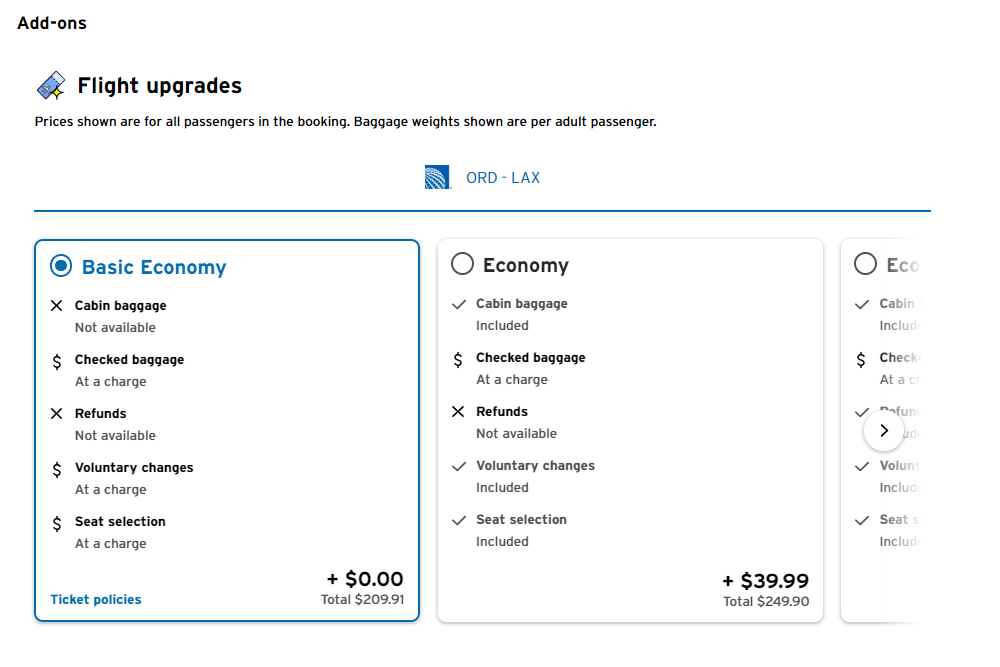 And if your fare class lets you select a seat, you can do so before heading to the payment page.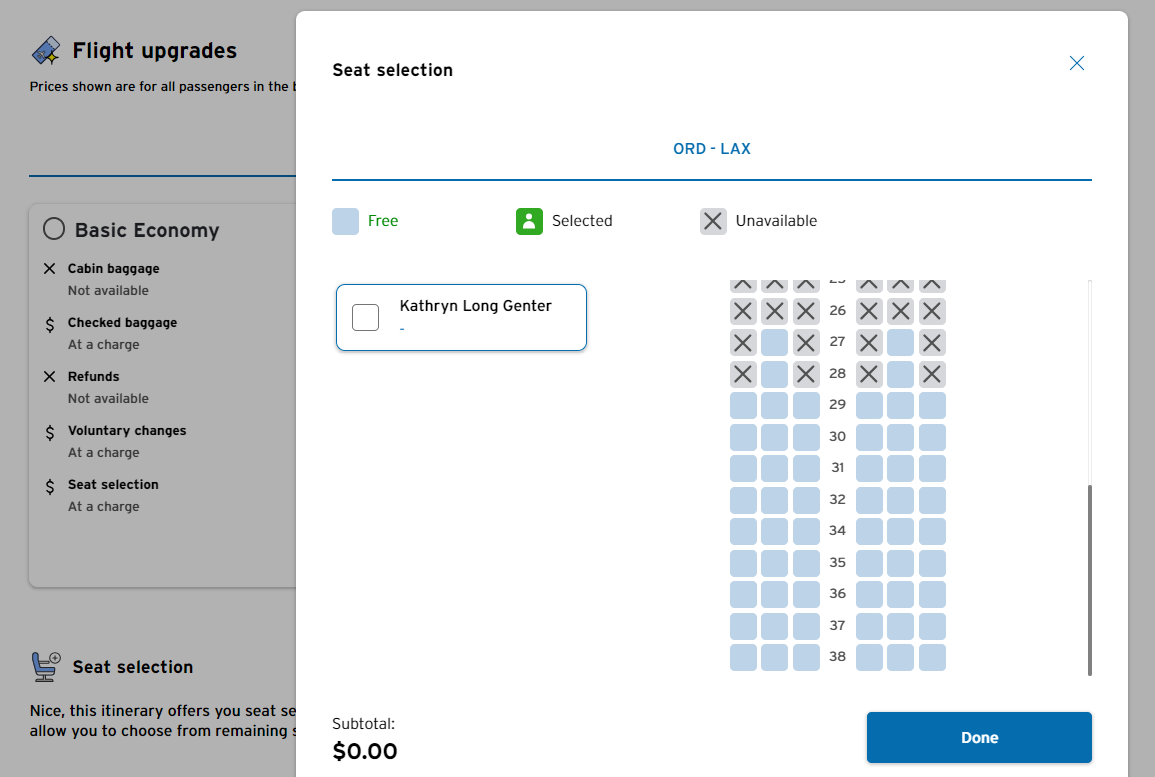 On the final page, you'll choose how you want to pay (with your points, credit card or a mix of the two) and complete your purchase. The redemption rate is an underwhelming 1 cent per point. For context, our valuations peg ThankYou points at 1.8 cents apiece, which you should be able to get by maximizing Citi's transfer partners.
How to book hotels using the Citi travel portal
Booking hotels will feel familiar to those who have used other portals.
You should choose your Citi Premier or Citi Prestige card before beginning your hotel search if you intend to use those cards' benefits. Premier cardholders can use a $100 hotel credit each calendar year on a booking of $500 or more. In contrast, Prestige cardholders get a fourth night free on hotel bookings in the portal, available up to twice per calendar year.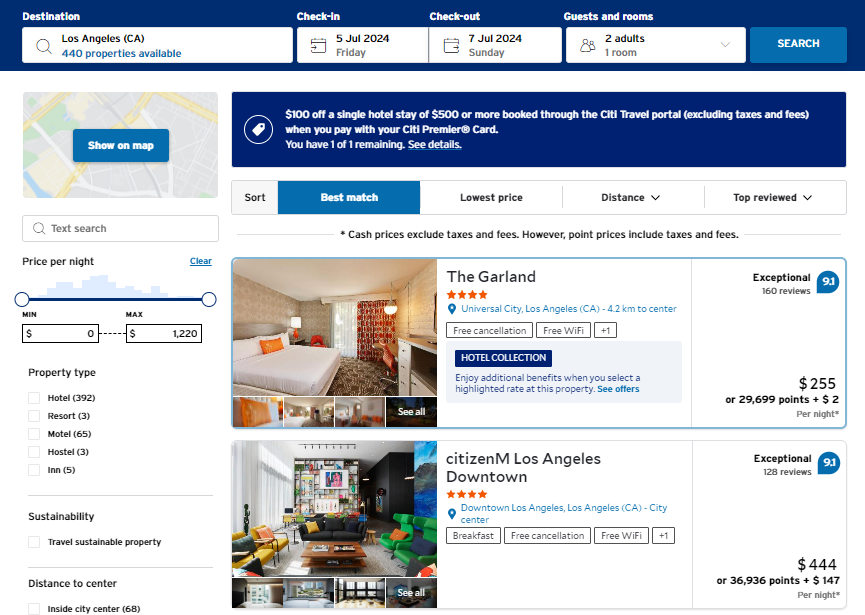 From here, you can add filters to help you reduce your results, such as by price, neighborhood, star rating and nearby attractions.
Once you pick a property, you'll see details on its amenities and features.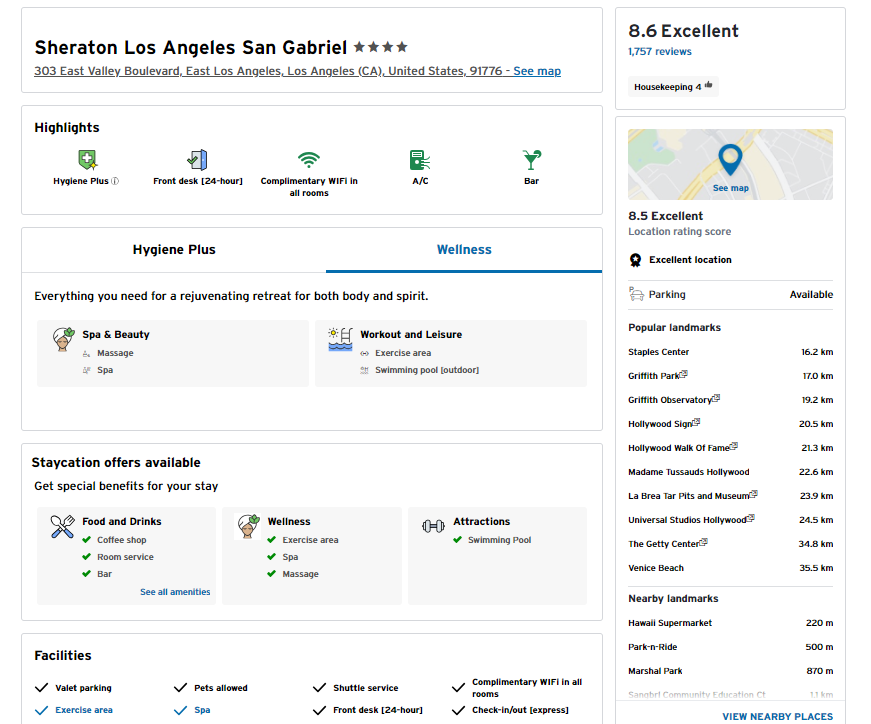 Then, you can select your desired room.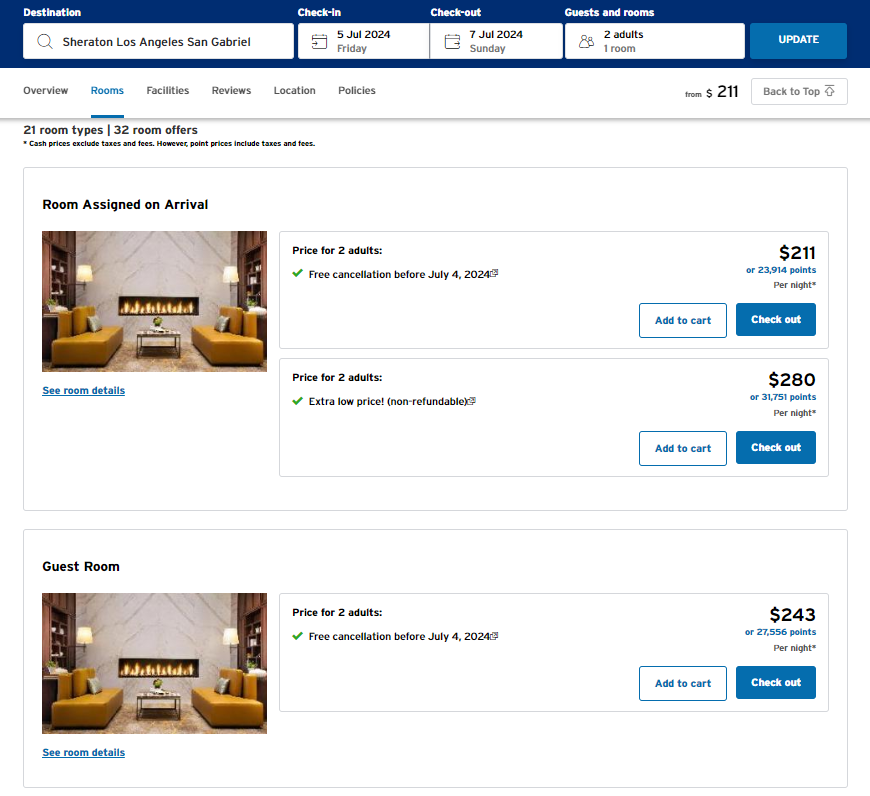 After choosing a room type, you can pay with points at checkout. Again, each point is worth a lackluster 1 cent.
You'll also have the option to view the cancellation policy before paying. Since policies can vary, ensure you know whether it's possible to change or cancel your booking before you make the final payment.
However, if you book a hotel that's part of a major loyalty program — like Hilton Honors or Marriott Bonvoy — through Citi, you likely won't earn points, nor will you enjoy any elite status perks on your reservation.
Hotel Collection and Luxury Collection properties
Alongside its revamped portal, Citi has introduced two new hotel programs, namely the Hotel Collection and the Luxury Collection. These programs offer similar advantages to other luxury hotel programs offered by credit cards.
Reservations through the Hotel and Luxury Collection have no minimum stay requirements. However, access to the Luxury Collection is exclusive to Citi Premier and Citi Prestige cardholders.
You will receive guaranteed benefits such as daily breakfast for two people and complimentary Wi-Fi for Hotel Collection bookings. In addition to these perks, the Luxury Collection offers a $100 on-property credit, which can be used based on the policies of each hotel. Both programs also provide other benefits, such as early check-in, late checkout and room upgrades (specifically for Luxury Collection bookings, subject to availability at check-in).
Unfortunately, you can't filter search results specifically for Hotel and Luxury collections properties. To identify these properties, you must look for a tag or description indicating their inclusion in your search results.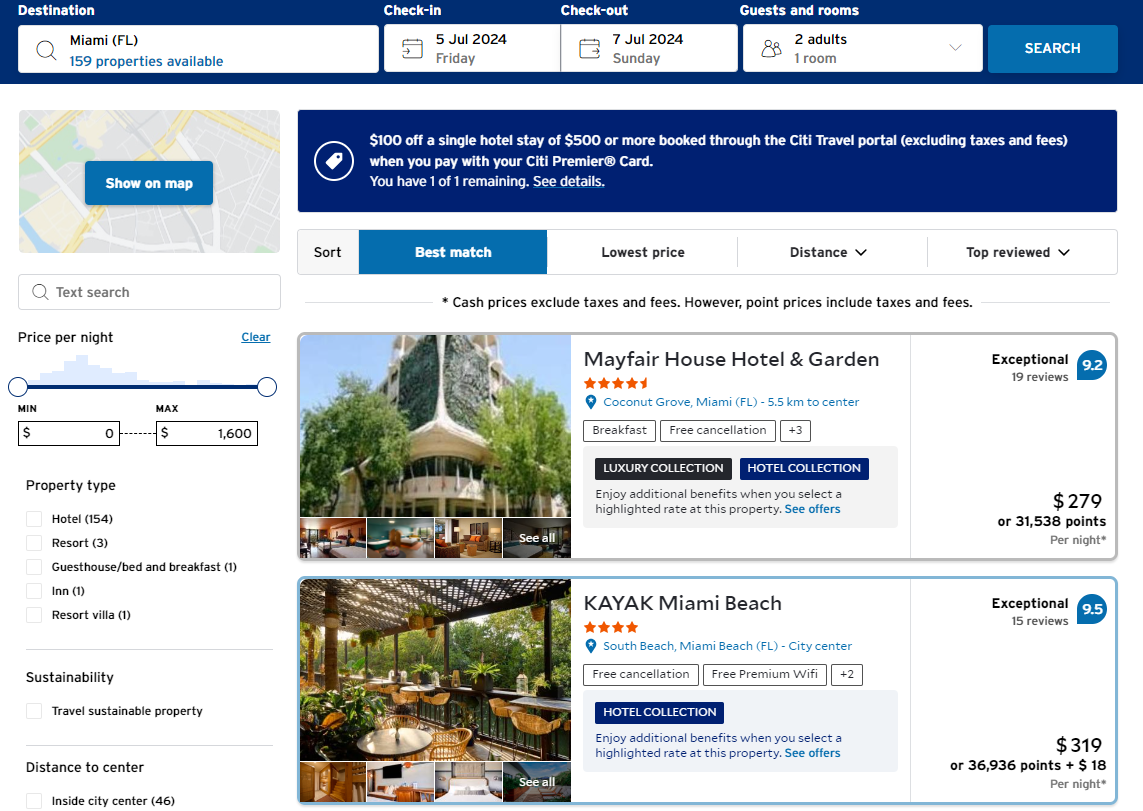 Related: A comparison of luxury hotel programs from credit card issuers: Amex, Capital One, Chase and Citi
How to book rental cars using the Citi travel portal
Searching for rental cars feels familiar and works quickly.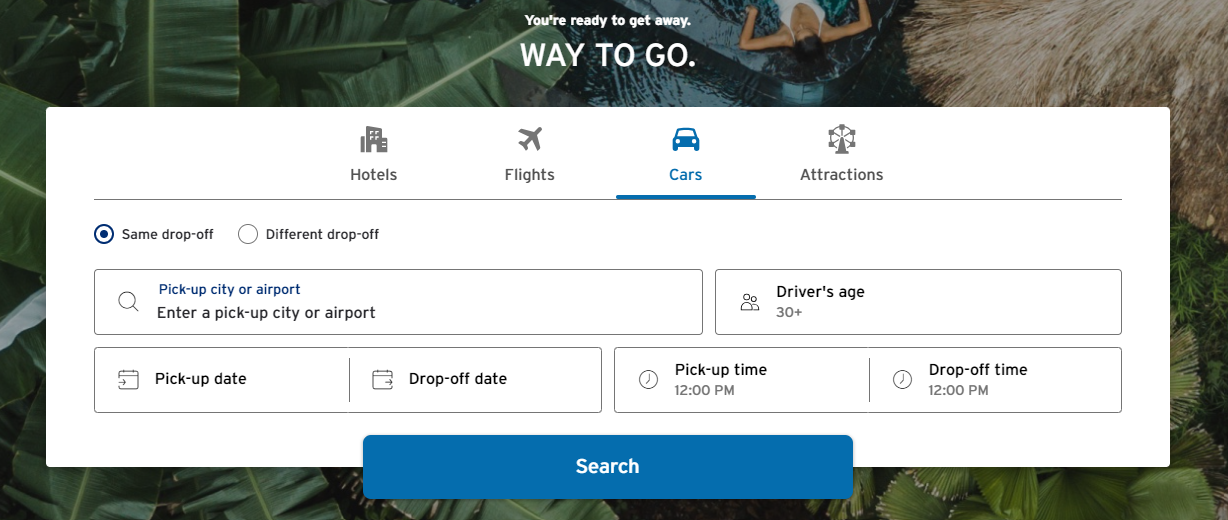 After providing your location, dates, times and age, click "Search." From the available results, you can use the following filters:
Price
Vehicle type
Rental company
Free cancellation option availability
After choosing a car, you can see the full details and cancellation policy on the next page.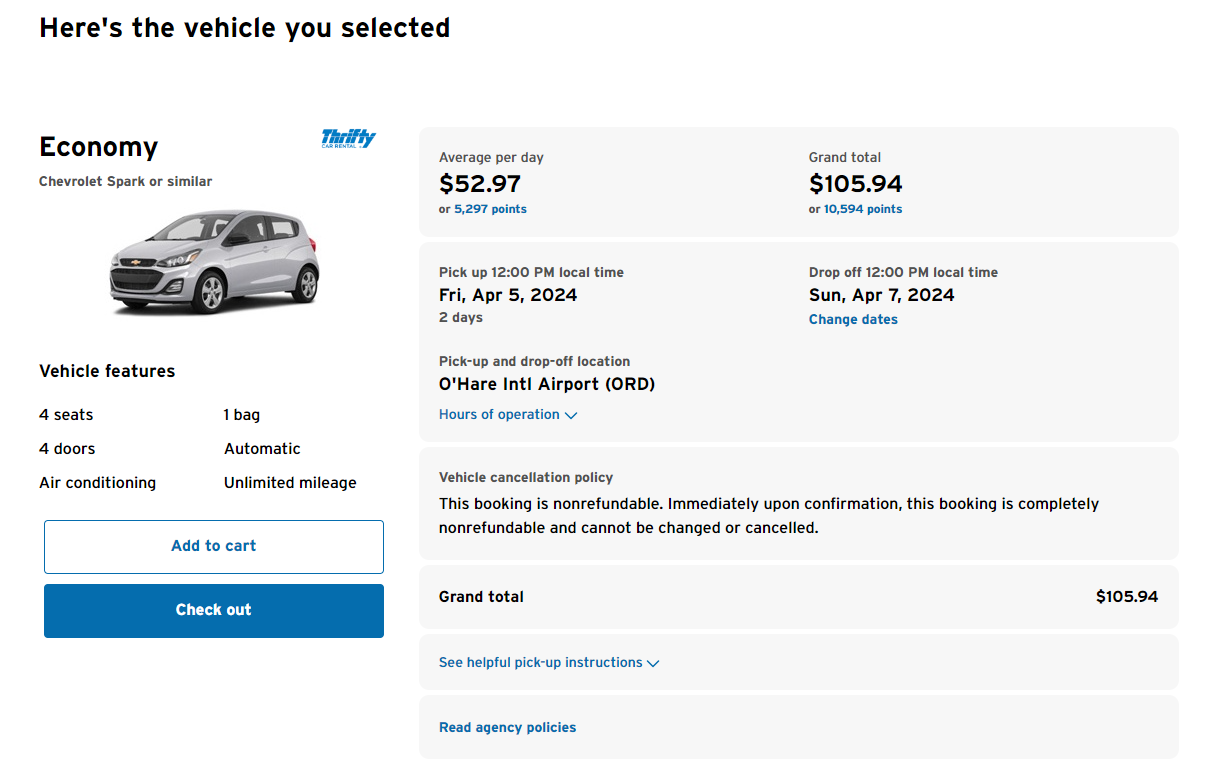 As with other items in Citi Travel with Booking.com, you can add your rental car to the shopping cart (if booking multiple travel elements) or go straight to check out to pay and reserve. Again, you can pay with points at a rate of 1 cent apiece.
How to book attractions using the Citi travel portal
One standout feature of Citi's travel portal is the ability to book attractions along with your hotels, flights and rental cars. This convenient option allows you to make a single transaction for all your travel needs, and you can even use your points to pay for them.
To access this feature, look for the "Attractions" option in the main search bar. However, depending on your location within the portal, you may need to click "More" in the drop-down menu and select "Attractions" from there.

Once you search for a destination, you'll see all available options— from entrance tickets for tourist sights to guided tours. For example, you can book a guided walking tour of the Hollywood Sign.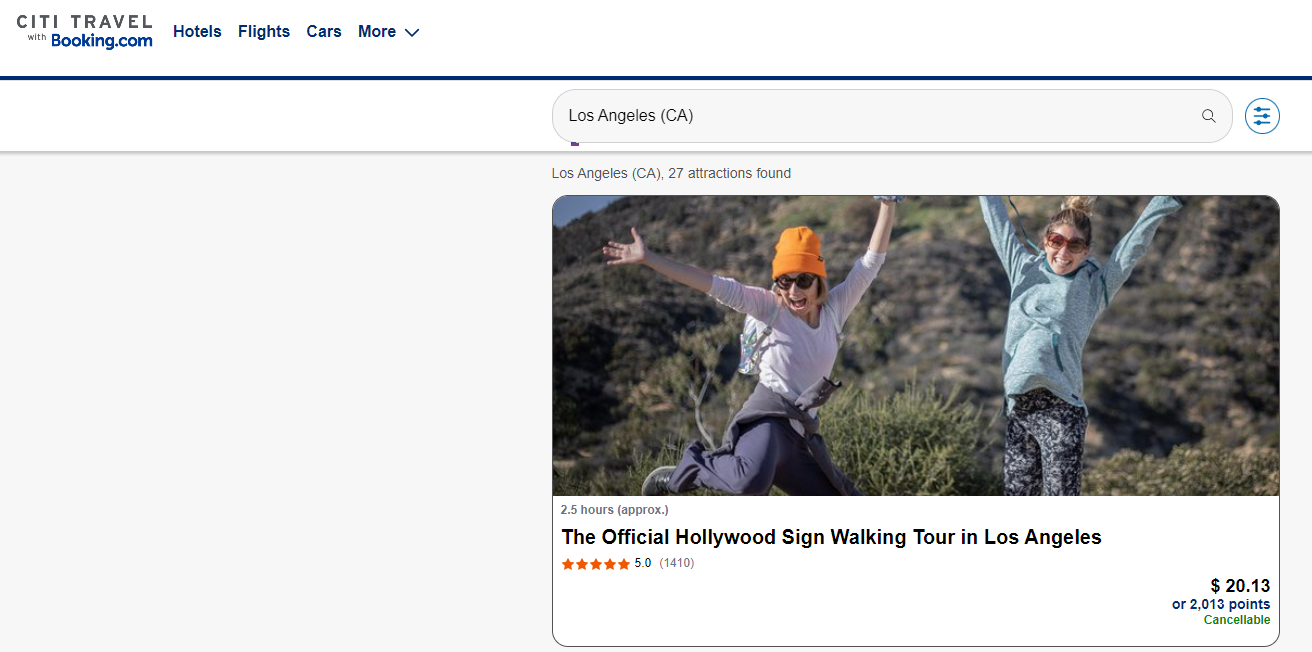 When you see an activity or tickets you want to purchase, click on the tile. This will take you to a page with details about this offering and cancellation policies.
One noteworthy option is Chicago CityPASS tickets, including access to five popular attractions. Click on "Check availability" in the top right corner to choose your preferred date to find pricing and availability.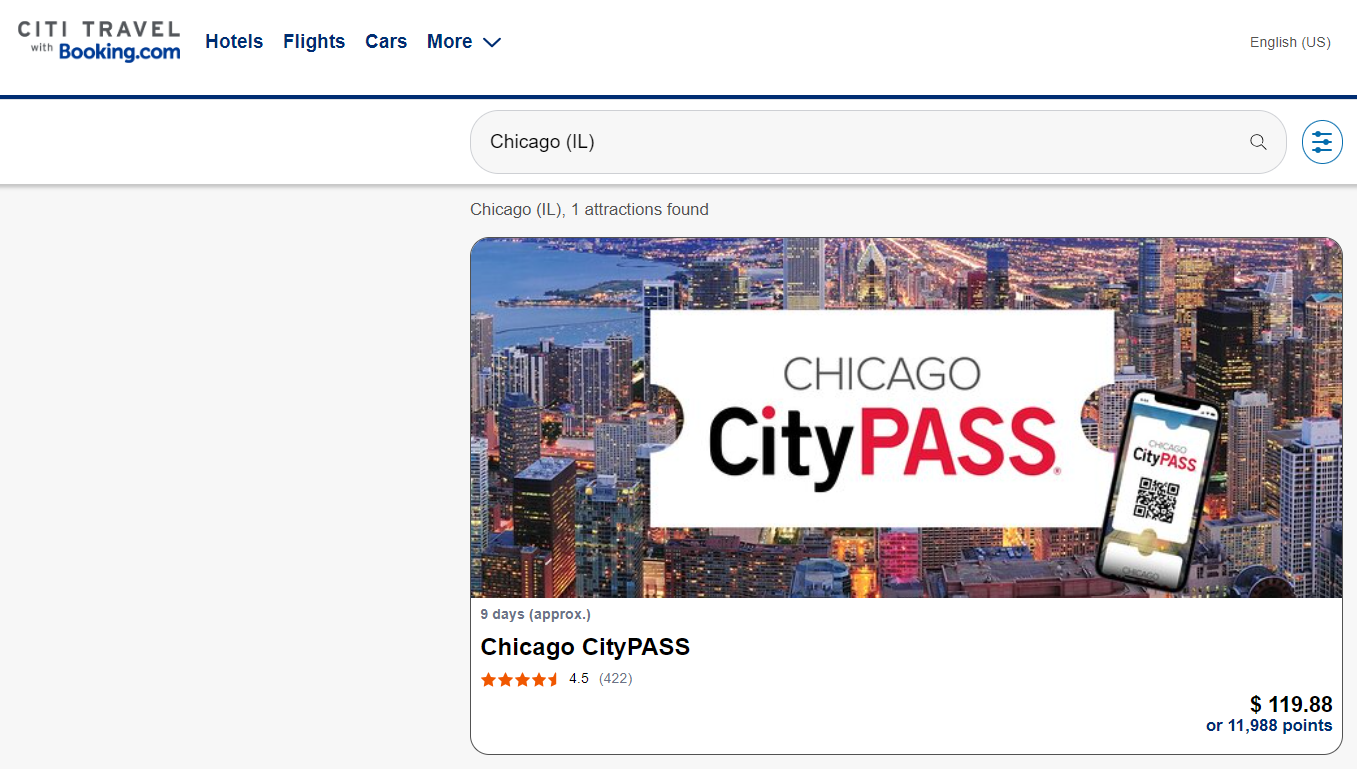 As with other elements of Citi's portal, you can pay for attraction bookings using ThankYou points with a value of 1 cent apiece.
More things to consider about the Citi travel portal
Now that you know how to use the Citi travel portal, here's some general guidance to maximize your experience.
As always, we recommend comparing prices. There is no guarantee that Citi Travel with Booking.com will offer the best price for your trip. It's recommended to compare the prices you see on the portal with prices available when booking directly with hotels, airlines, rental car companies or tour providers.
If you plan to pay with points, check if you can get better value by using fewer points with Citi's transfer partners. Transferring points to programs like Wyndham Rewards may let you get more value from your points. Check out our guide to redeeming Citi ThankYou points for high-value redemption ideas.
Also, if you book hotels or car rentals through Citi's travel portal, you may forfeit any elite status earnings and benefits. Many loyalty programs require direct bookings to recognize elite status and provide associated perks. Evaluate whether the benefits you would be giving up are worth it.
Finally, Citi Premier and Citi Prestige cardholders have exclusive benefits within the travel portal. Premier cardholders can enjoy $100 off a hotel stay of $500 or more once a calendar year, while Prestige cardholders can get a fourth night free on hotel stays of four nights or more twice a calendar year. If you're making an eligible hotel reservation, you'll see the option to use your available benefit on the payment screen.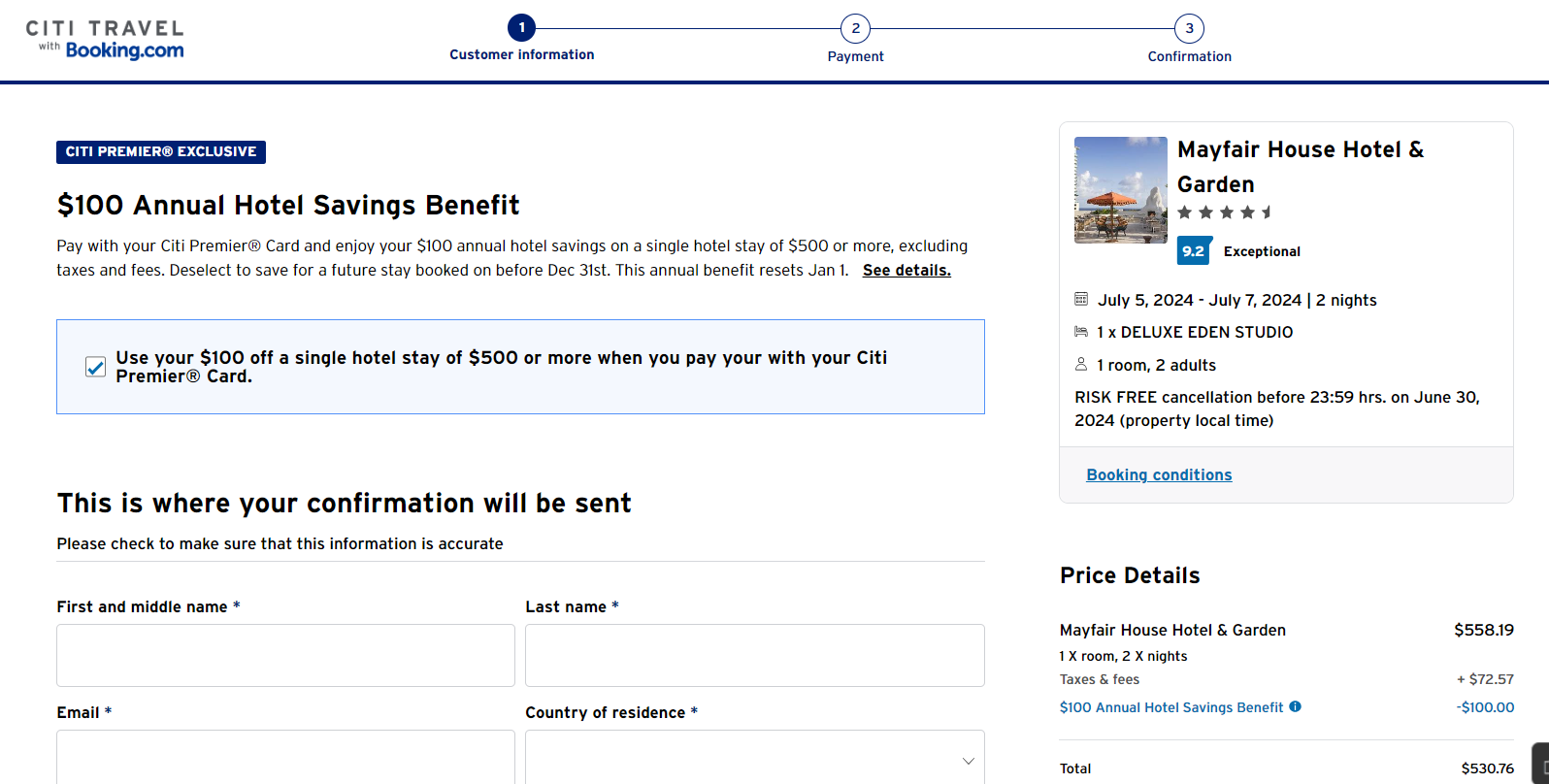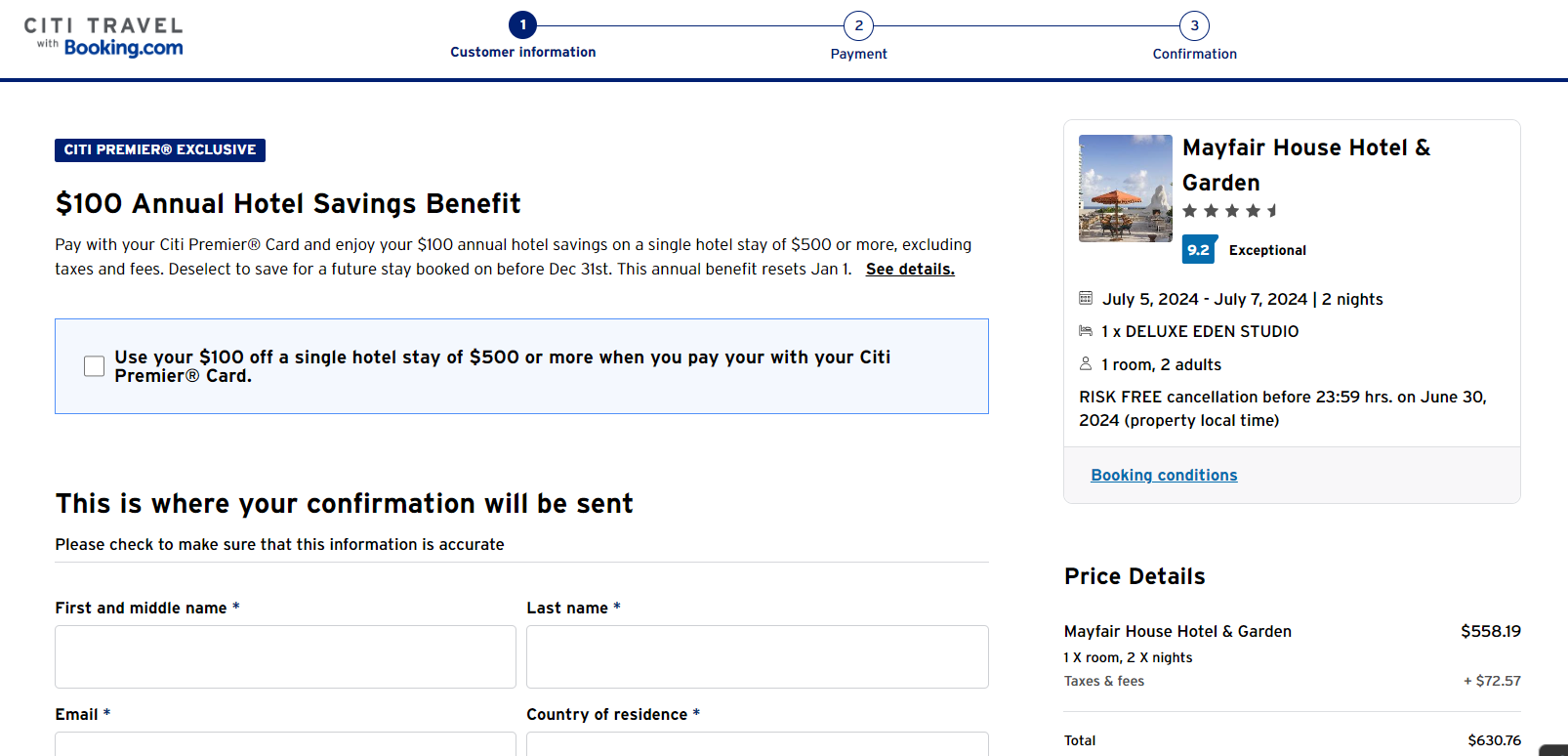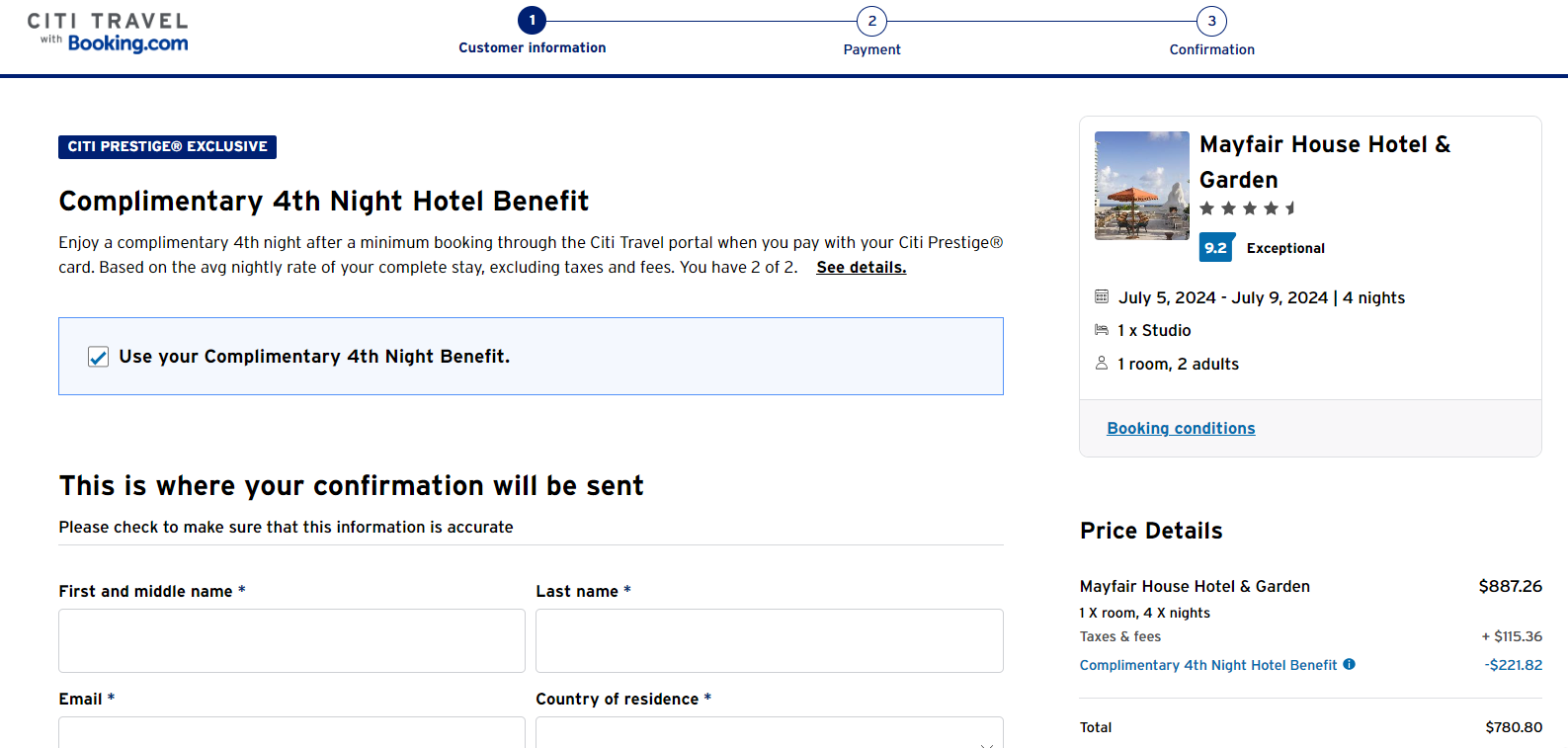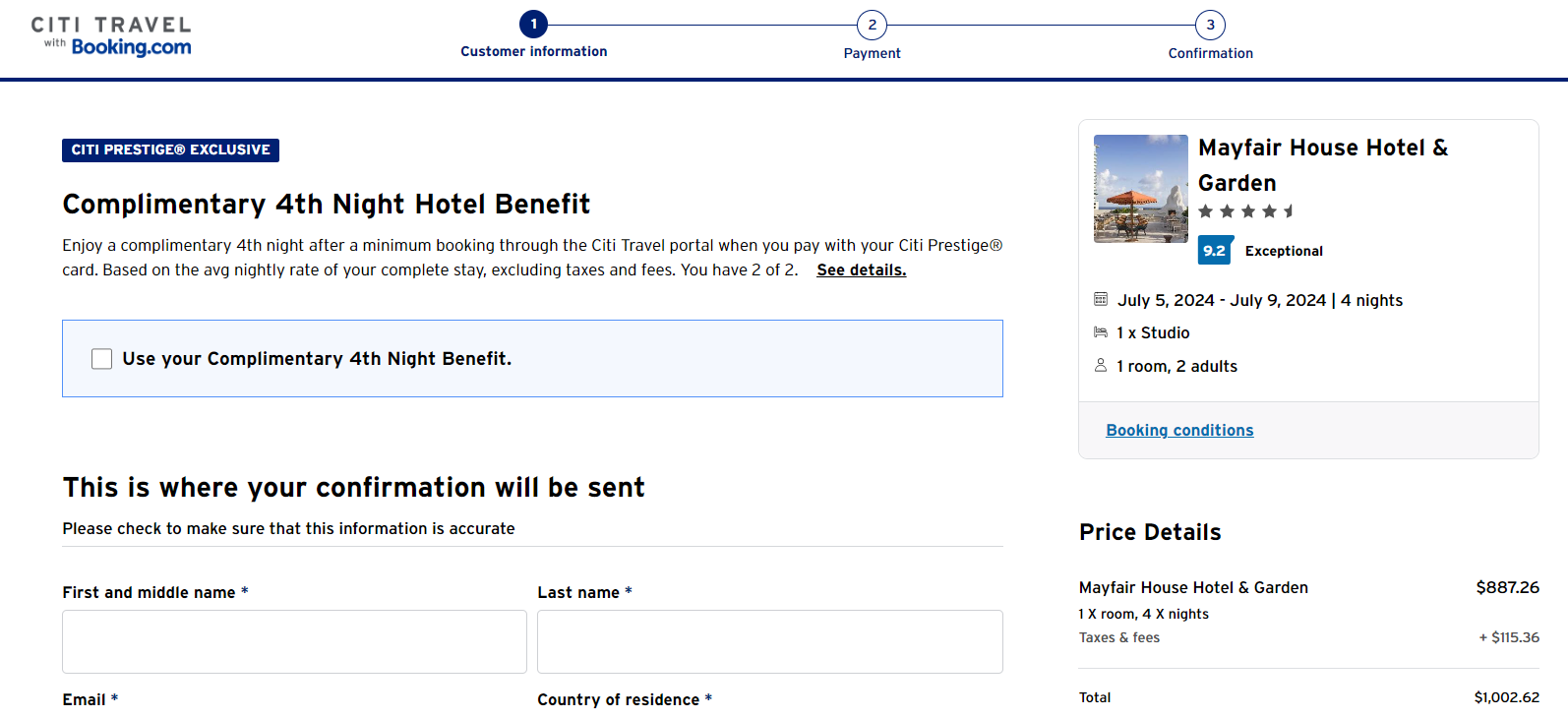 You'll also see the benefit(s) highlighted on the hotel search page if you have one of these cards. This includes information on how many more times your benefit can be used.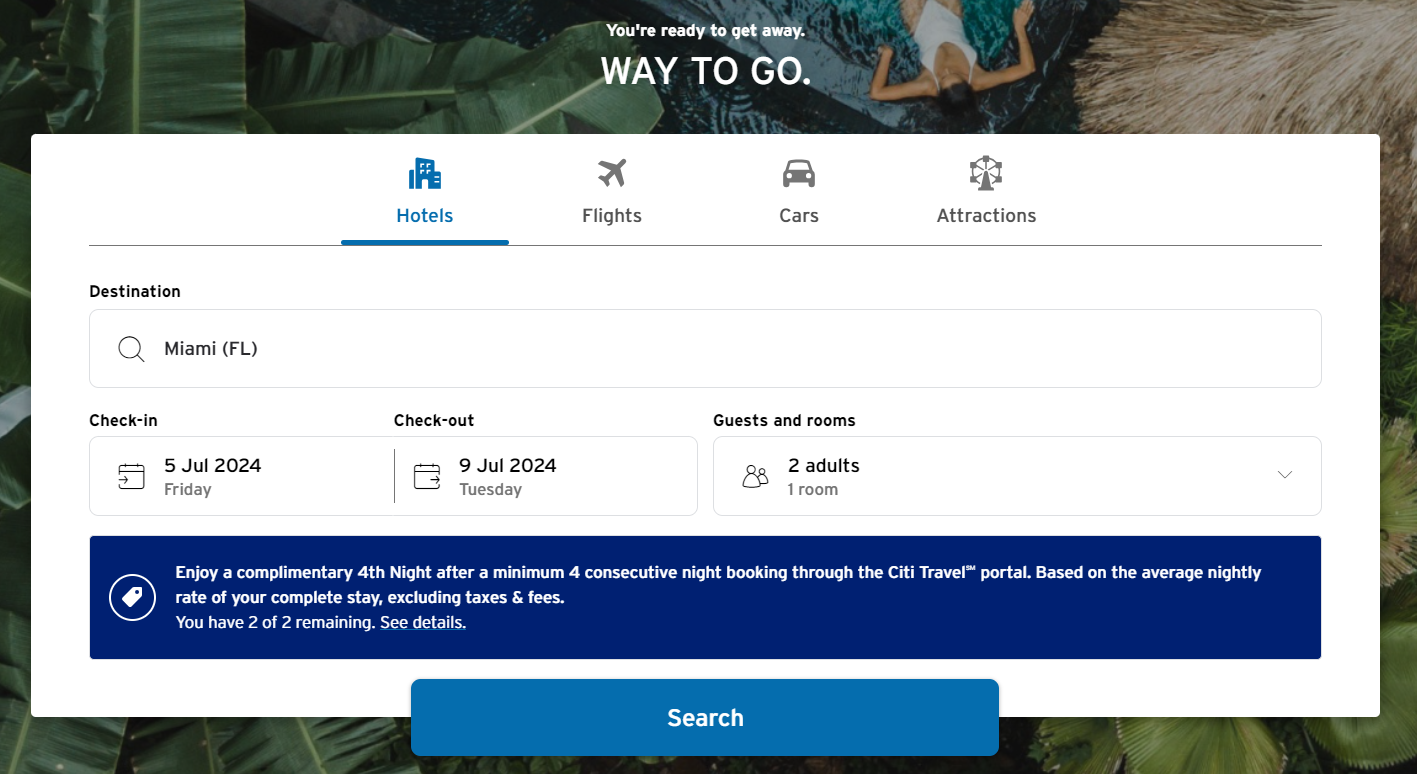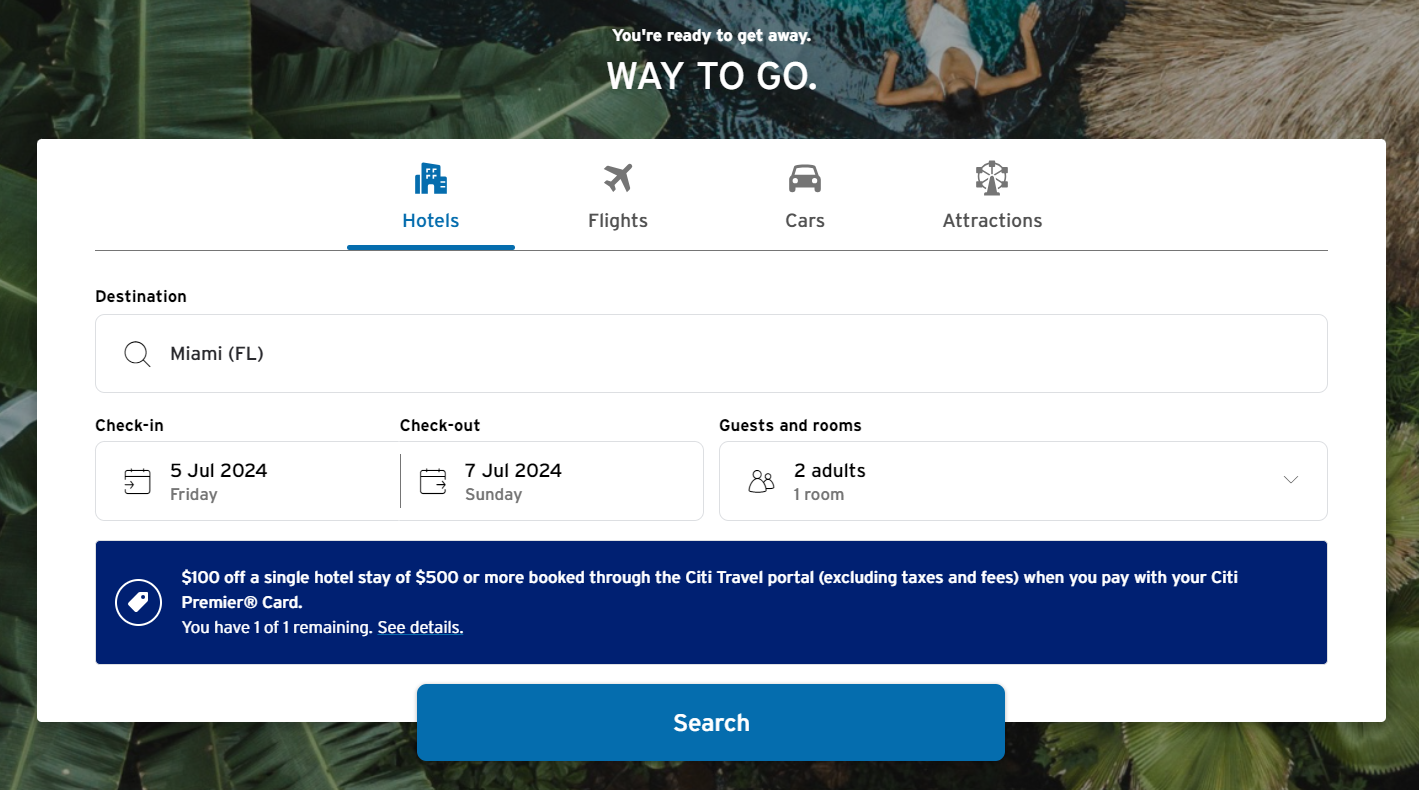 If you don't see these benefits, check the top right corner of the portal and ensure your Premier or Prestige card is the active card for your searches.
Bottom line
Citi's revamped travel portal allows you to search and make travel reservations for flights, hotels, rental cars, and even tours and attractions. You can book travel up to a year in advance and pay using your Citi ThankYou points or any travel credit card.
Additionally, if you hold the Citi Premier or Citi Prestige, you can utilize your hotel benefits through the portal.
However, it's important to consider potential tradeoffs. Assess your elite status with hotel or rental car companies and determine if you might get better value by booking your travel through another platform. If convenience is your deciding factor, this user-friendly portal offers many results when planning your upcoming vacation.
Additional reporting by Kyle Olsen.