Hyatt doesn't have the biggest footprint when it comes to the major hotel groups, but it has grown steadily over the last several years — focusing on luxury properties, its European expansion, extended stays and all-inclusive resorts. Hyatt also recently acquired Mr & Mrs Smith hotels and is about to get into the vacation home rental market.
If you ignored the Hyatt portfolio in certain destinations in the past, you need to revisit the options. Vienna is a perfect example. When I reviewed my choices for a recent vacation there, it wasn't easy to pick from the five properties the World of Hyatt app suggested. For my needs, I decided to split my time between Park Hyatt Vienna and Andaz Vienna Am Belvedere.
I'm sharing my take on all five of the best World of Hyatt hotels in Vienna so you can book the one that's right for your next stay.
Related: Here are all the new additions to World of Hyatt — and the 1 that's going away
Best for Vienna's old city: Park Hyatt Vienna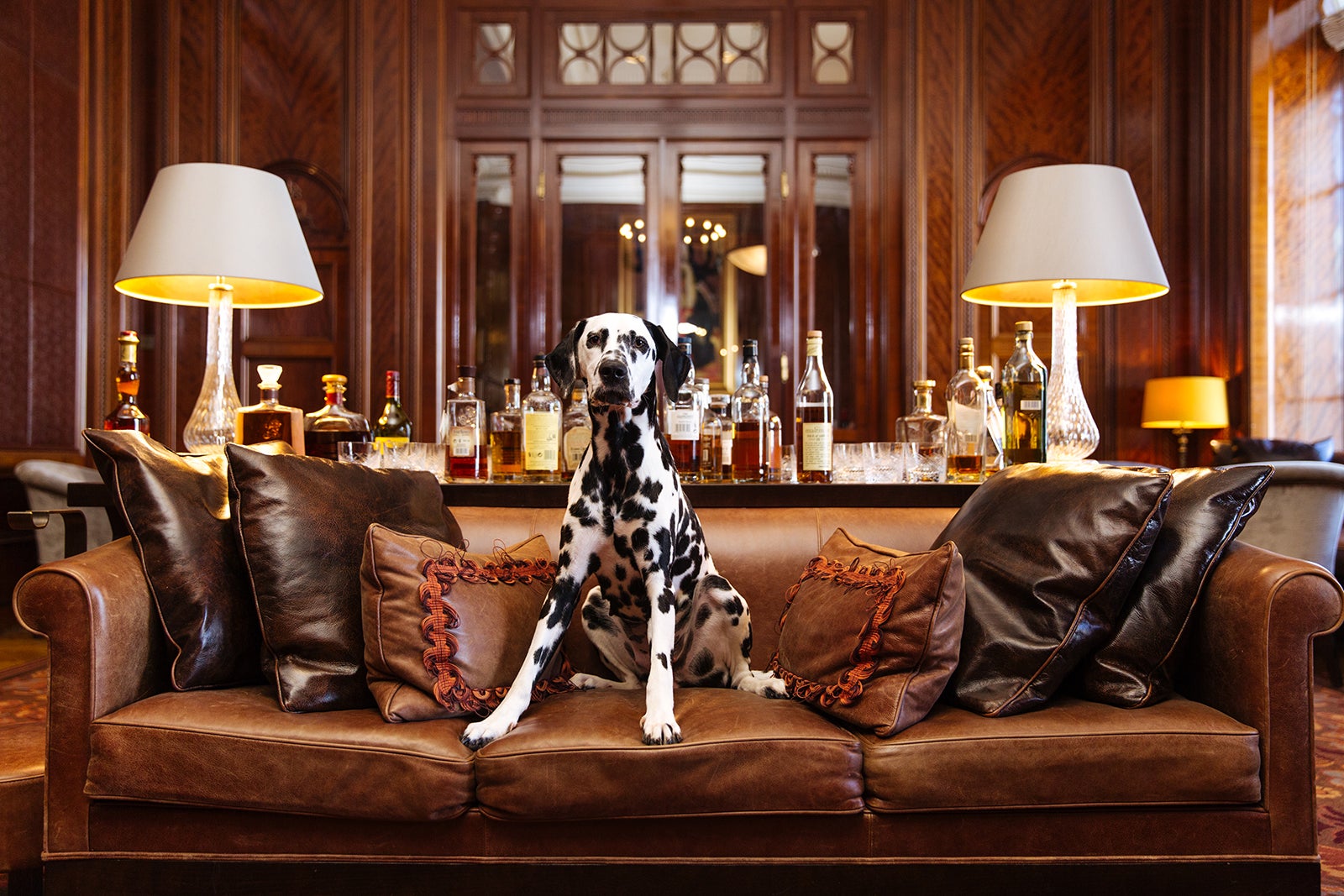 TPG's pick for the overall best World of Hyatt property in the city is the six-story Park Hyatt Vienna. With 146 guest rooms and 42 suites, this is a fantastic place to apply a Globalist suite upgrade award.
[circuit type=roundup circuit_id="9638″]
Everyone should stay at the Park Hyatt Vienna at least once in their lifetime. Ask Hyatt loyalists, and they'll tell you it's one of their favorite hotels in Europe. I figured some of the praise was hype, but after my recent visit, I can assure you that the accolades are well-deserved.
Here's what makes the Park Hyatt Vienna so special:
Close to sights and Christmas market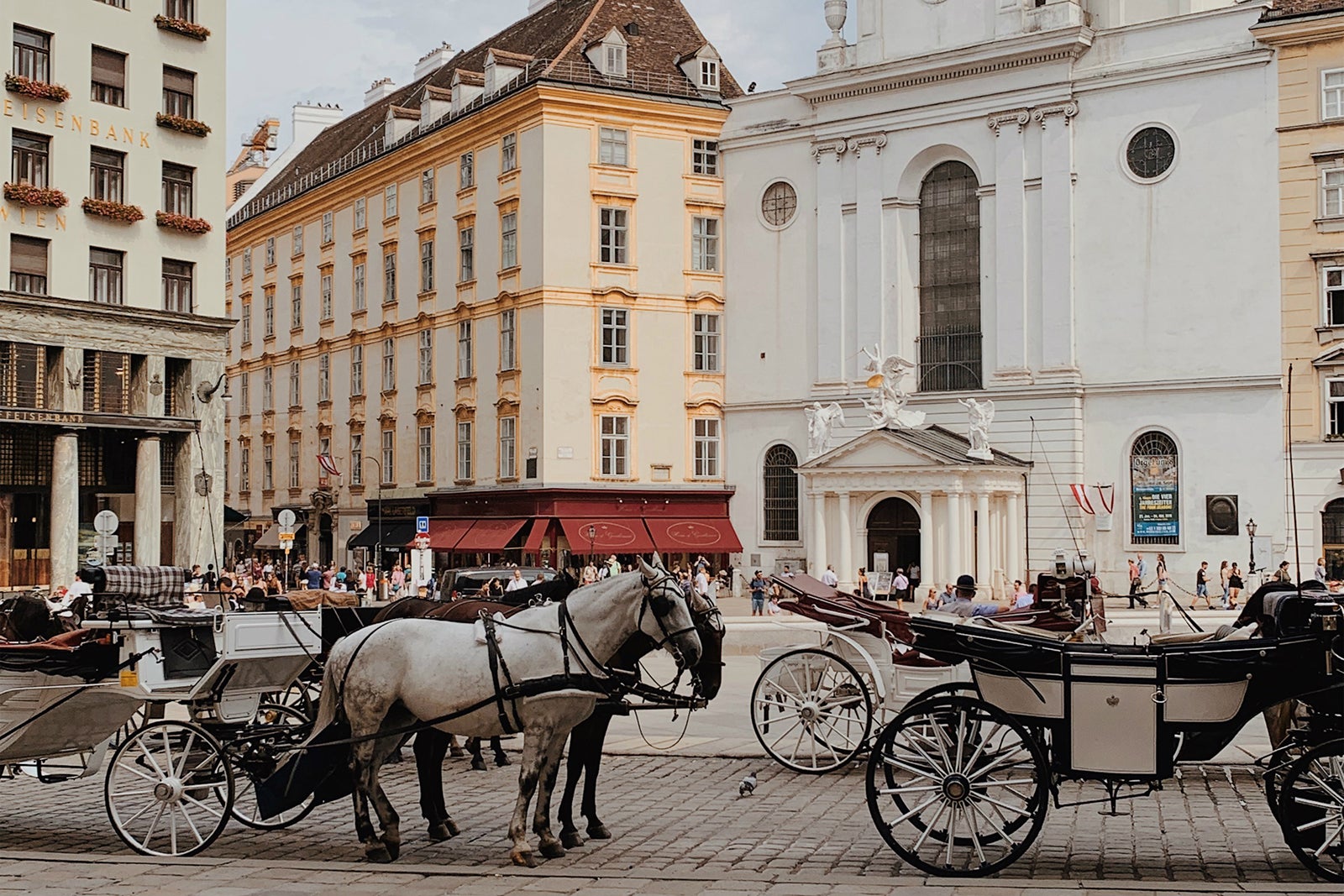 Of all your Hyatt options, the Park Hyatt Vienna — on Am Hof square in the city's so-called Golden Quarter — has the most enviable location in the capital. During the holiday season, a veritable winter wonderland and festive Christmas market will greet you when you walk out the front door.
Walk a block or two, and you have dozens of luxury retail shops, cafes and chocolate shops to choose from.
Want to see the sights? You can easily walk to all of these (which is a good thing since much of Vienna's old city is vehicle-restricted):
Cafe Demel and Central Cafe — four minutes
Sisi Museum and Spanish Riding School — six minutes
St. Stephen's Cathedral — seven minutes
The Hofburg and Albertina — 11 minutes
Vienna State Opera — 14 minutes
Natural History Museum — 15 minutes
MuseumsQuartier — 19 minutes
If you have limited time for sightseeing or simply want to be in the middle of it all, you can't beat Park Hyatt Vienna.
Historic building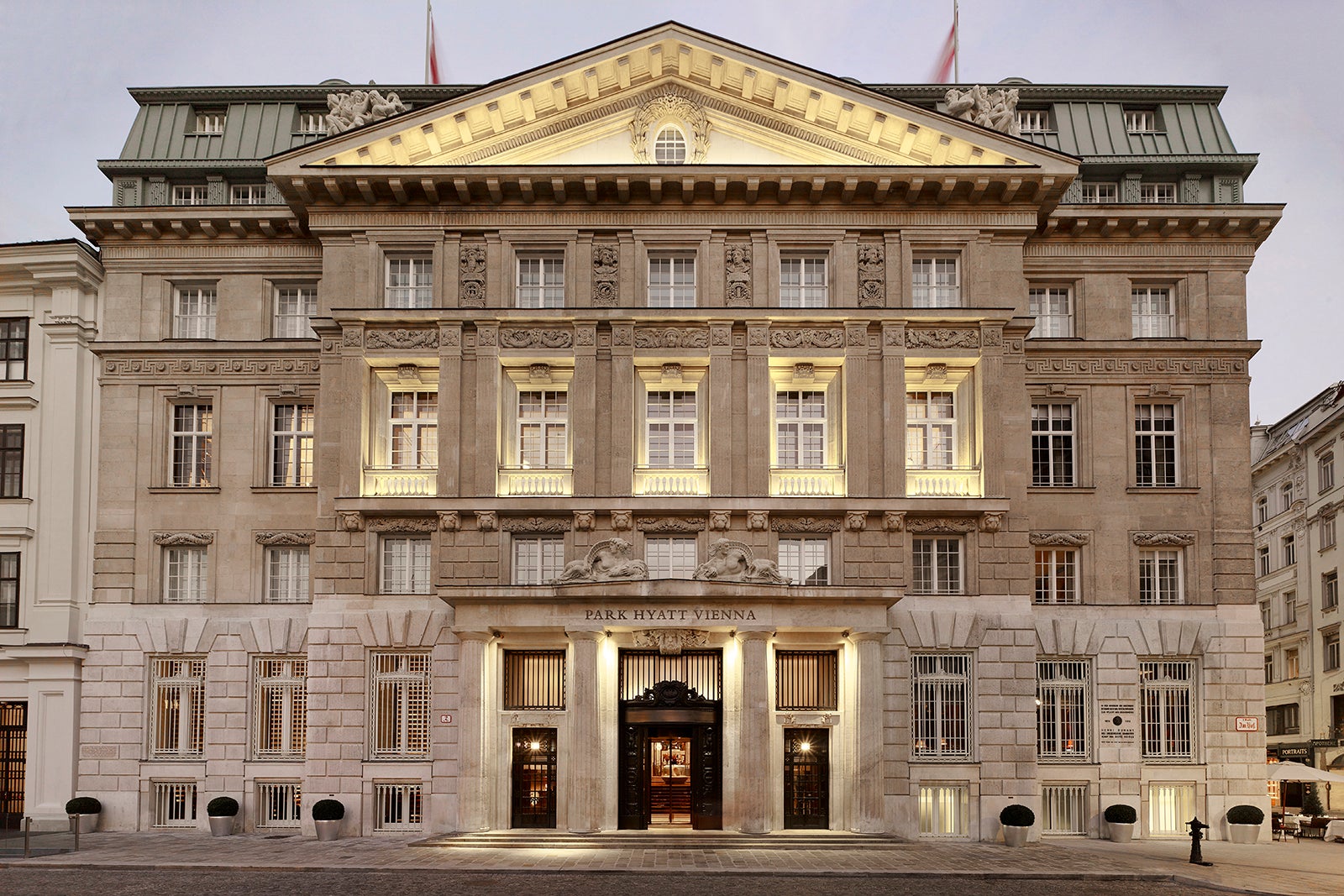 Vienna is like a classic novel, and its historic buildings are its characters. At every turn in the Innere Stadt (within the Ringstrasse road that circles the oldest and fanciest parts of the city), you'll revel in incredible baroque and art nouveau architecture.
The UNESCO-listed Park Hyatt Vienna is housed in a former bank building that's more than 100 years old. The edifice was painstakingly renovated and transformed into a luxury hotel, which opened in 2014.
The hotel retained many of the bank's original details and art. Head to the spa to visit the old bank vault that now houses the pool. The original vault door is also at the ready for Instagram moments.
Impeccable service
Park Hyatt Vienna is a luxury hotel, and the staff is a notch or two above what you'll find at more mainstream properties. The doormen, concierge, front desk representatives, restaurant and bar hosts, and housekeepers were universally cheery and helpful.
Check-in was efficient, and our room was ready by 10 a.m. We were proactively offered late checkout (as a Globalist benefit), too. The room was immaculate, and our glasses never went empty in the bar or restaurant. The concierge and doorman also had spot-on suggestions for what to see and do in the area.
Bonus: Excellent restaurant, cafe and bar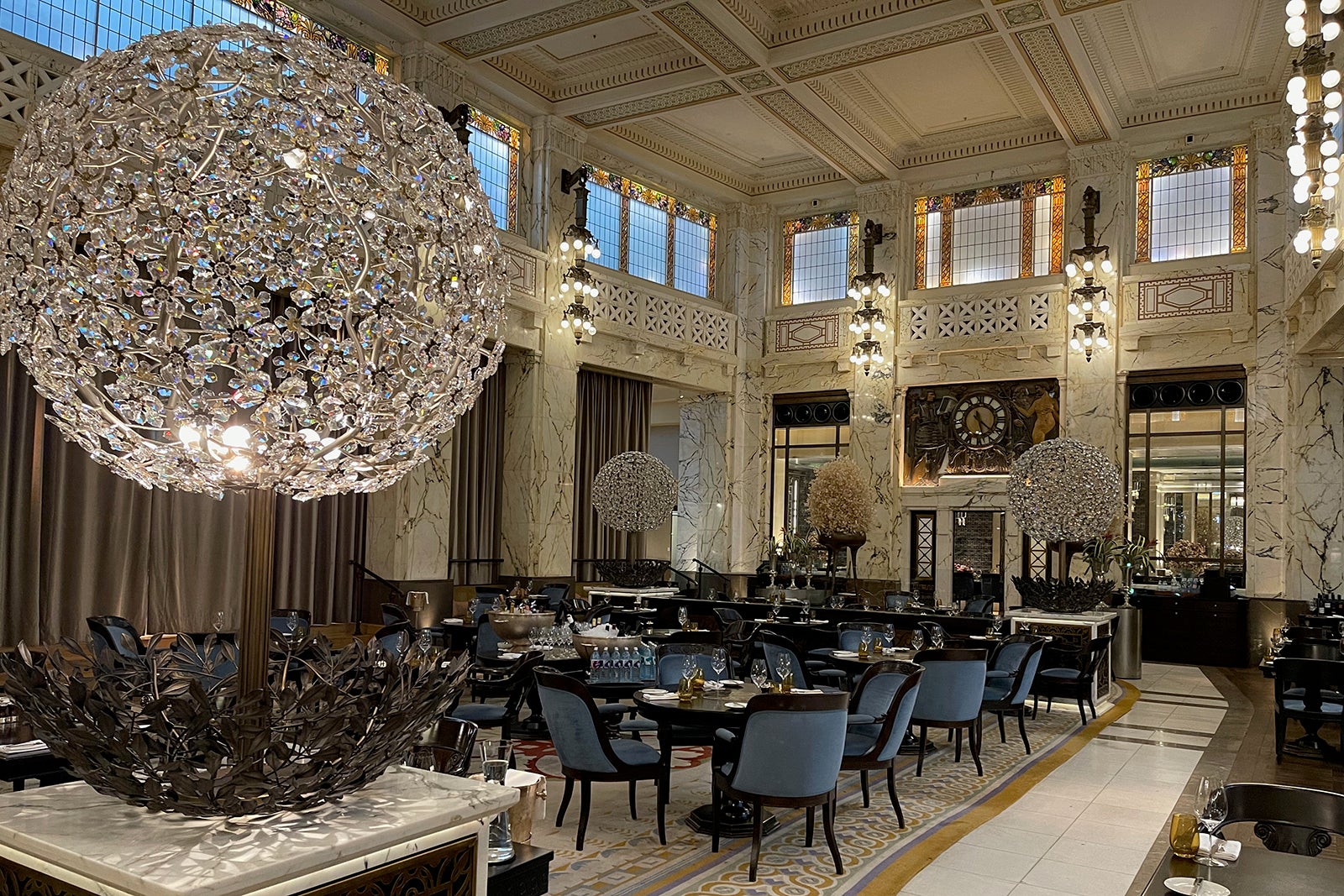 Finally, we're foodies, and we thought the hotel's Bank Brasserie was exceptional. Breakfast, which is included for Globalists, was phenomenal. You can order off the menu or opt for the buffet. (Globalists can do both.) Order the chive toast and then head to the buffet for the delicious smoked meats, cheeses, homemade breads and pastries, and so much more.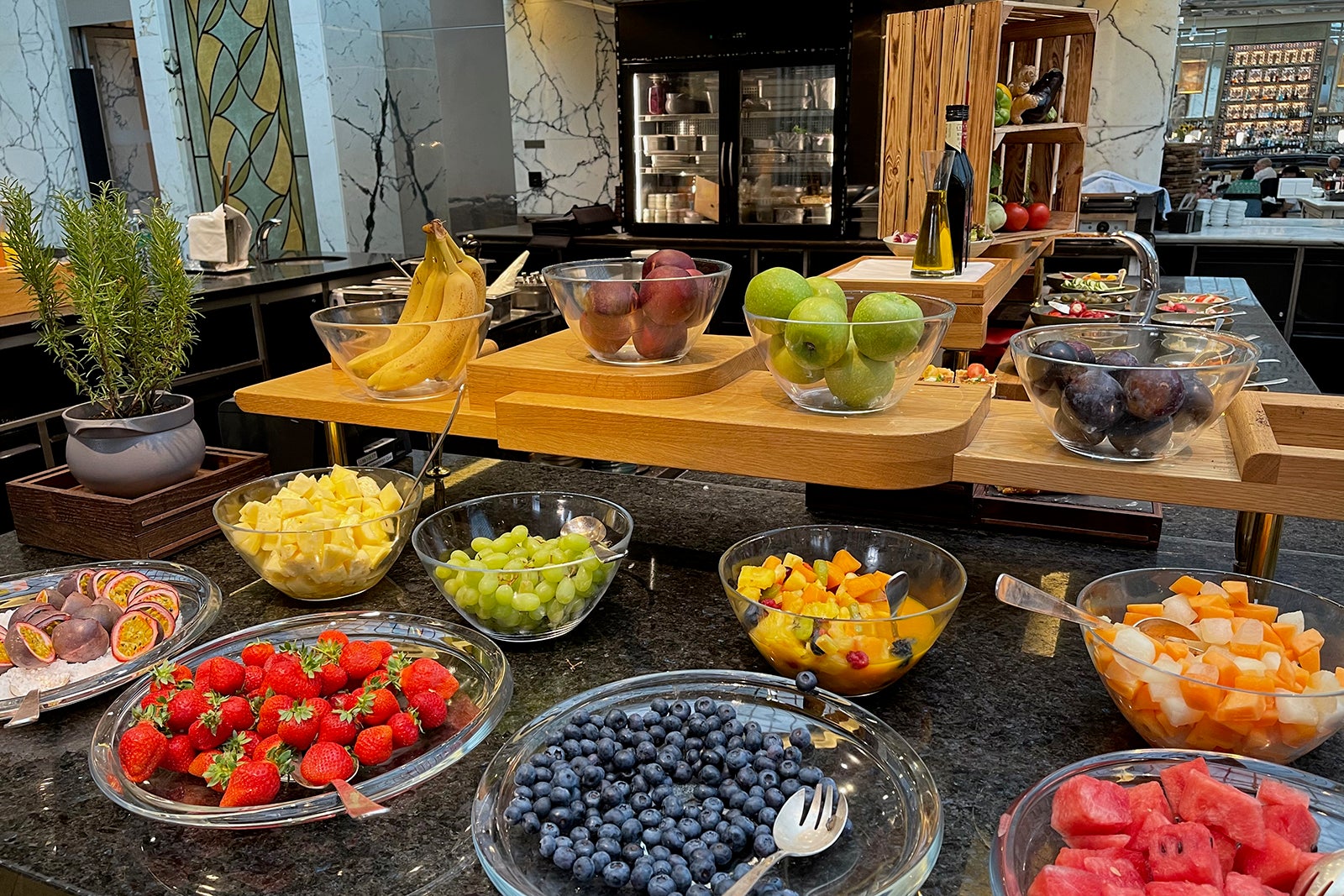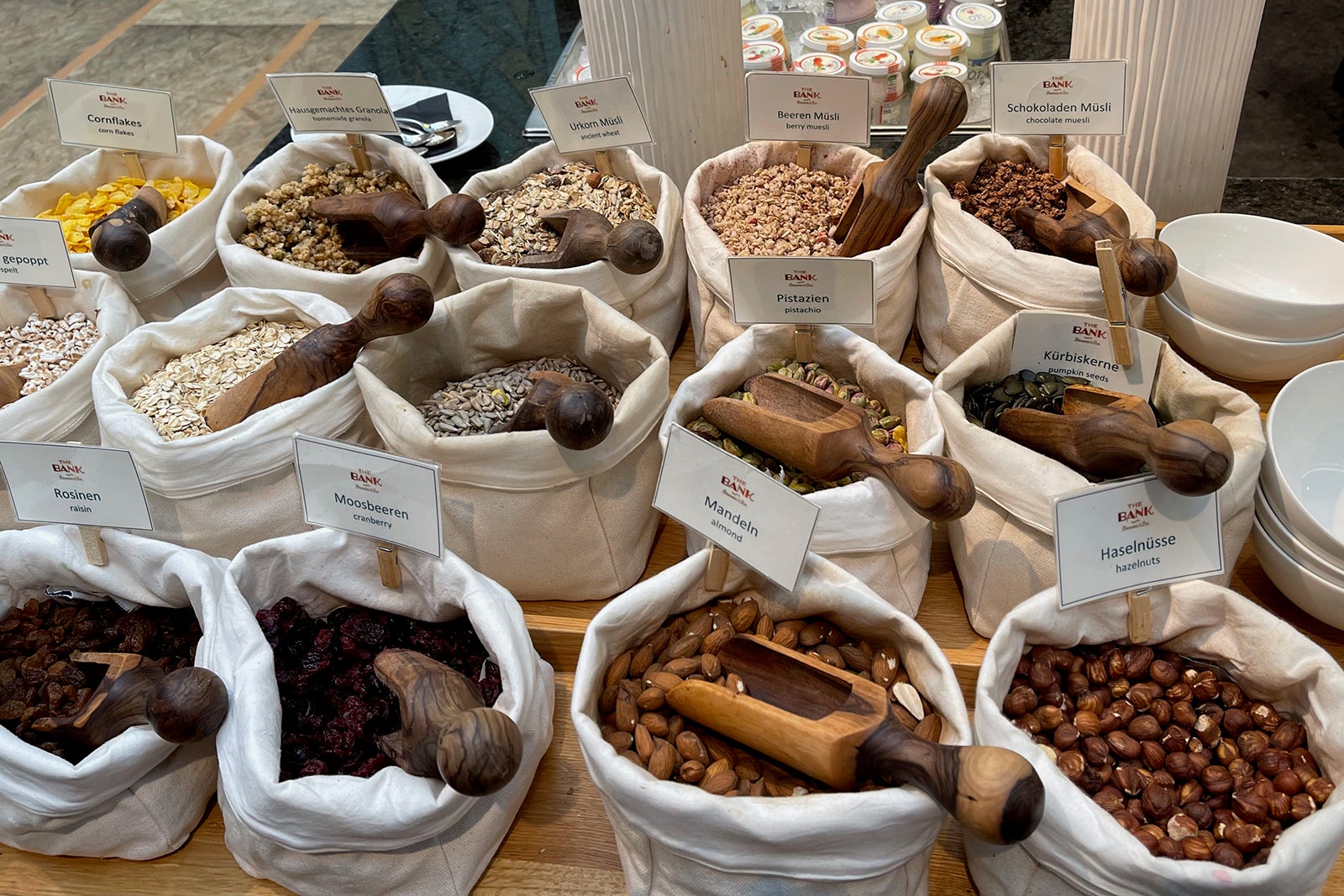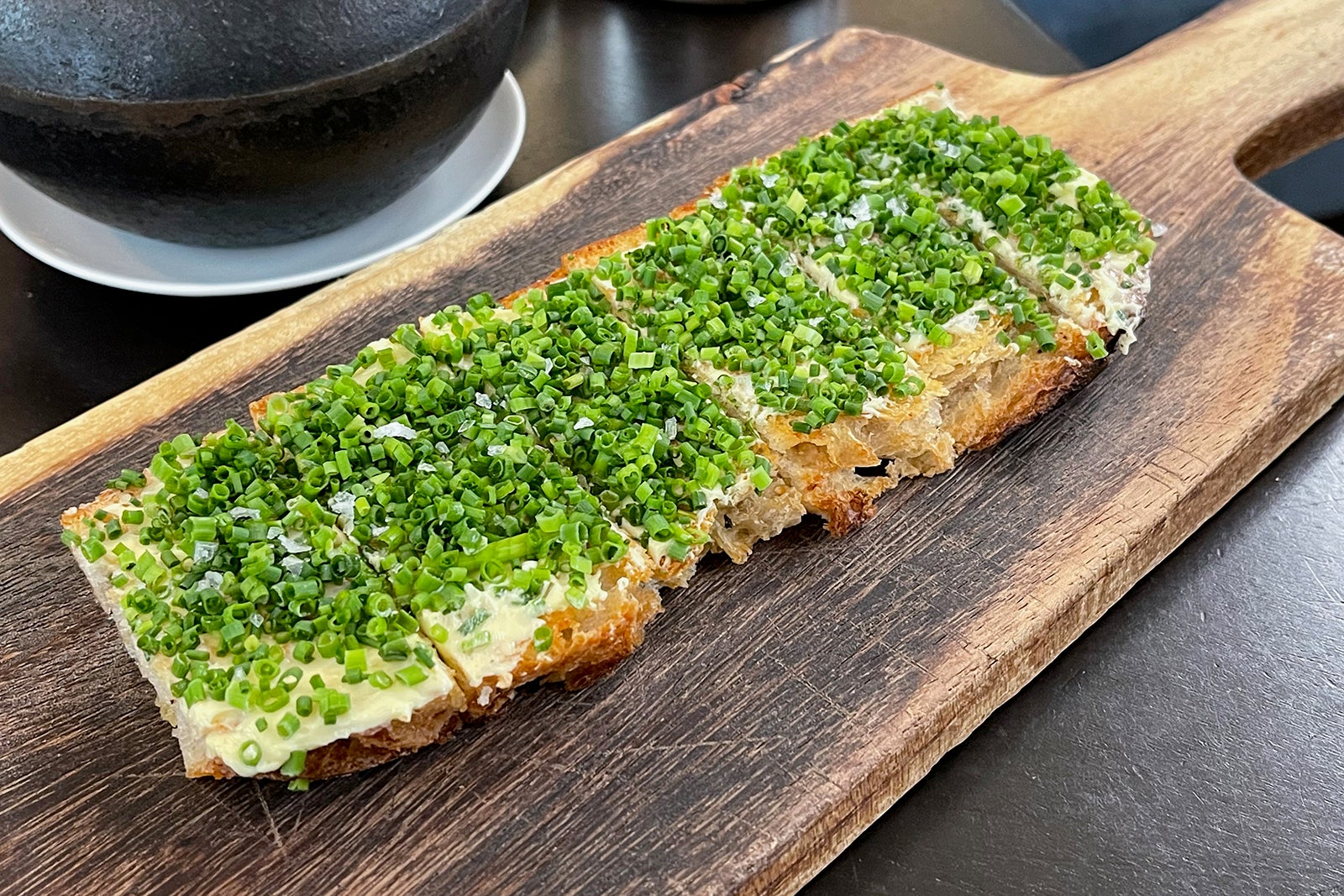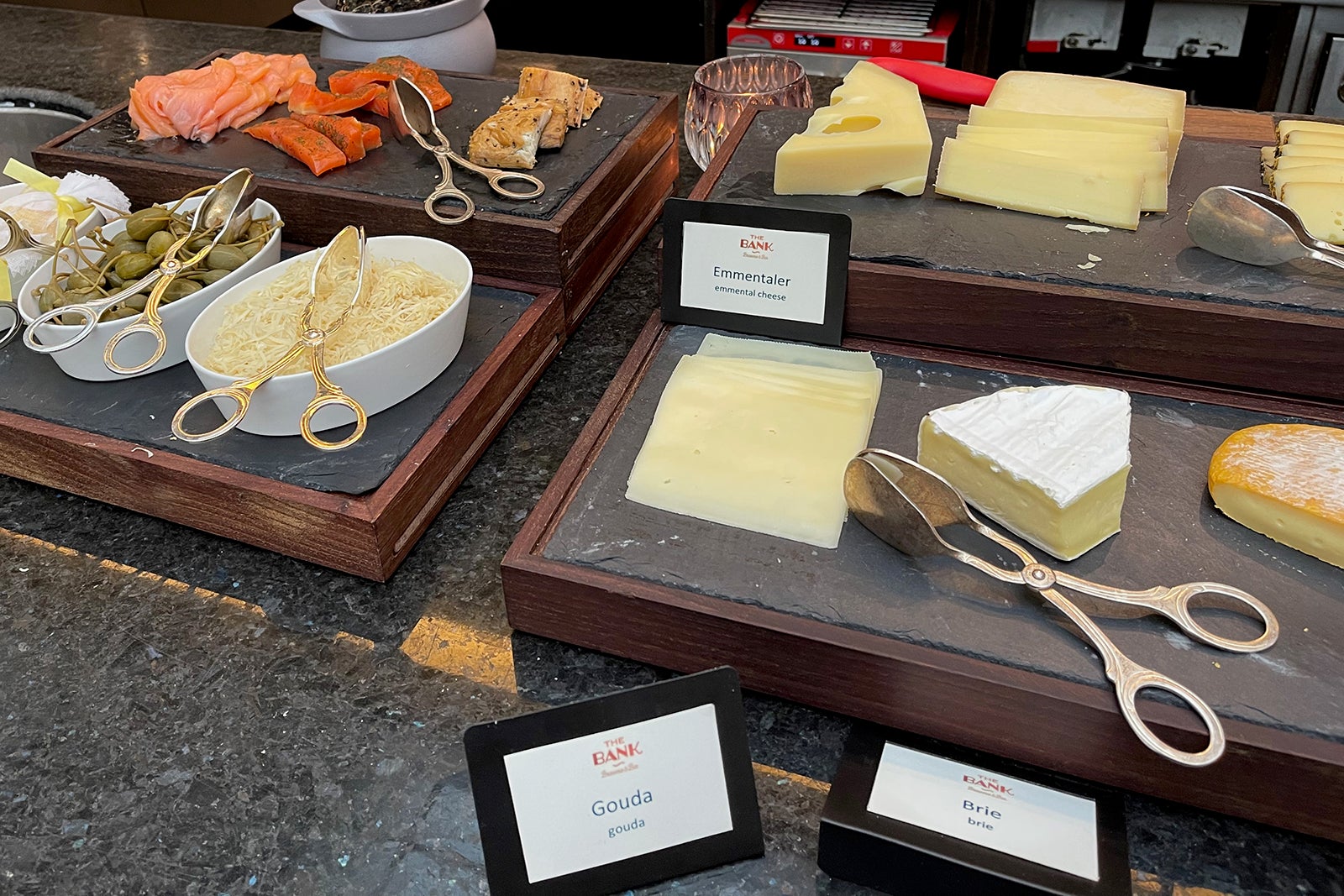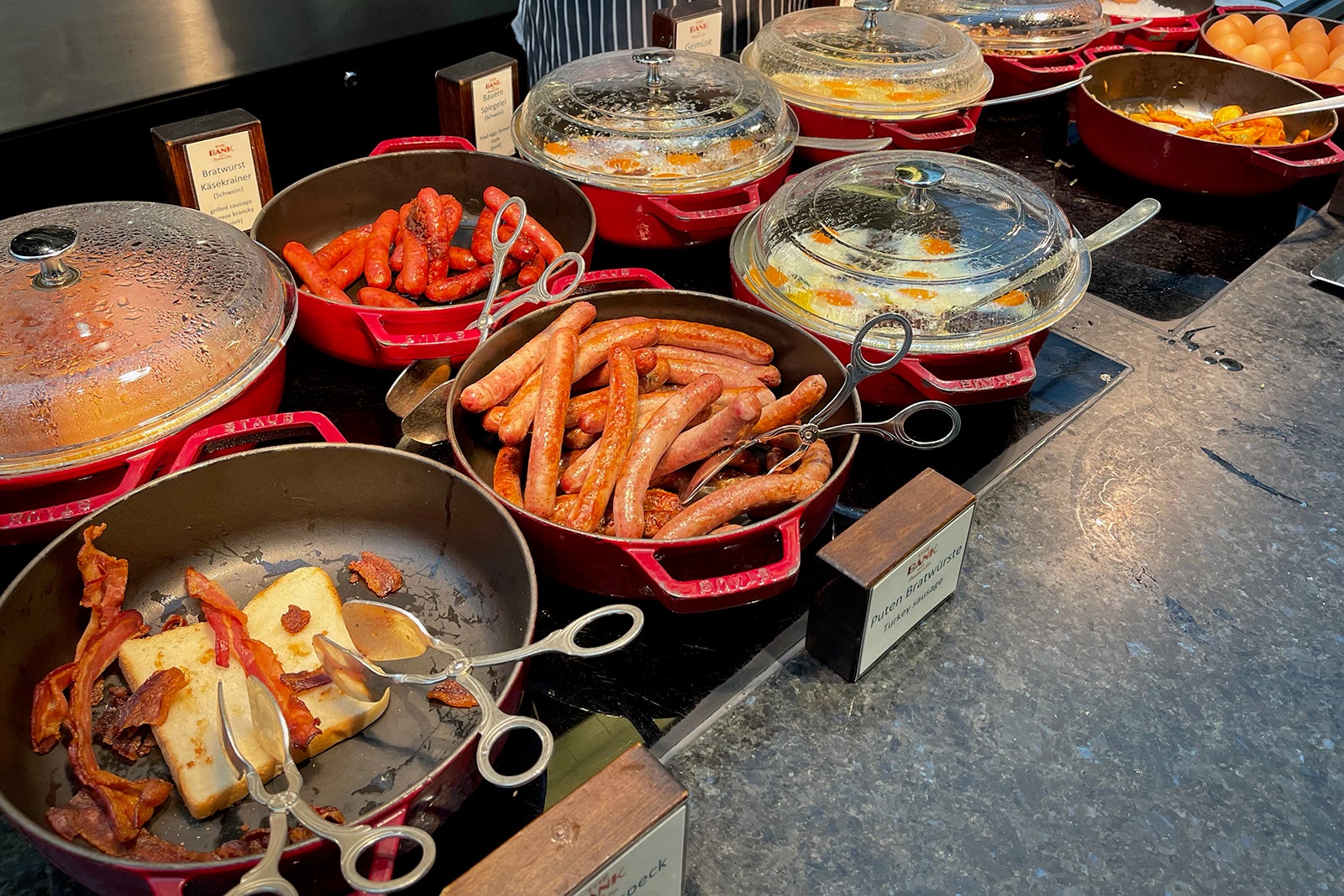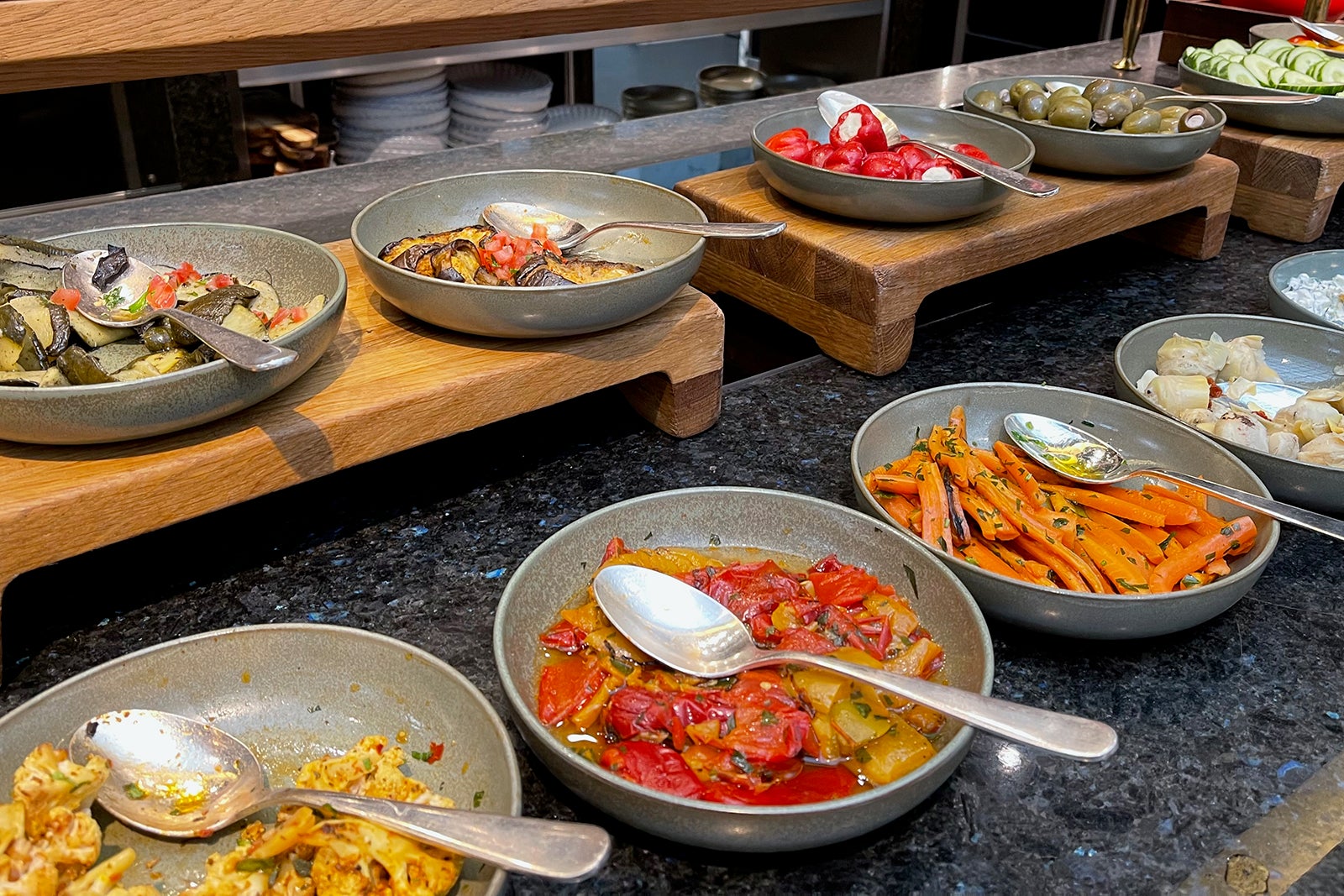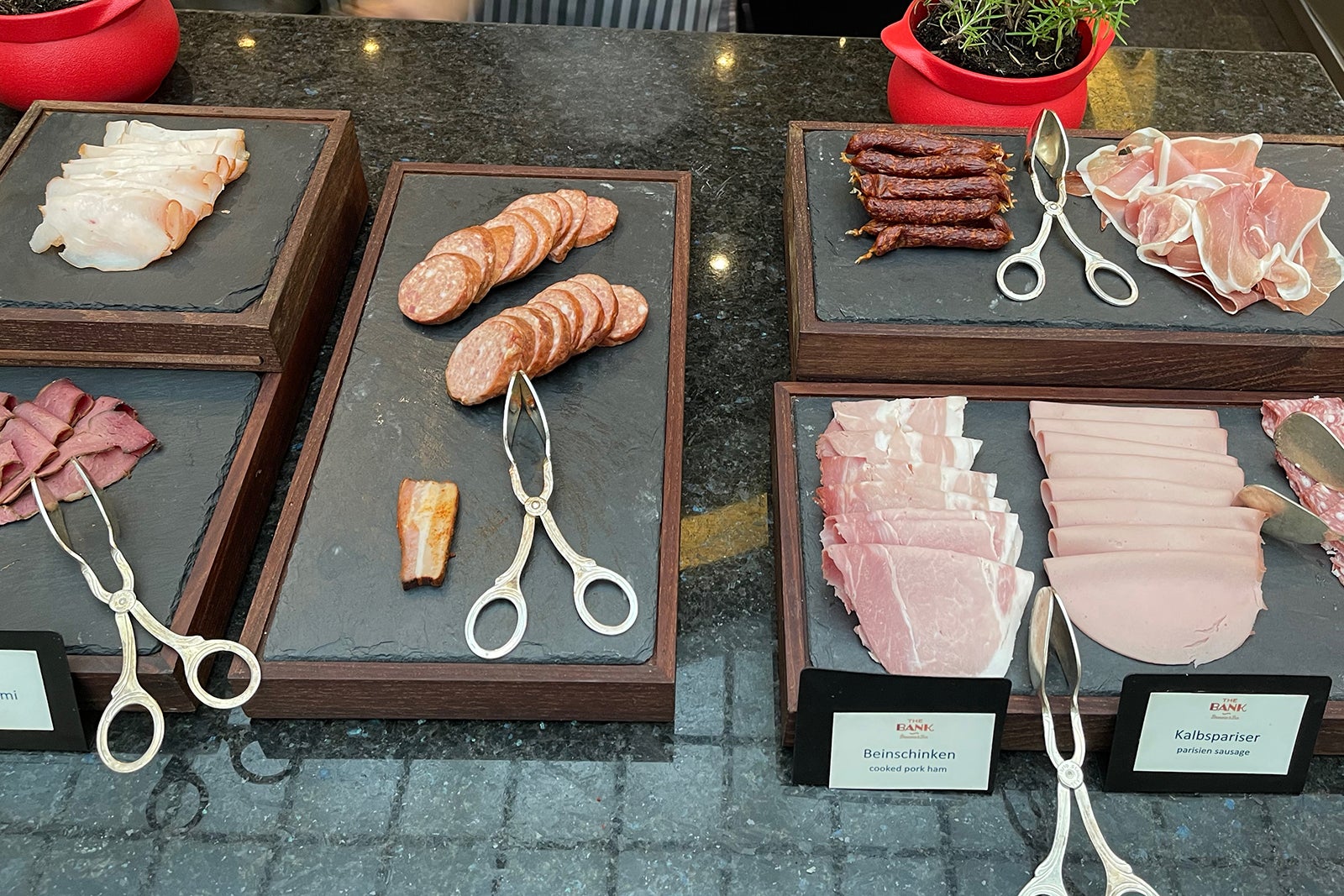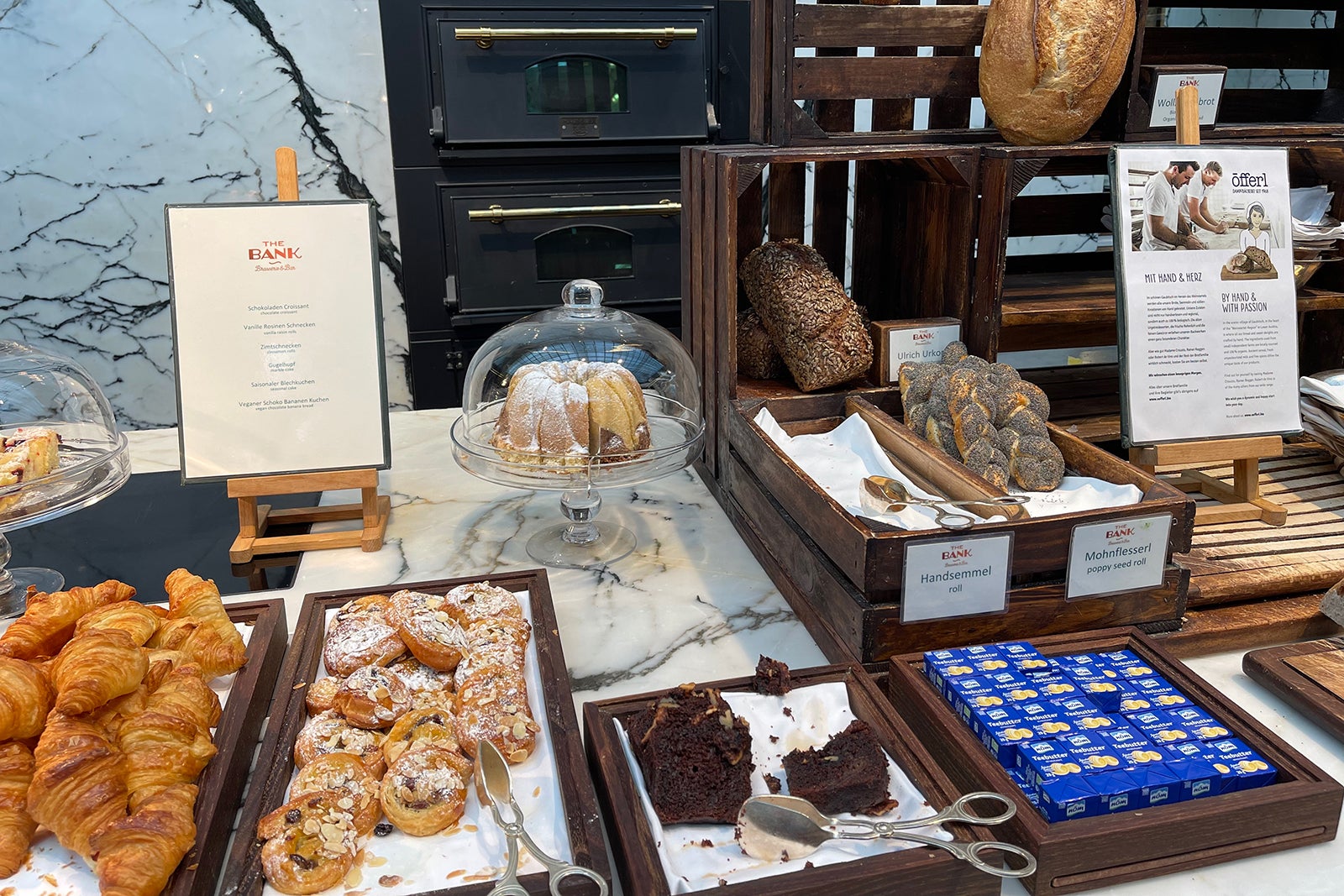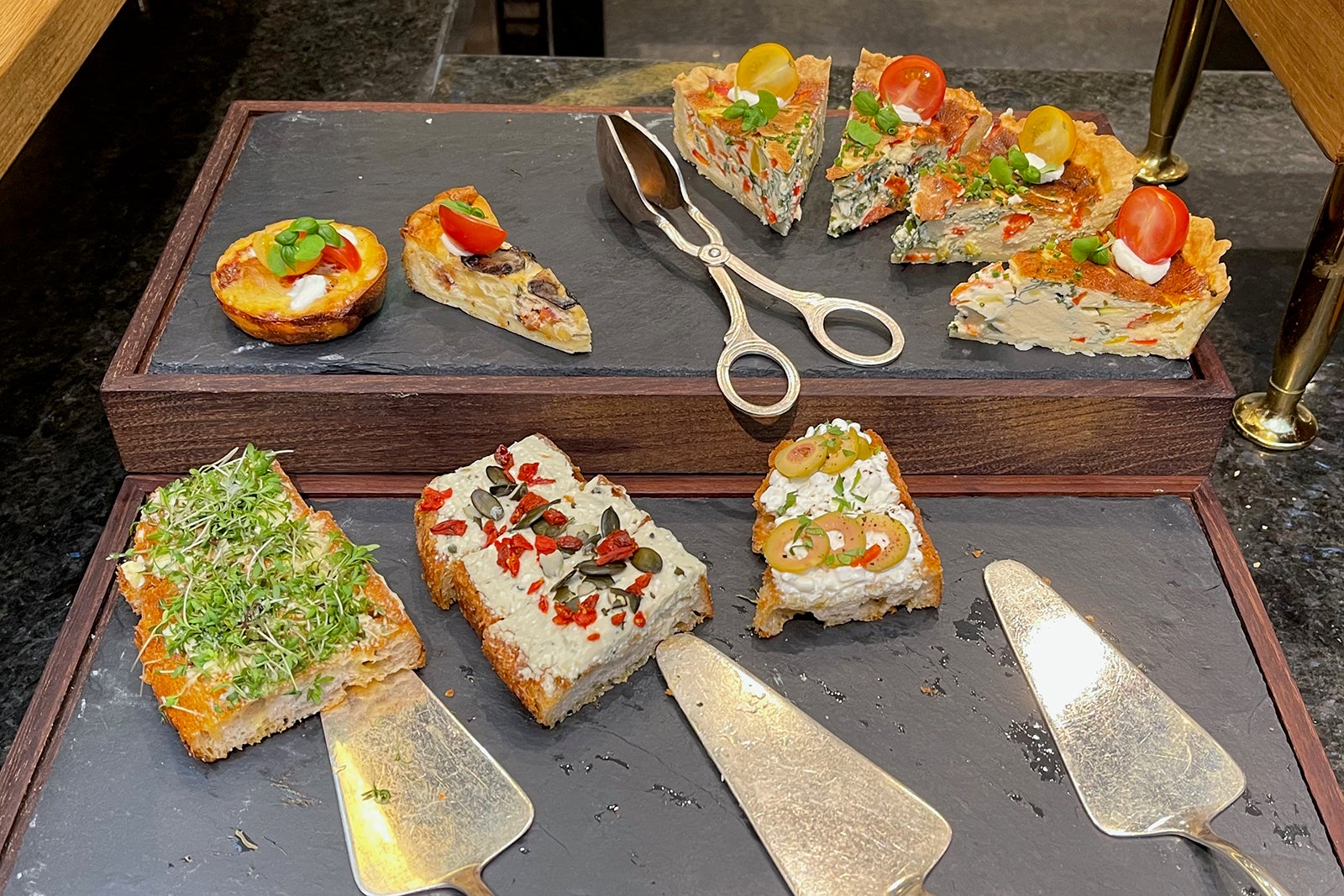 Dinner was so good that we wished we had more time to dine there again. The menu is outstanding, and each dish was well executed. Some of the entrees on offer right now include:
Halibut with Hokkaido pumpkin, granola, beluga lentils and watercress veloute
Braised venison saltimbocca with roasted cauliflower cream, pancetta and cranberries
Wiener schnitzel with parsley potatoes, cucumber salad and cranberries
Pricing
Park Hyatt Vienna is a Category 7 hotel in the World of Hyatt program. Nightly stays start at 25,000 points per night or 558 euros ($590).
Related: Best Park Hyatt hotels, according to Globalists
Best upscale Hyatt value in Vienna: Andaz Vienna Am Belvedere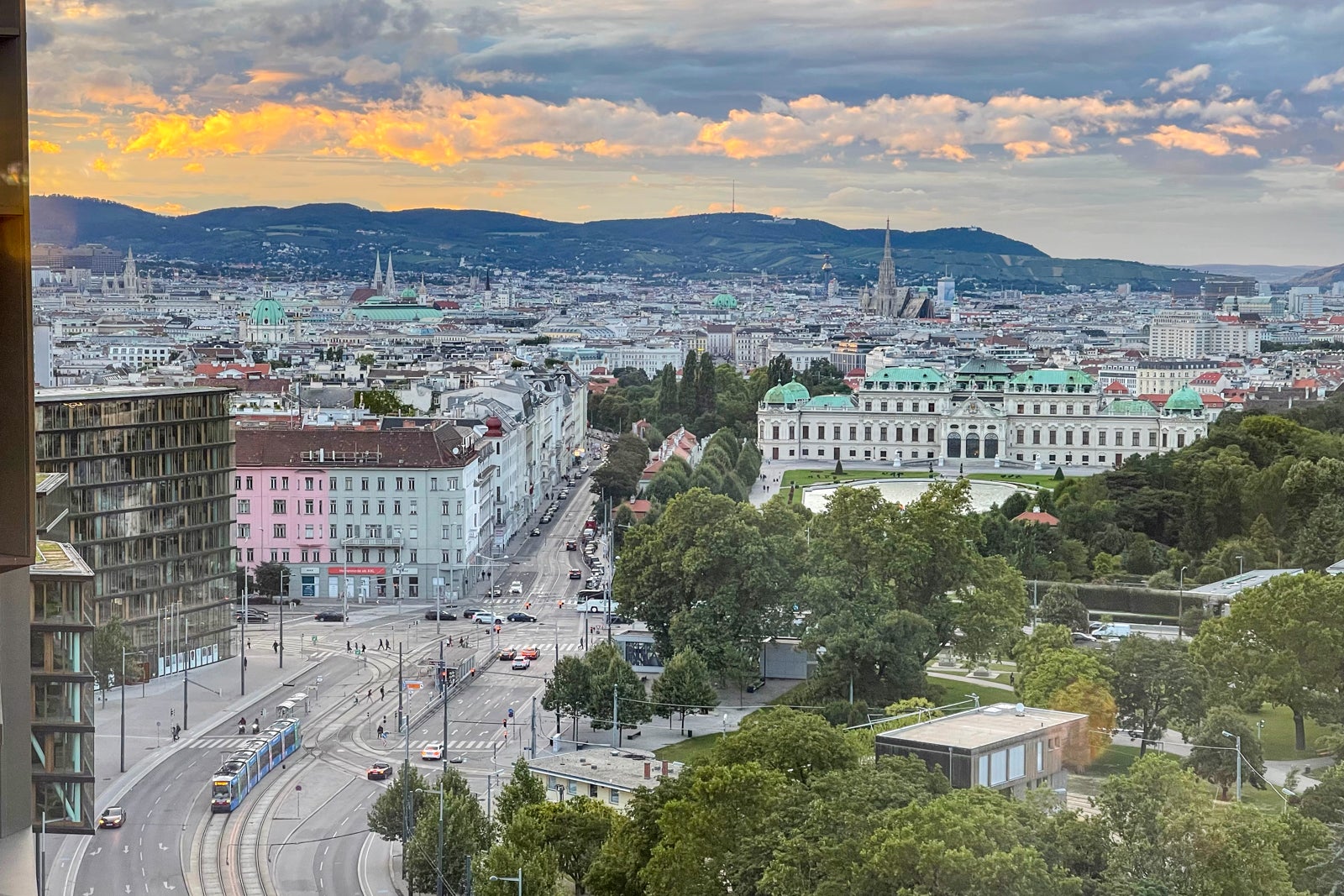 You'll be hard-pressed to find a better value in the city — especially if you're looking for "luxury lite."
[circuit type=roundup circuit_id="9717″]
Incredible value on points or cash
Head to Hyatt's booking calendar and search for the Andaz Vienna Am Belvedere. You'll soon see what a value — in terms of both points and cash — this Category 3 hotel is. If you lament that you can't stay anywhere nice with those Category 1-4 free night certificates, use them here.
You earn a free night certificate by staying 30 nights, earning 50,000 base points in a calendar year or completing the Brand Explorer challenge. You can also earn one on the anniversary of holding the World of Hyatt Credit Card and when you spend $15,000 on the card in a calendar year.
The value (see more about that below) is one of the reasons we decided to spend the balance of our trip here after leaving the Park Hyatt.
Related: How to earn, use and make the most of your Hyatt free night certificates
Plentiful, spacious suites (this is for you, Globalists)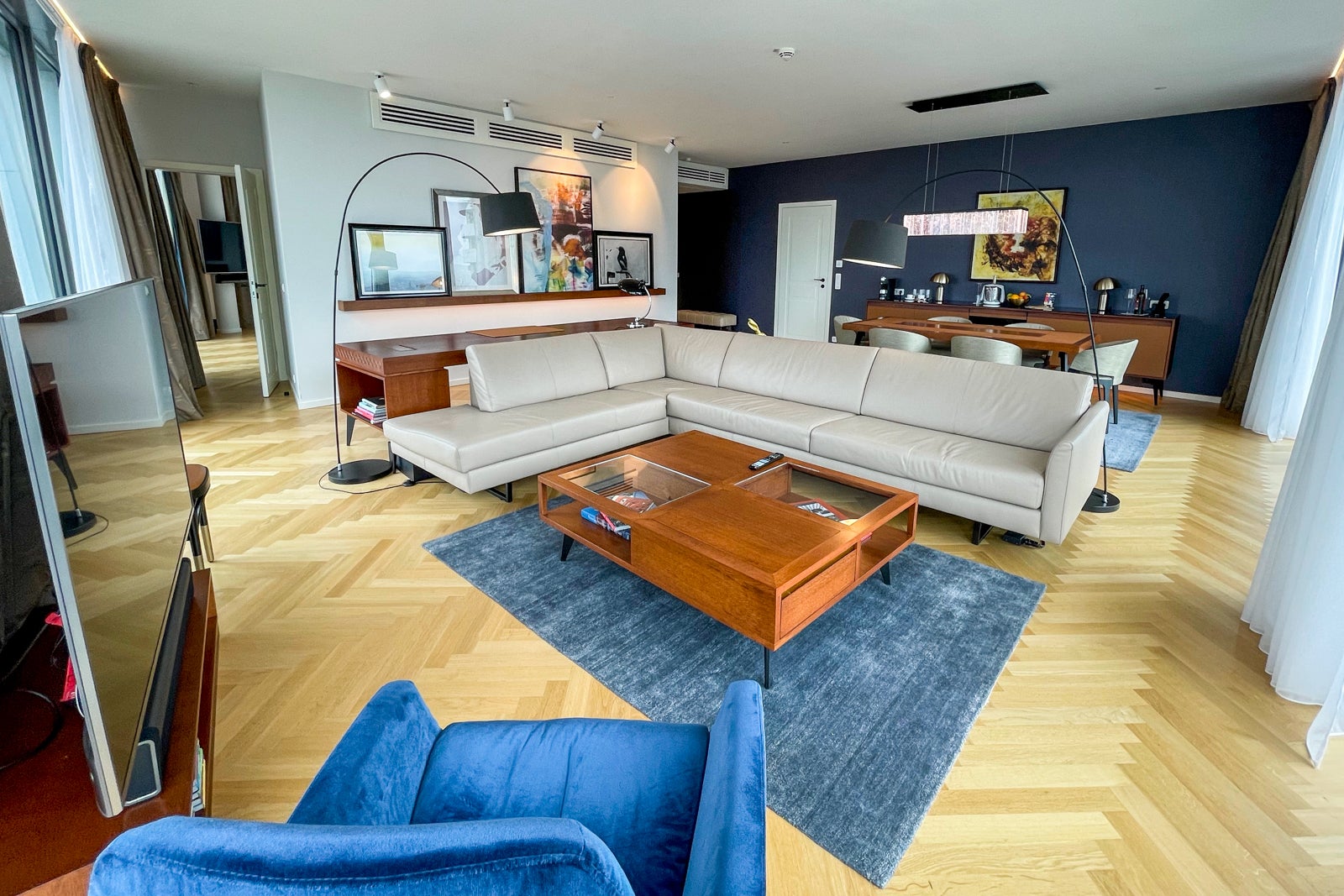 The 16-story Andaz Vienna, opened in 2019, offers 259 guest rooms and 44 suites. With that many suites, Globalists — especially those traveling offseason — regularly report being upgraded. Use one of your Suite Upgrade Awards to guarantee the upgrade during peak dates.
There are a variety of suites with incredible views of the city. We stayed in the Executive Suite and could see Belvedere Palace, St. Stephen's Cathedral, the Prater amusement park, the Danube Tower and more.
Warm and friendly staff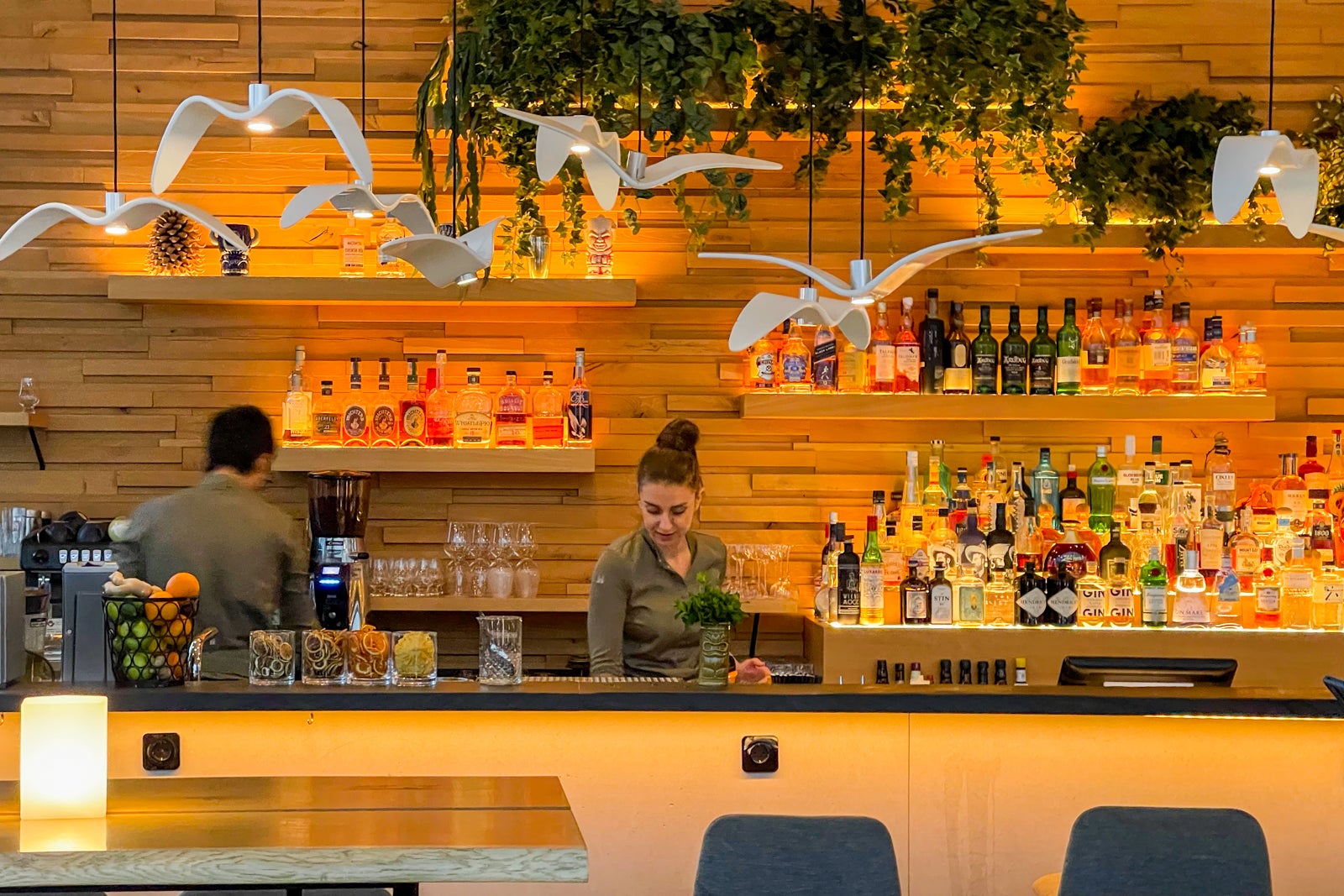 The hospitality industry has taken a lot of punches since a perceived decline in service following the pandemic. At the Andaz Vienna, the entire staff was friendly and helpful. Everyone seemed happy at work and went out of their way to ensure we had a fantastic stay. Was the service as polished as what we experienced at the Park Hyatt Vienna? No, but we didn't expect that since the Park Hyatt and Andaz brands are very different.
Bonus: This hotel is also near Vienna's central train station (Wien Hauptbahnhof). A fellow traveler in my group took the train from the airport, got out at the train station and walked a few minutes to the Andaz.
Hotel review: Why my family loved the Andaz Vienna Am Belvedere
Pricing
Andaz Vienna Am Belvedere is a Category 3 in the World of Hyatt program. Nightly stays start at 9,000 points or 170 euros ($180).
Best boutique Hyatt accommodation in Vienna: Hotel Das Tyrol
For an intimate getaway just outside the Ringstrasse and next to the Naschmarkt, you can't do better than Hotel Das Tyrol, a Small Luxury Hotels of the World. Here's why.
[circuit type=roundup circuit_id="20420169101″]
It's intimate, with just 30 rooms
When I think of a "boutique" hotel, I envision something beautiful but intimate … the kind of place where you never get lost looking for your room. Hotel Das Tyrol offers just 30 rooms in four categories: small superior, superior double, deluxe and studio. Each one features a king bed, and only the studio can accommodate up to three people. For a view of Mariahilfer Strasse, request one of the four rooms with a balcony.
It's a 10- to 15-minute walk to the old city from here, and there's a subway stop right around the corner.
Thoughtful, high-end amenities
Who doesn't love being pampered? You'll feel that way the moment you check in and receive a welcome glass of Prosecco. Stay four or more nights, and you'll also receive a voucher for the coffee house.
Your soundproofed room is stocked with all the comforts of a high-end home, including a Dyson hair dryer, slippers, robes, a scale, a lighted makeup mirror and bath amenities from Ada (shower gel, body milk, shampoo and conditioner).
My favorite amenities? Treca mattresses, lights on dimmers, the Nespresso coffee maker, and the heated floor and towel racks in the bathroom.
If you're not a World of Hyatt member, you'll pay for breakfast out of pocket (about 25 euros/$26); it's highly rated among guests who say it's the perfect way to fuel up for a day of sightseeing. Book through Hyatt to get the breakfast fee waived.
Finally, the spa allows guests to book a private session in the sauna and steam bath.
The art
Hotel Das Tyrol exemplifies the idea that art does not only belong on museum walls but in everyday life. That's why the hotelier, Helena Ramsbacher, installed her private collection of contemporary art within the hotel. Throughout the building — even in guest rooms — you'll find paintings, statues, ceramics and more.
The hotel showcases work from dozens of artists, including Hermann Nitsch, Gunter Damisch, Franz Grabmayr, Kiki Kogelnik, Tom Fleischhauer, Rosemarie Benedikt and Lucia Riccelli.
After you've explored all the art on-property, it's just a two-minute walk to MuseumsQuartier and the nearly dozen institutions there, including Leopold Museum and Architekturzentrum Wien.
Pricing
Hotel Das Tyrol is a Category 4 in the World of Hyatt program. Nightly stays start at 12,000 points or 206 euros ($218). Standard World of Hyatt benefits — such as complimentary parking on free night awards, complimentary bottled water and waived resort fees — do not apply at SLH properties. Hyatt points are only awarded on room rates, not on services such as dining or spa appointments.
Best Hyatt for a funky, arty vibe in Vienna: Altstadt Vienna
For something a bit zestier than the other options, check out Altstadt Vienna in the 7th district, next to the MuseumsQuartier. The hotel fuses funky art with attentive service.
[circuit type=roundup circuit_id="20420169102″]
Apartment-like setting with designer rooms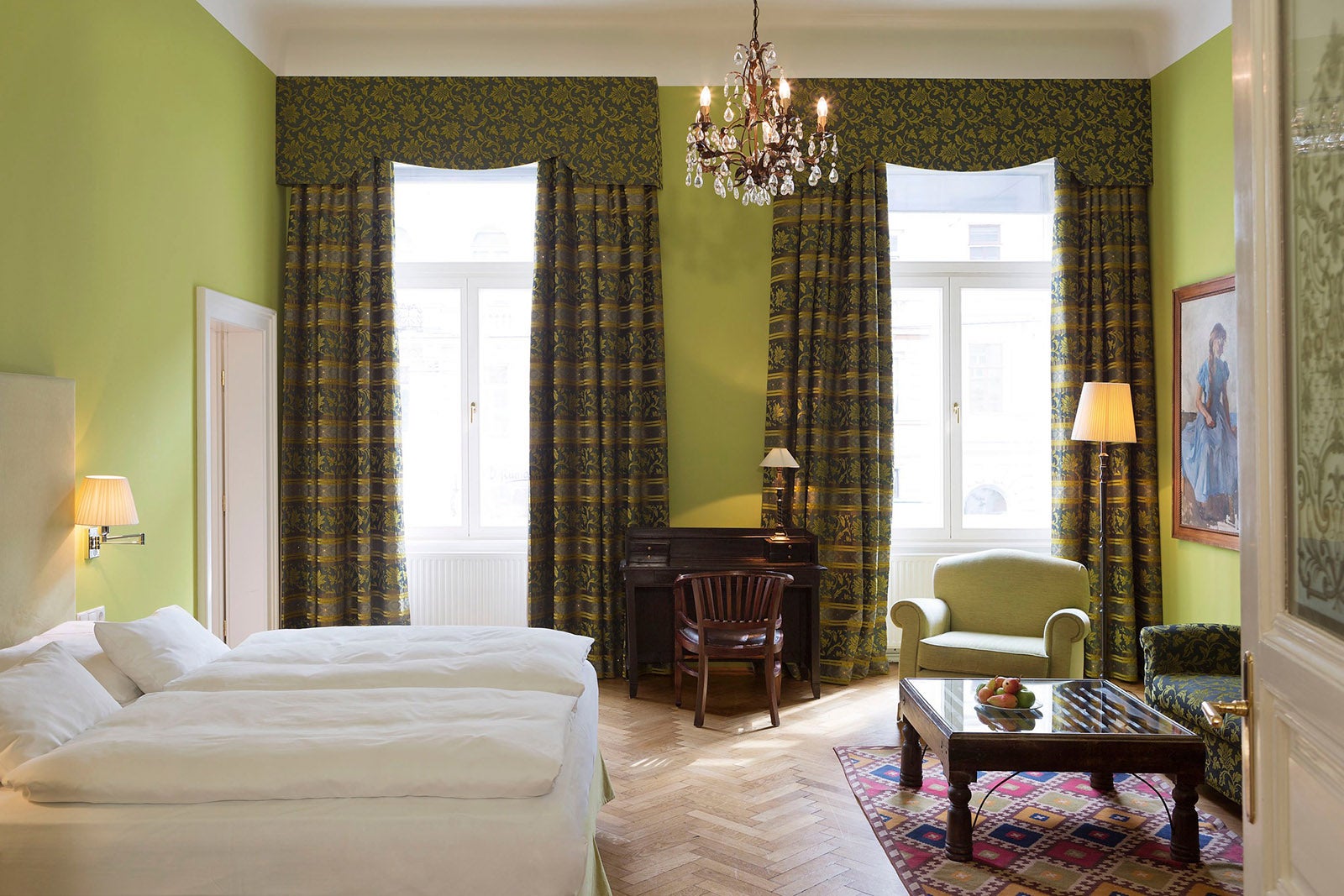 Just a few blocks farther outside the Ringstrasse than Hotel Das Tyrol, Altstadt Vienna has a blissful apartment-like setting. When you stay here, it's easy to feel as if you've moved to the city for a taste of European cosmopolitan life.
Sixteen architects and designers developed 62 unique rooms that offer single, double and suite options. One room (number 55) was designed to evoke the feeling of a compartment on the Oriental Express, complete with bunk beds. On the opposite end of the spectrum, an XXL Suite clocks in around 1,184 square feet with two bedrooms, two baths and plenty of living space in between.
Complimentary afternoon tea
Who says no to free tea, cake and candy? Every day between 4 and 6 p.m., guests enjoy delicious confections accompanied by tea from Sonnentor and Kusmi, Paris. It's a great way to refuel between a busy day of sightseeing and your later-in-the-evening dinner reservation.
The rooftop garden is a haven
The hotel's rooftop garden is open May through September and is reason enough for some people to pick this hotel over others that lack outdoor space in this beautiful city.
Pricing
Altstadt Vienna is a Category 4 in the World of Hyatt program. Nightly stays start at 12,000 points or 291 euros ($308). Standard World of Hyatt benefits — such as complimentary parking on free night awards, complimentary bottled water and waived resort fees — do not apply at SLH properties. Hyatt points are only awarded on room rates, not on services such as dining or spa appointments.
Best low-cost Hyatt option in Vienna: Lindner Hotel Vienna Am Belvedere
If you're looking to spend the lowest amount (in dollars or points), this is the Hyatt hotel to consider.
[circuit type=roundup circuit_id="20420168919″]
Related: As a Hyatt loyalist, here's why Europe is more appealing than ever
Category 1 hotel starting at 3,500 points per night
I did a double-take when I researched the Lindner Hotel Vienna Am Belvedere and realized it was a Category 1 property with award nights starting at 3,500 World of Hyatt points.
If you applied for the World of Hyatt Credit Card and earned the 30,000-point welcome bonus after spending $3,000 in first three months of opening the account, plus, up to 30,000 more Bonus points by earning 2 Bonus Points total per $1 spent in the first 6 months from account opening on purchases that normally earn 1 Bonus Point, on up to $15,000 spent. You could stay at this hotel for eight nights and still have points left over. What a value.
For travelers who spend all day and most of the evening out sightseeing and just need a place to crash at night, the Lindner is a good bet.
Well-located near Belvedere and transportation
Like the Andaz, this hotel is in the Belvedere neighborhood. While the Andaz overlooks the front of Belvedere Palace, the Lindner has a view of the opposite side of the building.
It's also just a few blocks from public transit, including the Wien Rennweg train station (with service from and to the airport).
I met a traveler who was staying at this hotel, and he walked to St. Stephen's Cathedral in about 30 minutes. He said it was a neat way to see more of the city.
Full-service with a restaurant and bar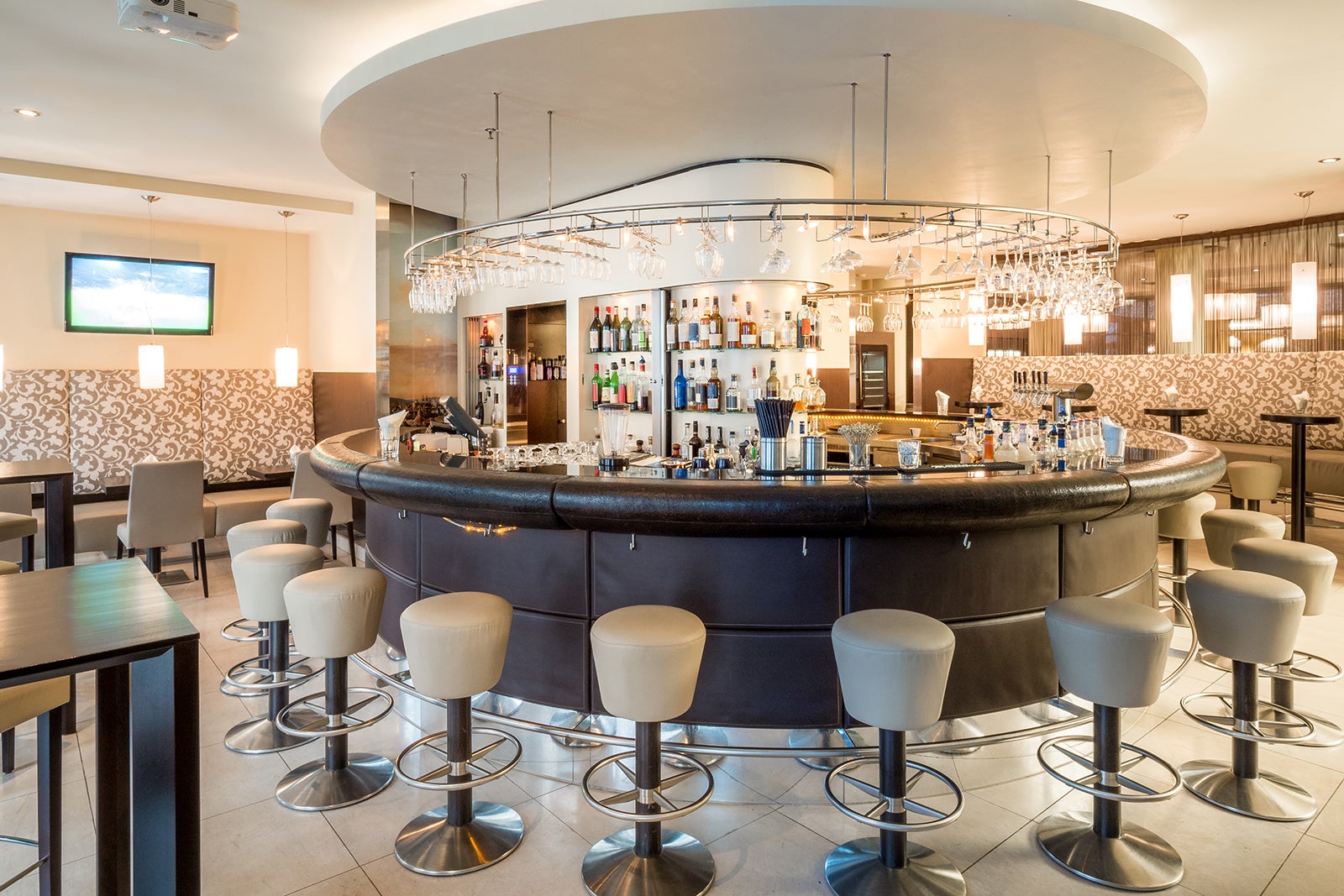 There are only a few restaurants near the Lindner (unless you walk 15 to 20 minutes north). That's why many guests appreciate the on-site dining venue and bar. Heuriger am Belvedere takes its inspiration from typical Austrian rustic wine taverns with brick walls and wooden tables and chairs. It serves up seasonal Austrian specialties.
The pretty Canaletto Bar offers wine, cocktails and beer alongside Viennese coffees and cakes.
Pricing
Lindner Vienna Am Belvedere is a Category 1 in the World of Hyatt program. Nightly stays start at 3,500 points or 107 euros ($113).
Want to read more about Austria? Here are some resources: