Hotel del la Ville provided the writer with a complimentary two-night stay. The opinions expressed below are entirely the author's and weren't subject to review by the hotel or any external entity.
One couldn't help but feel a little like Italy became the 51st U.S. state in recent months: Americans flocked to Italy this summer in droves amid a boom in demand for transatlantic travel.
For those considering their own Roman holiday — and willing to majorly splurge — one of the Eternal City's most-coveted hotels sits at the top of the Spanish Steps and Piazza di Spagna. Hotel de la Ville is one of three Rocco Forte Hotels in Rome and, despite being steps away from one of the busiest attractions in the city, manages to be a sophisticated oasis removed from all the hustle and bustle.
A two-night stay at Hotel de la Ville made this American feel like he was living out his "La Dolce Vita" fantasy amid the luxe accommodations, rooftop view and even a Vespa tour of the Italian capital.
Here are the takeaways of my stay that offered up historic flare (despite the hotel only opening four years ago) without being a snooze — no offense to historic hotels elsewhere!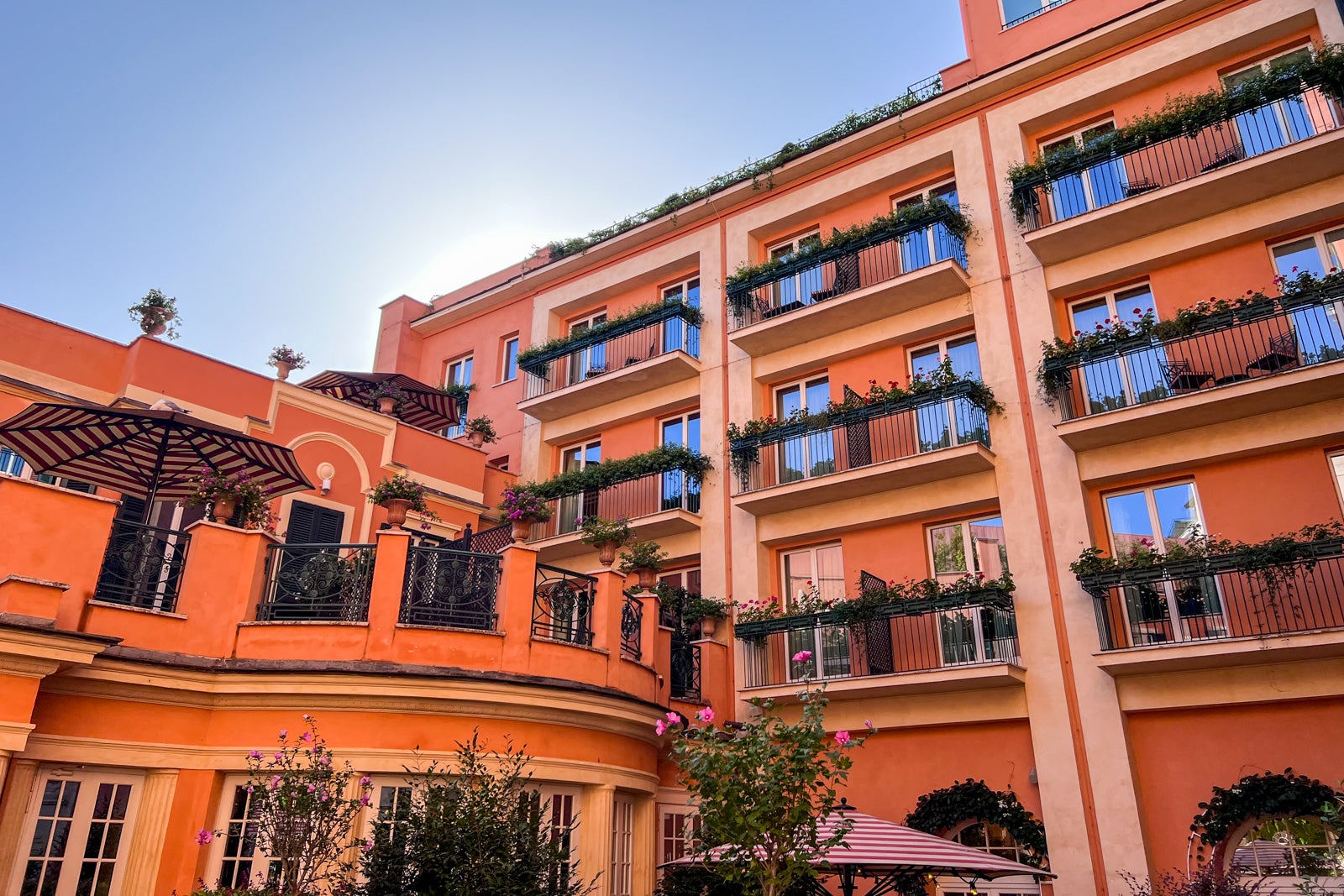 What is the Hotel de la Ville?
A tourist hot spot and hospitality that can transfix even the most discerning of critics are normally mutually exclusive offerings. Nobody heads to Times Square for the opulent turndown service, after all.
Yet, the Hotel de la Ville — Rocco Forte's Roman outpost just a stone's throw from the top of the Spanish Steps — manages to wow for its location and for its decadent service, accommodations and bars and restaurants (the Instagram-worthy backdrops are implied).
The namesake family of Rocco Forte Hotels has Italian roots, but the brand itself is spread out across Europe's largest cities. Hotel de la Ville arrived in 2019 and attracts a posh crowd looking for a mix of history, art and Italian hospitality with friendly service. The hotel replaced the InterContinental de la Ville, which points enthusiasts bemoaned and hotel enthusiasts celebrated due to the long-in-the-tooth vibes of the older IHG property (IHG returned with Eternal City wow-factor of its own around the corner this year, but more on that in the next week or two).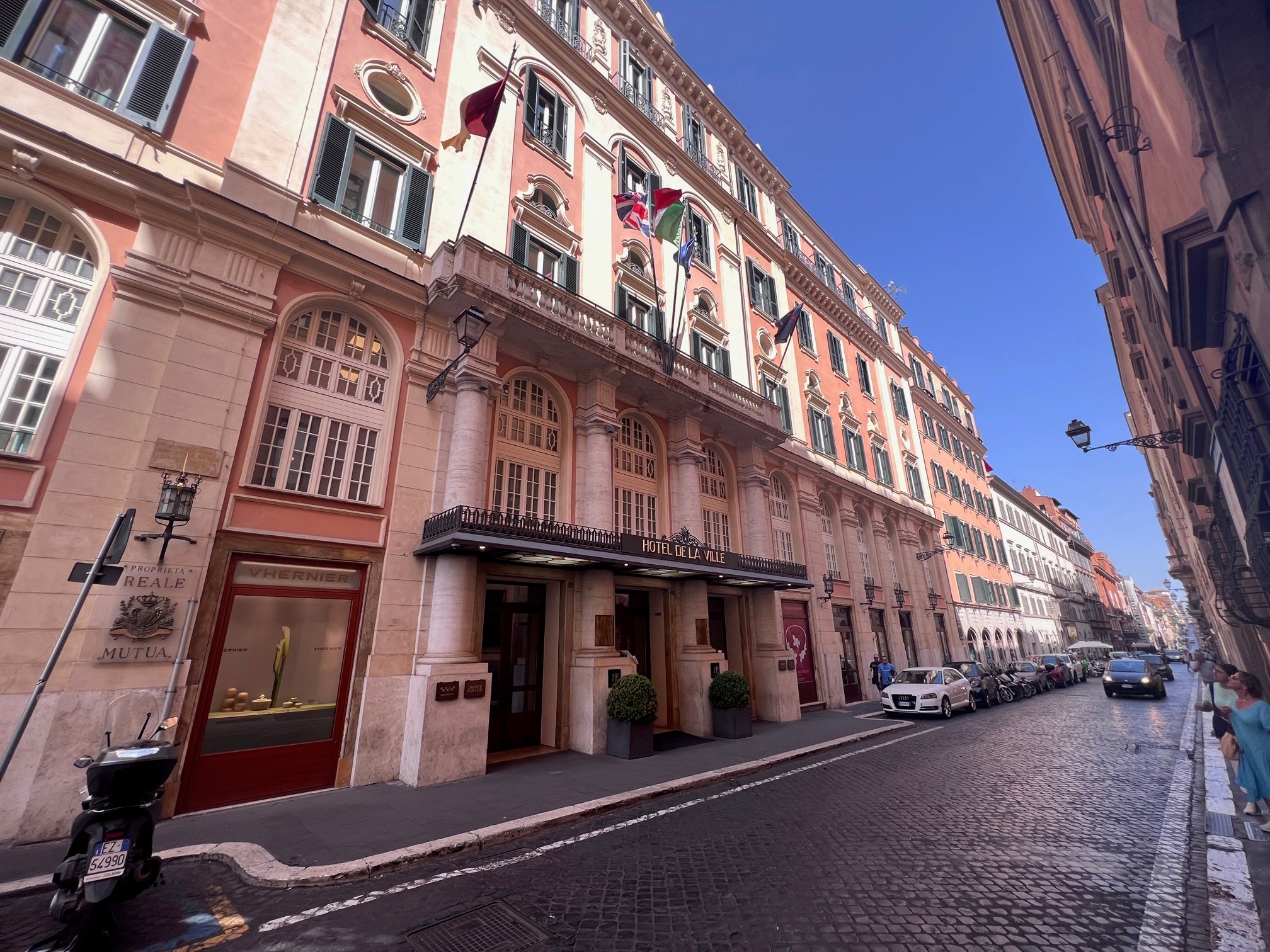 The rates are very high, but that doesn't appear to be turning anyone away based on the buzzing Cielo rooftop lounge, lobby or breakfast terrace. Amusingly, while touring other hotels in the city, every bartender —without knowing I was staying at Hotel de la Ville — recommended Cielo for evening cocktails.
The hotel itself comprises three renovated palazzi that combined to create the Hotel de la Ville, providing a unique and wide array of guest rooms and suites. While our stay was at the peak of the summer travel season, the hotel never felt overwhelmed with tourists — but never boring, either. Additionally, it was an added and unexpected perk that our suite was ready upon our 8 a.m. arrival — much earlier than the 3 p.m. check-in time.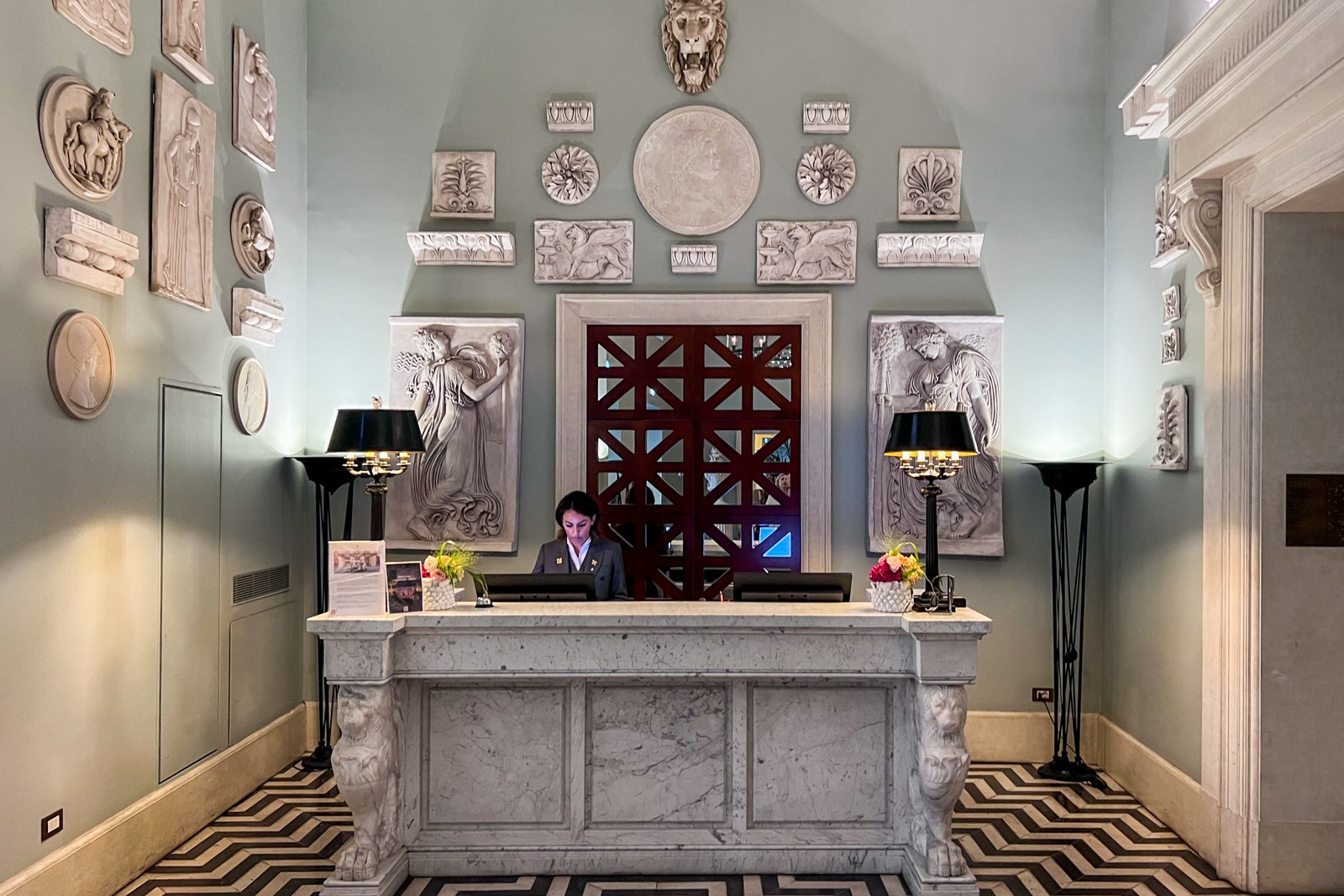 How to book a stay at the Hotel de la Ville
Rocco Forte Hotels provided my two-night stay as well as daily breakfast, and the brand isn't yet part of a major hotel loyalty program like Marriott Bonvoy. It is currently bookable via the Mr & Mrs Smith platform, which Hyatt purchased earlier this year (though it hasn't been integrated into the World of Hyatt system, so don't expect to earn points or elite night credits during a stay for now).
You can also book via American Express Fine Hotels + Resorts and receive extra property benefits like early check-in, a room upgrade based on availability, daily breakfast for two, a $100 food and beverage credit, and guaranteed 4 p.m. checkout.
You might want to consider booking through any means necessary that offers dining credits or breakfast, as rates are sky-high: Entry-level superior guest rooms — at 301 square feet — began at 1,100 euros (about $1,195) per night during my stay — and went much, much higher depending on your chosen room or suite. Our panoramic suite with a terrace was going for 3,300 euros ($3,581) the nights I found it available during the summer.
The location
Hotel de la Ville occupies a lofty perch tucked away just to the side of the top of the Spanish Steps and within walking distance of Villa Borghese. The Spanish Steps might be the nearest star attraction, but you're very close to many of Rome's most-frequented attractions, like the Trevi Fountain (about a 10-minute walk away) and the Colosseum (a 10-minute drive away).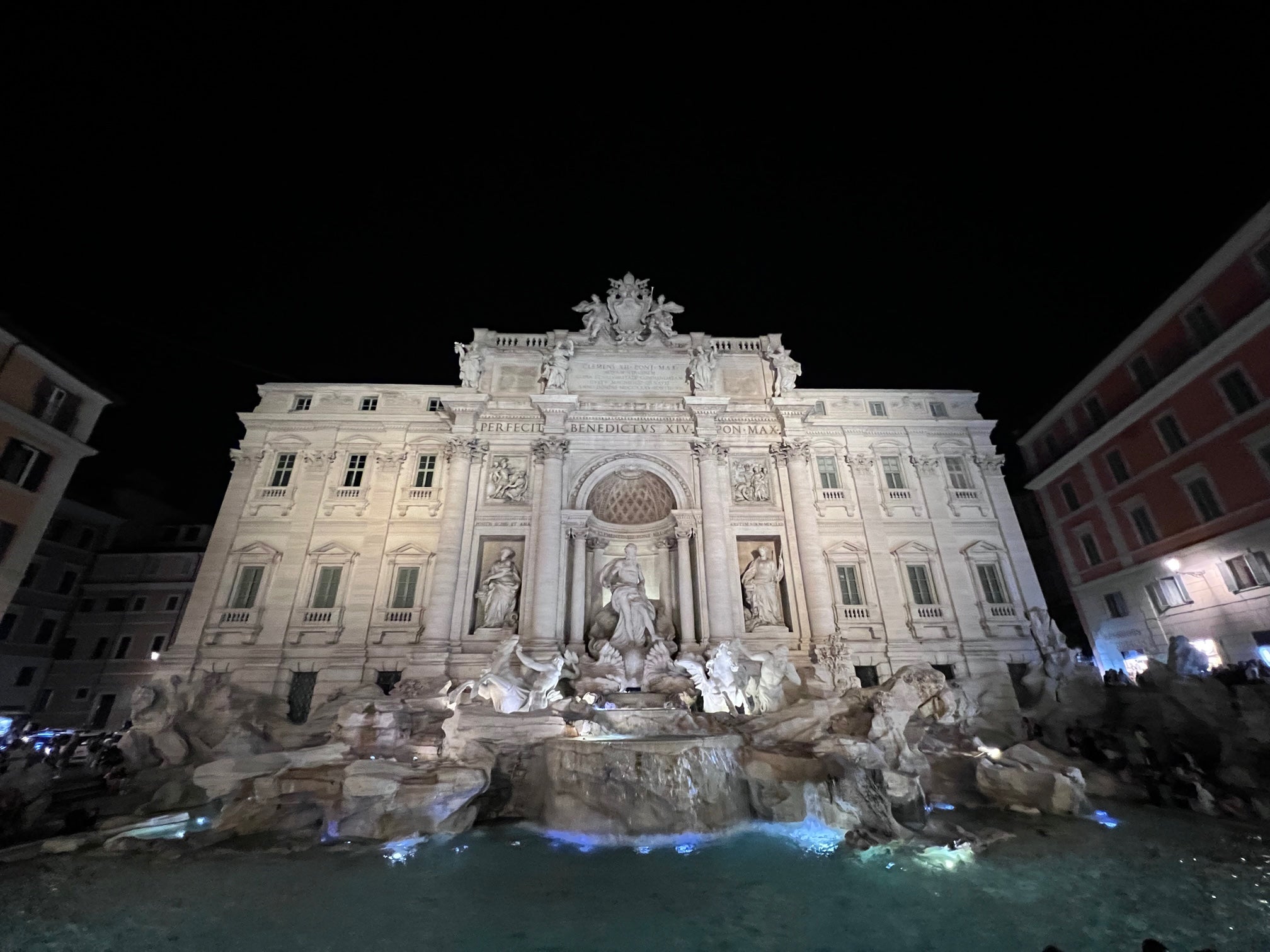 It's a 40-minute Uber or taxi ride from Rome Fiumicino Leonardo da Vinci Airport (FCO), and there is a flat 50-euro ($54) fee. You can also take a 32-minute train to Roma Termini station from the airport for 14 euros ($15) and walk about 20 minutes to the hotel.
It's evident the immediate surrounding area of the Hotel de la Ville is becoming a bit of a hotel hot spot with recent additions like the Rome Edition (a nine-minute walk away), the InterContinental Rome Ambasciatori Palace (also a nine-minute walk away) and, slated to open in 2025, the Rosewood Rome (across the street from the new InterContinental).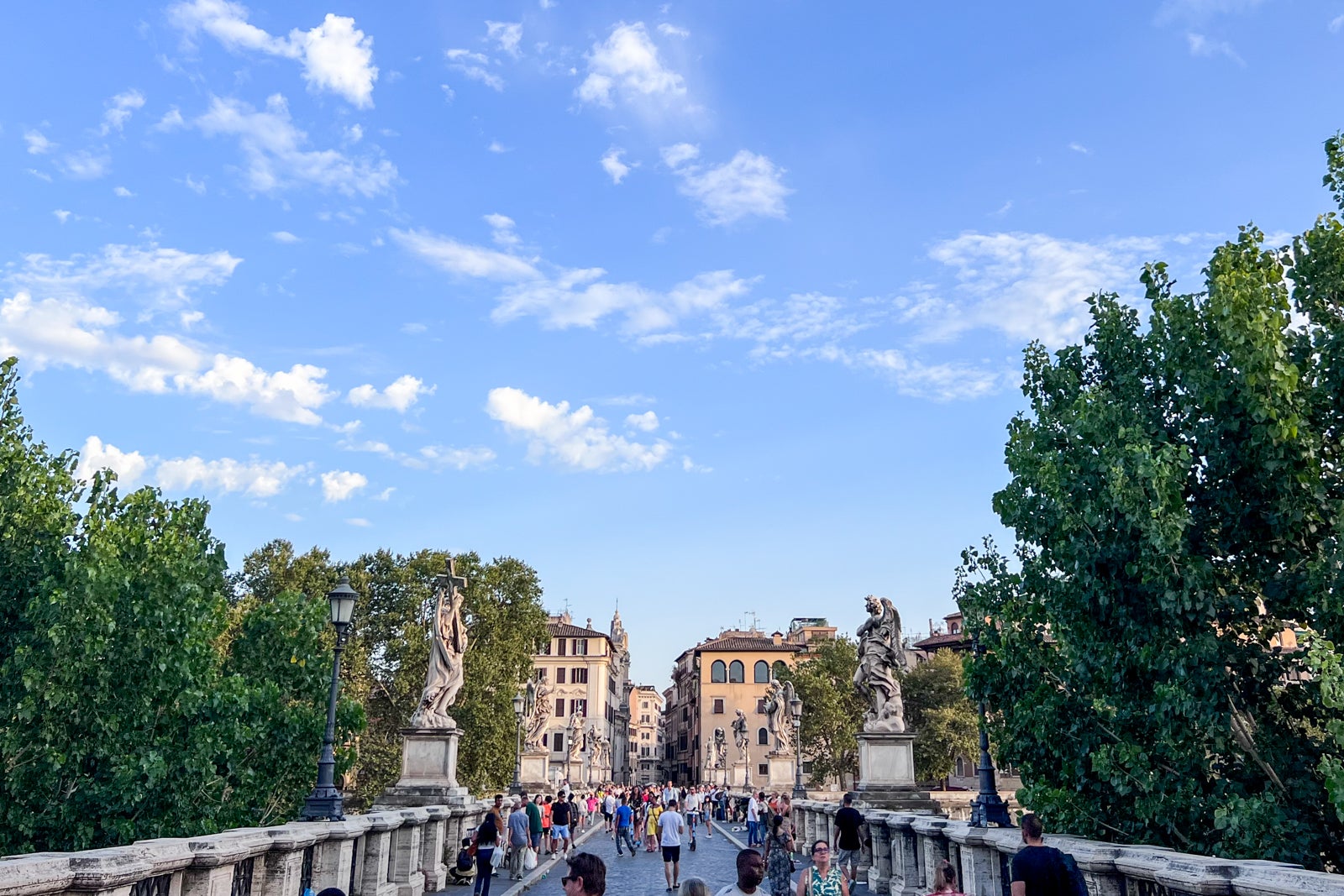 The vibe
One can't help but feel a little like Audrey Hepburn when stepping into the Hotel de la Ville. The hotel team greets you by name, and smiles abound (both from said team and arriving guest) amid the decadent decor meant to give a nod to what European noble families who embarked on the Grand Tour in the 17th and 18th centuries might have encountered or collected: wooden sculptures of a globe, a dome and an obelisk, to name a few.
The stylish-not-stuffy vibes permeating the entire property are thanks to the design powerhouses of Olga Polizzi — director of design at Rocco Forte Hotels — and architect Tommaso Ziffer. Don't confuse chic design with snooty people, however. The guest mix skewed more toward young couples and families or the occasional younger couple traveling with older parents. Everyone seemed more enamored with the views and having a nice cocktail or small bite on the roof (or taking a selfie in the lobby) rather than one-upping each other — which didn't seem to be the case with a few other hotels encountered along this trip.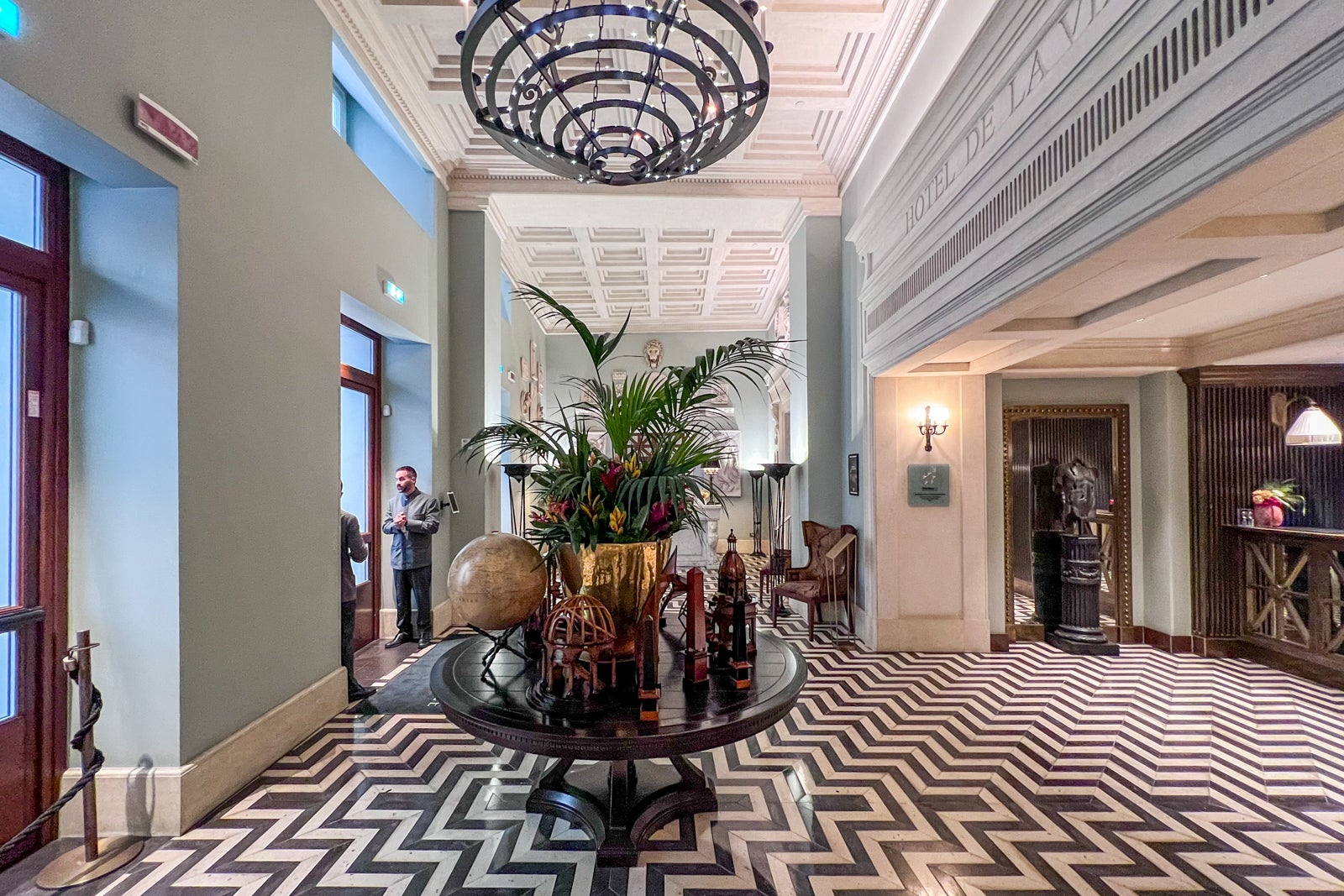 My early check-in included an offer of chilled water, and I was told my room — upgraded to "a nice surprise" — was ready and waiting. A team member strolled with me through the short corridor of mirrors (I was later told this is a very popular selfie spot) to a glass elevator and up to the sixth floor. The "nice surprise" was more like hitting the summer jackpot, as it was one of the hotel's panoramic suites with a terrace (as I mentioned earlier, averaging about 3,000 euros per night).
The rooms
Behind a heavy red front door was a sprawling one-bedroom suite with a living room and outdoor terrace with views of the Sallustiano Obelisk, the Altare della Patria (affectionately known as "the wedding cake") and the Quirinal Palace (home of the Italian president).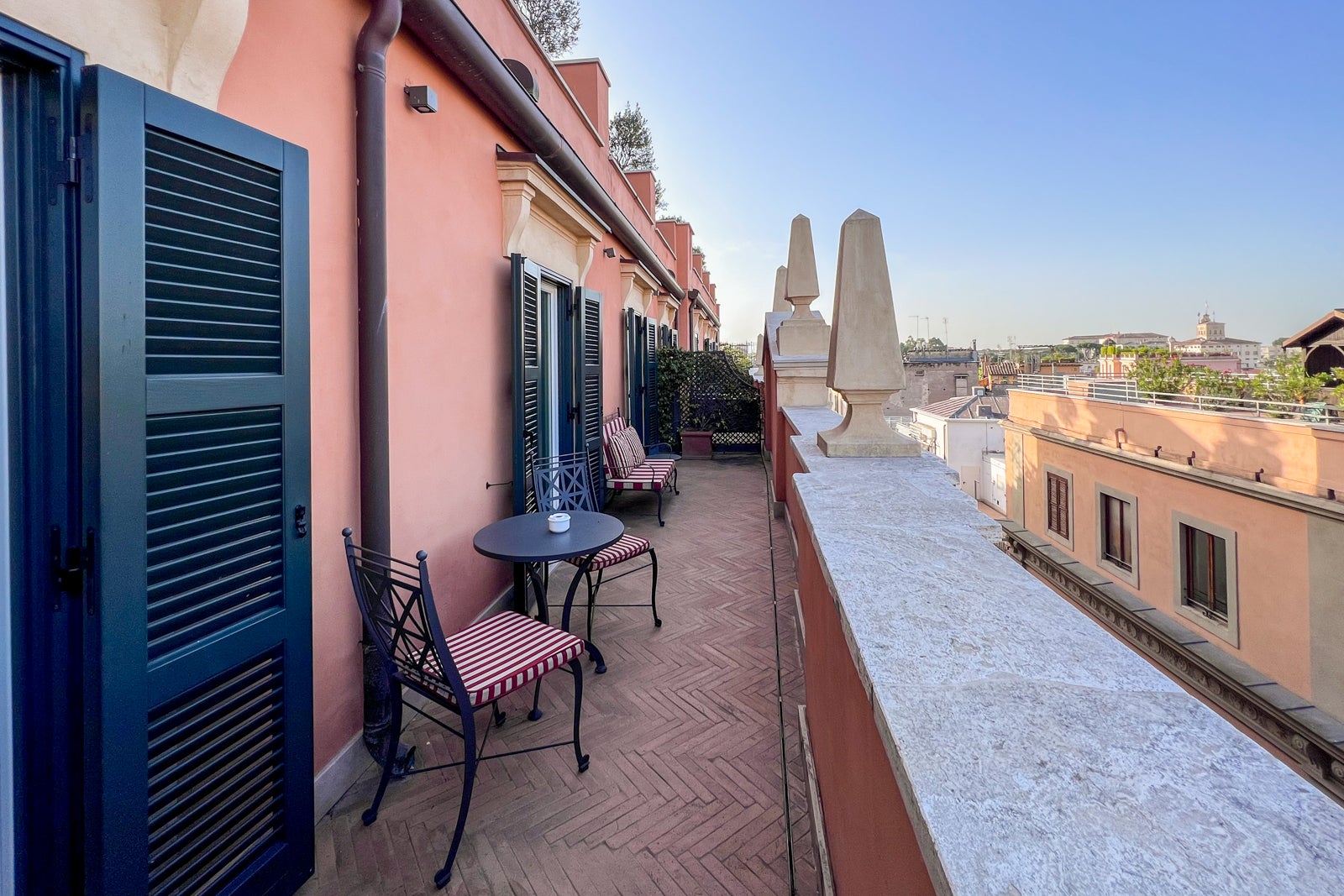 The king-size bedroom was accessible from the living room and the terrace, and there was a sizable marble bathroom with a claw-footed tub and rainfall shower. It was like borrowing a very chic Roman friend's apartment for a few days (well, an apartment that came with room service or a luxe courtyard breakfast each morning).
A tasteful, elegant patina graced the suite, which certainly leaned into Italian roots with portraits of Caesar Augustus and Greco-Roman busts peering out over the living room featuring fresh-cut flowers, a couch and two chairs, a desk with an international electric outlet (no converters required) and a chest featuring the television, minibar and Illy espresso machine that got much use over the span of two days to overcome jet lag.
My only gripe was a bit of my own doing: It would have been nice to have more international electric outlets throughout the suite since I forgot my converter back home.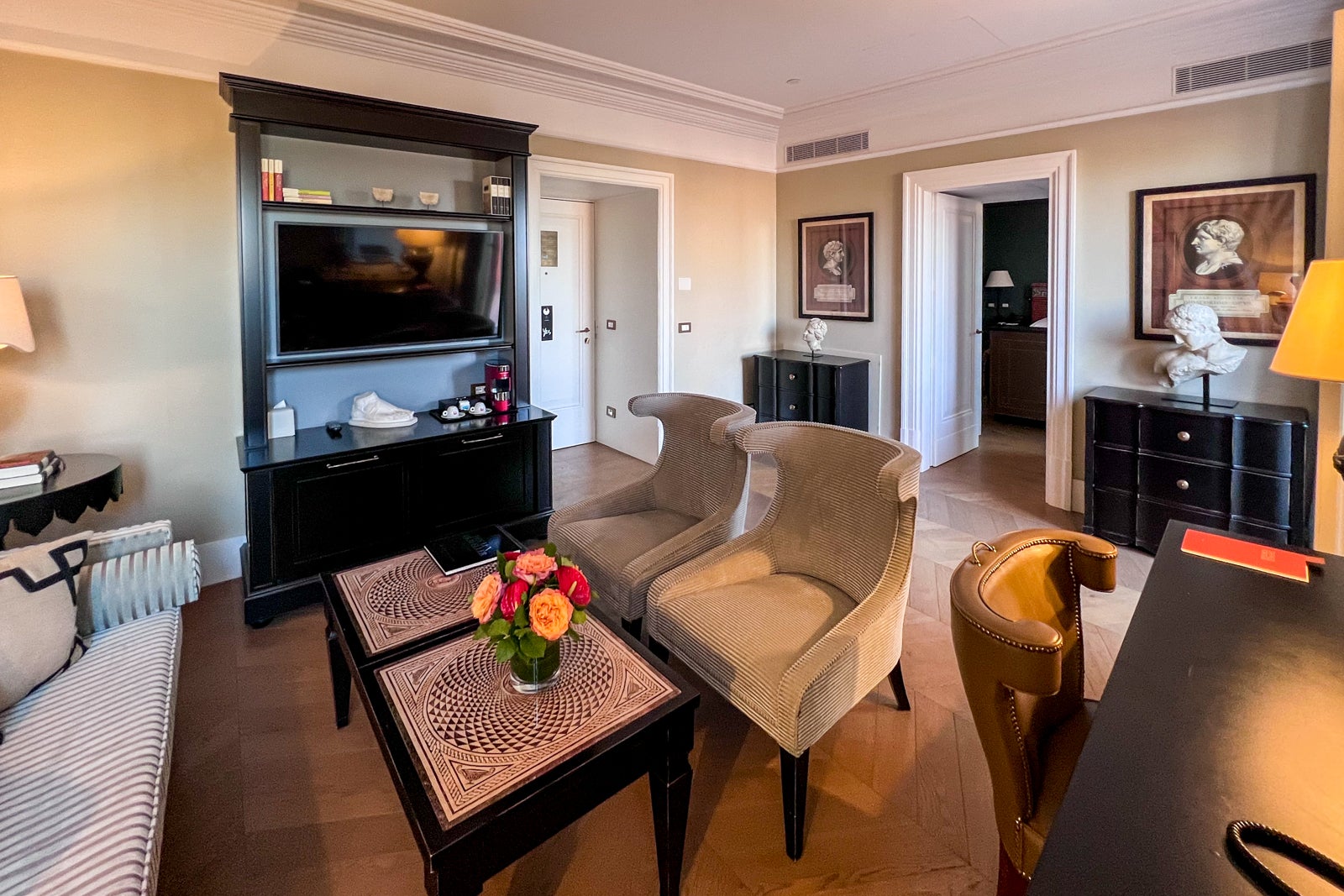 The showstopper is the terrace long enough for a Naomi Campbell catwalk strut (or just a nice, leisurely coffee with your husband while checking out the Roman architecture below). You can access the terrace from both the living room and the bedroom, which also has shutters to block out the sunlight in the morning.
The bedroom featured a king-size bed with a rich, velvet headboard as well as two closets with ample storage and paneled doors featuring drawings of Italian stone pine trees. A cabinet at the foot of the bed housed the television during the day (I couldn't figure out how to get the television out of said cabinet except for when the evening turndown service did this for me. That said, I didn't come to Rome to catch up on Netflix).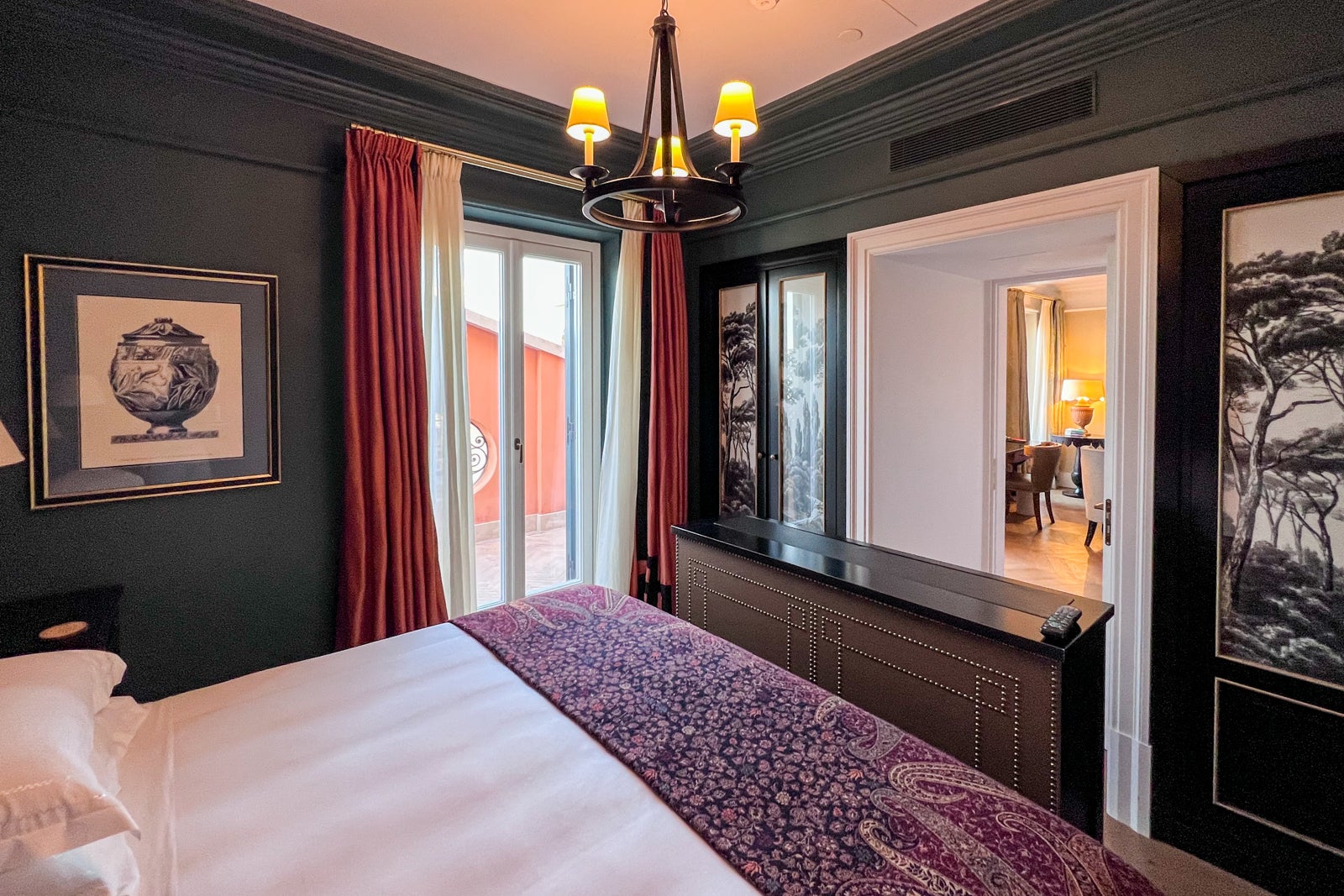 The black-and-white color palette of the bathroom added to the breezy spaciousness of it all. The bathroom featured a single vanity, two bathrobes, plenty of nooks to hang towels to dry and Irene Forte products for both the soaking tub and the shower.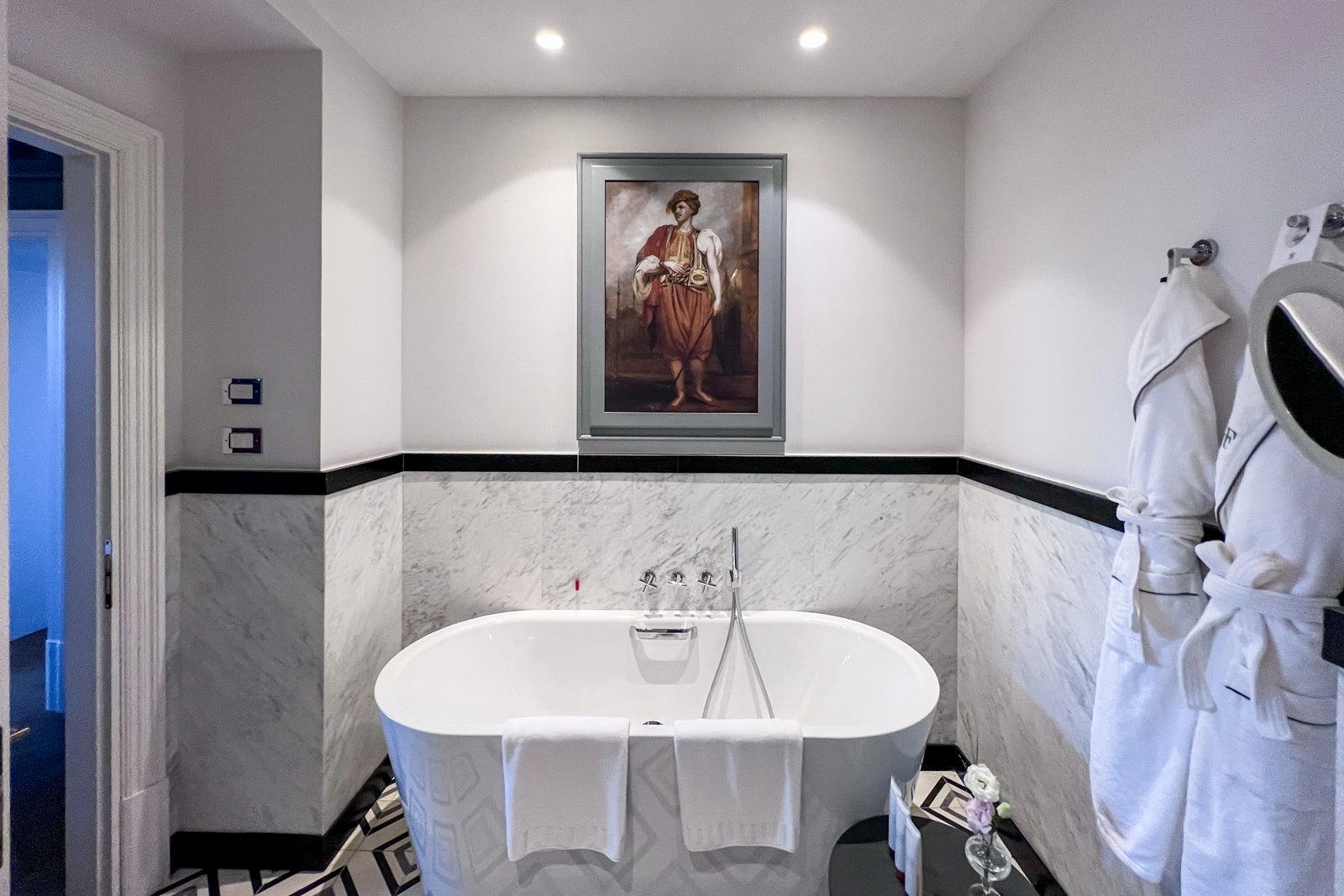 There were little touches that made it clear why so many people view Hotel de la Ville as one of Rome's best: Shirts strewn about were carefully hung up in the closet while we were away, pajamas were folded and placed neatly on a shelf, and requests for little things like shaving cream or water were fulfilled at lightning speed compared to the lengthy room service wait times you'll find at even the most luxurious of hotels in the U.S.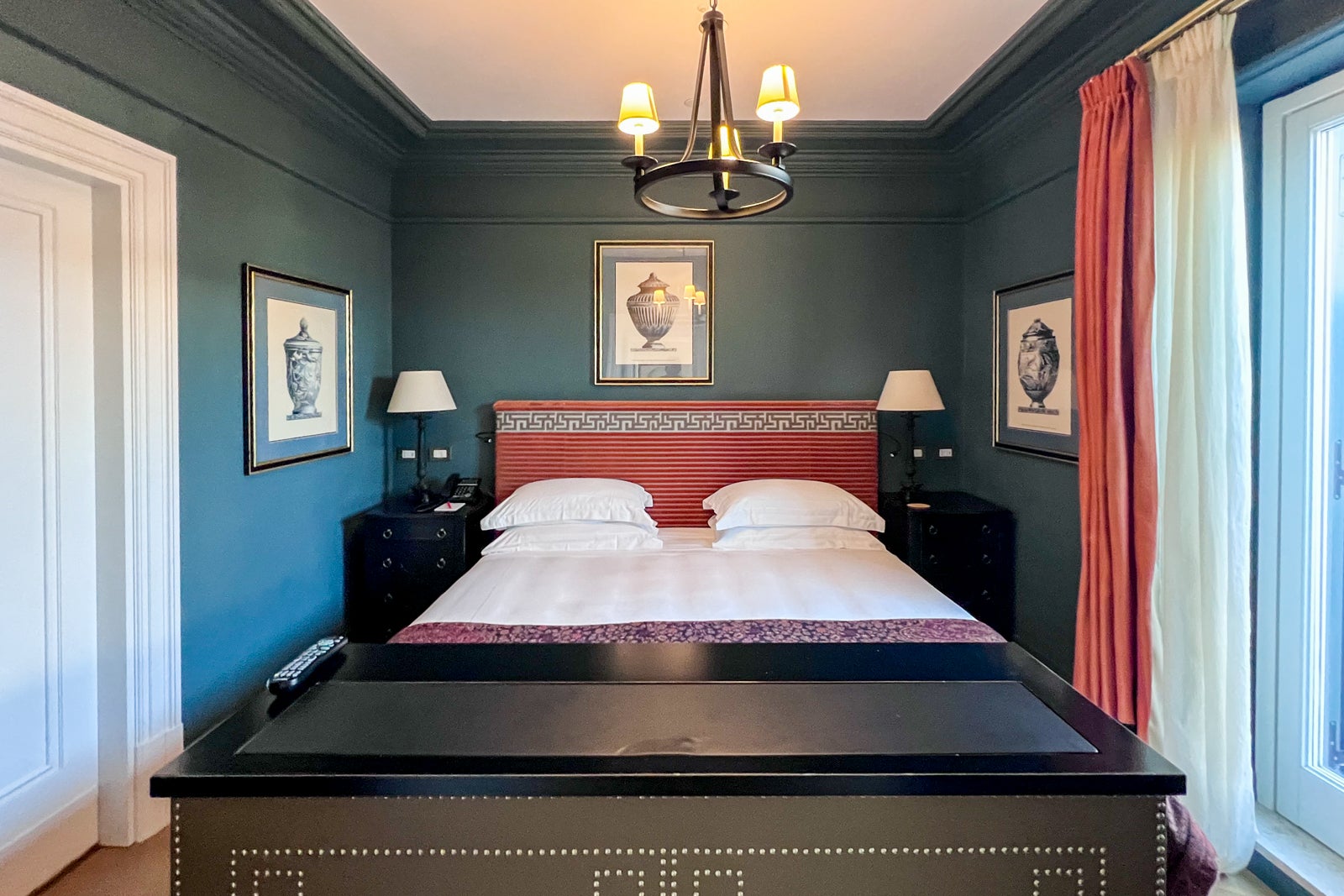 The hotel features twice-daily room service, including an evening turndown service. This includes all the usual elements like replenishing the espresso pods in the living room, setting out robes and putting bottles of water on each nightstand. But the real treat was getting a new sample of Irene Forte skincare products each night (the pistachio face mask was a particular favorite) alongside the breakfast menu.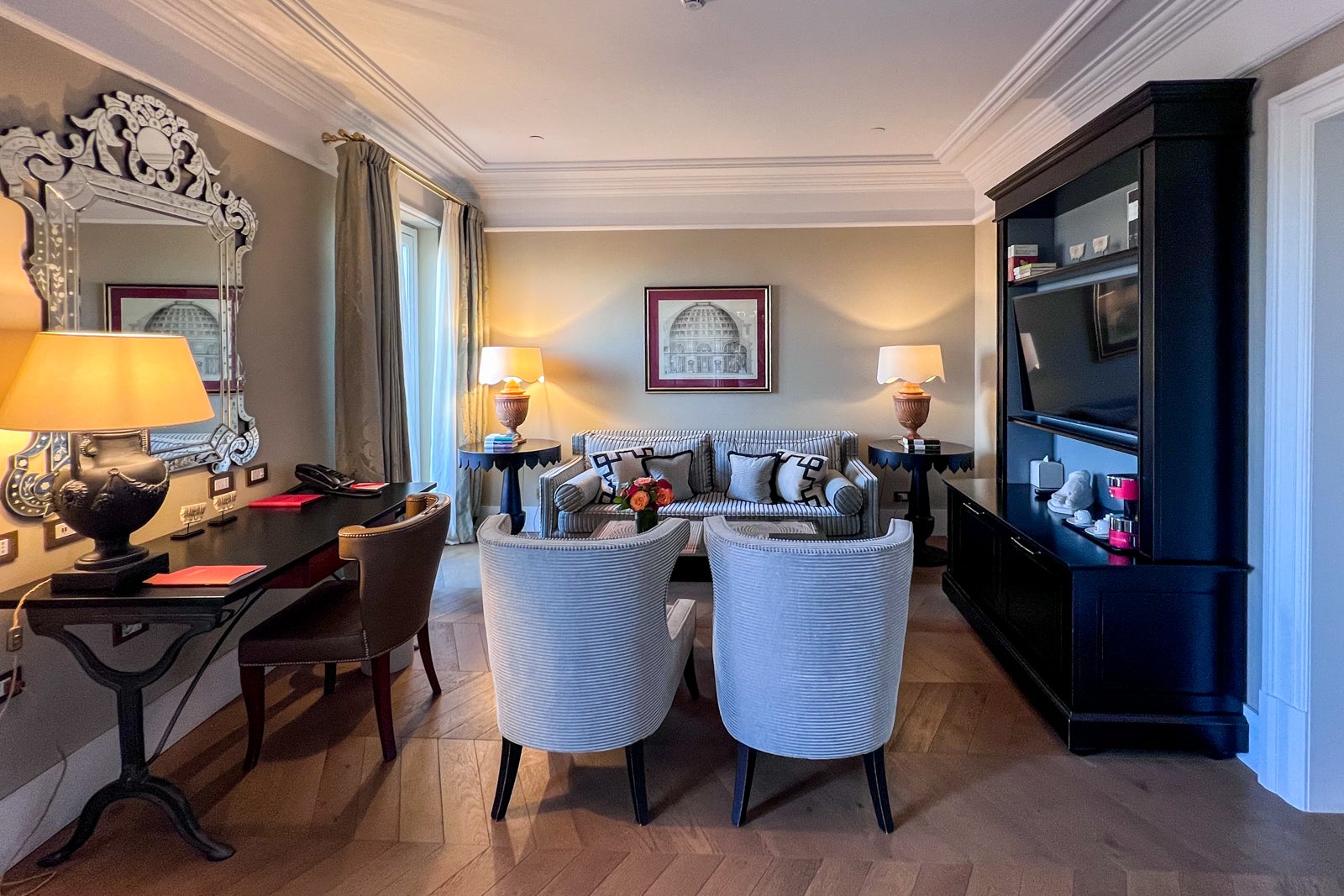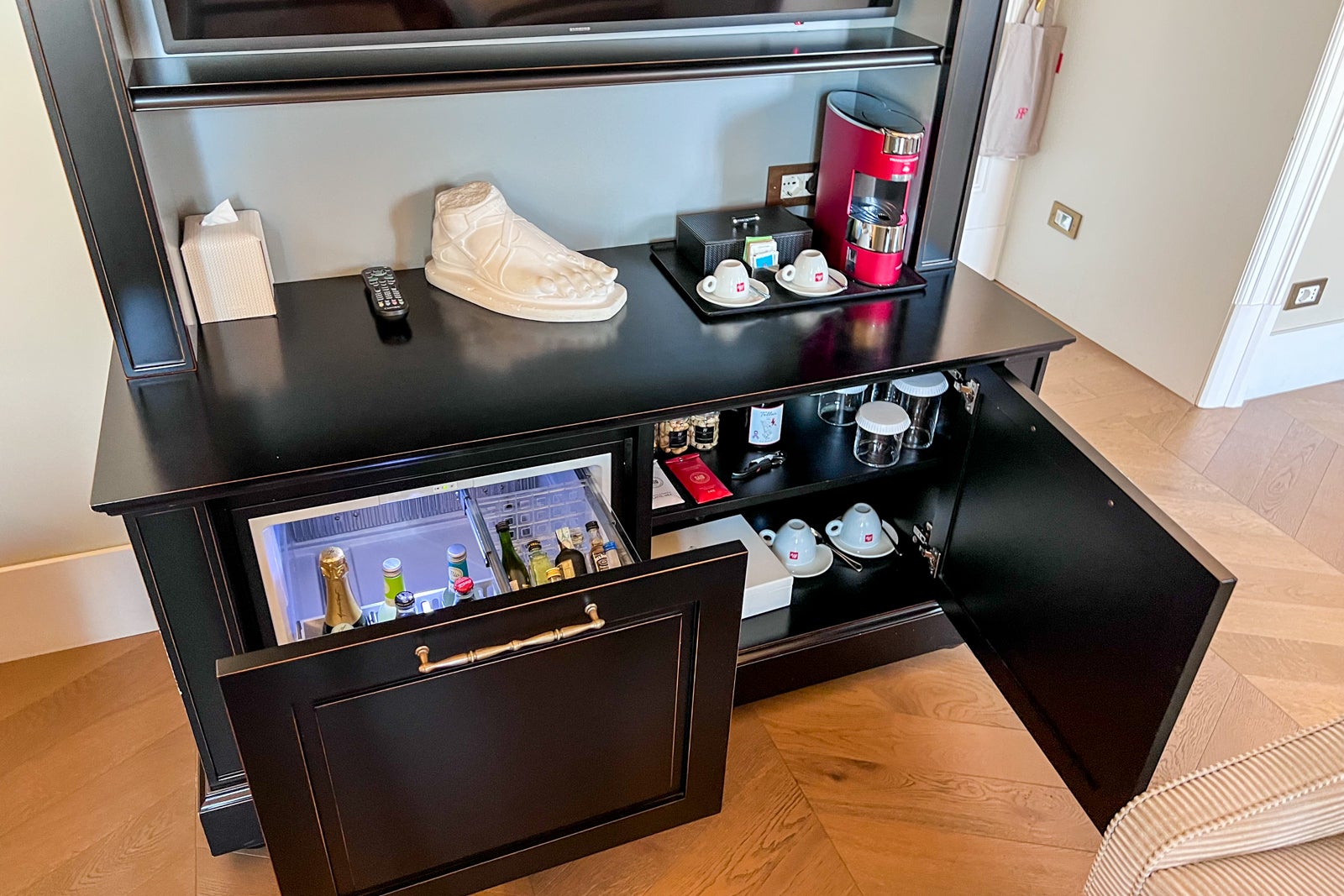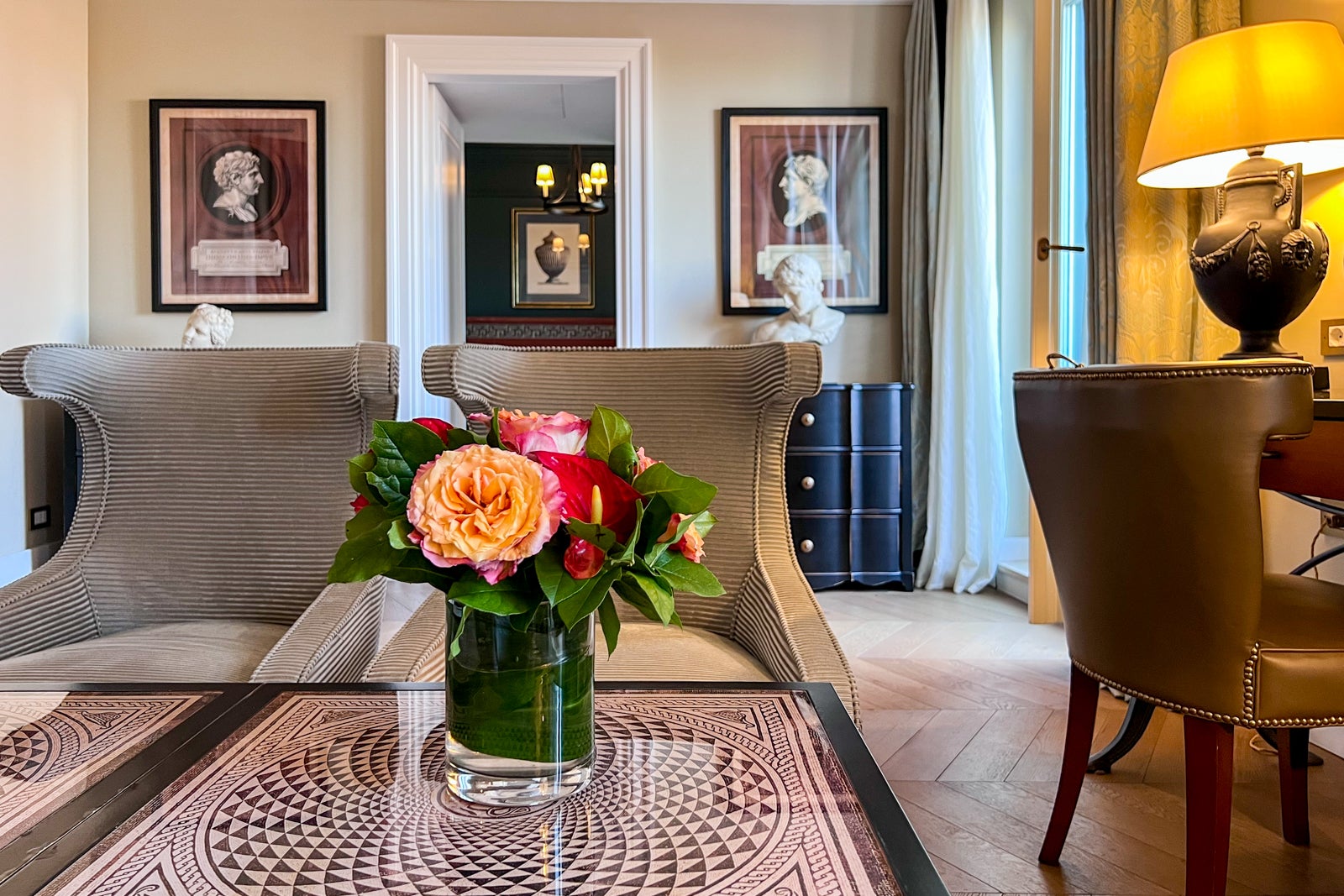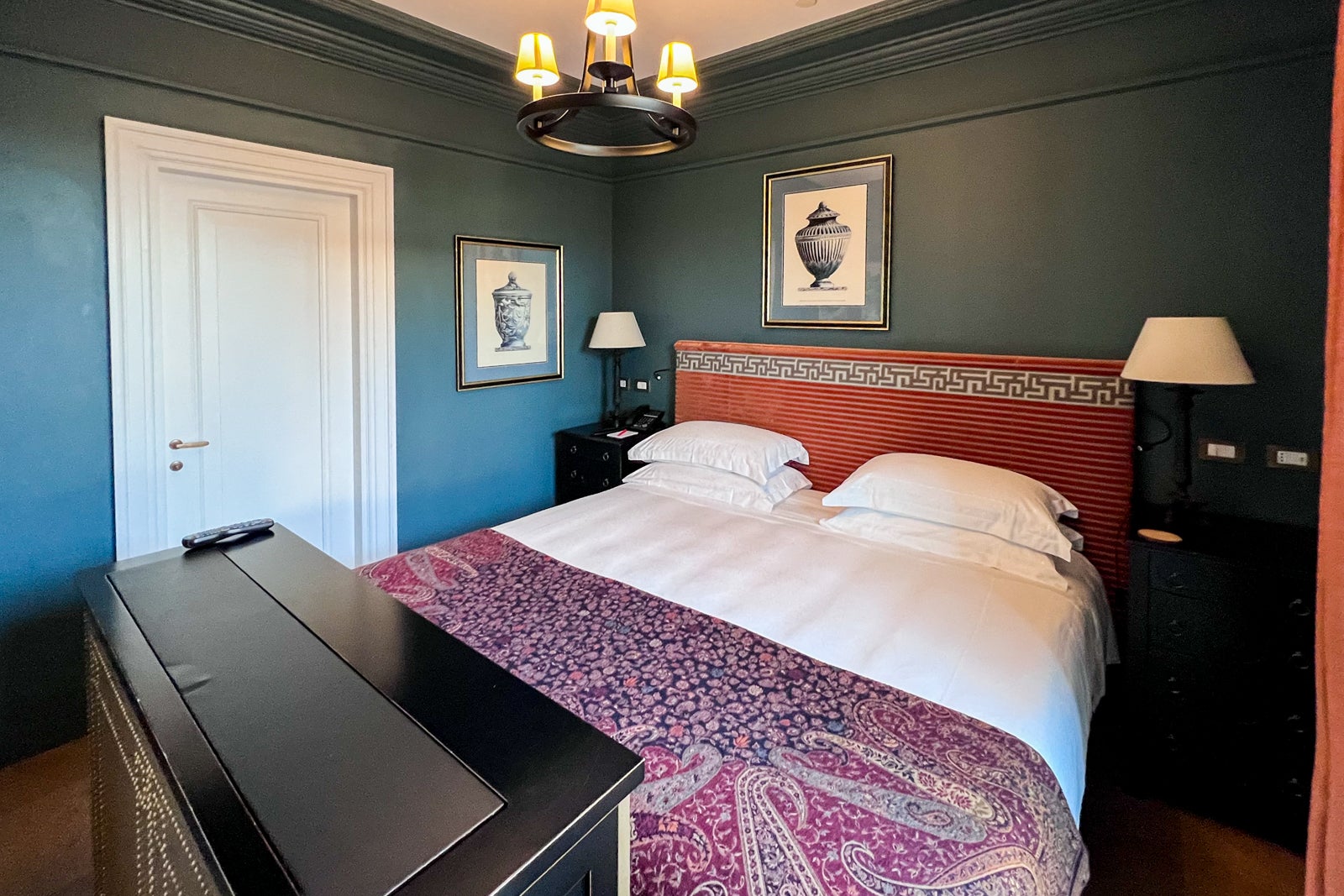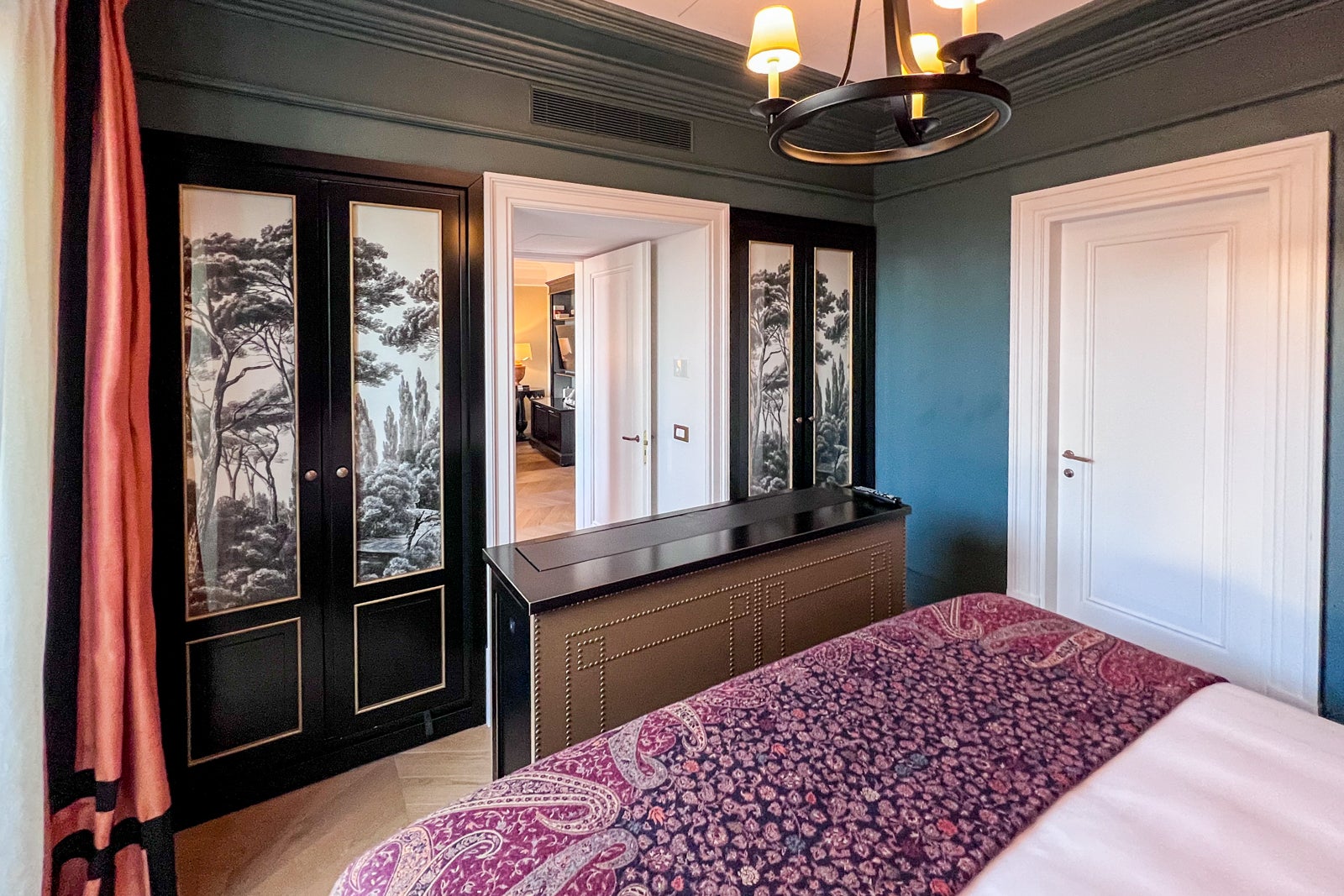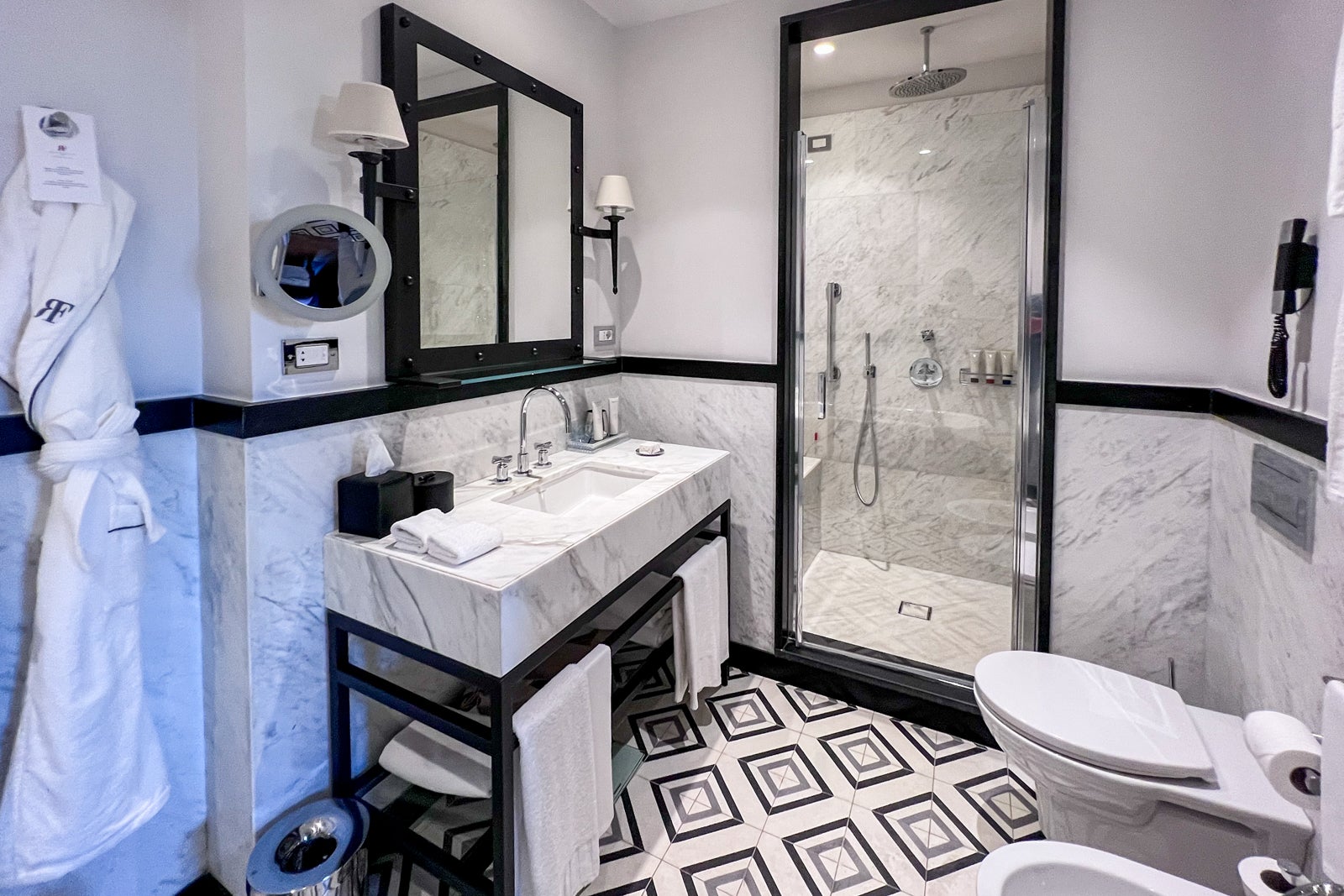 Save room for a drink or 2 (or 3)
There is a litany of stylish ways to eat or drink at Hotel de la Ville. Breakfast is served each morning in Mosaico, a picture-perfect courtyard space with red-and-white-striped umbrellas adorning the tables outside, while the brasserie-vibe indoor portion of the restaurant was popular for those seeking an air-conditioned respite from the sweltering summer heat. Even if the humidity is sky-high, you're going to want to power through and sit outside: It's precisely the design aesthetic you're thinking of when you want your social media followers to know you're in Rome.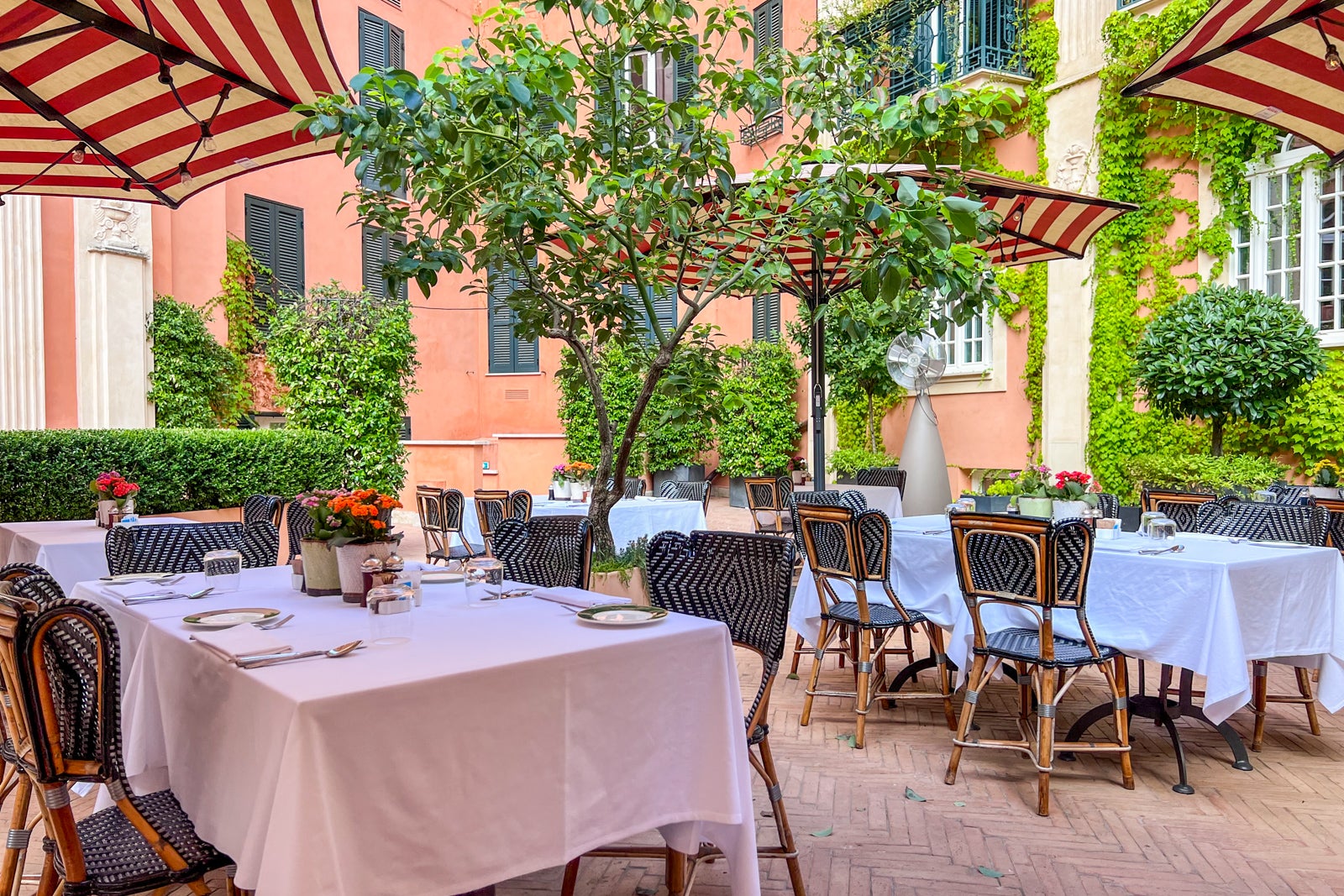 Breakfast was included in our stay, and you can eat off the buffet as well as enjoy a la carte items from the kitchen like pancakes, omelets with ricotta and mint (a personal favorite) or eggs made to order. The buffet was extensive, with offerings like bruschetta, cheeses, fresh fruits, baked goods, freshly squeezed juices and an array of coffee and tea.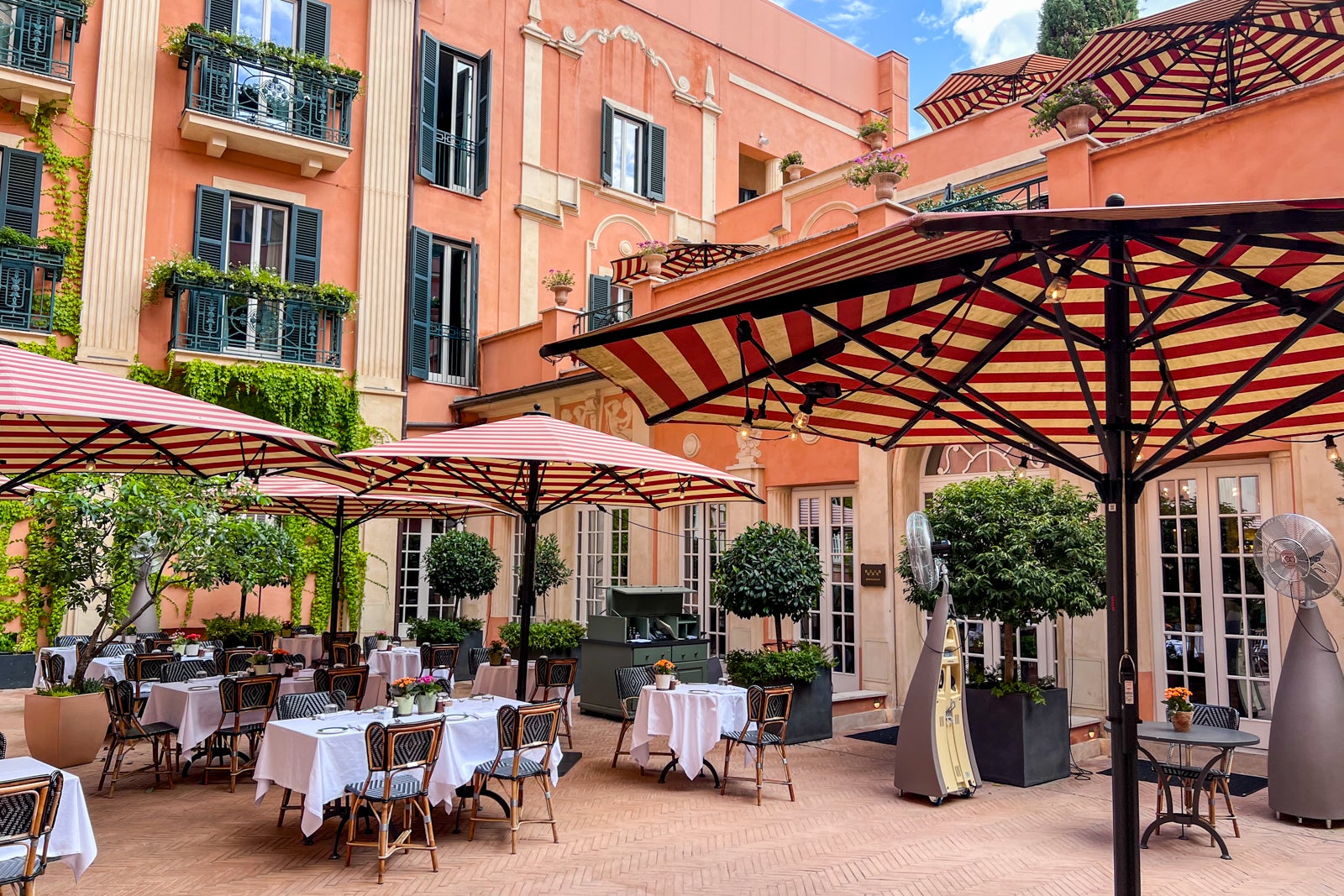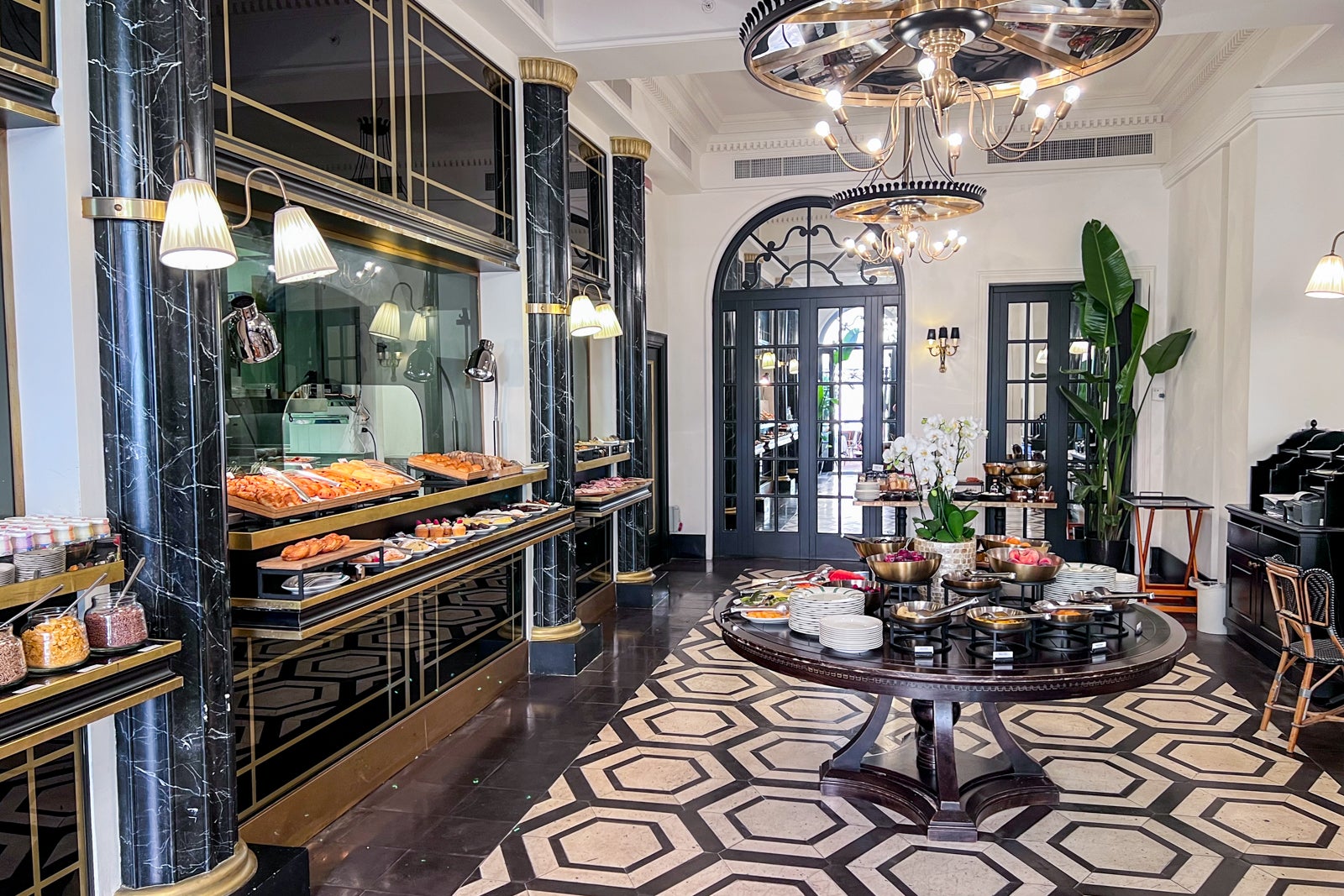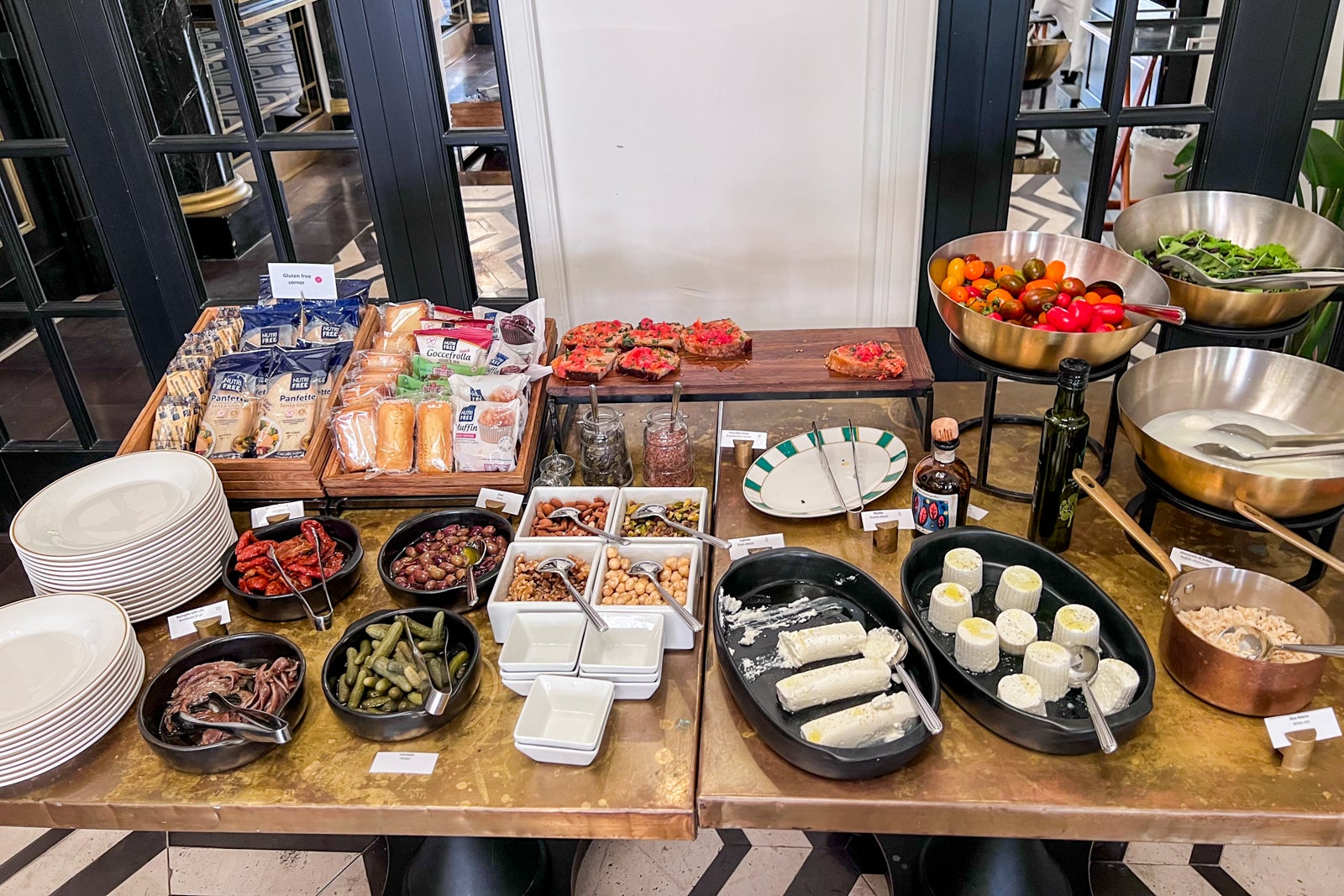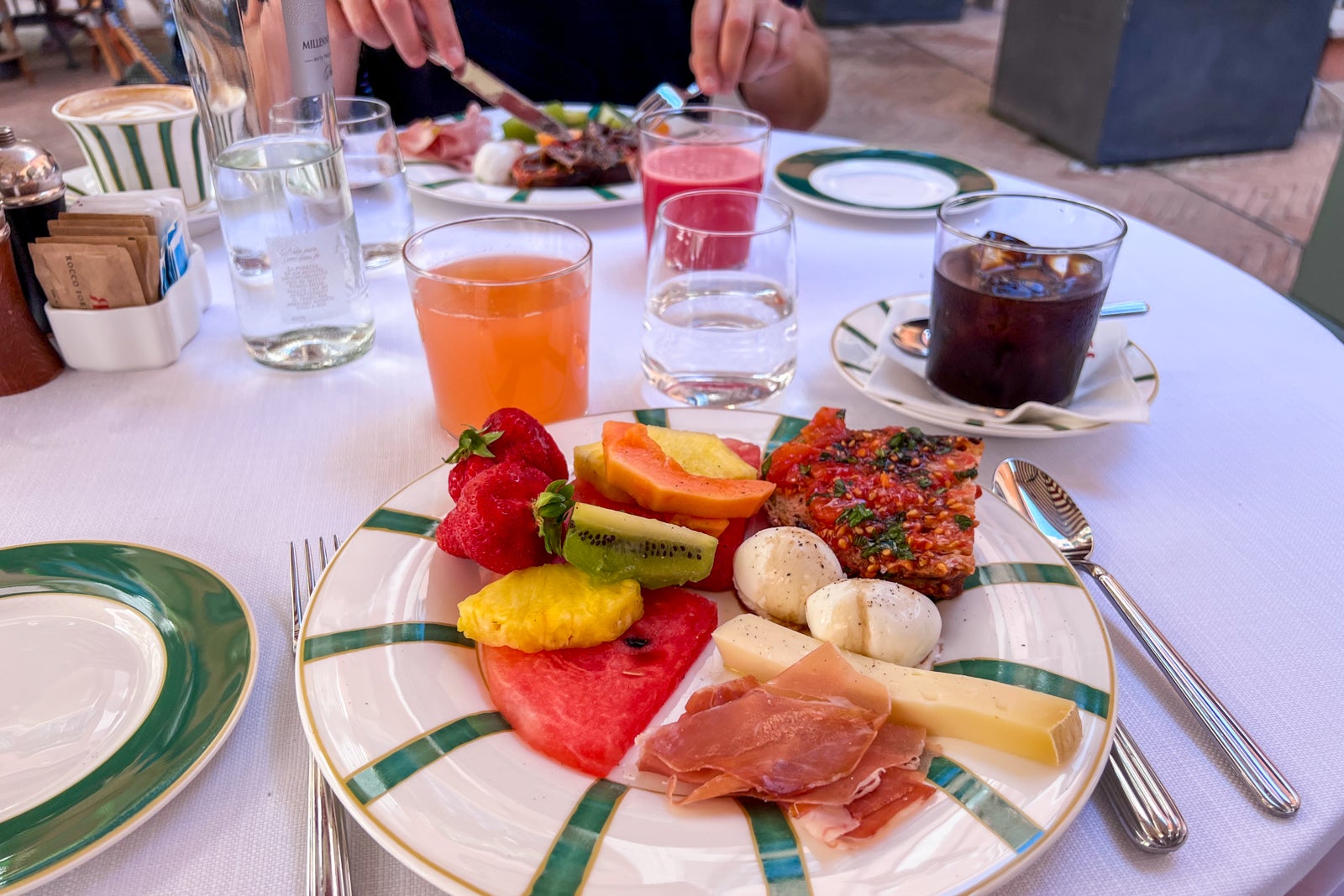 Even in the July heat, it felt fabulous reading the morning papers and having breakfast in the Mosaico courtyard — the team was more than happy to field this American's request for iced espresso on such humid days, and they remembered our orders from the day prior on our last morning at the hotel.
Based on recommendations from other bartenders encountered along our Roman trip, Cielo on the hotel's rooftop is among the more desirable watering holes in the city. I'd have to agree, as the views are just as delicious as the Negronis for 24 euros ($26) — pricey for a cocktail, but some of the best views of the city don't come cheap. While Cielo has a full menu at some points of the year, it was offering more of a small-bites menu, like a fish of the day tartare with marinated melon for 24 euros ($26), while we stayed at the hotel.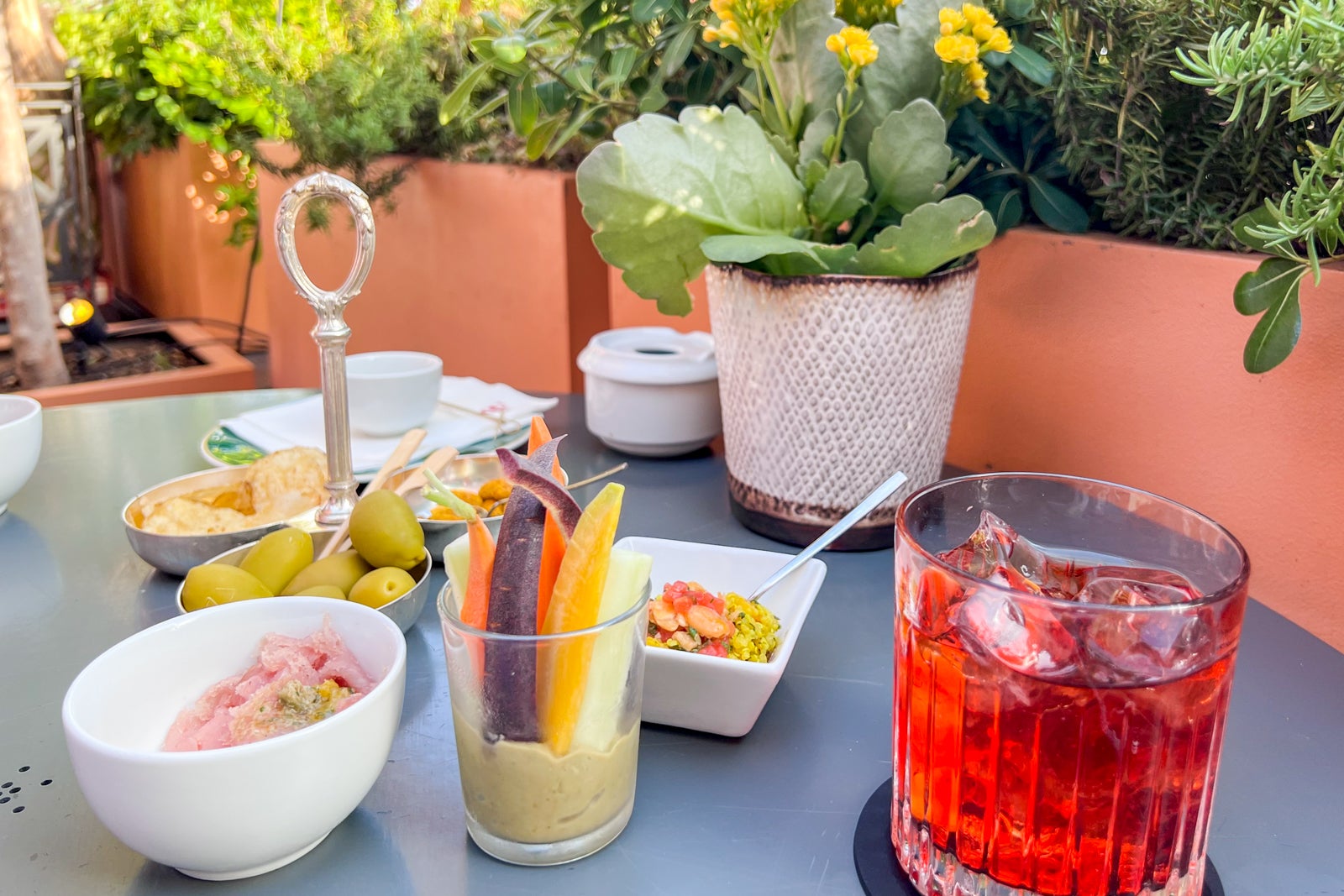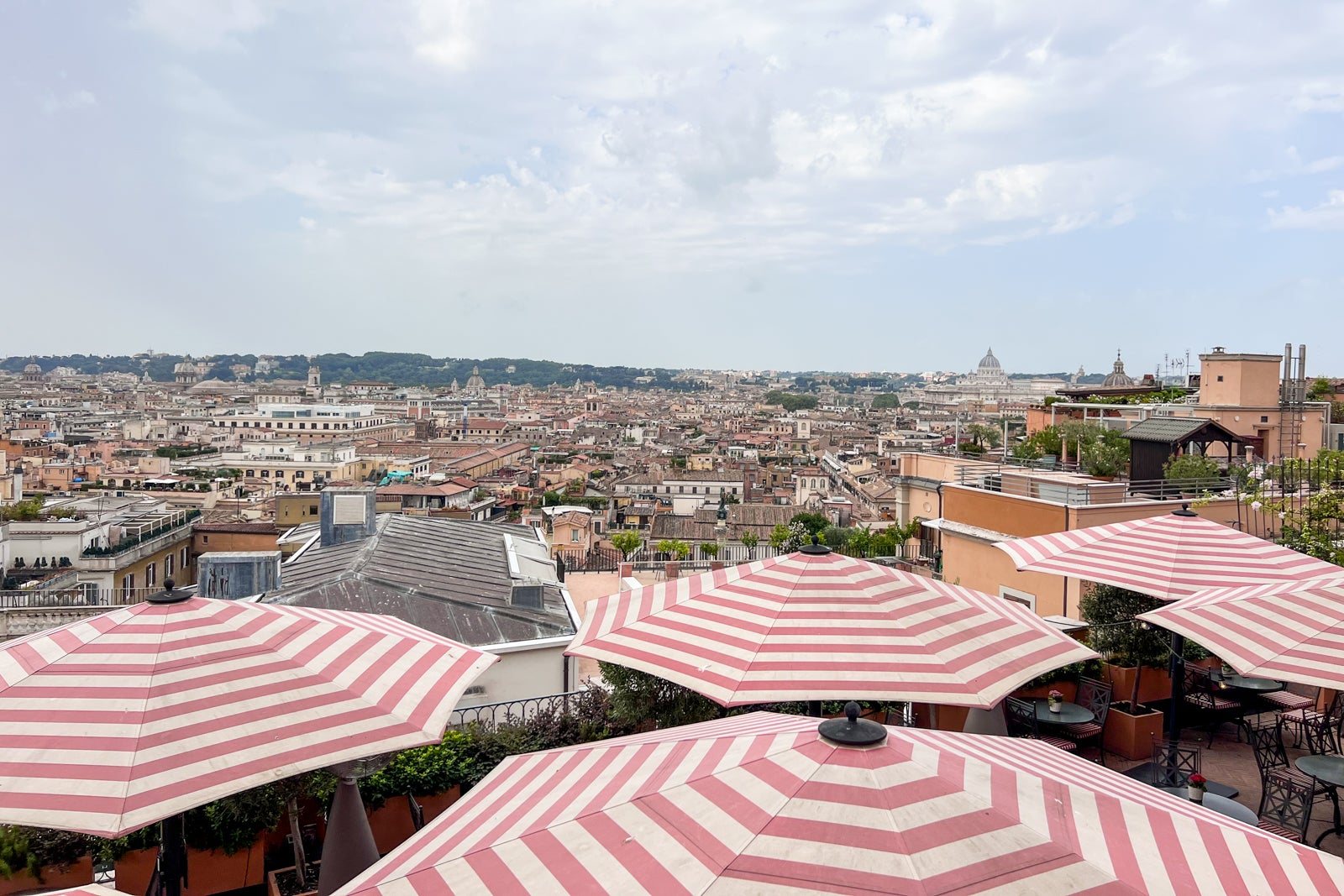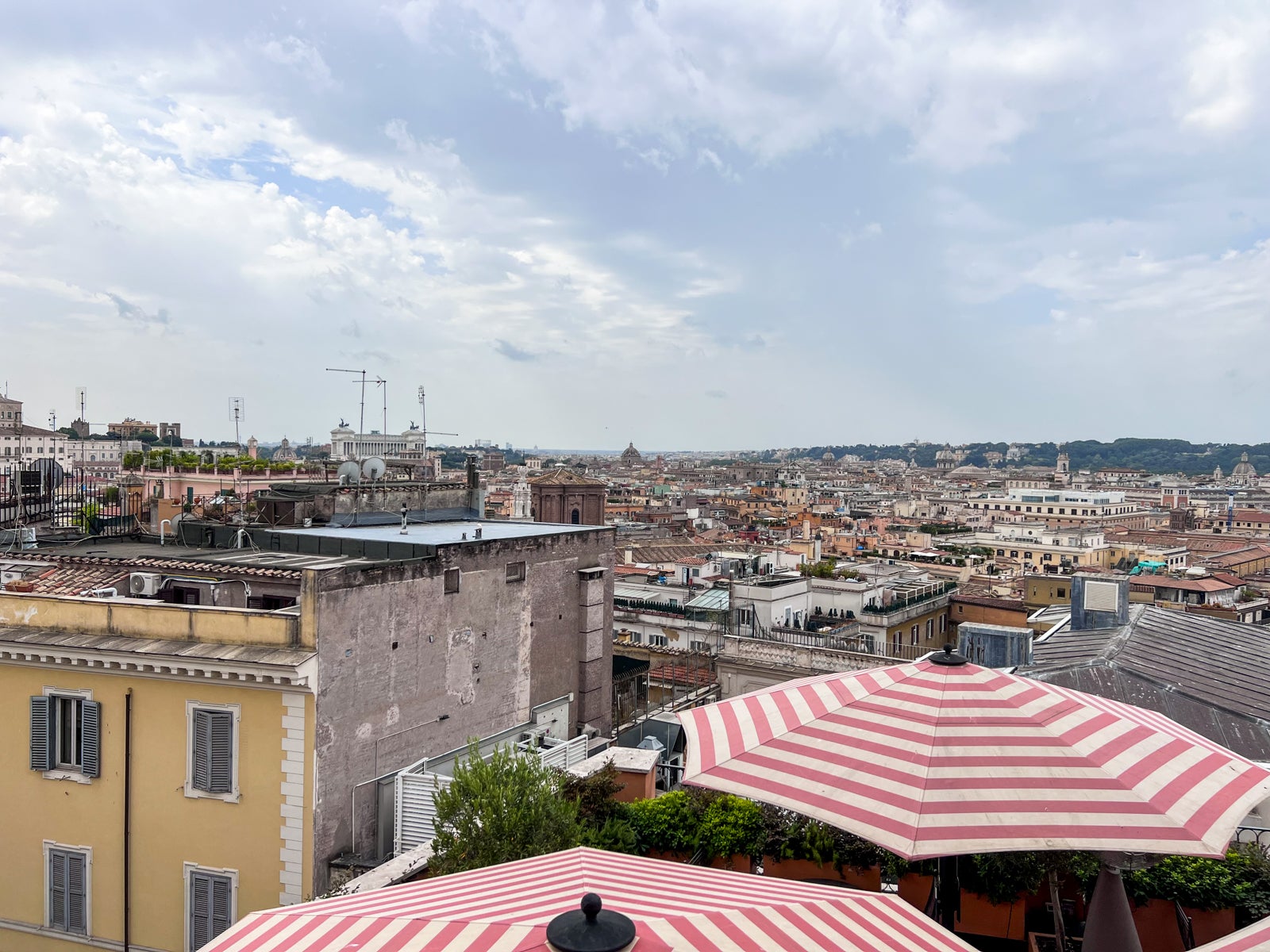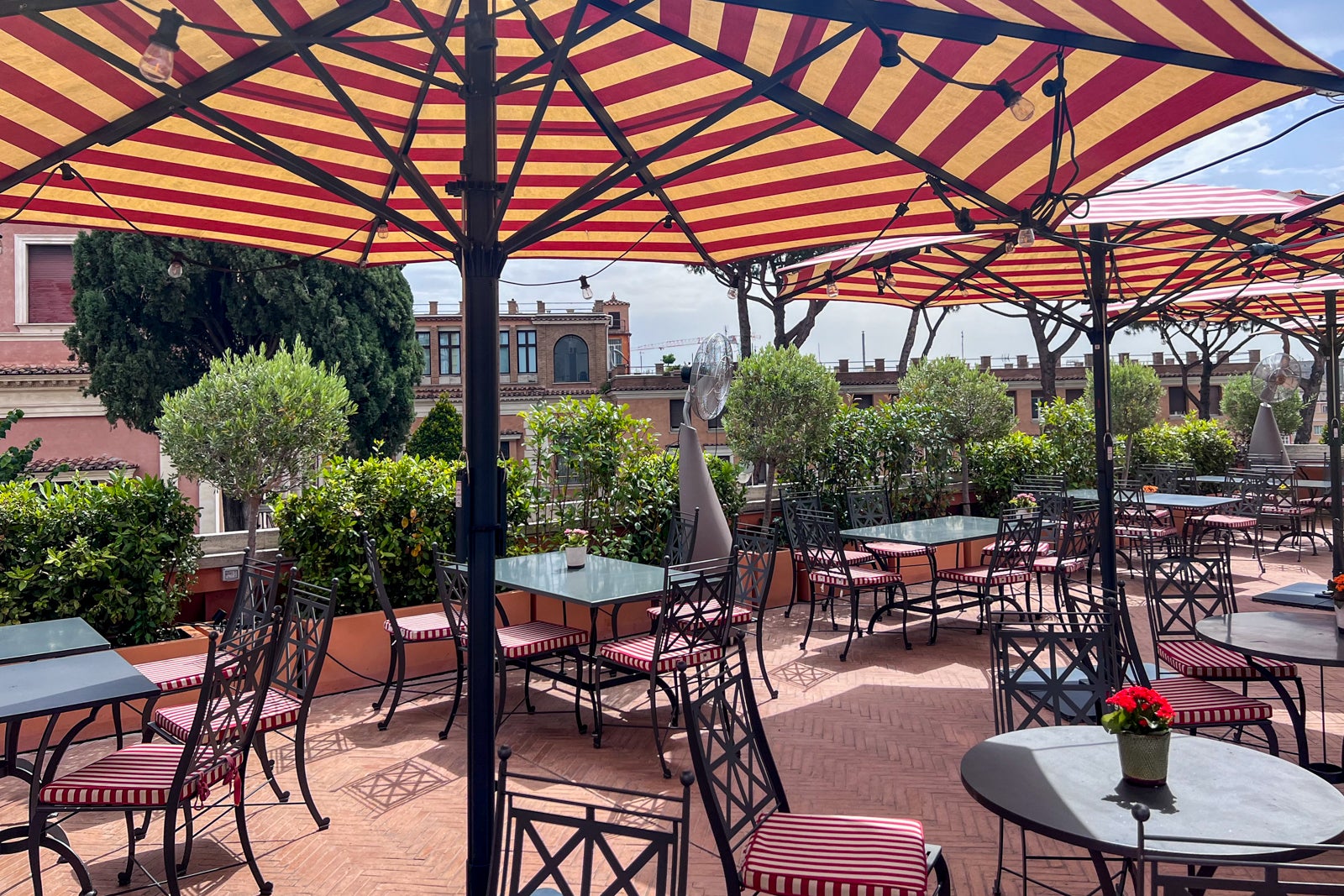 The hotel also has Da Sistina, a modern Italian restaurant off the lobby (decorated to resemble an Italian palazzo, but time didn't allow for me to eat a meal), as well as Julep Herbal & Vermouth Bar, a richly decorated space reminiscent of a posh British townhome's library that happens to serve delectable martinis. Julep was closed during my stay, and guests were directed to visit Cielo instead.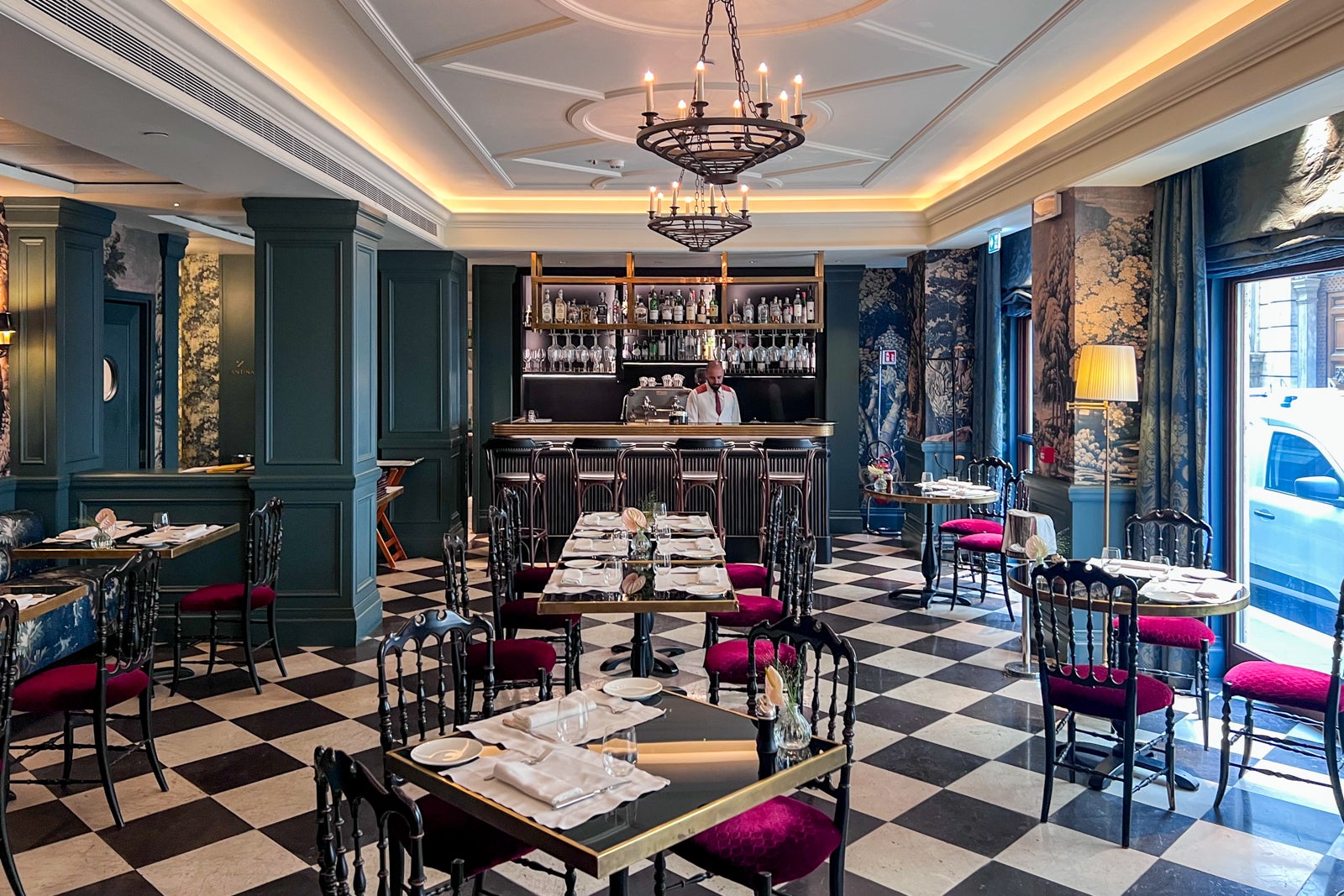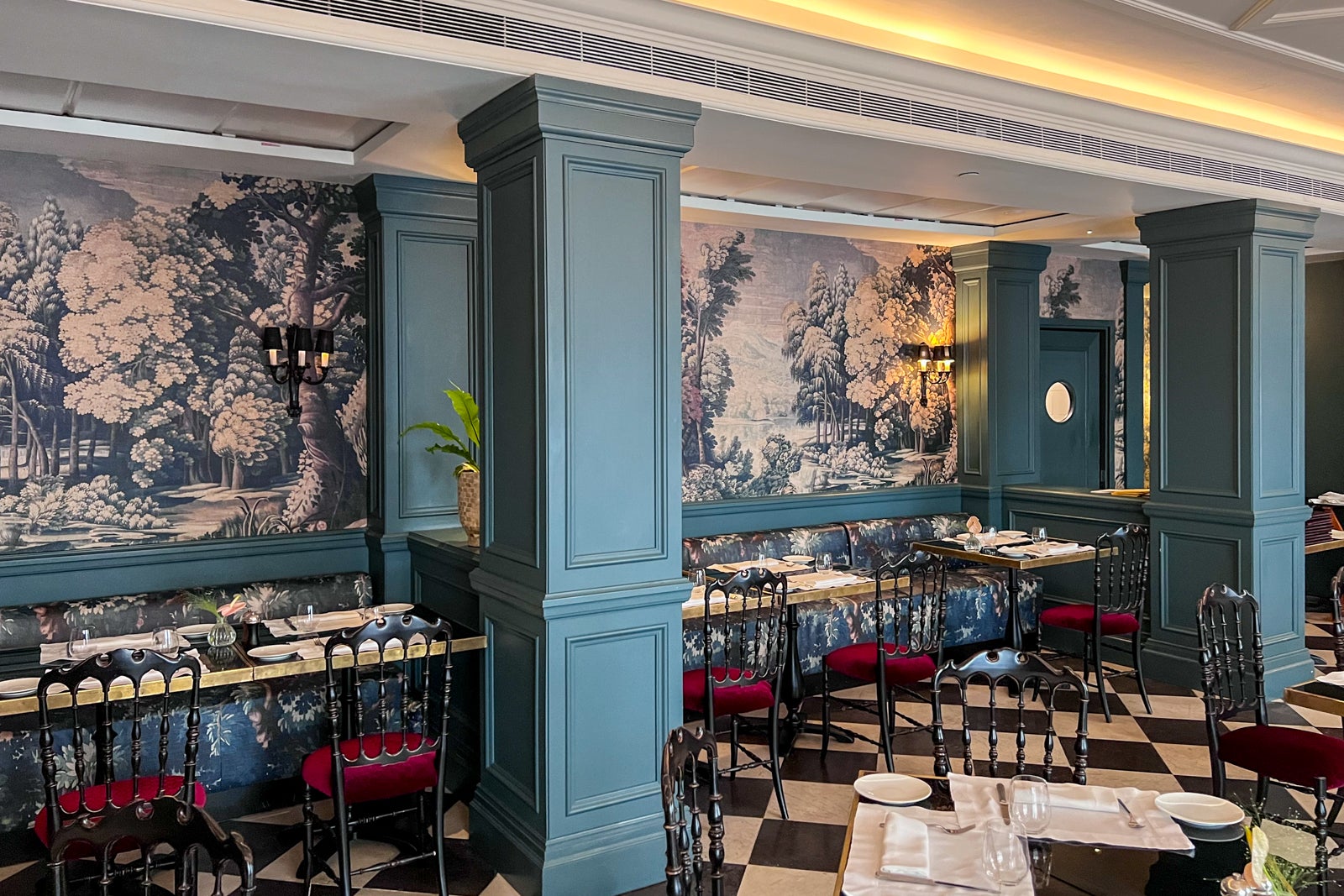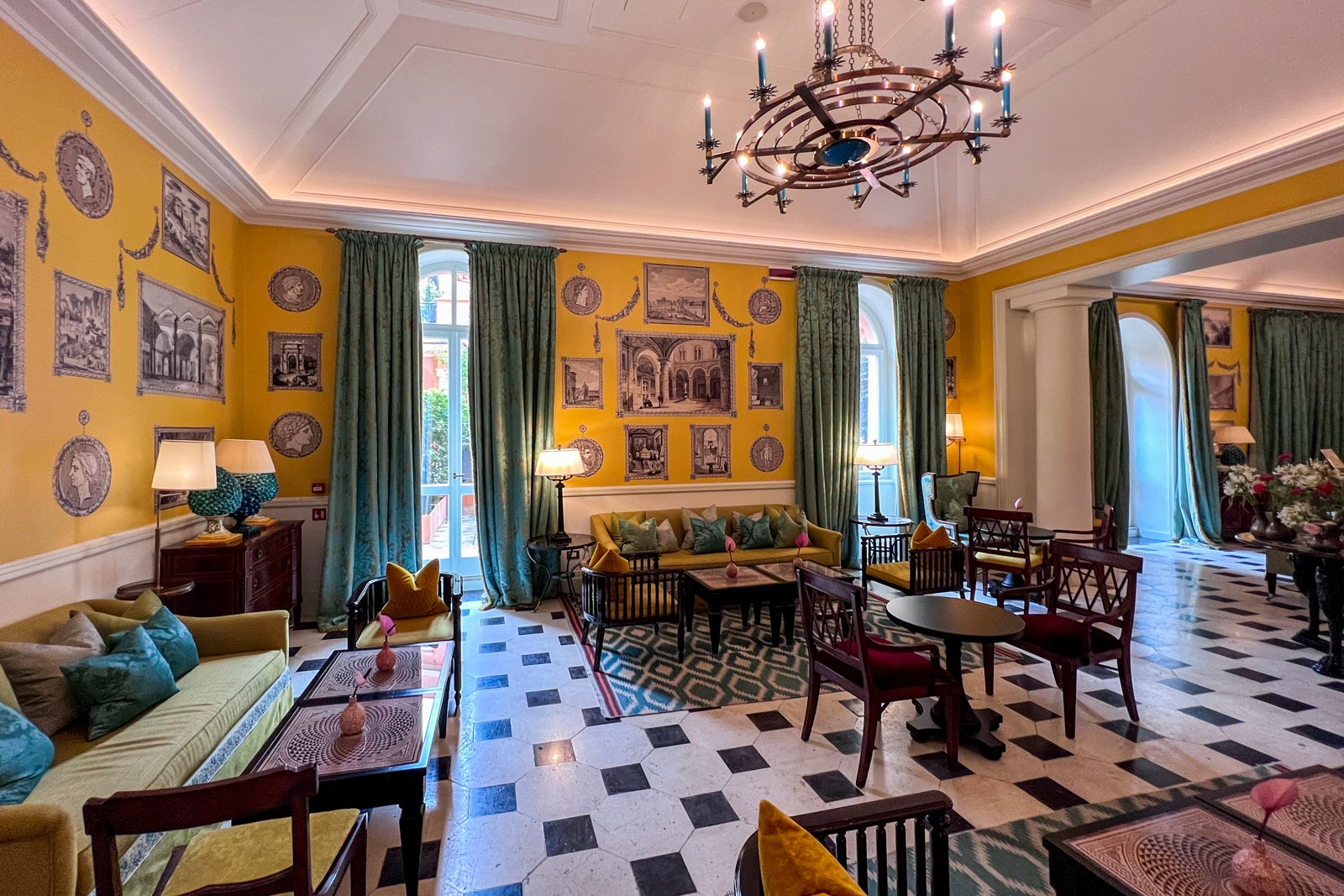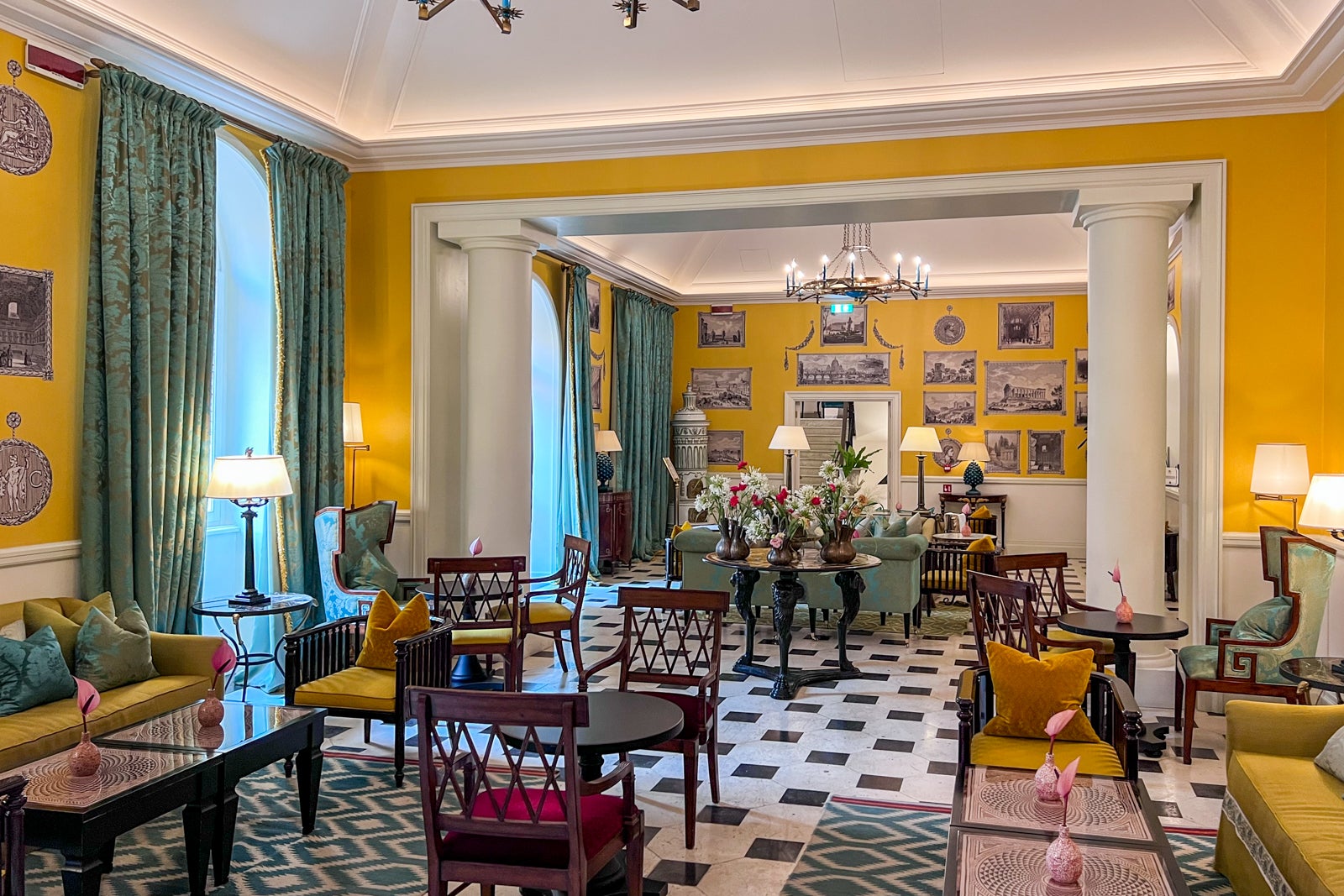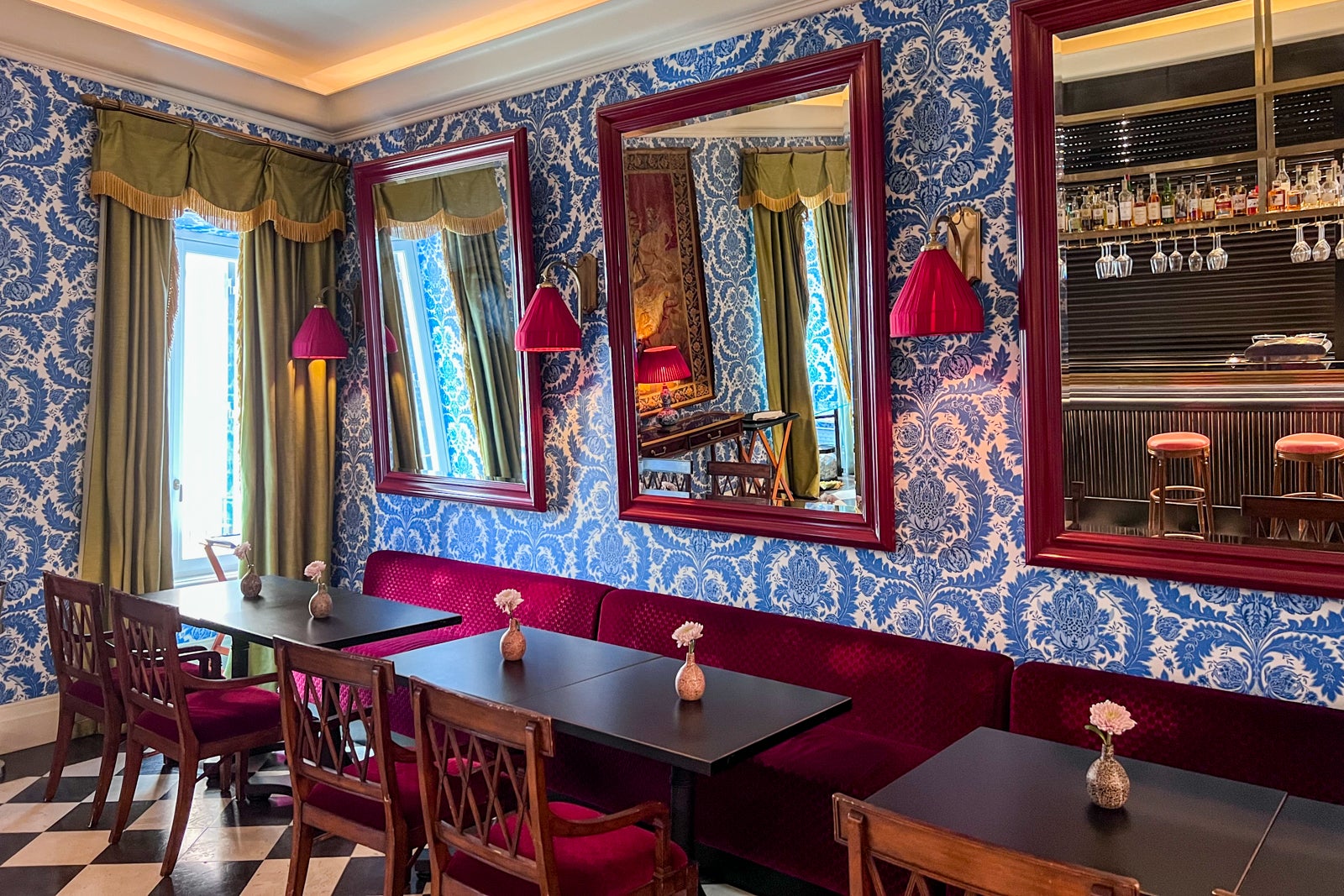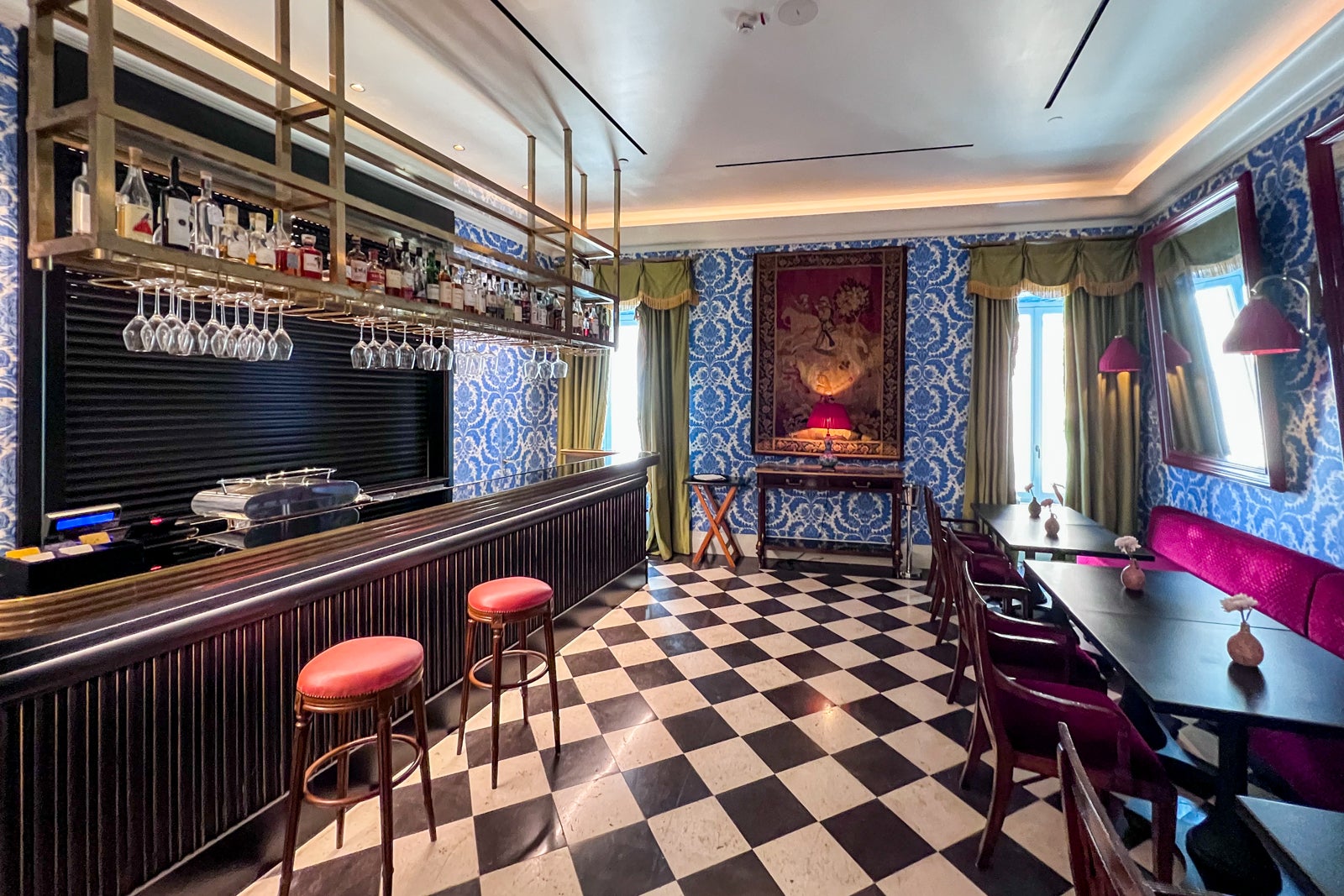 The Irene Forte Spa
One of my favorite spots of the hotel was the Irene Forte Spa, which was open to guests to use several facilities even without booking a massage. A sauna, steam room, salt room, ice fountain, foot baths, hydro pool and a cold plunge pool were available to use alongside a relaxation area with infrared loungers.
While I didn't take part in a treatment, I saw a 90-minute facial was priced at 250 euros ($271) while a 90-minute deep tissue massage went for 220 euros ($239).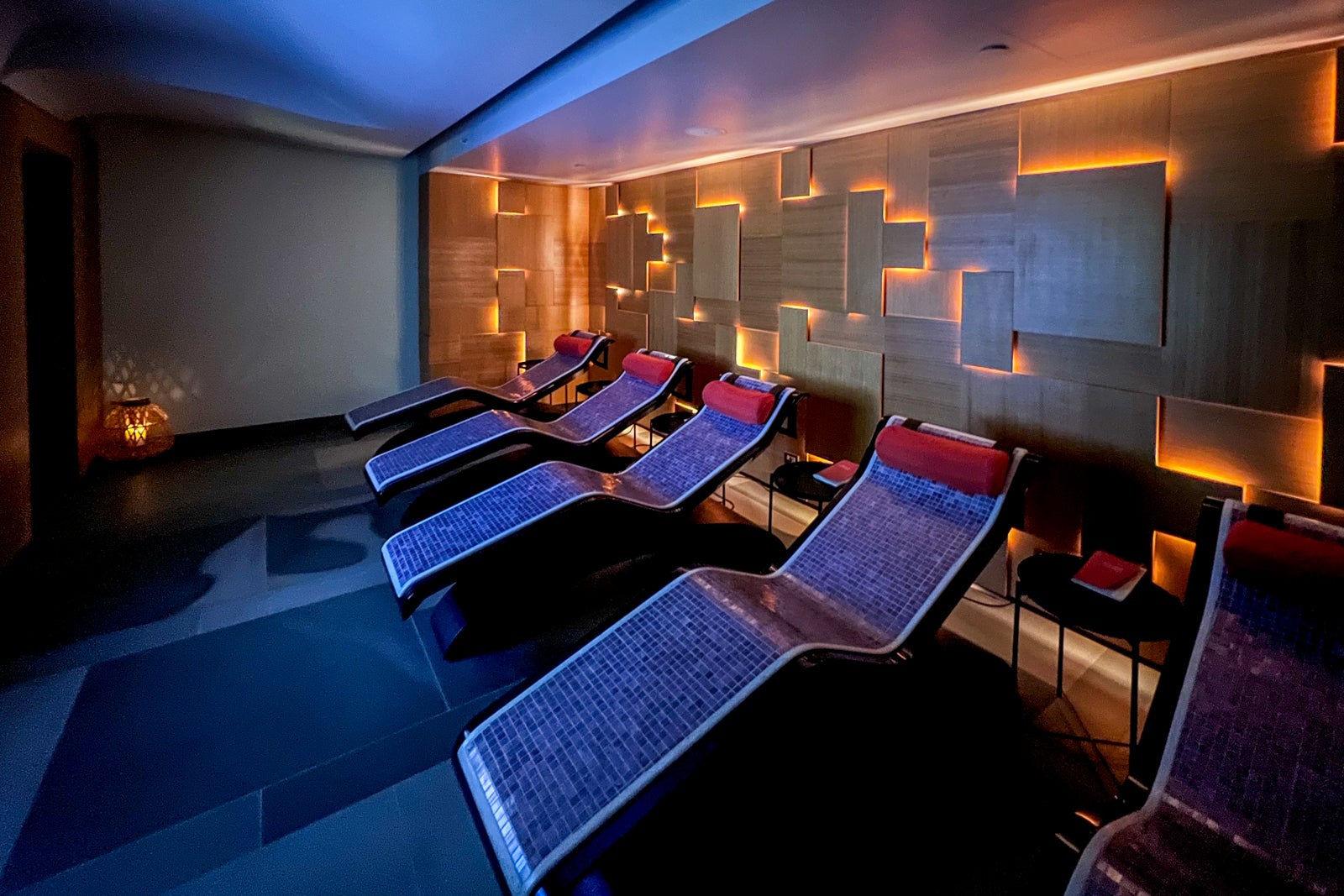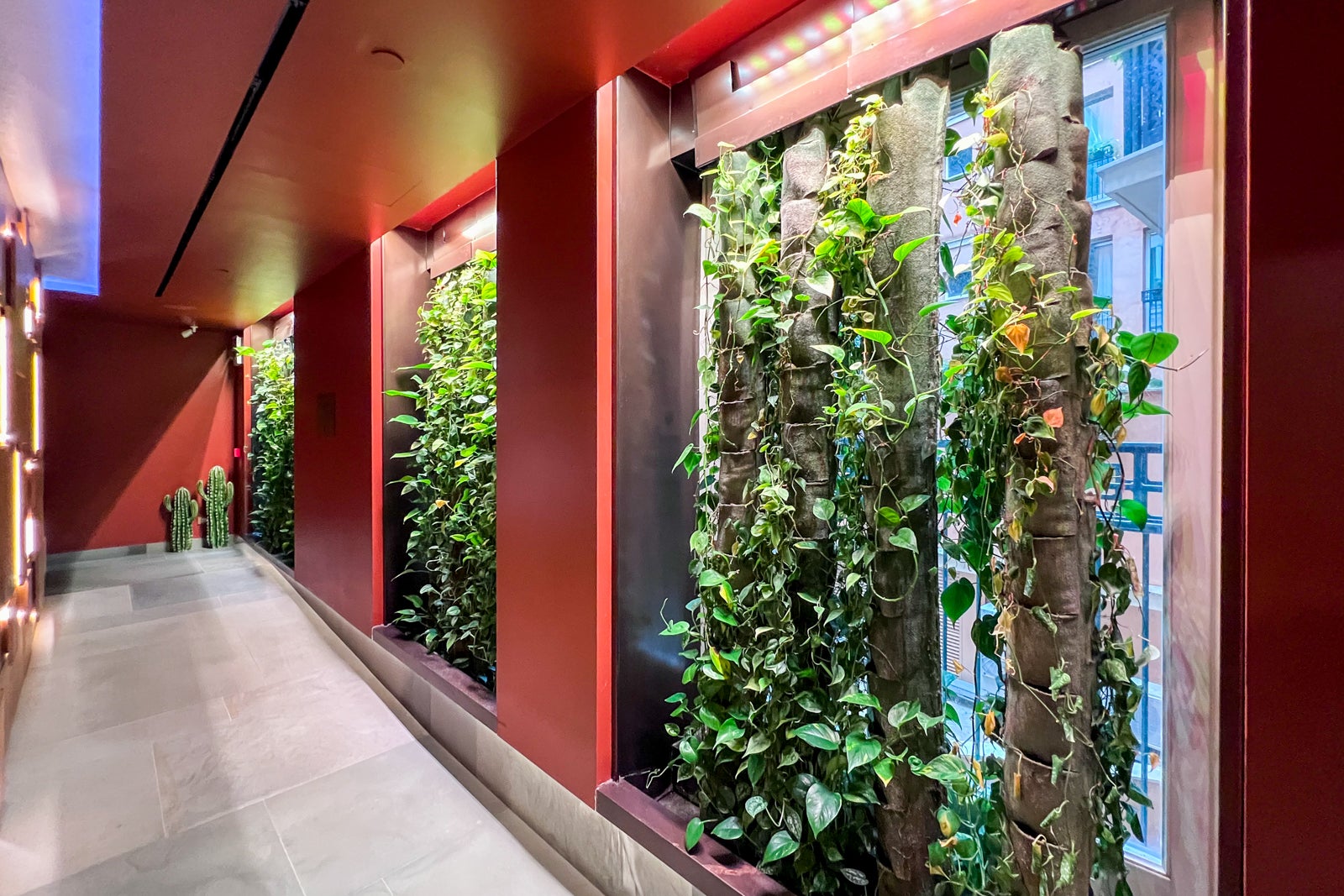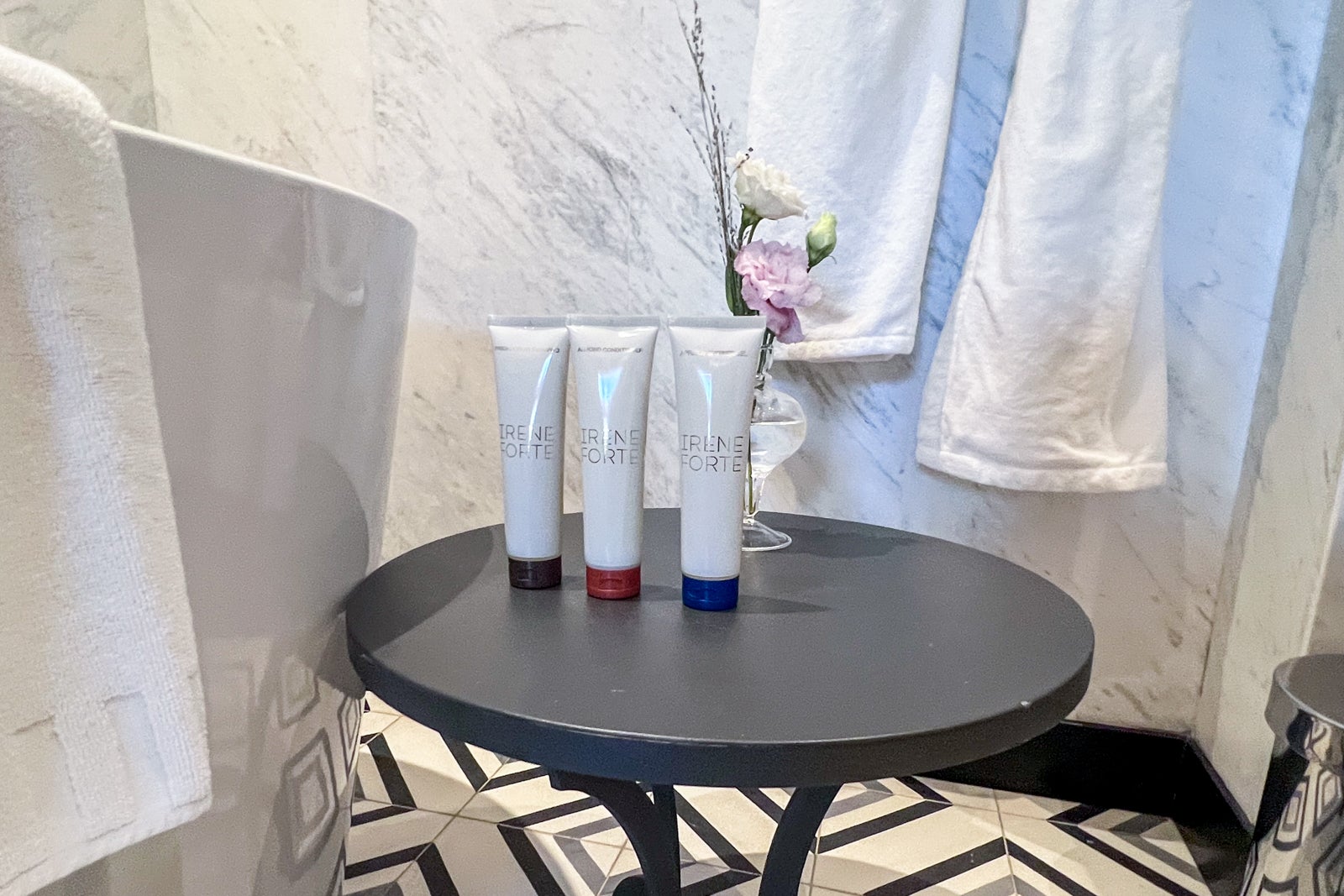 Italian hospitality is like no other
I must give a special shoutout to the hospitality of the Hotel de la Ville team throughout the stay. From the little touches like remembering coffee orders and folding clothes to bigger tasks like arranging a three-hour Vespa tour of the city, the team knows how to give a luxe, friendly vibe to a Roman adventure.
Hotels like this can sometimes seem a little stilted when it comes to guest interactions, but this was a vibrant group of hotel folks who affably went the extra mile on every step of the stay and were just fun to chat with about life in Rome and what restaurants to visit in the neighborhood.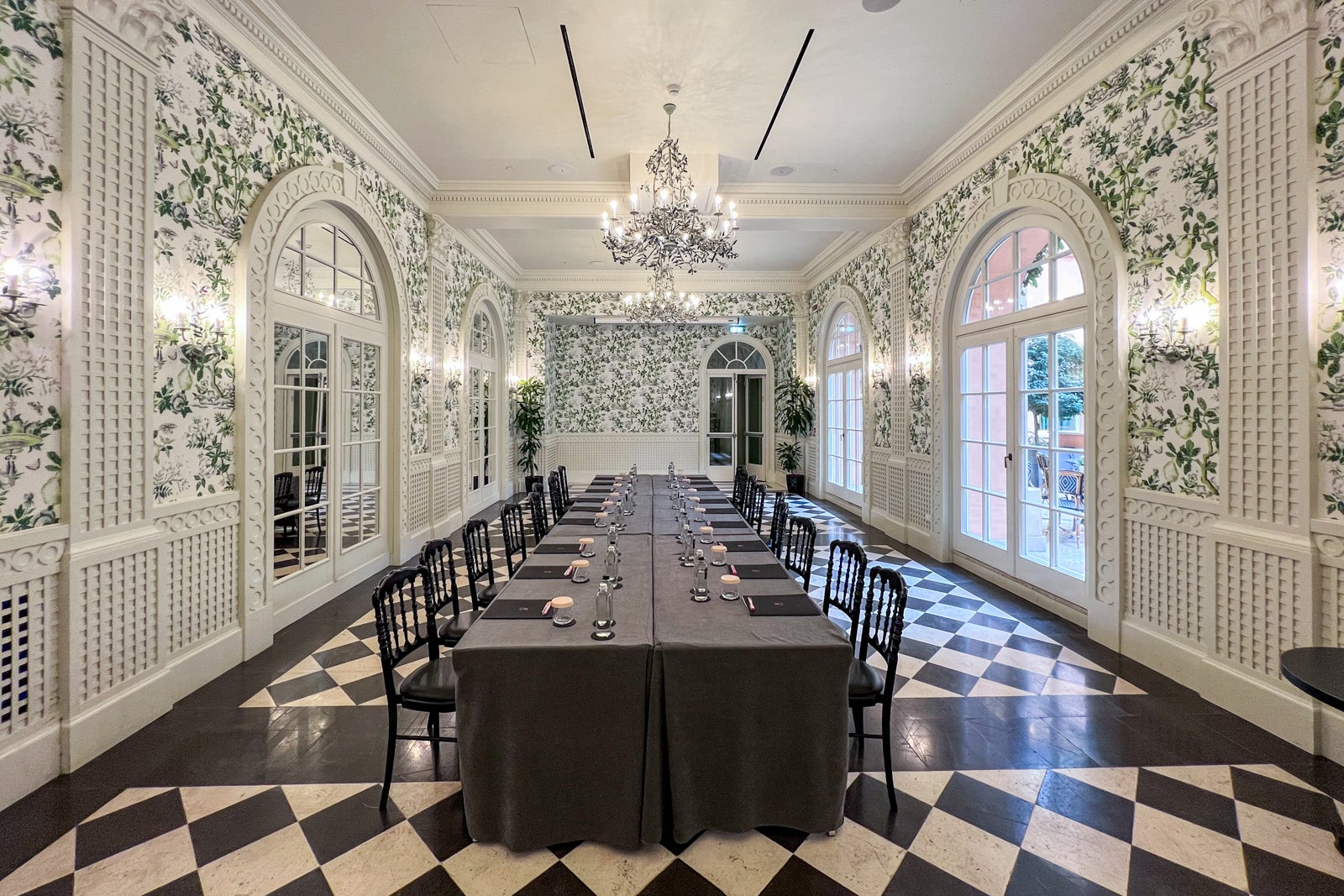 1 reason Hotel de la Ville might not be for you
The service for the duration of the stay at Hotel de la Ville was impeccable, and there was definitely a case of summertime sadness at checkout.
That said: The price is going to be hard to swallow for a lot of people considering their next Roman holiday. Europe is expensive amid its recovery bringing the return of international travelers, and Rocco Forte Hotels are certainly doing their part to keep rates high.
Keep in mind: These rooms are getting plenty of business — some of which is spur-of-the-moment. A planned tour of the 1,851-square-foot Nijinsky Suite with Terrace at the Hotel de la Ville's sibling, the Hotel de Russie, got nixed due to a last-minute booking. For those wondering, the Nijinsky Suite typically starts at 14,000 euros ($15,141) per night.
Similarly, many of the largest suites at Hotel de la Ville were booked and unavailable to tour during my walkthrough of the property. For perspective, the 1,108-square-foot De La Ville Suite with Terrace — which includes two terraces, a dining room, an office, private elevator access and Mercedes S Class transportation to the airport — goes for 10,000 euros ($10,811) per night when it's available later this month.
While some travel wallets might cry after a stay here, it appears to be an excellent summer for those owning a Rocco Forte Hotel.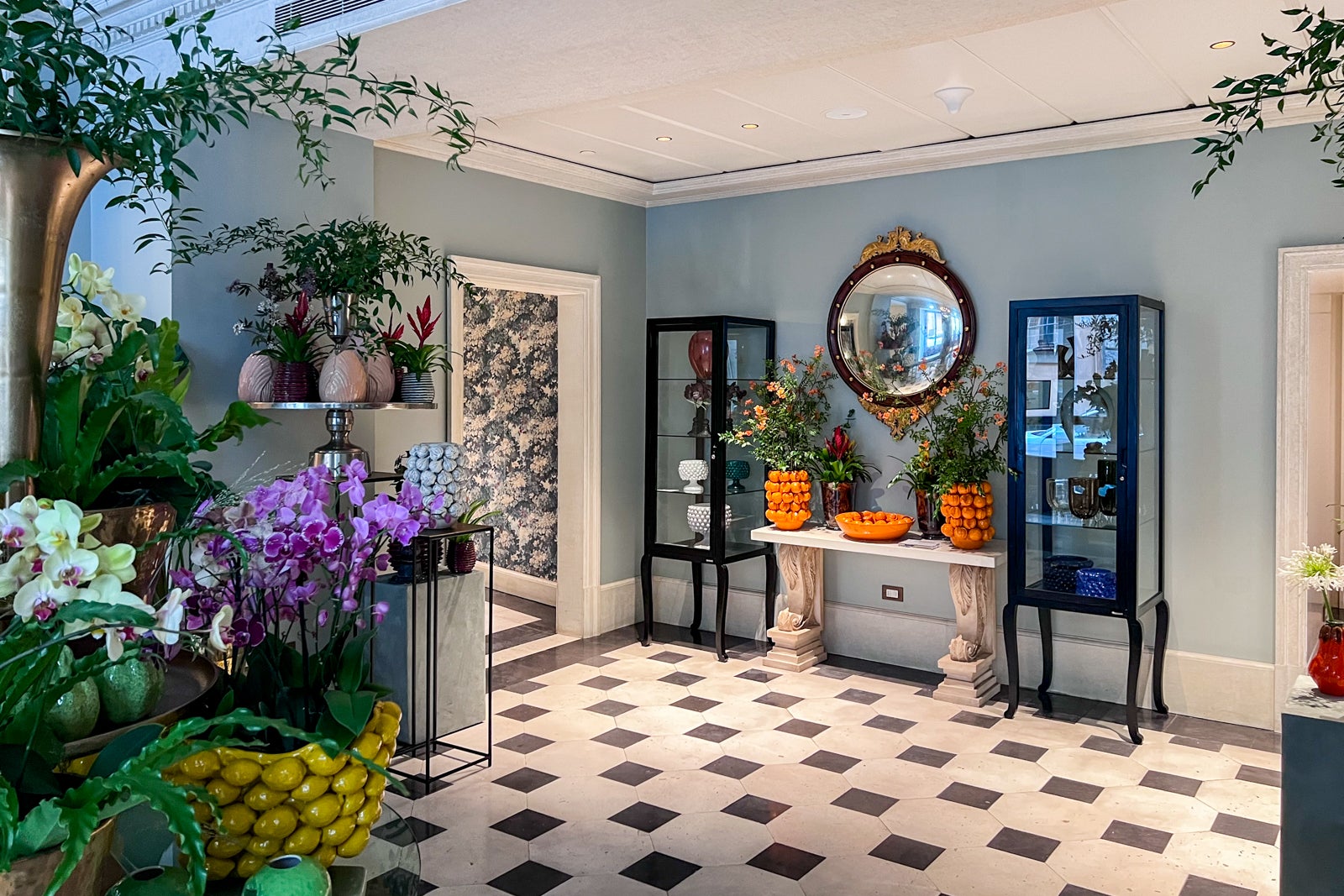 Accessibility
The hotel has accessible guest rooms, suites (all accessed via elevator) and public areas, as well as chair lifts in parts of the hotel reached via stairways. The pool in the Irene Forte Spa did not have a chair lift.
Alternatives to Hotel de la Ville
Hotel de Russie: Hotel de la Ville's sister property is between Piazza del Popolo and the Spanish Steps and has a reputation for being more of the celebrity haven (and has slightly higher nightly rates).
InterContinental Rome Ambasciatori Palace: Points enthusiasts have reason to celebrate, as IHG once again has a presence in the Eternal City with its namesake brand just a few blocks from Hotel de la Ville.
The Rome Edition: The nightclub aesthetic of Marriott's Edition brand makes this one of Rome's buzziest new hotels, which features a hefty mix of bars and restaurants as well as sleek modern guest rooms and suites.
Six Senses Rome: Health and wellness aficionados will flock to the latest outpost from the Six Senses brand (a 15-minute walk from Hotel de la Ville), which is a short walk from the Trevi Fountain but manages to feel like a quiet urban sanctuary amid all the tourists.
Hotel Hassler Roma: One of Rome's grande dame luxury hotels is next door to Hotel de la Ville and likely its most notable direct competitor. The vibes are different, however, as it appeared the Hassler attracts an older, more see-and-be-seen crowd compared to what I experienced at Hotel de la Ville (which seemed to be a mix of younger couples and younger families).
Checking out
Hotel de la Ville is one of those places that hurts to leave, both for the luxurious accommodations and friendly team members you engage with over breakfast or happy hour. It might not be for everyone's budget, but it is worth popping into even for a rooftop cocktail after snapping photos at the nearby Spanish Steps.
La dolce vida is a guaranteed byproduct, whether you're merely here to sip something fabulous or stay overnight (or, if the wallet fortunately permits, over the span of several days).
Related reading: