[circuit type=review circuit_id="20420167722″]
A fixture in central Athens, Greece, the Grand Hyatt Athens is hard to miss.
As the Hyatt brand's only hotel in the Classic City, this towering property off Andrea Syngrou Avenue (a major highway connecting the city center to the beach) is packed with accommodations and amenities. Inside, you'll find 548 guest rooms and suites, plus three dining concepts, three pools (including one in the property's spa) and nearly 22,000 square feet of event space, making it easy to get lost.
While my sense of direction (or lack thereof) didn't improve during my stay, it helped me see all this hotel has to offer. Here's what you need to know before you visit.
What is the Grand Hyatt Athens?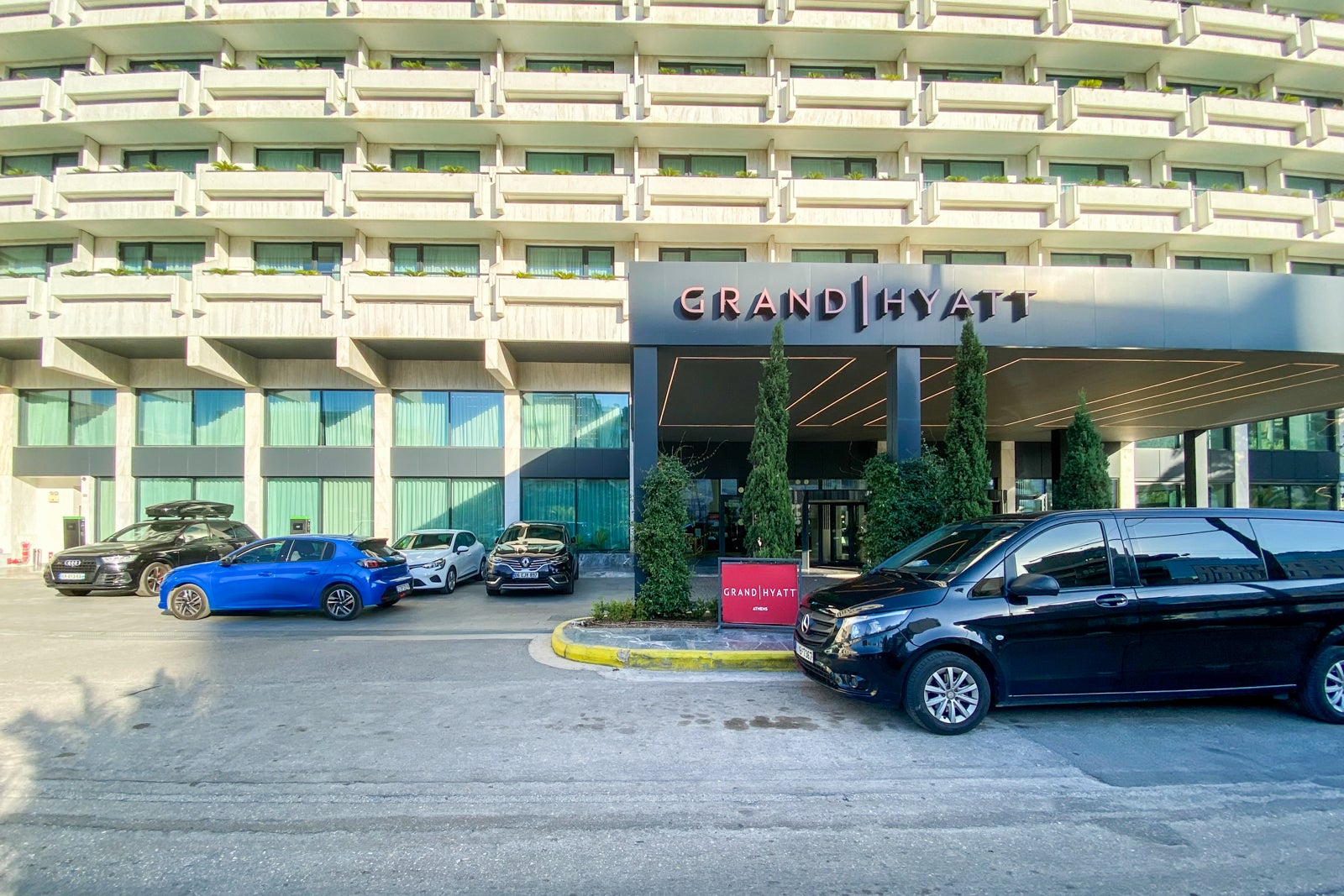 One of two Athens properties bookable with World of Hyatt points — the other, A77 Suites by Andronis, is linked to Small Luxury Hotels of the World — the Grand Hyatt Athens attracts all types of travelers, from those in town for work to tourists of all ages. It is especially popular with cruisegoers, as it conveniently sits within 20 minutes of the Port of Piraeus, an embarkation port for all major cruise ships and Aegean Island ferries.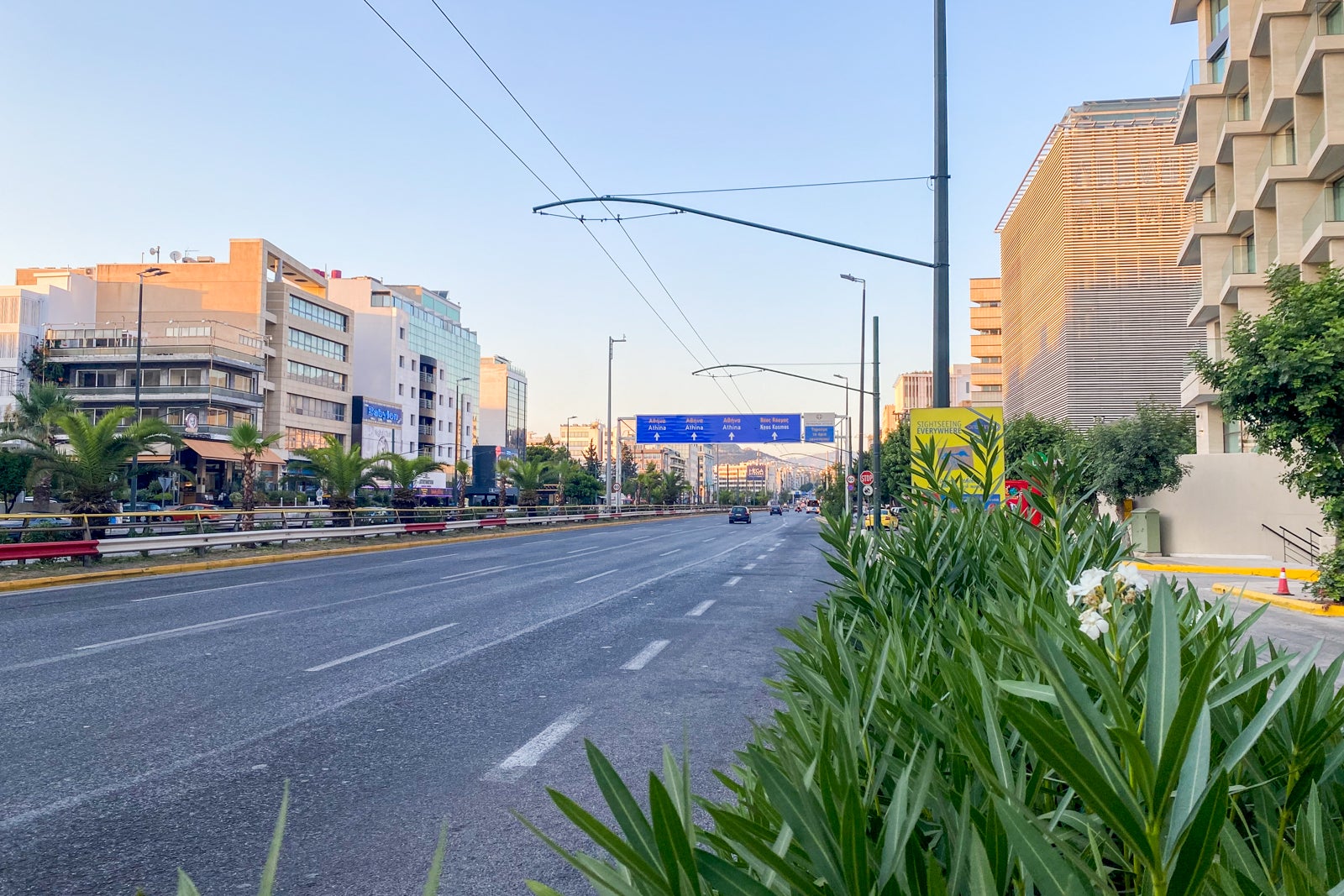 A 15-minute drive from downtown Athens makes the city streets to the north and the beach to the south equally accessible, with free shuttles to the Acropolis and the Parthenon and a pedestrian walkway. Athens Riviera, the city's coastal suburban area, is only 20 minutes away as well, making it possible to enjoy both the city's ancient sites and its beautiful beaches in one day.
Related: Best Greece cruises: Top 5 ships sailing the Greek Isles
How to book the Grand Hyatt Athens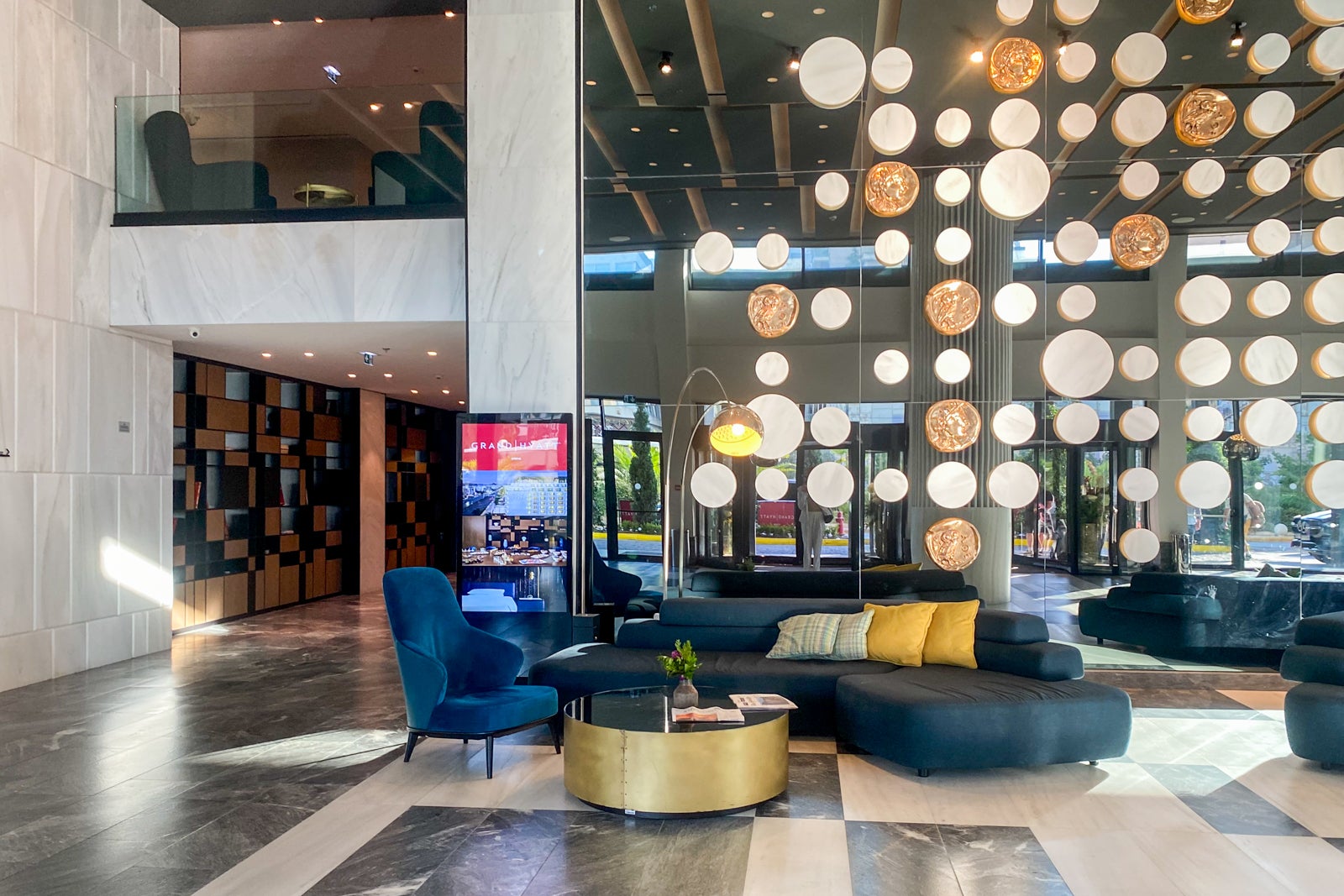 A Category 3 property, this Grand Hyatt is best booked via the Hyatt website, as reservations cannot be made through any credit card portals.
Standard king rooms start at $159 or 9,000 World of Hyatt points per night. 
Based on TPG's valuations of World of Hyatt points at 1.7 cents apiece, redeeming 9,000 World of Hyatt points per night would save you a few dollars. However, no award rates were available when I booked my two-night stay, so I paid $561.  
Related: The most award-friendly hotel program: Everything you need to know about World of Hyatt
Rooms are spacious but a bit unkept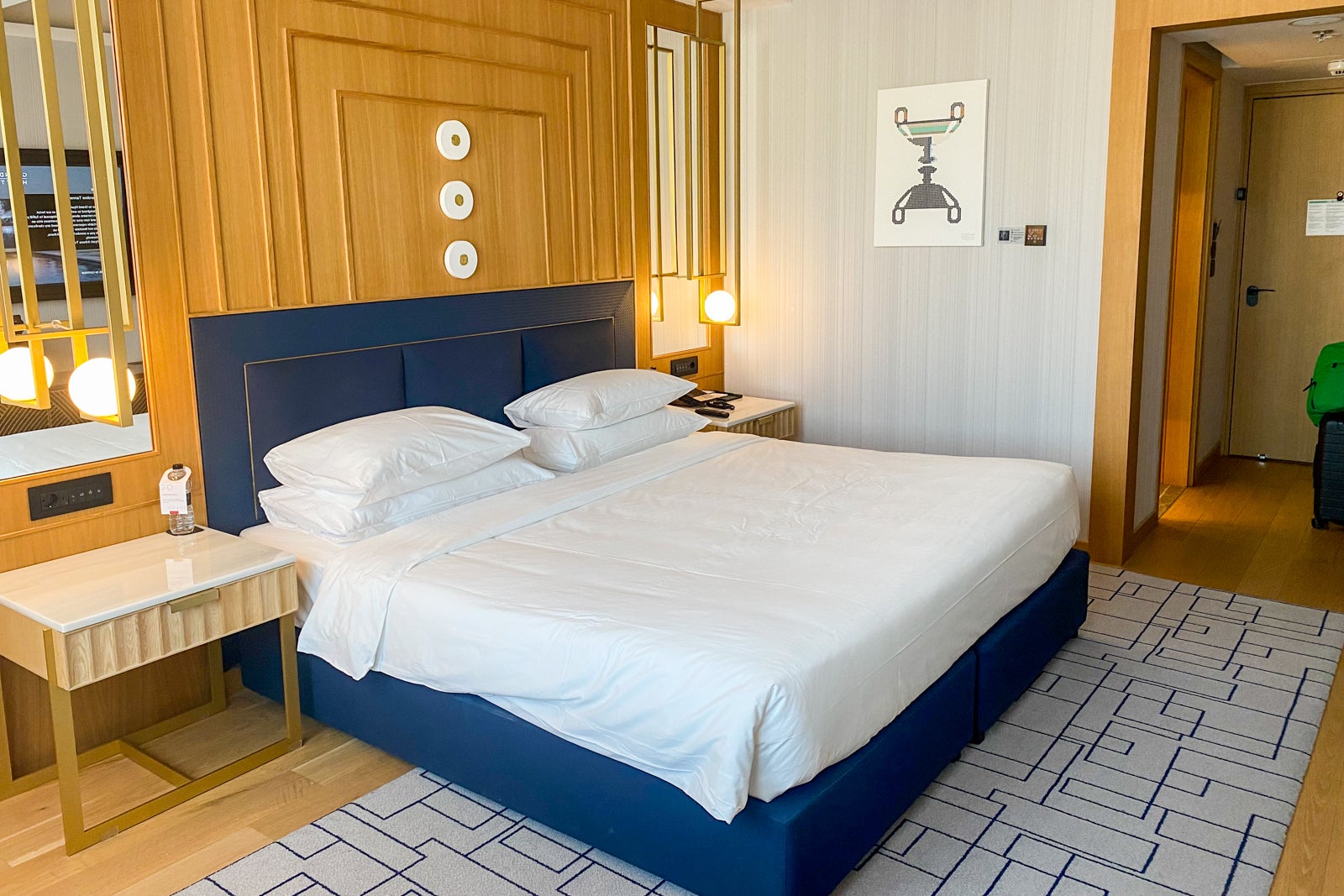 At more than 322 square feet, my standard room with one king-size bed felt large, especially by European standards. That said, there are accommodations that measure as much as 2,583 square feet, should you desire even more space for stretching out.
The minute I walked in after struggling to open the heavy door, I was impressed with the spacious layout. There were two closets, a large bathroom and a workspace, plus a sleeping area with ample room around each side of the bed. My standard room overlooked a parking lot, but you can book an Acropolis-facing room with two twin beds or one king-size bed starting at $206 per night.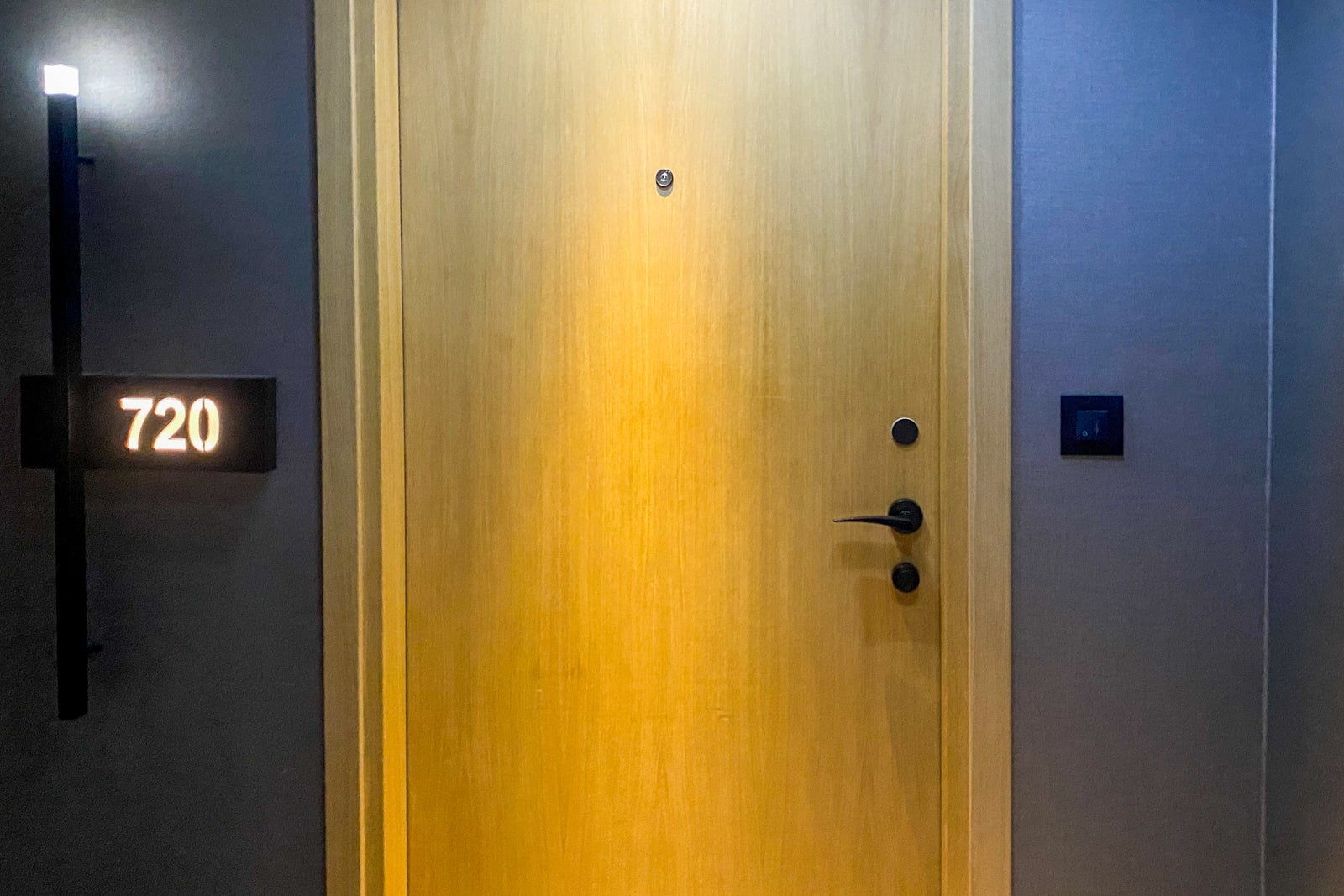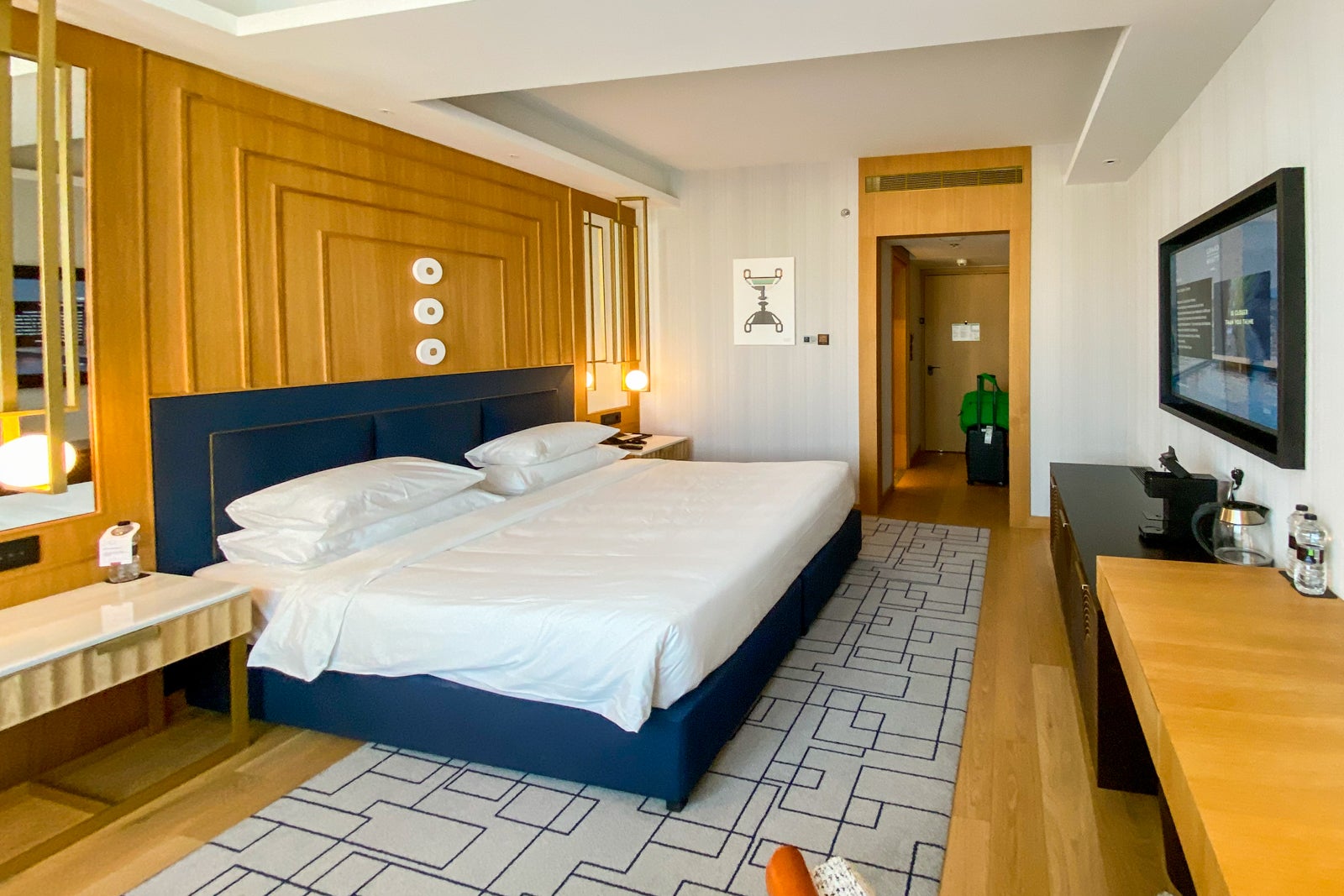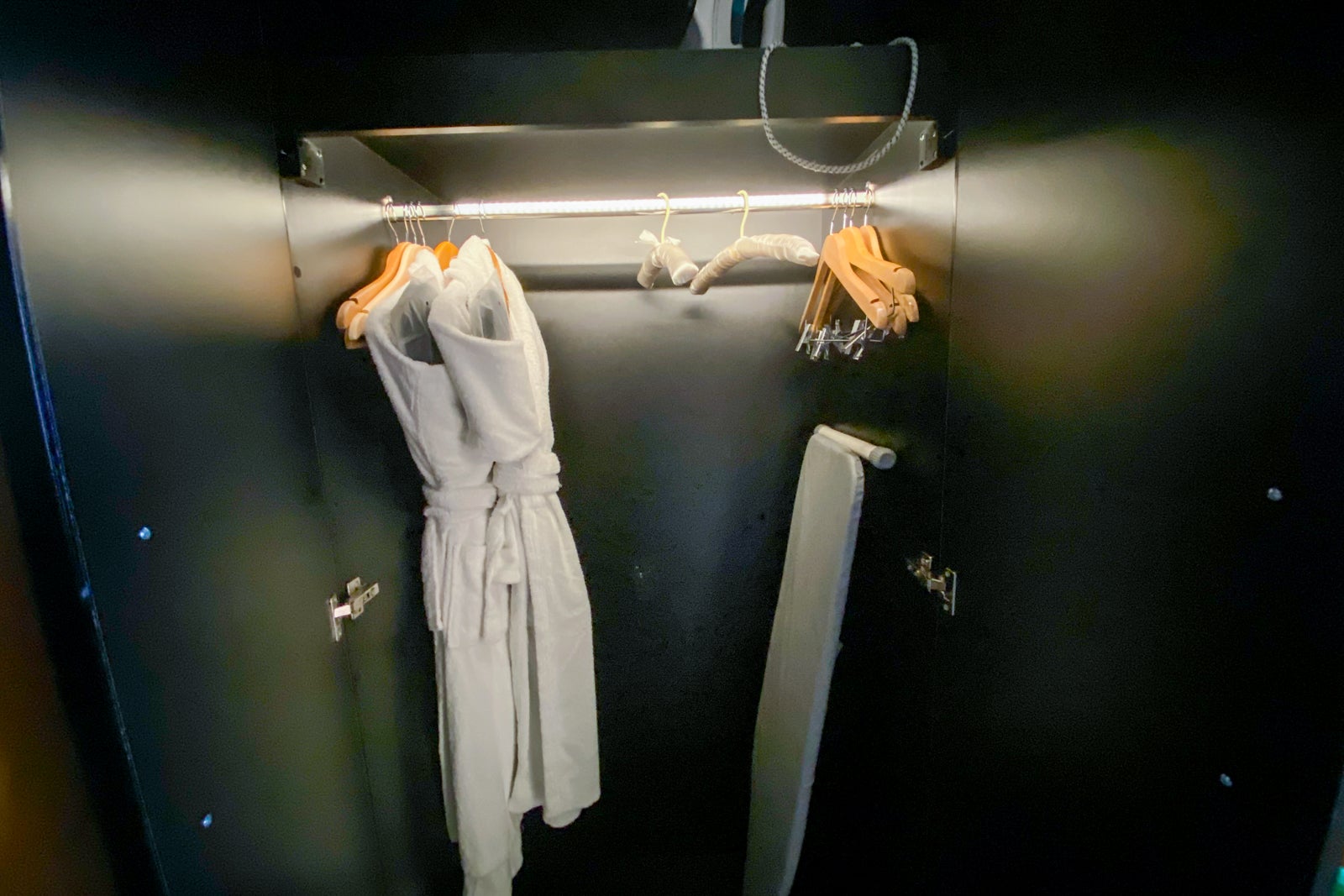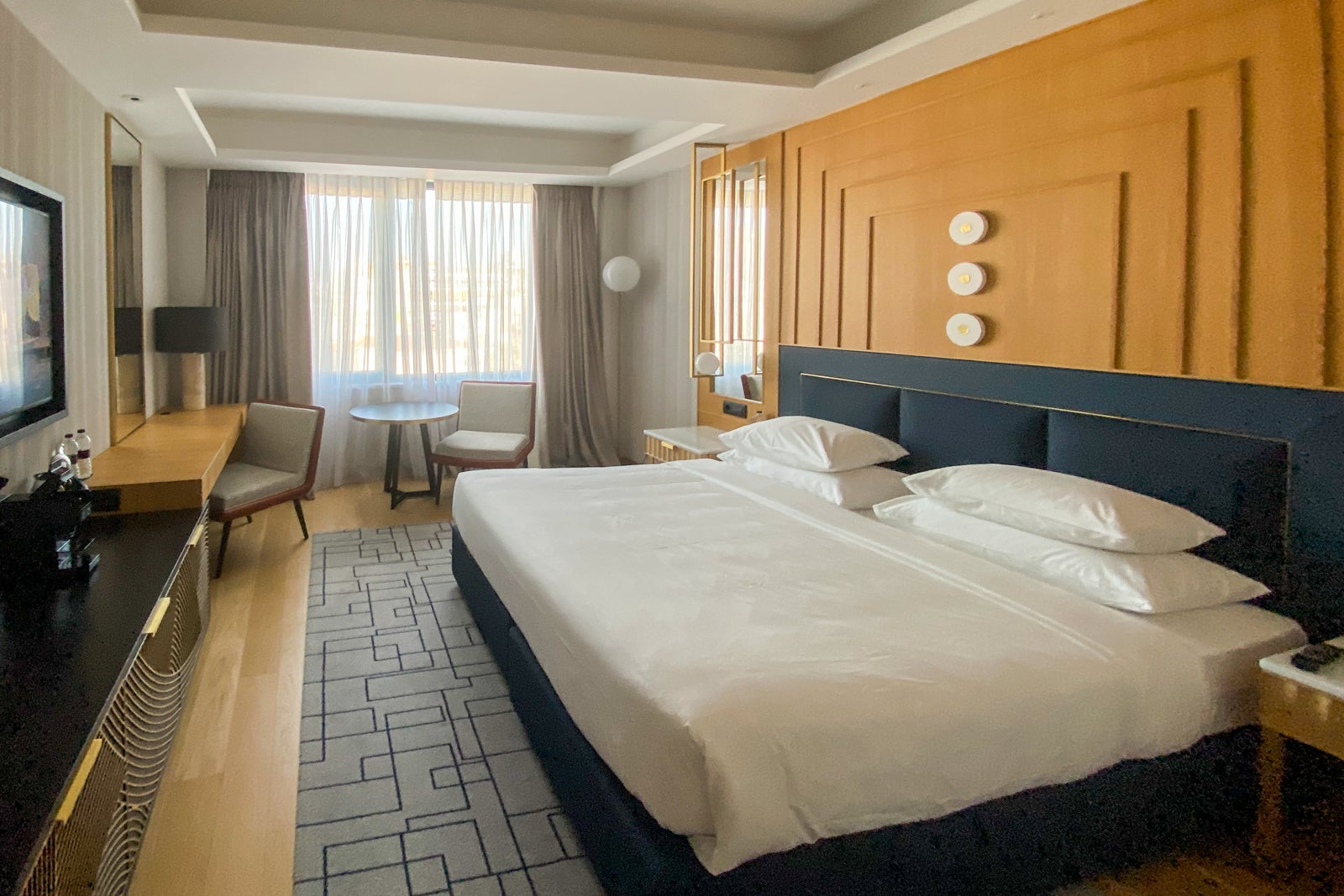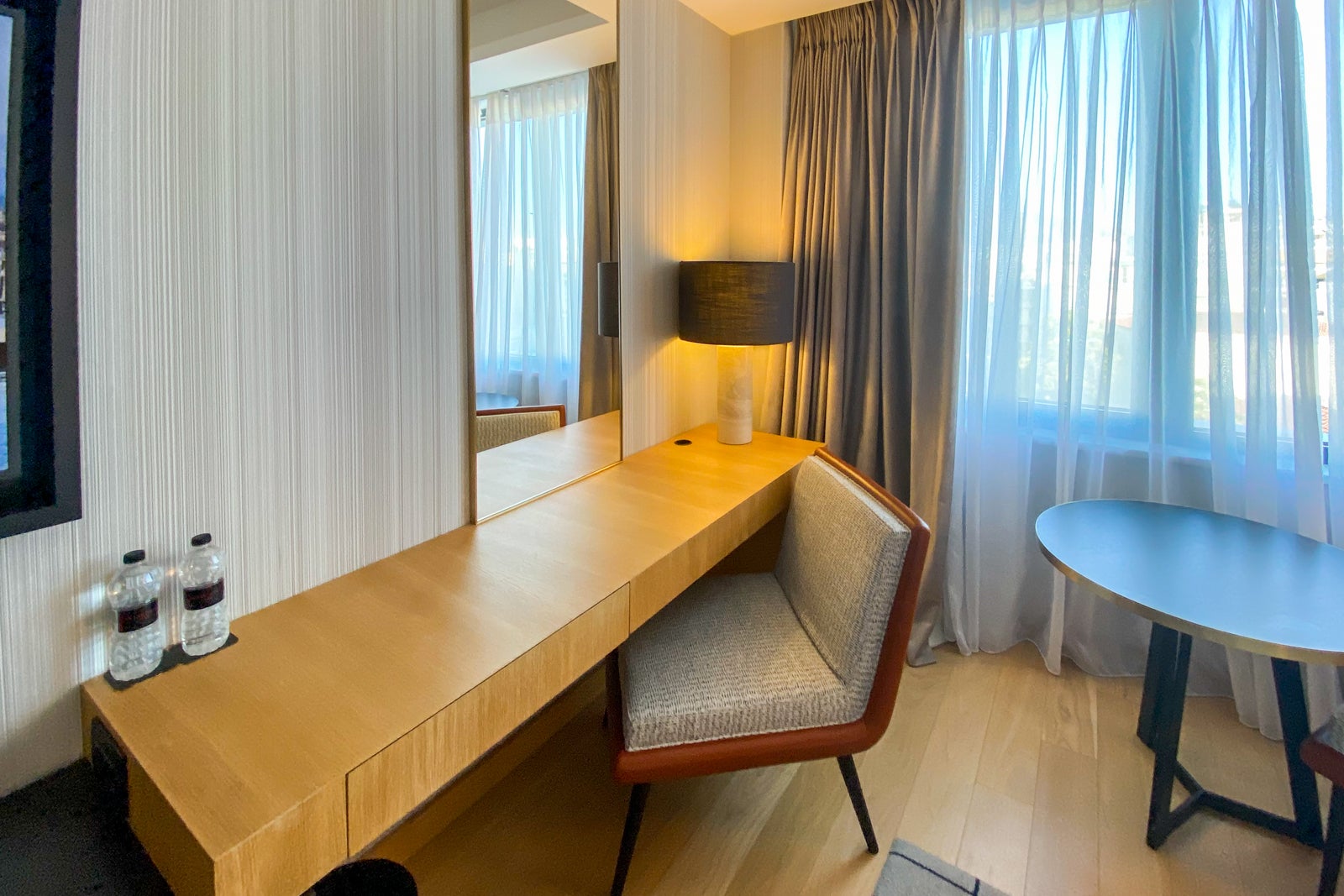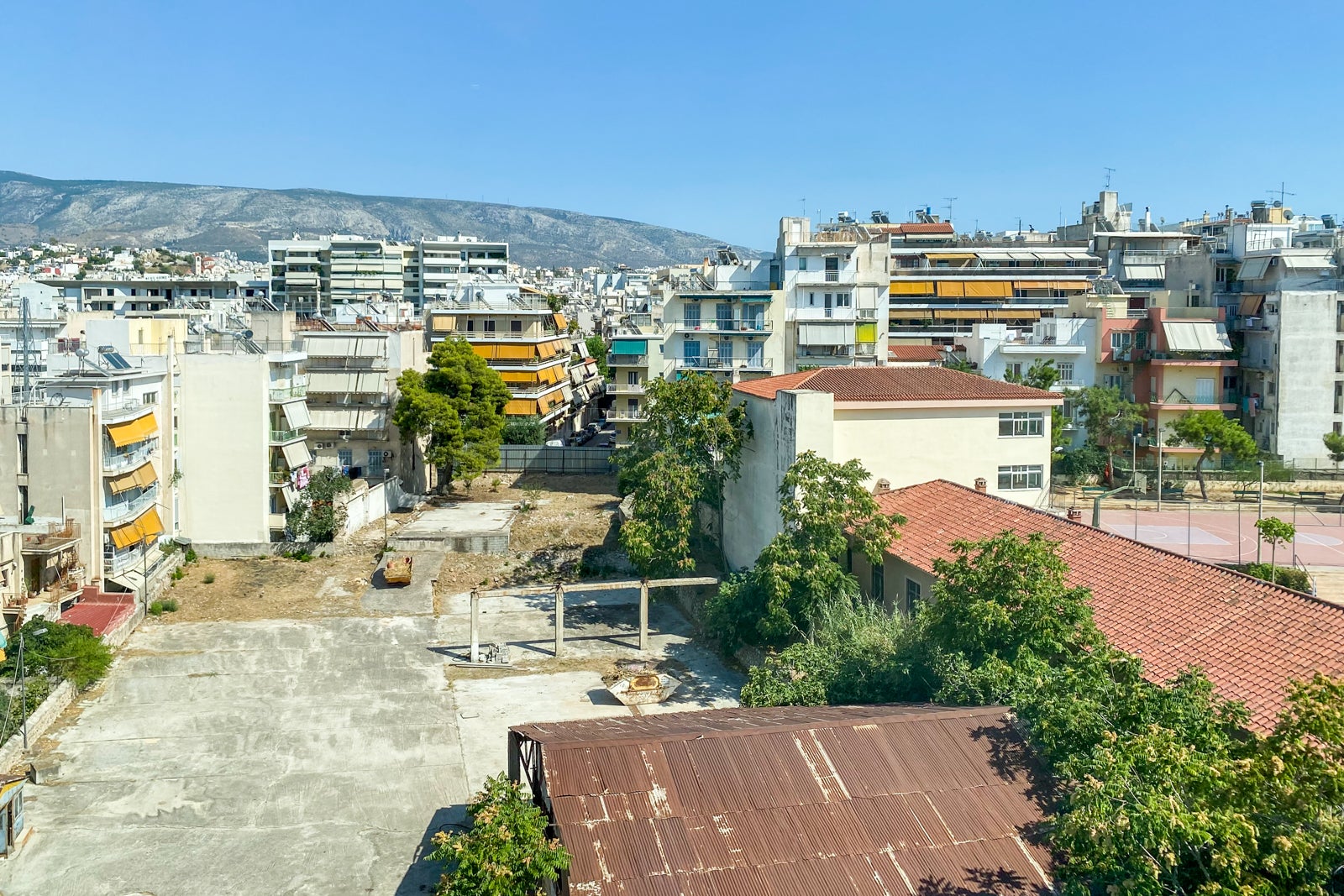 While my first impression was positive, I soon found myself feeling a little let down by the room. Though the interior and artwork felt upscale, things did not work as expected.
The air conditioning decreased by only two degrees throughout my stay (perhaps due to the heat wave Greece was experiencing at the time), and despite having eight outlets and two USB ports, my phone took nearly an hour to charge 10%. Although I was able to receive calls via the in-room phone, I found myself unable to make outgoing calls, resulting in the need to go downstairs multiple times to pick up food, contact the front desk and order room service.
The inconveniences continued in the bathroom. I loved the marble design of the walk-in rain shower, but when I first used it, the handle came off two times. Additionally, water poured outside the half-glass door, which appeared to be common given the water damage on the door.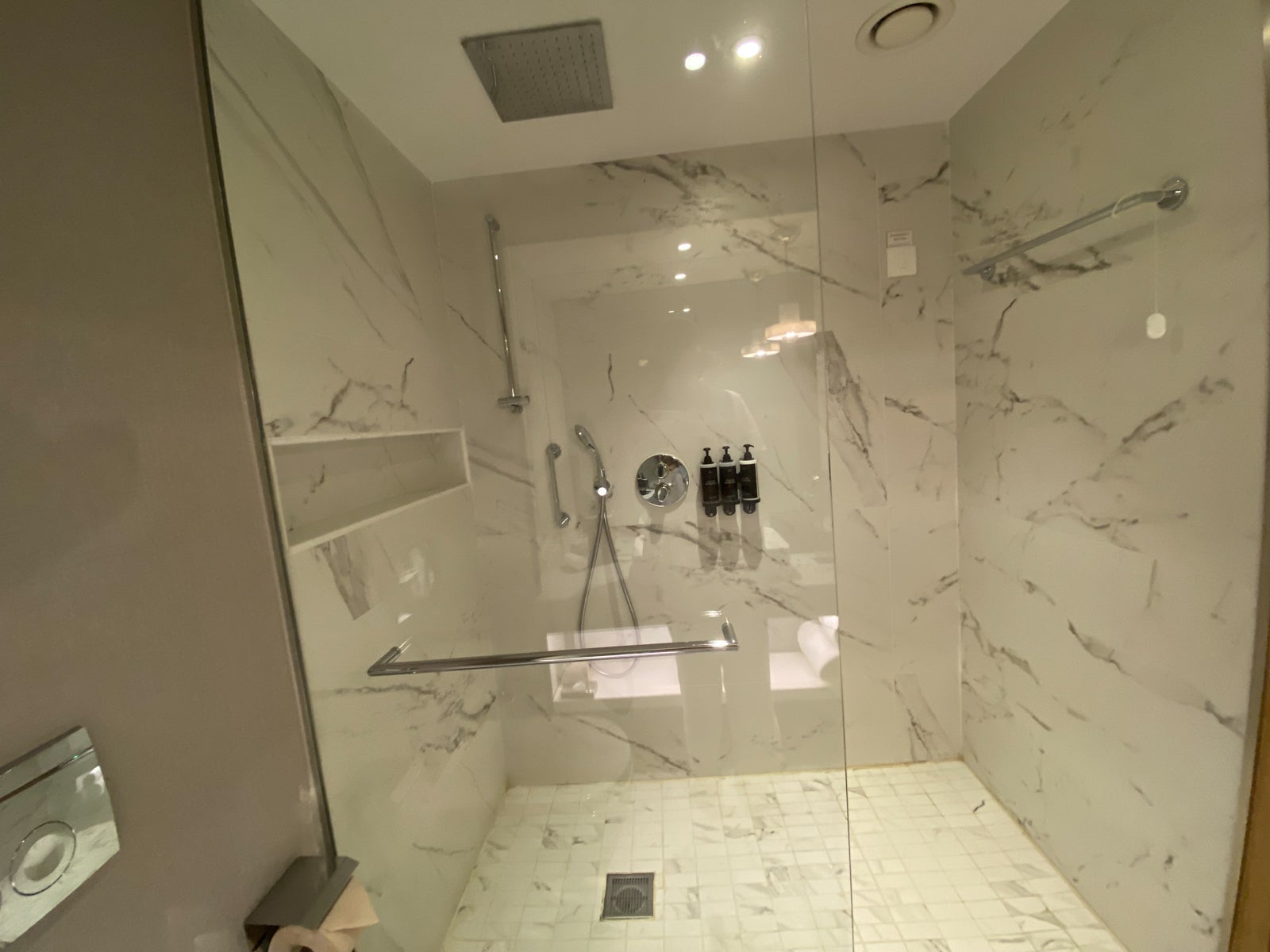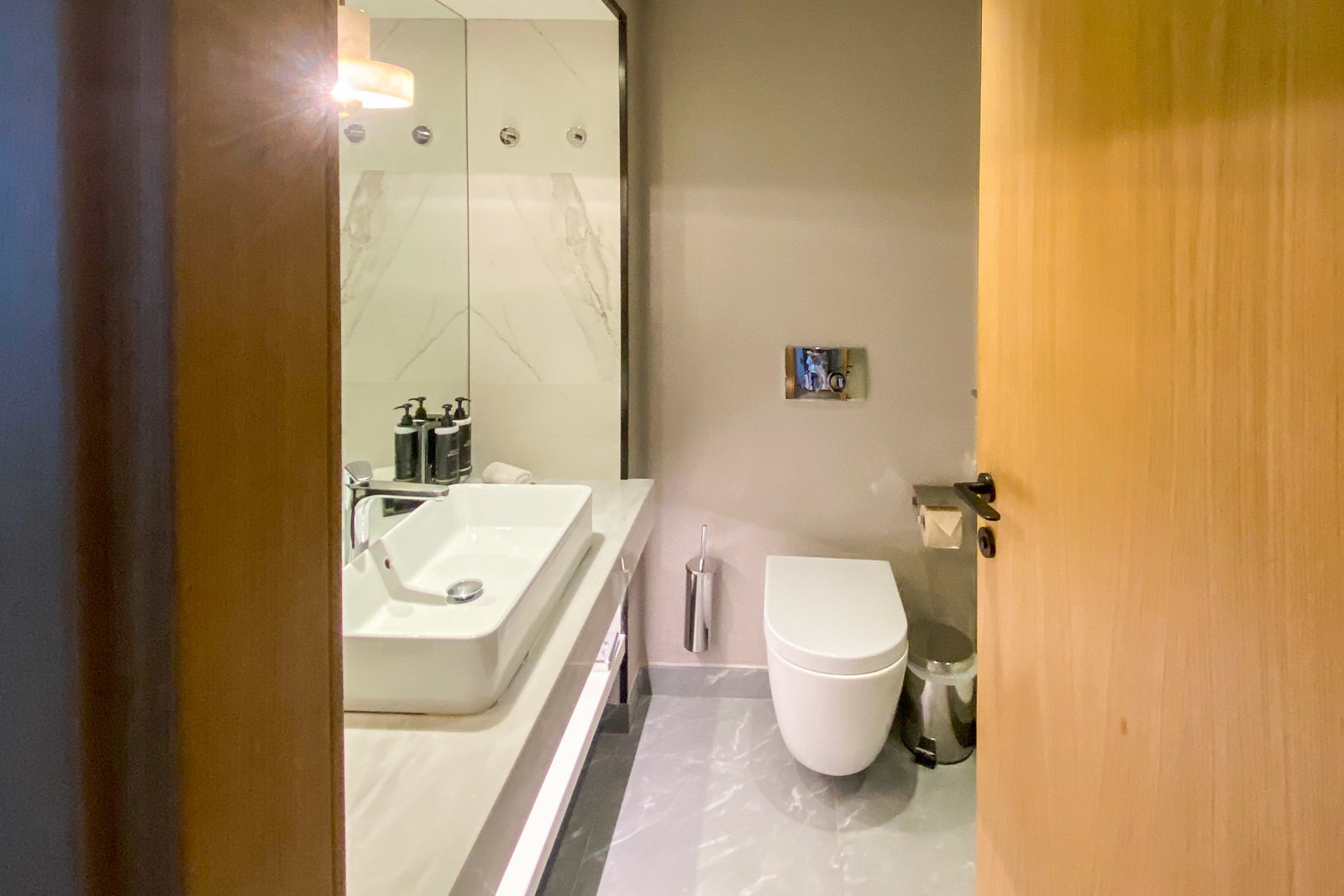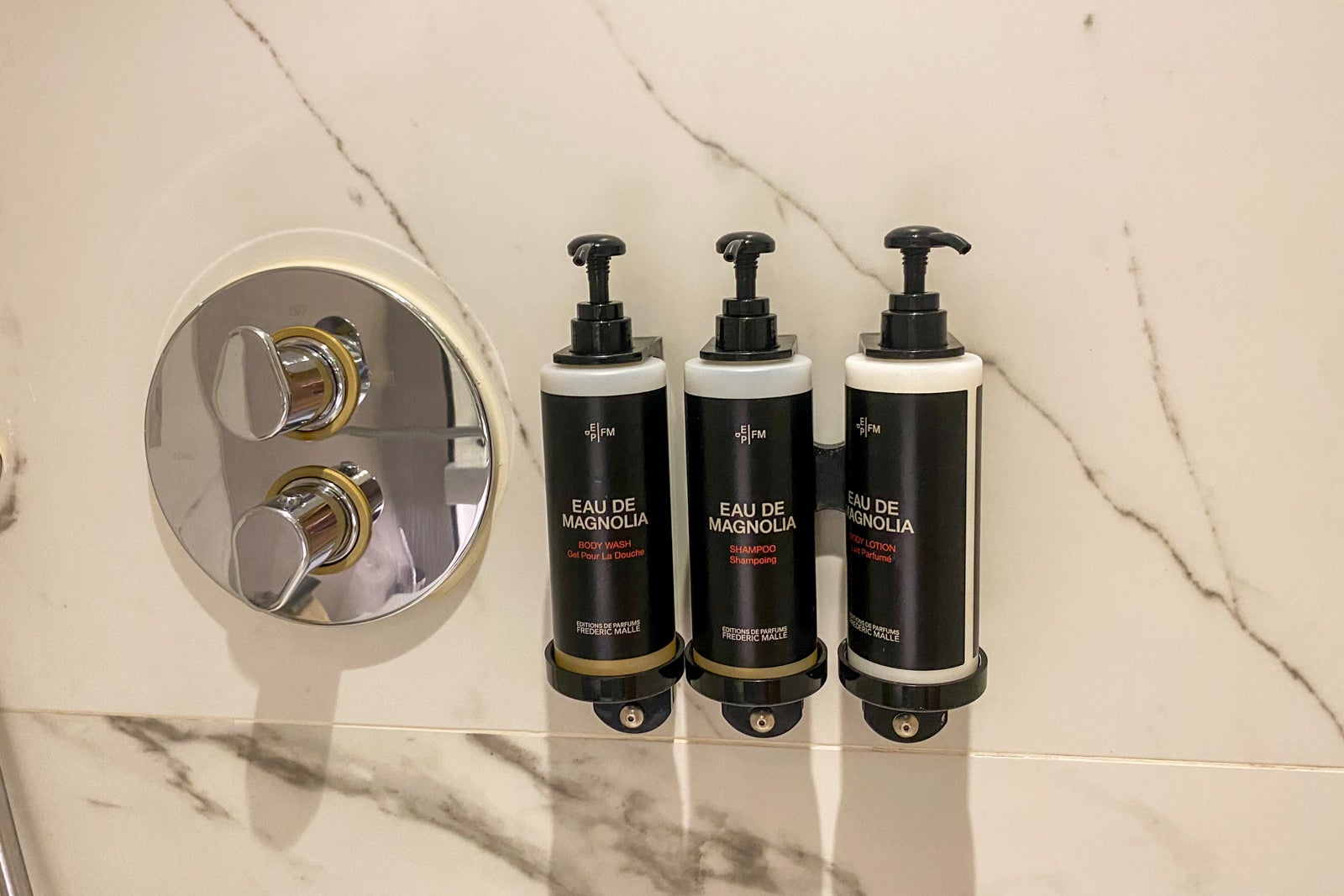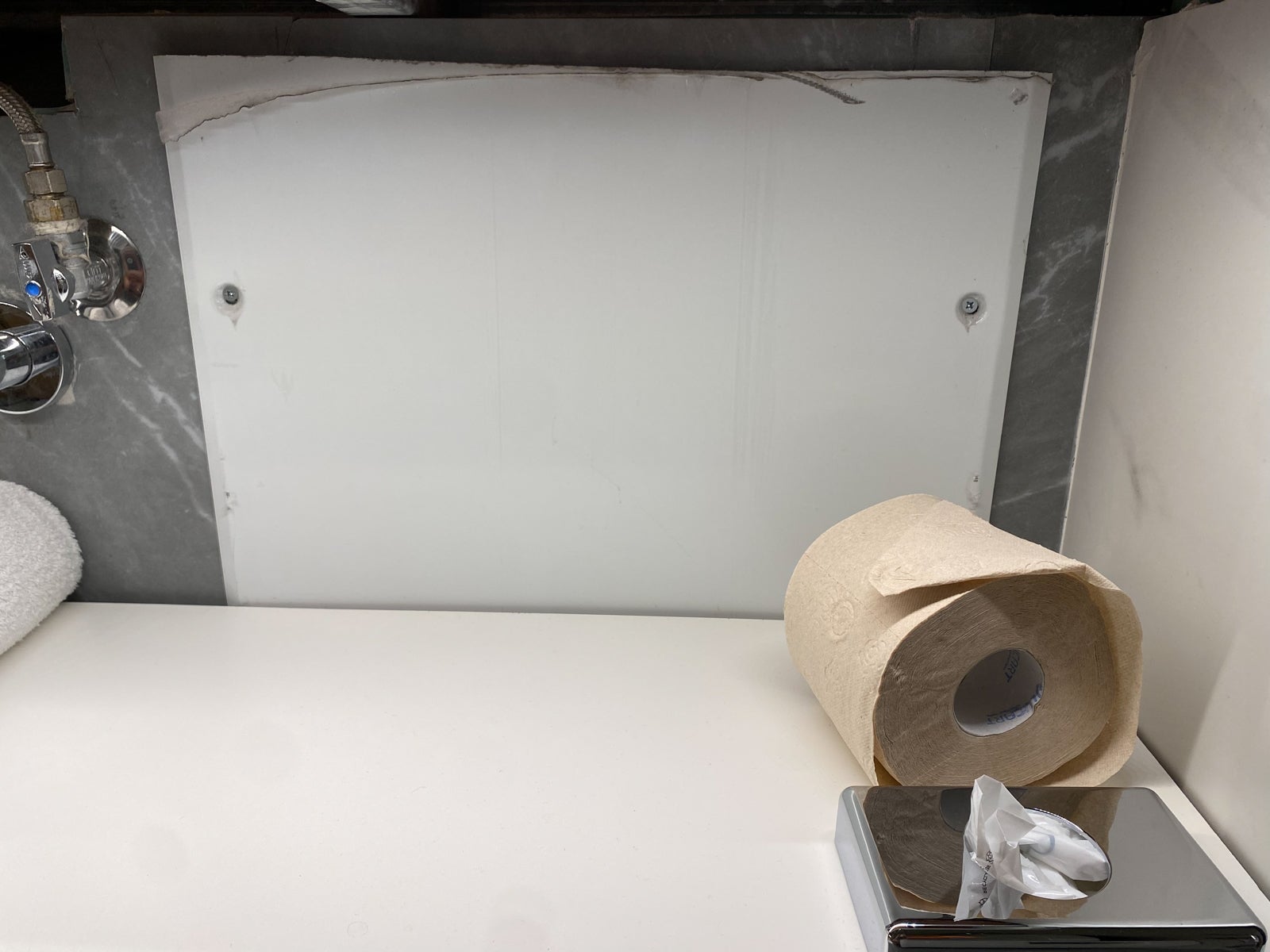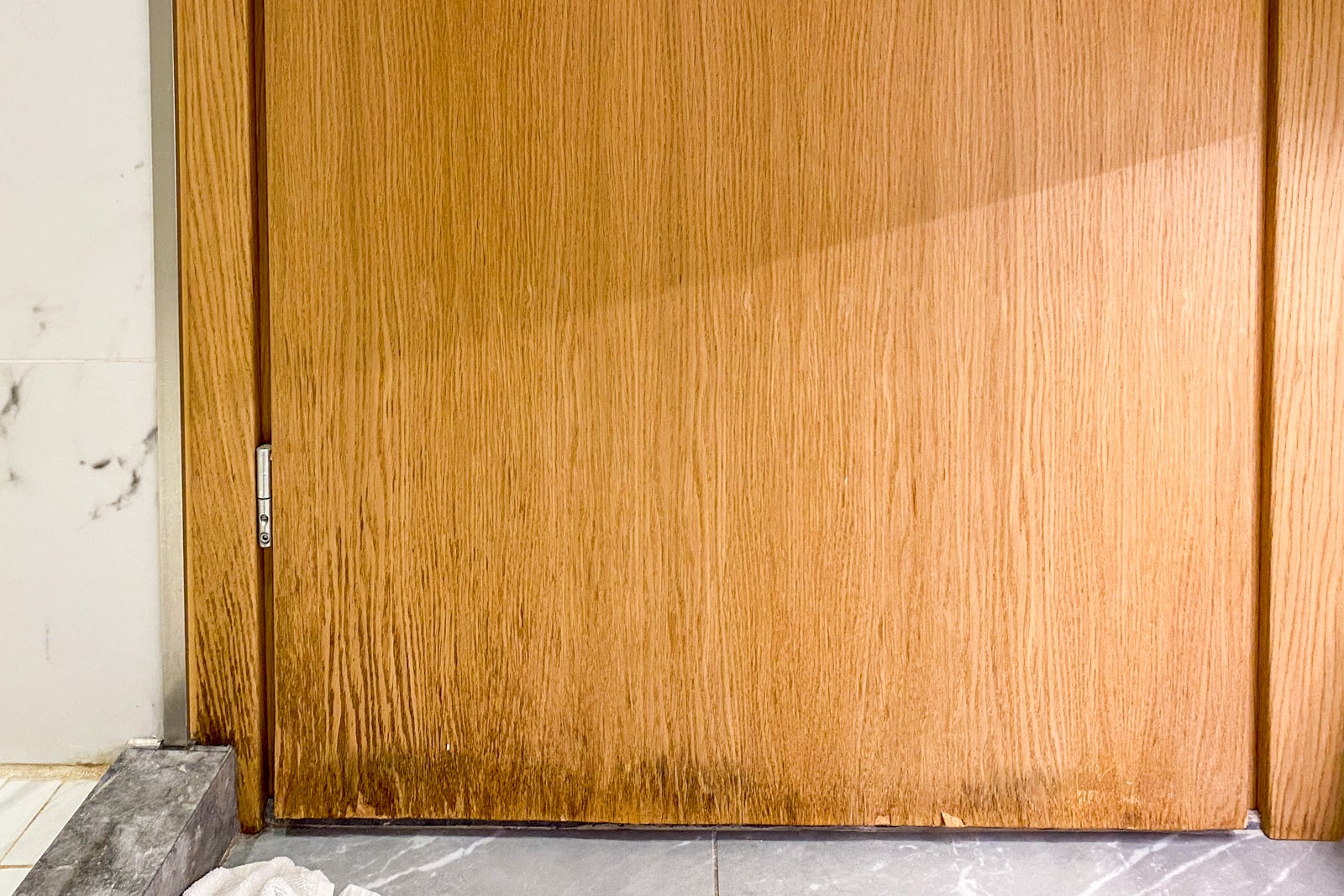 Still, I appreciated the Eau de Magnolia toiletries and the inclusion of eco-friendly products, such as toilet paper made from recycled materials.
Related: Dreaming of Greece? These new points resorts are waiting for you
There's an infinity pool with a view but no shade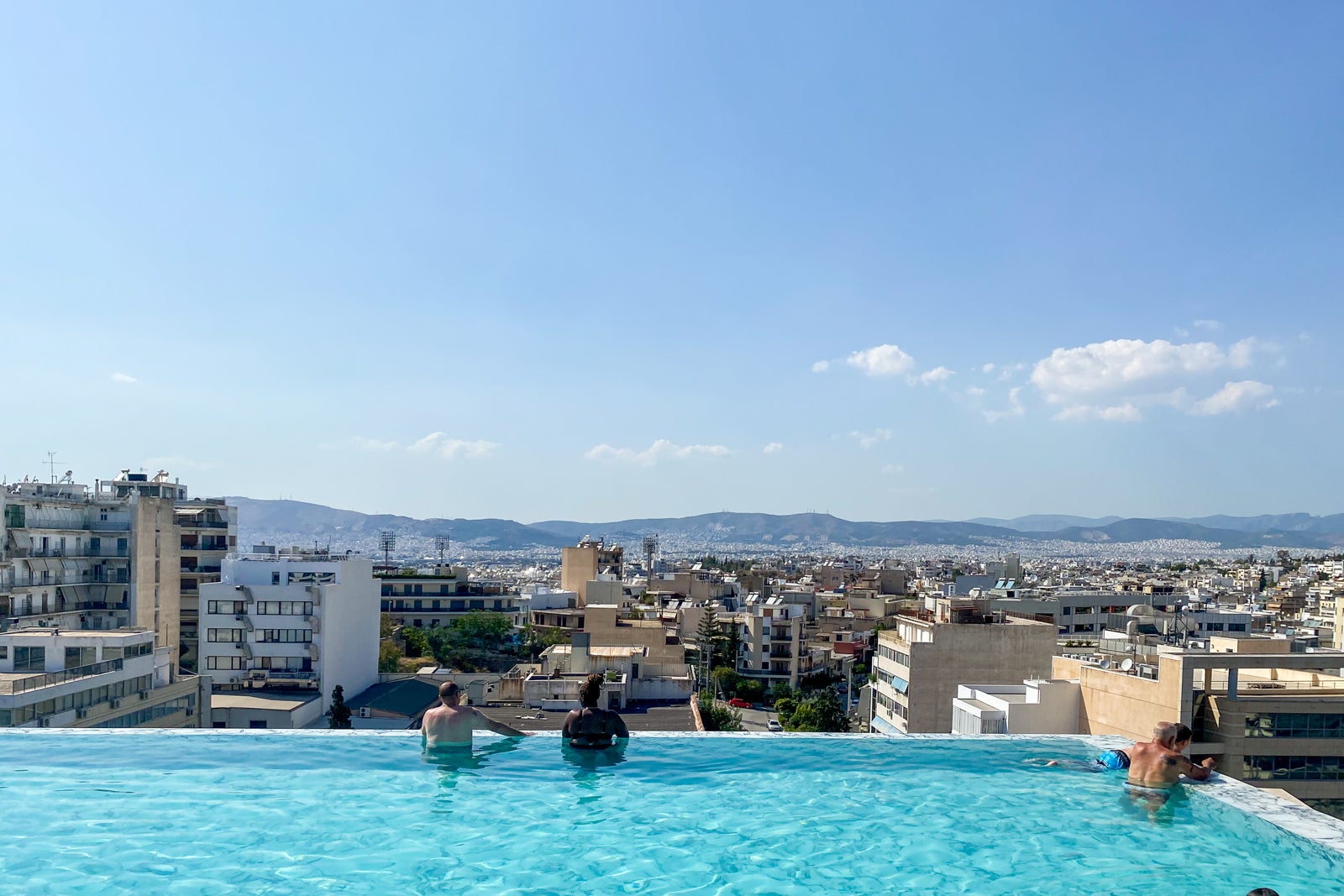 Since Greece was experiencing a heat wave during my late July visit, I was eager to take advantage of the hotel's pools. With a view of the Acropolis, the rooftop infinity pool immediately drew me in.
At this pool, which welcomes guests every day from 10:30 a.m. to 6:30 p.m. between May and October, you'll find a bar with various cocktails and snacks starting at $14, plus ample seating via lounge chairs, tables and cabanas. Know, though, that you'll want to arrive sooner rather than later to snag a seat, as they were all claimed by 3 p.m. on the Saturday I visited.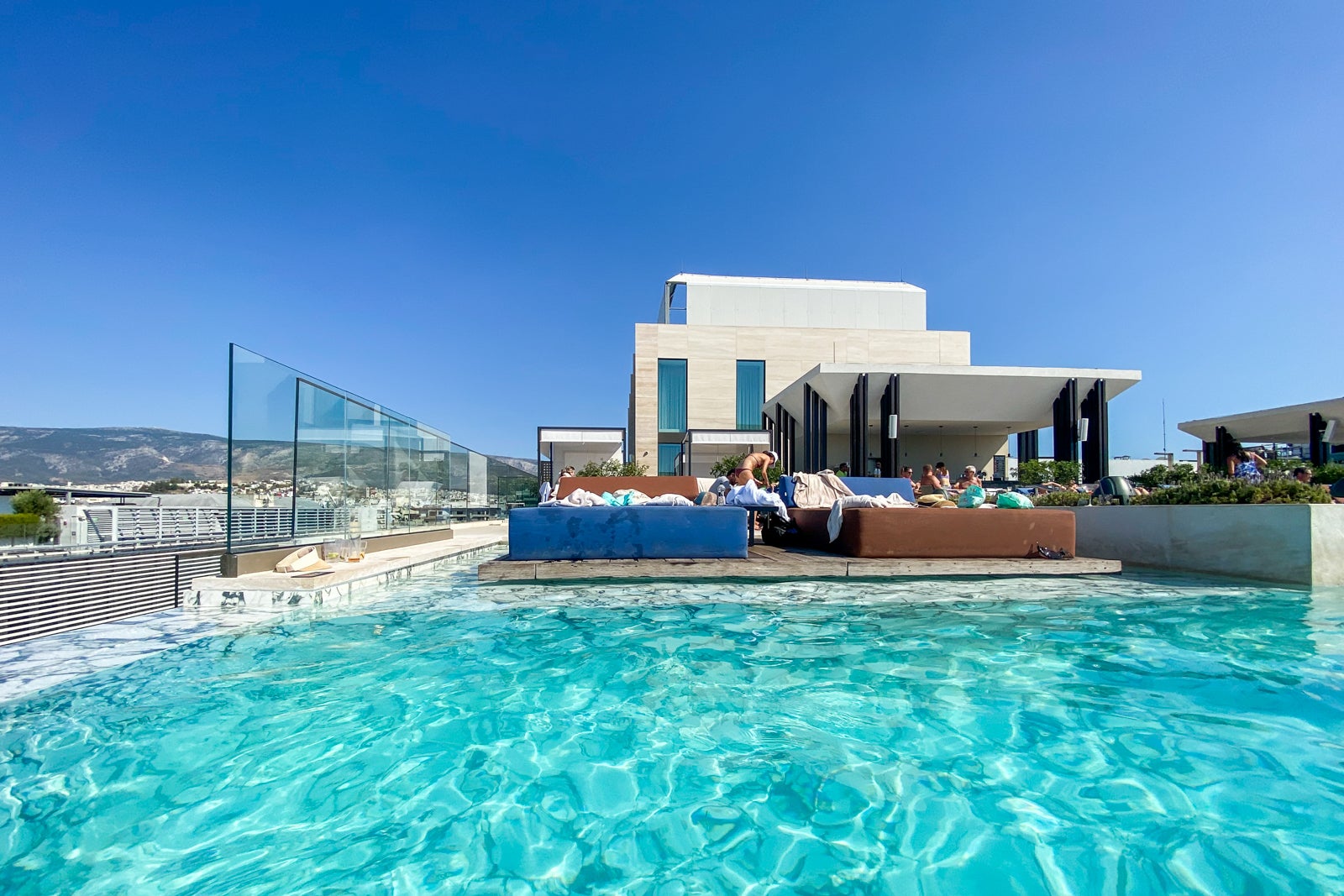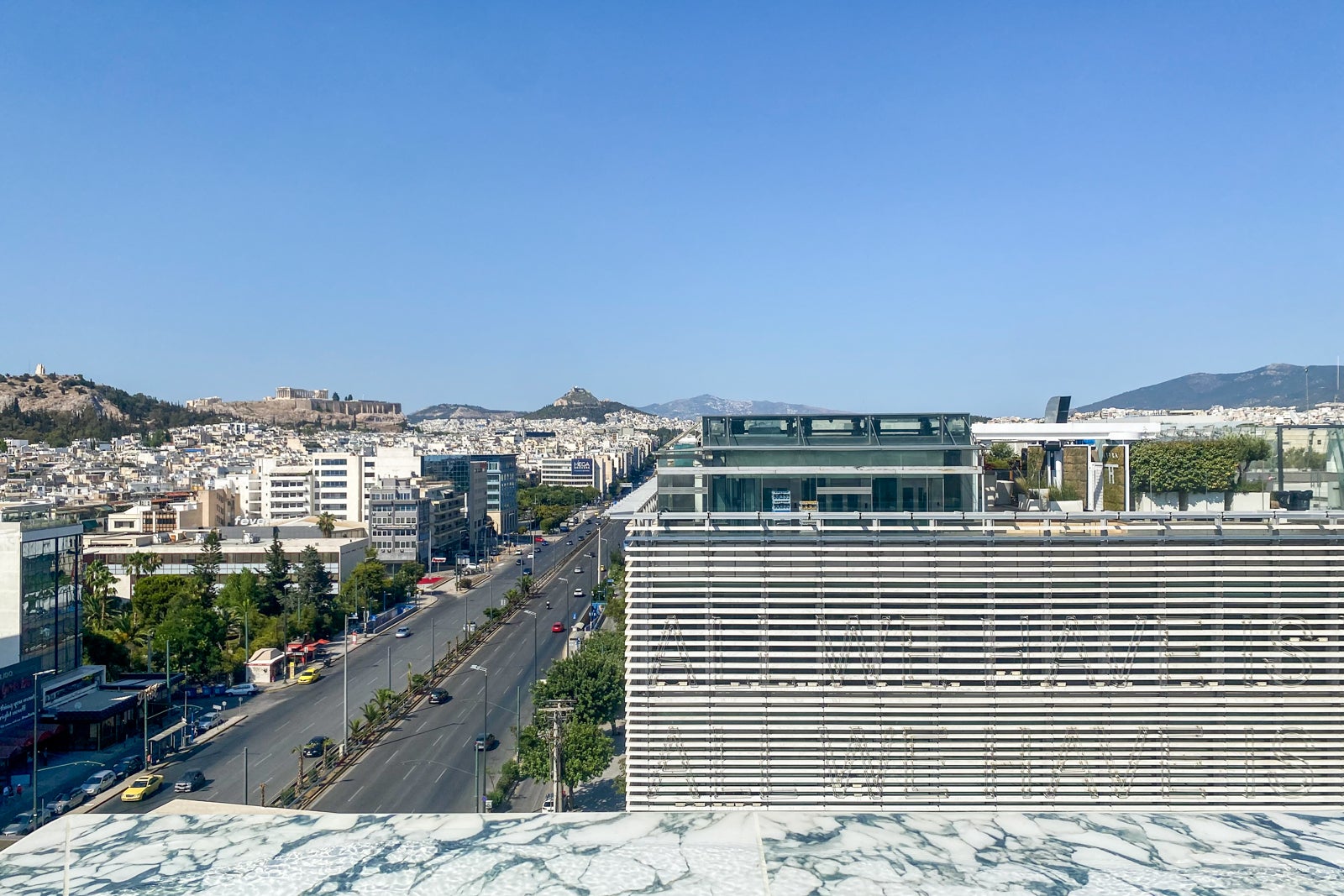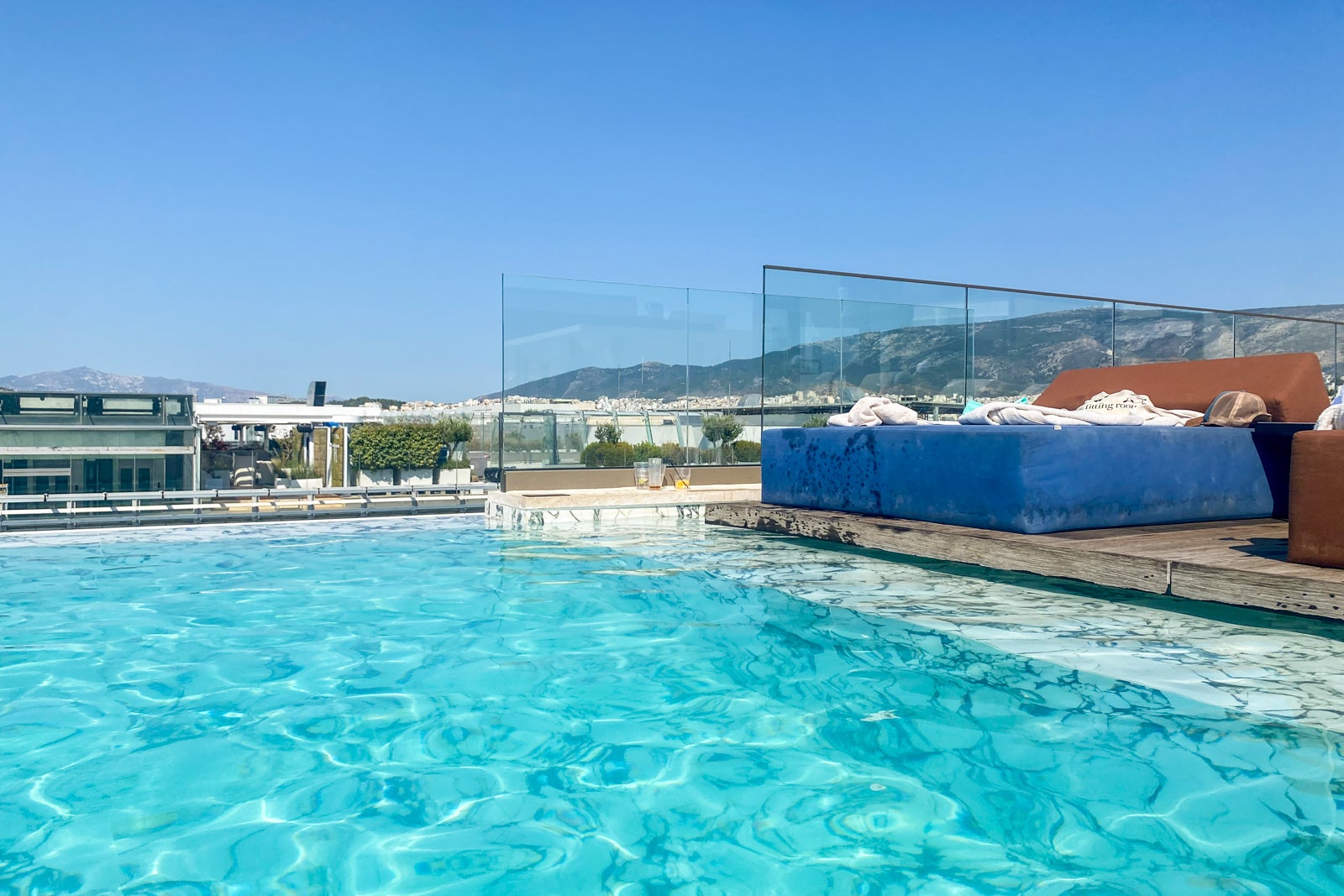 Much to my disappointment, the cabanas provided minimal shade and lacked umbrellas, so if you're seeking some respite from the sun, you may want to choose a different place to linger. That said, this pool is a terrific spot for sun-seekers. The scene is lively but kid-friendly, attracting both families and adults who want to drink without fully partying.
Additional pools can be found on the eighth floor and in the spa (more on that below).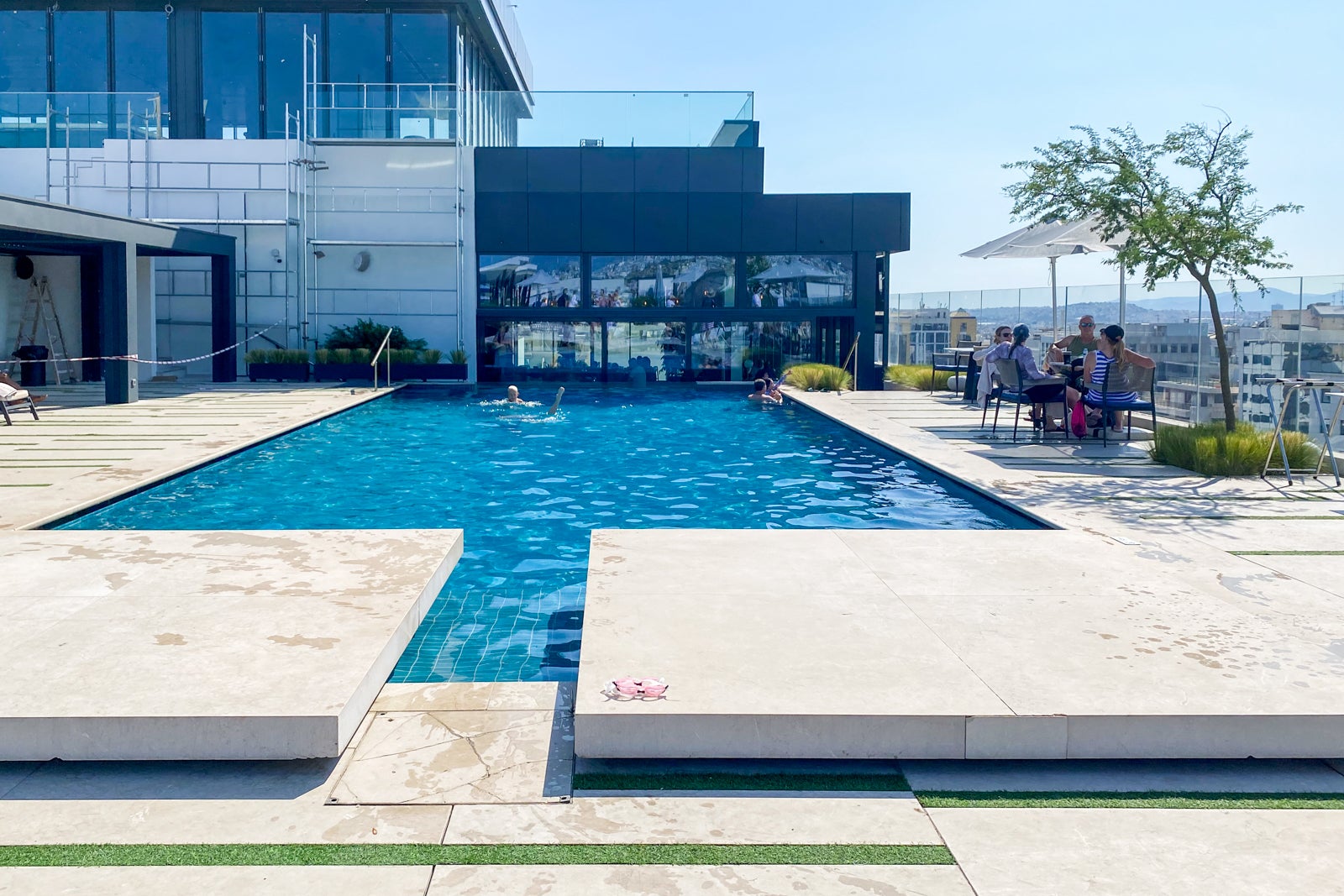 For more privacy during your dip, pay a little more for a room or suite with a pool. These upgraded accommodations come with private plunge pools on their balconies so you can cool off without other guests nearby.
Related: 15 of our favorite hotel pools on the planet
The food is good; the service is not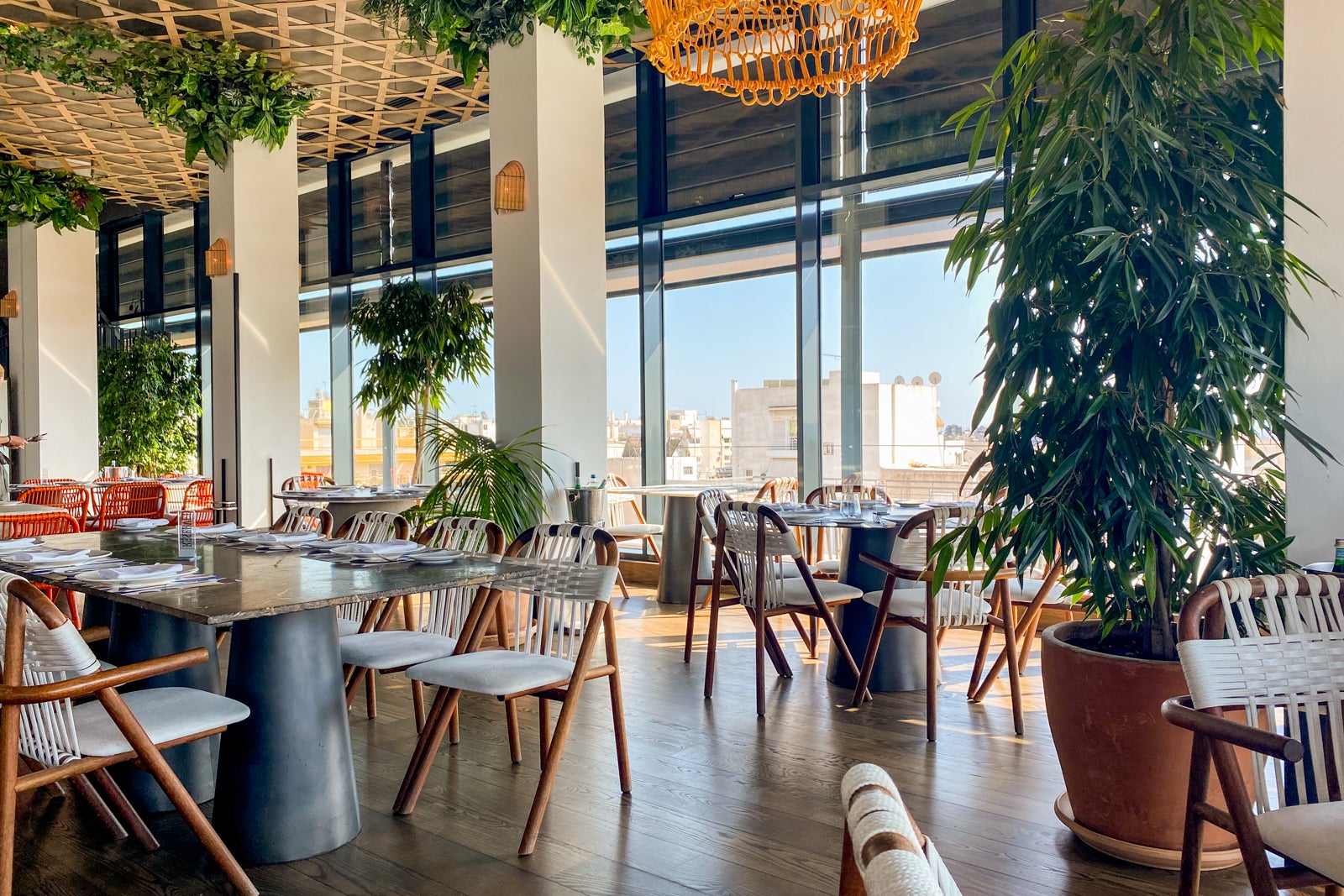 Dining options at the Grand Hyatt Athens are currently limited to one restaurant, a lobby lounge,  room service and a temporary breakfast room in an on-site ballroom that's open while the property renovates its eighth-floor restaurant.
During my stay, I decided to check out The Grand by Interni, a Mediterranean-Asian fusion restaurant by the rooftop pool that's open daily for breakfast, lunch and dinner. Since the eatery does not allow you to order food to take to the pool, I dined in.
Arriving between lunch and dinner, my friend and I were two of the only people in the venue, yet we had to flag down a waiter to clear a table before waiting 30 minutes to order. No napkins or cutlery were ever provided, resulting in us grabbing some from a neighboring table.
Opting for midday snacks of fries for $11 and a seasonal fruit platter for $15, we found our dishes to be tasty but not worth the service issues we encountered.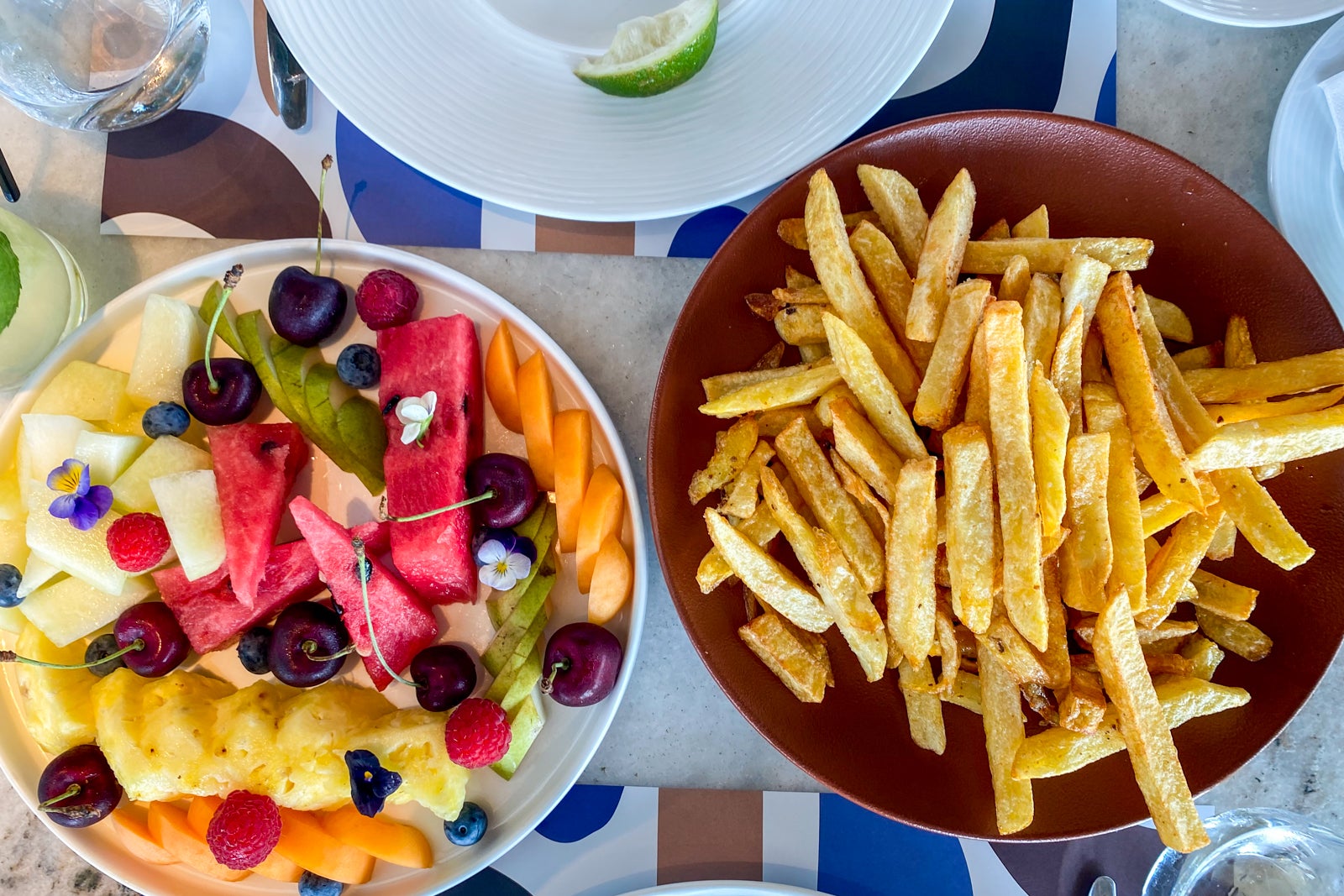 I had a much better experience when I ordered room service. When placing my order at 8:43 p.m., I verified the selected dishes — Greek salad ($20), penne pasta ($23) and octopus with a potato puree ($25) — could be gluten- and dairy-free and was quoted 45 minutes for the delivery time. At 9:01 p.m., the staff called back to verify my allergies before everything showed up early at 9:16 p.m.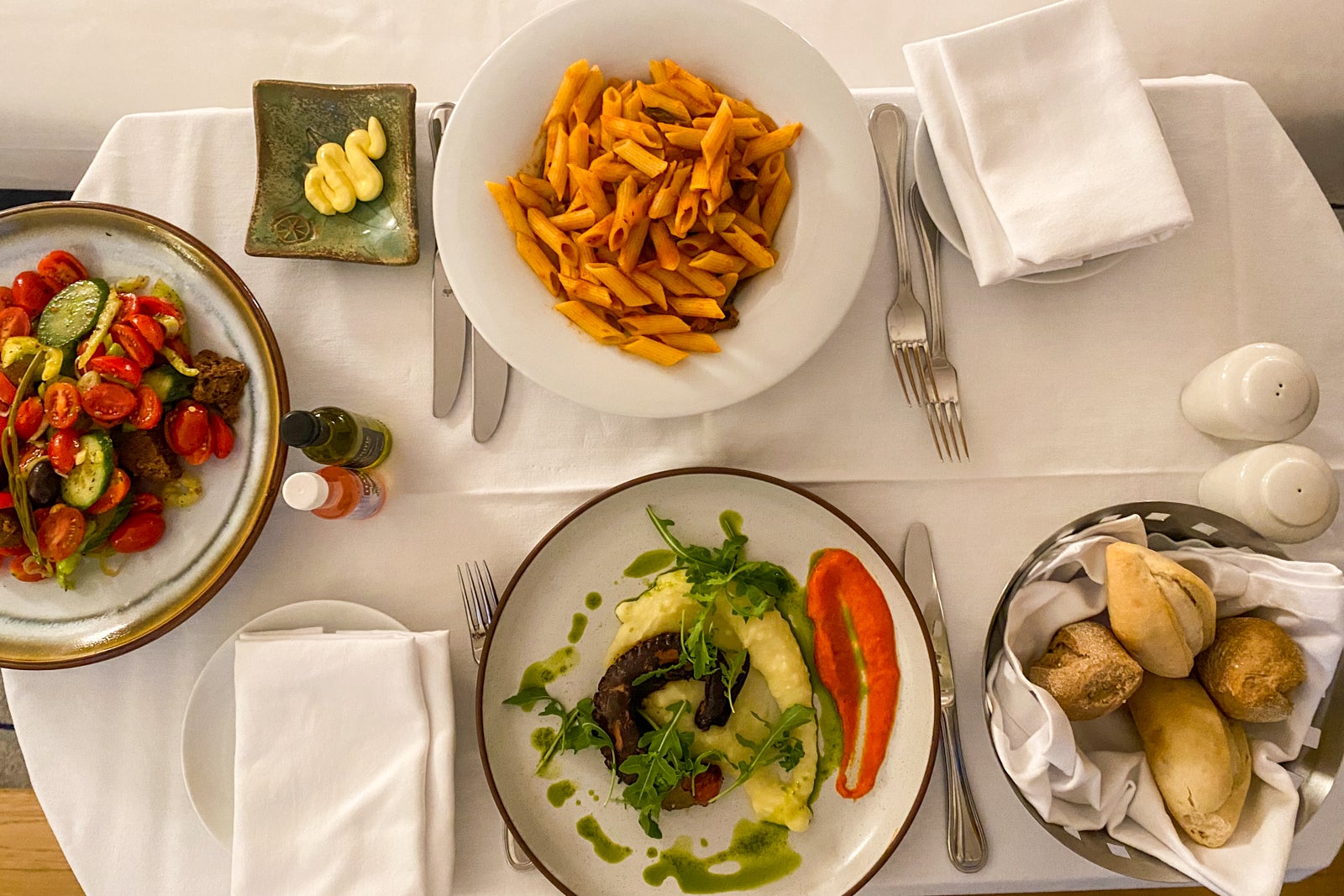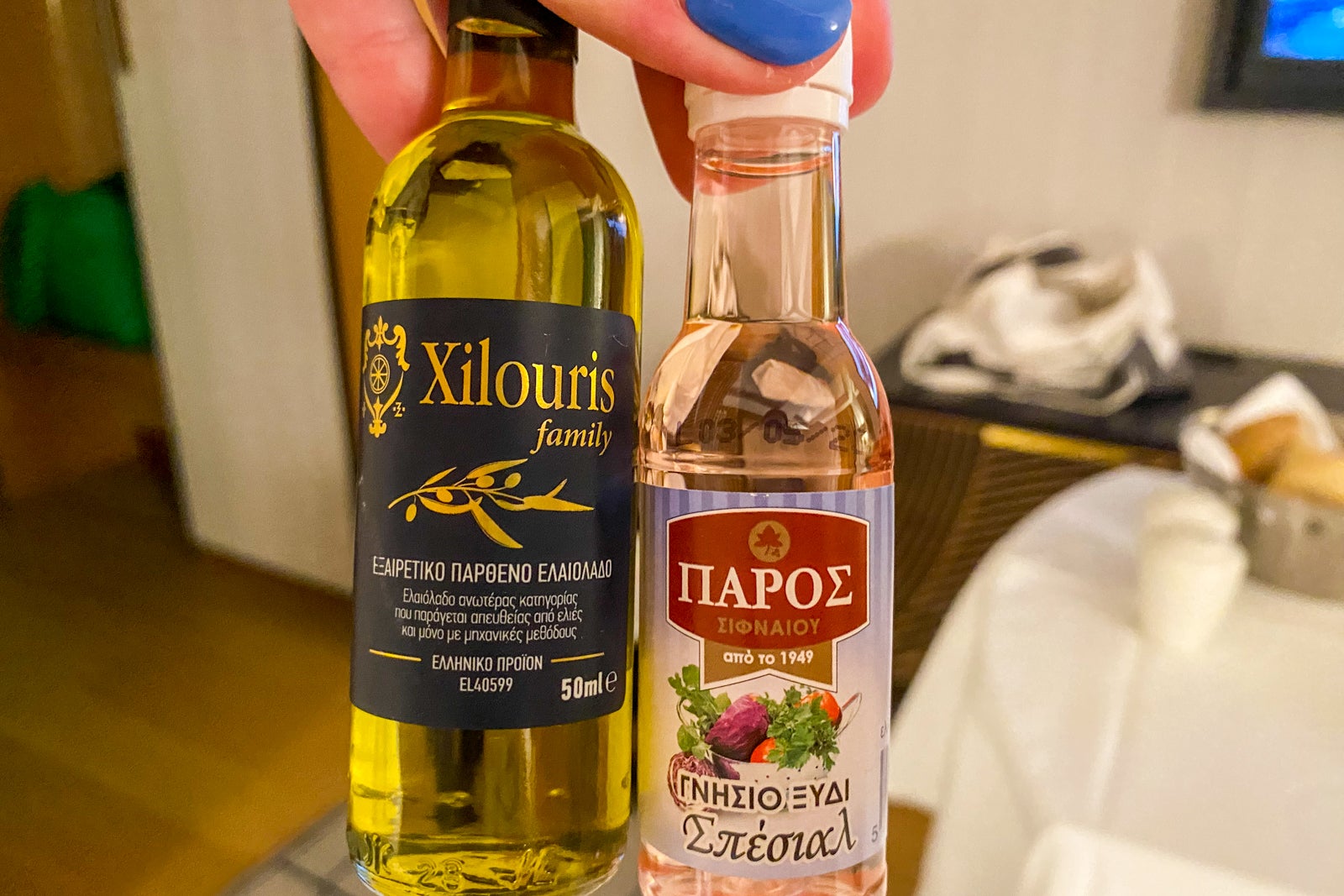 I thoroughly enjoyed the food, which is the same as that served in the ground-floor Aphrodite Lobby Lounge. I was particularly impressed with the addition of gluten-free carob rusk to my salad (to replace traditional croutons).
Related: Why I love hotel bars, especially when I travel solo
Several wellness amenities are available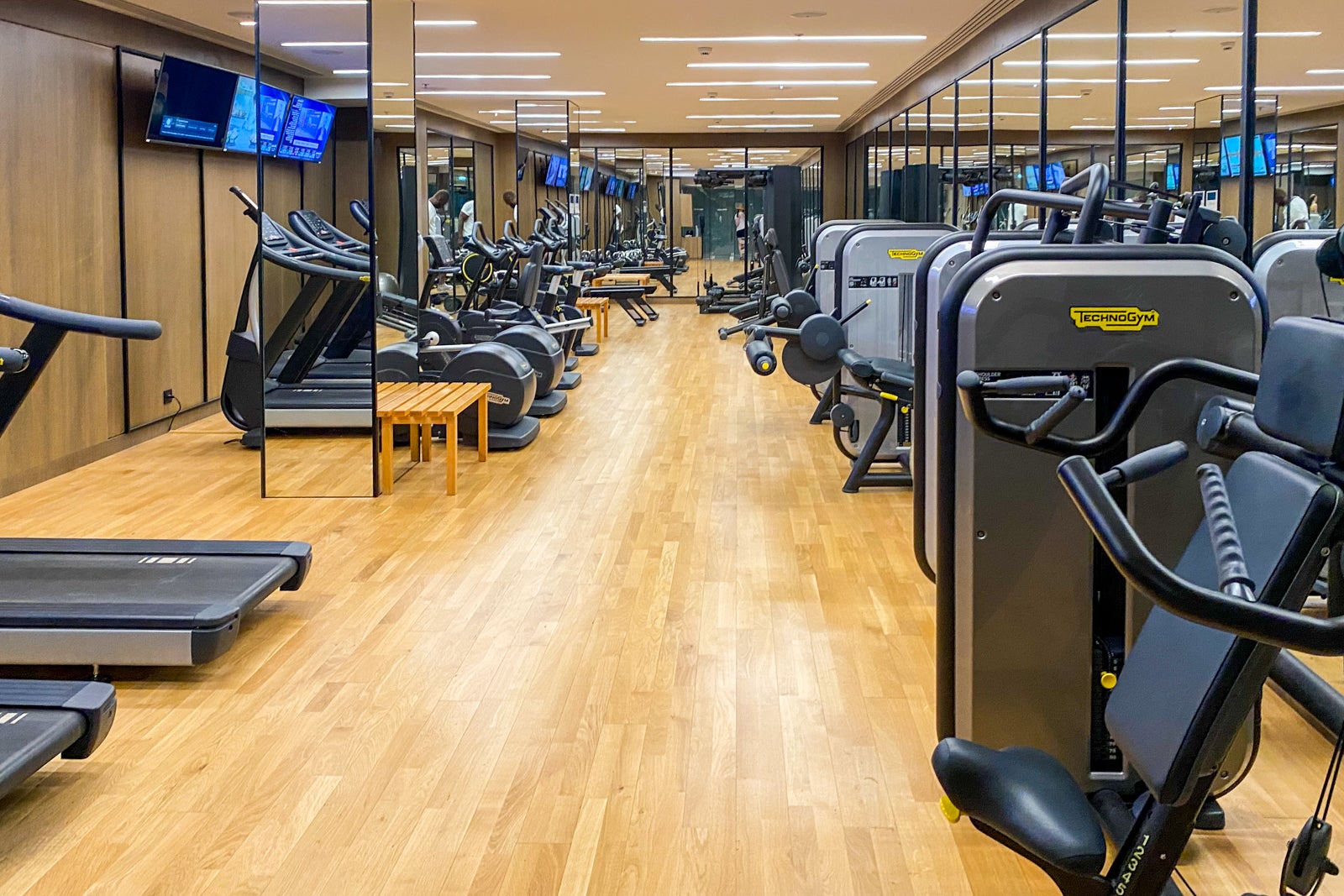 In addition to the property's pools, guests have access to a gym and a spa.
Open 24 hours a day, the fitness center is equipped with Technogym stationary bicycles, treadmills and cross trainers, along with a selection of free weights. Fresh towels were available when I visited for a workout, though there weren't any mats for activities like Pilates and stretching.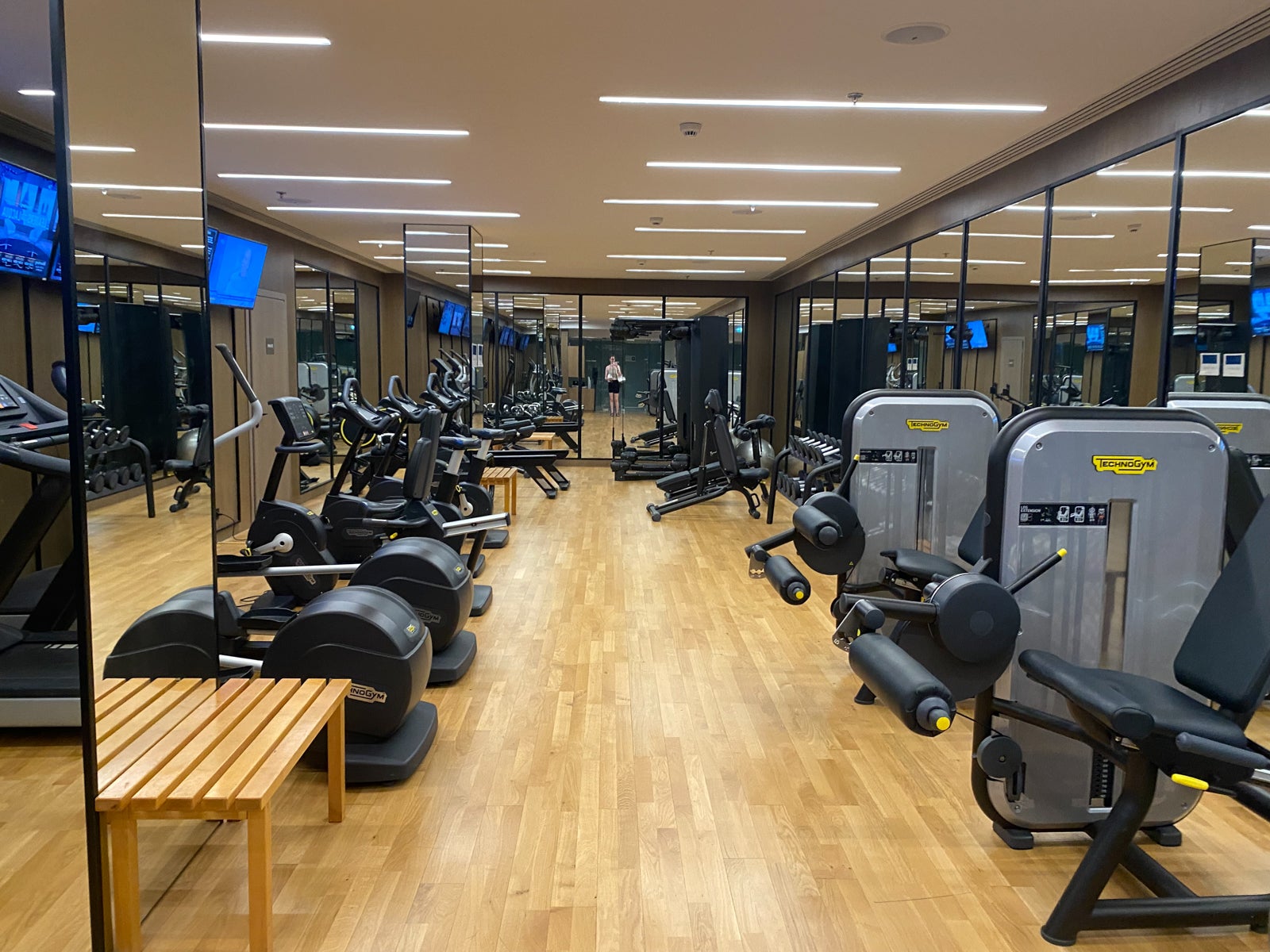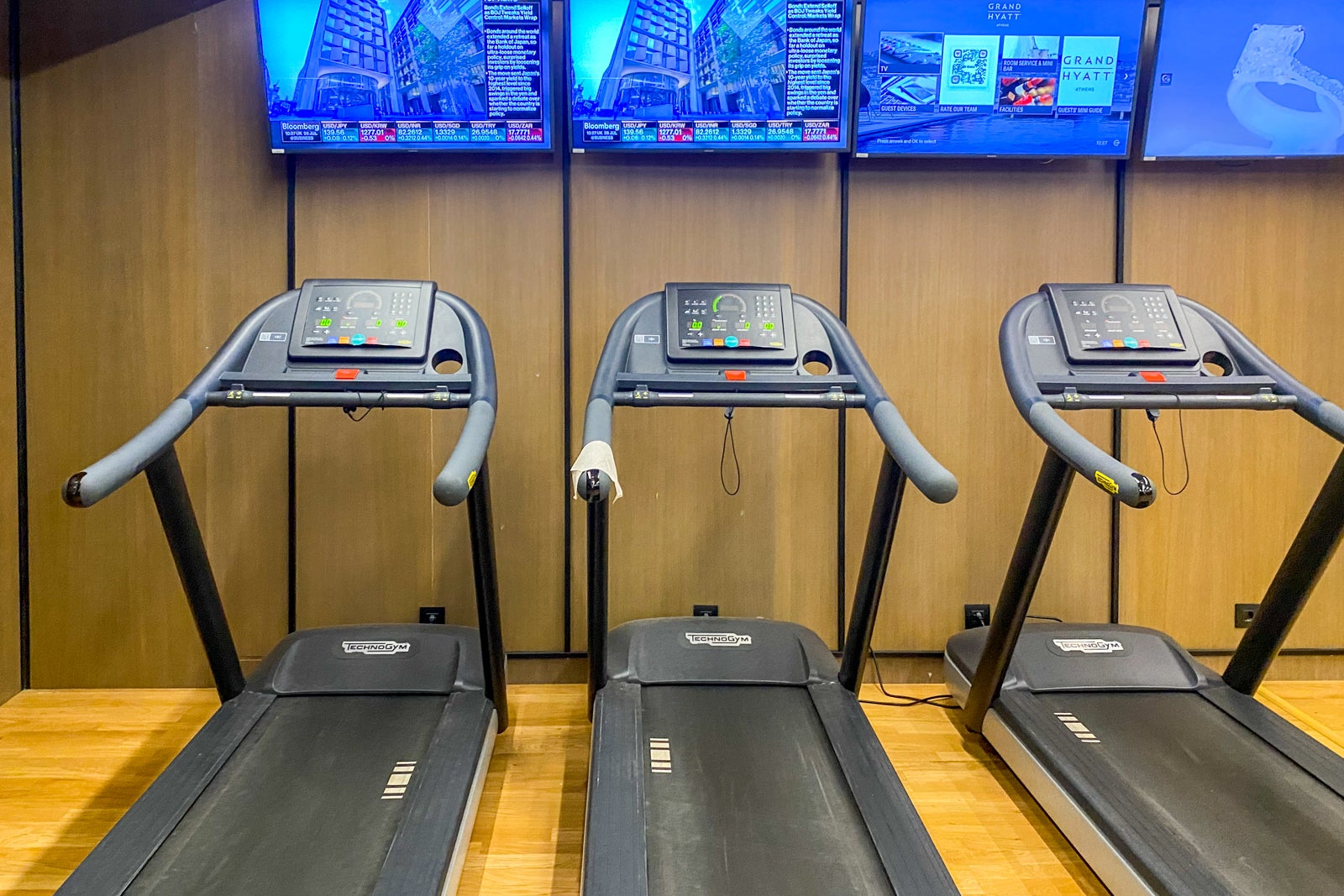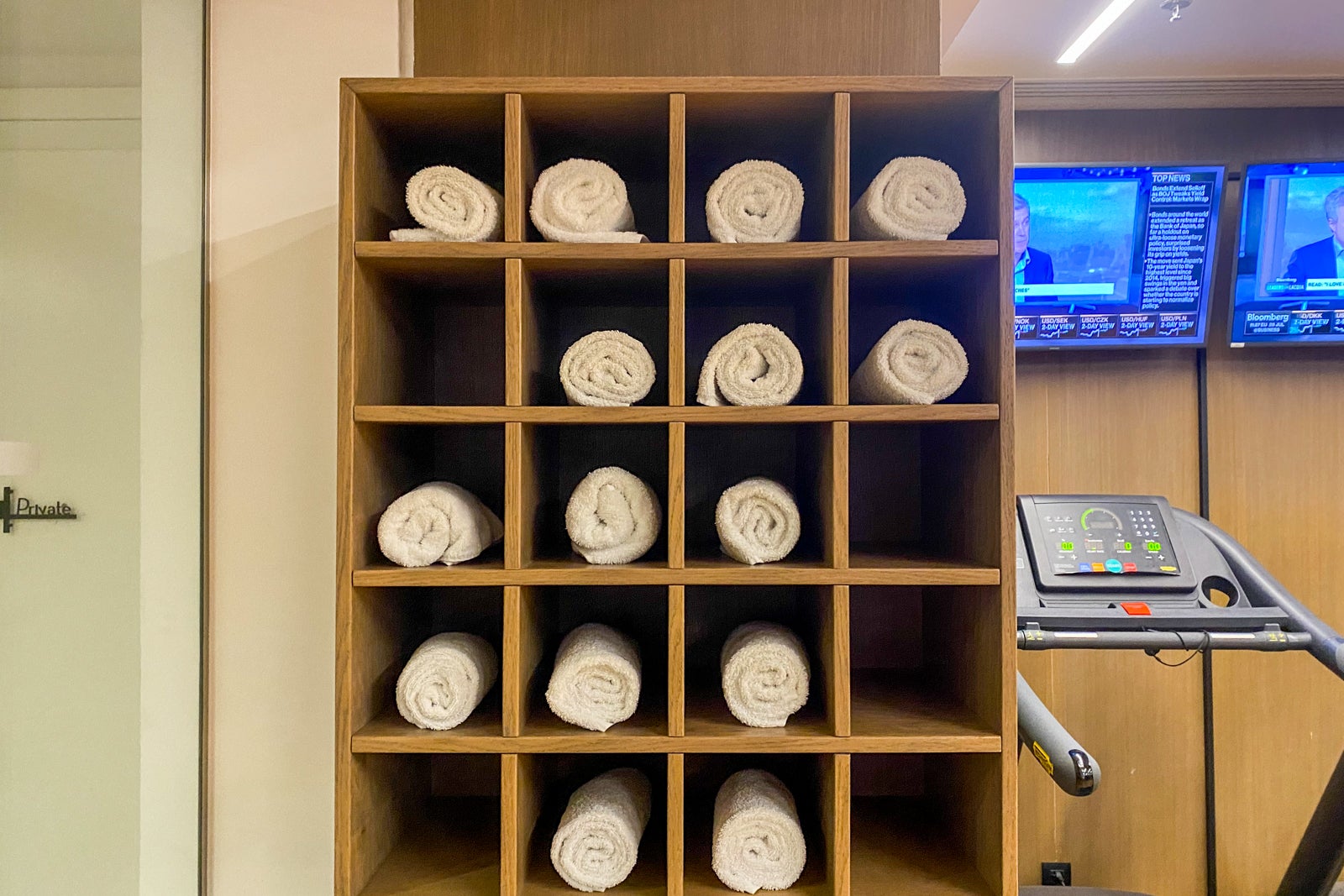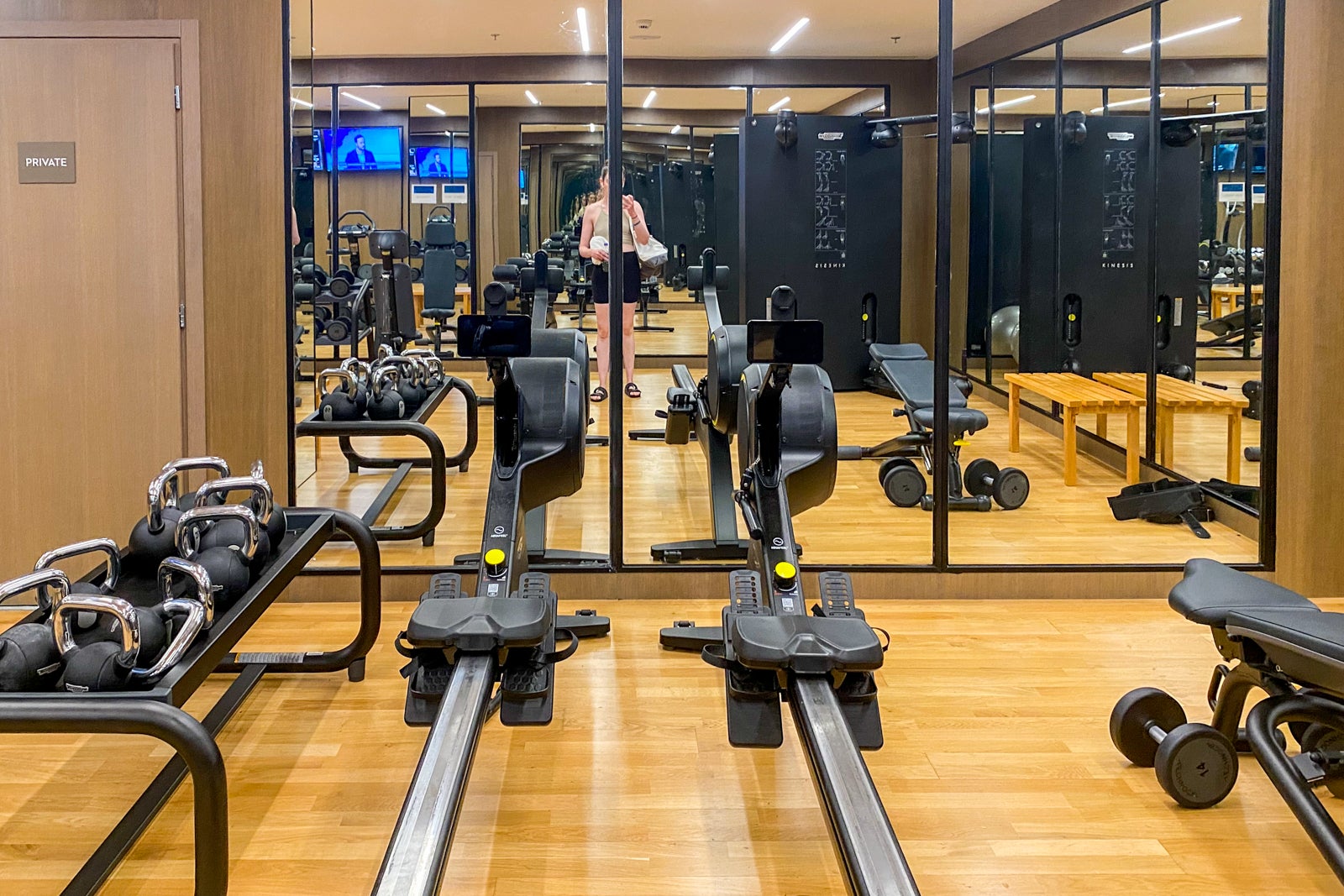 After my workout, I popped next door to shower at the hotel's Aegeo Spa. Although I didn't try out the spa services, which range from massages to facials to antiaging treatments, I was impressed with the spa facilities I saw. The high quality of the shower's water and Eau de Magnolia products made my hair look great, even after a day in the sun wearing a hat and sunscreen, plus time spent in and out of the rooftop pool.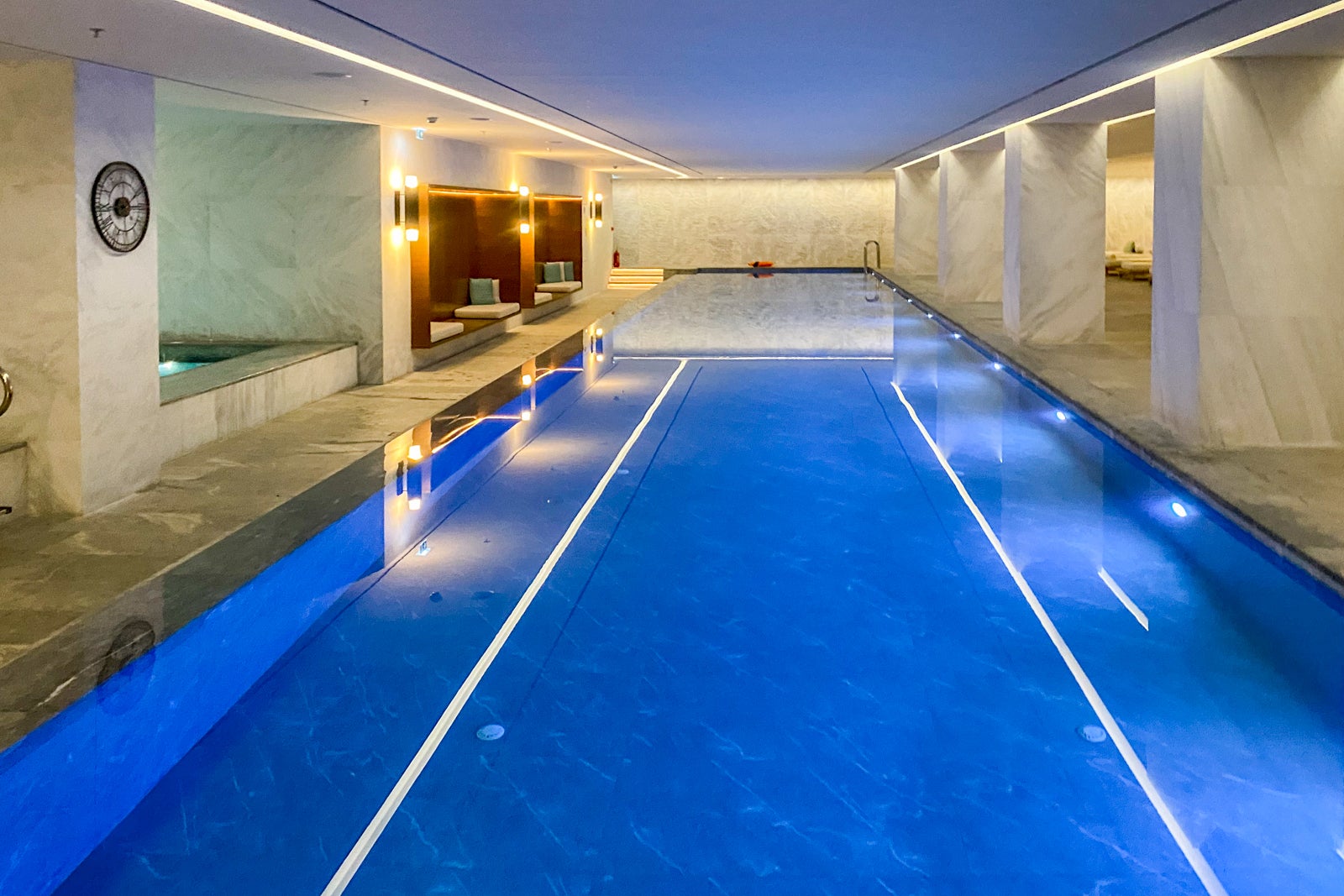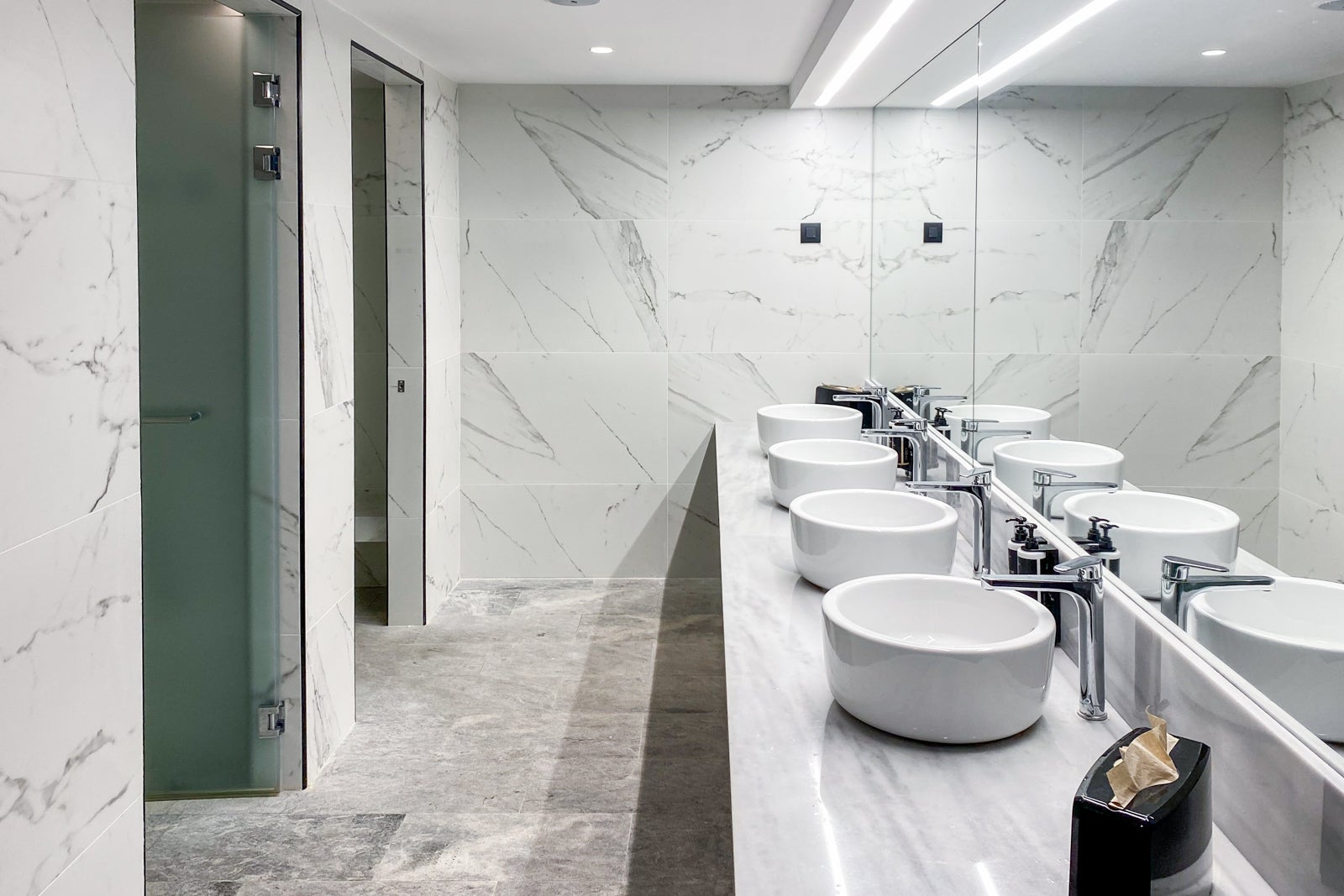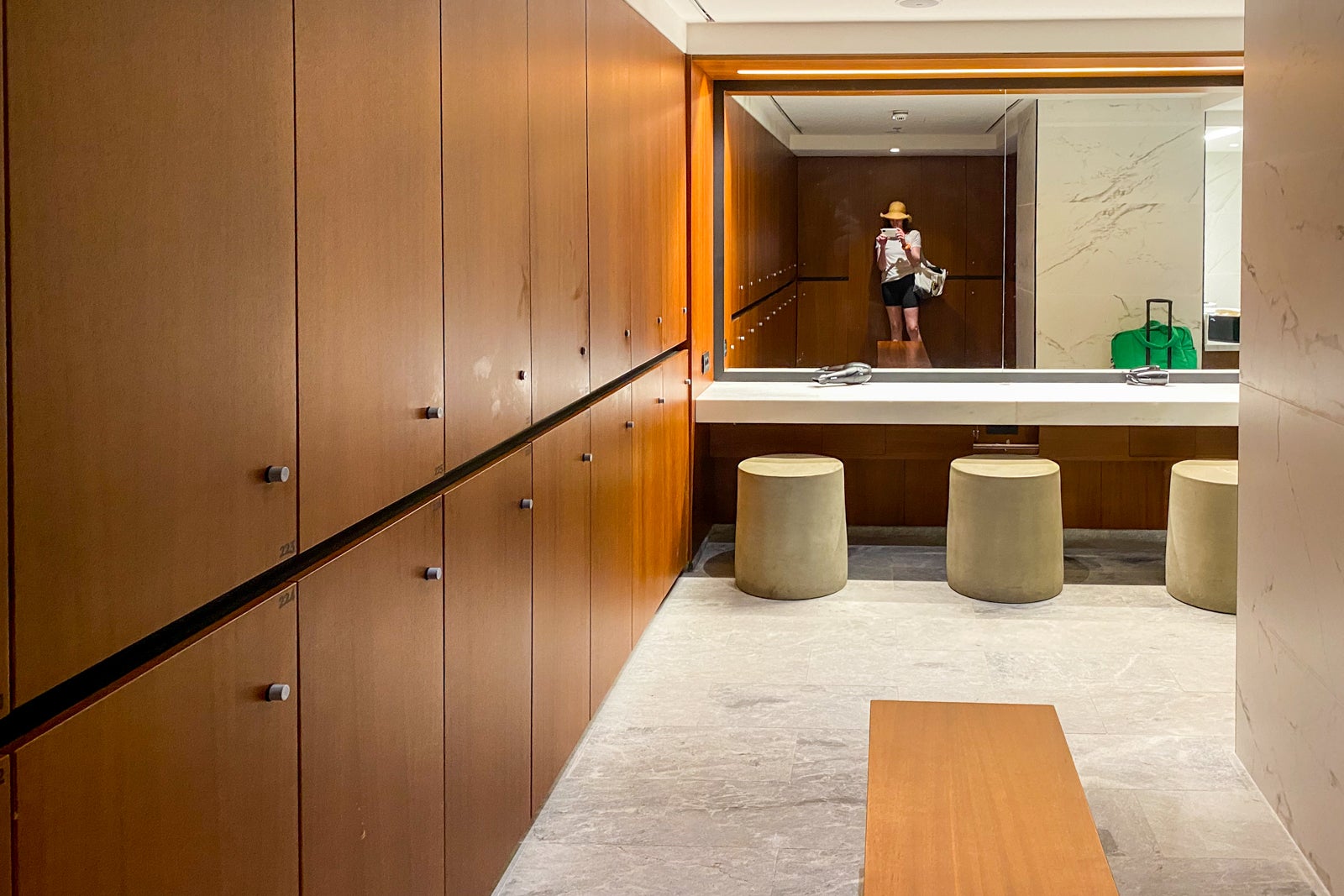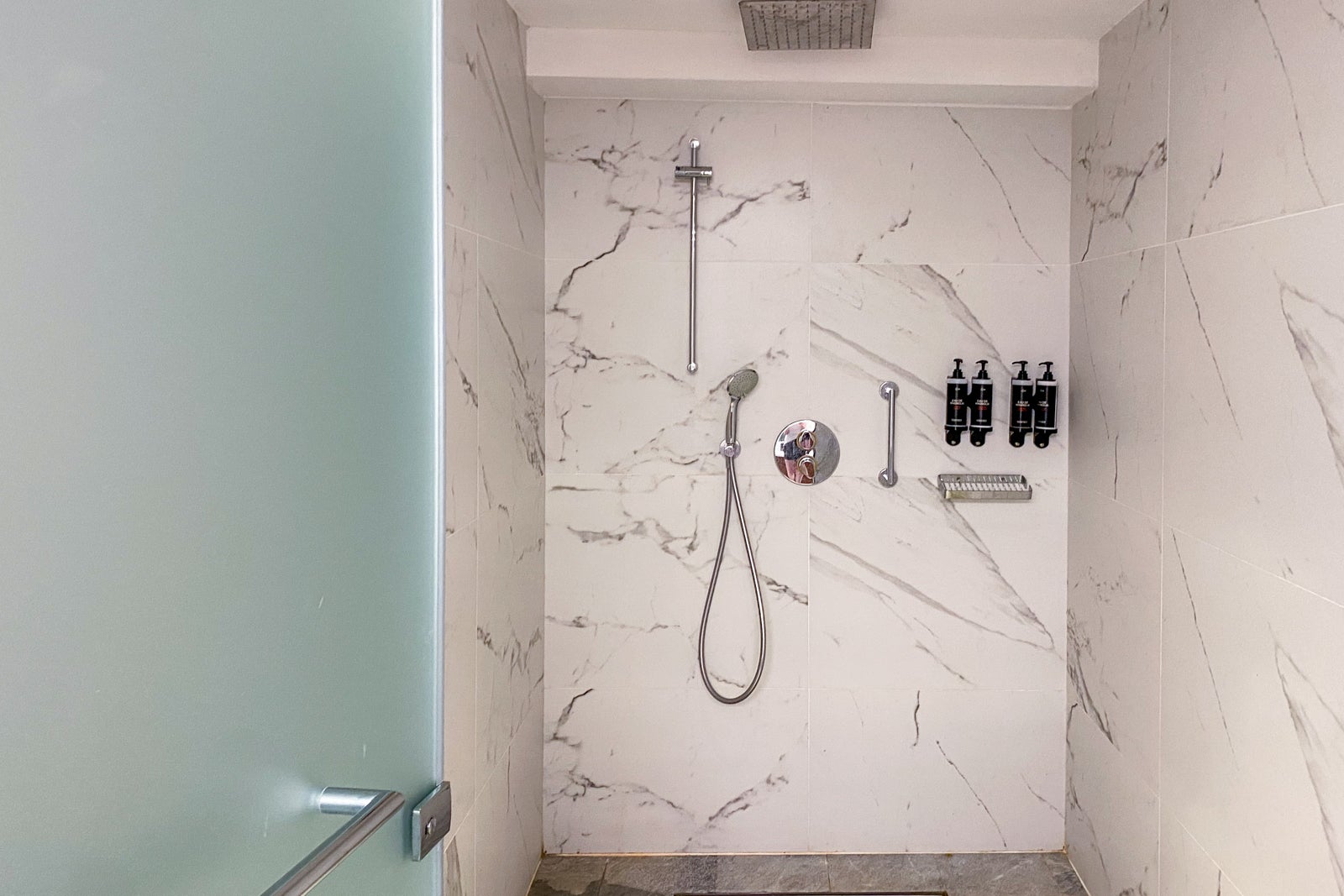 Should you have time for a treatment during your stay, be sure to check out the spa's wet area. On top of offering a sauna and a steam room, you'll find an 82-foot heated indoor pool ideal for swimming laps.
Related: From city sanctuaries to desert retreats, these are the best luxury hotel spas for every type of traveler
Reasons the Grand Hyatt Athens might not be for you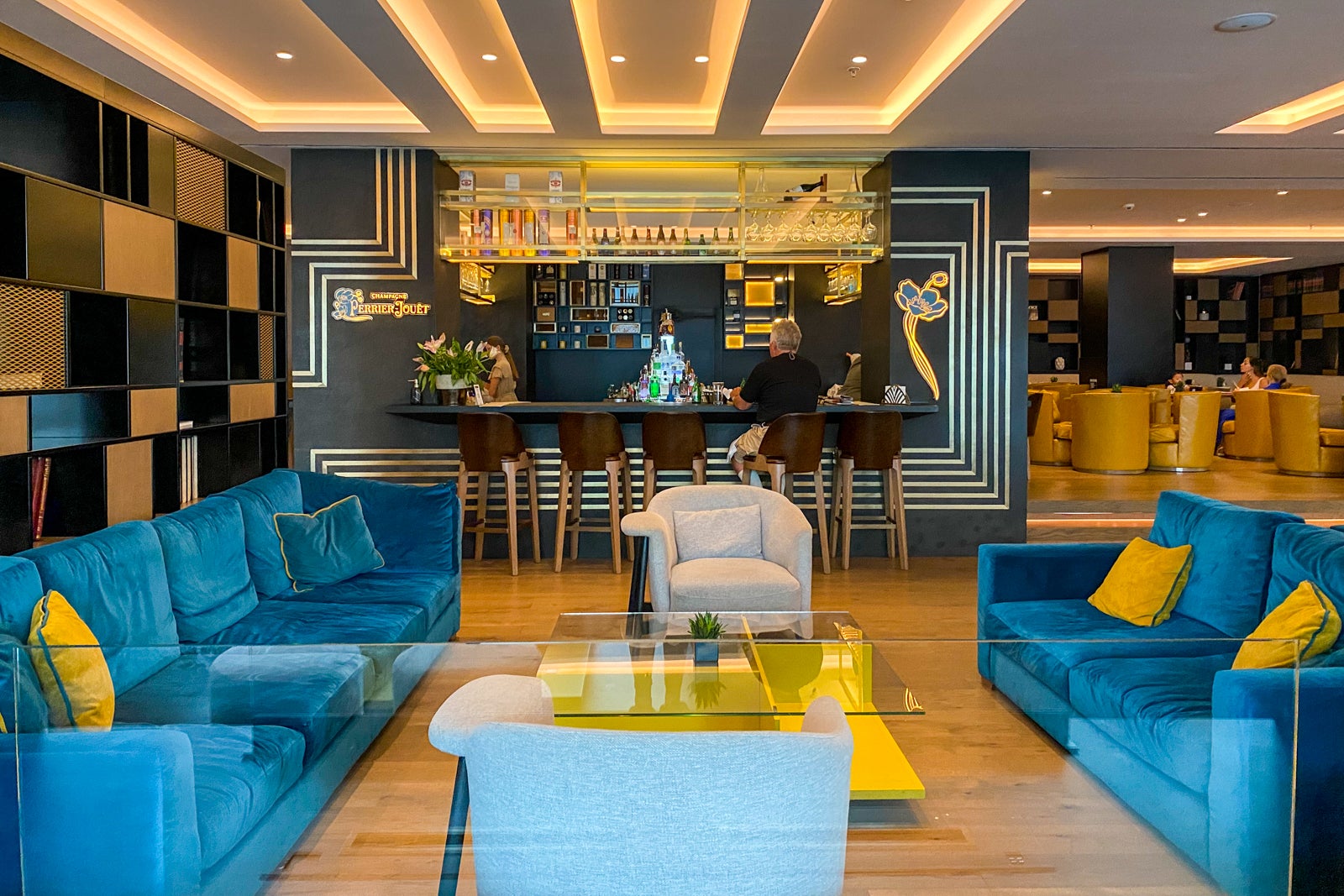 It's crowded, meaning you'll spend a lot of time waiting — in line for the elevators, in line to check in, for your room to be ready, to be served at the dining venues, and so on.
Despite being convenient, its location on the side of a highway means there's a lot of traffic and noise to deal with as you walk to other parts of town.
Dining options are slightly limited due to a restaurant being closed and the lounge offering the same menu as room service, so foodies may be disappointed by the lack of variety.
Rooms are showing some wear and tear due to a few poor design choices and installation issues.
Related: 9 overlooked destinations in Greece you need to visit at least once
Accessibility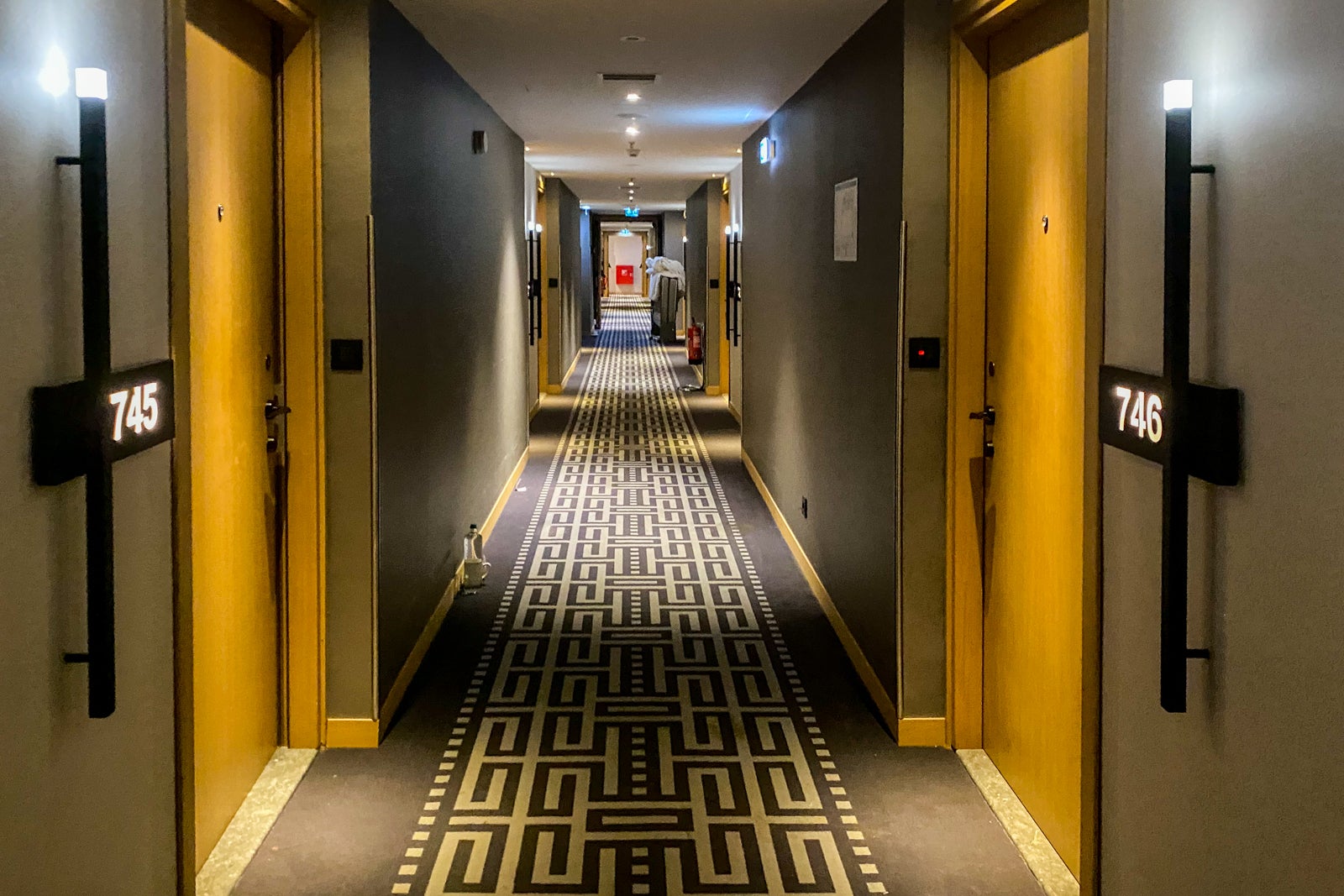 The design of the hotel works well for guests with disabilities. The flat entrance and lobby are wheelchair accessible, offering automated doors and no stairs so it's easy to get around. A doorman is also available for those who need extra assistance.
By the elevators, you'll notice the call buttons are low enough to easily reach from a wheelchair. The waiting area is also wide, making it possible for several guests in wheelchairs to wait for an elevator to arrive. Braille signage is available as well.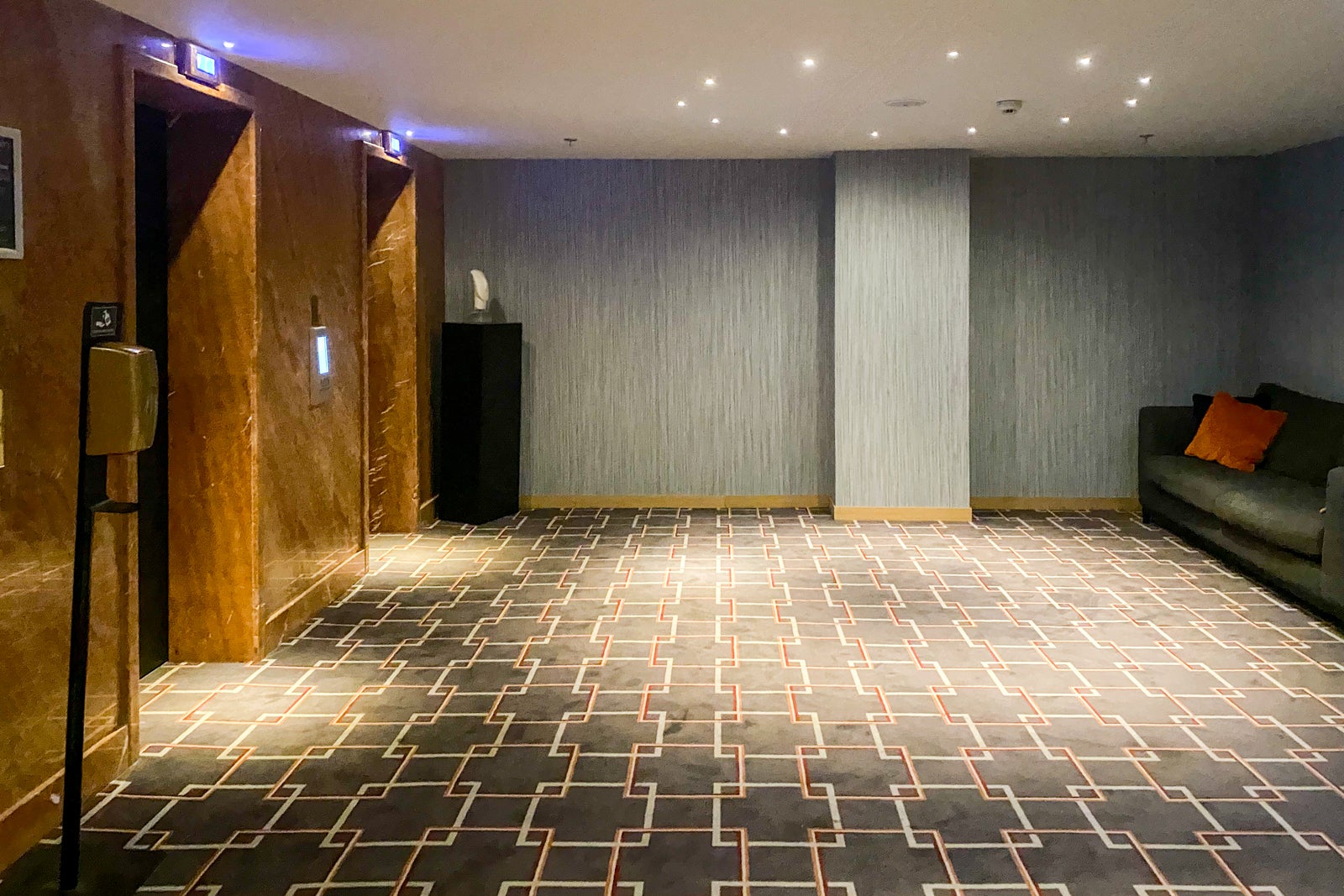 As for rooms, you'll find wide hallways leading to the accommodations, some of which have lowered beds, toilets and sinks to better accommodate guests with disabilities. Keep in mind, accessible rooms are not bookable online, so you'll need to reach out to the property after making your reservation to request an accessible room.
Related: How to make sure you get an accessible hotel room if you need one
Alternatives to the Grand Hyatt Athens
If you're not loyal to Hyatt but wish to use points to book a stay in Athens, you're in luck, as there are a few other points hotels nearby.
IHG One Rewards members can redeem points for a stay at the InterContinental Athenaeum Athens, where rates start at $170 or 22,000 IHG One Rewards points per night. Like the Grand Hyatt Athens, the property also features upgraded accommodations that overlook the Acropolis, as well as an outdoor pool and a 24-hour fitness center.
For those who prefer to stay at Marriott properties, there are five options from the brand (plus a few Marriott-affiliated Design Hotels).
Of the available Marriott properties, the two Luxury Collection options — Hotel Grande Bretagne and King George — are the most upscale, offering elegant decor (think: traditional furnishings, marble bathrooms and crystal chandeliers) and breathtaking views of the Acropolis. Cash rates start at $283 and $292 per night, respectively, while award nights are available for 50,000 and 55,000 Marriott Bonvoy points per night, respectively.
Should you wish to spend less on your accommodations, consider the Moxy Athens City, which you can book for as little as $80 or 20,000 Marriott Bonvoy points per night.
Related: 18 of our favorite points hotels in Europe
Checking out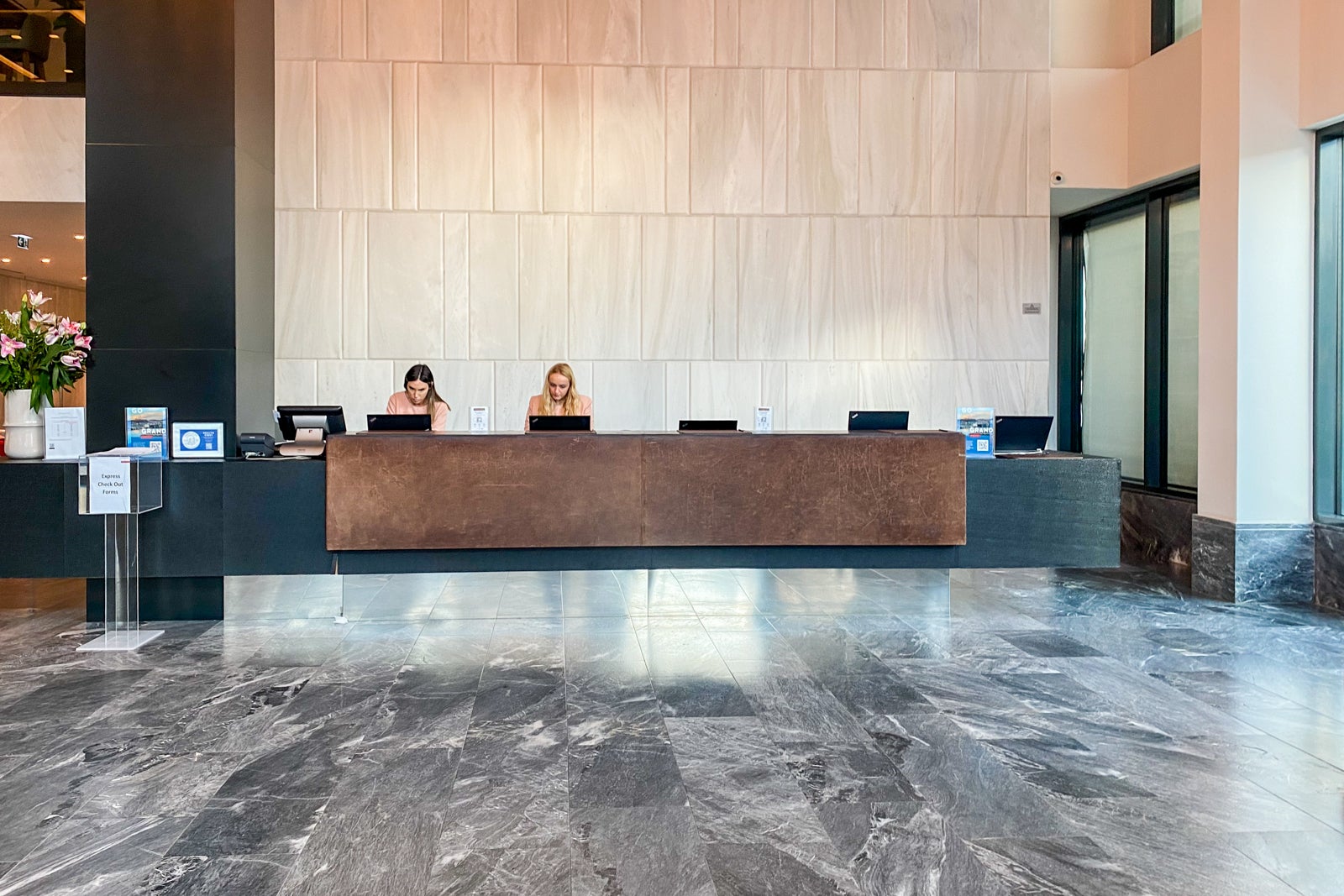 Even though the hotel was a bit more crowded than I would've liked (minus when I was checking out at 3:30 a.m.), the Grand Hyatt Athens was a solid option for a two-night stay. The rooms were eye-catching (albeit worn in spots), and the food was delicious (though a bit slow to be served at times).
If you want a larger points property with numerous amenities while visiting Athens, this may be an ideal option for you. But if you're like me and prefer something more intimate (and on top of its service), staying elsewhere may be the better way to go.
Related reading: