The InterContinental Rome Ambasciatori Palace provided the writer with a complimentary one-night stay. The opinions expressed below are entirely the author's and weren't subject to review by the hotel or any external entity.
Watch out, luxury hotels everywhere. InterContinental's new Rome location is a signal the brand is reasserting itself at the table of high-end hospitality.
I've been curious about the InterContinental Rome Ambasciatori Palace since it was first announced several years back. The InterContinental brand last graced the Eternal City in the spot where the Hotel de la Ville now stands, and at the time, people heralded that brand shift since the old InterContinental felt a little, well, old.
I've been worried about InterContinental, as its parent company IHG Hotels & Resorts acquired ultra-luxury brands like Regent and Six Senses in recent years to boost its luxury portfolio. Was InterContinental becoming the neglected luxury child while its parent doted on the shinier, even more luxurious new siblings?
A one-night stay this summer at the new InterContinental Rome Ambasciatori Palace proved that the InterContinental brand is very much here to clear its throat and remind IHG loyalists and travelers everywhere that the "I" in IHG stands for InterContinental. This is very much a luxury brand that is worth checking out.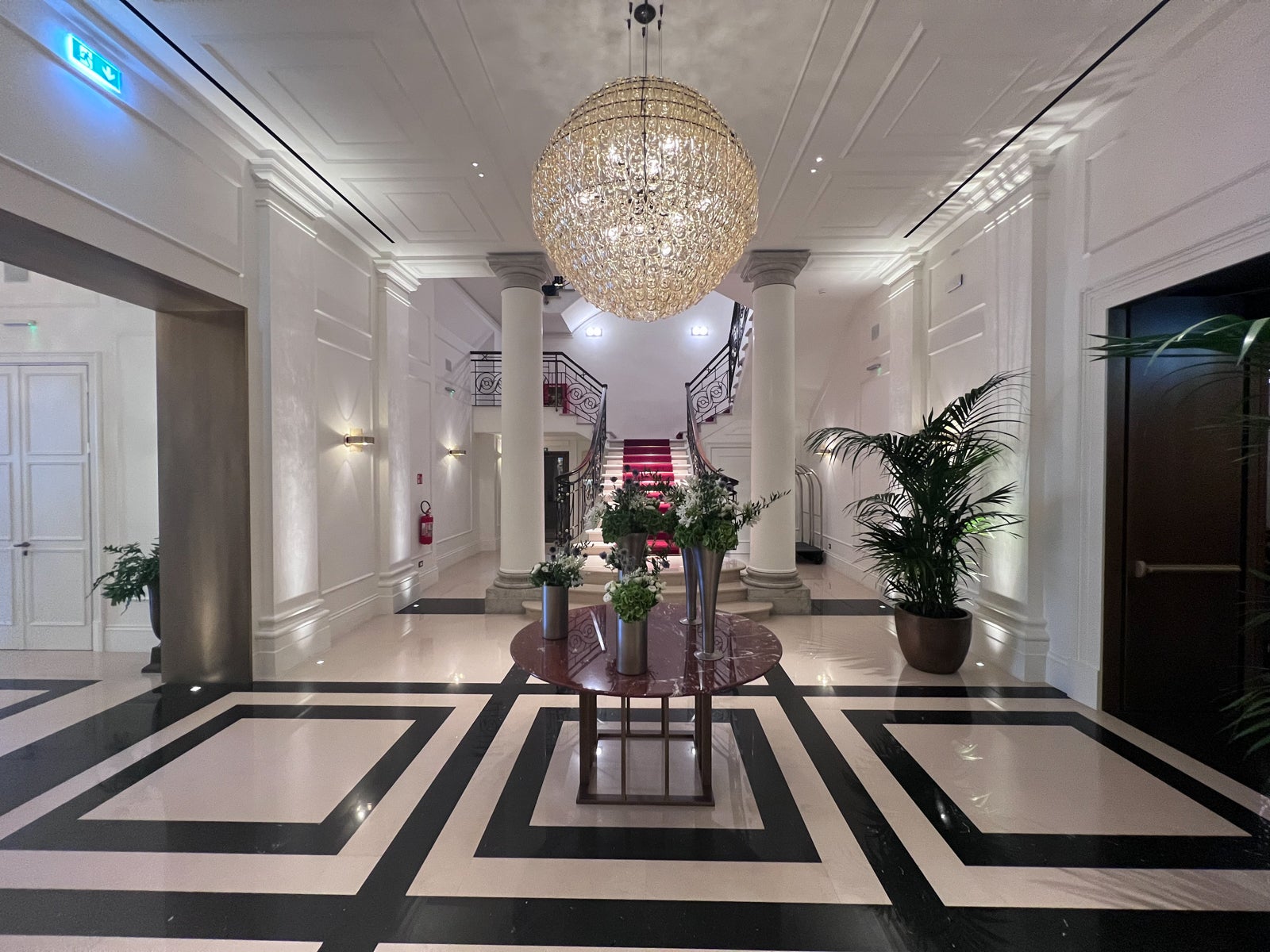 What is the InterContinental Rome Ambasciatori Palace?
The InterContinental Rome Ambasciatori Palace is part of a wave of hotels reviving life on Rome's famed Via Veneto — a luxe thoroughfare of cafes and nightclubs made famous by director Federico Fellini's film "La Dolce Vita." Nearby, you'll find the W Rome and the Rome Edition. The Rosewood has a hotel under construction across the street. Nobu Hotels also plans to open a property nearby.
InterContinental's debut arrived after a multiyear gut renovation to what was the Ambasciatori Palace Hotel. Prior to that, it had stints as a home for traveling ambassadors as well as a library for the nearby U.S. library. Let's just say luxe linens, sultry bars and restaurants, and turndown service are a better look for the building than bookshelves.
The hotel features 160 guest rooms and suites, a Roman outpost of Scarpetta New York City — brave of an American brand to open an Italian restaurant in Italy, but more on that later — Charlie's Rooftop Bar and the lobby bar Anita's (as in Anita Ekberg, the star of "La Dolce Vita").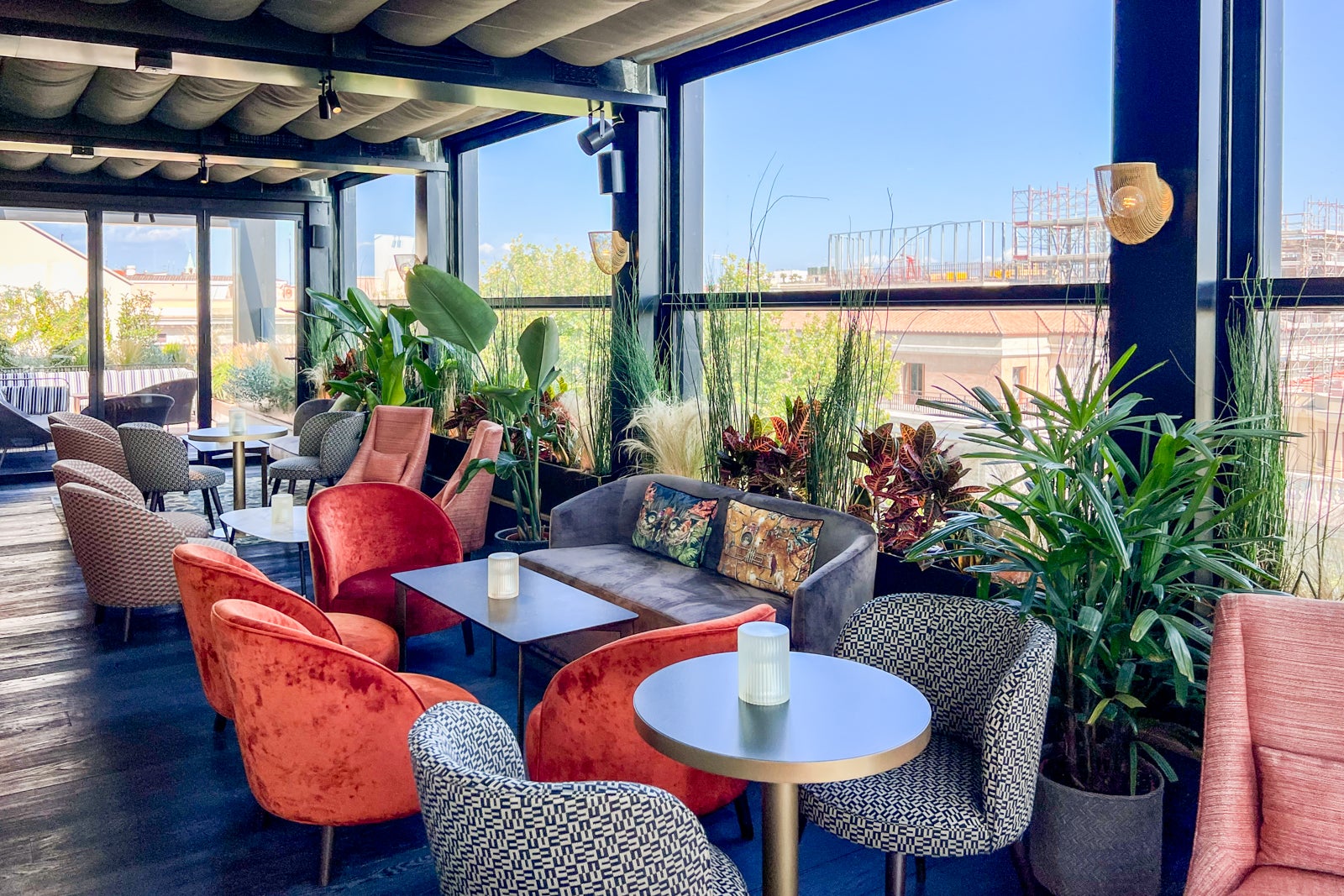 How to book a stay at the InterContinental Rome Ambasciatori Palace
My entire stay was complimentary, but you can book a stay at the InterContinental Rome Ambasciatori Palace directly through IHG's booking platform to enjoy the full suite of IHG One Rewards benefits.
My junior suite was going for just more than 1,000 euros ($1,088) per night at the time of my stay, and that appears to be the going rate through the rest of the summer. An entry-level King Classic room starts at 626 euros ($682) per night — not a bargain by any stretch but more affordable than the Hotel de la Ville and about 150 euros less per night than entry-level rooms at the Rome Edition around the corner.
Award night availability shows King Classic rooms start at 99,000 IHG One Rewards points per night and increase later in the year. Don't forget: If you're an InterContinental Ambassador member, you can also utilize your complimentary weekend night reward here.
The location
The InterContinental Rome Ambasciatori Palace's perch on Via Venuto comes with real estate bragging rights, given the storied history of the street. It's a cosmopolitan, international vibe: Both a Lamborghini dealership and the U.S. Embassy are mere steps away from the hotel lobby.
It's a 35-minute Uber or taxi ride from Leonardo da Vinci-Fiumicino Airport at a 50-euro ($54) flat rate.
I immediately wished for a longer stay, as there was a nice mix of cafes, bars and restaurants nearby. The Trevi Fountain is a 10-minute walk away, while the Pantheon is an 18-minute stroll. Roma Termini, the city's main rail hub, is a 17-minute walk away.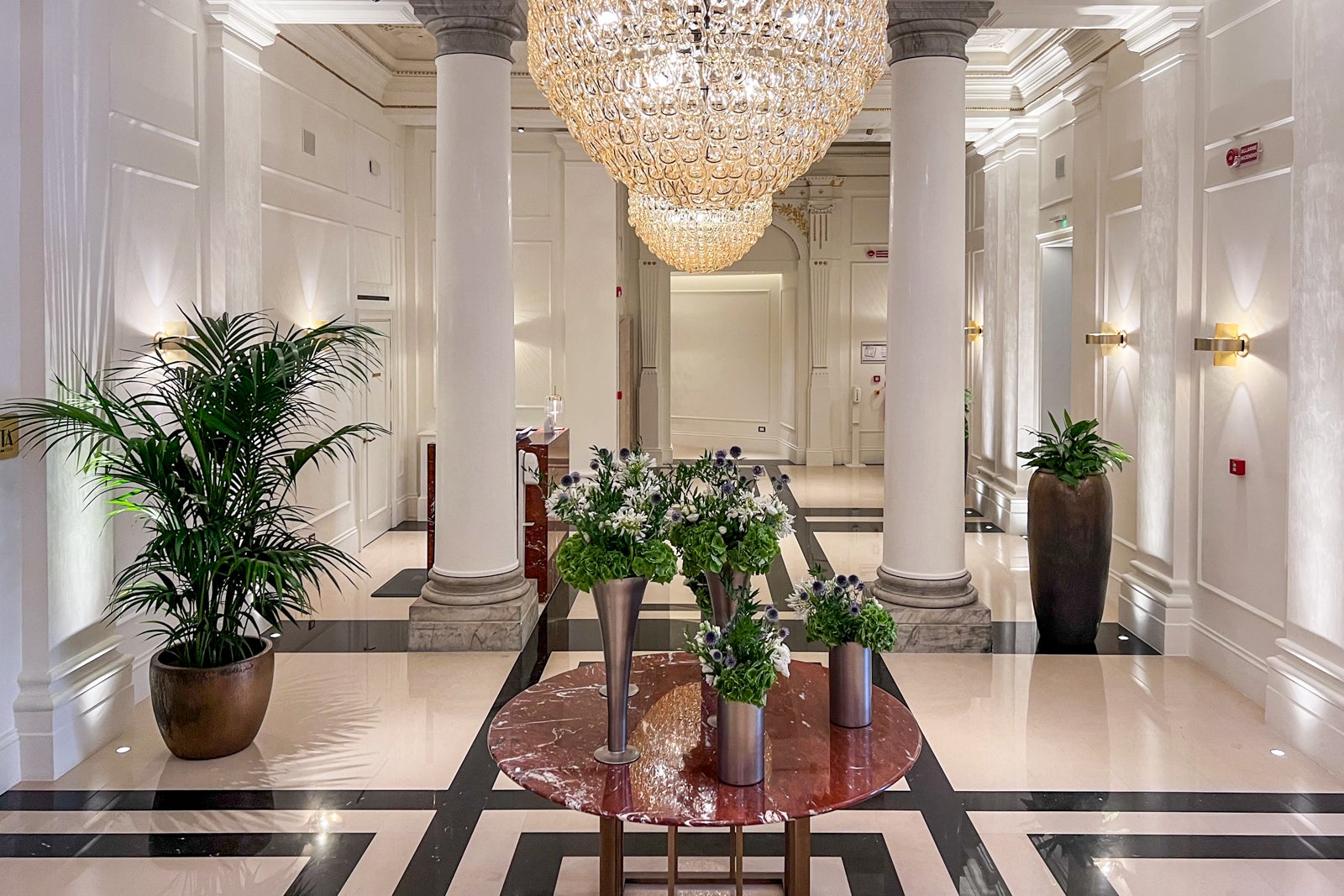 The vibe
One of the great things about InterContinental is it's a brand with range. You can expect a wide array of options on the vibe and design front before you walk through the front door: There's the lush greenery and bright colors of the InterContinental Danang Sun Peninsula Resort in Vietnam, the thatched roofs and lagoon views of the InterContinental Bora Bora Resort & Thalasso Spa or the sleek city hotel vibes of my hometown InterContinental Boston.
The InterContinental Rome Ambasciatori Palace leans more into its historic roots with a modern elevation. You'll find a smaller check-in area tucked off the side of the entryway. The main lobby is the showstopper with large, bright columns and a sweeping marble and red-carpeted staircase that I envision will be the backdrop of many social media uploads from the hotel. The hotel website, unfortunately, is leaning more toward renderings at the moment, but take my word (and photos) for it: The actual hotel is a stunner.
Maybe because it's the summer of Americans fleeing to Italy, or maybe it's the IHG connection, but the guest profile skewed significantly more American than any other property I toured over several days in Rome. Families, younger travelers, older travelers and friend groups — all largely American — seemed to be keeping the hotel in business and the bars buzzing.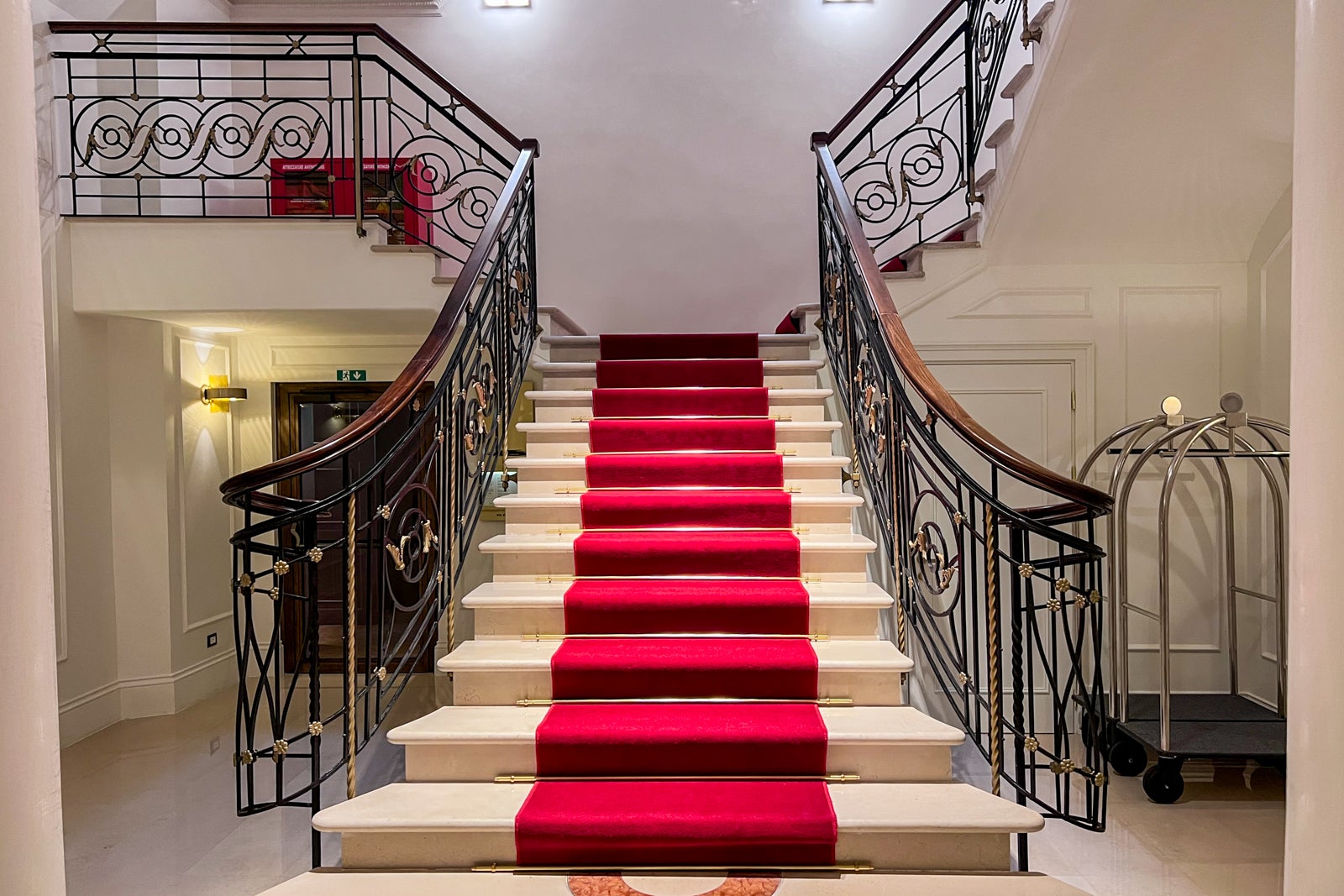 The rooms
When you head to your guest room or suite, the InterContinental Rome Ambasciatori Palace feels a world away from the bright lobby downstairs, as though it decided to embrace its brooding side on the elevator ride up. The corridors feature dark charcoal walls and doors accented by brass lighting and door hardware.
But don't let this give you any preconceived notions: I opened the door to my King Junior Suite and found a bright, inviting space. It also had one of the more elegant bathrooms I've seen from the major hotel brands in quite some time. I noticed a similar light, refined aesthetic in the guest rooms and a one-bedroom suite I later toured during my stay.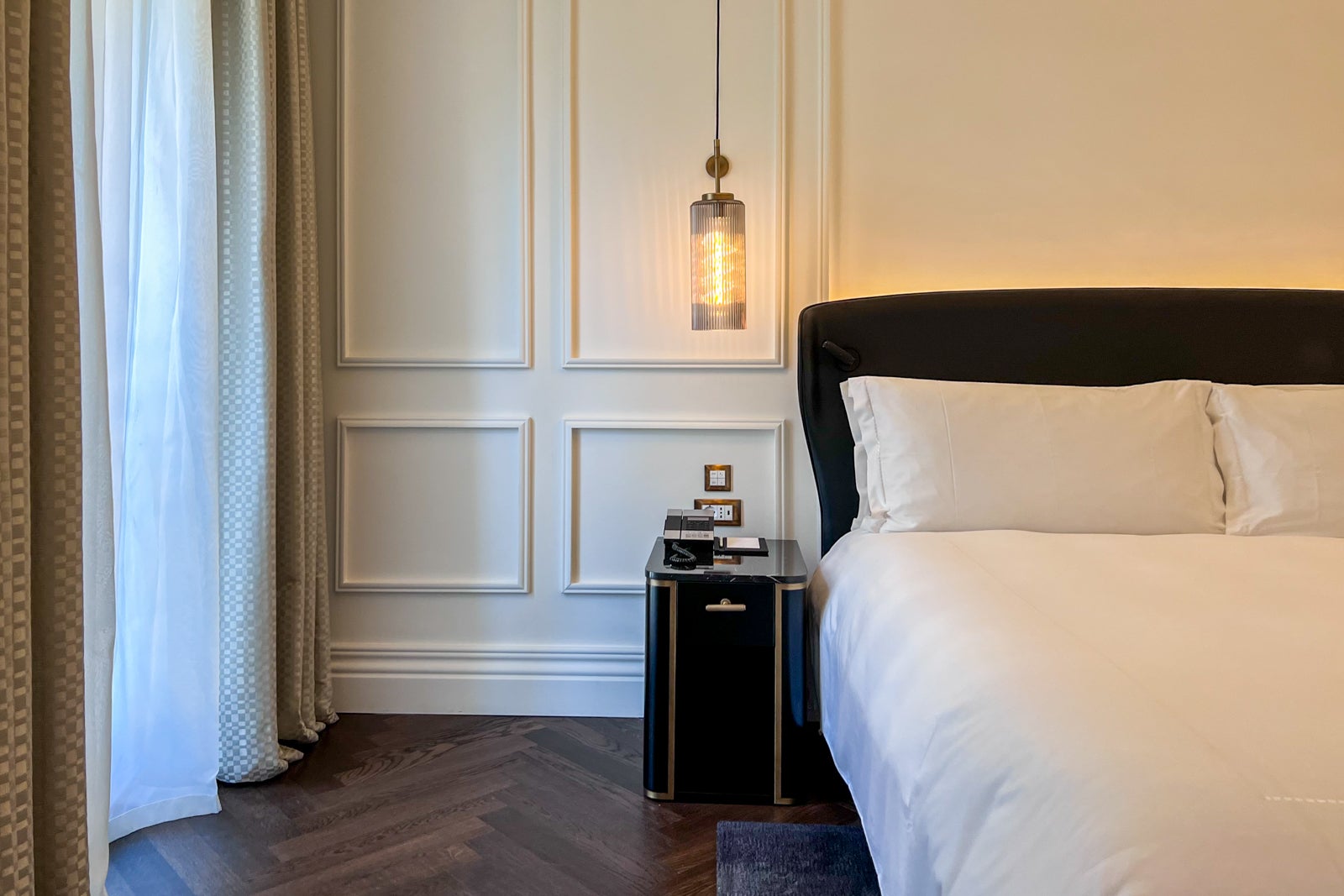 As for the junior suite I was staying in, it featured an entryway with a spacious closet for stowing luggage on one side and hanging clothes on the other. There was also a bar area featuring glassware, a Nespresso machine and a minibar. The design scheme was light and airy thanks to many floor-to-ceiling windows (including a frosted glass one in the walk-in shower), white walls and high ceilings.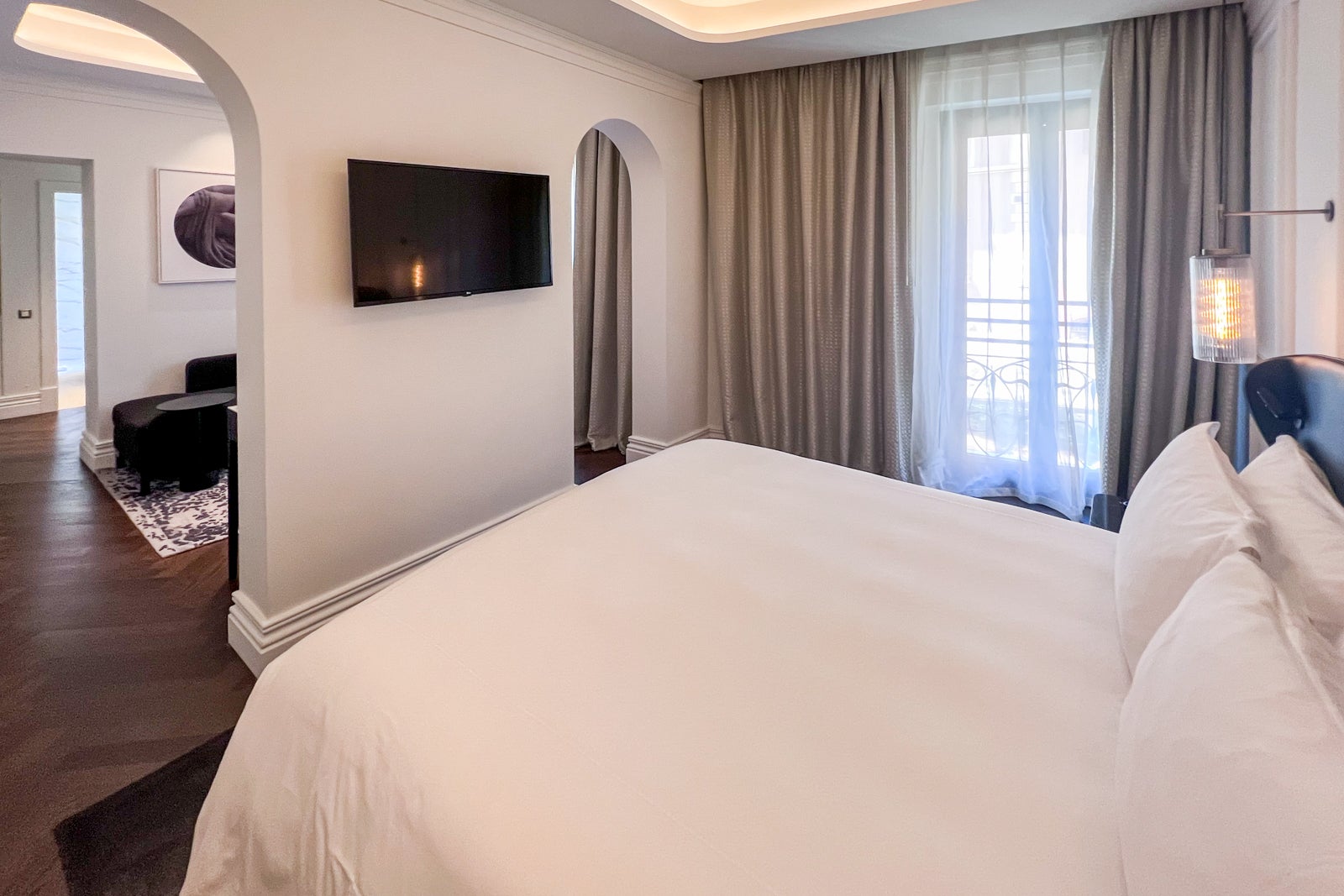 A living area with a small couch and side table, as well as a desk, were great for lounging. The bedroom with a king-size bed was just off this living space behind doorless entryways on either side of the desk. There are smart TVs in both the bedroom and living area, and blackout curtains enable guests to sleep a little more soundly. My room didn't have balcony access, but you can book one (for a higher nightly rate).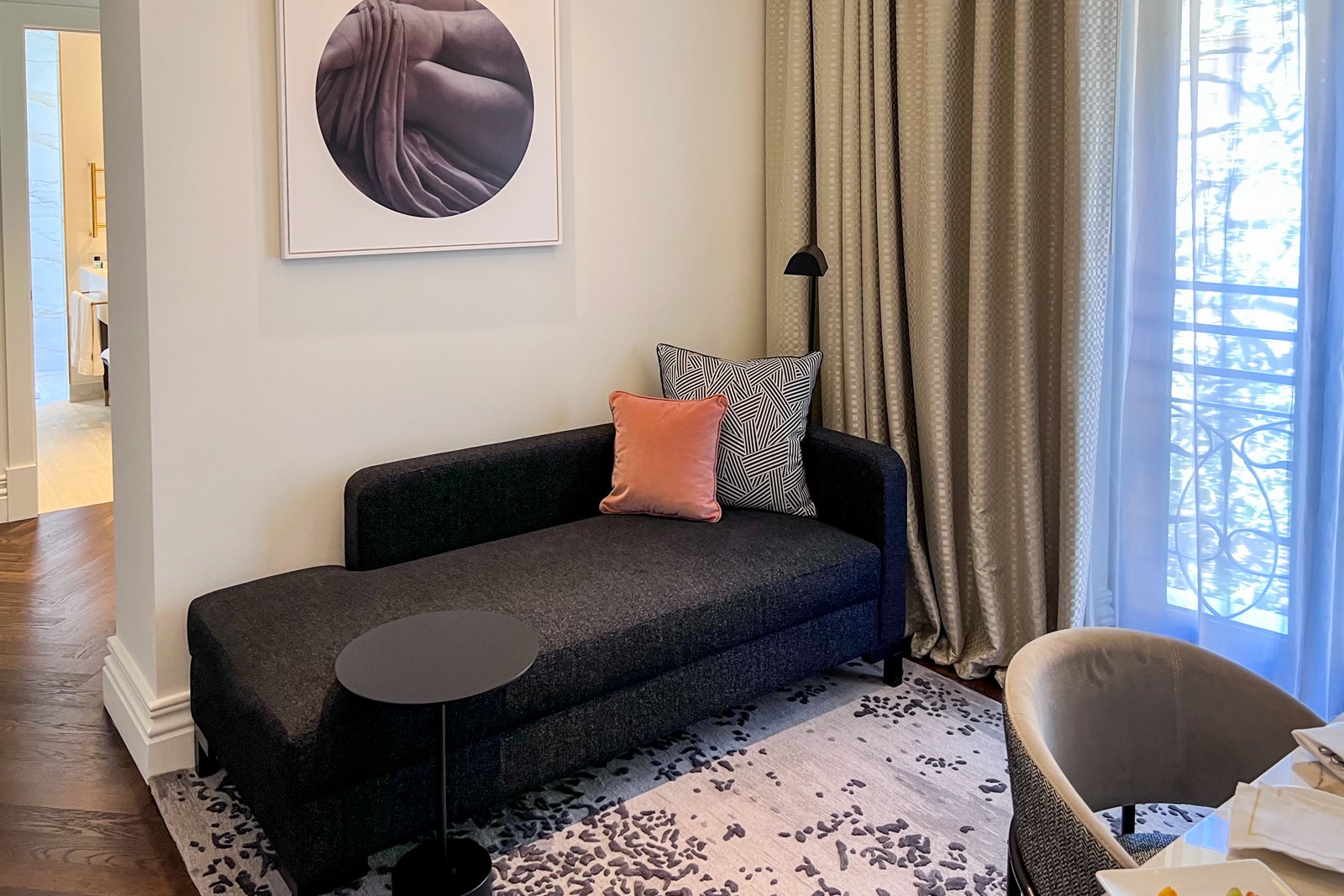 There were some black-and-white prints in the living room and bedroom with museum lighting, but the largely bare walls and picture frame molding gave the space a minimalist elegance without feeling cold. Pops of color came through with brass hardware and pendant lighting over the nightstands, as well as a black leather headboard featuring built-in reading lights.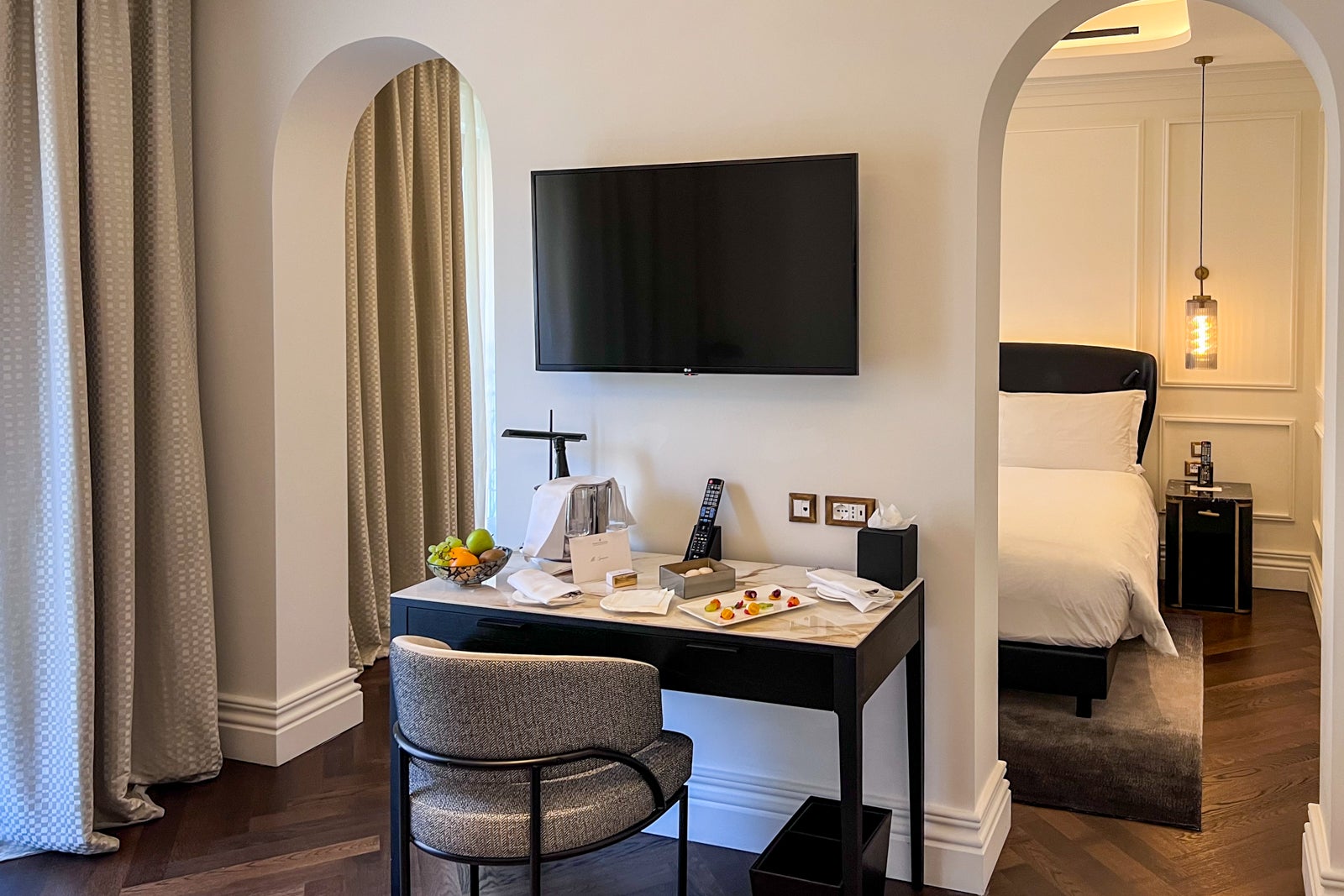 The piece de resistance for me was the bathroom. The space was gorgeous with marble with gold inlay, giving it a luxe look without feeling tacky. Oversized robes and bath sheets were a plus, but the enormous walk-in waterfall shower was an unexpected treat — and not much smaller than some hotel rooms I've encountered. As mentioned, the opaque floor-to-ceiling window in the shower added to the spaciousness.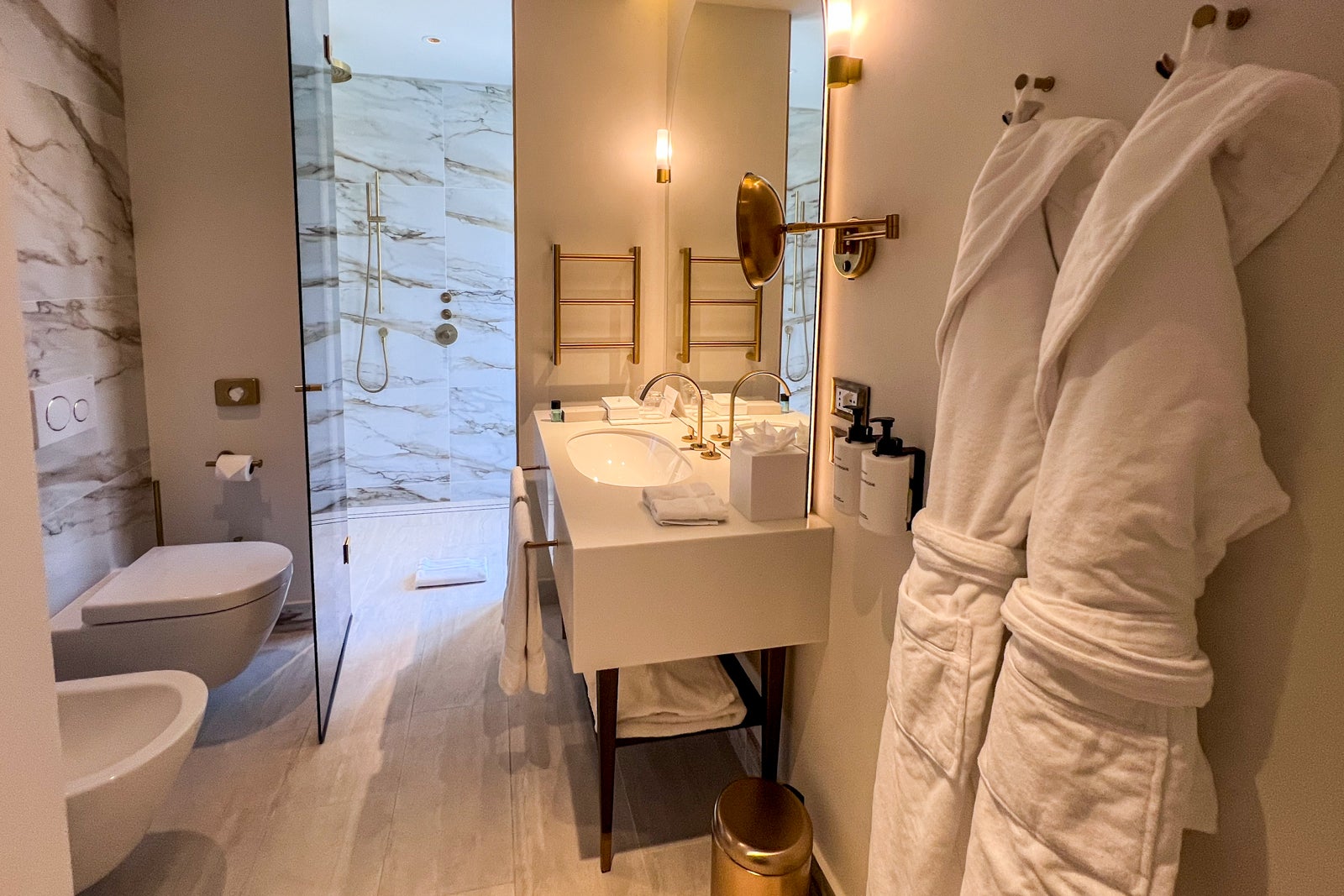 The hotel offered wall-mounted Bal D'Afrique amenities, and there was both a toilet and a bidet. Twice-daily housekeeping is the norm at the InterContinental Rome Ambasciatori Palace.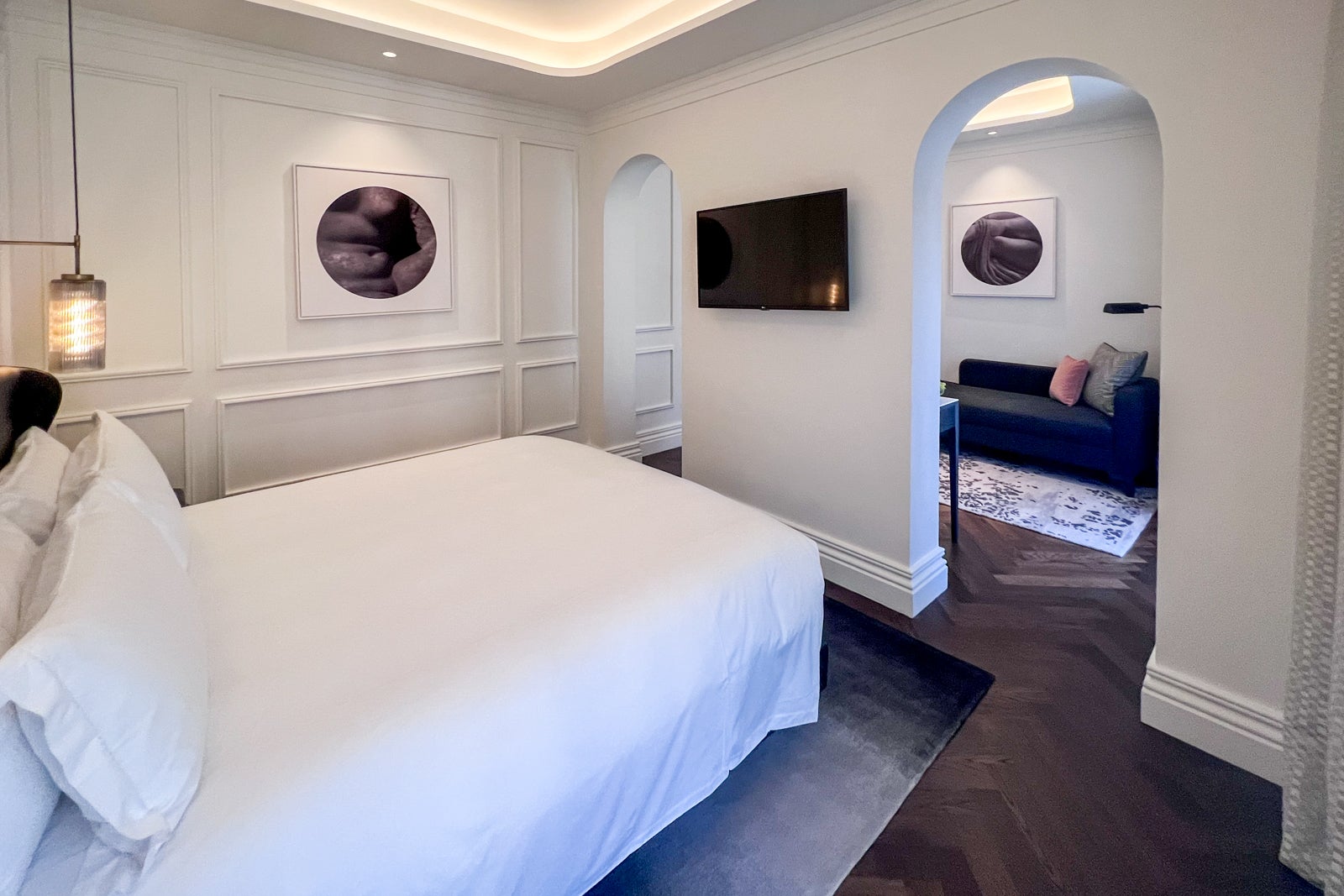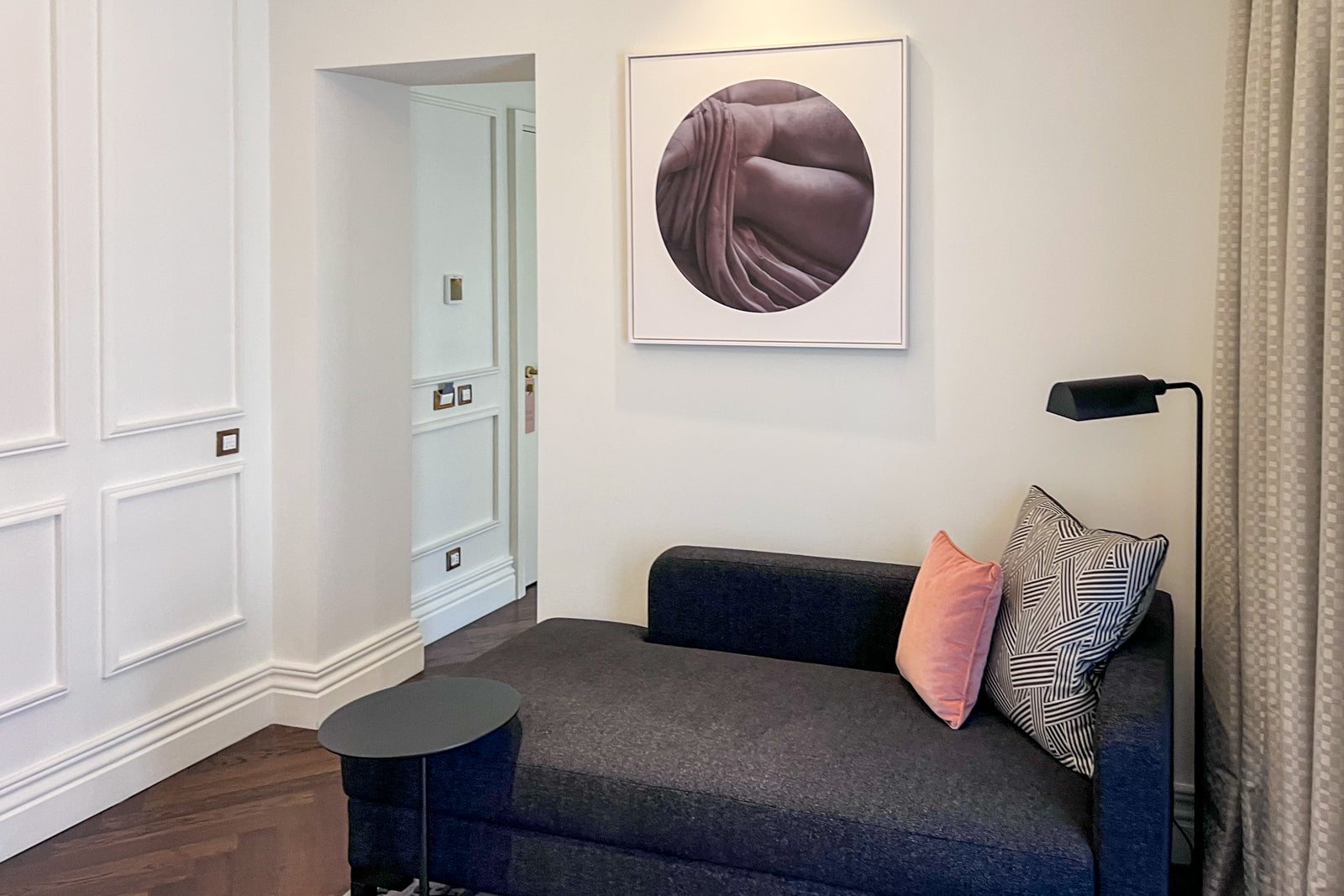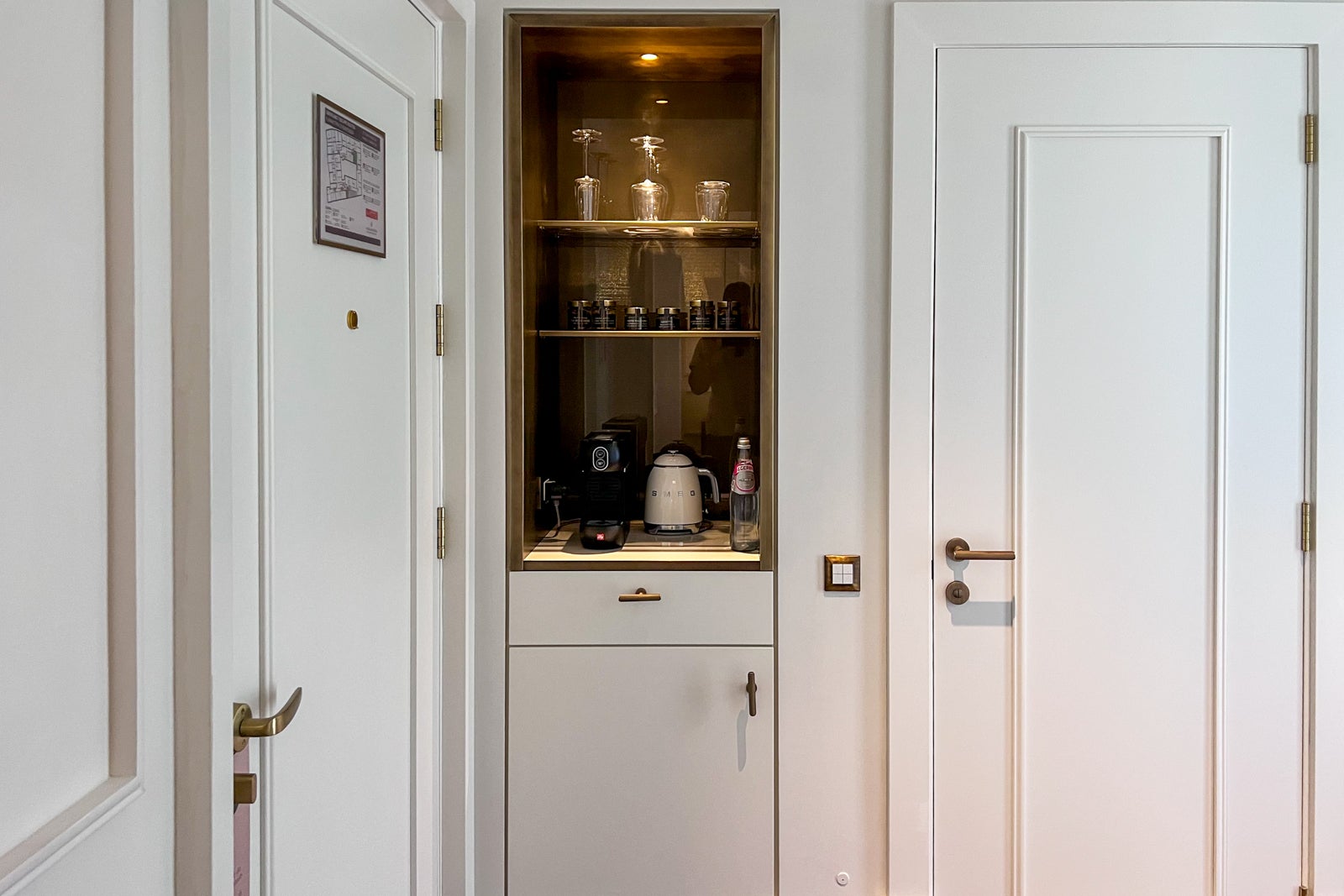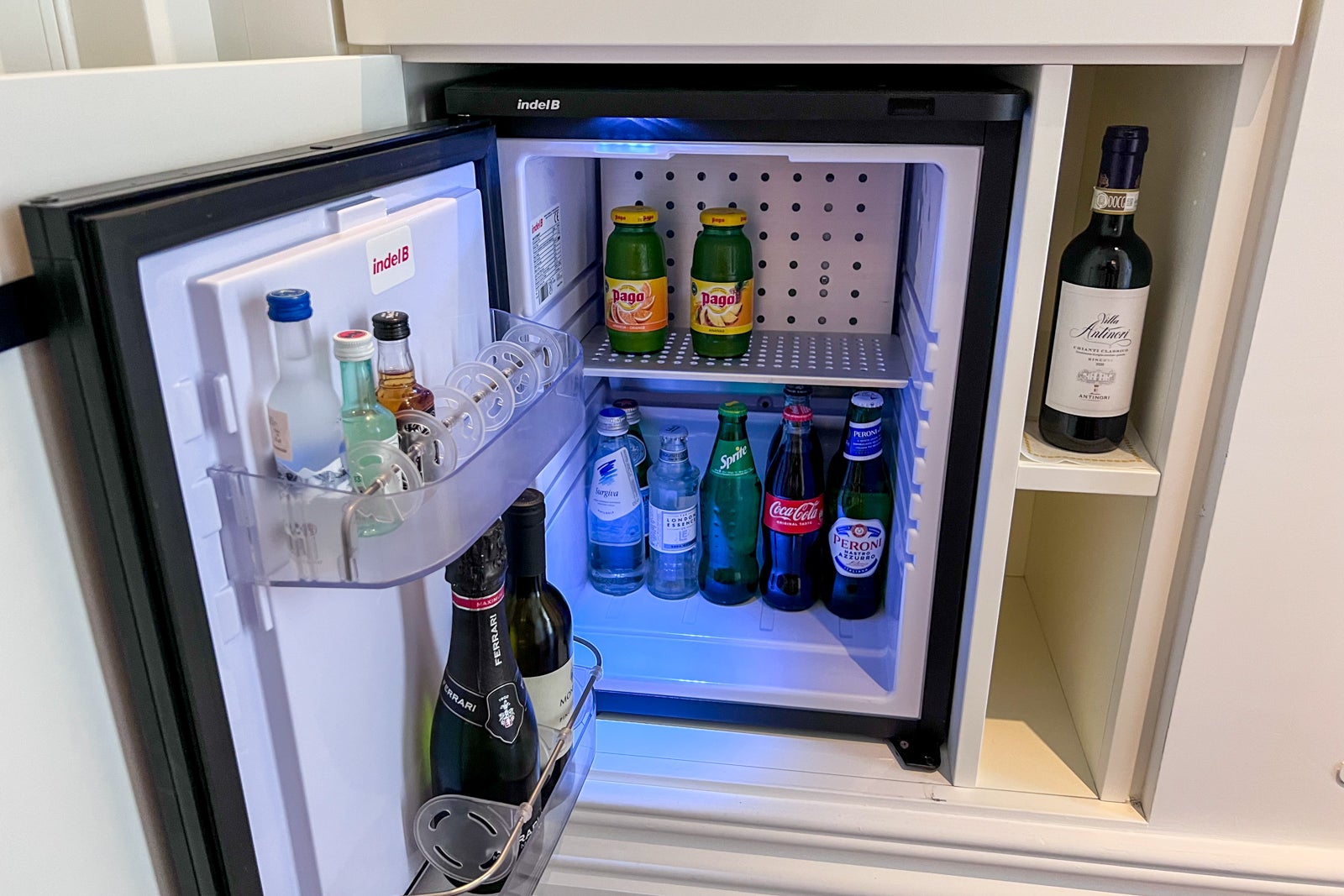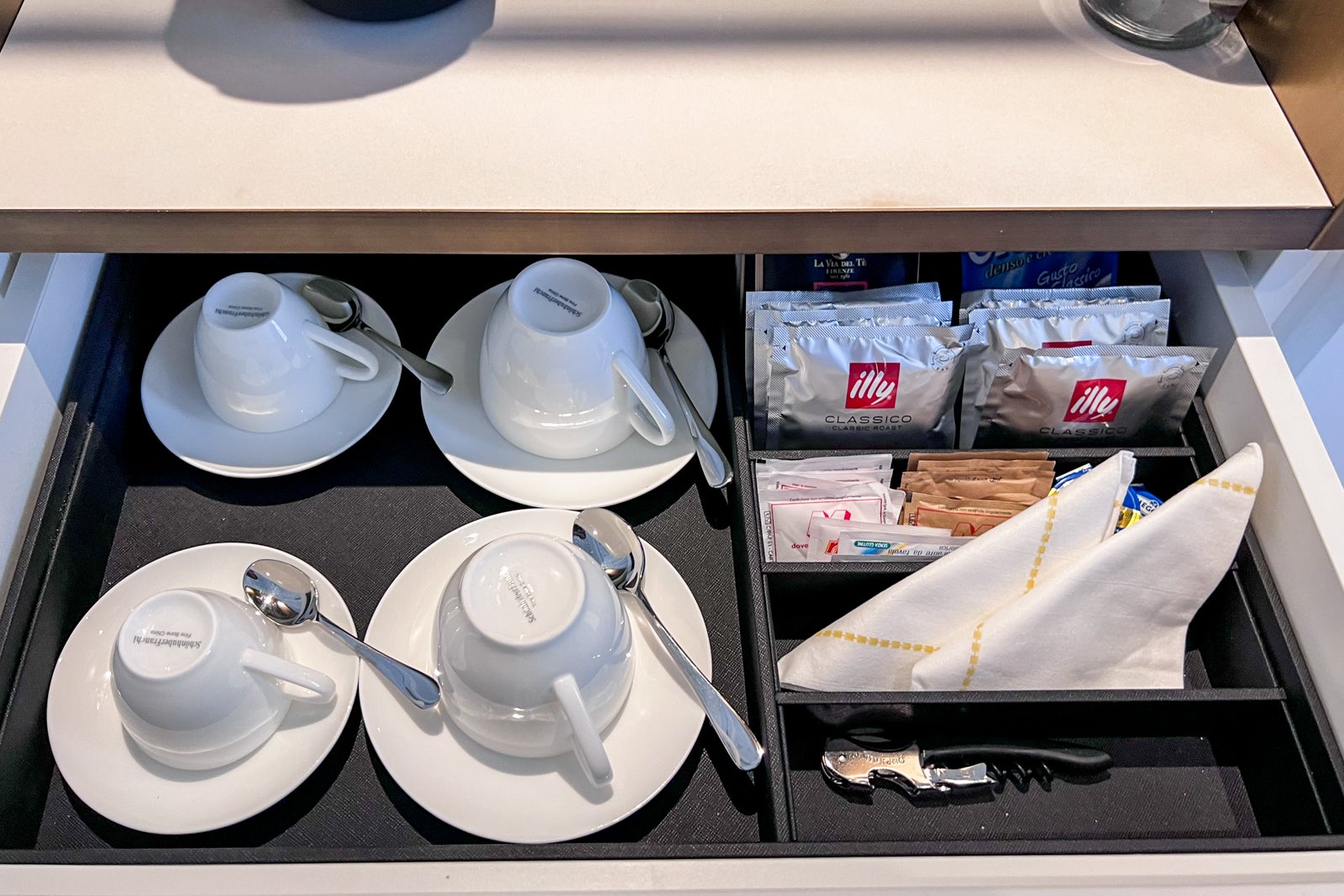 See-and-be-seen dining (and drinking)
Before I had even set foot in the hotel, I scoffed a little at the idea of bringing Scarpetta — a coveted New York City-originating Italian restaurant brand — to a hotel in Rome. But one should not misconstrue this as opening an Outback Steakhouse next to the Sydney Opera House.
The romantic space just off the main lobby features intimate tables and booths in a mix of cranberry and green velvet, wood paneling and dim lighting. A separate bar area with high ceilings is a happy hour hot spot by night and a breakfast buffet by morning.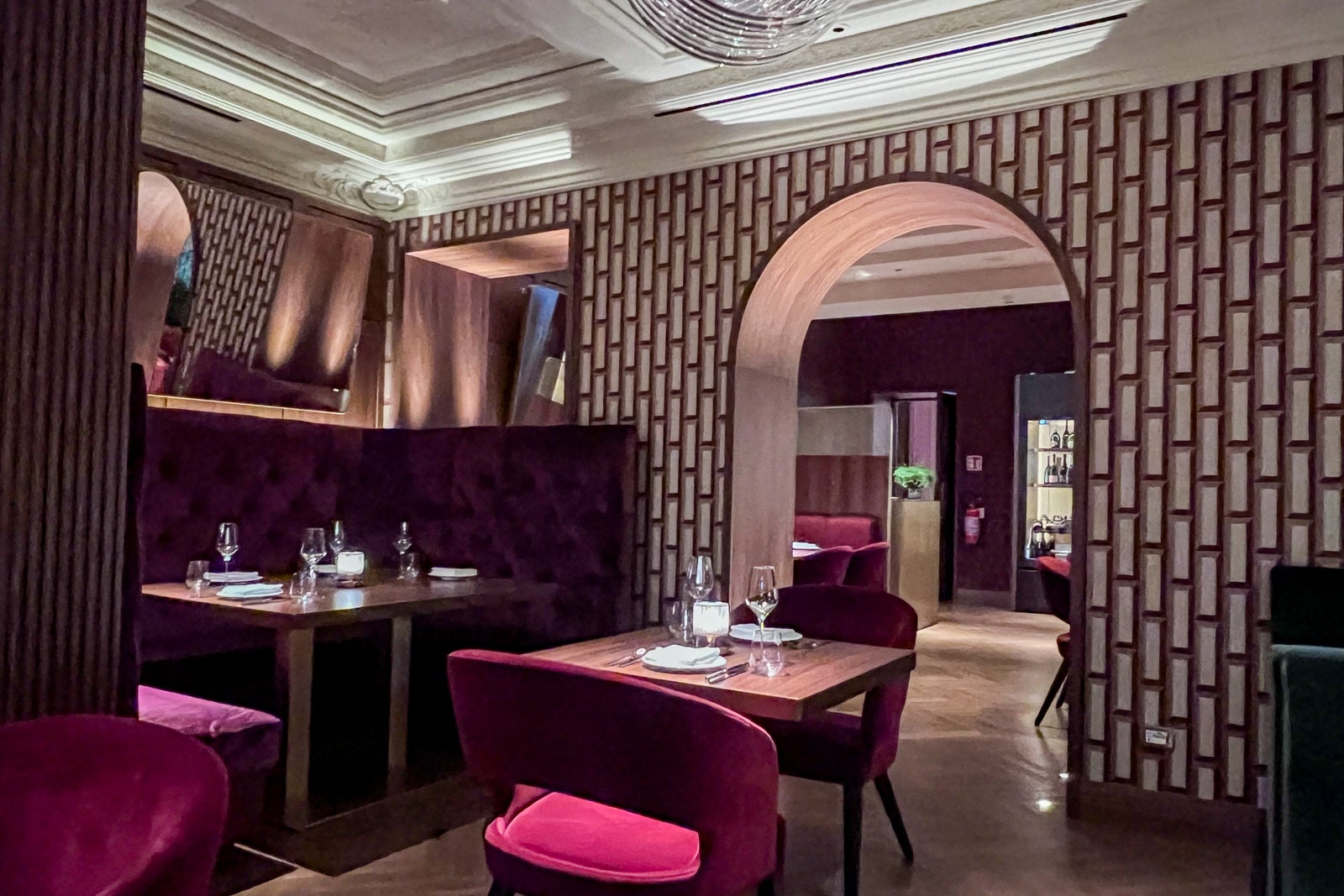 Back in the main dining area, the real hits from Scarpetta came from executive chef Riccardo Ioanna's kitchen.
Little touches like the trio of olive oil, eggplant caponata and mascarpone butter to accompany the bread basket set the stage that this would be a meal all about the details. A chef surprise courtesy of Ioanna featured eggplant caviar and seared black cod topped with a strawberry compote; it was a delightful mix of sweet and savory to kick off the meal.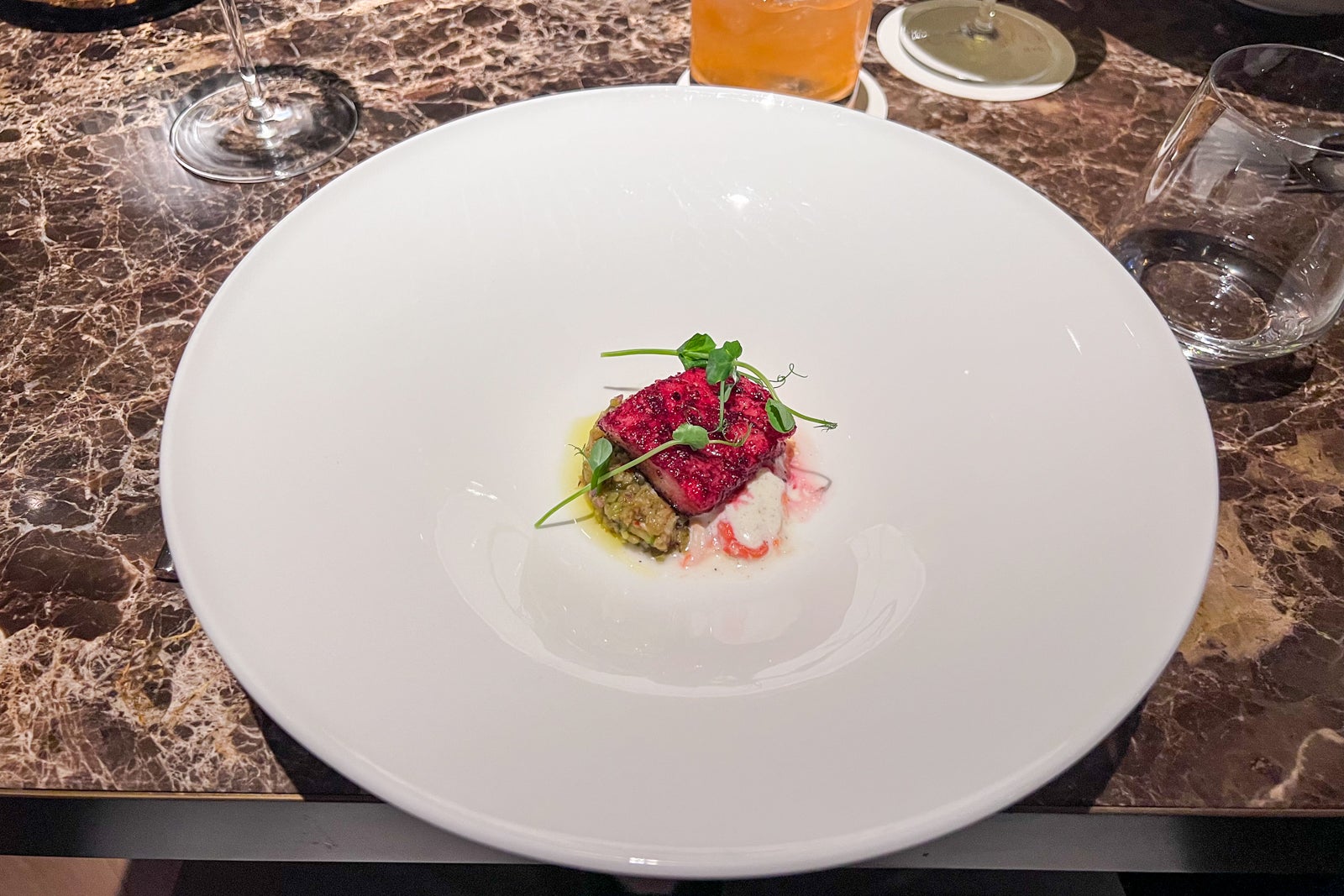 Our waiter was a stellar guide on navigating the menu, and we left him in charge of deciding what must-try dishes we needed to sample. I'm regret not packing a second stomach.
We kicked off the meal with a mix of items from the crudi section of the menu: The Japanese A5 Wagyu "In Smoke" dish (36 euros, or $39) arrived under a smoky dome and included a puffed piece of pastry to pair with the decadent slices of red meat. There was also a hearty tuna sushi roll with carrots, shiitake mushrooms and truffle oil (20 euros, or $22) and a shrimp carpaccio (26 euros, or $28).
Our stomachs were deliciously stuffed and on the verge of a crudi coma by this point, but we couldn't pass up the restaurant's iconic dish. The Scarpetta spaghetti (22 euros, or $24) was a perfect final carb of our week (ok, fine, maybe the final carb of that day) in Italy with its simple yet tasty combination of basil, tomato and parmesan cheese. It, too, arrived at the table under a dome and presented with a fun flourish. Who doesn't love a grand reveal with their pasta?
I'm happy to report the taste had as much wow factor as the presentation.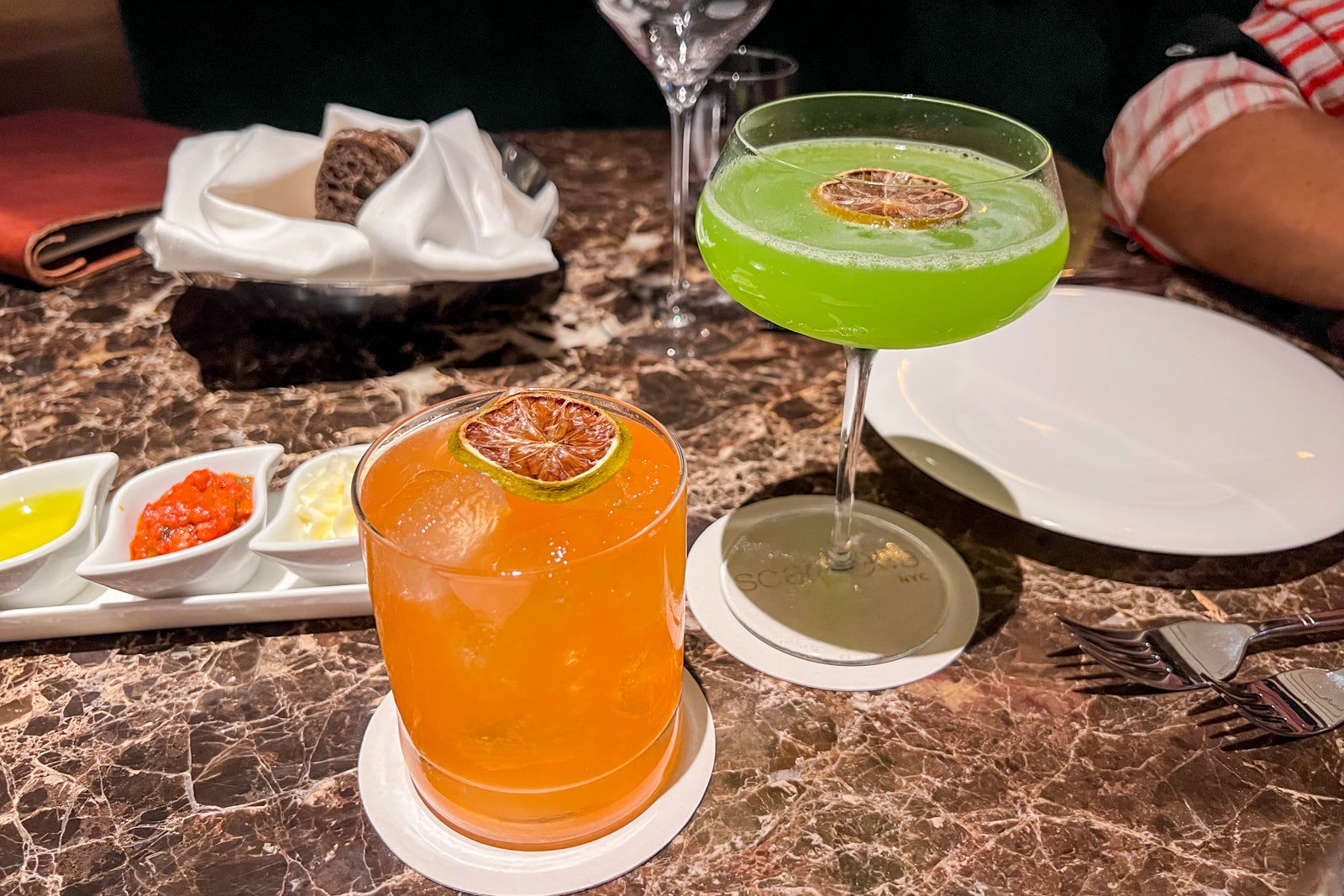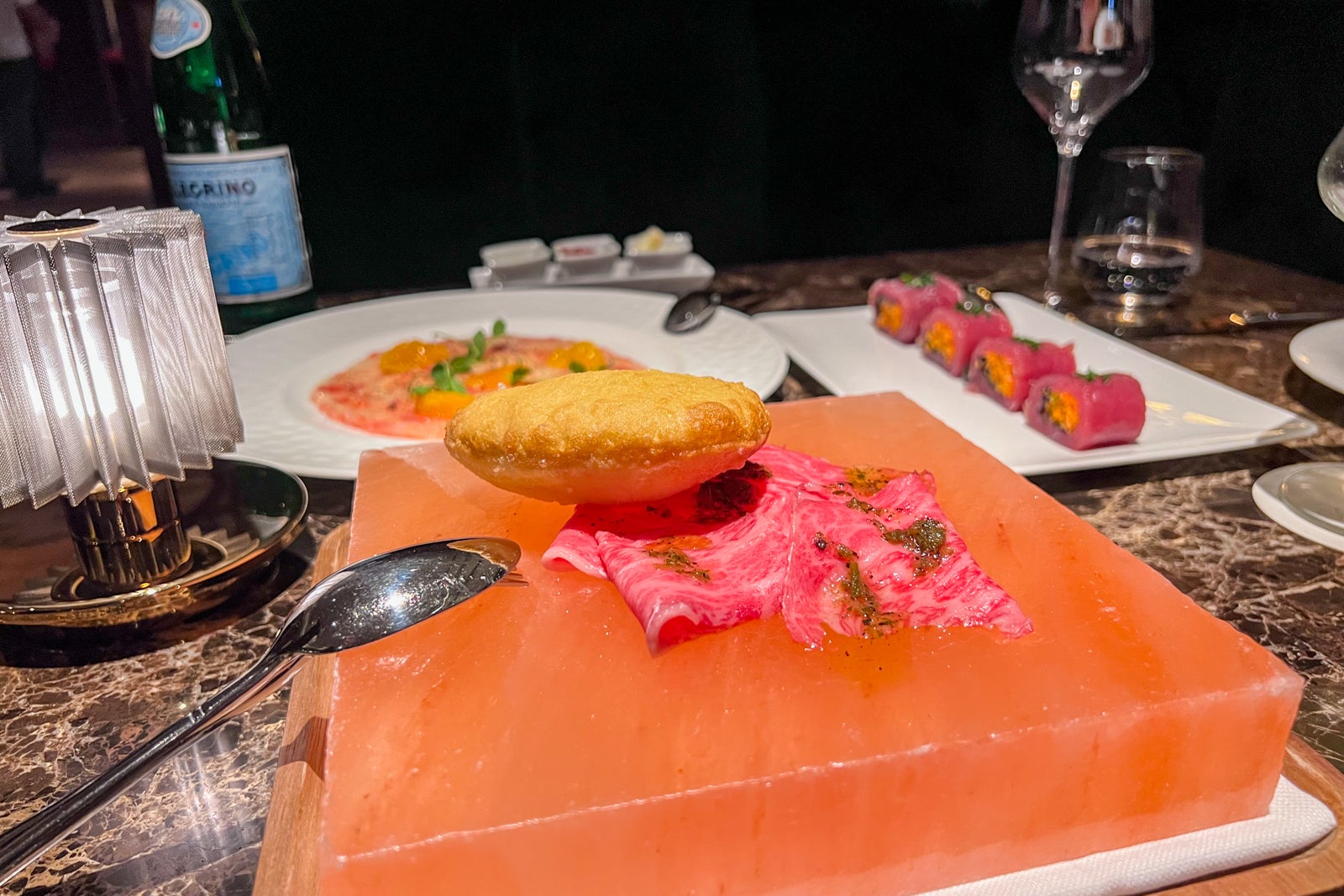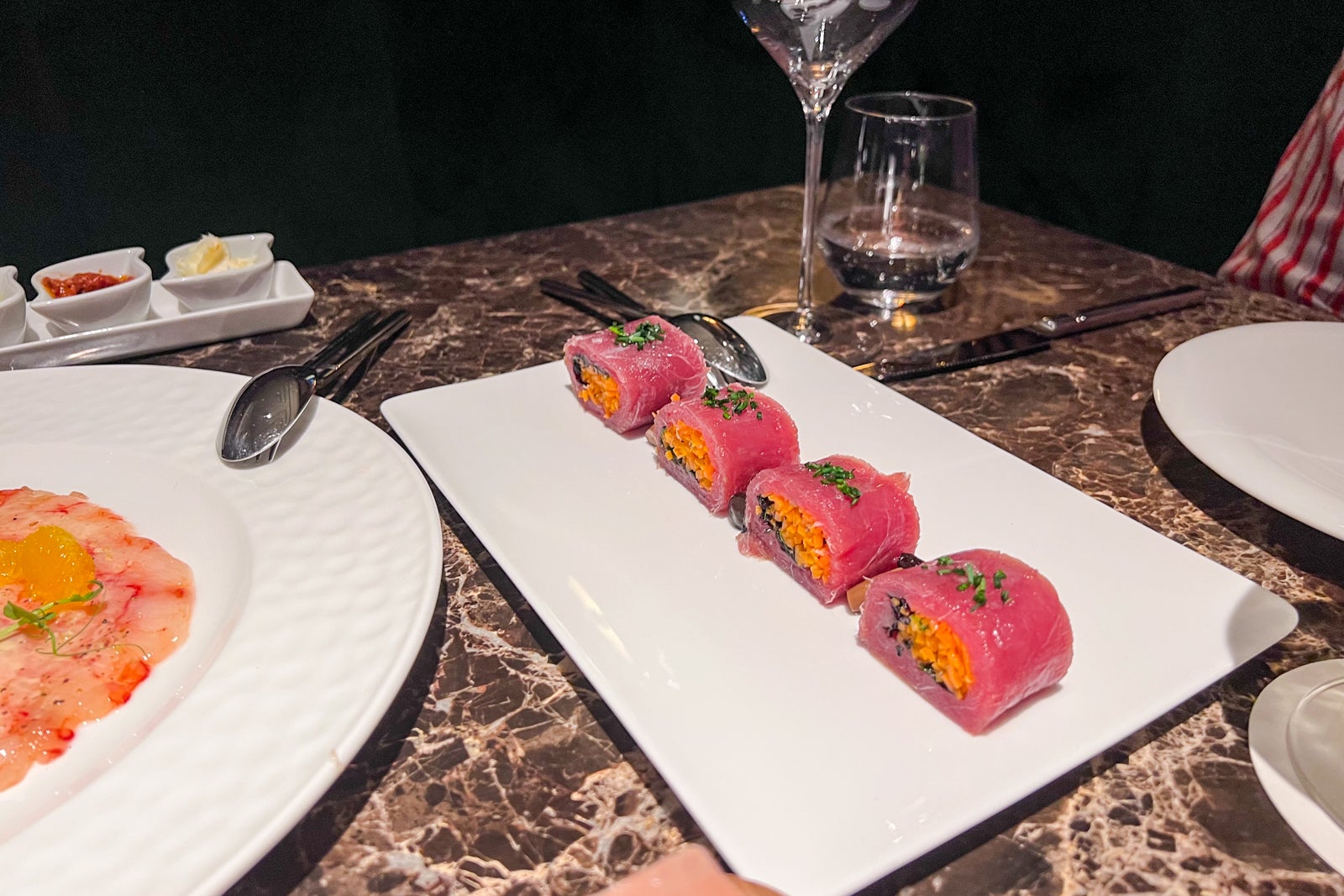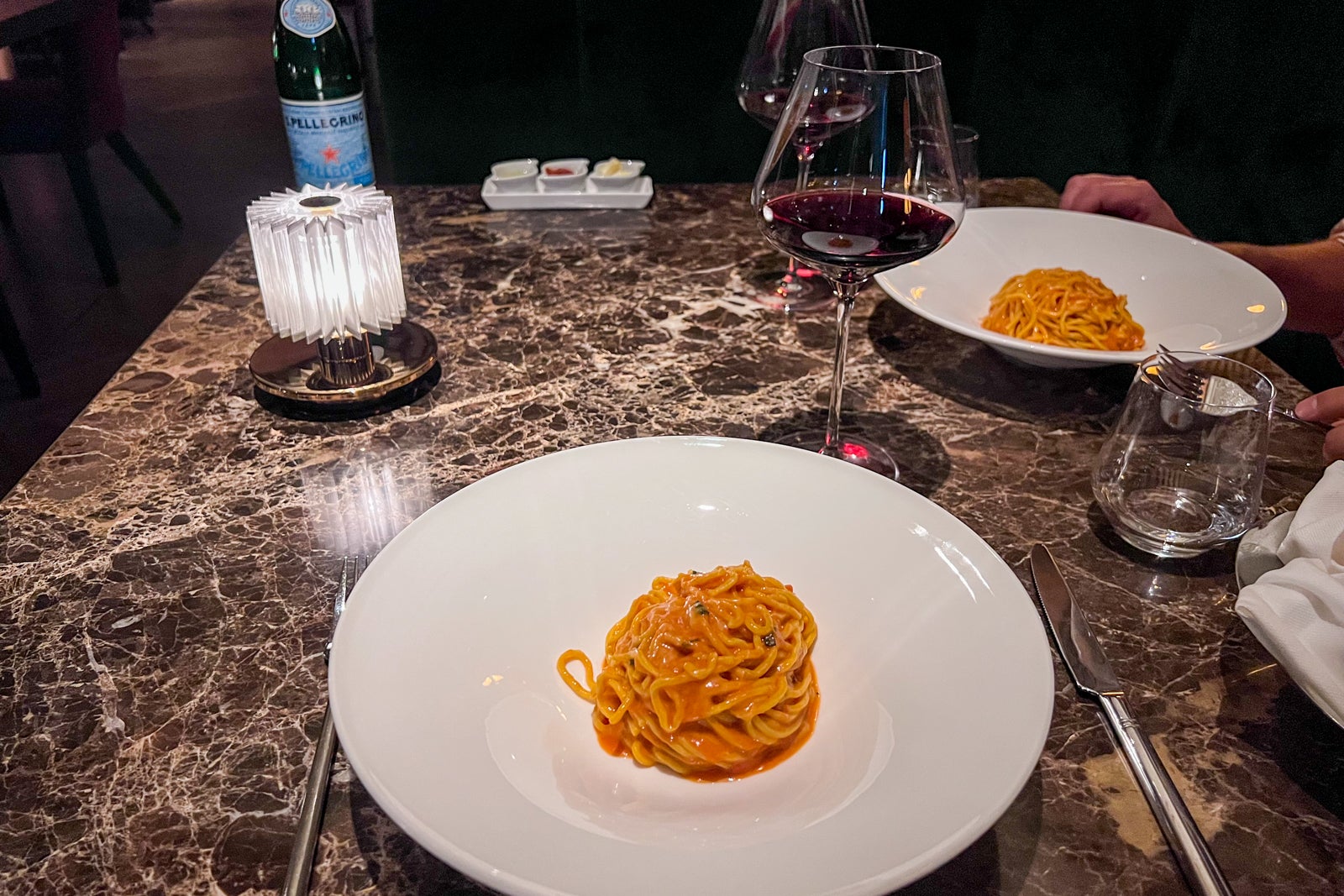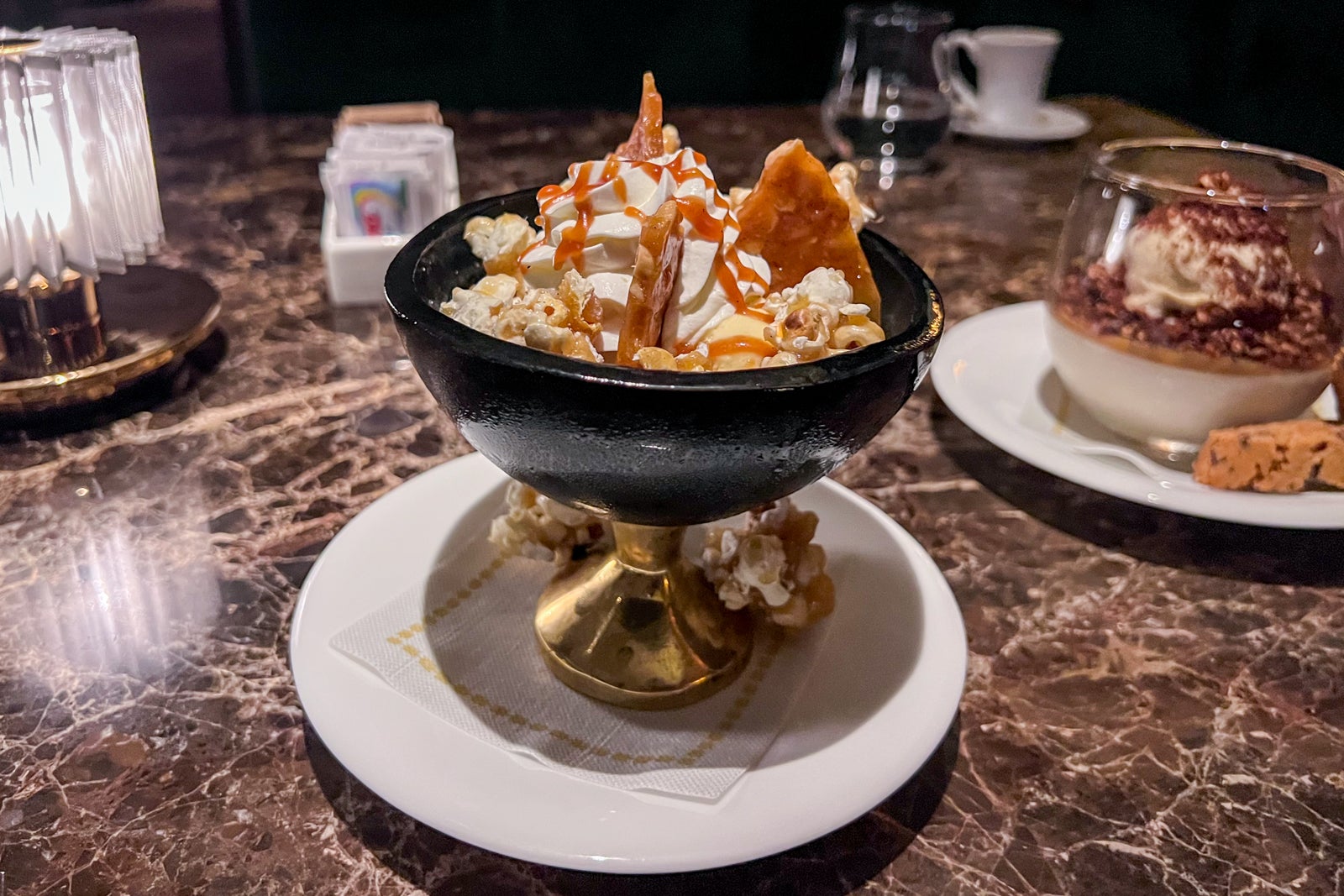 On the drinks front, we sampled the Margherita Italiana (16 euros, or $17) — an Italian twist with tequila, Aperol and Cointreau. The Negroni Mediterraneo (also 16 euros, or $17) was a fun summery update to the classic Italian cocktail with tangerine Campari. There was also a Cracker Jack Sundae (14 euros, or $15) comprised of caramel popcorn and peanut brittle that was a decadent sweet treat to cap the meal.
Service was fast and highly attentive without being overbearing, and we even shared a few laughs over how daring it was to bring a New York Italian spot to Rome. (The staff is largely Italian and Ioanna was born in Puglia for those actually concerned by this.)
In Italy, "Scarpetta" means the act of sopping up the sauce left on a plate with bread. Let's just say there was plenty of Scarpetta-ing at our table that night.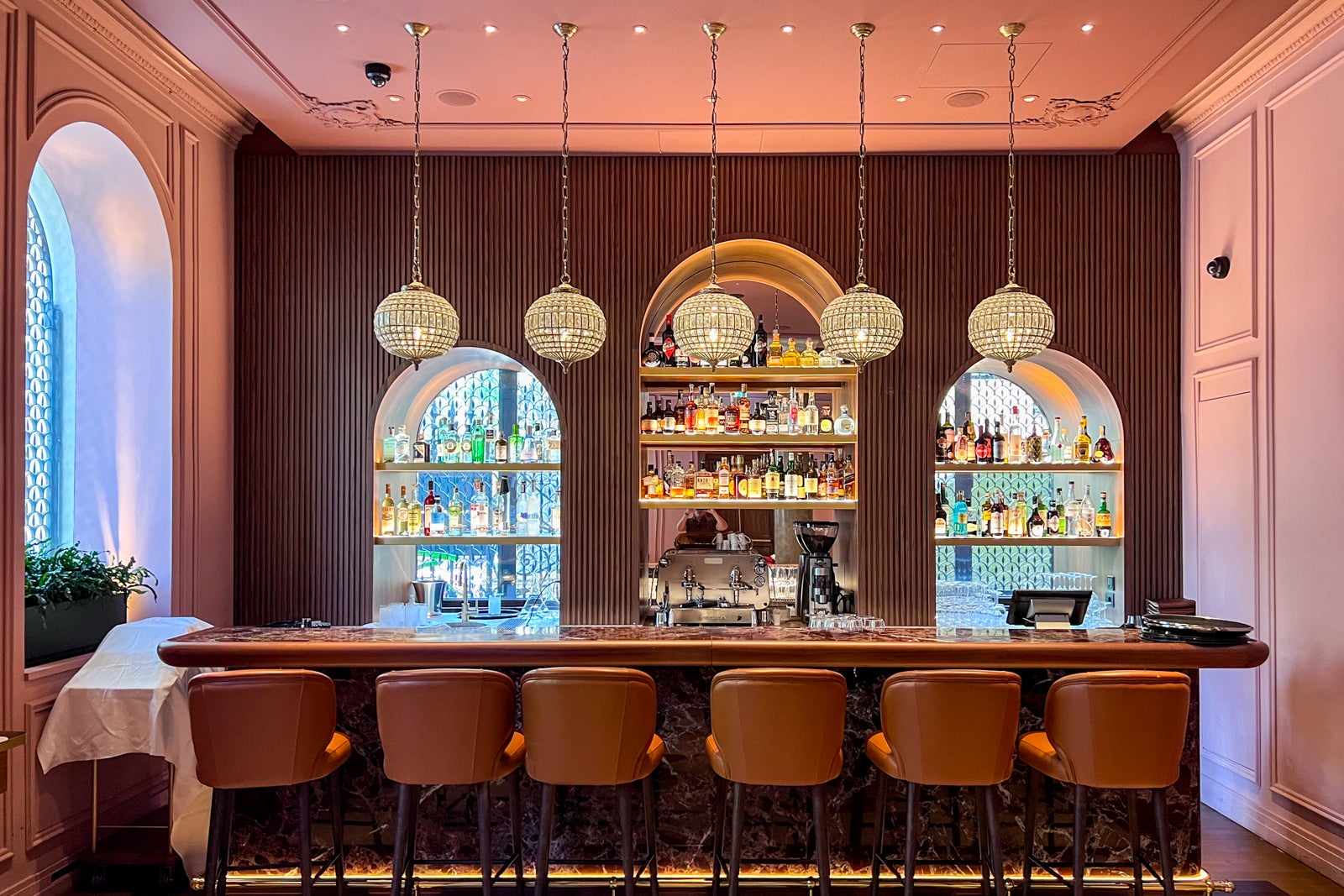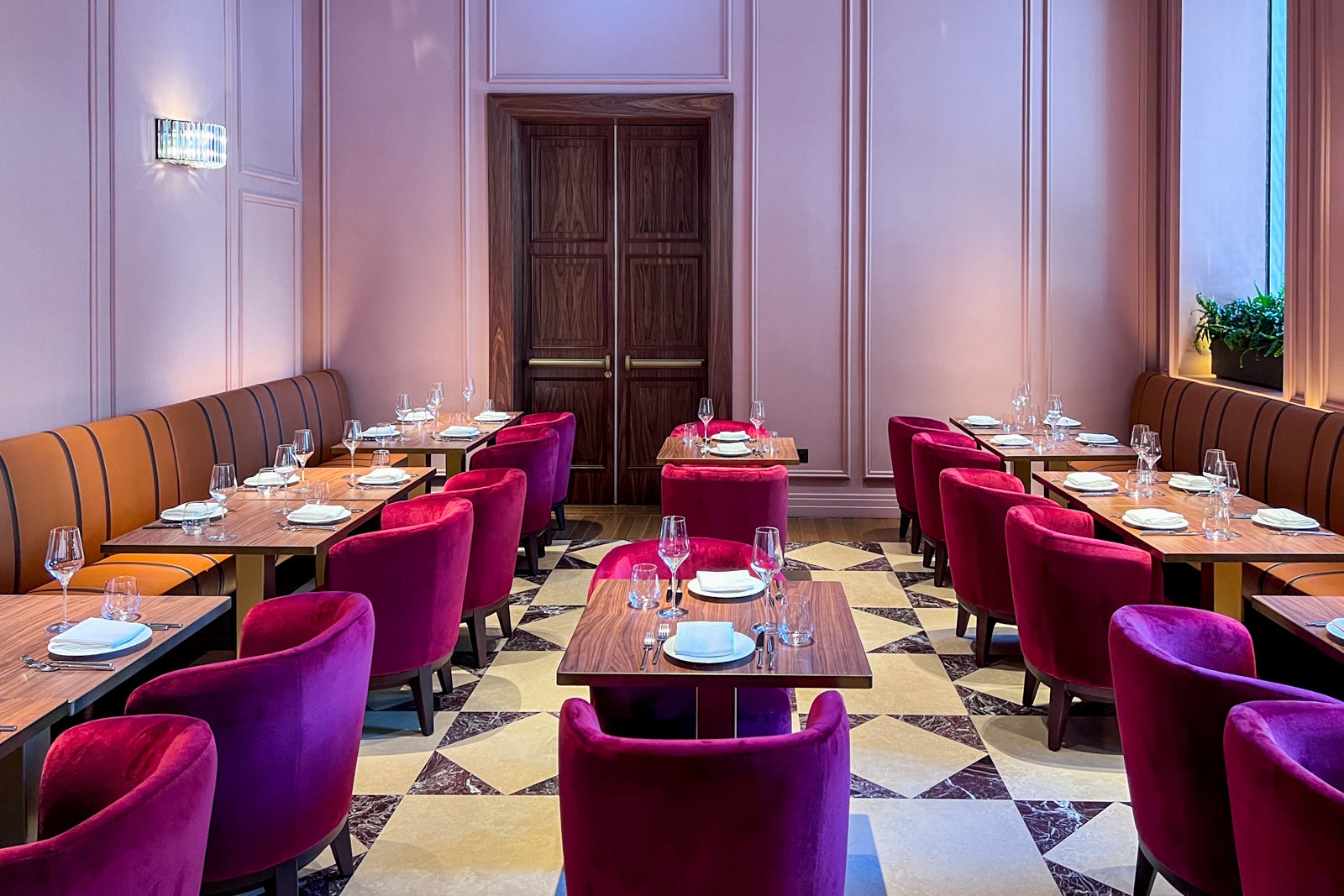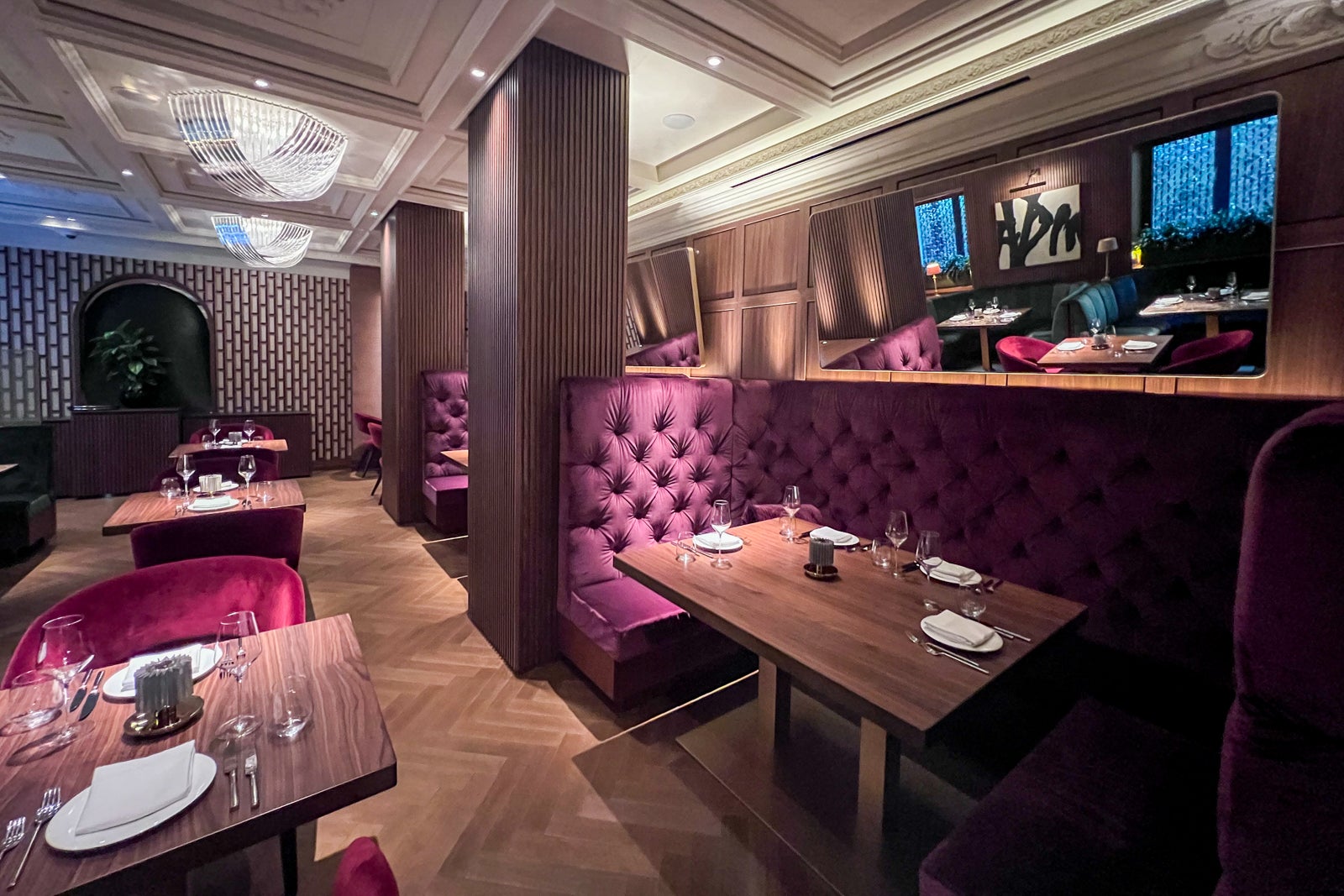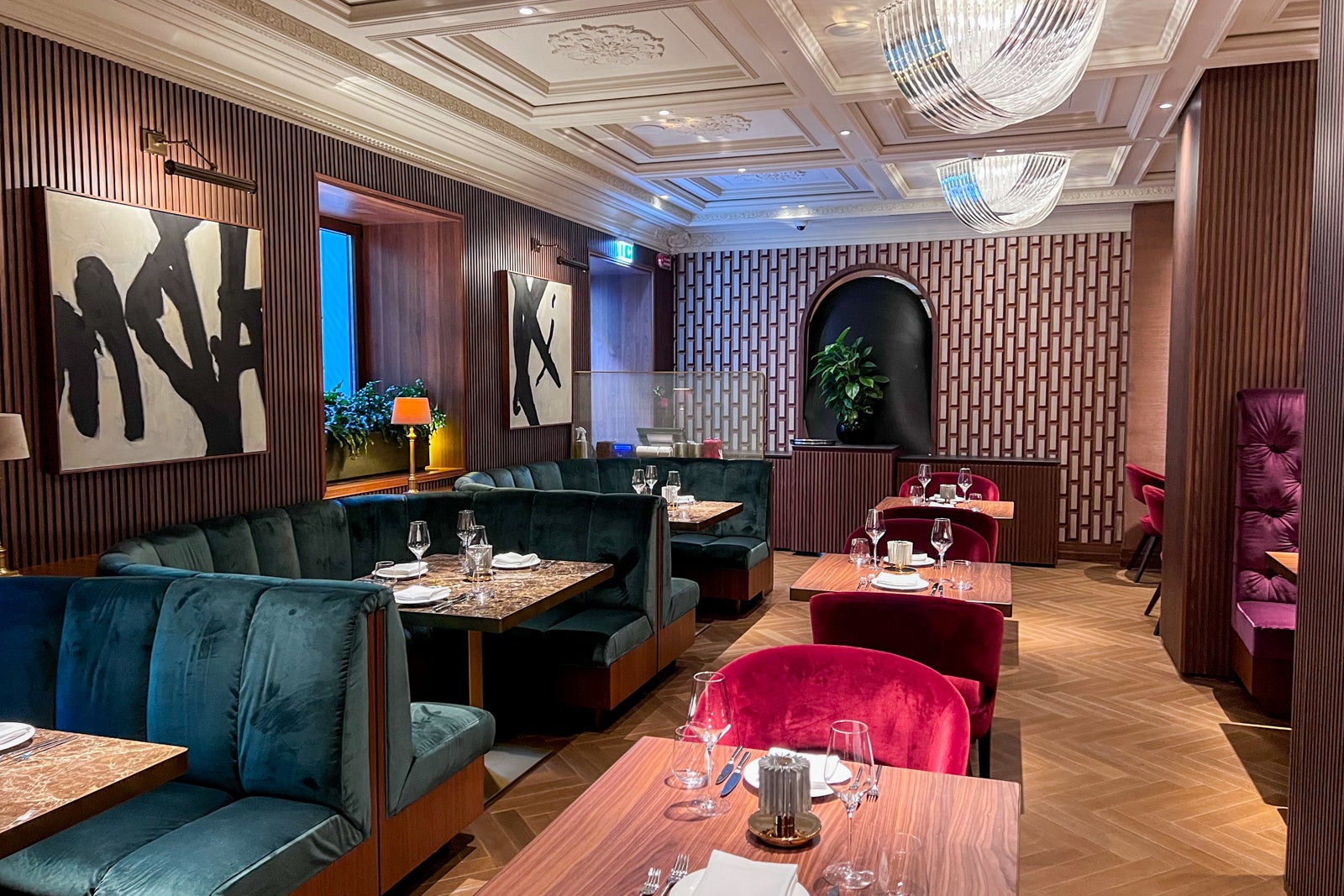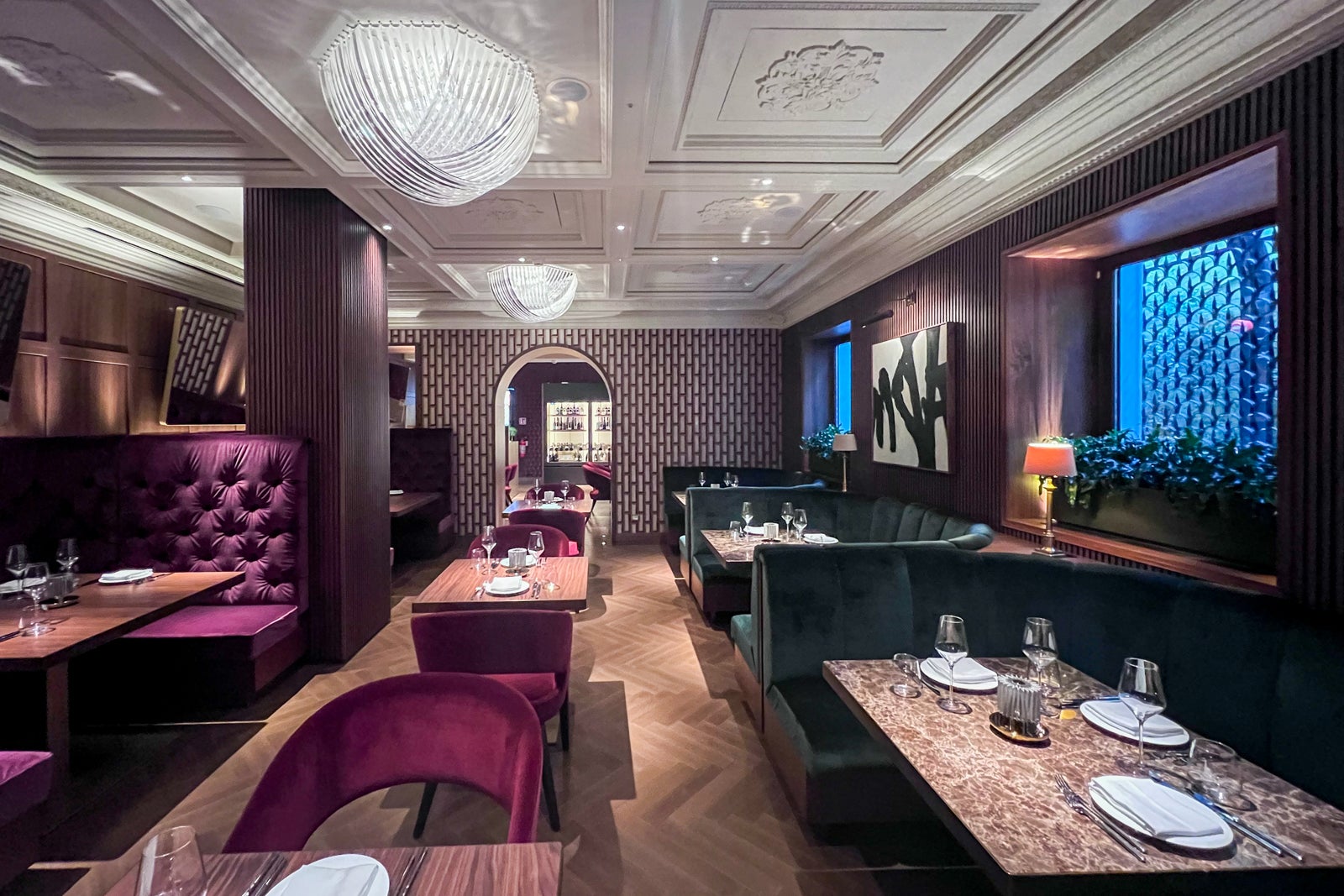 Upstairs, Charlie's Rooftop Bar — owned by Scarpetta's parent company LDV Hospitality — is a sleek indoor-outdoor place. It serves evening cocktails perfect for kicking off the night or enjoying as a nightcap on your way back to your room. A DJ keeps things lively and melodic, and fun staff offers recommendations on a litany of cocktails. The 23 euro ($25) mezcal and rhubarb Dancing Embers was a personal favorite.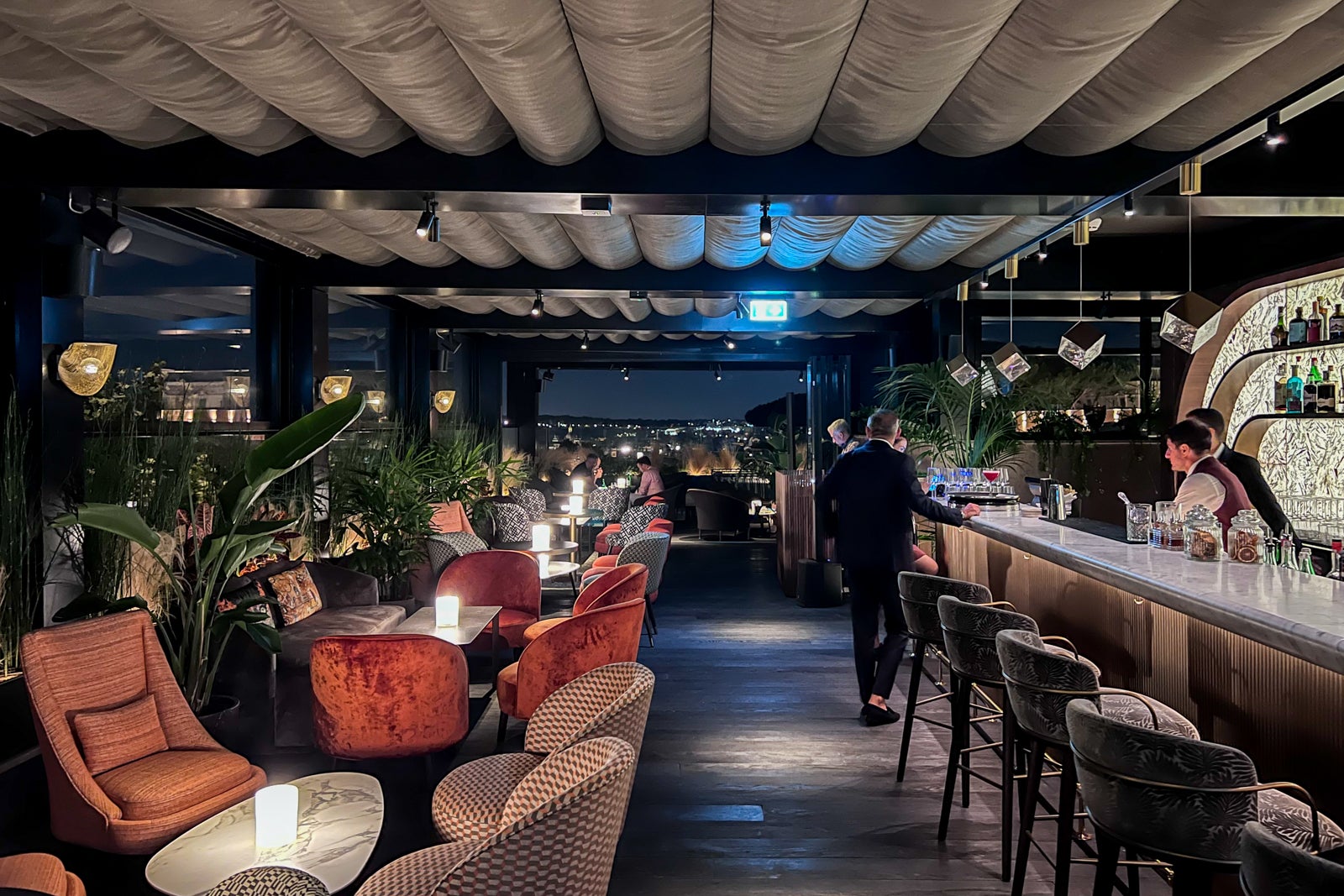 Be sure to check out the bathrooms at Charlie's for a mix of eclectic wallpaper depicting various scenes of monkeys, tigers and pandas having quite the party in the jungle. Of course, the showstopper here is the view of the Eternal City.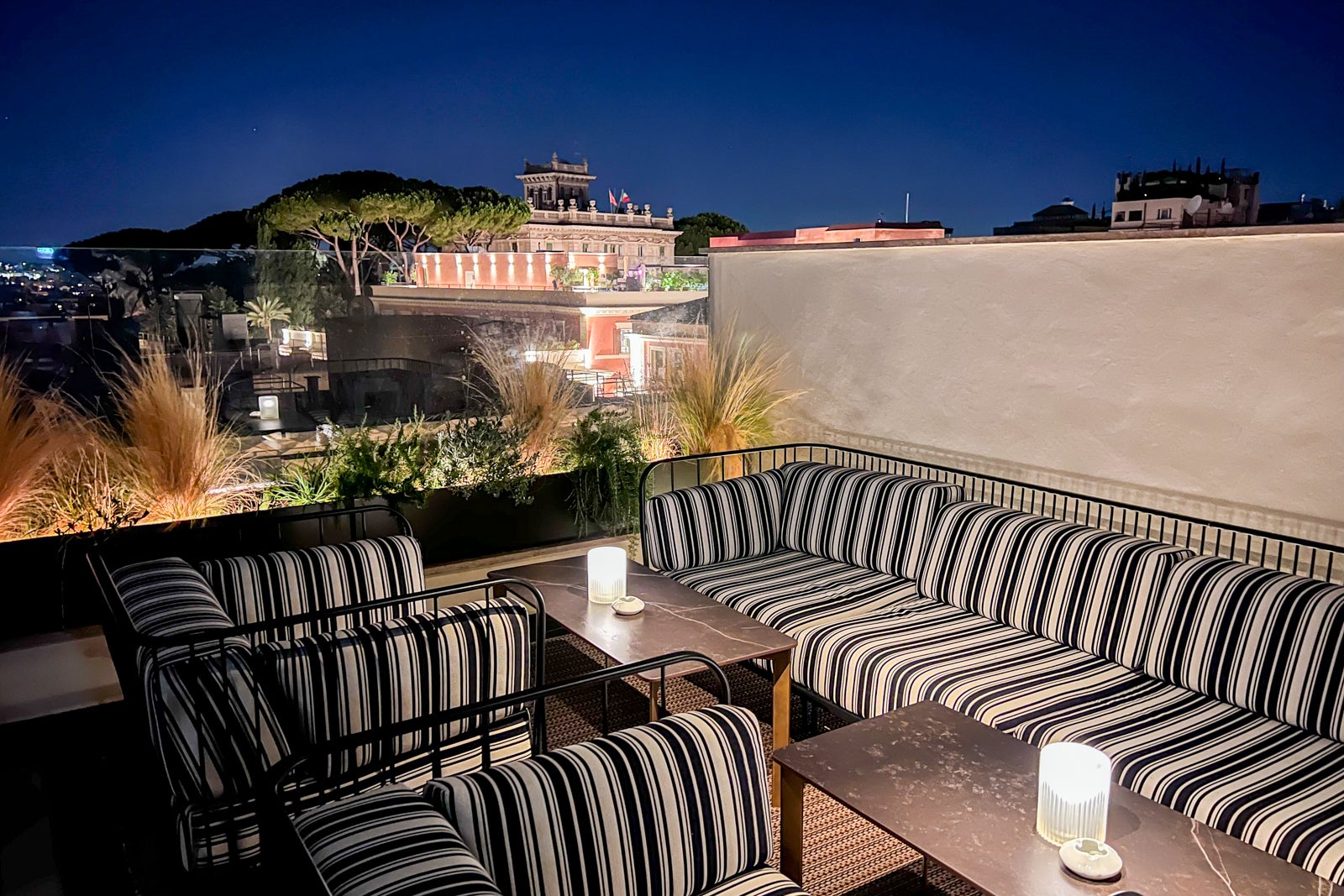 Charlie's has a nod to New York City in design, with various black-and-white photos in the entry hallway leading to the bar. That, coupled with its downstairs sister restaurant's New York roots, might be a little baffling to guests (and potentially a turn-off to those looking for a little more Roman flavor in, well, Rome). But it ultimately pays off with delicious drinks and food I'm still thinking about weeks after checkout.
Rounding out the InterContinental's dining trio, Anita's off the main lobby is the hotel's all-day bar and lounge concept. It houses some of the morning breakfast buffet (one of the largest spreads I saw over the span of more than a week in Italy). The inviting library vibe is perfect for sipping coffee and reading a book or feasting on the wide array of charcuterie, fresh fruit, pastries and made-to-order eggs available in the morning.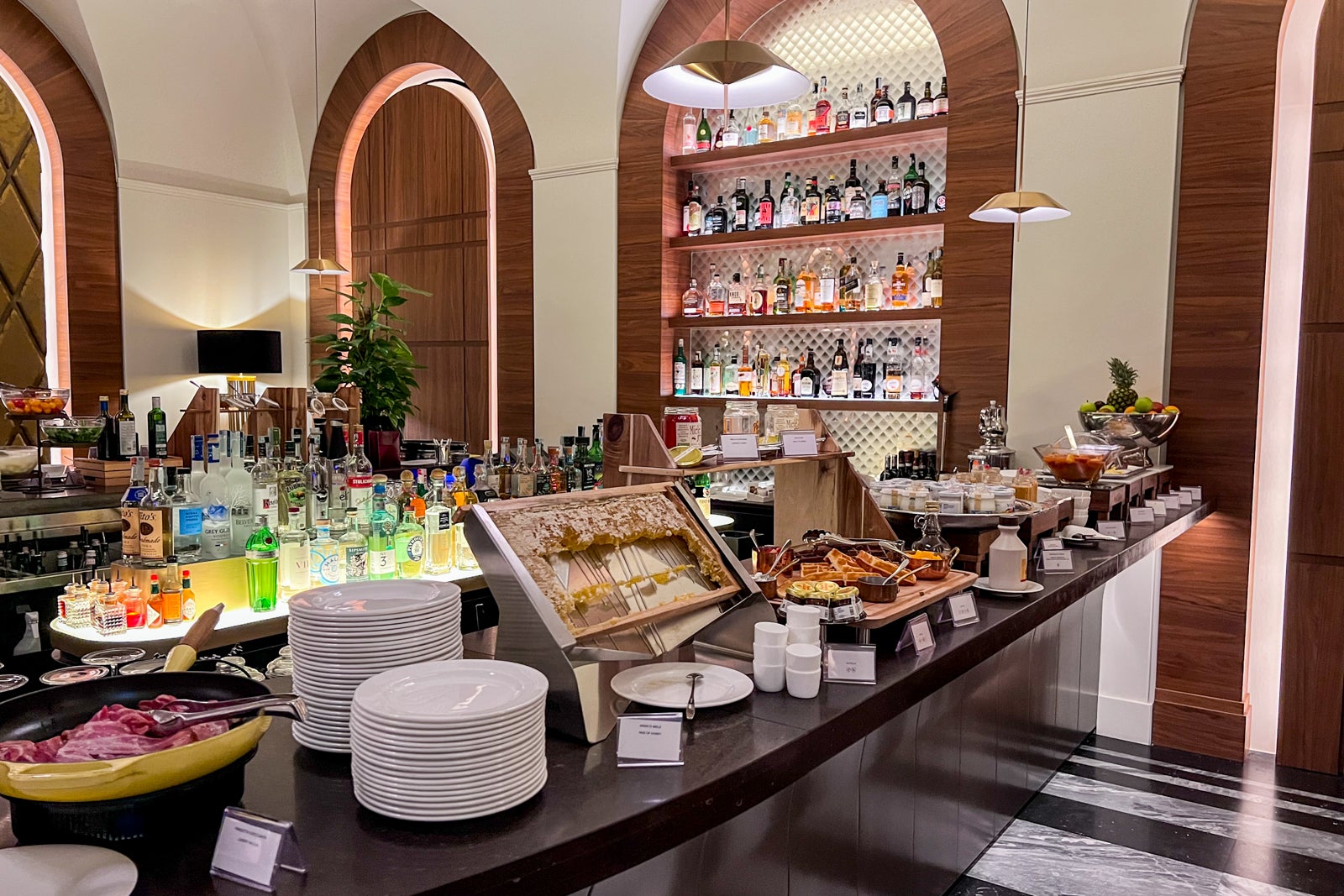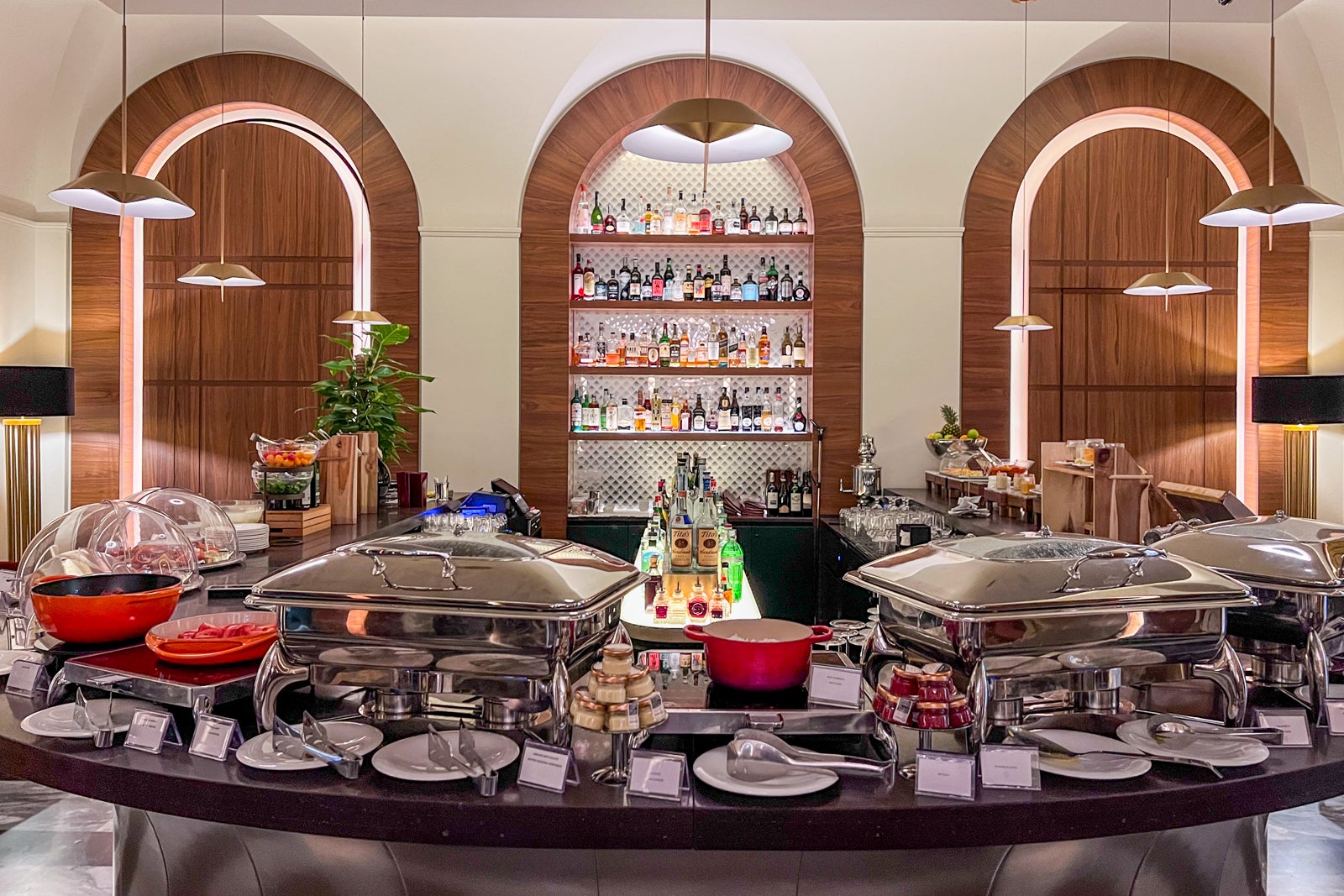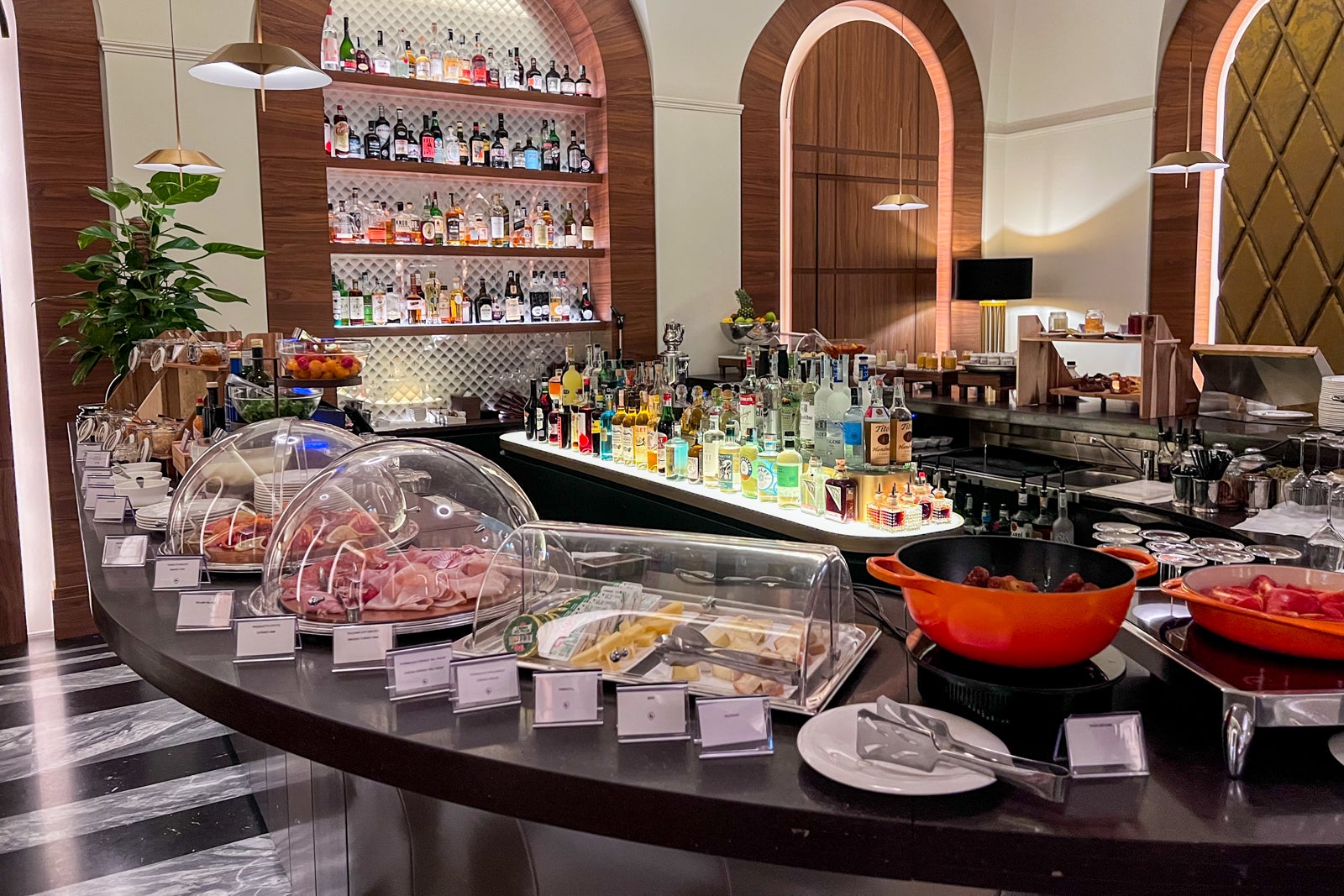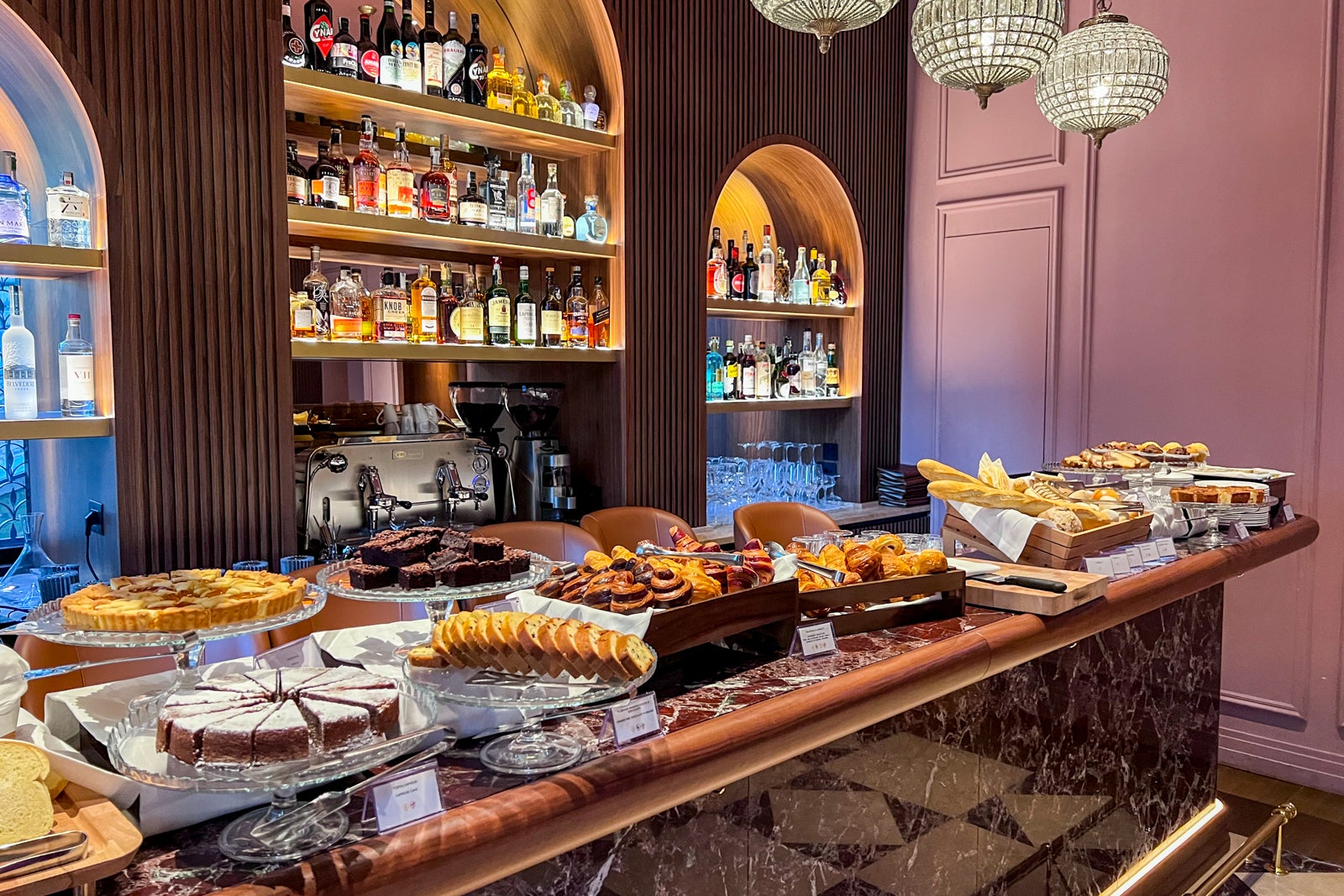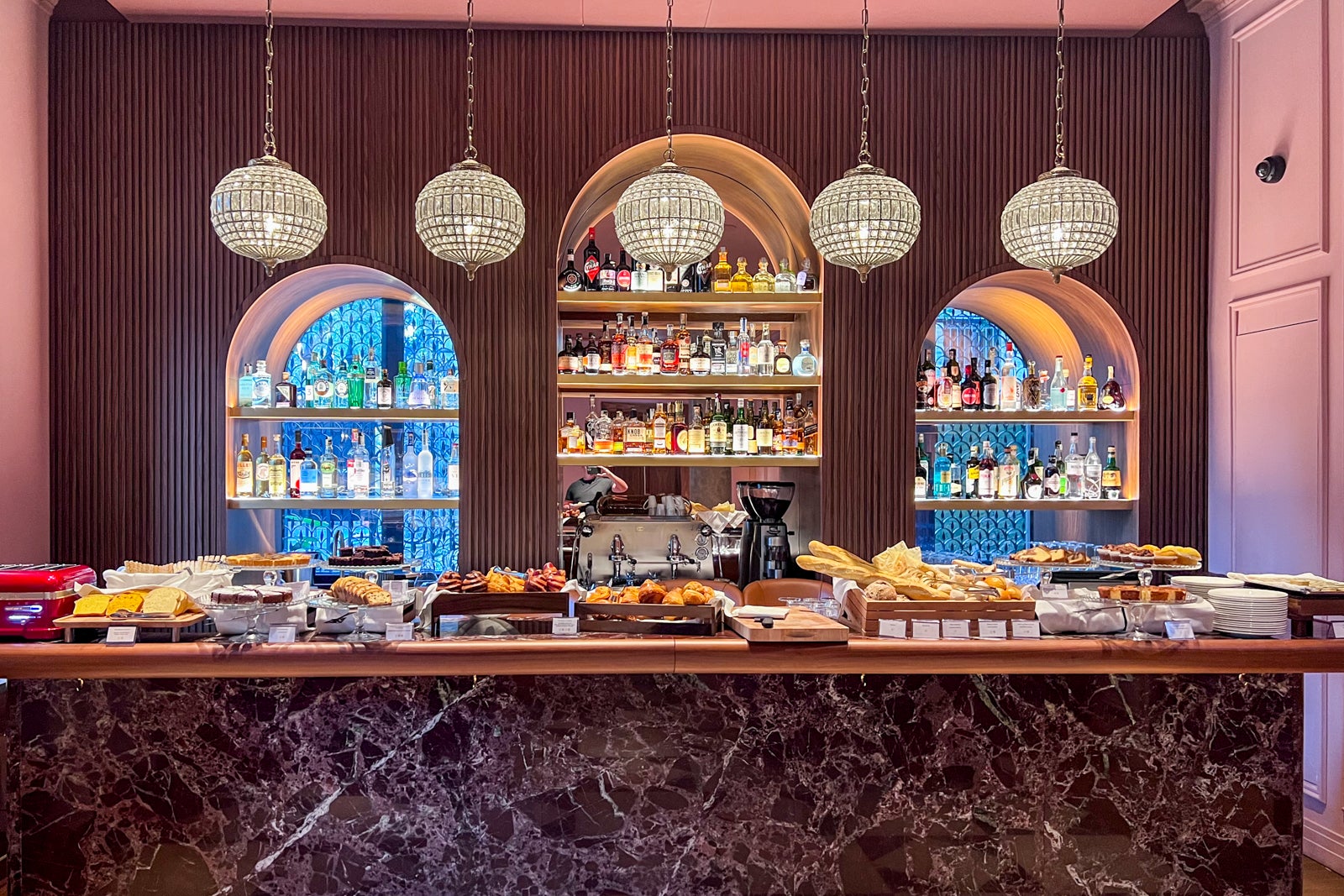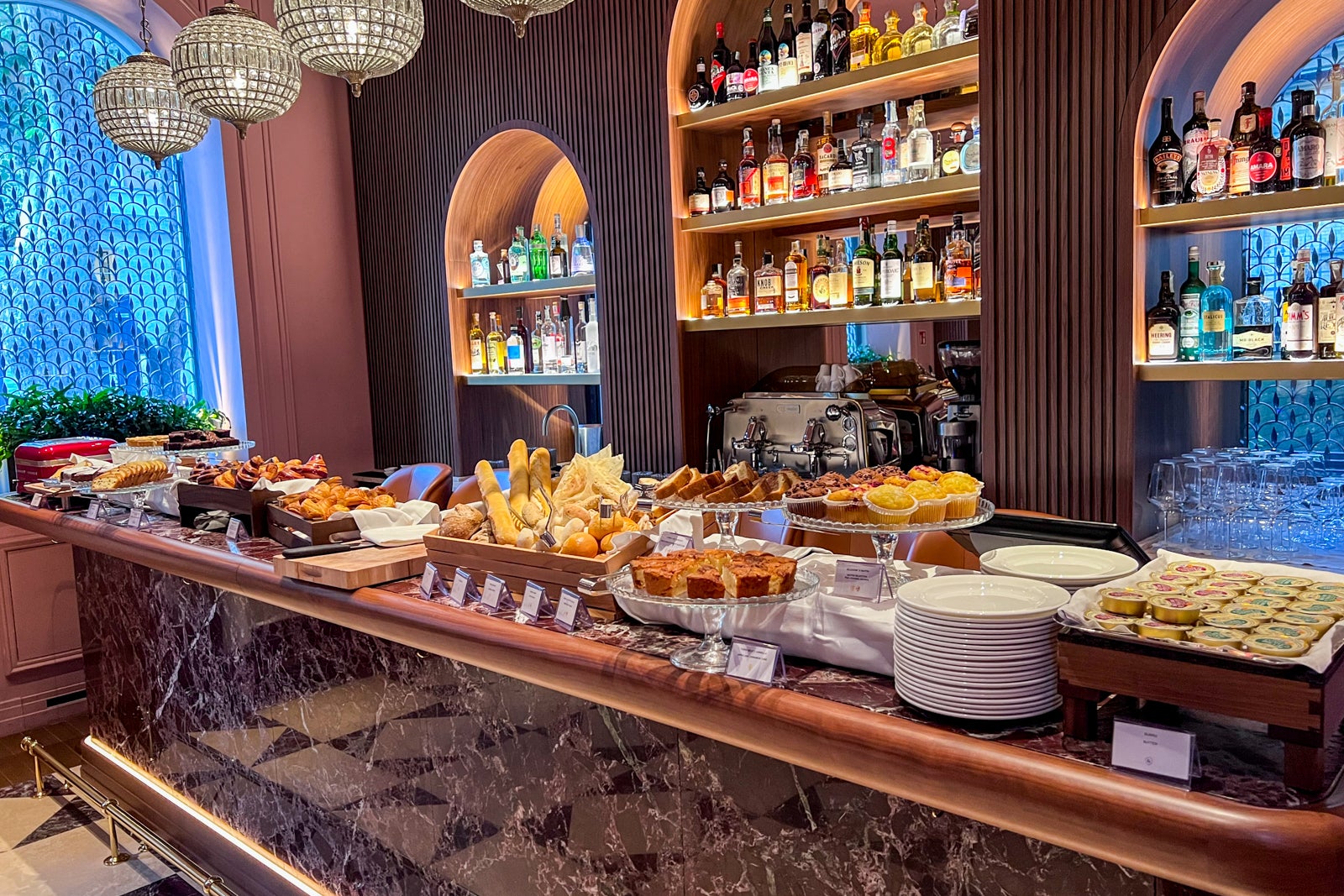 Spa
The InterContinental Rome Ambasciatori Palace has a gym with a variety of cardio equipment (treadmills, ellipticals, stationary bikes), free weights and strength training machines.
While the hotel doesn't have the palatial spa and wellness facilities of its sibling, the Six Senses Rome, up the road, the InterContinental does have two dedicated massage rooms near the fitness facilities dedicated to a more streamlined mix of massage treatments. It's not the largest spa facility in town, but these are beautiful treatment rooms with impressively large showers steps away from where you'll hopefully get rid of any aches and pains.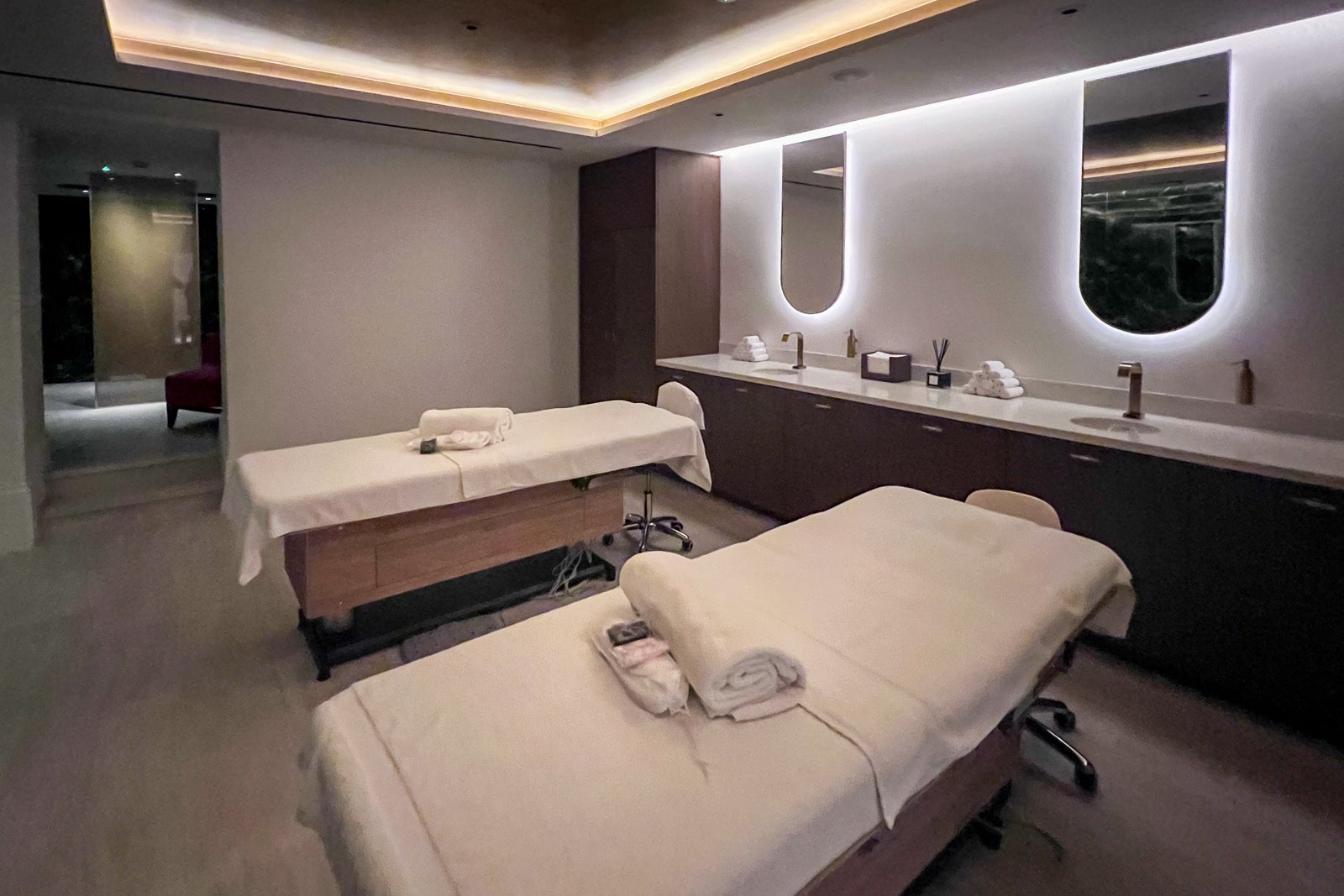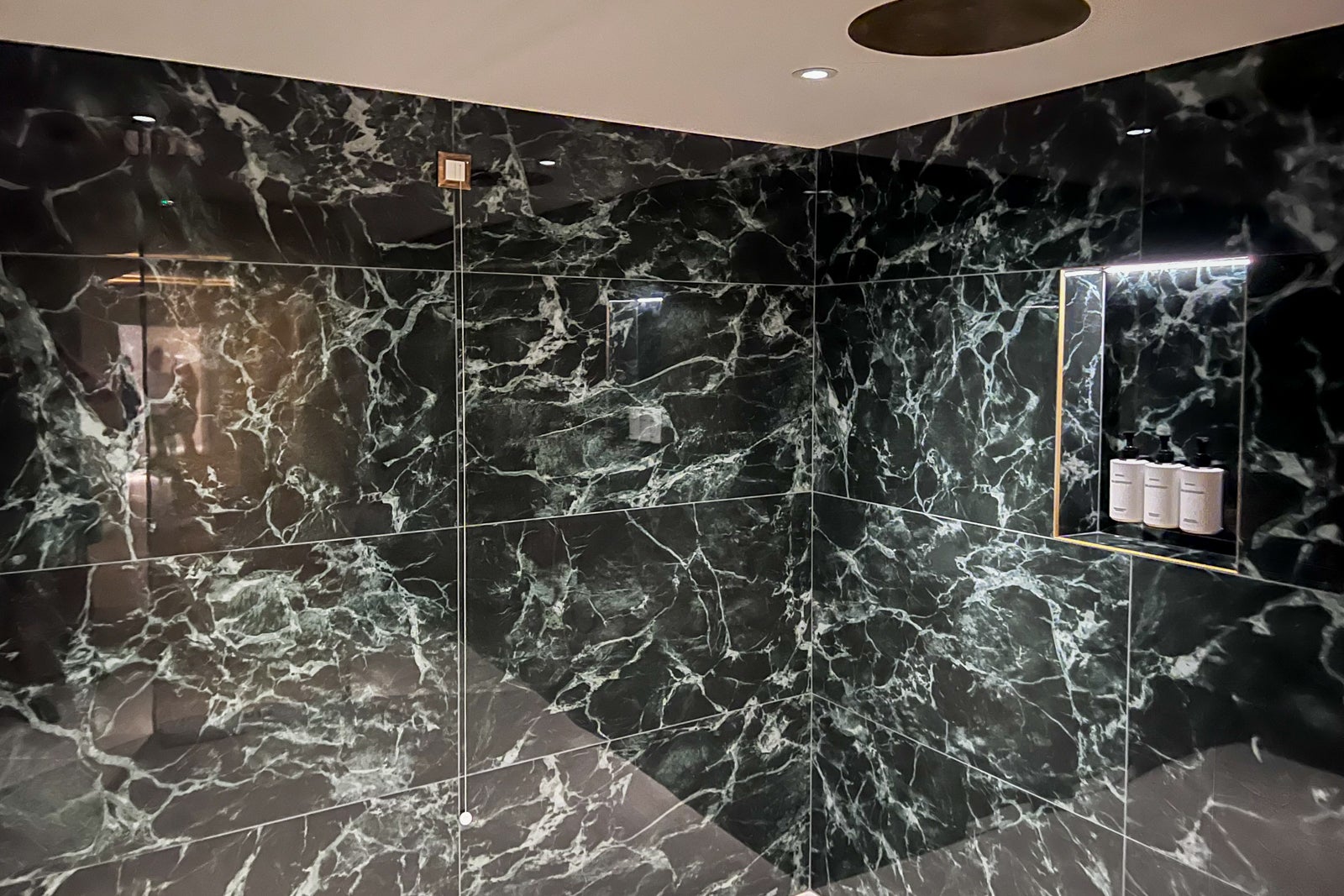 Why the InterContinental Rome Ambasciatori Palace is perfect for you
The InterContinental Rome Ambasciatori Palace is a luxury hotel in one of Rome's best neighborhoods that also clocks in at about half the nightly rate for an entry-level guest room at the Hotel de la Ville, a short walk away.
Foodies and those looking for great cocktails don't have to go far from their guest room or suite. Both Scarpetta and Charlie's are many notches above the usual hotel bar or restaurant.
IHG One Rewards members can earn and redeem points by staying here, and it's a great option for InterContinental Ambassador members looking to utilize their complimentary weekend night reward.
Why the InterContinental Rome Ambasciatori Palace might not be for you
If you're heading to Rome to immerse yourself in all things Italy, you might want to consider an alternative option. Obviously, you're still in Rome, the staff is Italian, and you're on one of the city's most iconic streets when you stay here. But you're more likely to catch up with fellow Americans than locals over the breakfast buffet or dinner at Scarpetta.
While it might be a relatively affordable luxury hotel offering, the InterContinental Rome Ambasciatori Palace is still a pricey hotel. It likely isn't the best option for those looking for a vacation that's easy on the wallet.
Accessibility
The hotel features accessible guest rooms with grab bars and tall toilets, as well as bathrooms outfitted with adequate clearance space for wheelchairs to turn. Guest rooms, suites and public spaces like the meeting rooms and Charlie's are also accessible via elevator.
Alternatives
The Rome Edition: Just around the corner from the InterContinental, the Rome Edition leans more into the lifestyle luxury hotel scene with a vibe that feels like a nightclub that happens to have hotel rooms upstairs.
W Rome: Marriott Bonvoy loyalists have an option just around the corner from the InterContinental with the W Rome, featuring a mix of stylish and quirky designs amid a historic palazzo.
Hotel de la Ville: The palatial, Italian gem at the top of the Spanish steps replaced InterContinental's former Roman location and excels in service and style — at a hefty rate that surpasses prices at the InterContinental Rome Ambasciatori Palace.
Six Senses Rome: The InterContinental's pricier sibling property leans more into health, wellness and sustainability and manages to feel removed from all the action despite being steps away from the Trevi Fountain.
Checking out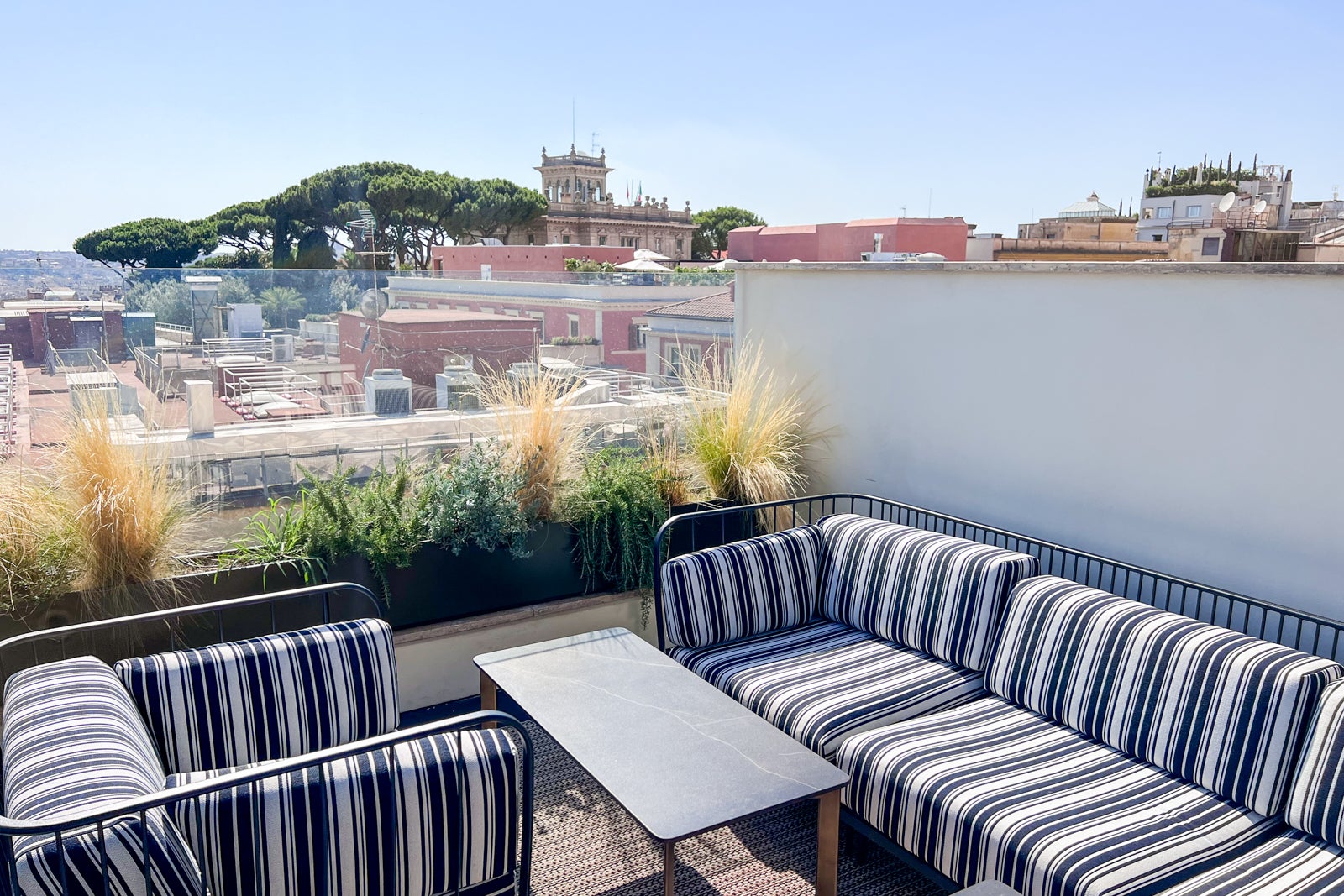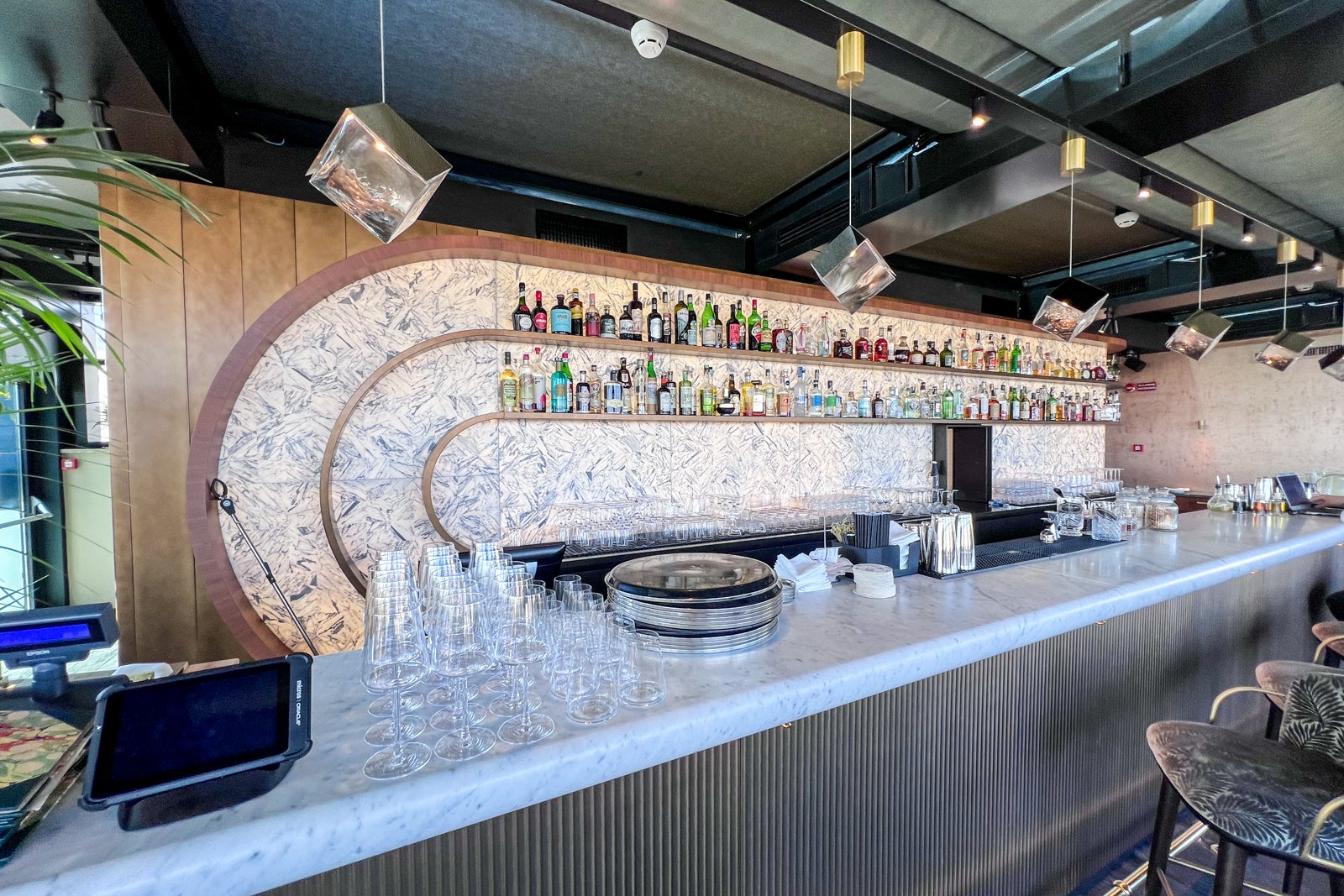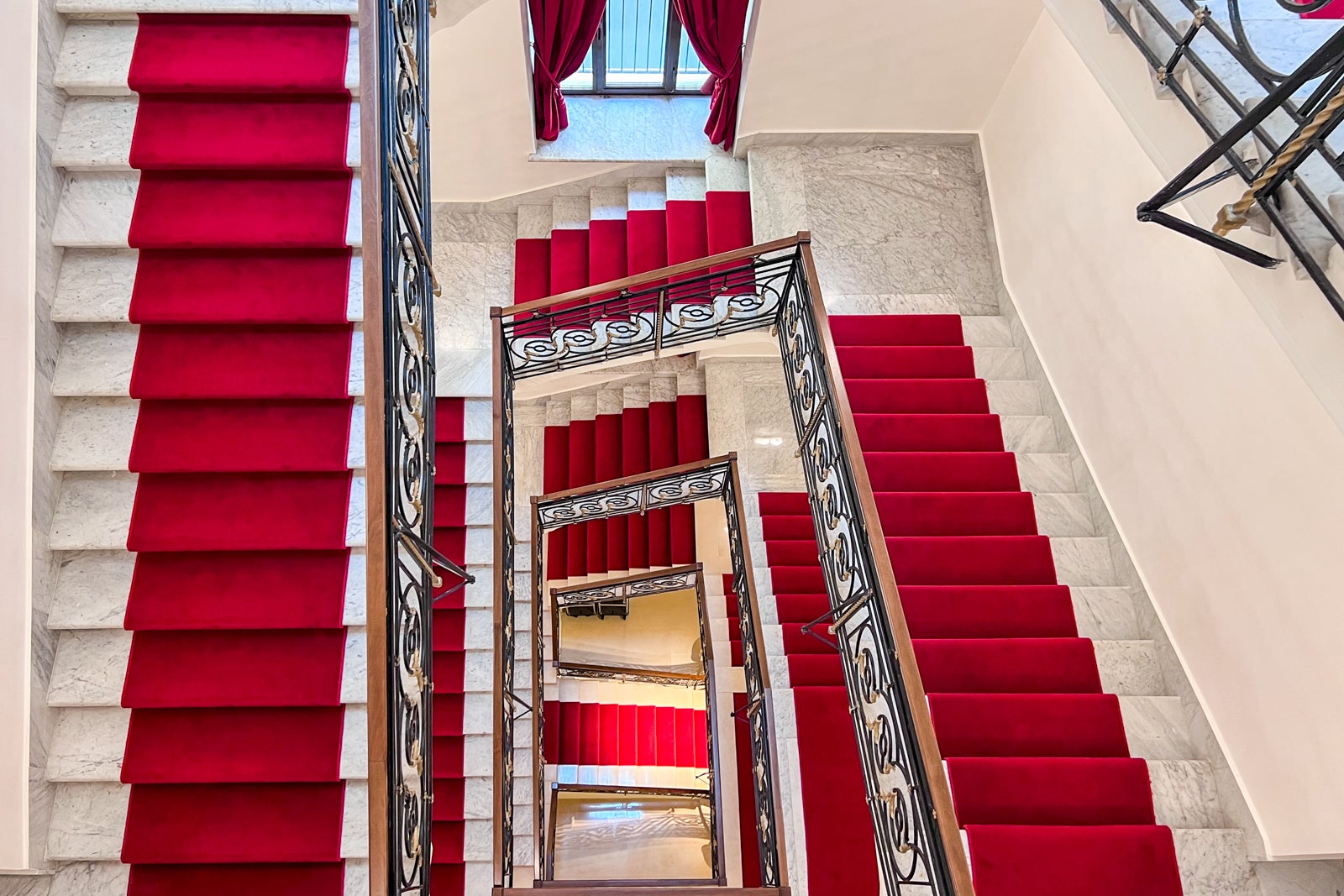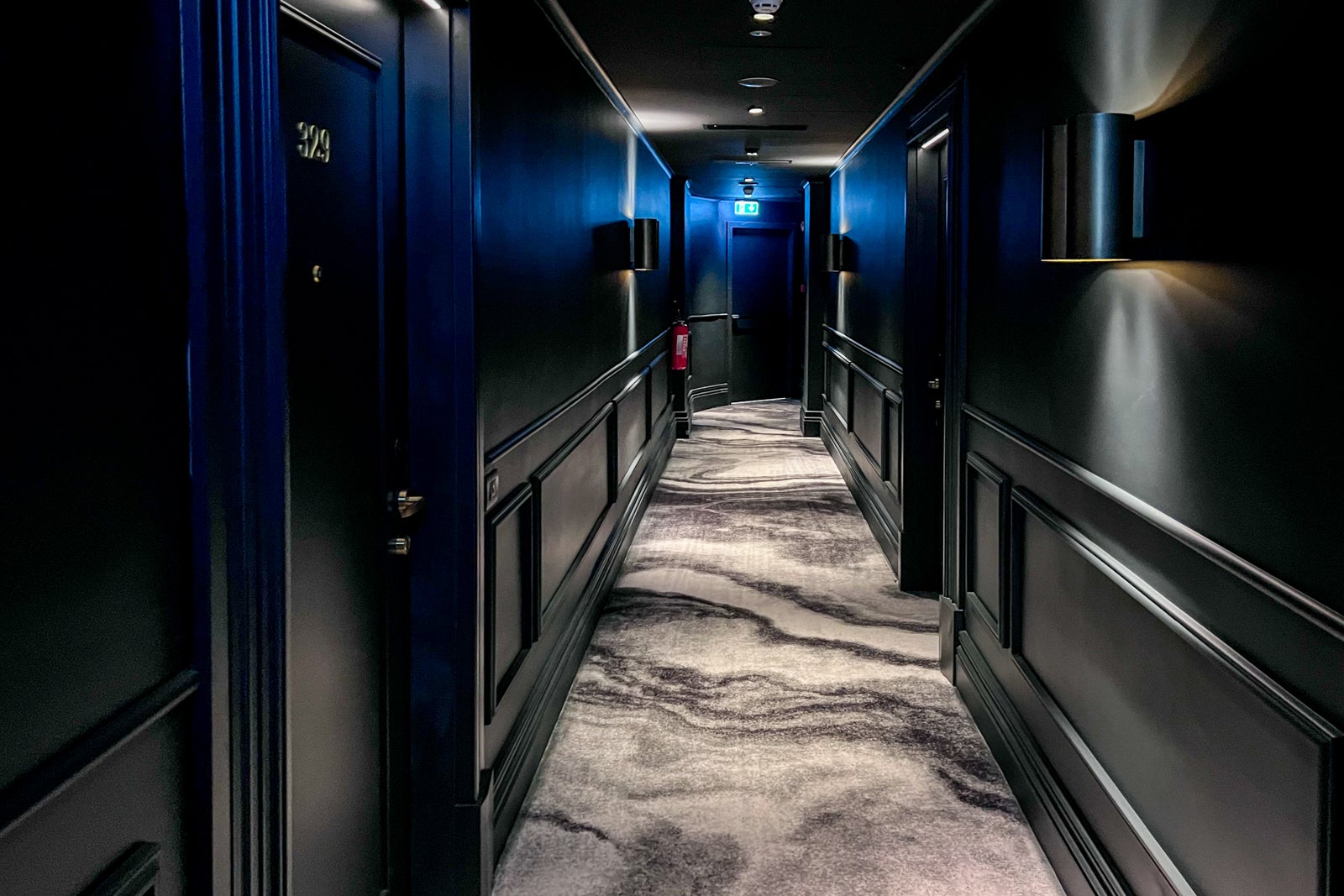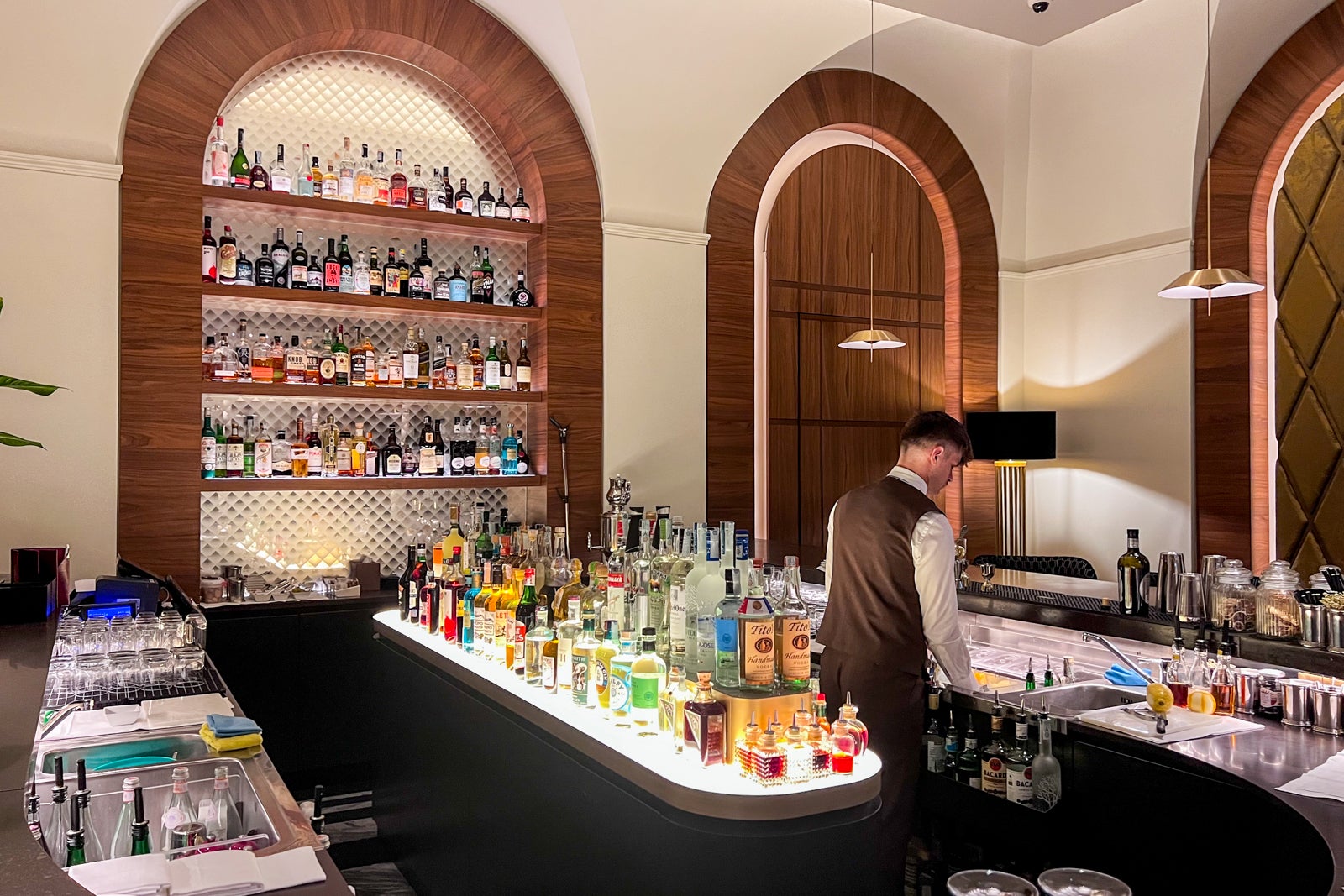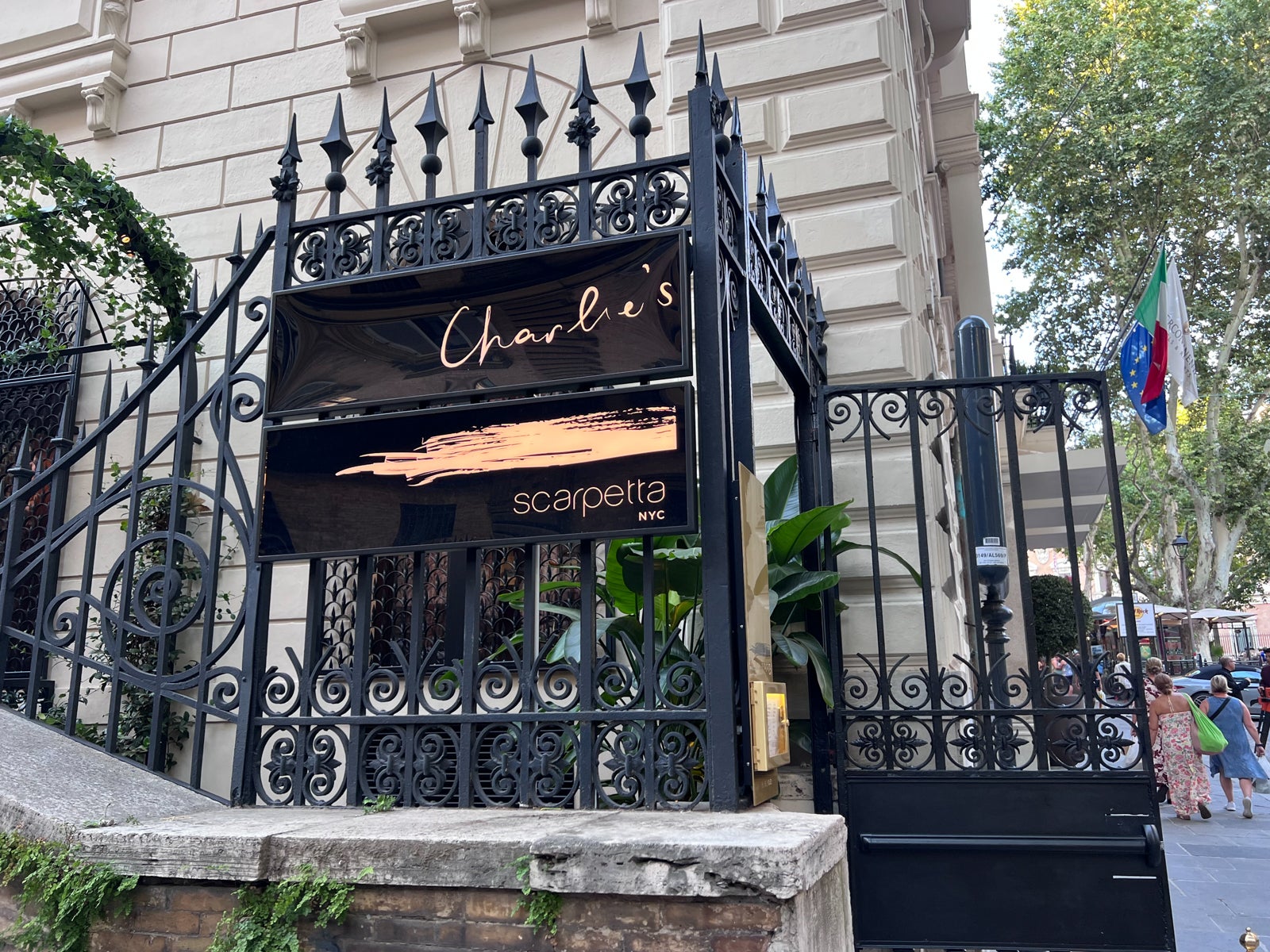 I got the vibe from those at the hotel that this summer was the InterContinental Rome Ambasciatori Palace's soft launch, while the fall will bring on the main opening. Soft openings can sometimes be a letdown, but the InterContinental team appears more than ready to welcome the world to Via Veneto and Rome.
Related reading: