Editor's note: TPG founder Brian Kelly is a Bilt adviser and investor.
In January, Bilt Rewards added live award flight availability powered by Point.me to the Bilt app. This integration lets Bilt Rewards members easily search for award flights they could book with their Bilt Rewards points through the 12 Bilt Rewards airline transfer partners.
But Bilt Rewards also has two hotel transfer partners: World of Hyatt and IHG One Rewards. Now, Bilt members can use the Bilt app to search for live award availability in these two hotel loyalty programs through a new integration with Awayz.
Bilt Rewards says it is focused on helping everyday users get the most value from their points. So, here's what you need to know about Awayz and the new white-label version of Awayz that Bilt members can use in the Bilt app.
Use Awayz in the Bilt app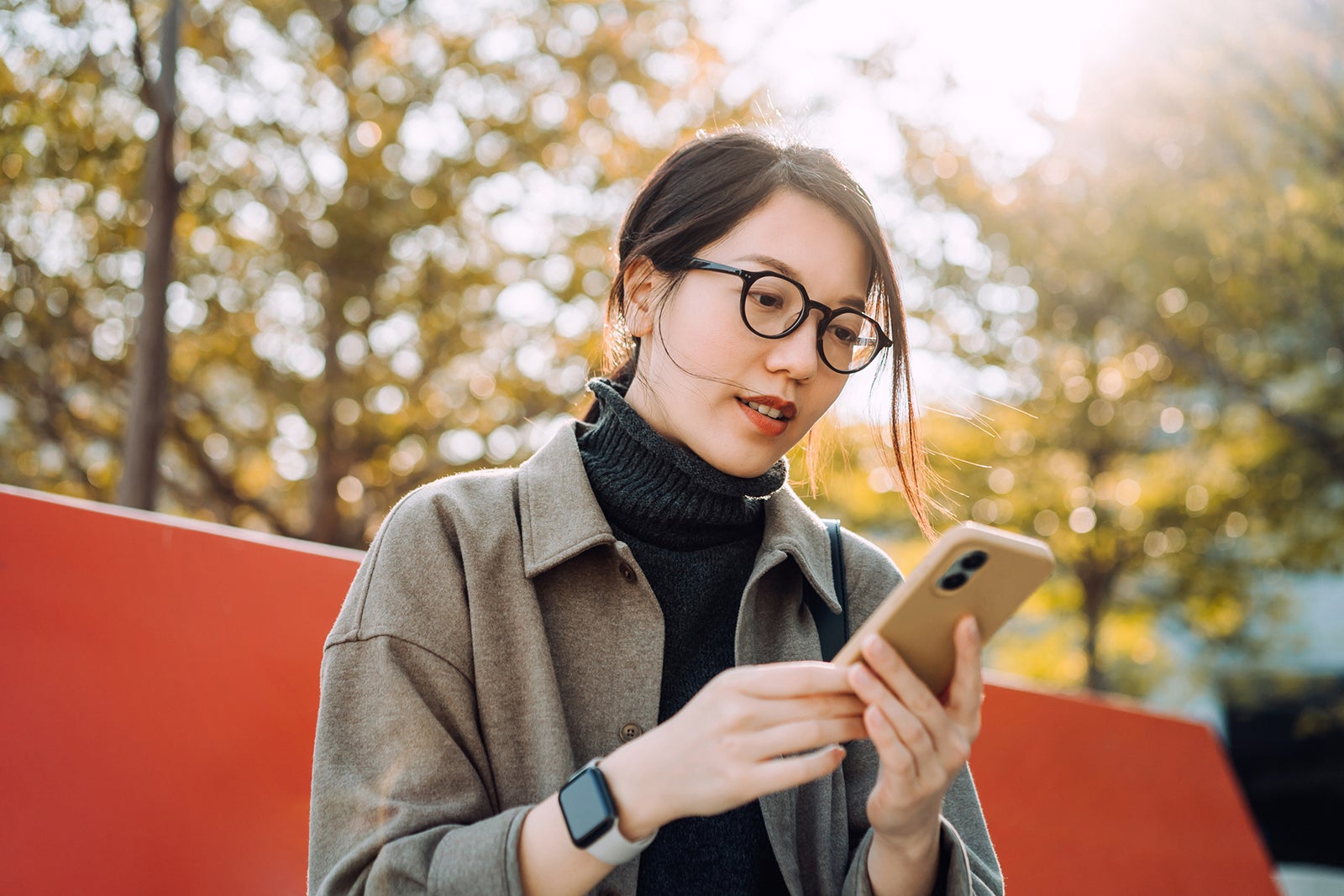 Now, Bilt Rewards members can use the Awayz hotel award search engine in the Bilt app to see live award availability at Bilt transfer partner hotels worldwide. You must be a Bilt member to use Awayz in the Bilt app, but you don't need to have the Bilt Mastercard® (see rates and fees).
Although Bilt Rewards only has two hotel transfer partners, Bilt members can now avoid searching for upcoming award stays with World of Hyatt and IHG One Rewards. Instead, Bilt members can use the new integration with Awayz in the Bilt Rewards app to see Bilt transfer partner hotels in a simple map or list format.
To try out this new integration, open the Bilt app, click on the "Travel" tab and then click on the "Hotels" tab. From here, select the "Transfer Partners" tab. Then, use the new Awayz tool to search for award nights you can book with Bilt points. You can search by location or enter a specific hotel name.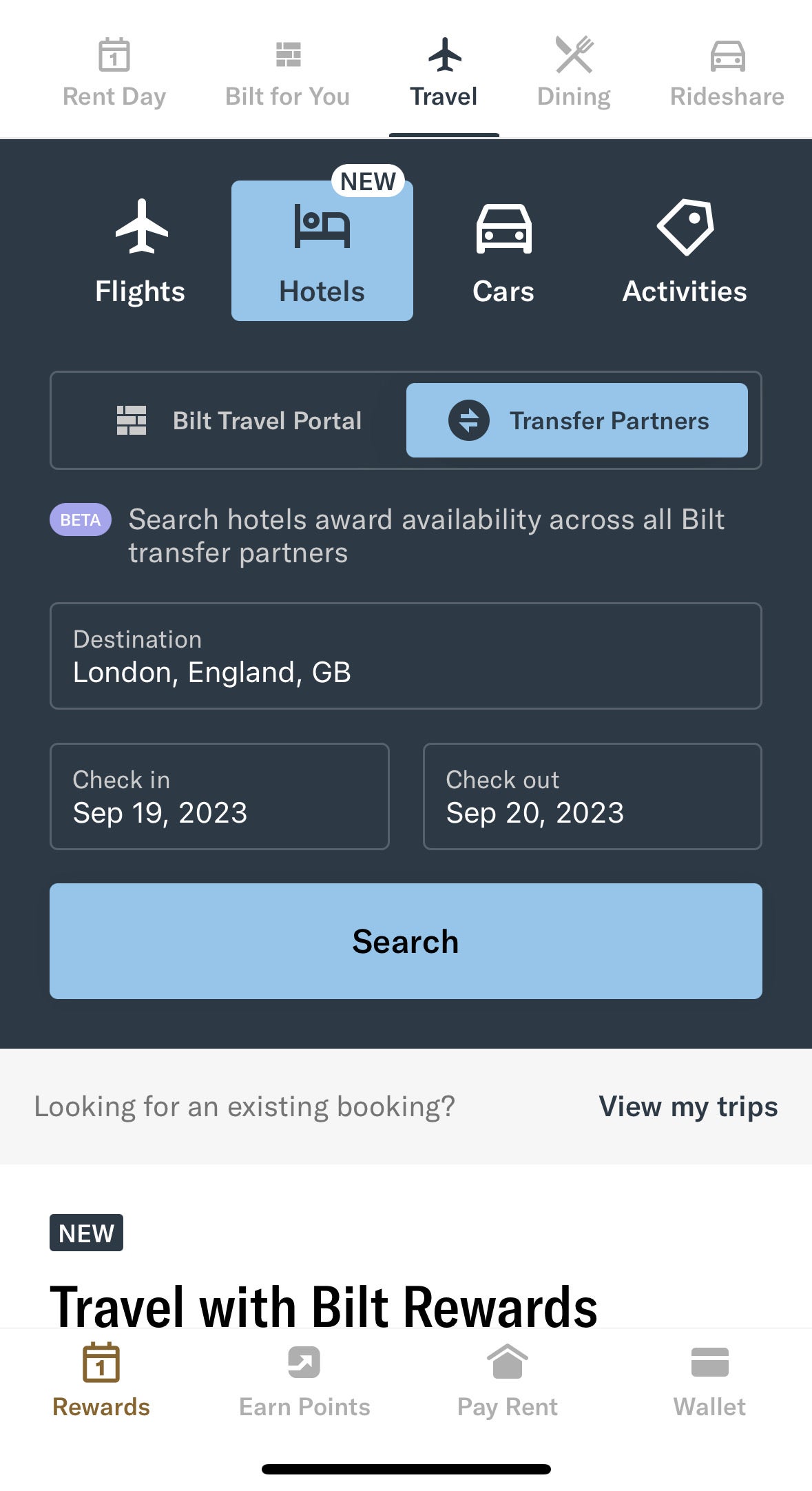 Once you tap "Search," you'll get a list of live award availability and pricing for World of Hyatt and IHG One Rewards properties. You can click "Map" to see the properties displayed on a map of your destination.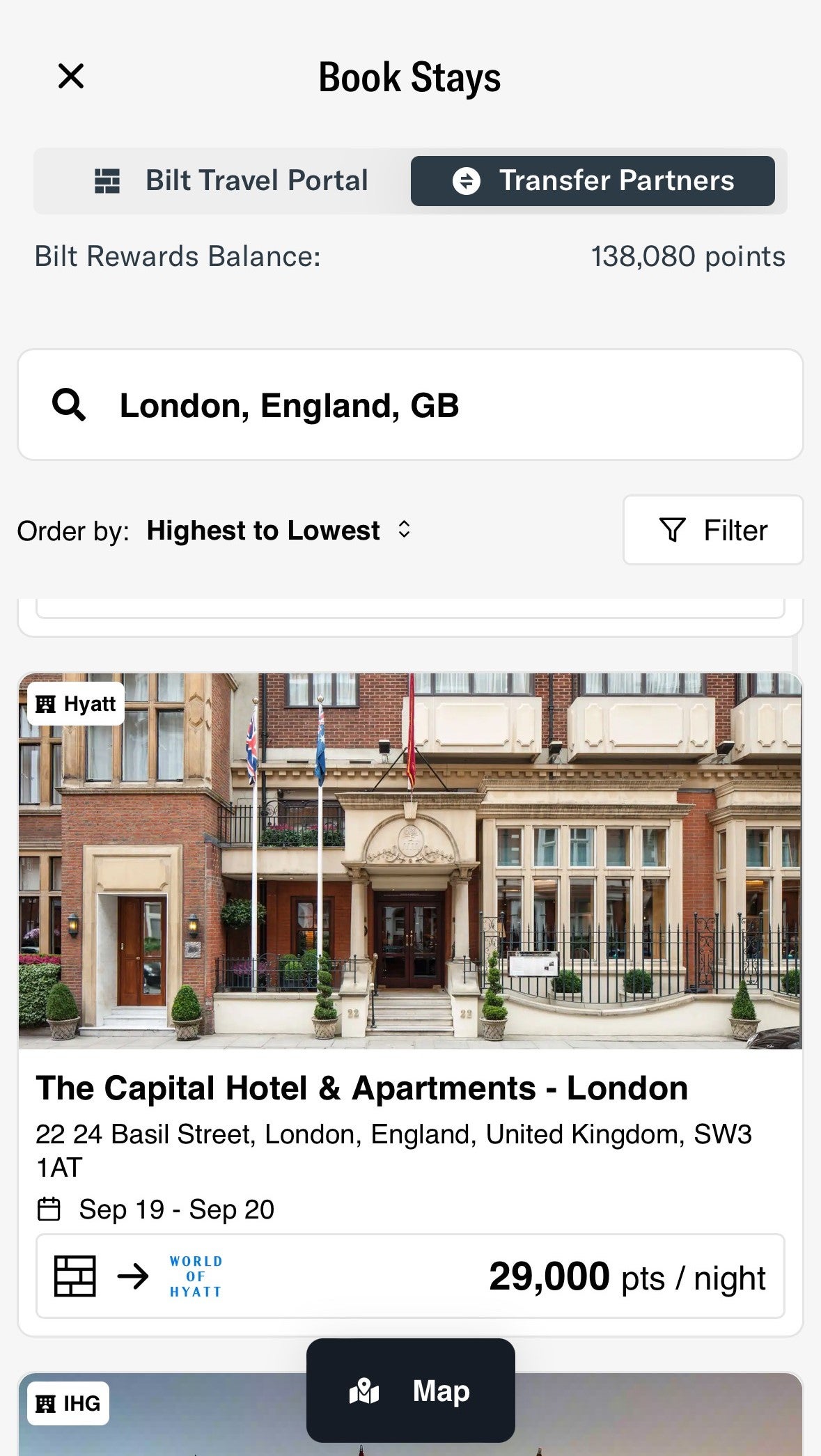 If you see a property you want to book, you can transfer points to book the hotel or browse the available award rooms.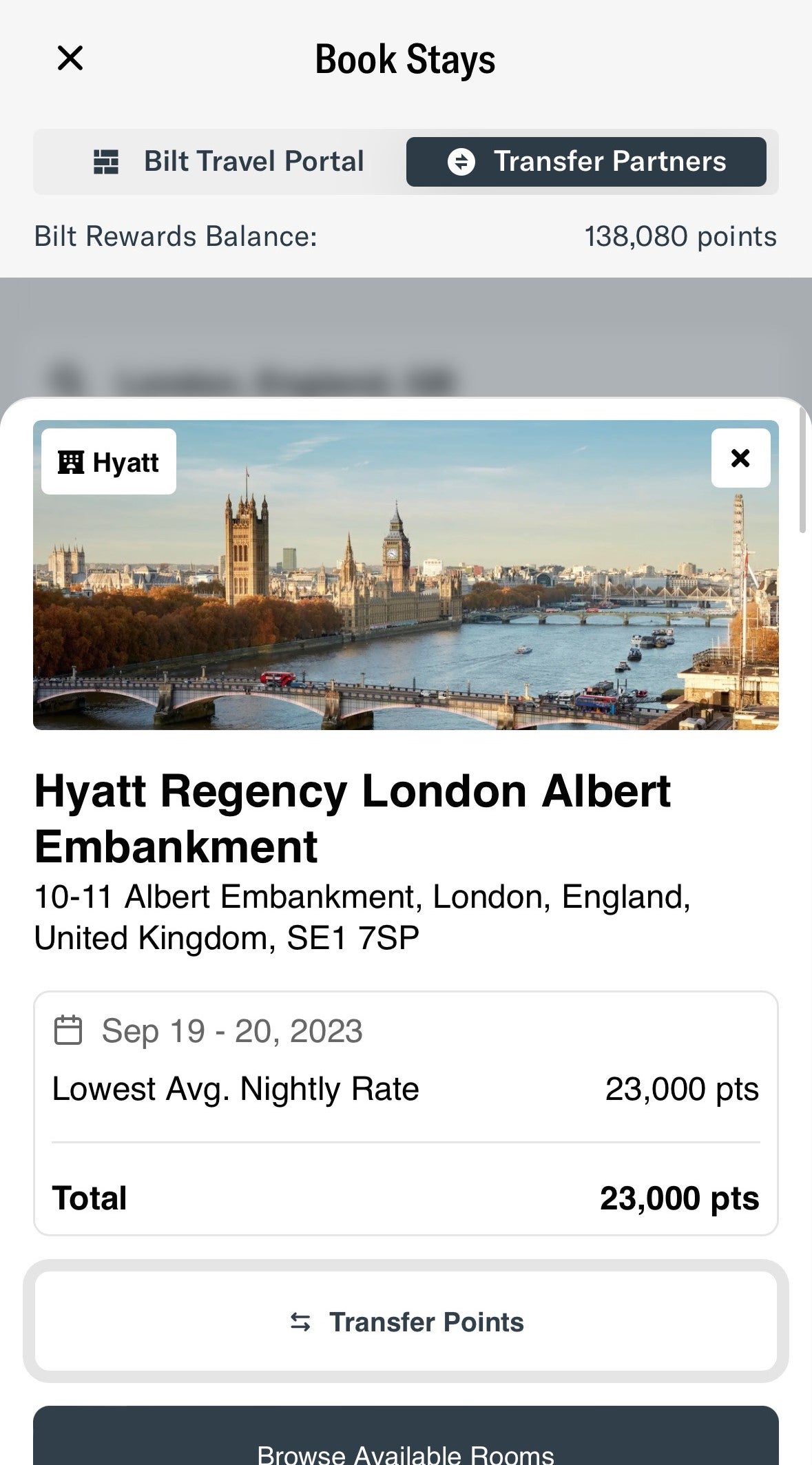 You can also see a 12-month award calendar for each property, which may let you snag an inexpensive award stay if you have schedule flexibility.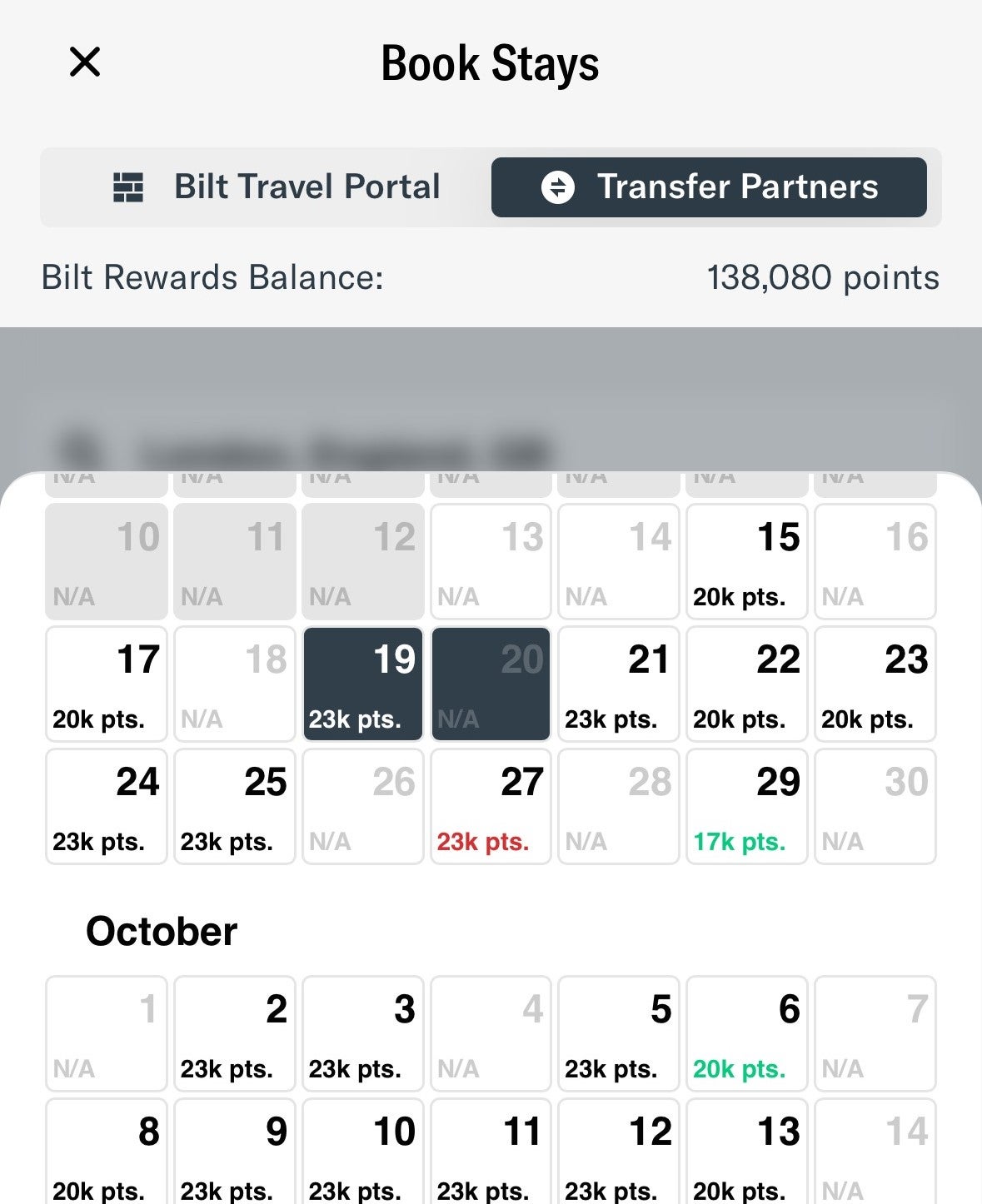 However, don't search too many times to try out the tool. Bilt members only get 50 hotel award searches included per month, and these searches can go quickly.
Related: How long do Bilt Rewards points take to transfer?
The full Awayz product
It's worth trying out the white-label Awayz integration in the Bilt Rewards app. But especially if you also have other transferable currencies — such as American Express Membership Rewards or Chase Ultimate Rewards points — you may want to utilize a free trial, purchase a 72-hour trip pass for $4.99 or enroll in a premium subscription for $11.99 per month to get access to more than just the two Bilt hotel transfer partners.
When you use the full web-based Awayz search with a free trial, trip pass or premium subscription, you can easily compare paid rates and award rates for Hilton Honors, Marriott Bonvoy, World of Hyatt, IHG One Rewards and Accor Live Limitless properties.

You can even add your credit cards to your wallet so that Awayz considers benefits you may get from select cards, such as the IHG fourth-night reward. However, the IHG fourth-night reward will not show if you use Awayz in the Bilt Rewards app, even if you have an eligible IHG One Rewards credit card.
Related: Should you use the Bilt Mastercard? Why it's a game changer for renters
Bottom line
It's great to see Bilt Rewards adding tools that make award travel easier to search and book regardless of your points and miles knowledge. Bilt Rewards members can now use Point.me for flights and Awayz for hotels to check live award availability in the Bilt Rewards app.
Of course, you'll want to check all your redemption options before transferring Bilt Rewards points to an airline or hotel partner. Sometimes, you may find that redeeming Bilt Rewards points for travel through the Bilt Rewards travel portal provides better value. You'll get a redemption value of 1.25 cents per point when you book travel through the portal.
See Bilt Mastercard rates and fees here.
See Bilt Mastercard rewards and benefits here.