[circuit type=review circuit_id="20420167941″]
Editor's note: TPG's Erica Silverstein accepted a free trip to Great Wolf Lodge Maryland. The opinions below are entirely hers and were not subject to review by the resort.
If your kids could design a hotel, chances are it would look a lot like the Great Wolf Lodge Maryland.
Themed suites have kids "dens" with bunk beds. The on-site restaurants are overflowing with tot-friendly favorites like chicken tenders, burgers, pizza and ice cream. Amenities include free indoor water park access, and the lobby leads directly into an adventure park with a ropes course, minigolf, bowling and an arcade, all of which are thronged for much of the day.
And somehow — despite the crowds, the sugar rushes and the non-stop activities — parents can also have a great stay at Great Wolf Lodge Maryland. Maybe it's because your kids are so happy. Maybe it's because waterslides really are fun for all ages. Maybe it's because you're only staying for a couple nights and everything you need is right there — no crazy logistics required.
After a jam-packed two-night stay, I feel confident in stating that if you live within a few hours' drive of the Maryland-Delaware border and are looking for a last-minute weekend getaway with the family, you should definitely consider the brand-new Great Wolf Lodge Maryland. Just manage some of your expectations before you go: Focus on the fun and activities, don't expect to spend much time in your room and be sure to budget for some of the high-priced food options.
What is the Great Wolf Lodge Maryland?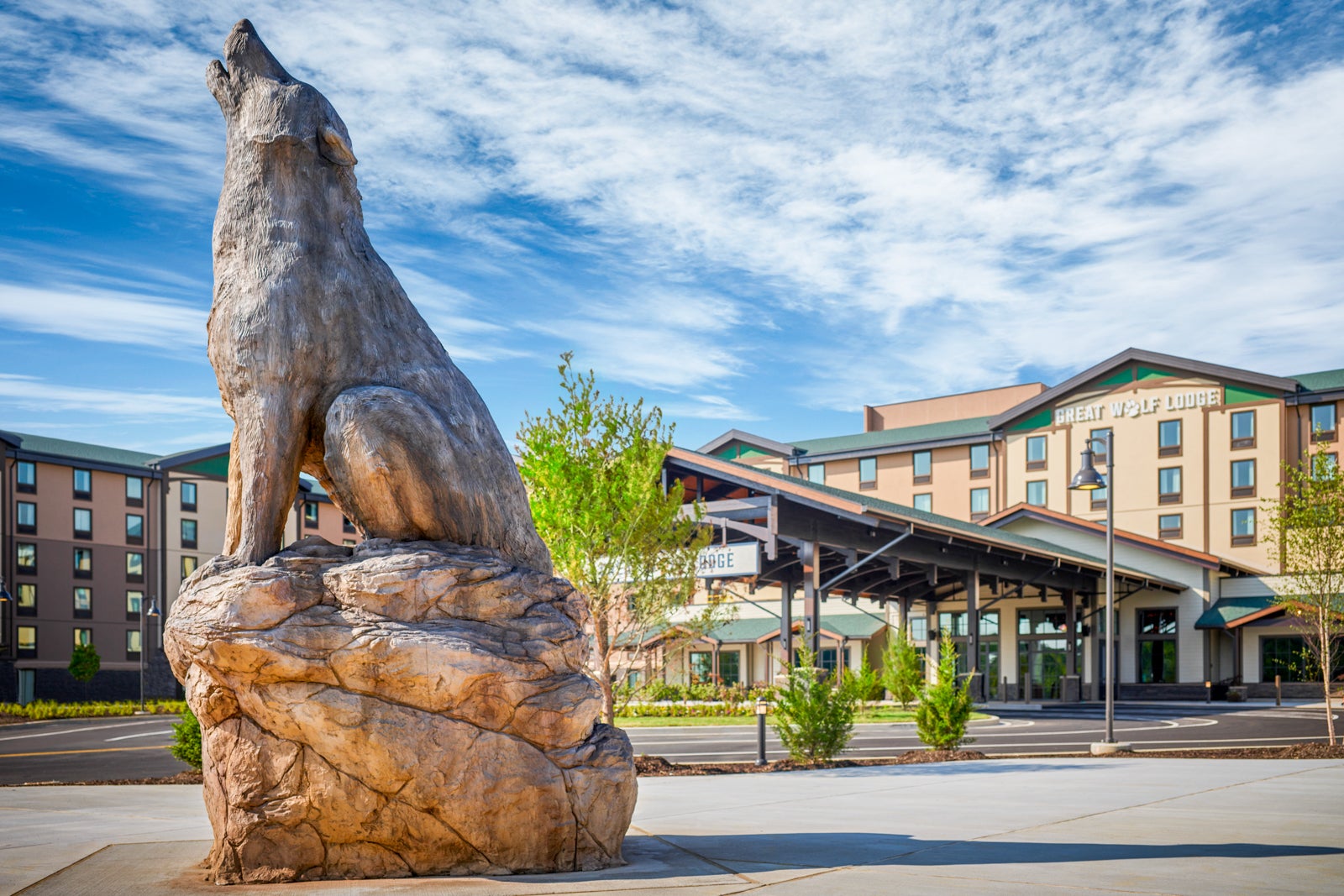 Great Wolf Lodge Maryland in Perryville is the newest property in the Great Wolf Lodge family of indoor water park resorts. Opened in June 2023, it is the brand's 20th property and its largest, featuring 700 guest rooms, a 128,000-square-foot indoor water park with 22 slides, an on-site adventure park, and family-focused shopping and dining.
Room rates include accommodations, parking, water park access and Wi-Fi, but all other activities and dining must be purchased a la carte or in various bundled packages.
Accessible from multiple urban centers but not close to much else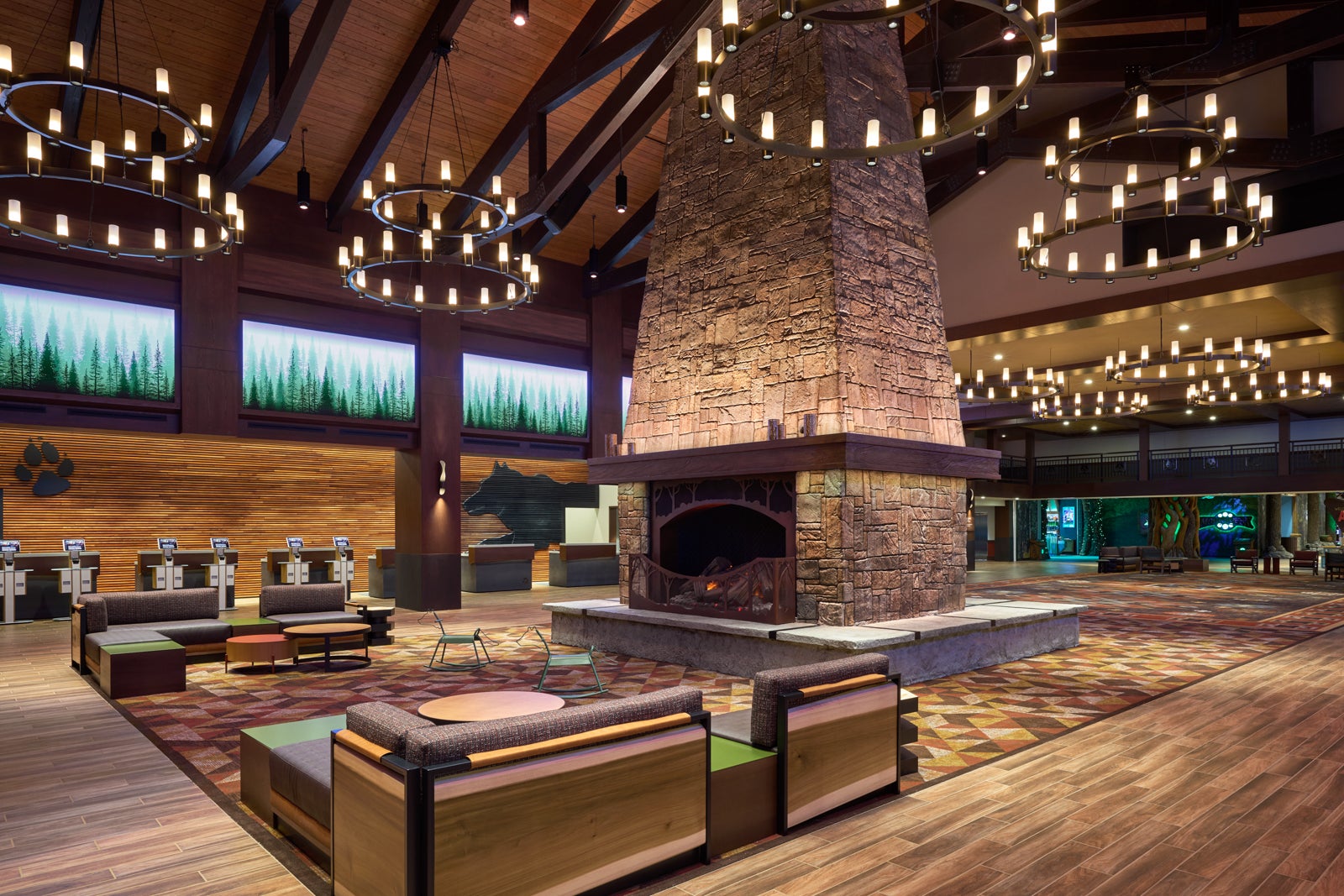 Great Wolf Lodges are intended to be destinations in and of themselves — not places to sleep after a day spent out and about enjoying other sites.
They are strategically located to serve large population centers but are often not close to other main attractions.
This is the case with Great Wolf Lodge Maryland, which is located in Perryville, just off Interstate 95. It's a three-hour drive or less from New York City; Philadelphia; Baltimore; the greater Washington, D.C. area; many Pennsylvania and New Jersey suburbs; and Delaware. Do factor weekend beach and getaway traffic into your travel times, though.
Perryville itself, however, is unlikely to make this year's destination hot list. The only attractions of note we saw on the road from I-95 to the property were a water tower and the casino next door. Google Maps told me there was a Food Lion supermarket and some fast food restaurants nearby, as well as Susquehanna State Park, none of which we had time to visit.
Great Wolf Lodge Maryland could make a fun stop on an East Coast road trip along the I-95 corridor, but most visitors do as we did — drive straight to the resort, spend a few days and drive straight home.
Accommodations check the boxes, and themed rooms are worth the upgrade
In our Wolf Den Suite (booking info below), my two kids had their own sleeping space out of view of our bed. The room had a minifridge and a coffee maker, and the shower head was high and had good pressure. However, the kids nearly came to blows in the first five minutes, and there were a few functionality flaws beneath the cute theming and wooded wonderland murals.
Let me back up. Great Wolf Lodge Maryland has three main categories of rooms. Standard rooms are basic hotel rooms with two queen beds, a single or pullout couch with a full-size bed, a round table with two chairs and a split bath with the sink in the main room and the shower and toilet behind a door. Themed suites have bunk beds for kids in walled-off areas decorated as either a log cabin or woodland cave. Premium suites are also themed, but instead of sleeping five to six, they can sleep six to 13 guests, depending on the layout, with actual walls between rooms.
All rooms have similar furnishings with a rustic, Northwoods vibe, regardless of their category. Given that the lodge opened in June, everything looked brand new without the wear and tear of hundreds of family visits.
Our suite was a Wolf Den Suite, with the cave-themed bunk bed room. The kids' area was cozy with soft red blankets and a three-wall mural depicting a woodland stream and waterfall with Wiley Wolf and friends hiking through the forest. It was a little kid's dream room — and so, of course, my children had to fight about it.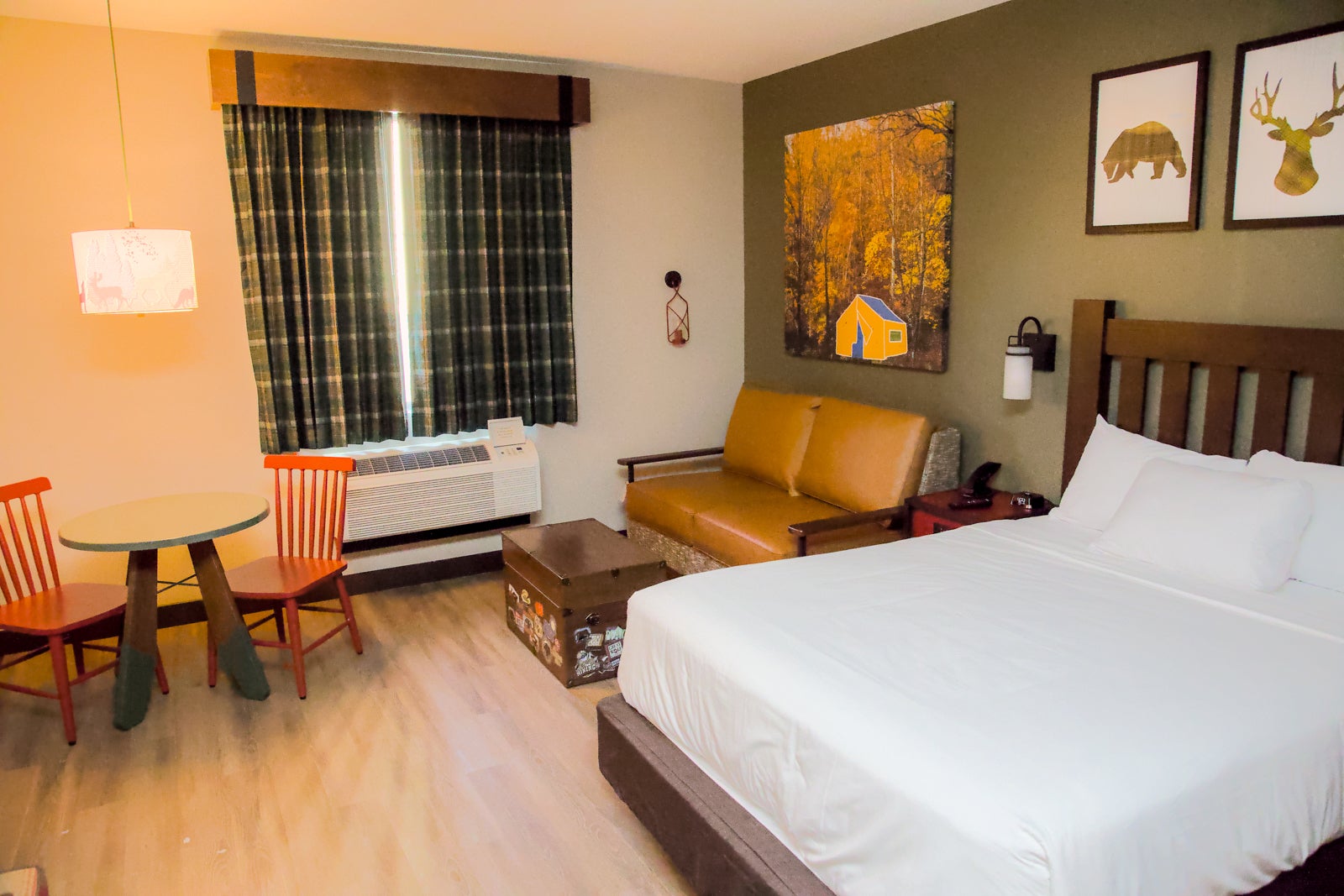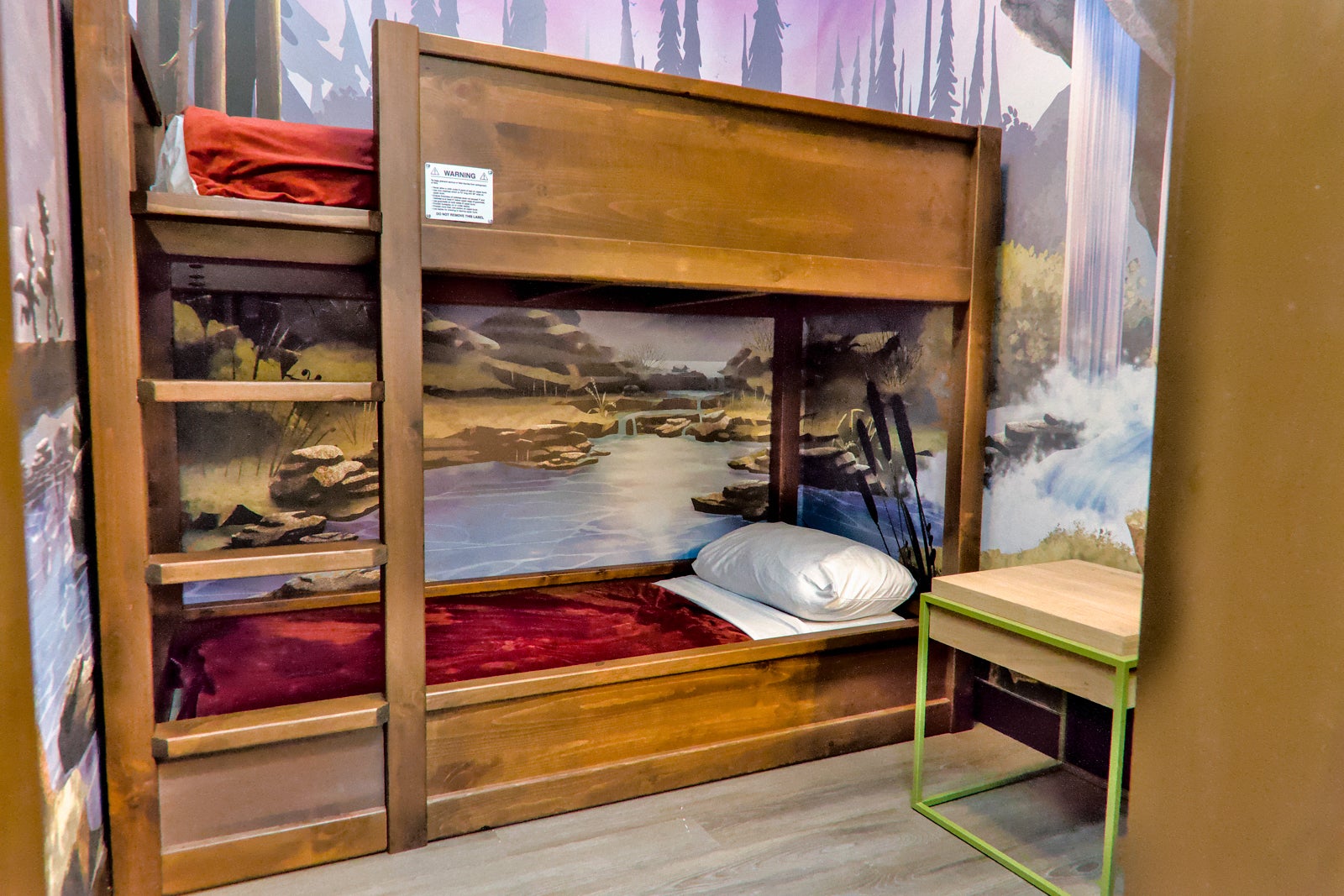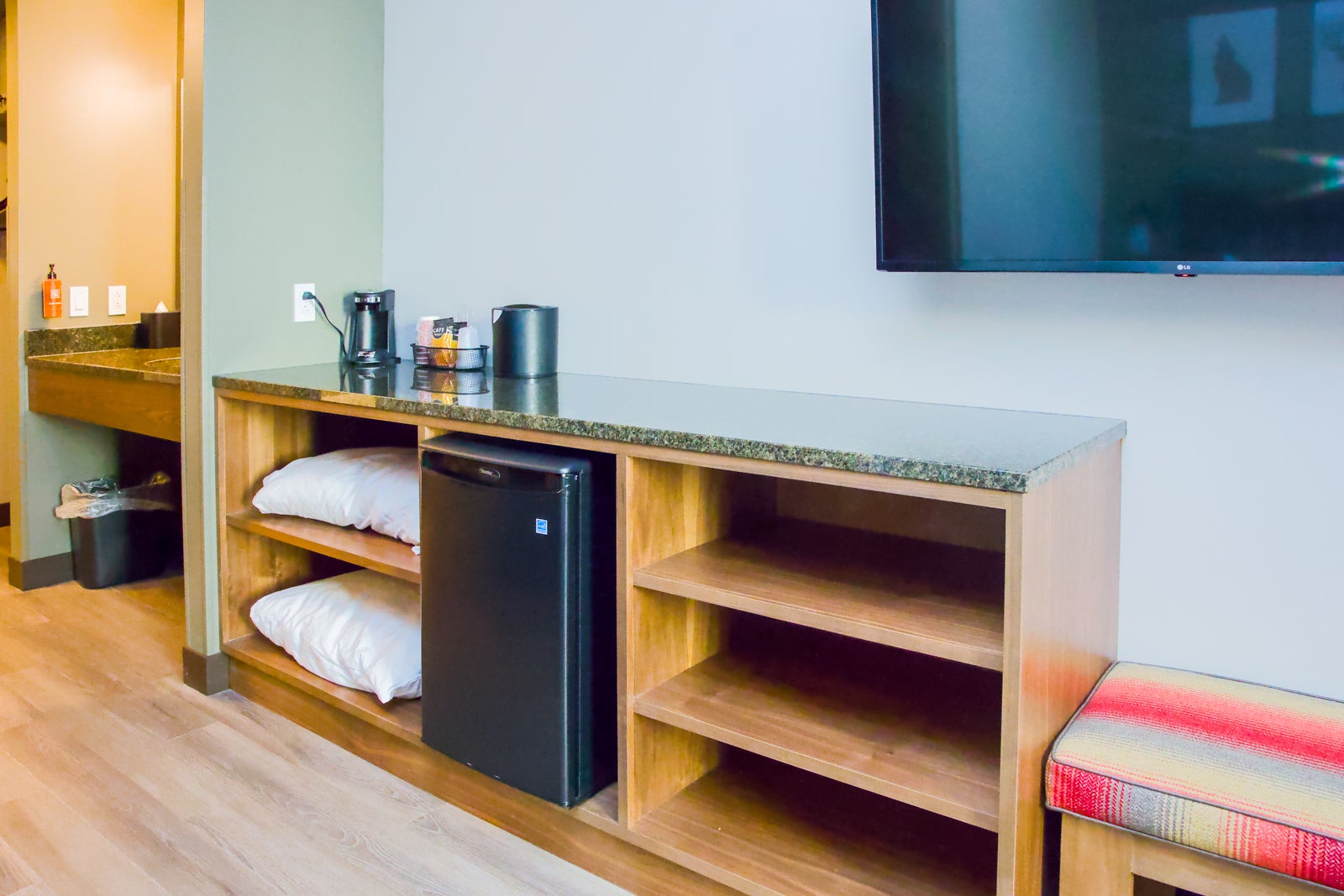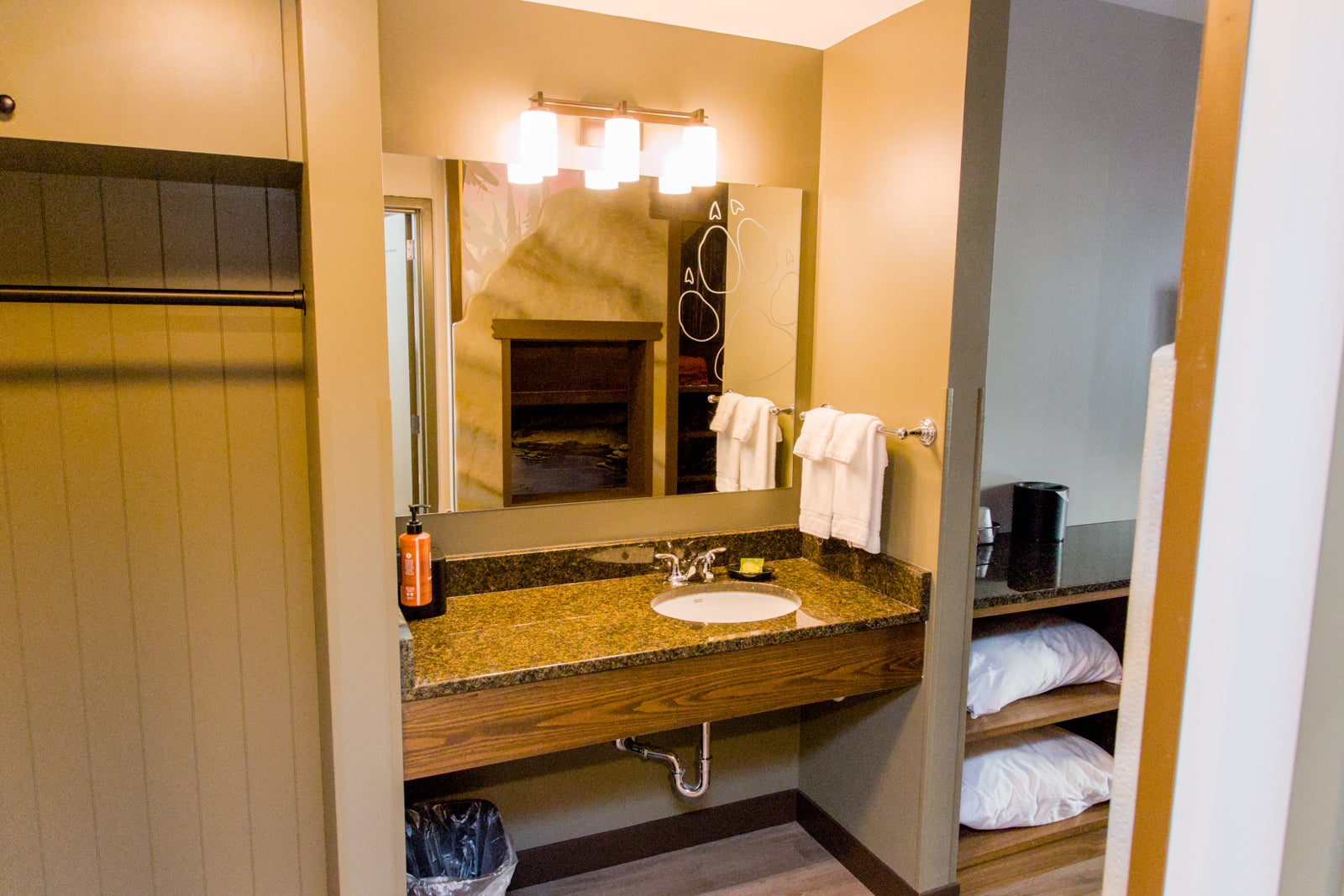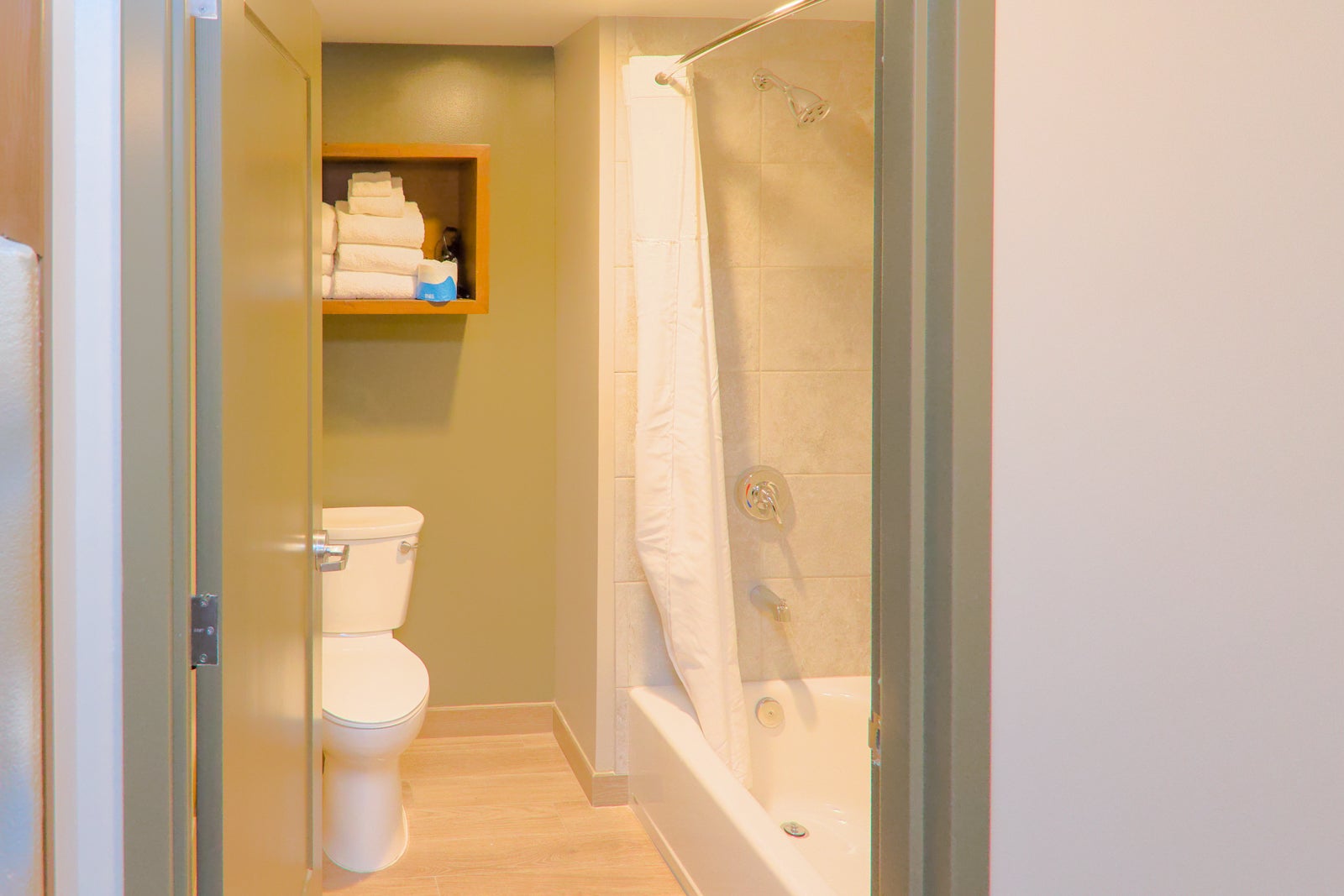 "I want the upper bunk! You got first choice of rooms last time!" Sadly, there was no door we could close to let them duke it out on their own.
Once the bed selection had been settled, we had to figure out where to put all our stuff. Kids vote: The middle of the floor. Parents vote: Wait, where should we put all the stuff? There were no drawers, just five large shelves, two filled with giant pillows, and an open-concept closet with a few hangers. We settled on the duffel-as-drawer approach and tucked our bags against the wall.
Thankfully, the suite was spacious, with plenty of room to spread out. The kids were excited they could watch YouTube on the large, flat-screen digital TV. I liked the large dining table for snacking, though a microwave would have been useful for leftovers or eating in. I also appreciated that the floors were vinyl tile and not carpeting, better for spills.
Great Wolf Lodge being a water park, our first order of business was to test out the slides. But when our waterlogged selves returned to the room, I discovered that our family suite was lacking in places to hang wet bathing suits. The shower room had just two two-pronged hooks, but no clothesline in the shower.
For the next two days, I hung swimsuits on those hooks and over the shower rod and the rest we slung over the hangers and let them drip on the non-carpeted closet floor. Even with a military-like drying protocol, unfortunately, it meant we only had damp options by our third day.
We also went through our share of bath towels, but a housekeeper did knock on our door and swapped fresh towels for used ones. When I asked her if she needed access to the room, she said no — guests don't receive housekeeping service beyond the towel swap. (She did give me some extra coffee cups when I asked, though.)
One final nitpick: As a glasses, hair bonnet and night guard wearer (amazing visual, I know), I was thrilled that the room had nightstands on either side of the bed to stash my stuff, as well as my phone. However, my husband's table had two 110V outlets built in plus a clock on top with a USB, a USB-C and two more 110V outlets. My side had none of those.
The included water park is fun for all ages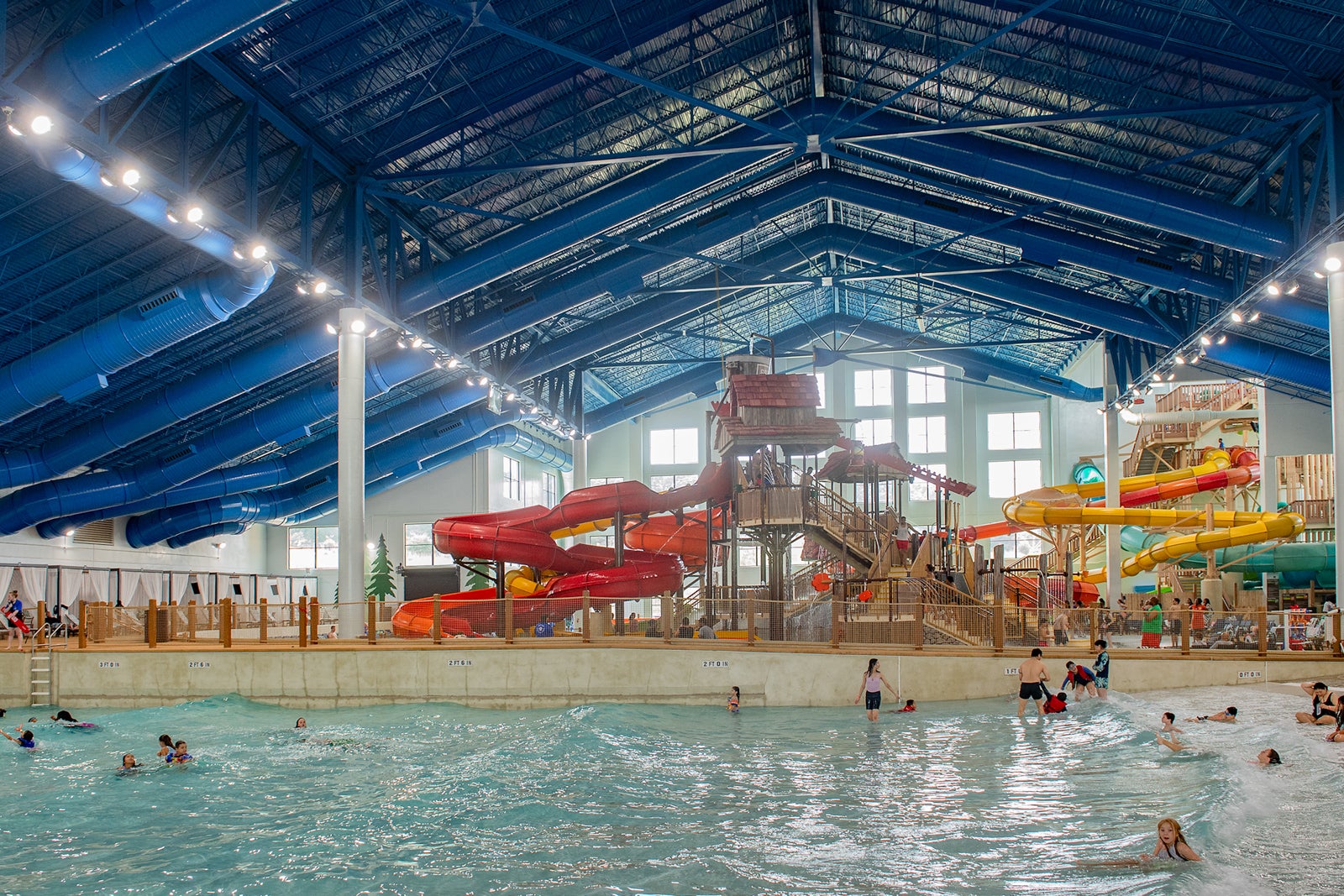 Clearly, the rooms are not what bring you to Great Wolf Lodge. What does? The 128,000-square-foot water park that you can access with your room rate.
The beauty of Great Wolf Lodge is that with a one-night stay, you get two full days at the water park. On day one, you can check in to use the water park as early as 9 a.m., even though you might not get into your room until about 4 p.m. On day two, you must vacate your room by 11 a.m., but you can stay on the property until the park closes at 8 p.m.
And if your kids are like mine, they'll want to stay.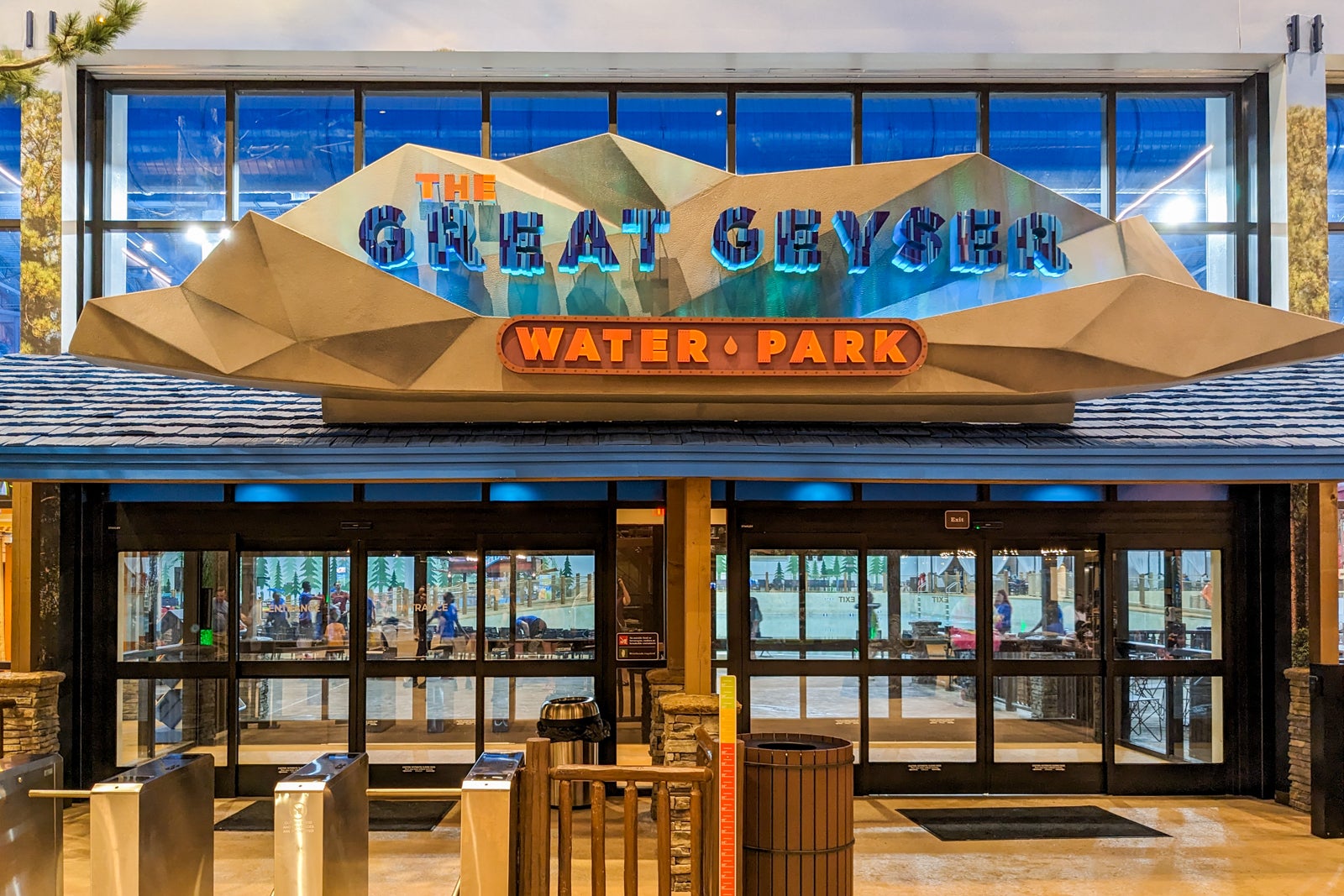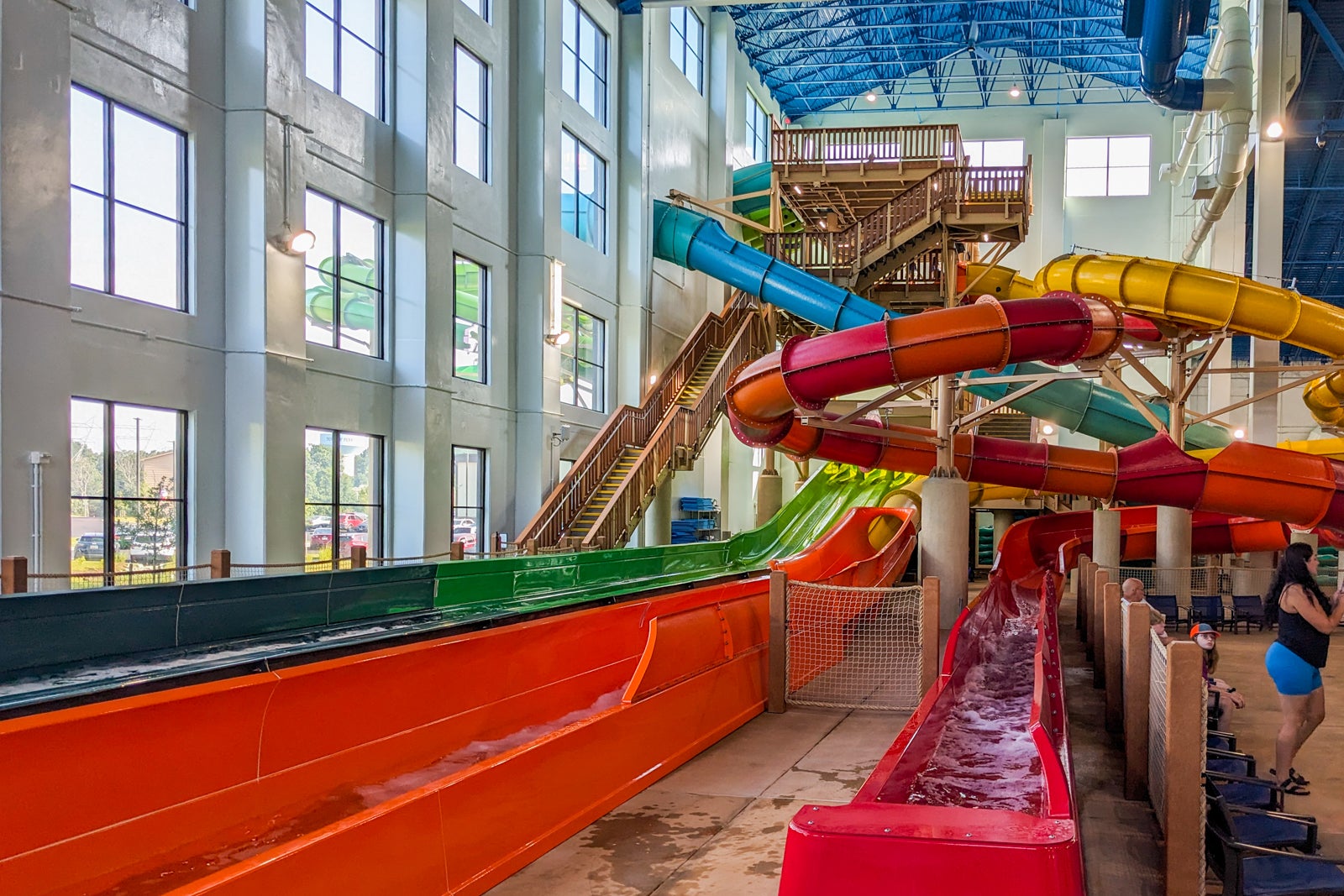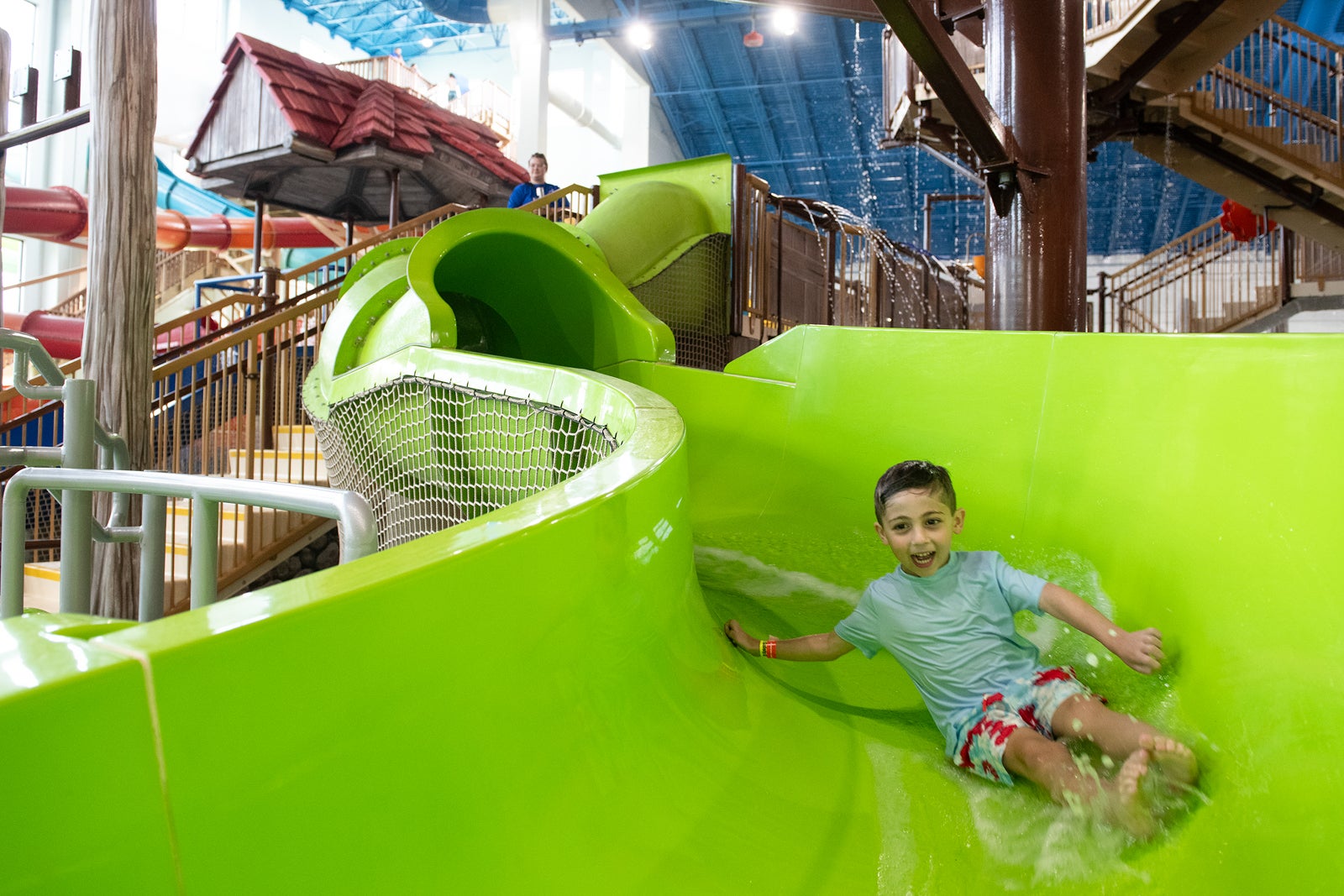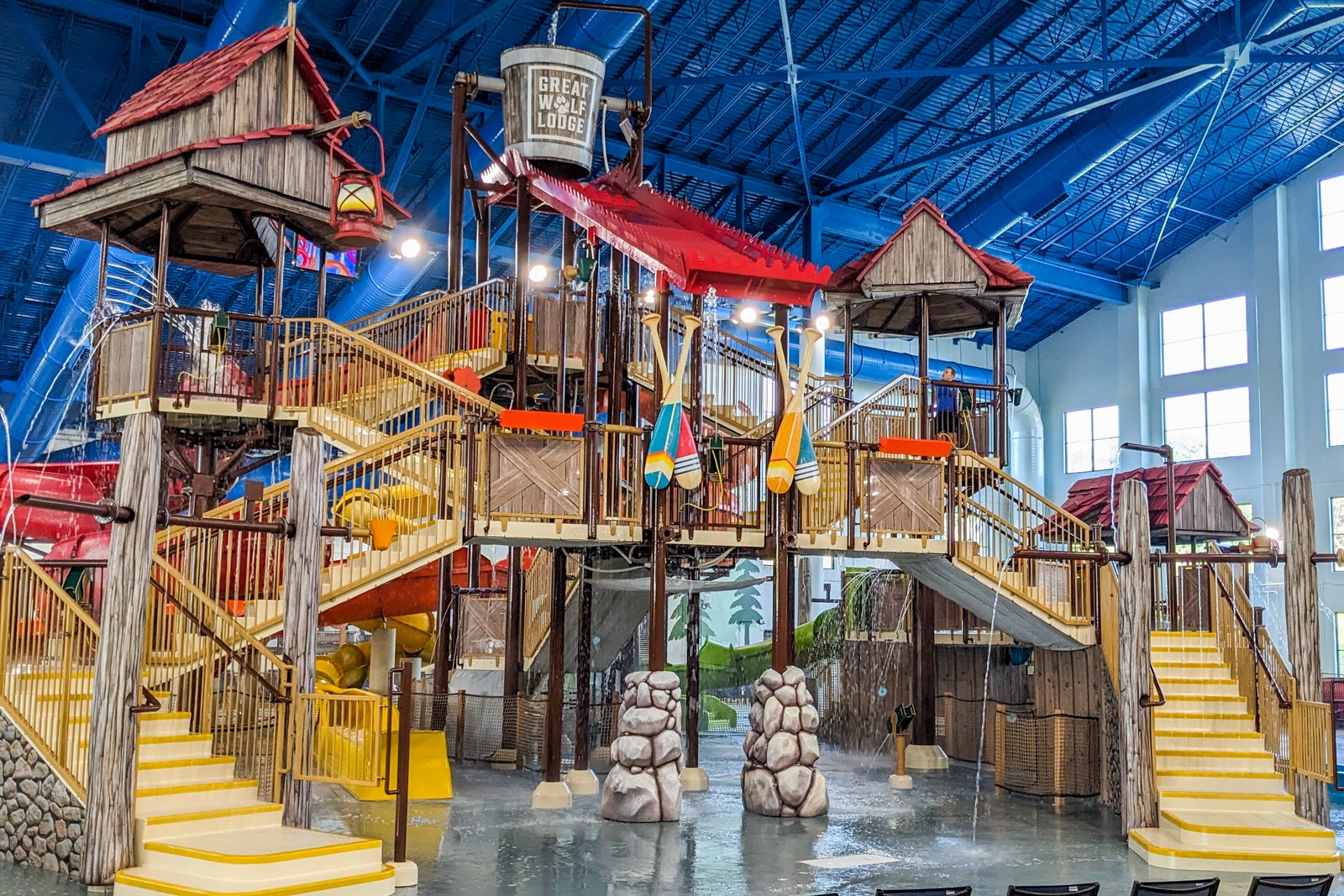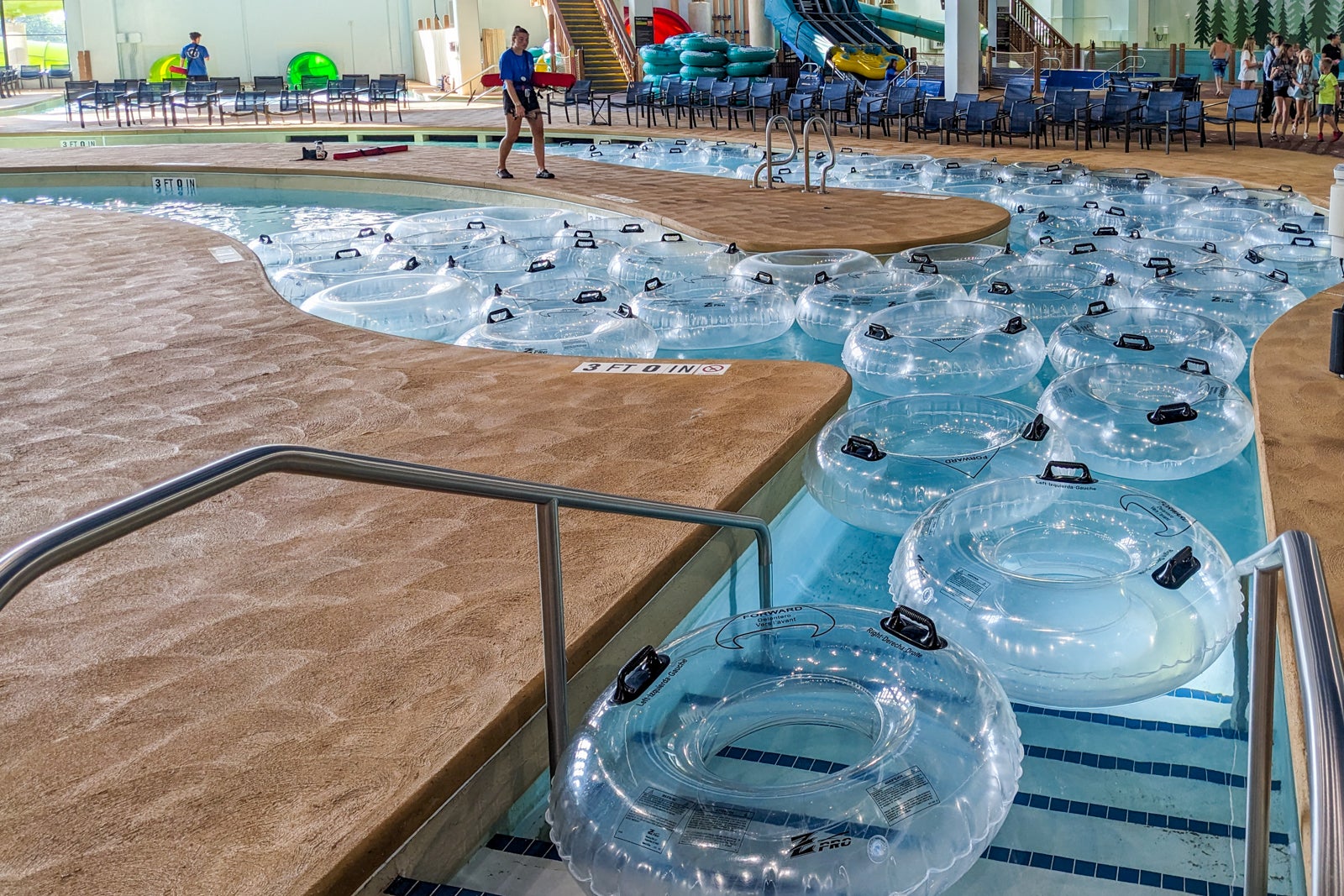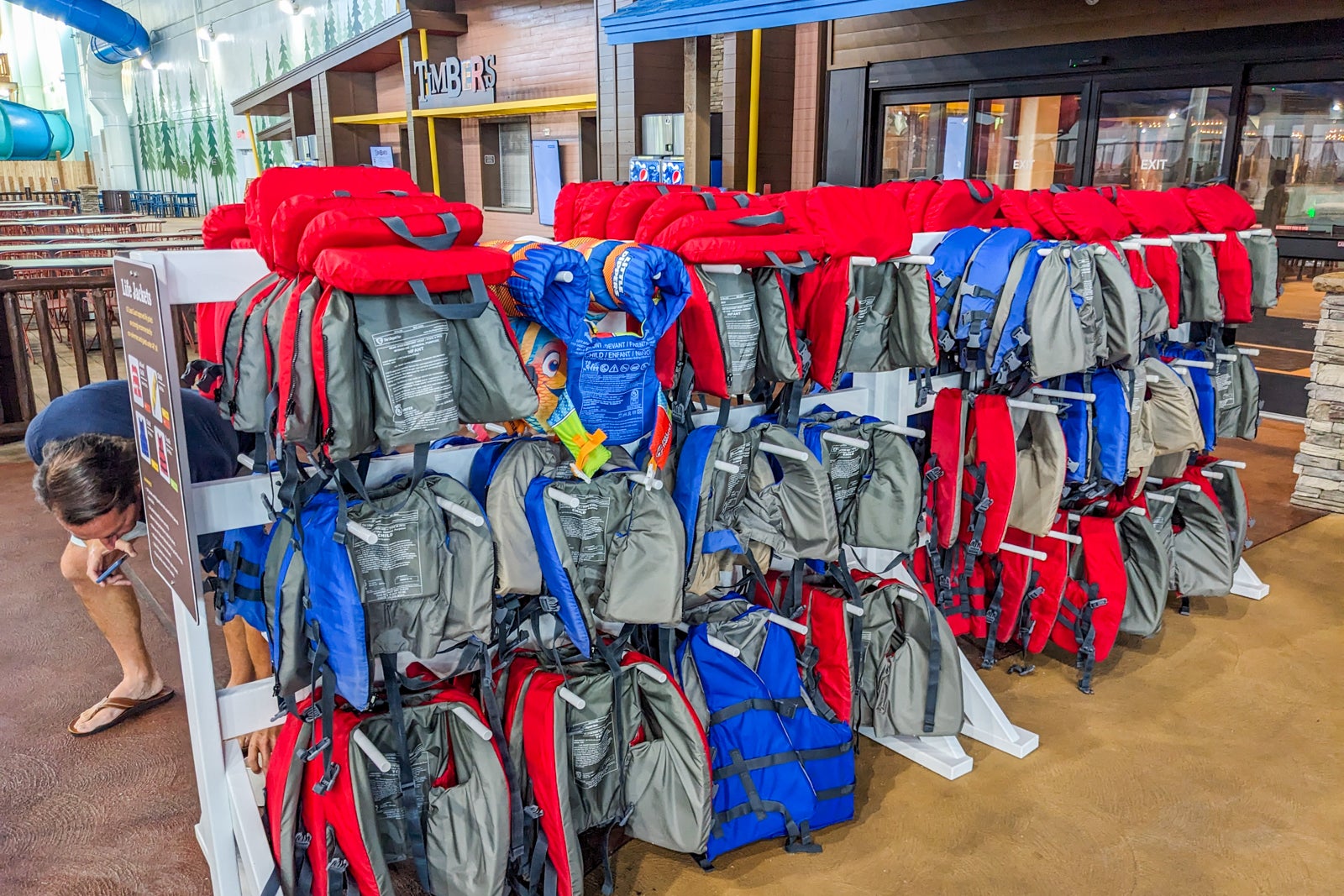 Over our two-night stay, we visited the water park each day for three days straight. Collectively, we tried all the slides. My favorites included Coyote Cannon (with a 40-foot drop into a toilet-bowl-style vortex) and the Chesapeake Plunge, the faster of the two five-person raft slides (the heaviest person has to sit backwards and might get queasy). My daughter was a fan of the drop slide (been there, no longer doing that), as well as the lazy river.
Other attractions include a toboggan-style racing slide, a splash play area for toddlers and a larger splash zone for older kids, a wave pool and a pool with basketball hoops, a short rock-climbing wall and "lily pads" to run across like you're on one of those game shows based on physical challenges, where the audience is in it for the epic slips and dunkings.
The property also has a lovely, large outdoor pool with a small kid-temperature "hot" tub, but we never made it outside. In fact, over the course of our two-night stay, we hardly went outside into the fresh air at all.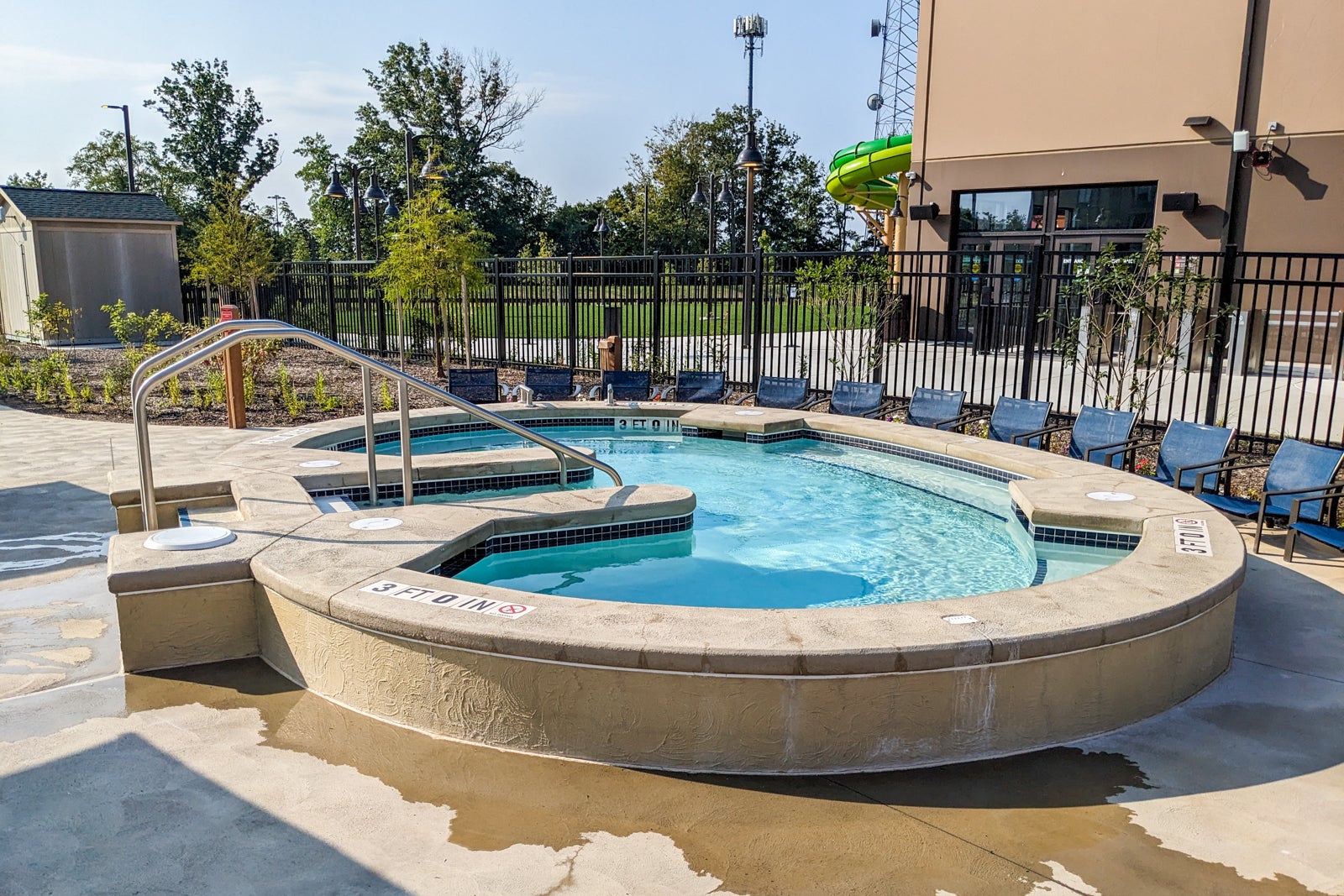 Both the indoor water park and the outdoor pool offer cabanas to rent for the day. These come with a shaded sitting area with patio-style couches and loungers outside, a fan, an outlet, a safe, a TV and a minifridge with water. A server can also bring you food and drink.
These could come in handy if you're visiting the water park before your room is ready, or if you're devoted to spending the day by the pool or at the water park. My family didn't spend enough time in one place for it to make sense. You can also rent lockers for $15 to $20 to store valuables for the day.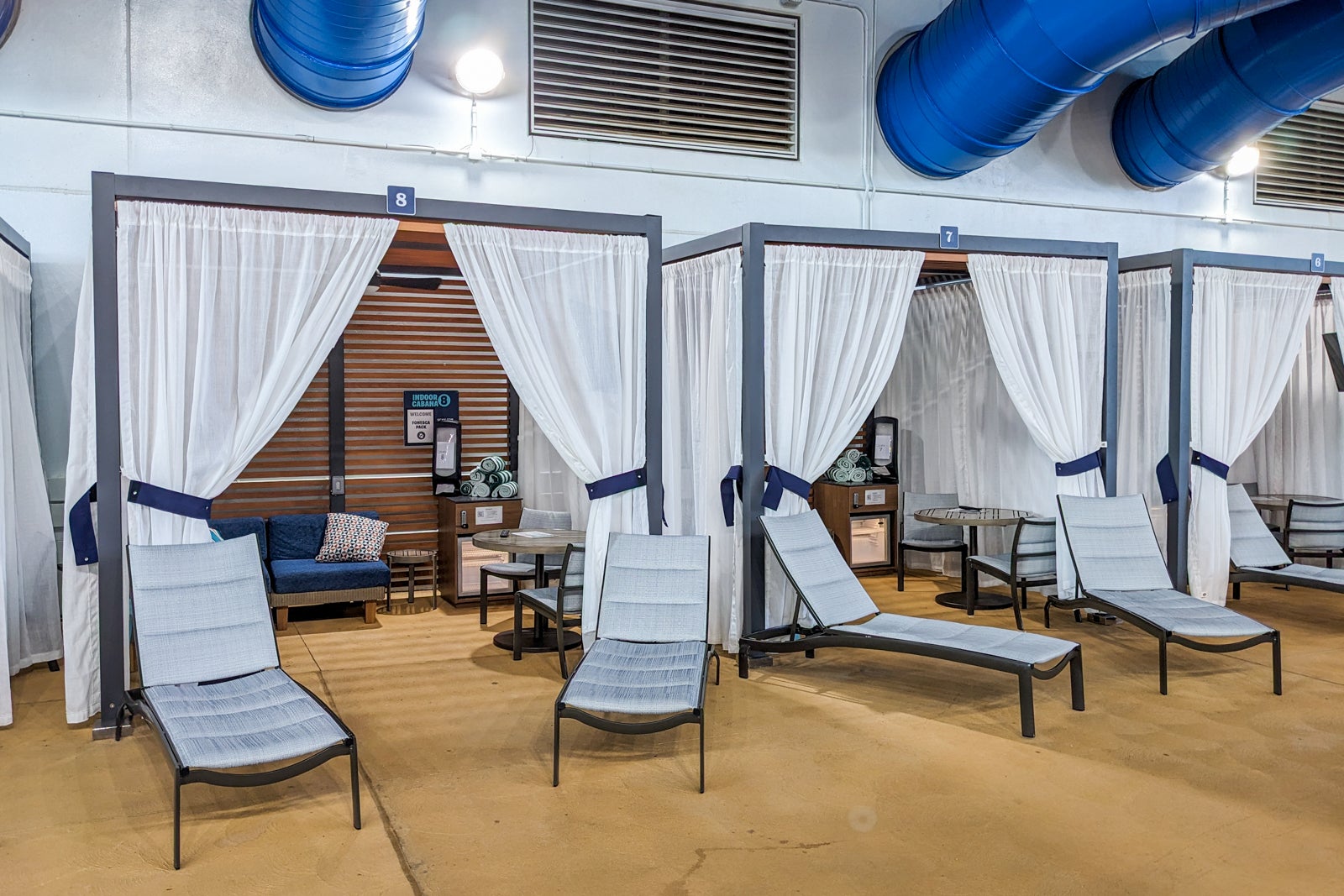 Towels are provided but you need to sign them out, and will be charged if you don't return them. Children under 52 inches tall will be measured before entering the water park and given different colored wristbands to indicate which attractions they can use and whether they need a life jacket (provided in the park).
Pro tip: Bring a waterproof case for your cellphone so you can keep it handy for pictures and to tell the time as, like in Vegas, there are no clocks in the water park.
The adventure park and indoor attractions are a pricey mixed bag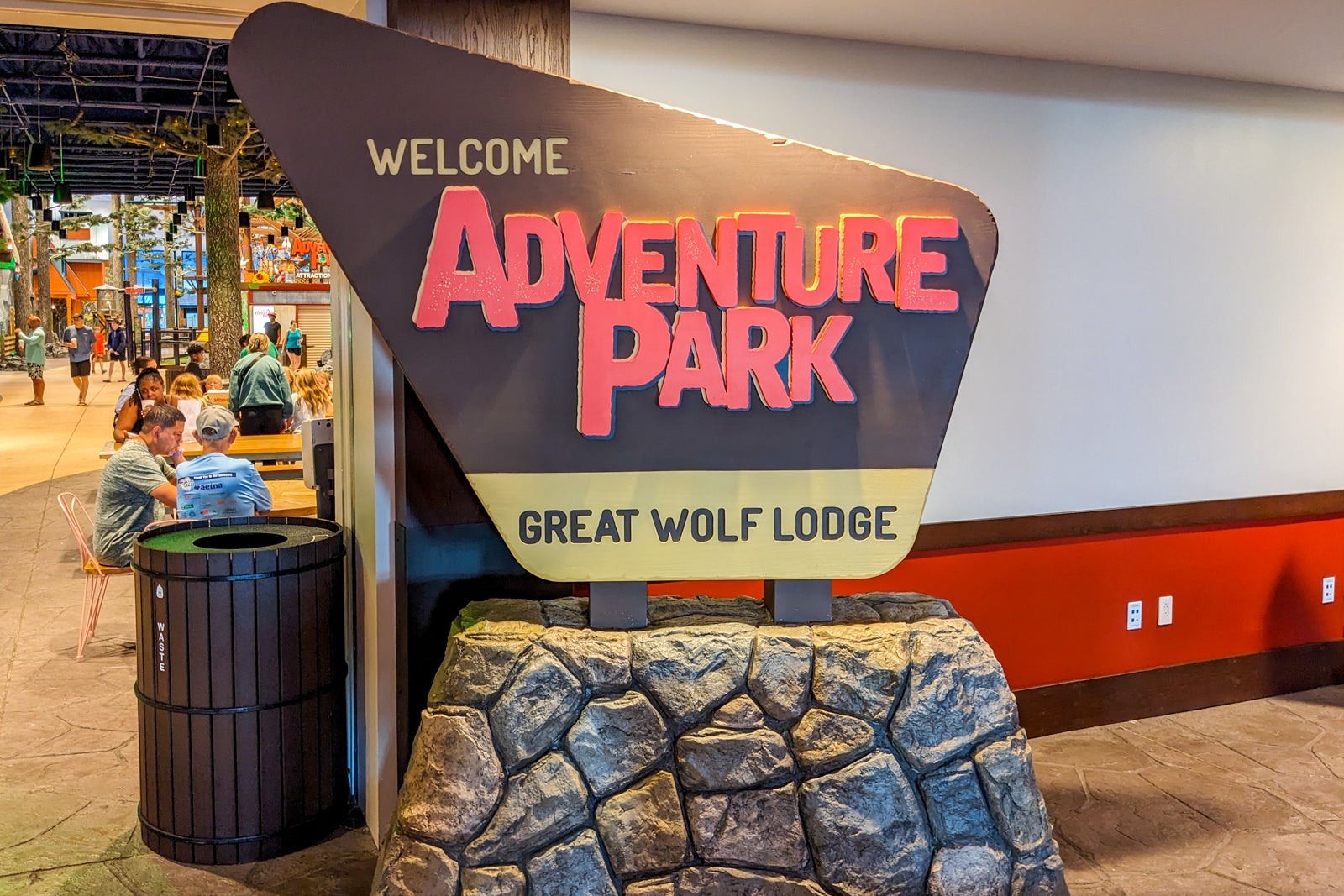 The water park is not the only attraction at Great Wolf Lodge. Between the main lobby and the water park is an indoor adventure park with numerous activities and attractions for kids of various ages. Most come with an additional fee, though you can purchase passes that bundle admissions into a set price.
For my kids, it was all about MagiQuest, a scavenger hunt with interactive digital displays. The first challenge is for the parents: Do you accept the basic wand included in the package price, or do you upgrade to the fancy wand with a power-enhancing topper that will set you back roughly $20 so your kids get additional magic in the game?
We stood our ground and stuck to the basics. Sulking ensued.
Once that gauntlet was run, MagiQuest was the best thing ever. Both my 9-year-old and 12-year-old were fully engaged in running back and forth across the indoor public spaces, searching for runes and battling bosses with their non-designer wands. For my older son, it was an activity that gave him independence and got him away from us boring adults, as well as something to keep him occupied while we waited for food or finished dinner. My younger daughter loved the story and the searching.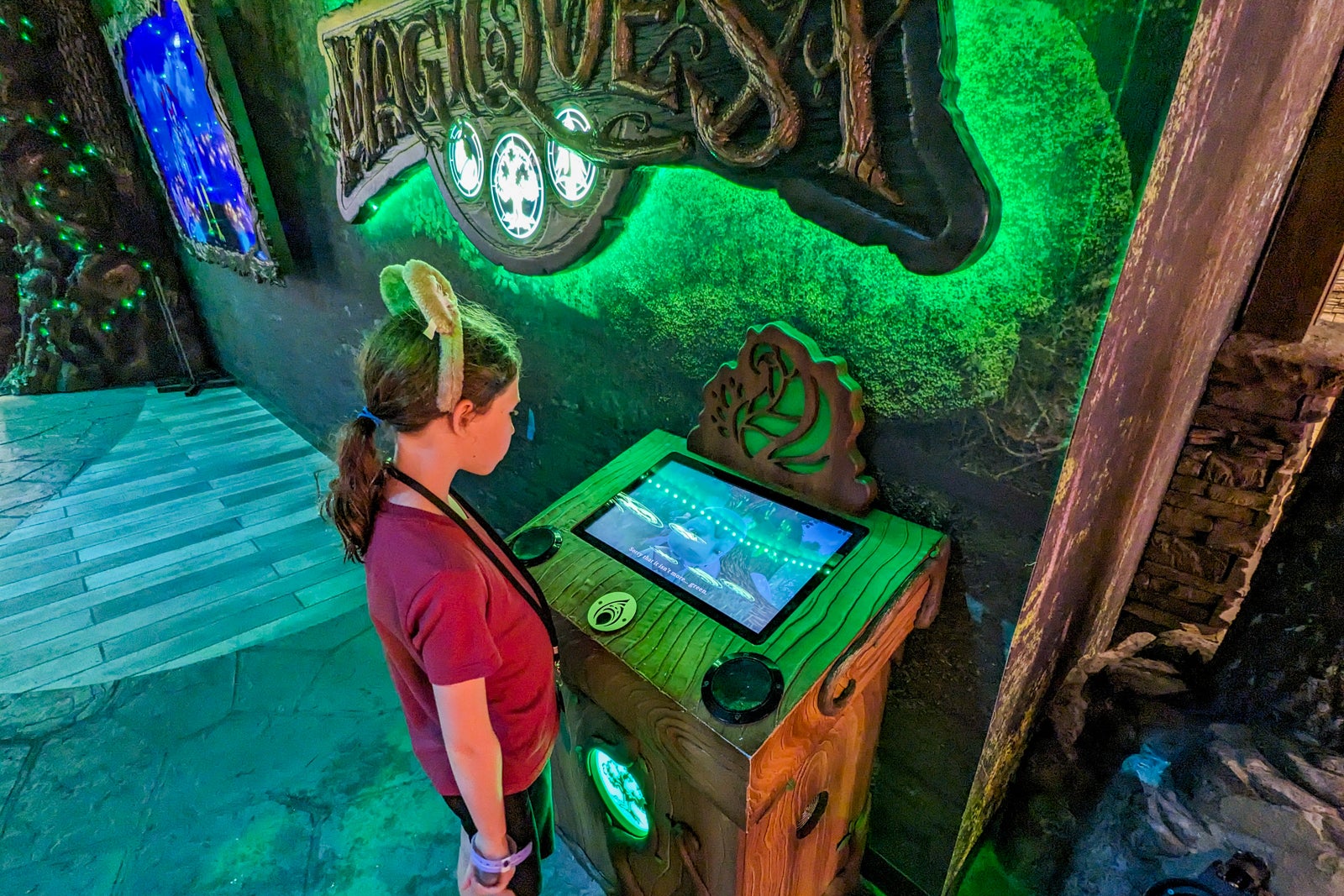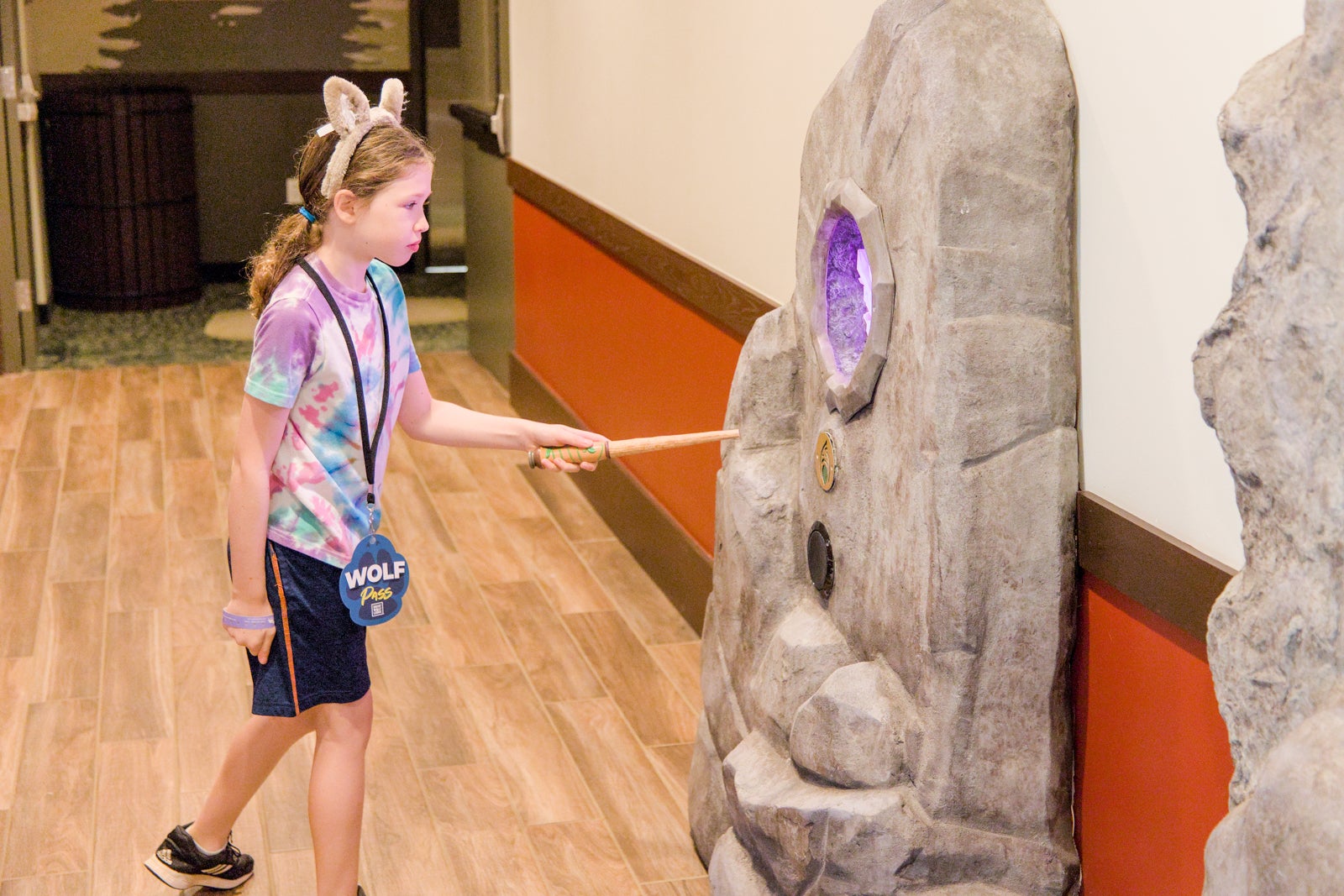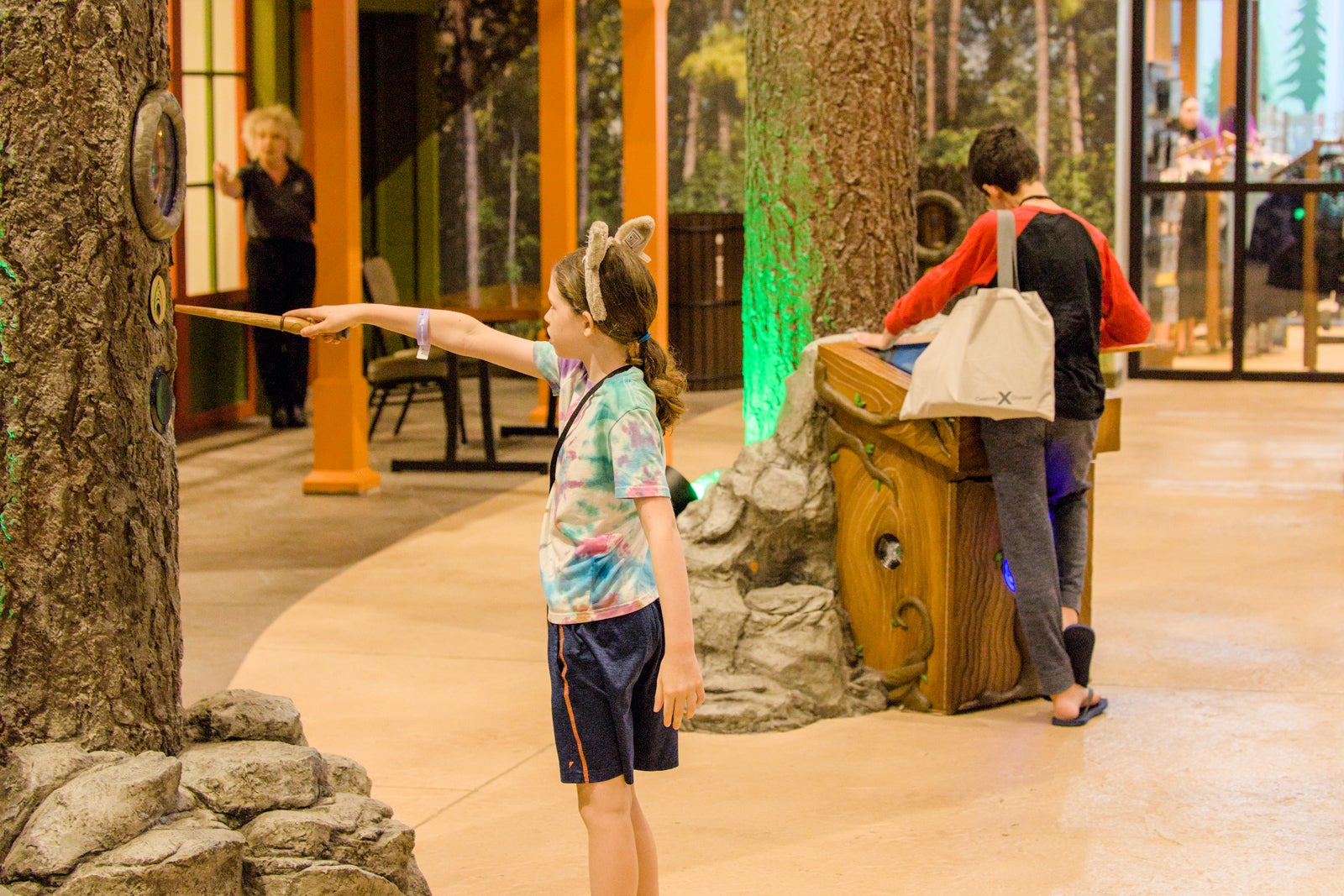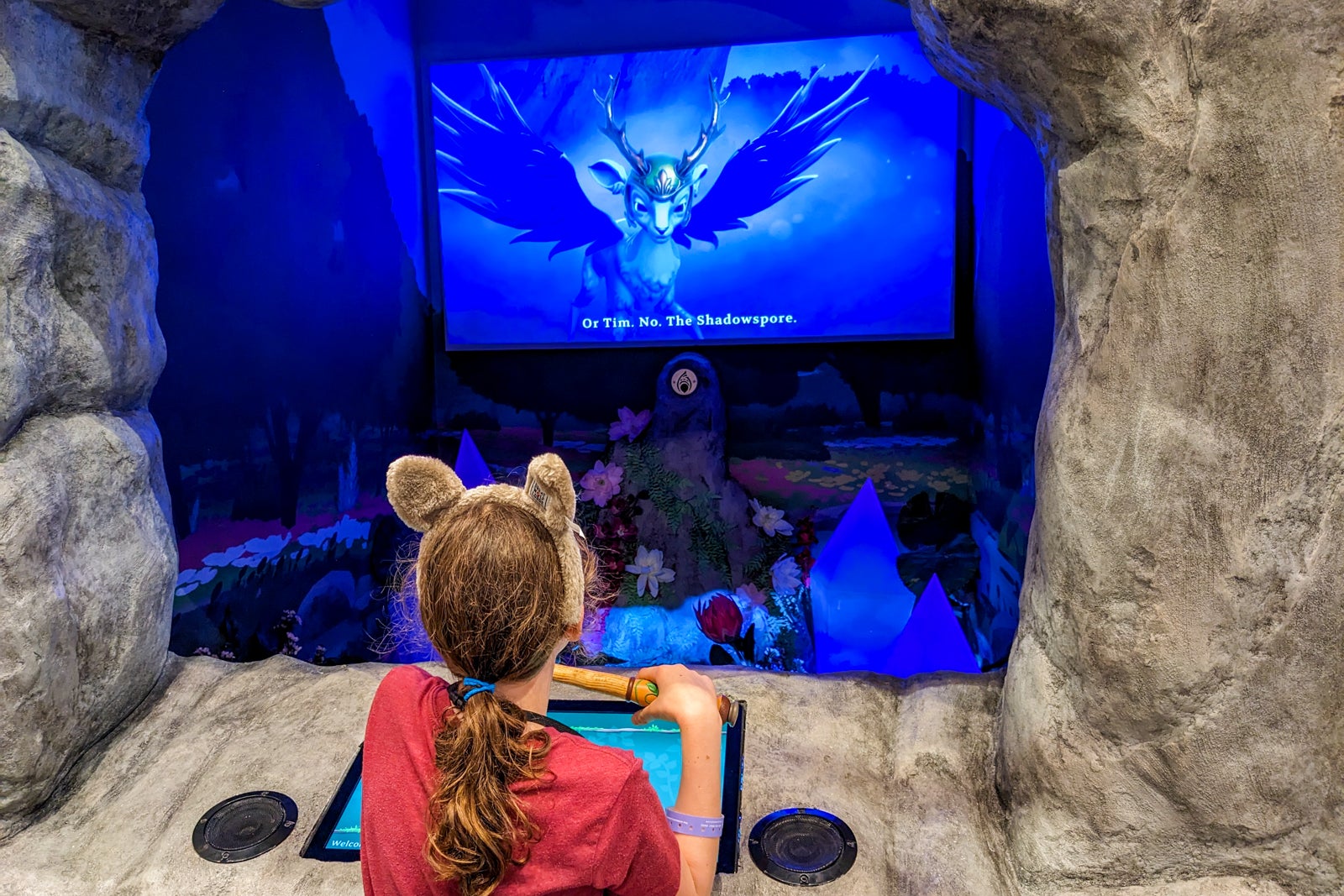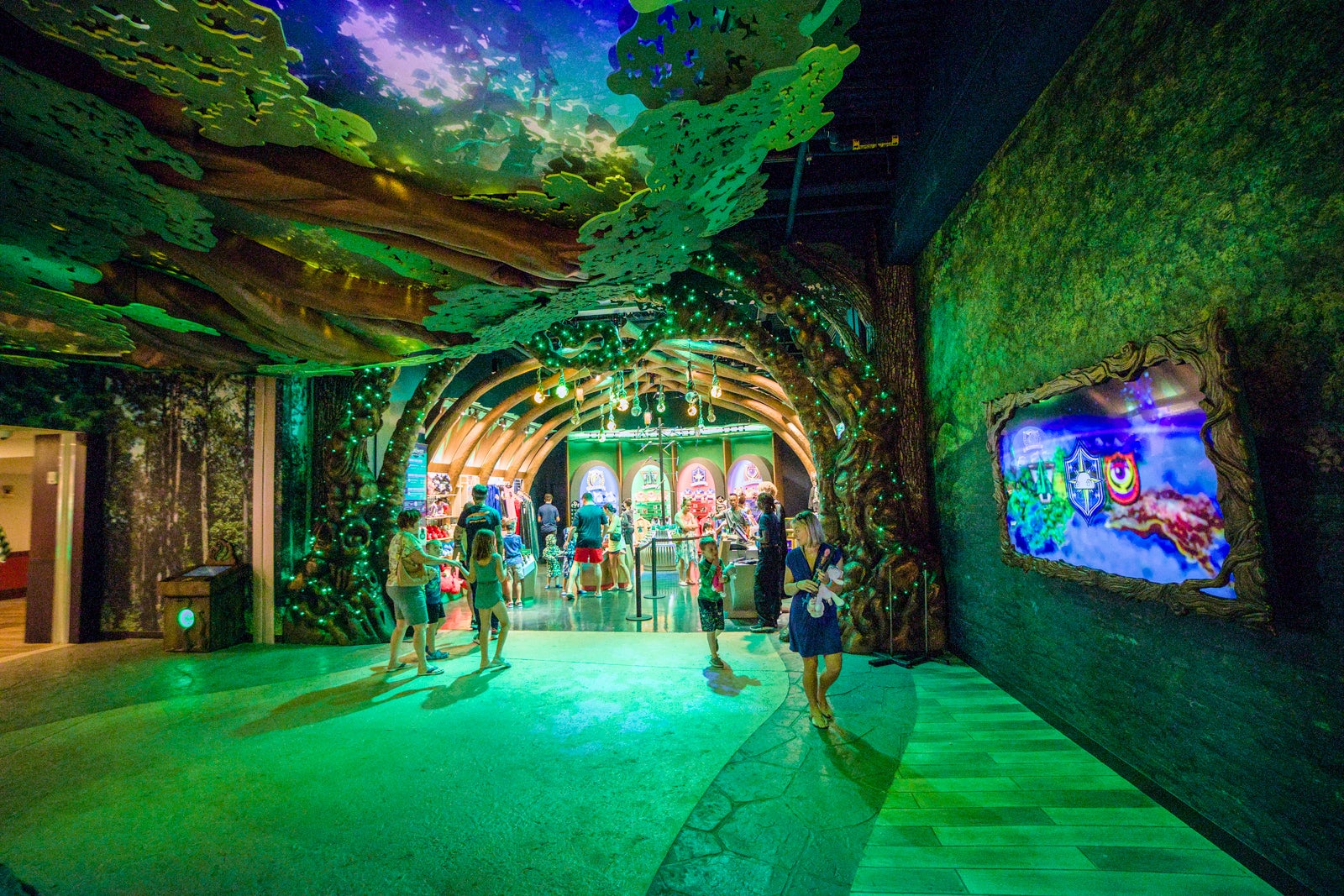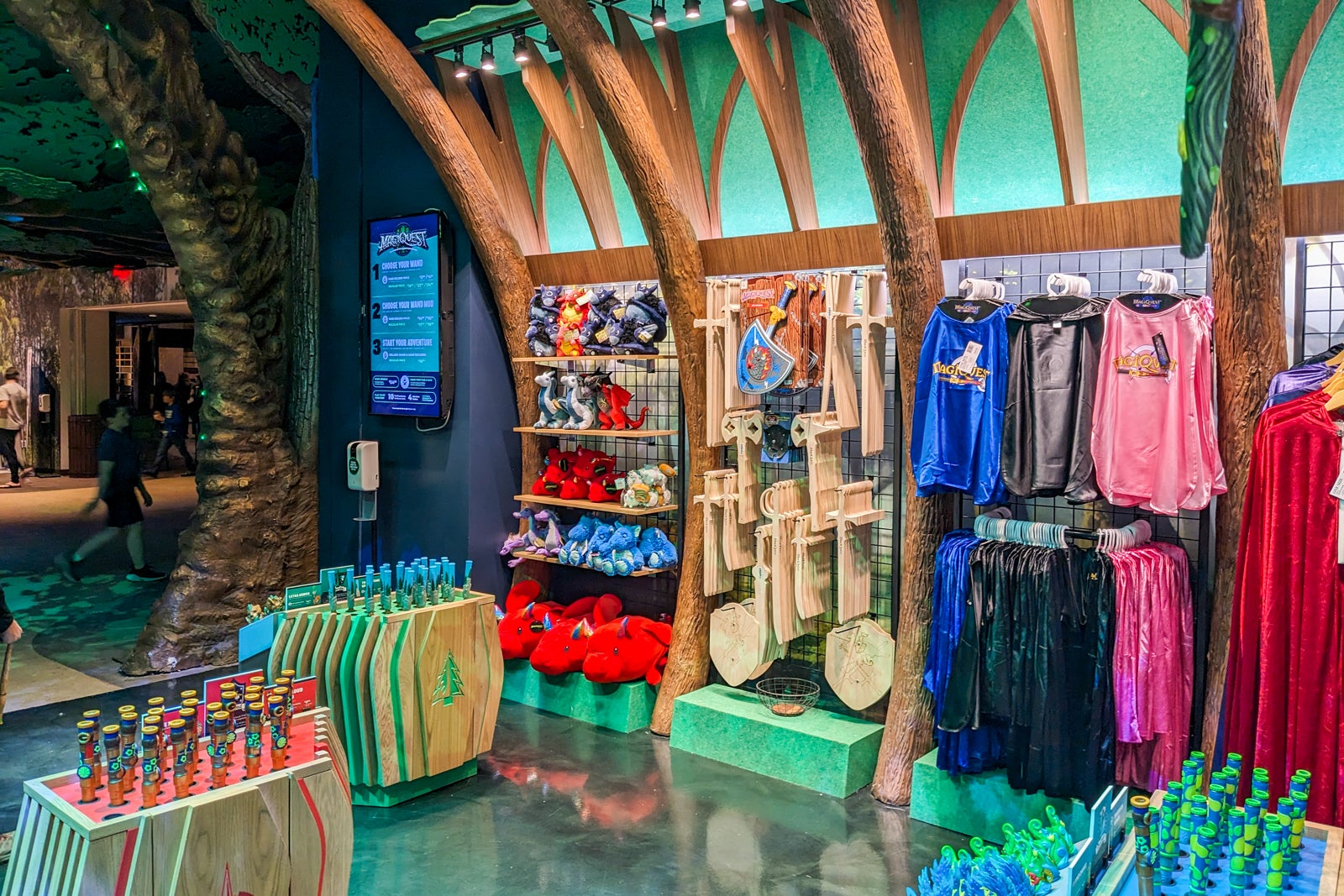 Parents of younger kids do need to join the search and assist in the quest-ending battles. My advice? Butt out if your kids are school-aged — the only boss battle my family lost was the one I "helped" with. Be prepared to wait in line at some of the quest-directing and boss battle stations at peak times — I mean you, adults, because your kids will set you up in line and then go run off to wave their wands at treasure chests and funky fungi while you hold their place.
I was also impressed with the two-level ropes course that had some interesting challenges (like a suspended skateboard) and took a good 20 minutes or so to complete. Each level also had a harnessed employee on hand to help out when your little one balks at "walking the plank" and needs their hand held.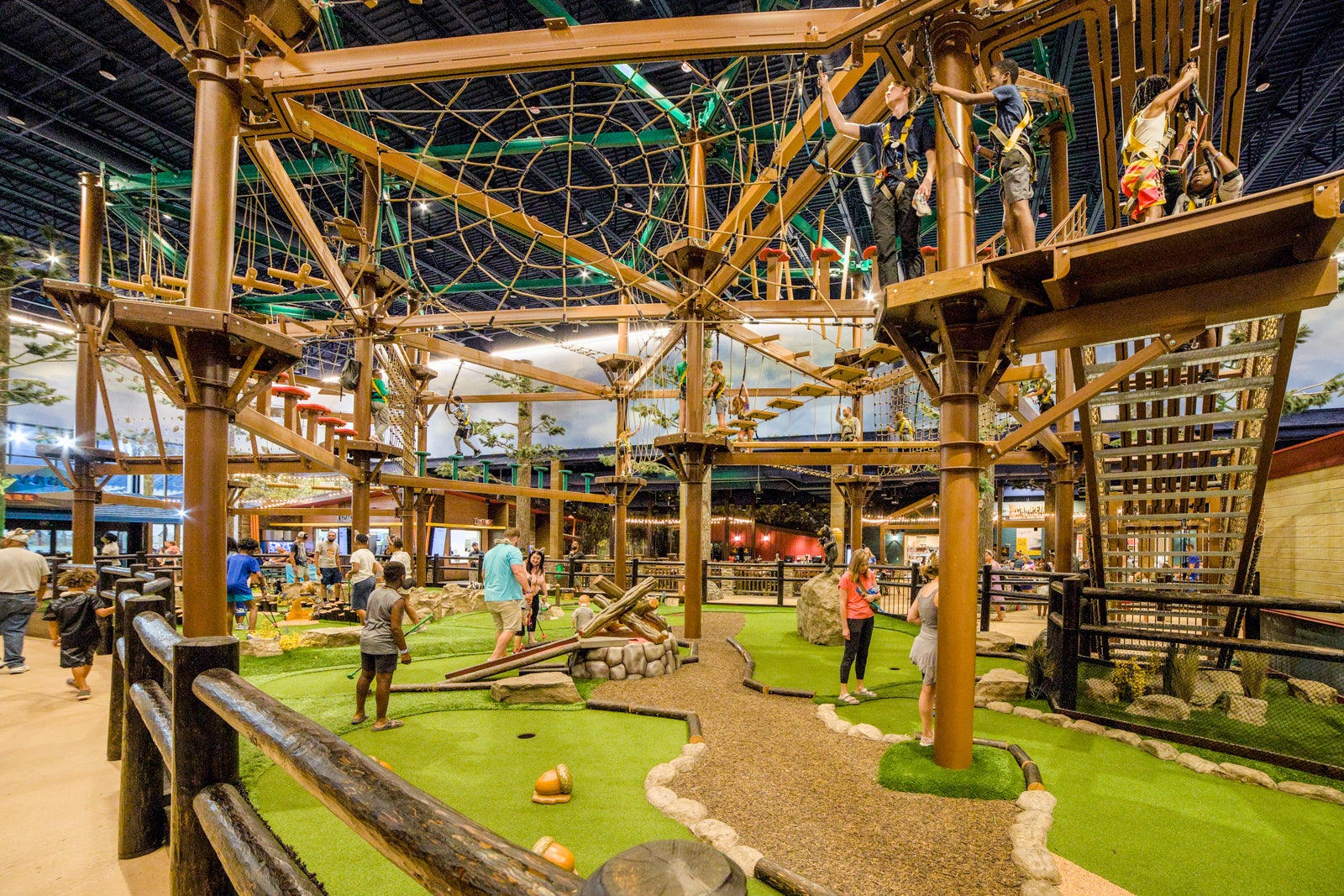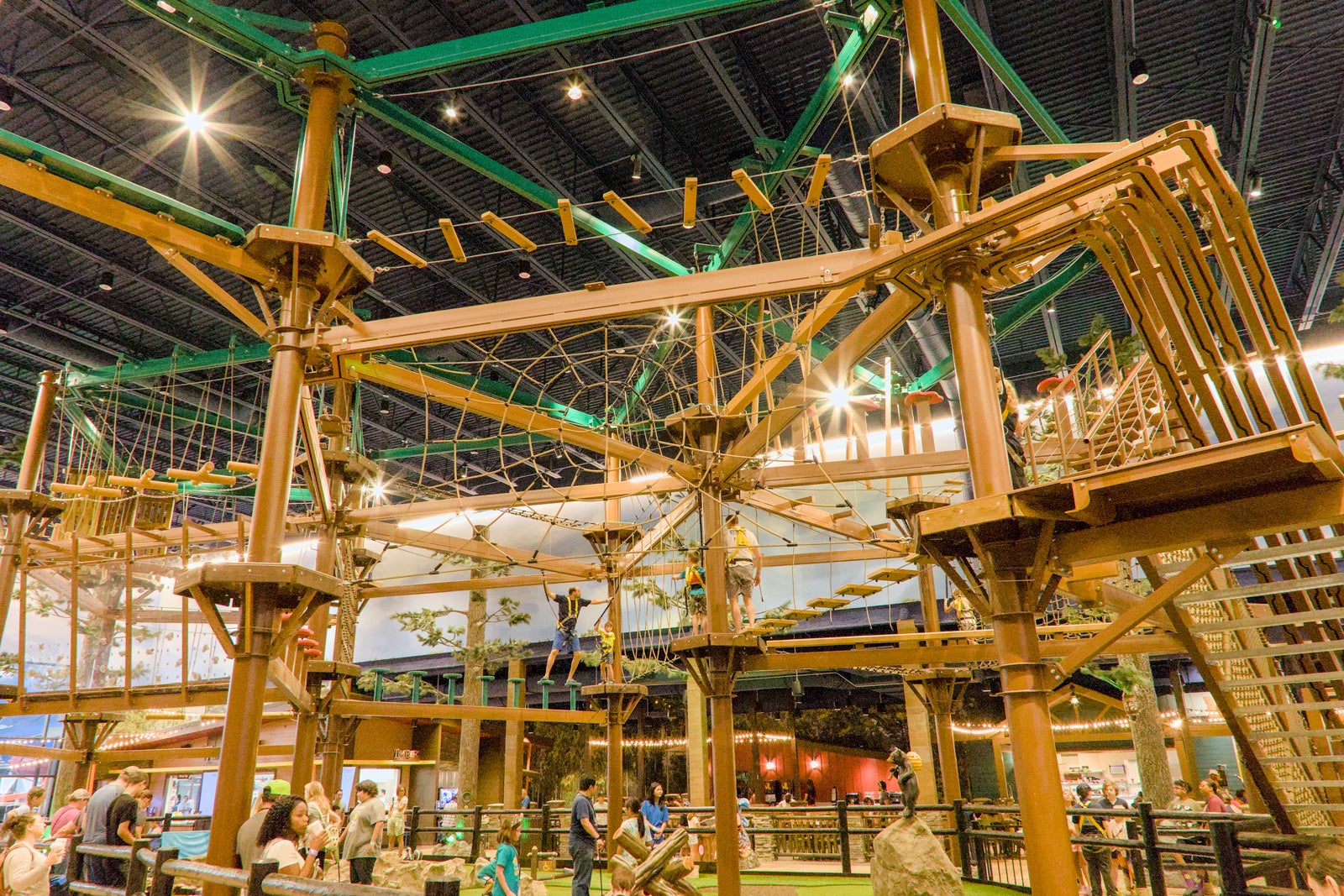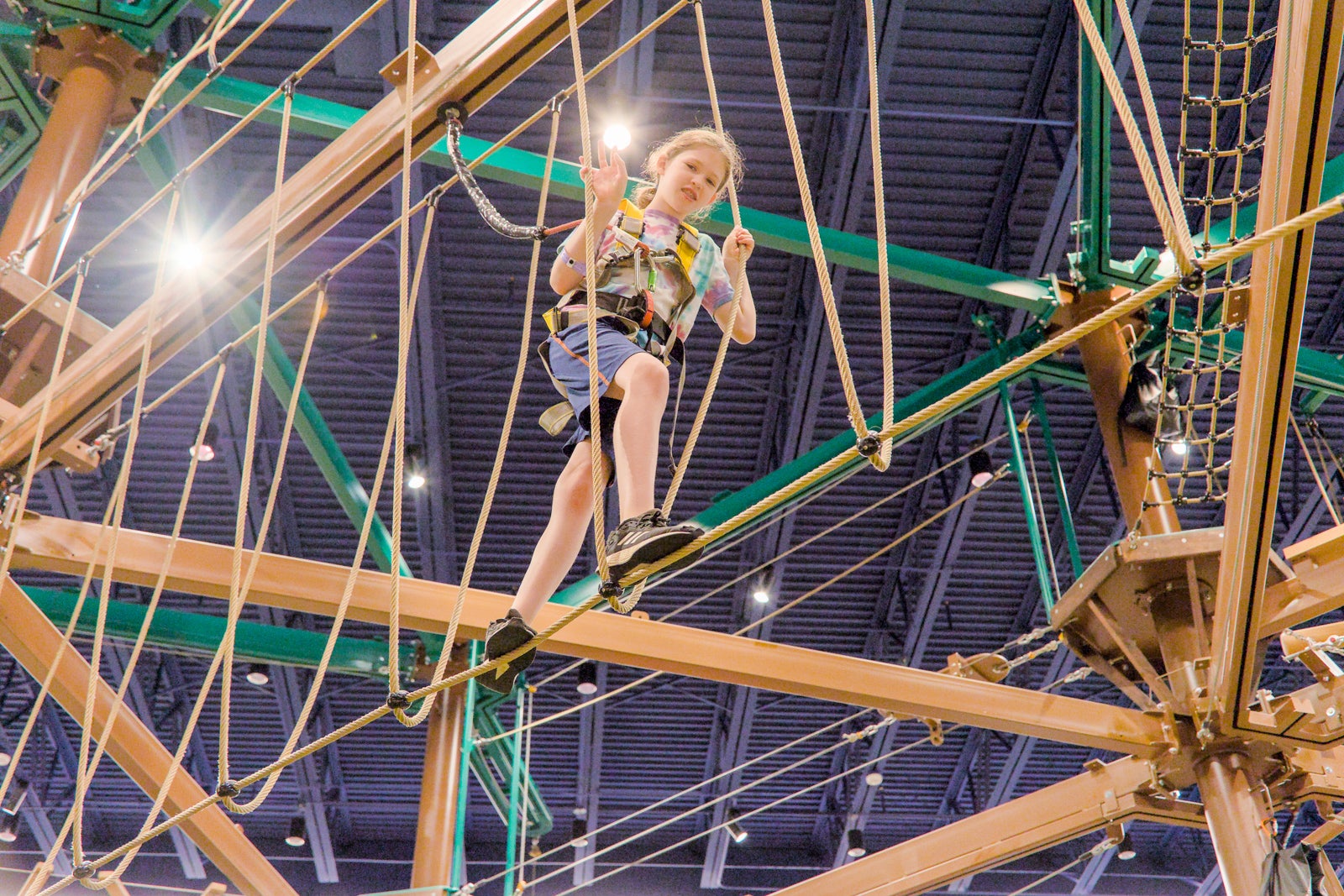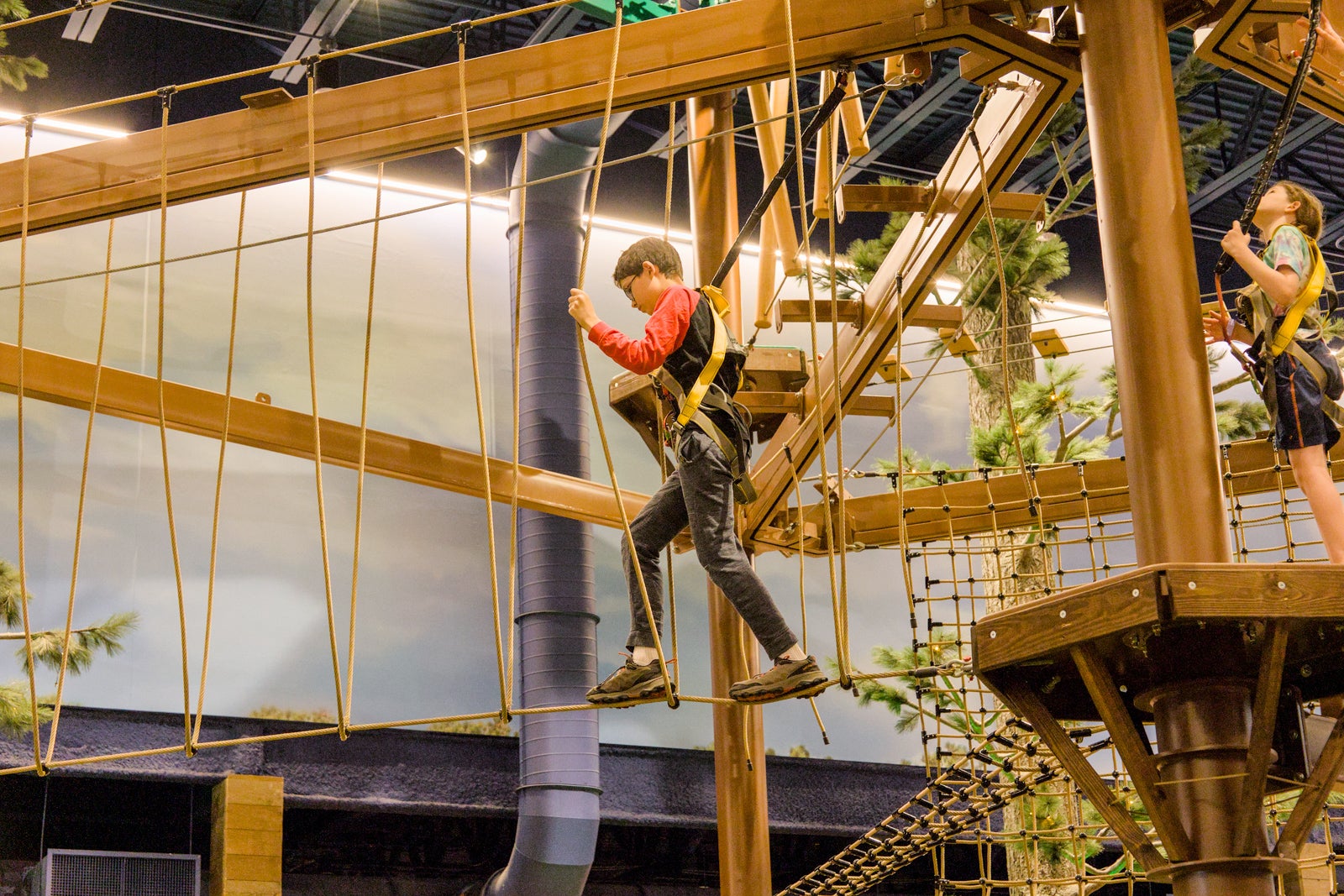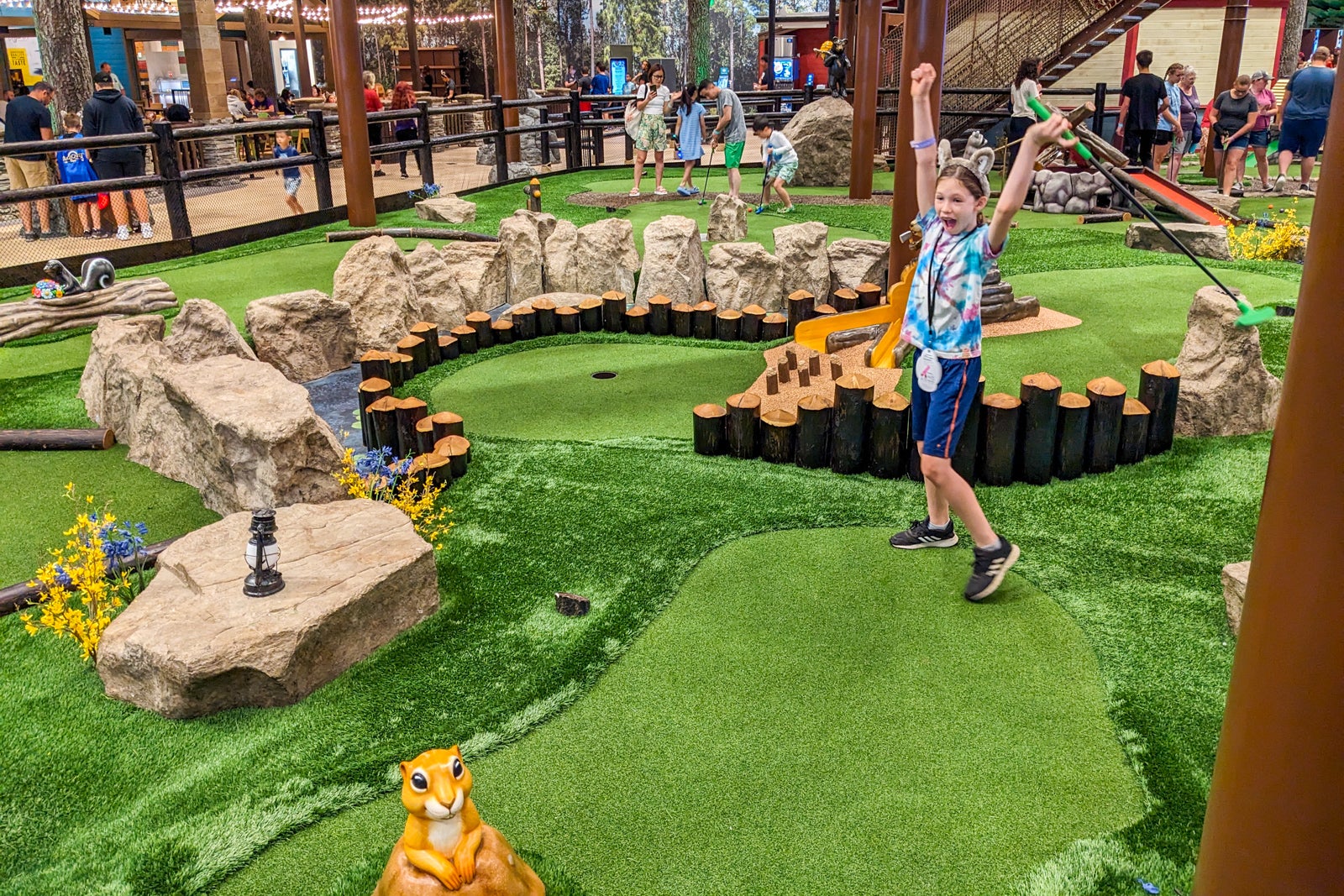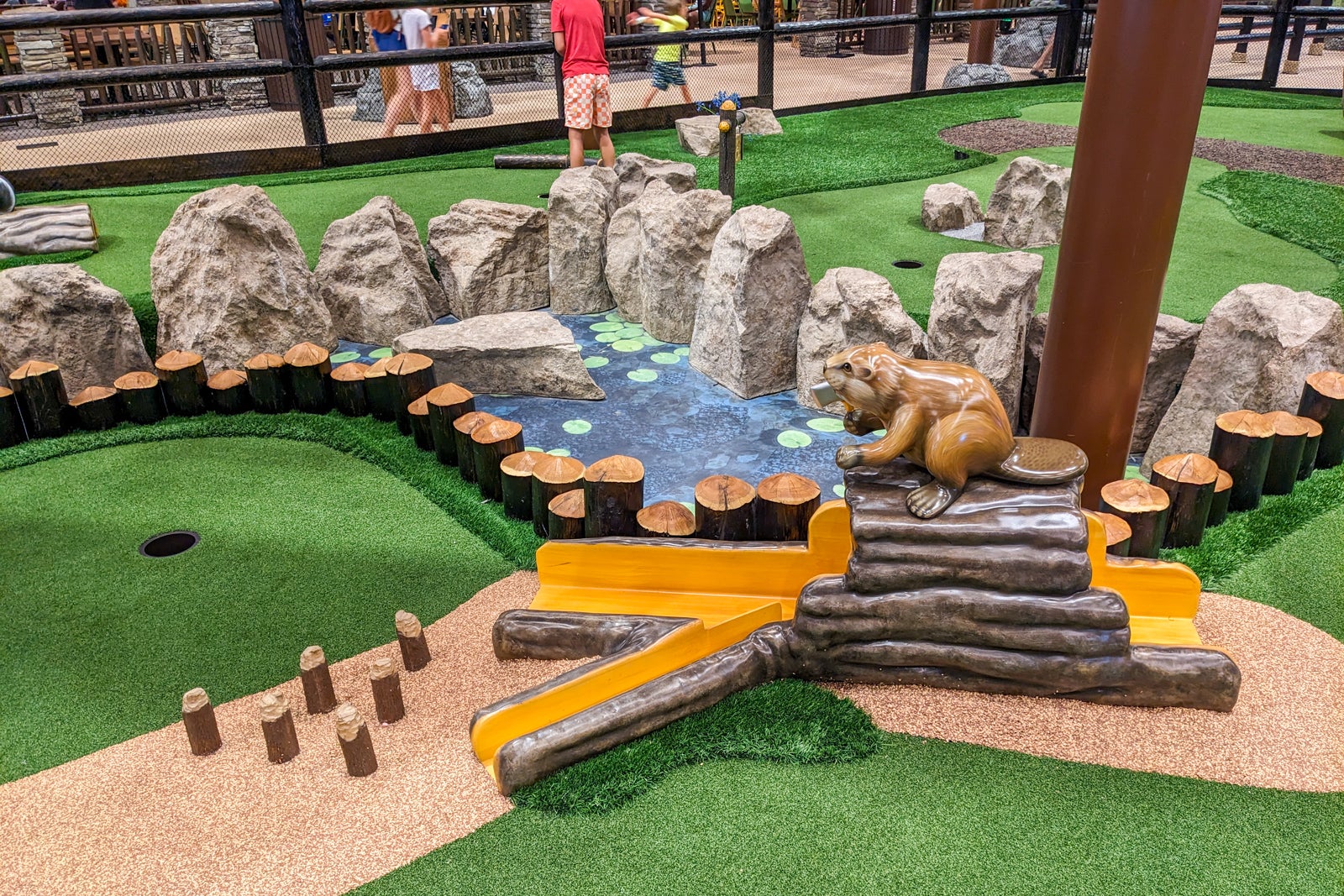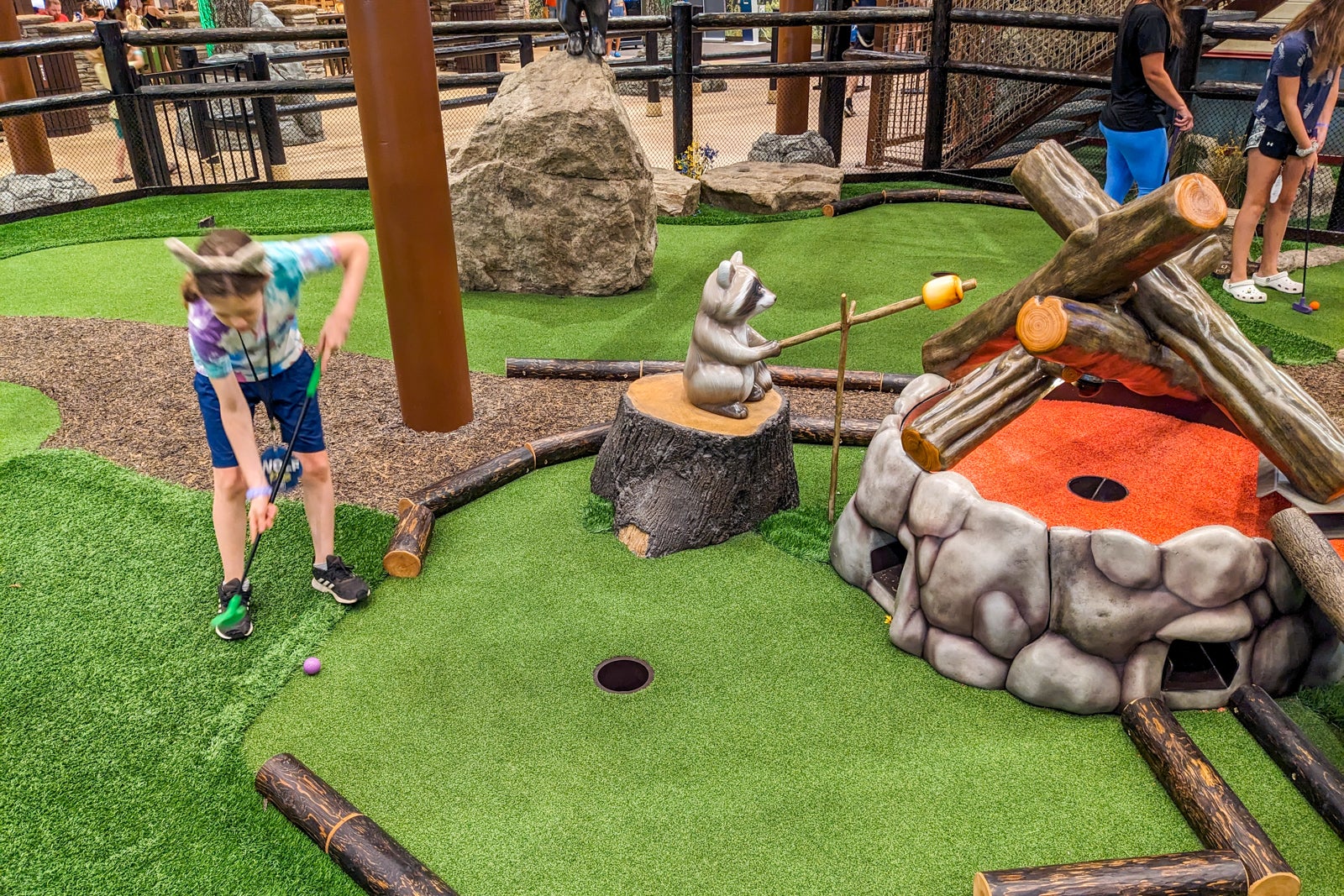 Beneath the ropes course, a cute forest-animals-go-camping-themed minigolf course is a fun diversion with innovative obstacles such as beaver-chewed logs and a bear sleeping in a tent. I didn't see scorecards, so the kids cheated shamelessly.
Other attractions include a mirror maze (a fun novelty but not a must-do), panning for gold (basically, you buy a bag of dirt and pebbles to sort through), short-lane bowling and an arcade ($5 of play was equal to two or three games).
Because Great Wolf Lodge allows you to buy admissions individually, as a family or bundled into a pass, you will need to pay attention to your budget, or you could find yourself paying plenty extra for various activities without even realizing it.
My kids each had a Wolf Pass, which entitled them to the following activities and inclusions with the corresponding values:
One MagiQuest game ($16.99)
One basic MagiQuest wand (or the basic topper or belt for kids who already own a wand, which is reusable from lodge to lodge; valued at $17.99 to $24.99)
One game of bowling ($7)
One round of miniature golf ($7.99)
One traverse of the ropes course ($14.99)
One admission to the mirror maze ($10.99)
$5 arcade game card
One single scoop of ice cream in a cup ($4.99)
One small cup filled with your choice of bulk candy ($13.99)
The Wolf Pass also offered various discounts, such as 20% off a Build-a-Bear, 25% off a personalized leather bracelet, 20% off swim goggles and 20% off a glow or bubble item. As an adult without a pass, I was given a discount to join my children, so I paid just $4 each to go on the ropes course and into the mirror maze. This pass costs $85.99, which was advertised as saving you more than 20% over individual prices.
But if I add up the cost of the individual items, I come out close to $100. Presumably, the additional savings are from the other discounts you can get on extra purchases.
Great Wolf Lodge offers two other passes, the Pup Pass for kids too young to do the adventure attractions ($59.99 for candy, ice cream, arcade and free Build-a-Bear) and the Paw Pass ($75.99 for the two treats, arcade, MagiQuest game and wand, and a leather bracelet).
My advice is to plan out in advance which attractions you will do (and how many people will do them versus just watching) and then figure out if individual admissions, family rates or a pass makes the most sense.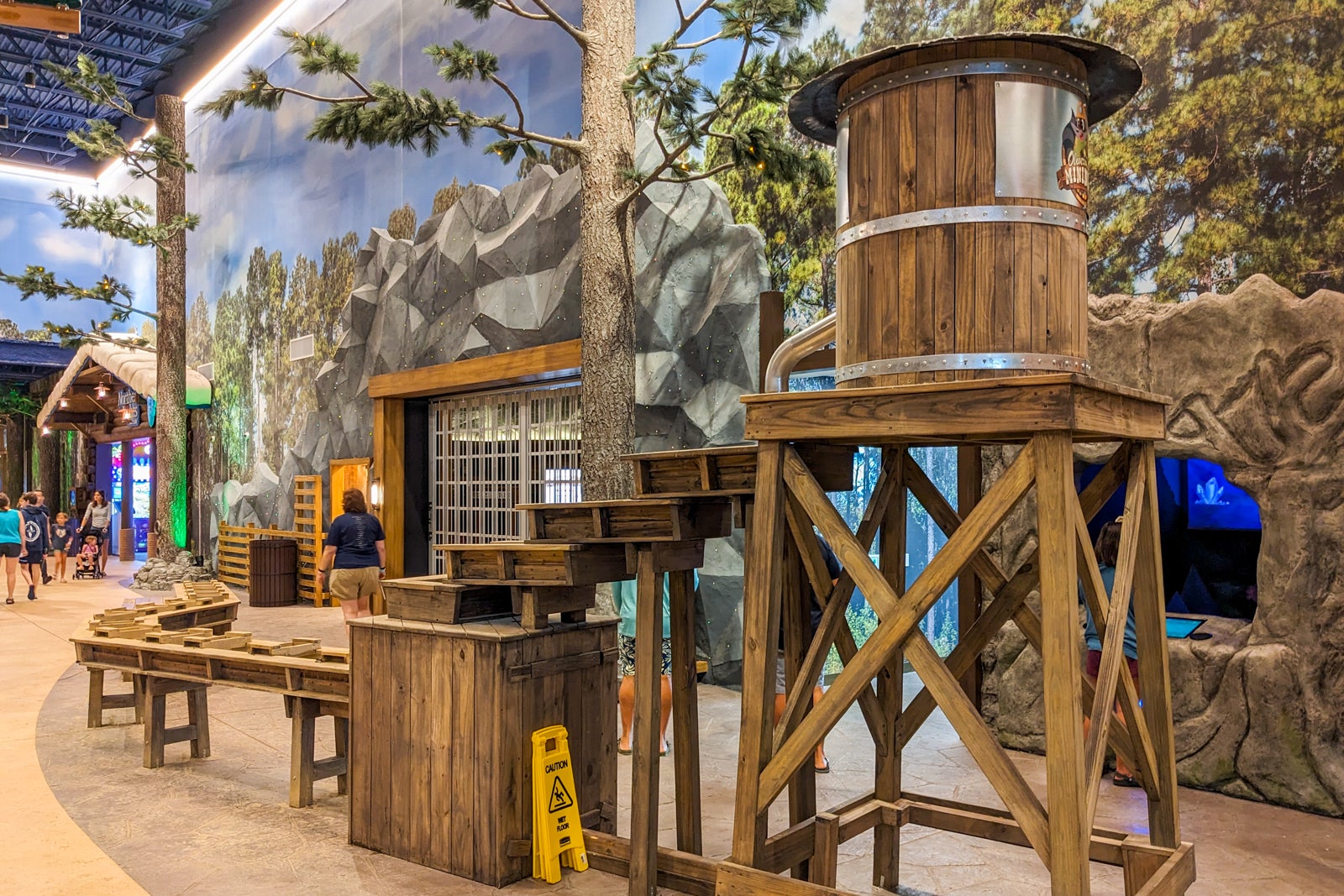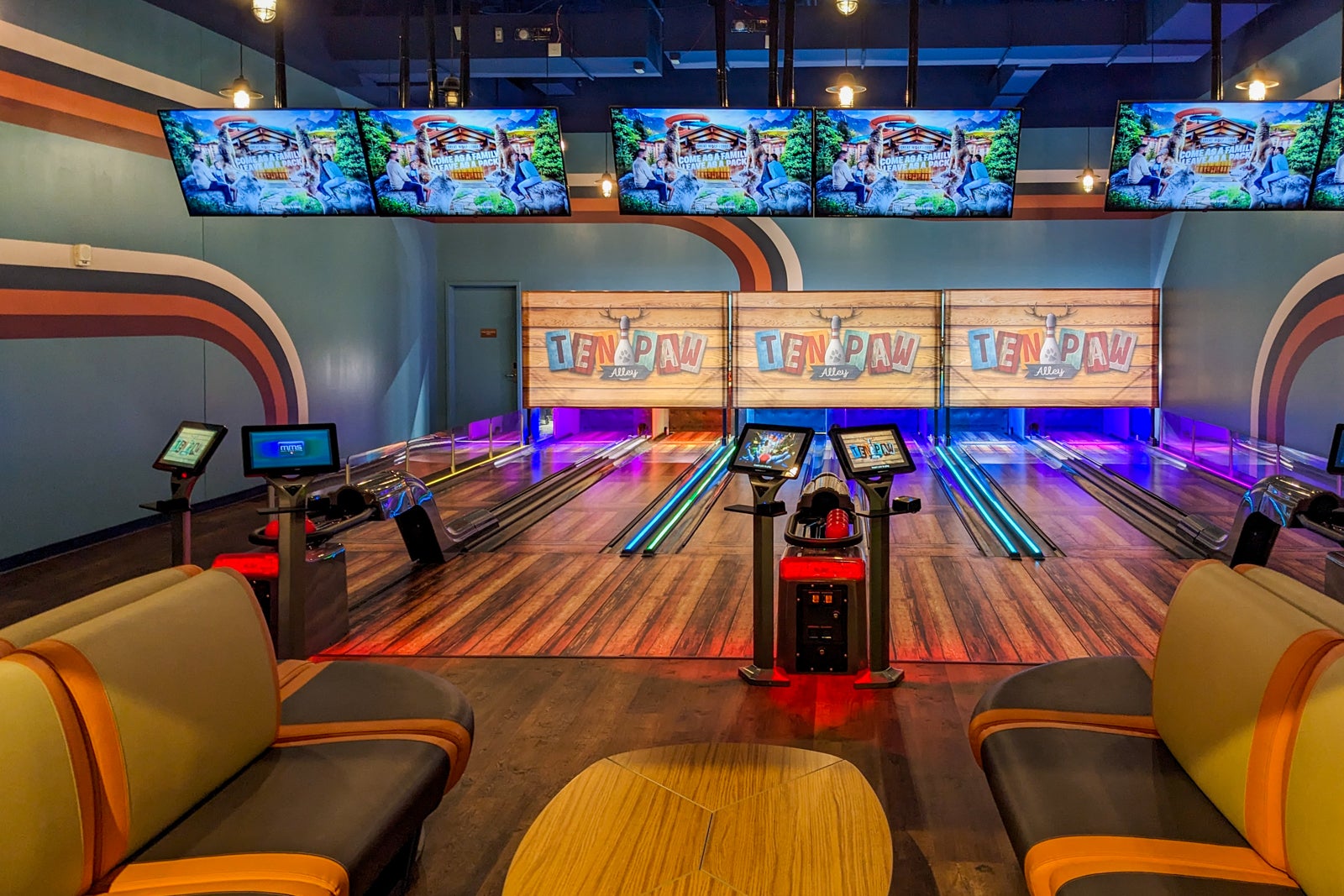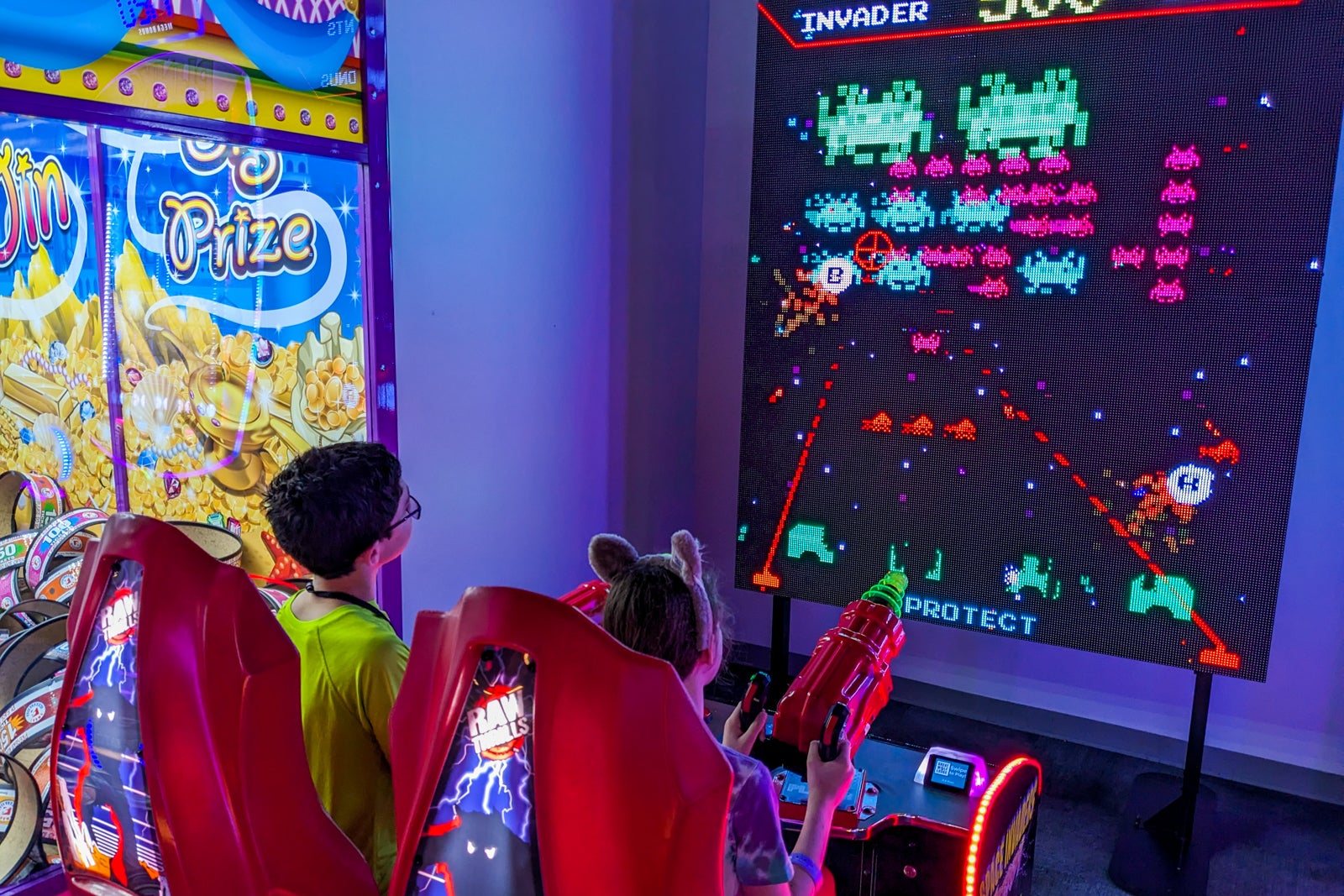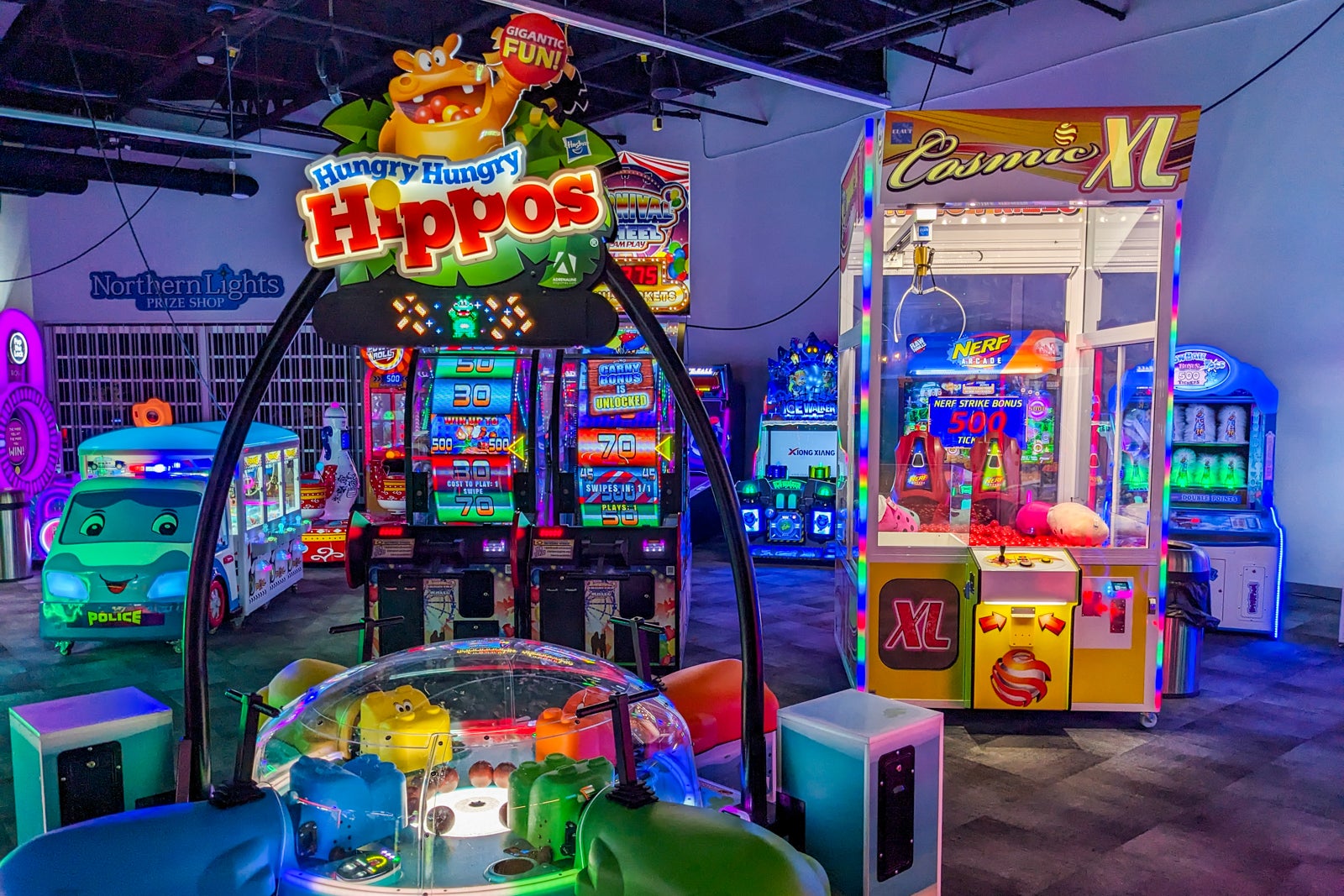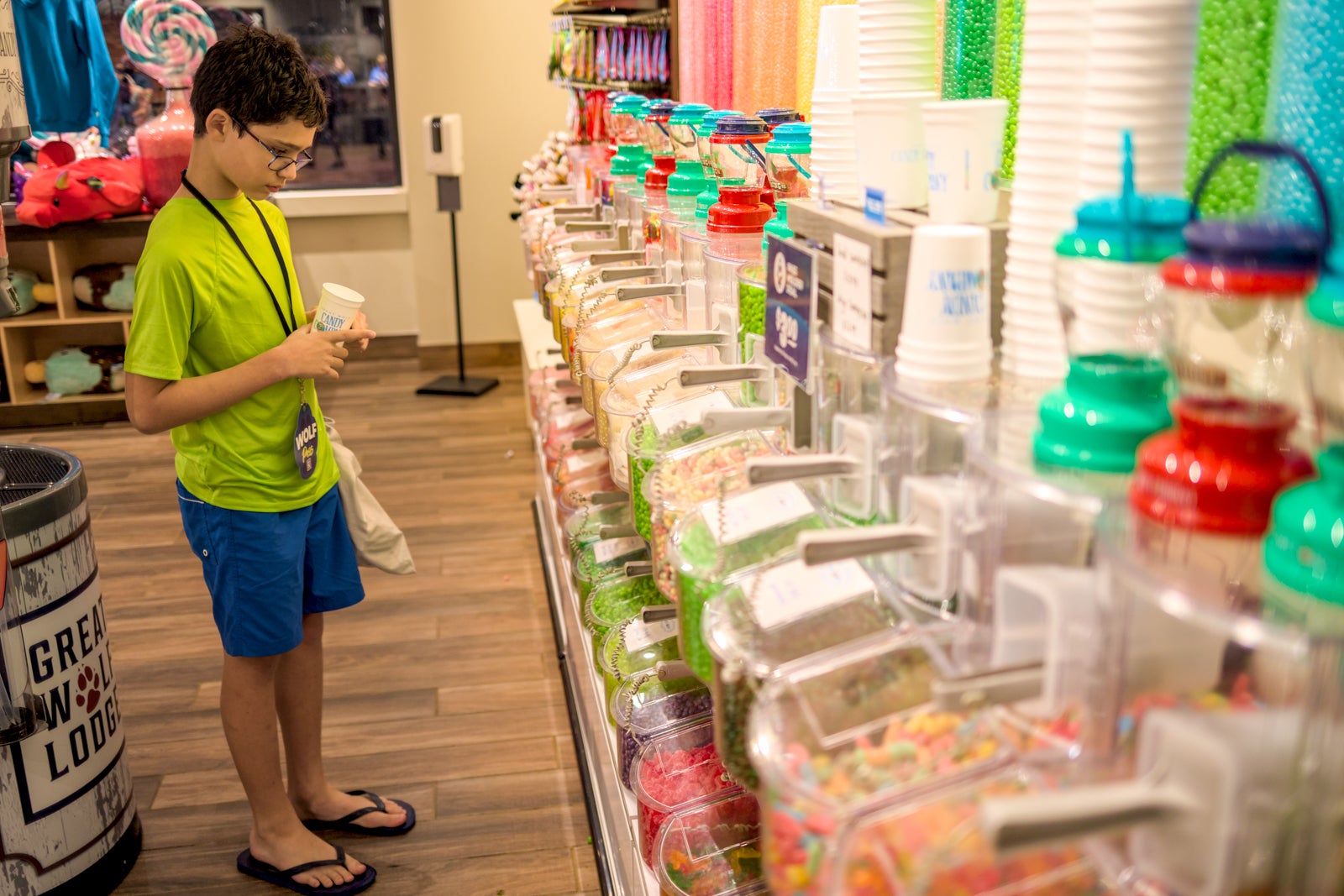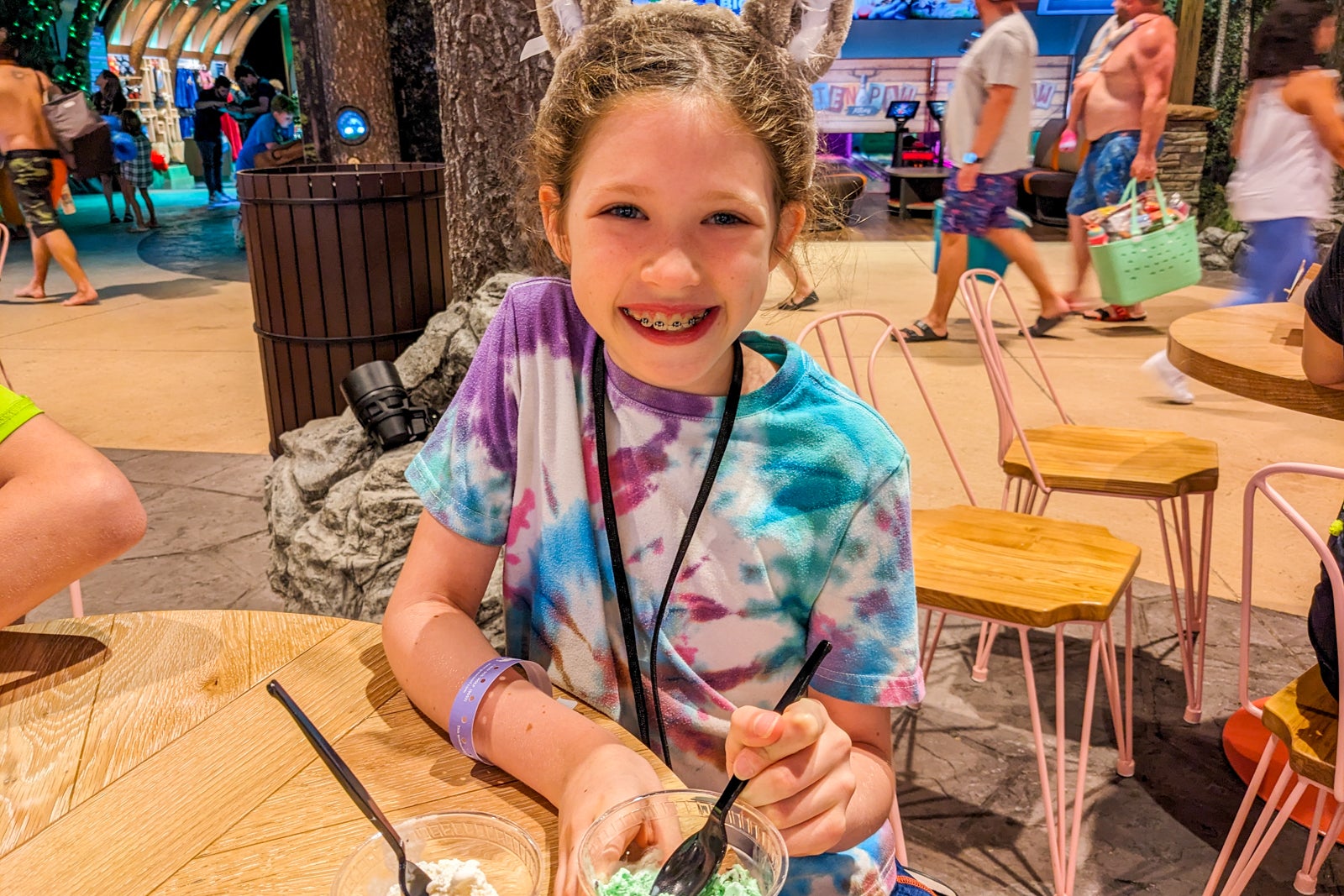 Depending on which pass you buy, you might need to prepare your kids so that they can get whatever is included in the pass, and everything else is off-limits.
Great Wolf Lodge Maryland does run daily free programs targeted at younger children, including morning yoga, arts and crafts, character meet-and-greets, an evening dance party and a pajama storytime that's a short animated video with cool special effects. So not everything will add to your bottom line.
On-site restaurants serving theme park-style food are expensive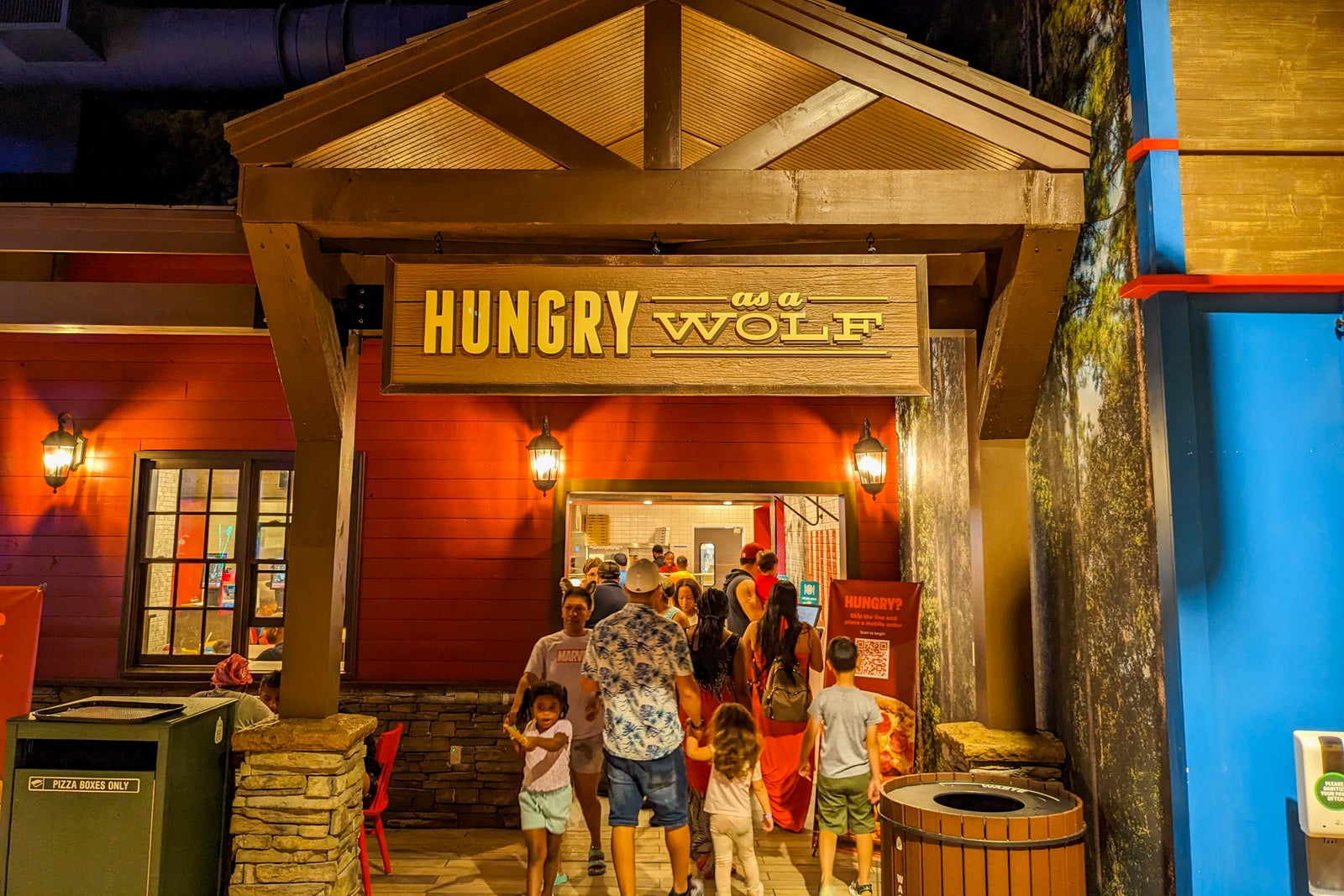 "Look — there are chicken tenders on the breakfast buffet," my husband pointed out to my daughter on our last morning. "You could eat chicken tenders for every meal here." His comment sums up the Great Wolf Lodge restaurant situation. It's a kids' dream — and a health-conscious, cost-conscious parent's dilemma.
Although you could certainly venture out to eat, the convenience of dining on-site will get you every time. You're unlikely to pull your kids from water park fun to drip your way out of the lodge and drive 5 minutes to the closest food options: a Subway, a Denny's and a taqueria, according to Google Maps. You can bring your own meals and stash them in a cooler, but you can't eat food you bring yourself inside the water park.
In short, expect to pay upwards of $60 for four people to eat pizza, nuggets or burgers by the pool with nary a non-fried vegetable in sight.
Your kids will love the options. Timbers serves up chicken tenders and nuggets, burgers, fries and nachos with counters and seating both inside the water park and by the adventure park. Its nods to healthy cuisine include a bunless burger, a chicken Caesar salad and a veggie burger.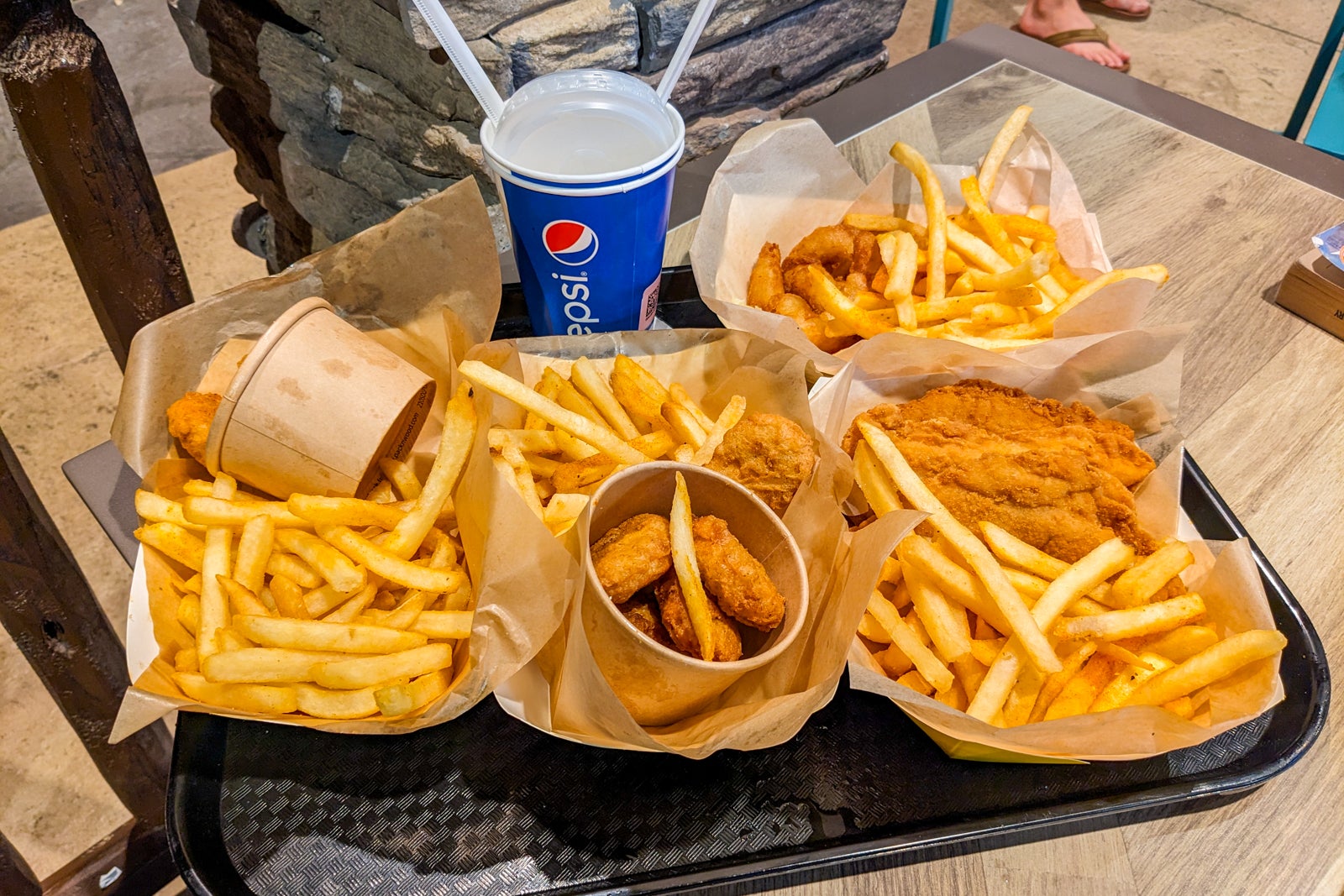 Hungry as a Wolf, with its not-so-subtle nod to Duran Duran, sells pizza for eat-in and takeout, plus pasta, wings and garlic bread. They do offer a gluten-free crust.
The Campfire Kitchen is a breakfast buffet for $25 per person (half price for kids) with breakfast and all-day staples such as chicken tenders, macaroni and cheese, tater tots, dry scrambled eggs, bacon, Froot Loops and not-fresh-baked croissants. I applaud Great Wolf Lodge for including a lovely fruit and yogurt counter with fresh berries, pre-packaged gluten-free Udi's muffins and some devilishly tasty French toast sticks.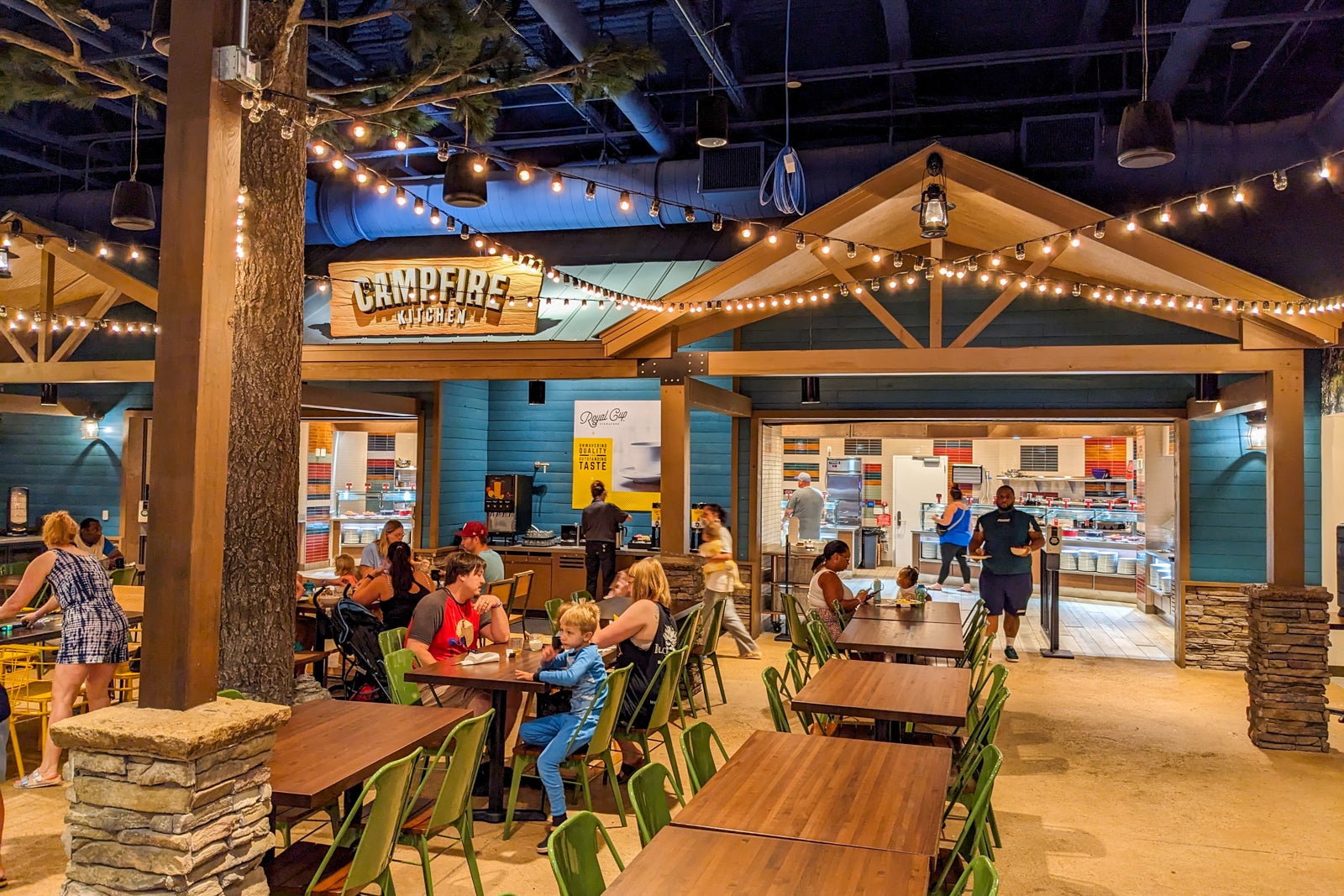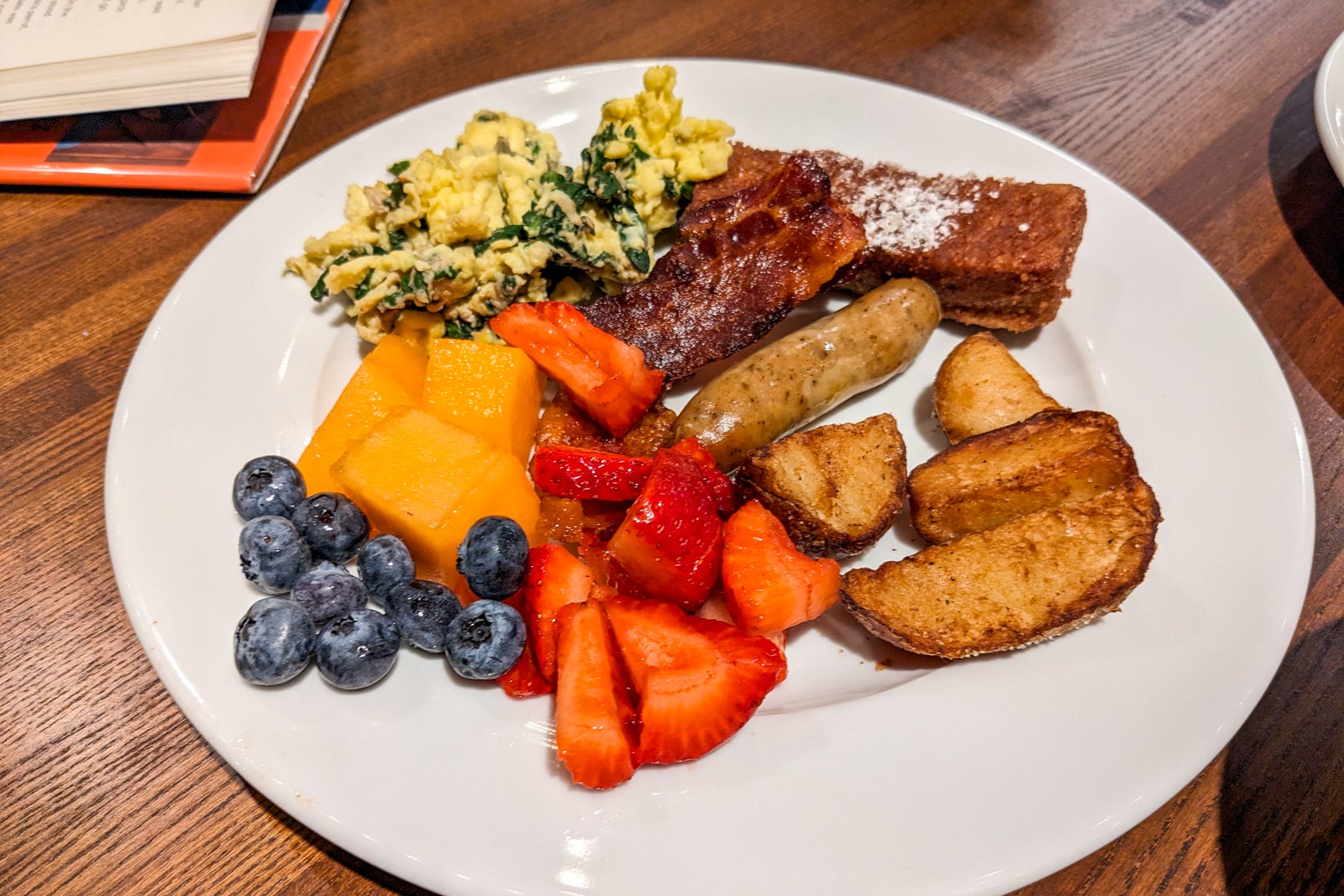 Campfire Kitchen transforms into Campfire Cantina serving tacos in the evening.
By far, the most popular breakfast destination on the property is Dunkin' Donuts. It's not just because everyone loves Dunkin' and needs their large morning latte to survive a day chasing toddlers around a water park, but also because it's the most affordable Great Wolf Lodge restaurant. We spent $25 on two bagels with cream cheese, two egg-and-cheese bagel sandwiches, a large coffee and a large chai tea latte — the same price for breakfast for four as one adult buffet admission.
I placed my order on the Great Wolf Lodge app and was told it would be ready in 15 minutes. In reality, it took 25 for the drinks, another five for the sandwiches, and they got the order wrong, so I had to go back for the missing egg-and-cheese bagels. Still, I'd do it again over the buffet in a heartbeat.
All of these venues are counter-service establishments, and you'll be eating at tables either in the water park or along the main thoroughfare of the adventure park area. (Or bringing food back to your room.) It will be loud and crowded, and children might be running by with wands. On the other hand, older kids can run around MagiQuesting while you wait for your order.
However, Great Wolf Lodge Maryland does have one waiter-served, sit-down restaurant called Barnwood. It is the elevated, yet still casual and family-friendly, venue on-site.
Its menu was a greatest hits list of popular American food: roast chicken ($20.99), Atlantic salmon ($43), steak and fries ($32.99), a cheeseburger ($18.99). The quality was middling, but the prices were high — not a great combination, but at least something to provide variety from the more casual meals.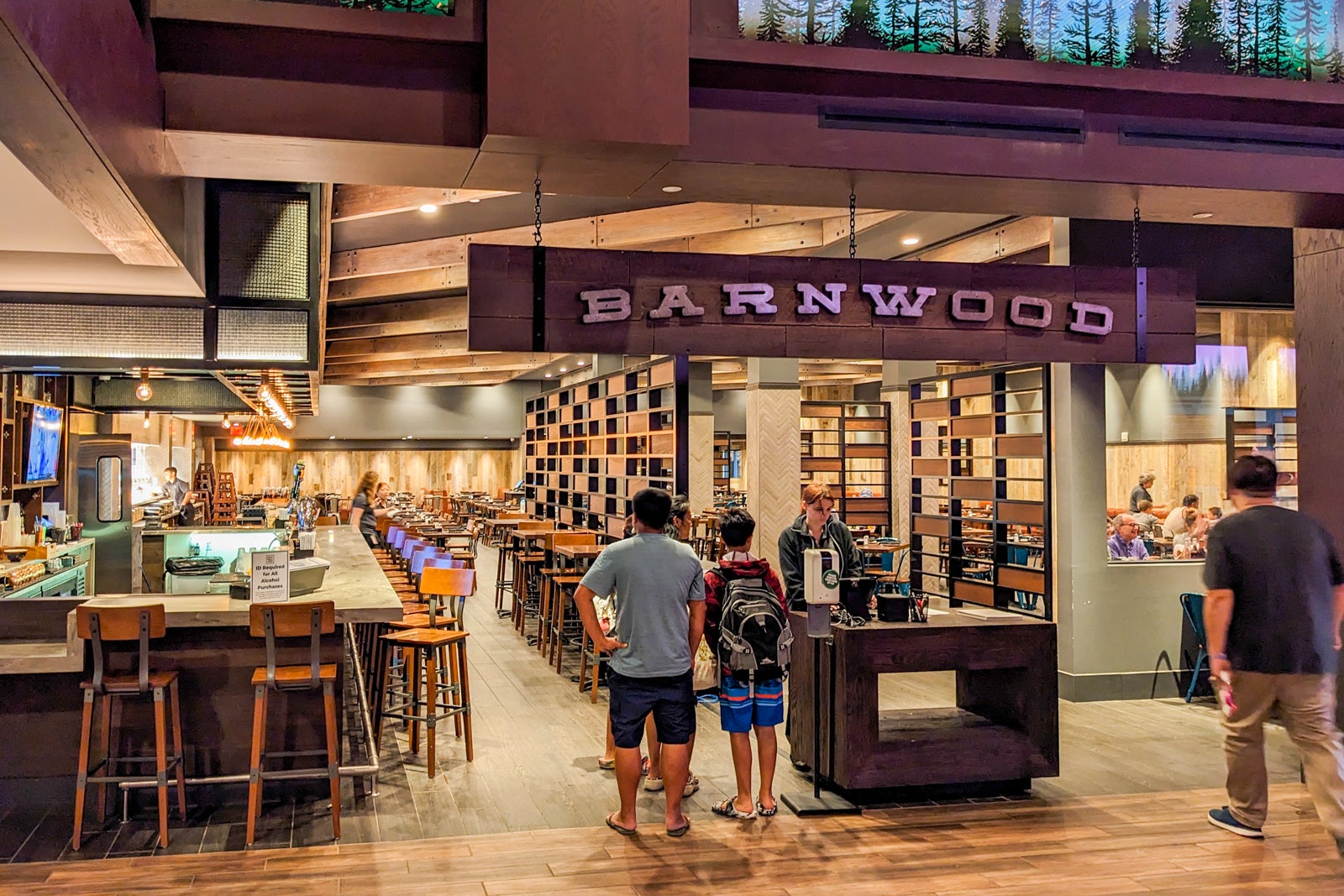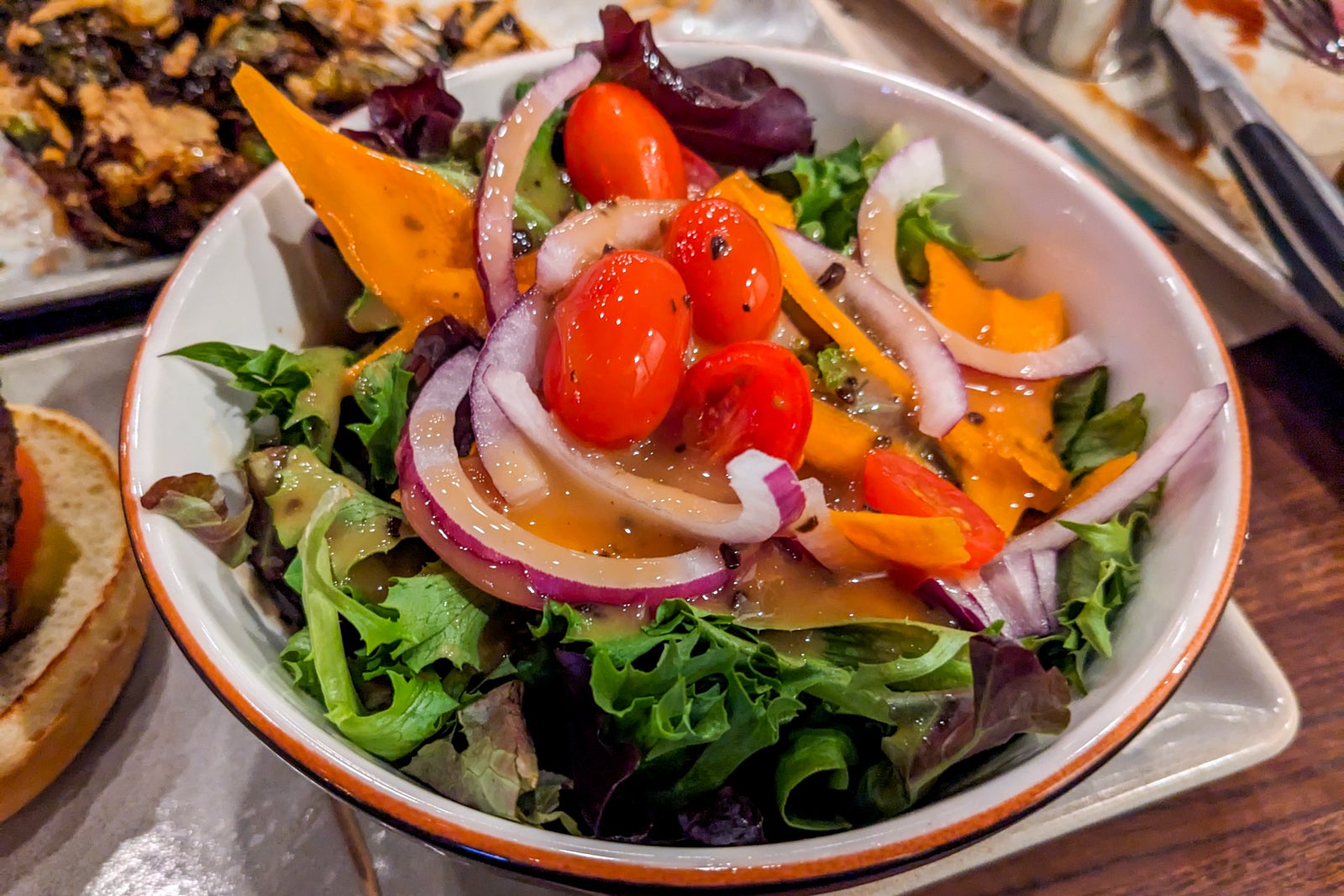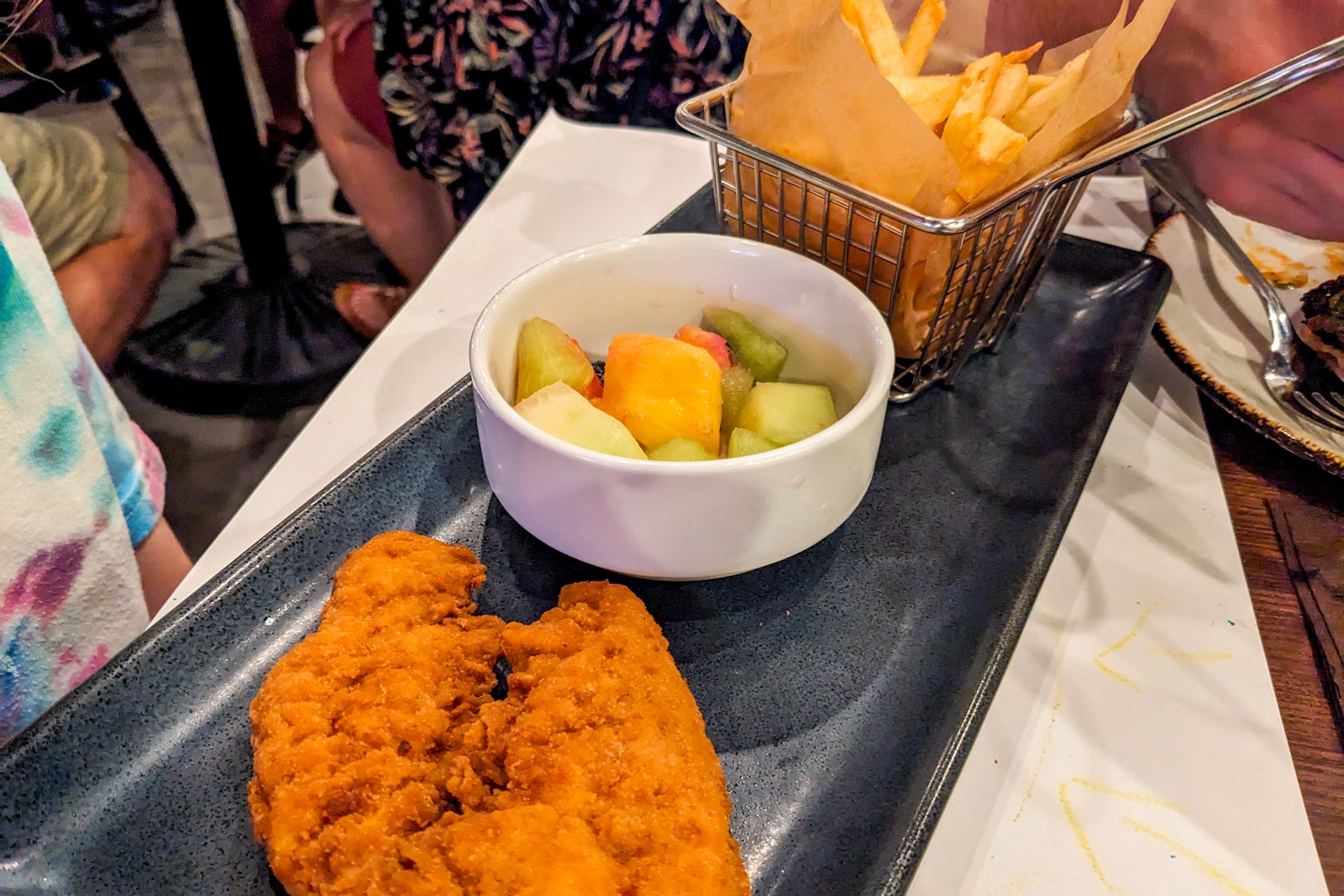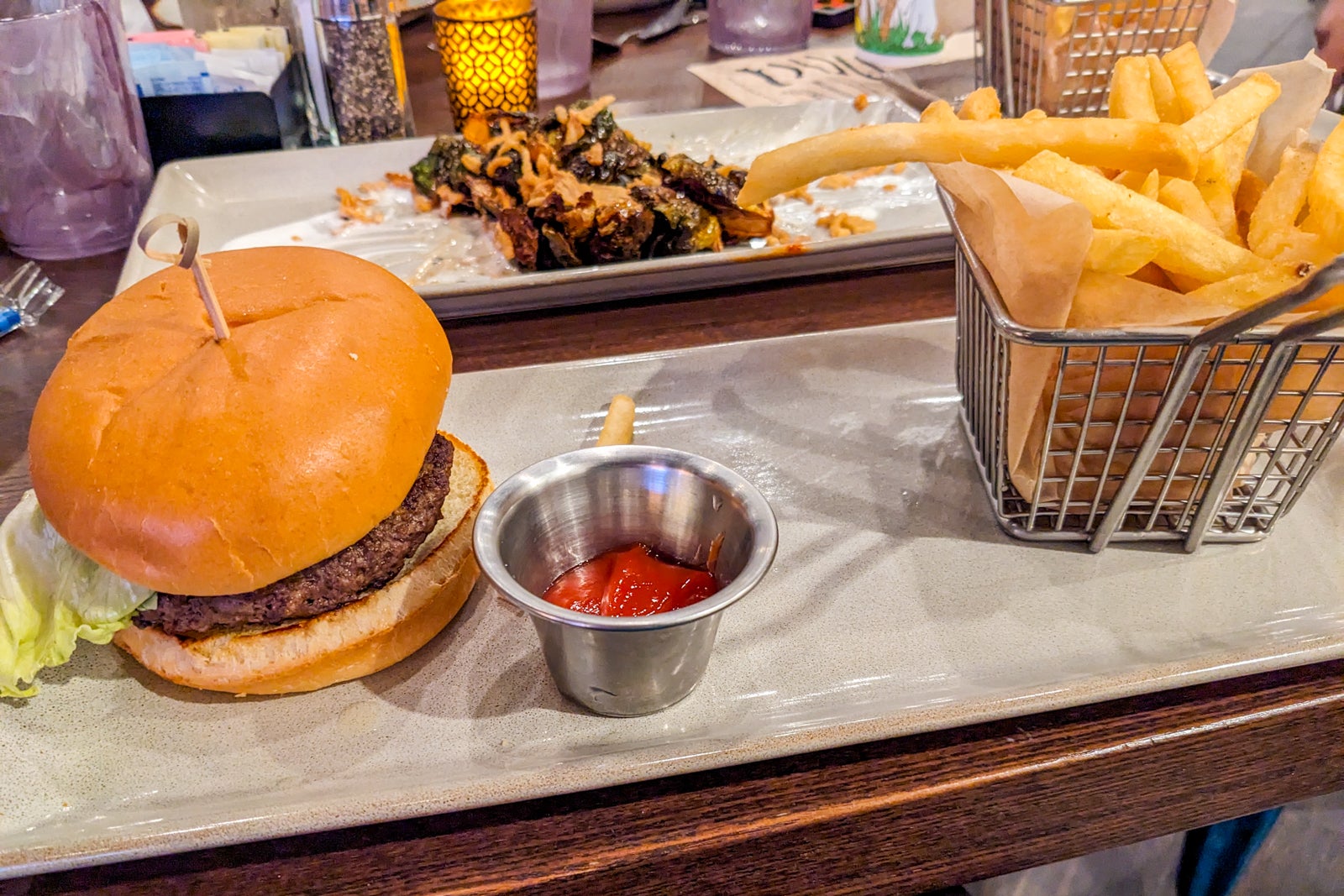 My son and daughter swapped dishes but the steak and chicken nuggets weren't as big hits as the options at the other restaurants. My burger was thin and dry, but my side salad with fresh greens and cherry tomatoes, along with an appetizer of Brussels sprouts with hot honey glaze and yogurt sauce, were delicious.
Both kids ate quickly then ran off with their wands to find more virtual runes. I guess you can call that date night? Too bad because the s'mores-inspired fondue dessert looked tempting, but I wasn't going to order it without a crowd to share with.
For all your snacking needs, Great Wolf Lodge Maryland has a small market selling mainly booze, popcorn and chips, but also a few pre-packaged sandwiches, salads and breakfast items. The gift shop has a bulk candy section, and the Woods' End Creamery will satisfy all the sweet teeth with ice cream, sundaes and shakes.
Tips for hacking your stay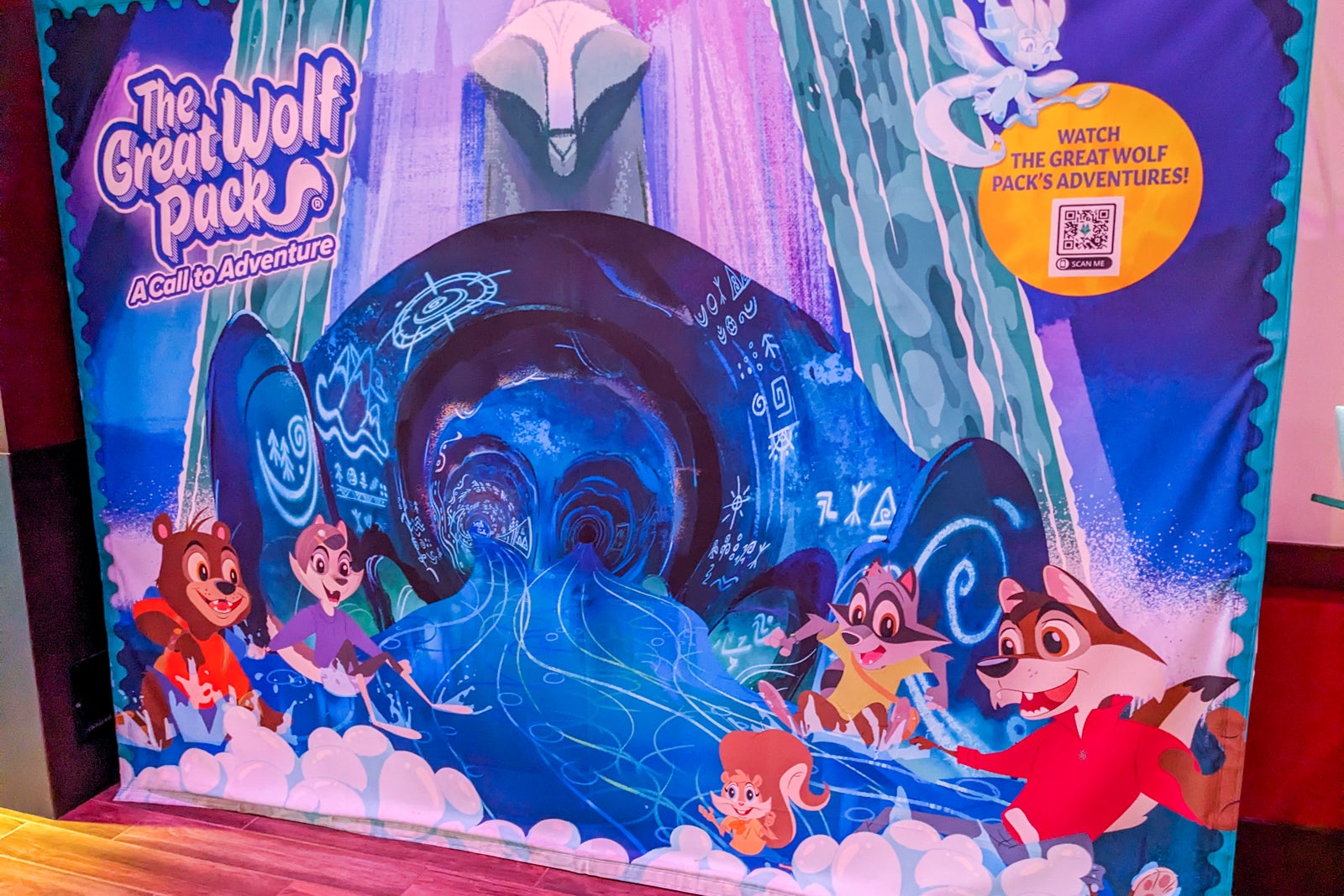 Here are my top tips after my weekend stay at Great Wolf Lodge Maryland.
Make a Great Wolf-specific packing list and don't forget your waterproof cellphone protective case, closed-toe shoes for the ropes course and cover-up for trekking from room to water park. Personally, I'd add a foldup drying rack to tuck into a corner of the room to deal with all the wet swimwear. I also would not judge any parent who brings a toddler leash for their little one. Bright and distinctive swimsuits and outfits will help you find your family when they run off.
BYOB (bring your own breakfast) and possibly lunch food, snacks and fruit to save money. You can carry a cooler into the lobby and your room, but not the water park. I've heard some of the other lodges have microwaves in the rooms, but the Perryville location did not.
If your older kids will roam free, set up meeting times and places because we spent a lot of time walking in circles until we rounded up everyone. Cell phones are helpful, but my kids don't have them.
It can be tricky to navigate Great Wolf if your kids are of various ages or need one-on-one attention. Consider roping grandparents into your plan or teaming up with another family, so you possibly enjoy some time with your spouse or test out the thrill rides your kids are too young to ride.
Download the app. You can check event times and opening hours, as well as order food — a must for Dunkin' Donuts.
Reasons the Great Wolf Lodge Maryland might not be for you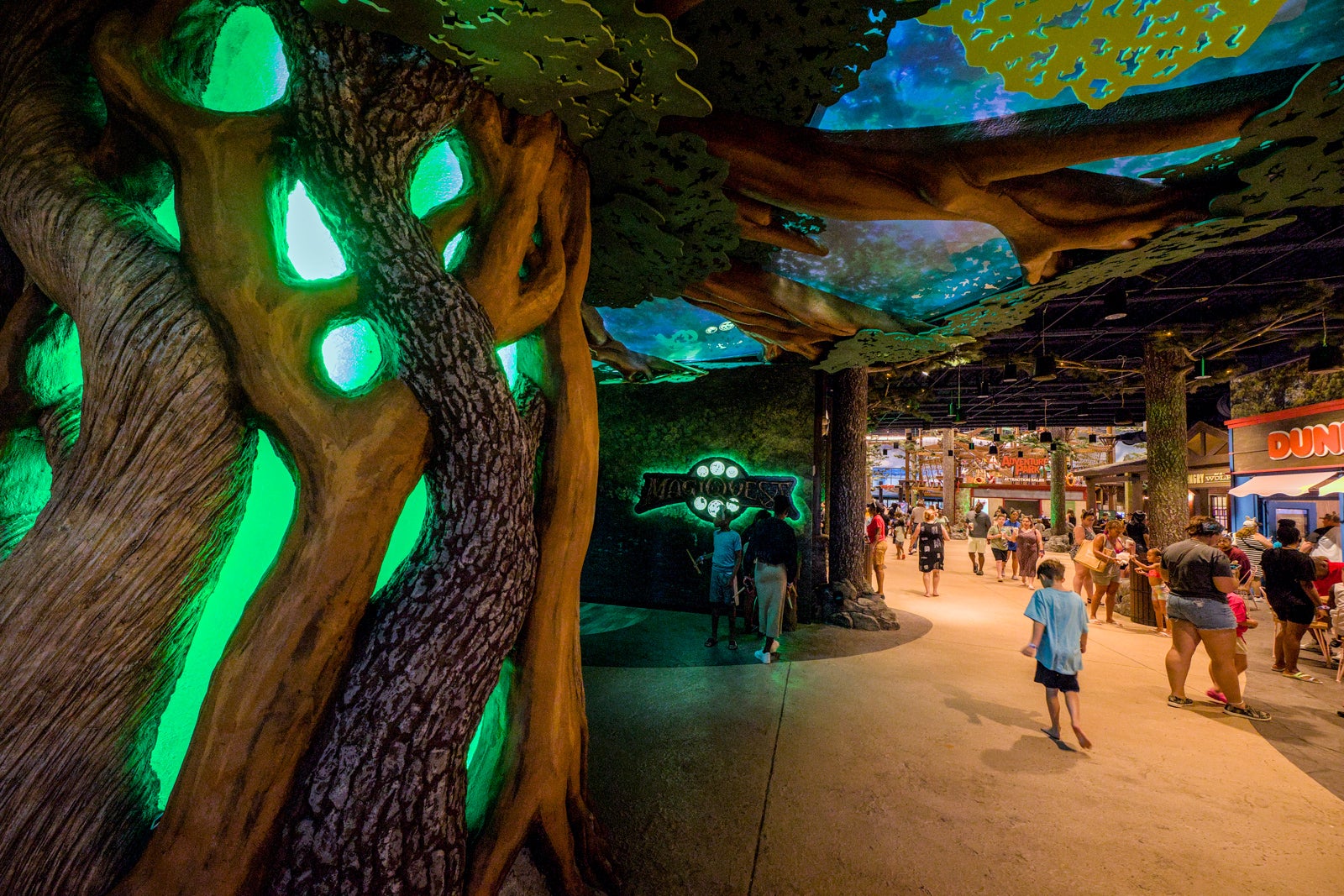 My family had a blast, but a Great Wolf Lodge vacation is not for everyone. Here are some things that you should consider before a stay here.
Room rates and other prices are high for the basic accommodations and meals: Rooms are spartan, and the food is standard for a theme park, but you can still drop a significant chunk of change on your room and on-site purchases. Your stay can be good value, especially if you score a room rate deal and max out your water park time, but it is not necessarily a cheap getaway.
You will likely spend the entire weekend indoors: The Perryville property has a lovely outdoor pool and a faux grass lawn you can play on, but most of its attractions are inside. At the end of our first full day on site, we realized we had run ourselves ragged without ever taking a breath of fresh air.
Your kids are not into water parks: Let's be honest — you're not hitting Great Wolf for a romantic getaway with your spouse. So, if your kids don't love water and adventure play, you will not have a good time at Great Wolf. The same goes for age: The sweet spot is 3 to 12 years old. A stay here with a toddler and a baby sounds exhausting; your teens might be too cool for magic wands and character hugs.
You can't handle crowds and noise: Like a cruise on a large ship, the experience at Great Wolf Lodge will include lots of other people. They will cut in line and hog the floats. They will also collectively make noise, making the indoor spaces, though cavernous, incredibly loud. If you have sensory issues or have become a hermit since the pandemic, you should seek out a quieter resort experience.
Rooms are accessible, but the slides are not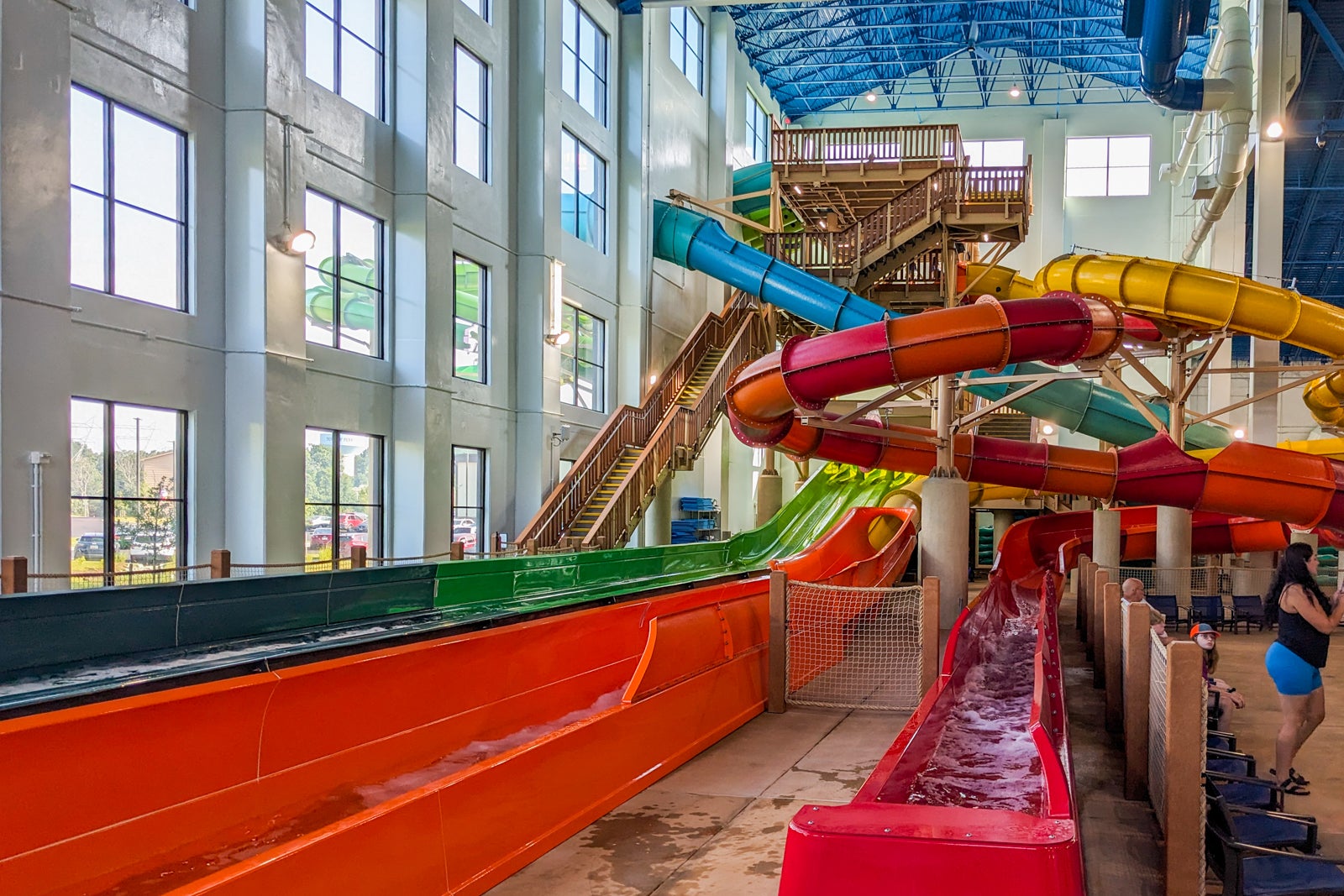 Great Wolf Lodge Maryland offers many accessible features, but they seem more relevant to strollers or folks in wheelchairs accompanying a family (vs. visitors looking to enjoy all the hotel has to offer). The property may be wheelchair friendly, and I saw several guests using them, but many of the activities are not.
The resort offers 27 ADA-compliant rooms across several suite types (Family Suite, Grizzly Bear Suite, Junior Cabin, Deluxe Queen Suite, Wolf Pup Den, Deluxe Junior KidCabin, Deluxe Queen KidCabin and Deluxe Wolf Pup Den). These rooms offer accessible bathtubs and/or showers, with extra space and handrails in the bathroom.
All the swimming pools at the water park have accessible entrances via a lift, chair bump step or zero-depth entry for water wheelchairs. However, you cannot access the big slides without climbing several flights of stairs. The adventure park activities are not wheelchair friendly, though MagiQuest would be.
The property is one large open space with wide hallways and elevators to the upper hotel floors. The main hotel and water park doorways are wide automatic sliding doors, and the entryways to restaurants, shops and attractions are always open.
The lodge also offers sensory guides for every slide, pool, ride, attraction, activity and show, developed in partnership with the International Board of Credentialing and Continuing Education Standards (IBCCES), a leader in autism and neurodiversity certification.
How to book the Great Wolf Lodge Maryland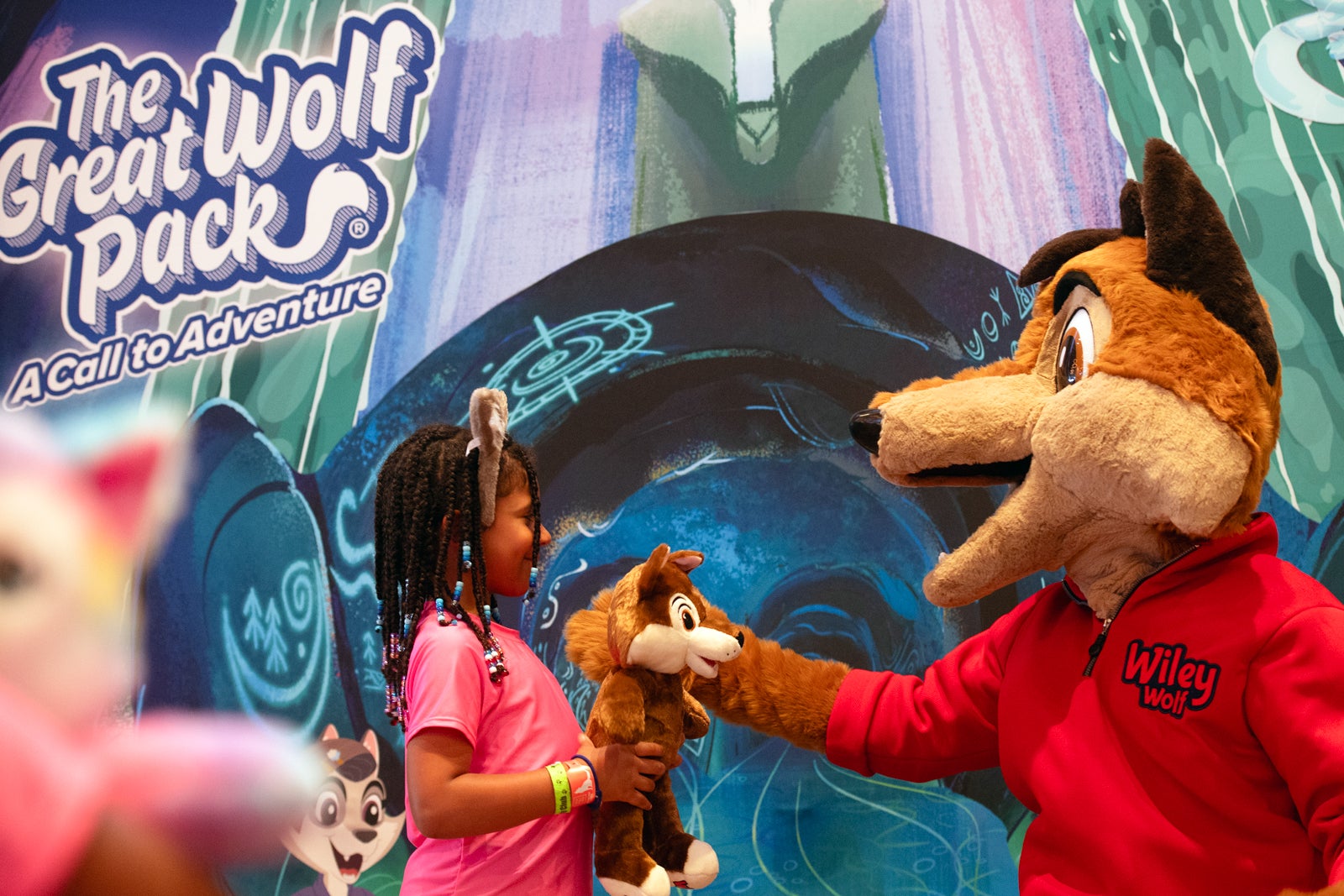 Most people book the Great Wolf Lodge directly through the website, but the property will soon be listed on Expedia and Booking.com, as well. Rooms are listed as a fixed nightly rate up to a certain number of occupants, but extra guests are an additional charge. For example, a family suite has the same nightly price whether you've got two, three or four guests sharing it, but the fifth and sixth guests in the room will cost an additional $50 each.
Standard suites start at $199.99 per night but can cost upwards of $500 per night at peak times. Book early for the best rates, though you may be able to find last-minute deals, especially for off-peak dates.
Check for deals before you book, either through the Deals section of the website or on Groupon, where Great Wolf Lodge properties appear regularly. Don't miss the annual 8/4 flash sale on Aug. 4 (often with rooms from $84), which celebrates the resort's indoor water park temperature of 84 degrees.
AAA and AARP members, active-duty or veteran/retired military and emergency service personnel (fire, police, EMS, doctors, nurses, 911 dispatchers, correctional officers) are also eligible for discounts.
Great Wolf Lodge does have its own loyalty program called the Voyagers Club. Every time you book a two-night or longer stay online at the Great Wolf Lodge website, you will earn one point for every $10 you spend on your room rate and for packages, cabanas, late checkout, retail and food charged to your room. You can redeem these points to pay for future stays, but they expire within 15 months of your checkout date.
Alternatives to Great Wolf Lodge Maryland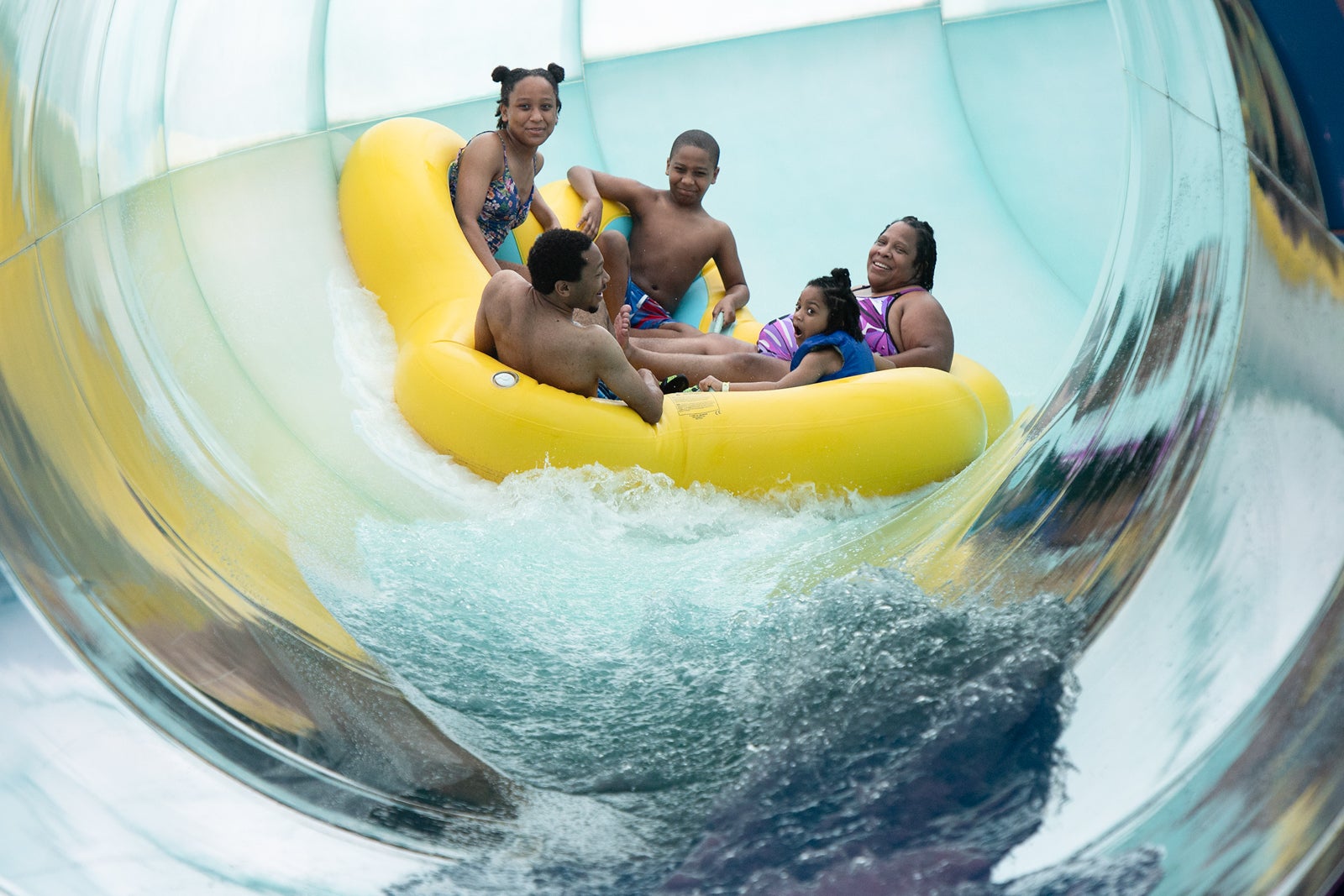 Great Wolf Lodge Maryland is not the only indoor water park resort in the area. Depending on where you live, you may also be within driving distance of Great Wolf Lodge properties in Williamsburg, Virginia, or the Poconos, Pennsylvania.
When I asked in a moms' group about the Great Wolf Lodge, many people responded that they preferred the Kalahari Resort in the Poconos. It has many similar attractions, but also has a spa and fitness center for more adult-focused relaxation. The Camelback Resort, also in the Poconos, has both indoor and outdoor water parks.
Checking out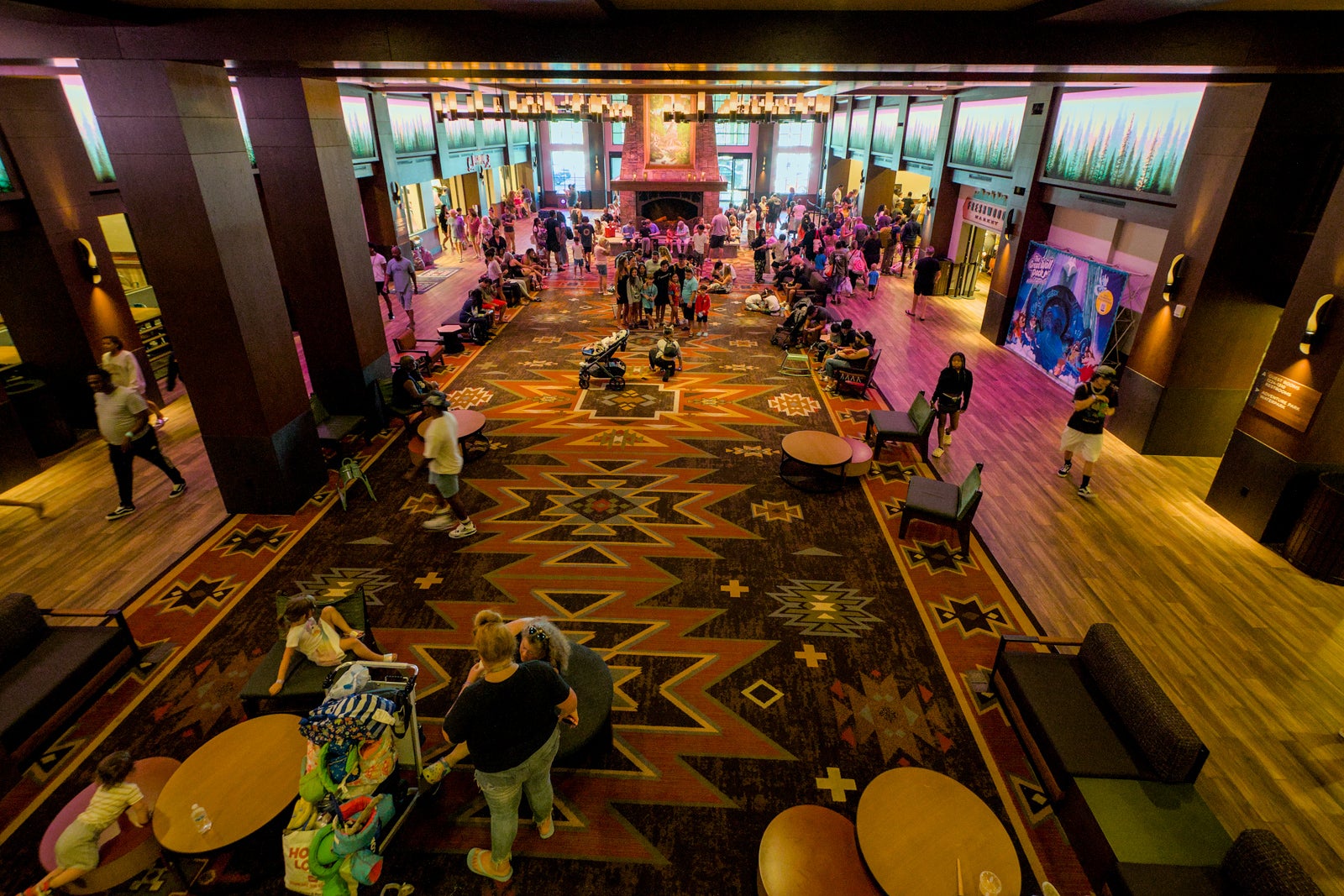 After a weekend at Great Wolf Lodge Maryland, my kids are plotting a return, possibly to the Williamsburg location if they have a different MagiQuest adventure. I'm signing up for deals emails, and my husband is calculating how much we'd save by only staying one night and bringing all our own food.
The getaway was a win in my books because both kids were happy with the experience. The trip's success was due to all the awesome activities at the resort and the independence from us and from each other the contained space allowed them. Plus, I got to ride some fun slides and even spend a bit of time with my husband.
The Great Wolf Lodge Maryland is not a place you choose for its luxurious digs or fine dining. You come for a quick weekend jaunt that requires minimal research. You come for your kids to be happy and for their joy to keep you relaxed, even if the food and lodging price tag feels high.
Related reading: