In less than a year, Hilton has gone from announcing its push into the economy segment of hotel chains to opening the first hotel.
Hilton's Spark brand officially opened for business this week in Mystic, Connecticut, following a soft opening. Spark by Hilton Mystic Groton might not get the fanfare or press of something like a Waldorf Astoria or Conrad, but the brand is clearly generating buzz from travelers, Hilton leadership and Wall Street.
"The way we look at this brand is through customer segmentation. The economy segment has a distinct customer side, and we didn't have a product," said Matthew Schuyler, Hilton's chief brand officer, in an interview with TPG this week at the grand opening in Connecticut.
But it's more than filling in the gaps at Hilton. The company also sees plenty of opportunity to pull in economy customers with a more standardized product.
Schuyler noted the economy segment commands 43% of the overall hotel market, but there is a lot of inconsistency and "frankly, some pretty scary products that we don't think anybody would be proud to stay in."
Providing that "premium economy" stay could pull in a lot more travelers to the Hilton Honors network.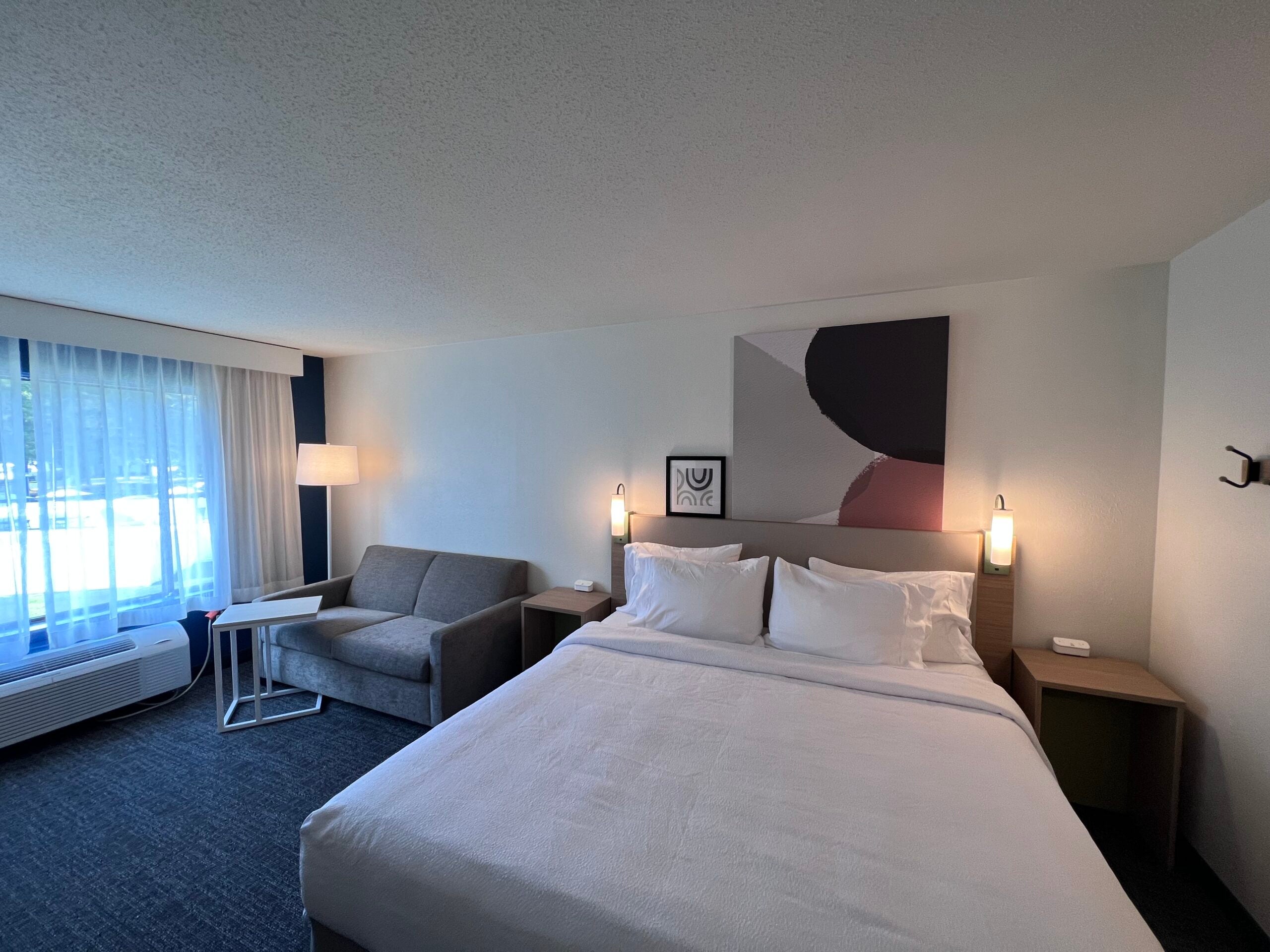 What's in it for Hilton loyalists?
Travelers win out because Spark means there's a more affordably priced entry point into the Hilton Honors ecosystem. While rates this week at the Mystic hotel range from $142 to $223 per night, more advance bookings show nightly rates typically hovering around $100 per night. Next summer, rates are generally under $200 per night — a decent bargain for a Hilton-affiliated hotel in a seaside New England town during the peak travel season.
TPG toured the hotel during this week's Spark grand opening and, while it isn't a stay at the Waldorf Astoria Maldives, the hotel appeared to be a perfectly comfortable spot to have a budget-friendly stay.
Rooms were clean, linens were crisp and there was a slew of tiny details that were nice touches that one sometimes doesn't see in even an upscale brand, let alone a budget one; there were ample power ports at nightstands and a flexible workstation could be used for making deadlines or having a meal inside.
The hotel ownership and development team also added a slew of connecting rooms during the renovation (the Mystic hotel was formerly a Days Inn) to tap into leisure and family travel demand for the nearby Mystic Seaport.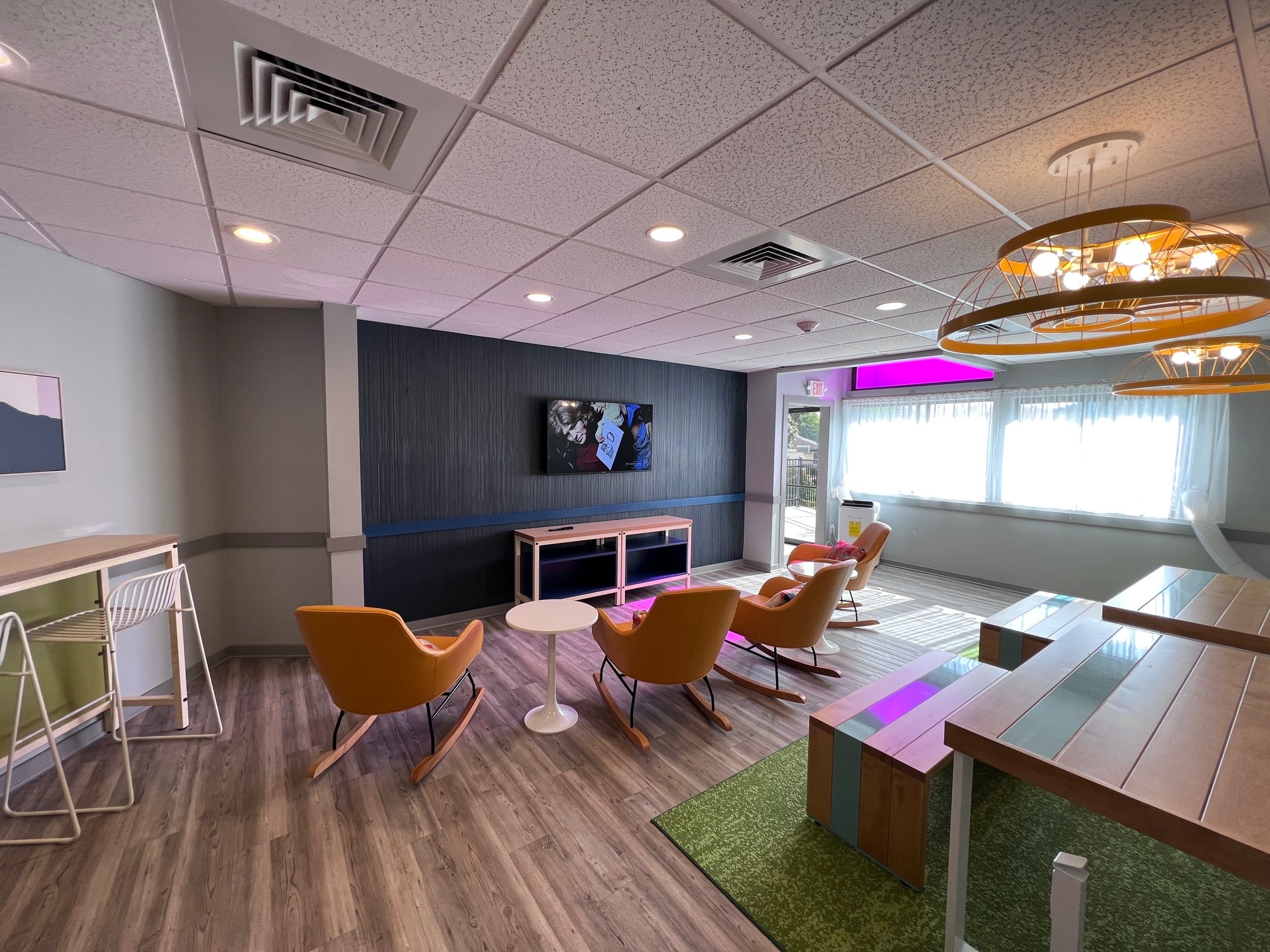 A dining area featured a streamlined complimentary breakfast that centered on items like bagels, yogurt and muffins. (No offense to Spark, but the real culinary treat to be had if you're visiting Mystic is at the movie-inspiring Mystic Pizza an eight-minute drive from the hotel — great pizza and it birthed Julia Roberts' movie career!) There's also a common area with seating and workspaces to hang out beyond one's guest room.
"We really saw that there is a need to offer a price point to a traveler who wanted high value but didn't really want to get we'll call into the depths of a hotel, of all of the amenities," said Alissa Klees, brand leader of Spark by Hilton. "They want a really simple experience, but that doesn't mean they don't want quality."
She added a statistic floated internally was that 25% of all travelers have one economy hotel stay each year.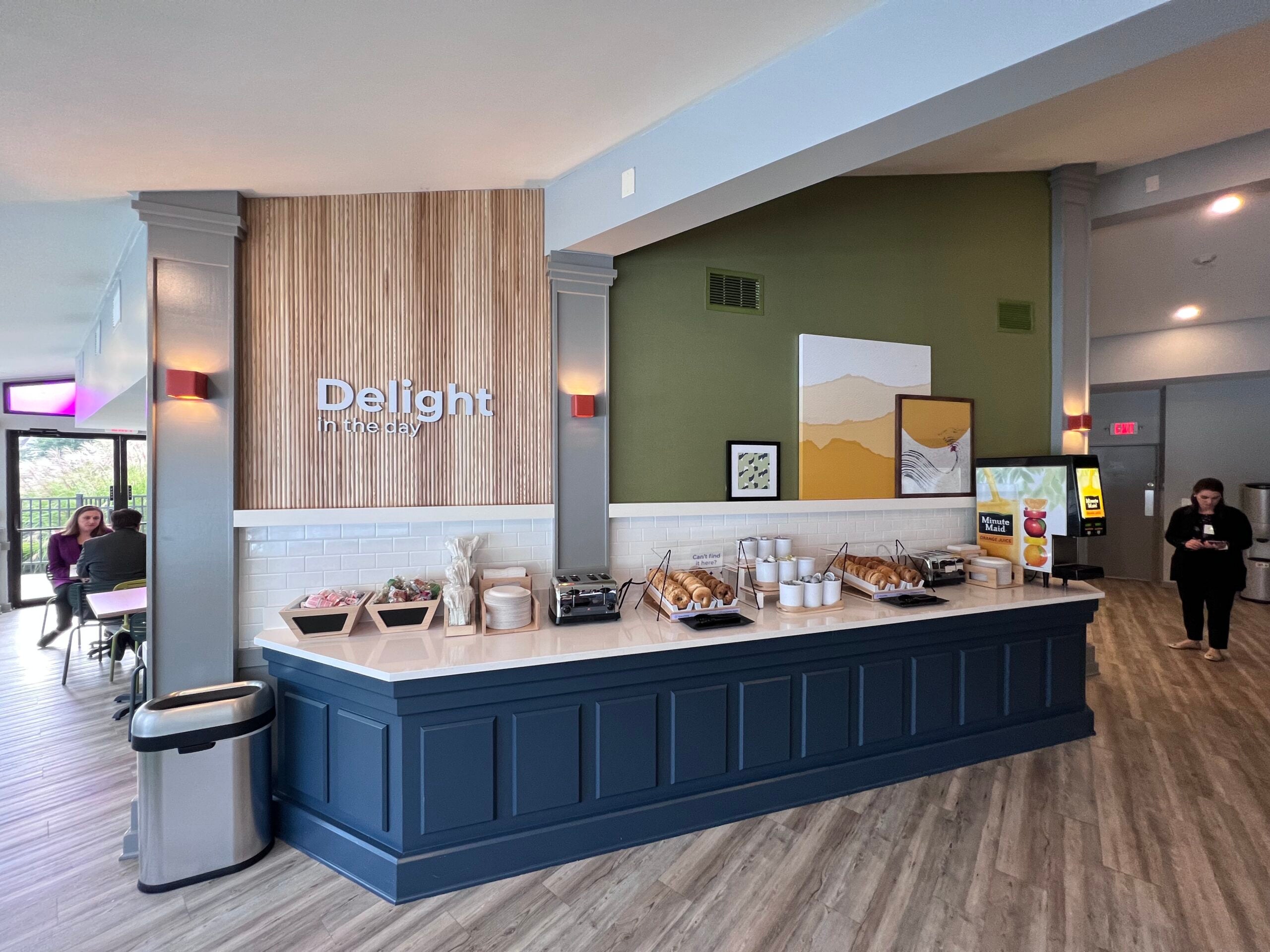 What's in it for Hilton?
Hilton wins out here because Spark is expected to become a leading growth driver for the company at a time when higher interest rates mean not a ton of new hotels are getting built. Instead, companies look to conversions — deals where an existing hotel changes affiliation to a new brand — to drive growth. Spark is a conversion brand, and it is expected to grow fast.
The company announced there were more than 100 ongoing deal conversations when Spark debuted in January. Today, that number is 400. Further, there are already more than 100 hotels where there are "hammers in the wall," Klees said.
Given that it takes roughly nine to 12 months to convert a hotel into Spark branding, the hotel brand could hit the 100-hotel mark less than two years after first being announced. That would give it a larger footprint by property count than what its pricier sibling brands like Motto, Conrad and Waldorf Astoria each had at the end of last year, per company regulatory filings.
Further, its closest-priced sibling, Tru by Hilton, ended 2022 with 235 hotels — six years after its debut, meaning Spark's growth spurt has significantly more momentum.
"It's not as sexy as lifestyle or luxury," Hilton CEO Christopher Nassetta said of Spark on an investor call earlier this year. "But in terms of an opportunity to be a value contributor in the billions of dollars for this company and its shareholders, I'm as excited about this as anything else we've done."
Hours before a grand opening ceremony Tuesday, investor analysts at Truist Securities put out a report on the first hotel in the rapidly growing Spark chain. It touted Spark's significant growth opportunities for Hilton.
"Hilton entering the economy space (even if Spark by Hilton is denoted as 'premium economy') is a very big deal for the global lodging industry and for lodging investors," the Truist report states. "Over time, we can envision thousands of Spark hotels globally; we could see Spark similar to Hilton's Hampton Inn as a positively distinctive category-killer hotel brand that materially outperforms its direct competition in part by positioning a bit differently ('premium') relative to the closest competitive flags."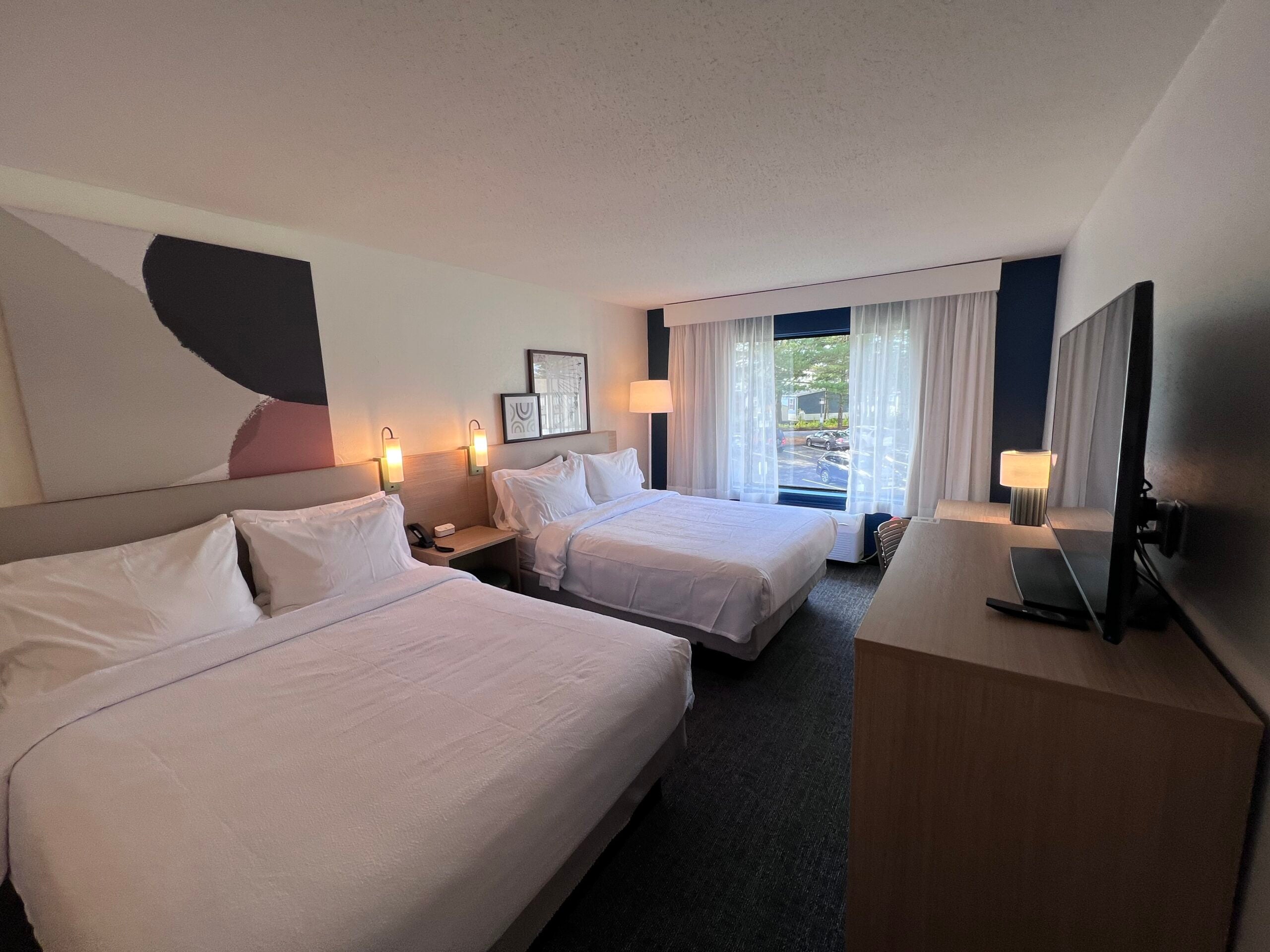 Swelling competition
Choice Hotels, owner of brands like Comfort and EconoLodge, and Wyndham, owner of brands like Days Inn and Super 8, are major players in the economy brand space. But Hilton's foray is a signal these two companies are likely to face more heat from their historically pricier competitors.
Hilton might be an early entrant into the economy space, but Marriott has also signaled a push for more affordably priced hotel stays with the recent acquisition of Mexico's City Express and the launch of Four Points Express by Sheraton, a midscale brand targeting travelers in Europe, the Middle East and Africa.
Expect more competitors in this space — and fast. Hyatt CEO Mark Hoplamazian last month noted it only took the company five months to launch its new Hyatt Studios extended-stay brand. There's no reason to think other companies couldn't do something similar to go head-to-head with Hilton on Spark — something the Hilton team appears to recognize.
"The good news is all together, we will lift up this part of the market and drive more consistency and more reliability across it," Schuyler said of the growing competition in the economy segment, before adding: "There are tens of thousands of these products around the world that are conversion candidates. The race is on."
Related reading: