Showing loyalty to Norwegian Cruise Line can get you some great rewards.
Norwegian's Latitudes Rewards loyalty program, which was revamped in 2022, offers members such enticing perks as discounts on normally pricey drinks packages, shore excursions and spa treatments after only a few sailings. And that's just a hint of what's to come for loyal cruisers who reach the program's top tiers.
At the very top tier of the Latitudes Rewards program, the Ambassadors level, members get one of the most spectacular rewards in the cruise loyalty program universe: A free cruise for two.
For more cruise guides, news and tips, sign up for TPG's cruise newsletter.
Other perks Norwegian doles out to higher-tier members include discounts of up to 25% on internet packages, free wine tastings and free dinners at high-end restaurants on Norwegian ships.
Ways to earn points
Earning points in the Latitudes Rewards program is relatively straightforward. You will get:
One point for every night you spend on a ship.
An additional 1 point per night when staying in a Concierge-level cabin, full-fare suite (not mini-suites or club balcony suites) or The Haven rooms.
An additional 1 point per night when on a cruise booked via a Latitudes Rewards Insider Offer. These are special offers for Latitudes Rewards members.
Note that the extra point per night for suites only applies to stays in suites booked when a reservation is originally made. It doesn't apply to stays in suites that result from an upgrade.
Related: The ultimate guide to Norwegian Cruise Line
Program tiers and benefits
There are seven tiers to the Latitudes Rewards program:
Bronze (1 to 19 points)
Silver (20 to 44 points)
Gold (45 to 74 points)
Platinum (75 to 149 points)
Sapphire (150 to 349 points)
Diamond (350 to 699 points)
Ambassador (700 or more points)
The Latitudes Rewards program is one of the more robust cruise line loyalty programs, with some solid perks available to almost all members.
After just one cruise, as a newly minted Bronze member, you will receive a 30% discount on an unlimited open bar package — a perk that could save you a significant amount of money when cruising if you're a drinker. This perk was added in September 2022, much to the delight of Norwegian fans.
As a Bronze tier member, you'll also receive a 10% discount at onboard duty-free shops, early access to new product information and exclusive offers, a signature pin and a few other minor things.
Related: A beginner's guide to cruise line loyalty programs 
Moving up to the Silver level of the Latitudes Rewards loyalty program will bring all the above plus:
An invitation to a complimentary onboard cocktail party
A 10% discount on shore excursions
A 20% discount on photos
A 15% discount on spa treatments performed when the ship is in port
A higher 15% discount at onboard duty-free shops
A higher 40% discount on an unlimited open bar package
The Gold level bumps up the discounts on photos and spa treatments to 25% and 20%, respectively, and also brings:
A complimentary Flow Water carton
A 50% discount on a bag of laundry
Priority tender tickets (for applicable ports)
Priority disembarkation (U.S. citizens only)
As noted above, it'll take you just one cruise to reach the initial Bronze tier. Reaching the Silver level would require three seven-night cruises, assuming you stay in standard cabins. If you book suites or book only Latitudes Rewards Insider Offers, you'll reach the Silver level much faster.
Reaching the Gold tier can be done in as few as three seven-night cruises if you book a suite and also only book Latitudes Rewards Insider Offers. If you book standard cabins and don't use Latitudes Rewards Insider Offers, it would take five seven-night cruises.
The elite level that makes a difference
In our view, the Platinum level is where being a loyal Norwegian customer starts paying off.
Once you reach Platinum, you'll get all the above plus a 15% discount on internet packages, which is a great perk. Internet packages on Norwegian can be pricey.
Related: The 5 best destinations you can visit on a Norwegian cruise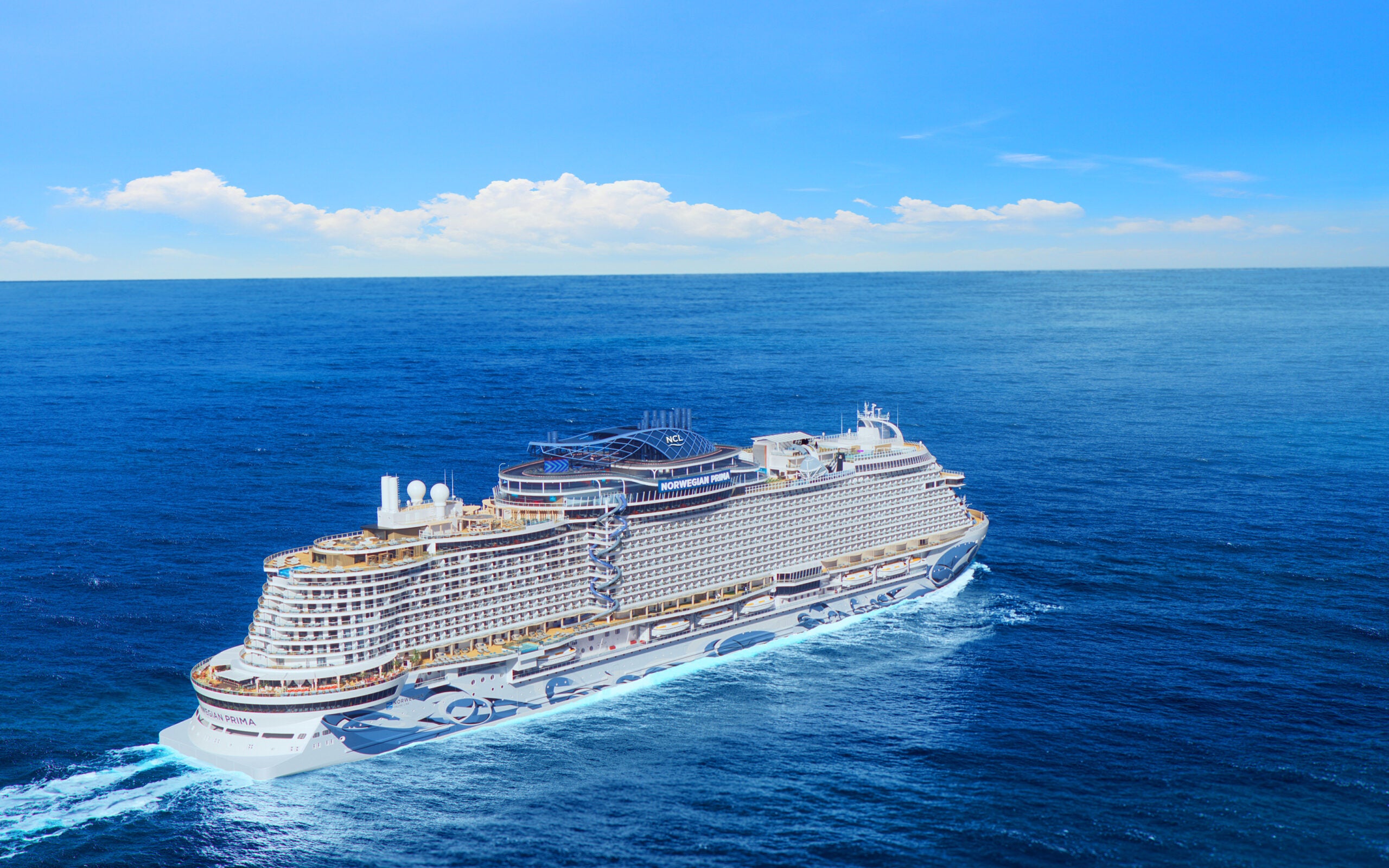 Another great perk at the Platinum level is access to two free dinners at some of the top restaurants on Norwegian ships on every voyage of five nights or longer.
Norwegian relatively recently expanded the value of this perk by making the free dinners available at more onboard restaurants. Previously, one of the free dinners, which included a complimentary bottle of wine, could only be booked at the Cagney's steakhouses and Le Bistro French eateries on Norwegian ships. Now guests can book it at any onboard restaurant that has a complimentary wine list. Guests can also book a second free dinner at a wider range of eateries.
Note that upcharges apply to certain premium menu items when taking advantage of the free dinner perk.
Platinum members also get:
Priority check-in and embarkation
Access to a Concierge to help with dining, entertainment and shore excursion reservations
Chocolate-covered strawberries delivered to their room
A Wines Around the World tasting
A behind-the-scenes ship tour
A higher 30% discount on photos
A higher 25% discount on spa treatments
A dedicated pre-cruise service desk
In addition, Platinum members get to pre-book entertainment, dining and onboard activities up to 125 days before sailing.
Related: Why Norwgian's new Prima class of ships may be its best ever
It can take as many as 11 seven-night cruises to reach Platinum status if you stay in standard cabins. However, it also can be done in as few as four cruises if you stay in higher-level cabins and book using Latitudes Rewards Insider Offers.
Best elite perks
Once you reach the Sapphire level, you'll get all the above perks plus a dinner with ship officers and priority restaurant and entertainment seating (subject to availability). The latter is really a wonderful perk, as it means you won't be stuck dining too early or too late on nights when shipboard restaurants are busy (which is pretty much every night). It also means you can breeze into theaters for onboard shows with the knowledge that a decent seat is waiting for you.
Just added in early 2022, the Diamond tier brings two more cool perks, both new to the program: access to a complimentary Sail & Sustain Mixology experience and a one-time free cabin upgrade.
But the ultimate perk for Latitudes Rewards members comes upon reaching the top Ambassador tier. You'll get a one-time complimentary seven-night cruise in a balcony cabin. You can pick any destination, but you can't select a holiday sailing (Christmas and New Year's).
The free cruise is for two people. You can bring a third and fourth guest, but you'll pay their fares. You'll also pay all taxes, fees and service charges (including gratuities). You have one year to take your free cruise after becoming an Ambassador Elite.
Related: The 8 classes of Norwegian Cruise Line ships, explained 
Sapphire, Diamond and Ambassador level members also get bigger discounts on shore excursions. For Sapphire and Diamond members, the discount on shore excursions amounts to 15%. It jumps to 20% for Ambassador level members.
Sapphire, Diamond and Ambassador level members also get bigger discounts on internet packages. For Sapphire members, the discount on internet service amounts to 20%. It rises to 25% for Diamond and Ambassador level members.
The Ambassador level, in particular, isn't easy to reach as it requires 700 points. That means you might have to take as many as 100 seven-night cruises to qualify. If you stay in higher-end cabins and book a lot of Latitudes Rewards Insider Offers, you could reach the Ambassadors level far more quickly — in as few as 34 seven-night sailings.
Do NCL Latitudes Rewards points expire?
No, Norwegian Cruise Line Latitudes Rewards points never expire.
As is often the case with cruise line loyalty programs, Norwegian customers do not have to requalify for status each year. Latitudes Rewards members keep their points at the end of each year and continue to accrue points indefinitely. That means that someone who hits Ambassador status will remain at that top-tier level forever (or until Norwegian makes a change to the program).
Such "forever status" is one of the great allures of cruise line frequent cruiser programs. Many airline frequent flyer programs, by contrast, require loyalty members to requalify for status each year.
Related: Everything to know about cabins and suites on Norwegian Cruise Line ships
Bottom line
Norwegian has one of the more alluring frequent cruiser programs. Even after just a few cruises, loyal fans will find they are entitled to a nice array of valuable perks, from discounts on various types of onboard spending to exclusive cocktail parties. We're particularly fans of the free dinners at extra-charge onboard eateries that come with Platinum-level status.
Planning a cruise? Start with these stories: