Whether it's already back-to-school time in your part of the country or you still have another solid month of summer ahead of you, the summer vacation you should really be booking now is next year's. In fact, some savvy expert travelers already have some pillars of their summer 2024 trips booked, and it's not just because they are Type A overachieving planners.
The reason you need to book summer travel further in advance than some other types of vacations is that there is such demand in the summer. Not only can prices increase on some trip elements if you wait, but also some things sell out entirely. This is especially true if you hope to use points and miles to pay for parts of your summer trip.
For example, popular home rentals on the beach, balcony cabins on Alaska cruises, standard room categories in popular hotels or those business-class seats to Europe can sell out and be gone for good with the early bookers getting the proverbial worm.
Here's why you should think seriously about your summer 2024 trip now and which components of your trip are the most important to lock in as soon as possible.
Book flights using your frequent flyer miles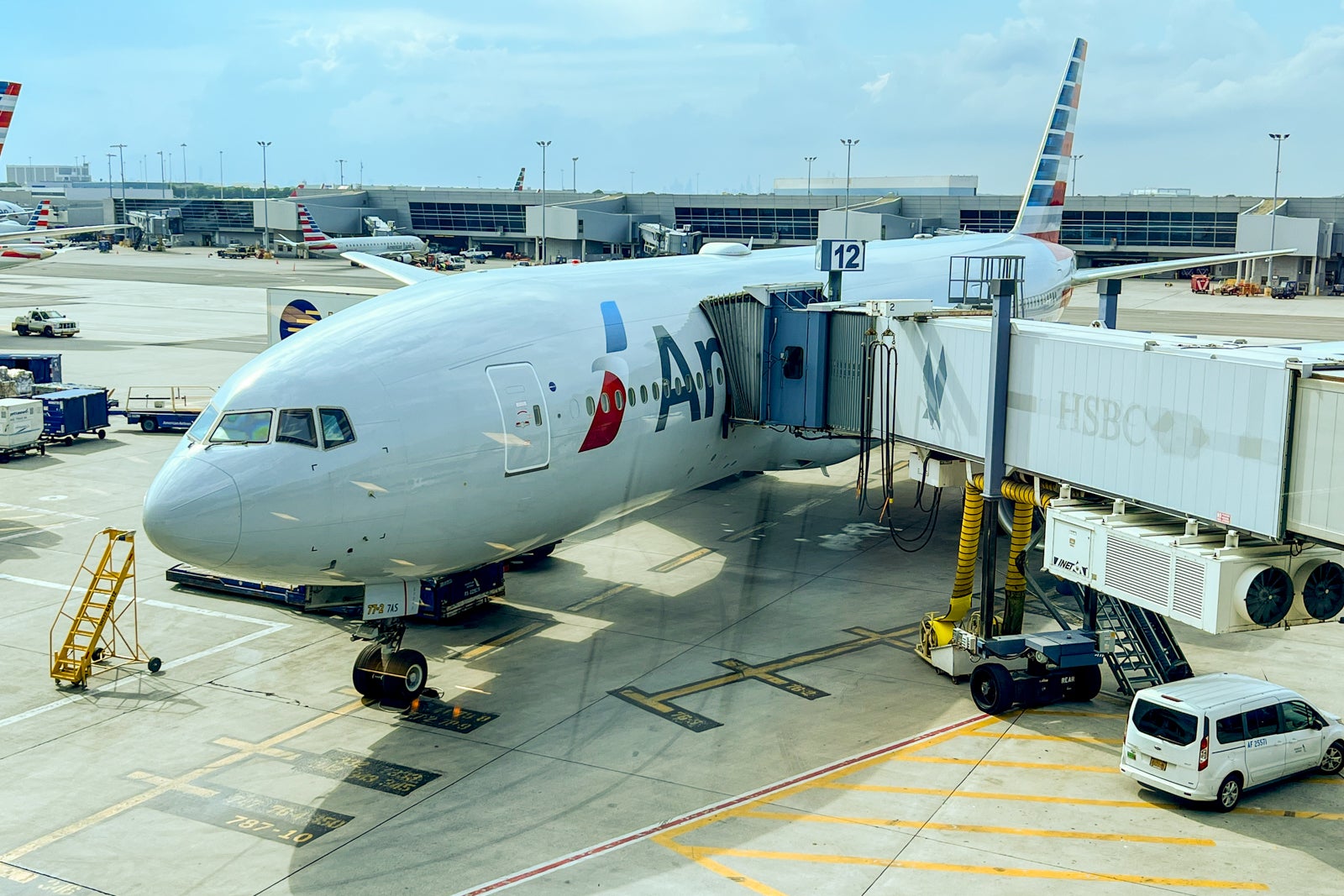 If you think there's a chance you'll end up using frequent flyer miles to book a summer 2024 trip, there's little downside to booking now. Airlines will allow you to book flights as far out as 11 months or even close to a year, depending on the carrier.
That means you can already book trips for the early part of summer on a lot of U.S. airlines. Some international airlines allow you to book trips as far out as late July 2024.
There are a few reasons to act sooner rather than later.
Frequently,  you'll see some of the better award deals (not to mention the most award space) right when airlines open booking for a particular set of dates.
Here's an option we found for late July 2024: business class aboard Iberia from New York to Madrid for 100,000 Avios round trip. TPG values 100,000 Avios at around $1,500. Cash prices for comparable business-class itineraries topped $3,000.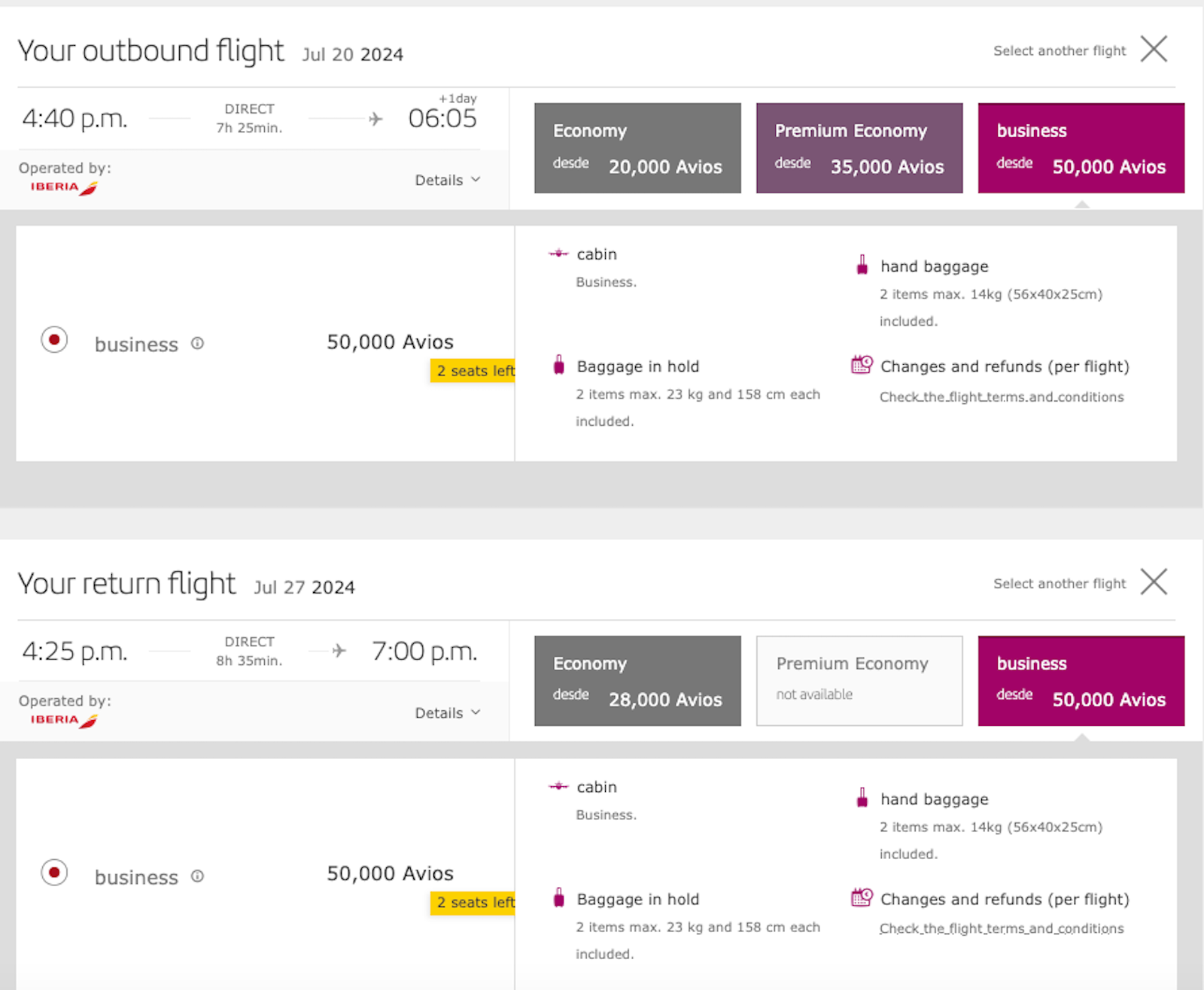 Even if you plan to book in a lower cabin, you can find much better award deals now than you're likely to find three, four or even six months before you travel.
For instance, let's say you want to use American Airlines AAdvantage miles next summer for a simple flight in economy from New York to London. At the moment, there are round-trip flights departing around Memorial Day weekend for 42,000 miles (21,000 each way, as the award calendar shows). You'll frequently find round-trip flights to Europe on American for 60,000 miles — or much higher, now that the airline's award pricing model is much more dynamic.
If you're looking to fly a family of four to Europe, booking now could save you tens of thousands of miles compared with what you'd likely find if you waited six months.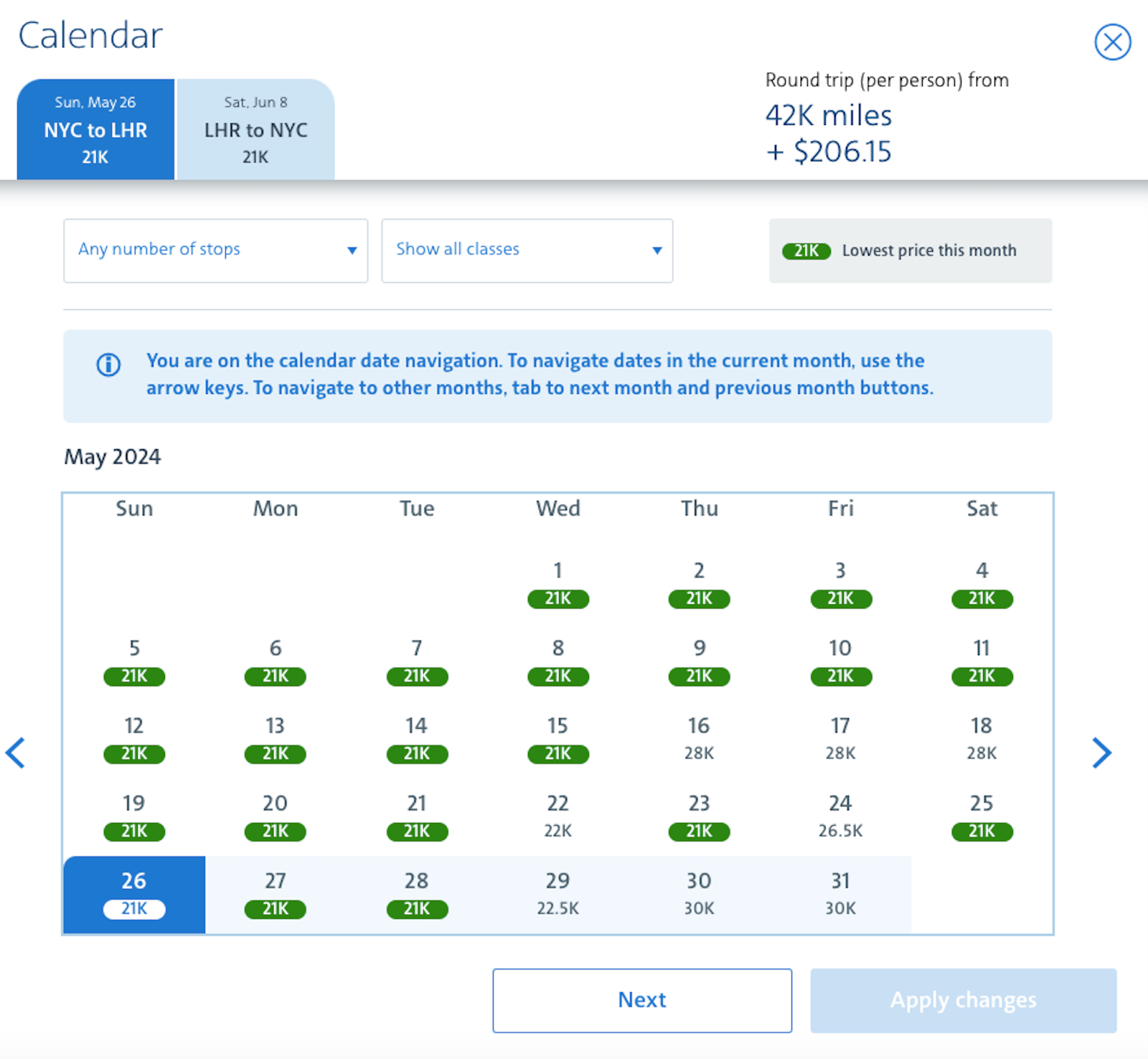 Locking in an award flight at a good rate now protects you from any devaluations the airline might later make to its frequent flyer program, which could render the miles you've earned as of today less valuable over time.
And keep in mind, with many award flights, you can cancel and get back your miles (as well as taxes and fees) if you find a better deal later or decide to travel somewhere else instead.
Related: How far in advance can you book a flight?
Every program releases seat inventory at different times, with various airline loyalty programs ranging from more than 360 days out to some just offering 330 days out, so you'll need to do your research, especially if you are trying to use miles on some foreign partners. It pays to know the rules. Here's a chart for domestic flights.
| | |
| --- | --- |
| Airline | Revenue booking window opens |
| Alaska Airlines | 330 days before departure |
| Allegiant Air | Typically six to nine months in advance |
| American Airlines | 331 days before departure |
| Delta Air Lines | 331 days before departure |
| Frontier Airlines | Varies |
| Hawaiian Airlines | 330 days before departure |
| JetBlue Airways | 331 days before departure |
| Southwest Airlines | Varies, but typically six to nine months in advance |
| Spirit Airlines | Varies |
| Sun Country Airlines | Varies |
| United Airlines | 330 days before departure |
The rules are different for foreign airlines, but often you'll be using other types of airline currency for some of those flights. Here are a few popular programs and when bookings open.
| | | |
| --- | --- | --- |
| Airline | Award booking window opens | Notes |
| Aeroplan / Air Canada | 355 days | |
| Avianca LifeMiles | 355 days | May allow bookings for partners that release award space further out (for example, TAP at 360 days) |
| British Airways | 354 days | |
| Etihad Guest | 331 days | |
| Singapore KrisFlyer | 355 days | |
| Virgin Atlantic Flying Club | 331 days | |
For example, business class on Iberia, Singapore and Qatar are all good redemptions if you can book a year or so in advance. TPG was able to find availability on Singapore Airlines for just 81,000 Krisflyer points on a flight in July from George Bush Intercontinental Airport (IAH) to Manchester Airport (MAN) in England.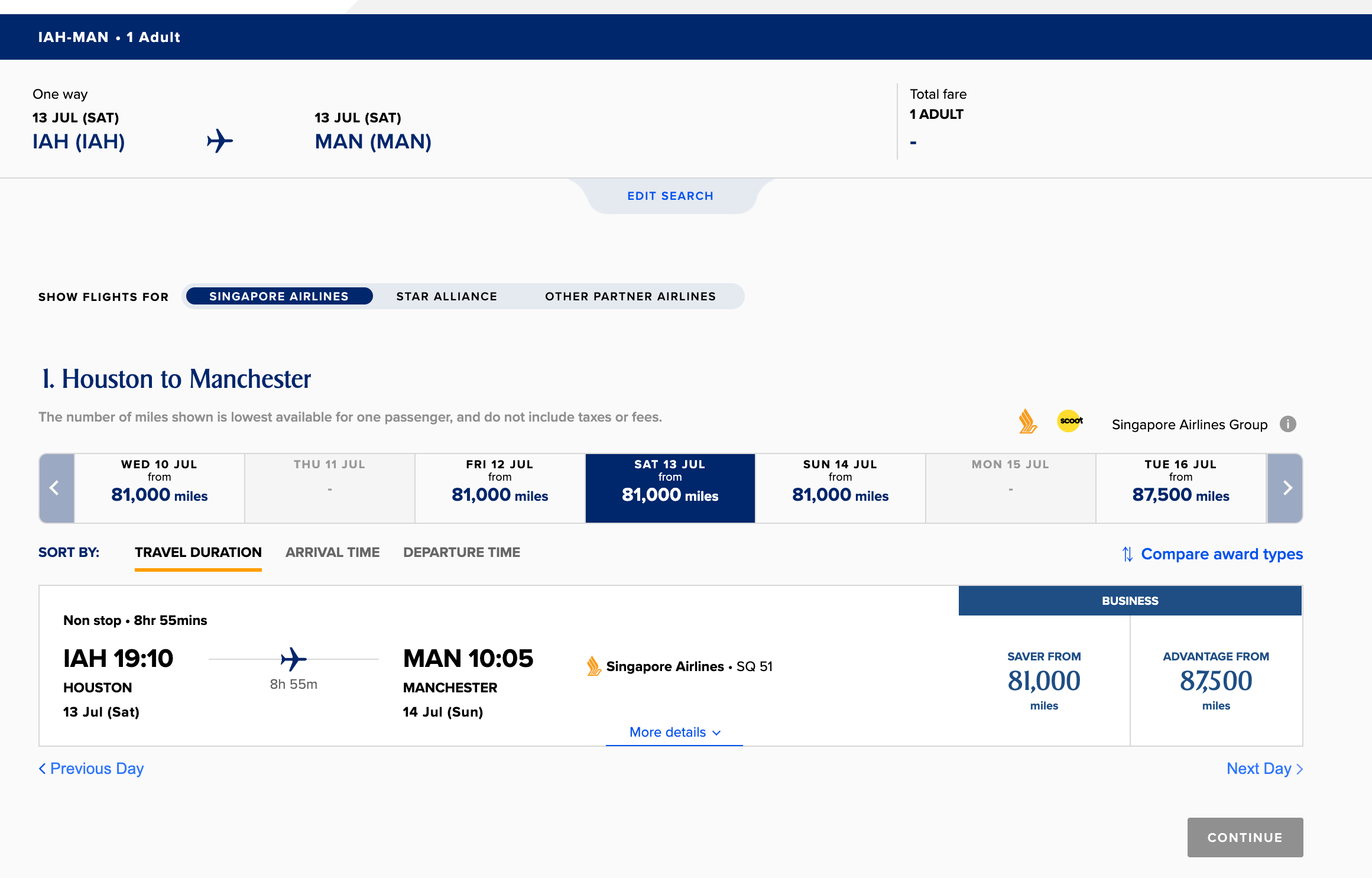 Related: 6 tips for finding cheap award flights
One note on early cash booking of airline tickets
If you are paying cash for flights or some hotels, you likely don't want to book this far in advance, because  prices will generally be quite high. Airlines will drop prices as time passes until they start going up again a few months before the flights.
For domestic trips, when booking with cash, TPG recommends starting to monitor prices three to four months before your departure date and expect to book one to two months in advance. For international trips, we recommend starting to monitor prices six to seven months in advance and expect to book three to five months in advance.
Obviously, that rule doesn't apply if you happen to see a great price and/or are good with a credit if the price of airfare drops and you are able to rebook. Just monitor it carefully if that's the case, and make sure you are purchasing a refundable ticket.
Book popular hotels and resorts using your hotel points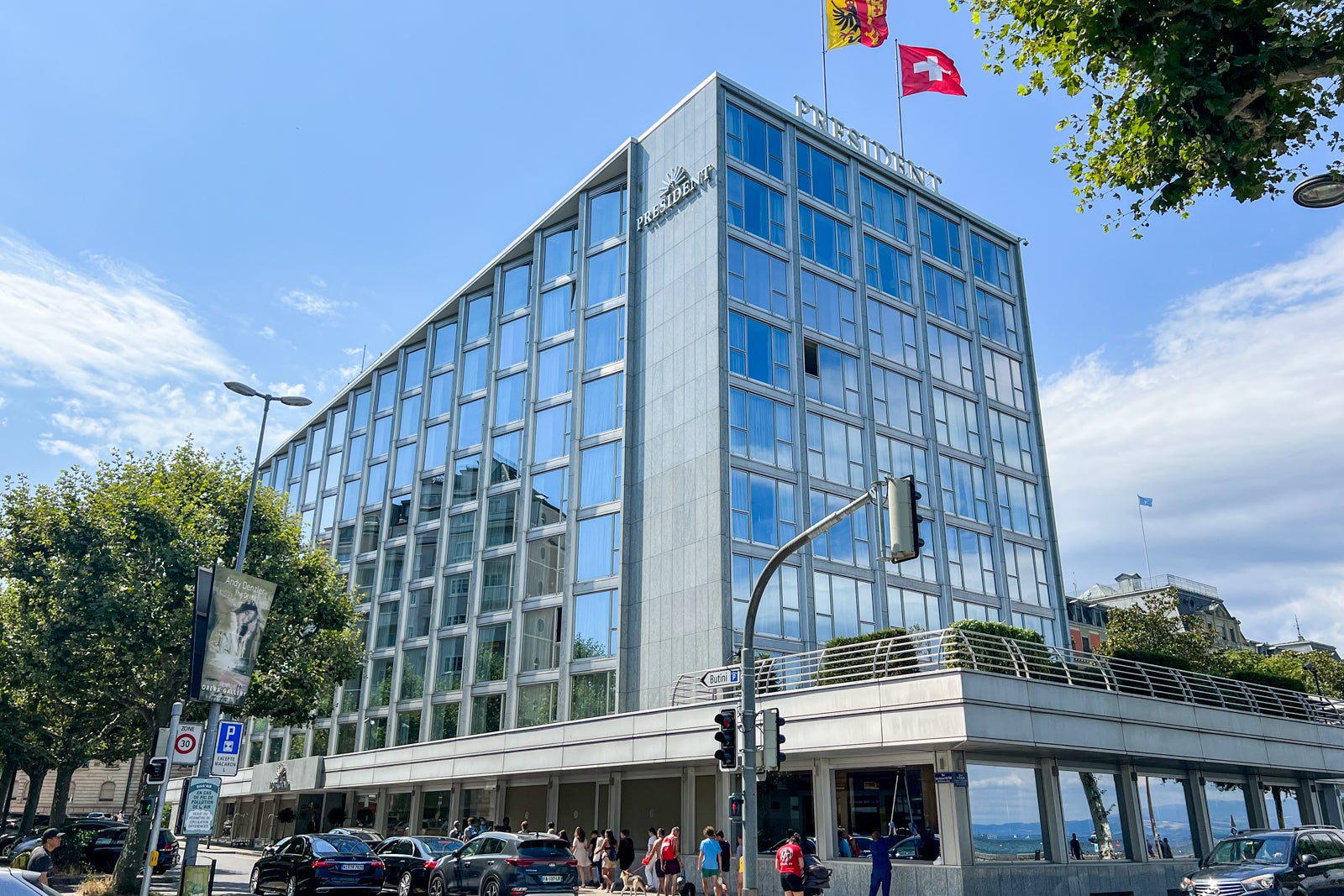 Hotels have also opened up their booking and award calendars for summer 2024.
If you're planning to use points for a major redemption next summer, booking soon can be a good strategy for a couple of reasons.
First of all, if you're hoping to redeem your points at a high-demand property with limited standard award availability, you're better off locking in your reservation now rather than rolling the dice and hoping it's available a few months down the road.
Take the Grand Hyatt Kauai, a World of Hyatt Category 7 property in Hawaii, for instance. It's a resort we've previously dubbed a "crown jewel" of award redemptions. Right now, there's standard award availability right at the beginning of the summer. By late June, though, it shifts to peak award pricing. So, if you go ahead and plan your vacation around the best deal before your calendar fills up, you can take advantage of the better rate.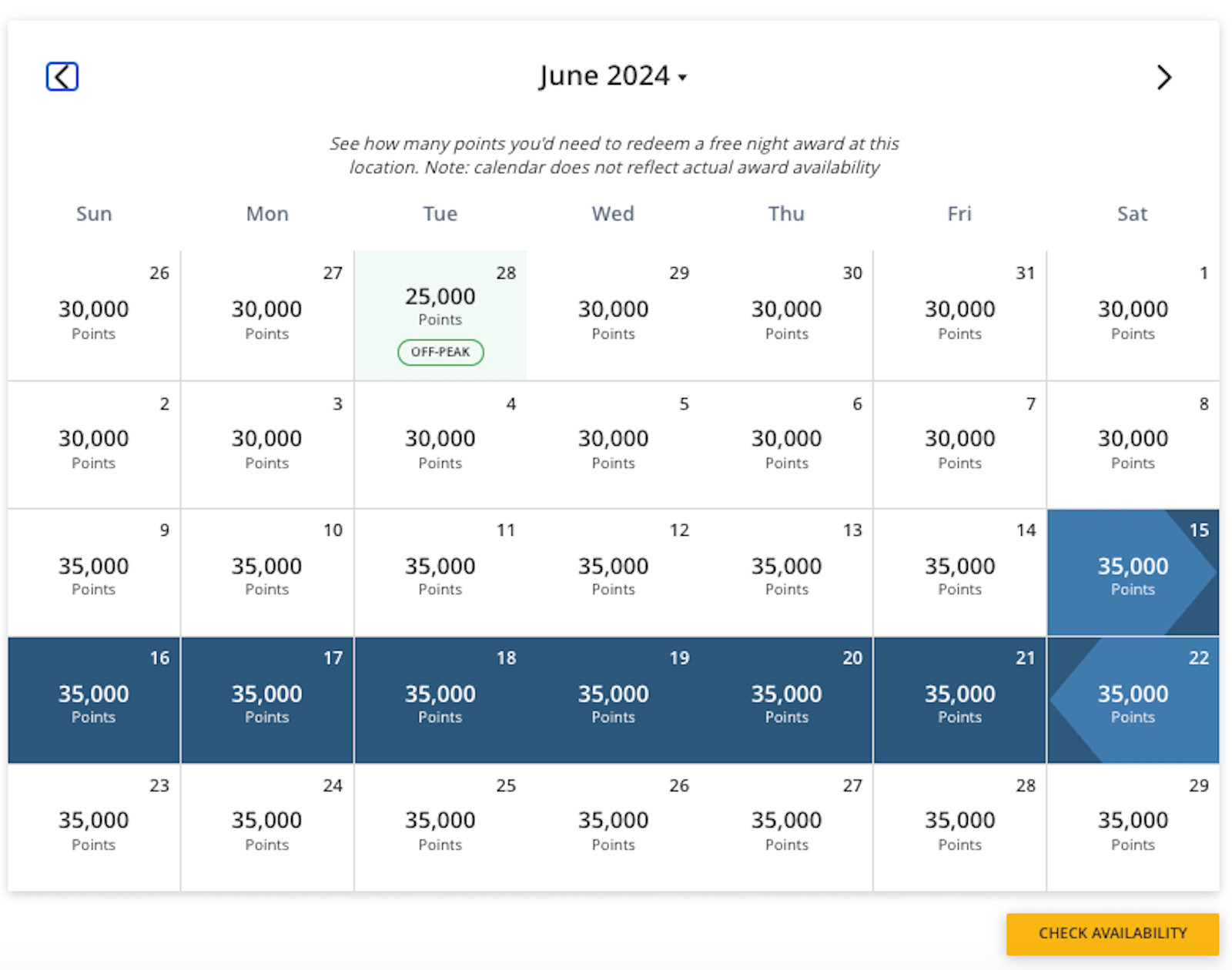 At other properties, you might be able to find some off-peak award availability for next summer, depending on the destination.
At Palazzo Sant'Angelo Sul Grand Canal in Venice, a Category 7 Small Luxury Hotels of the World property, there's wide-open availability in August 2024 for an off-peak standard room redemption of 25,000 points per night.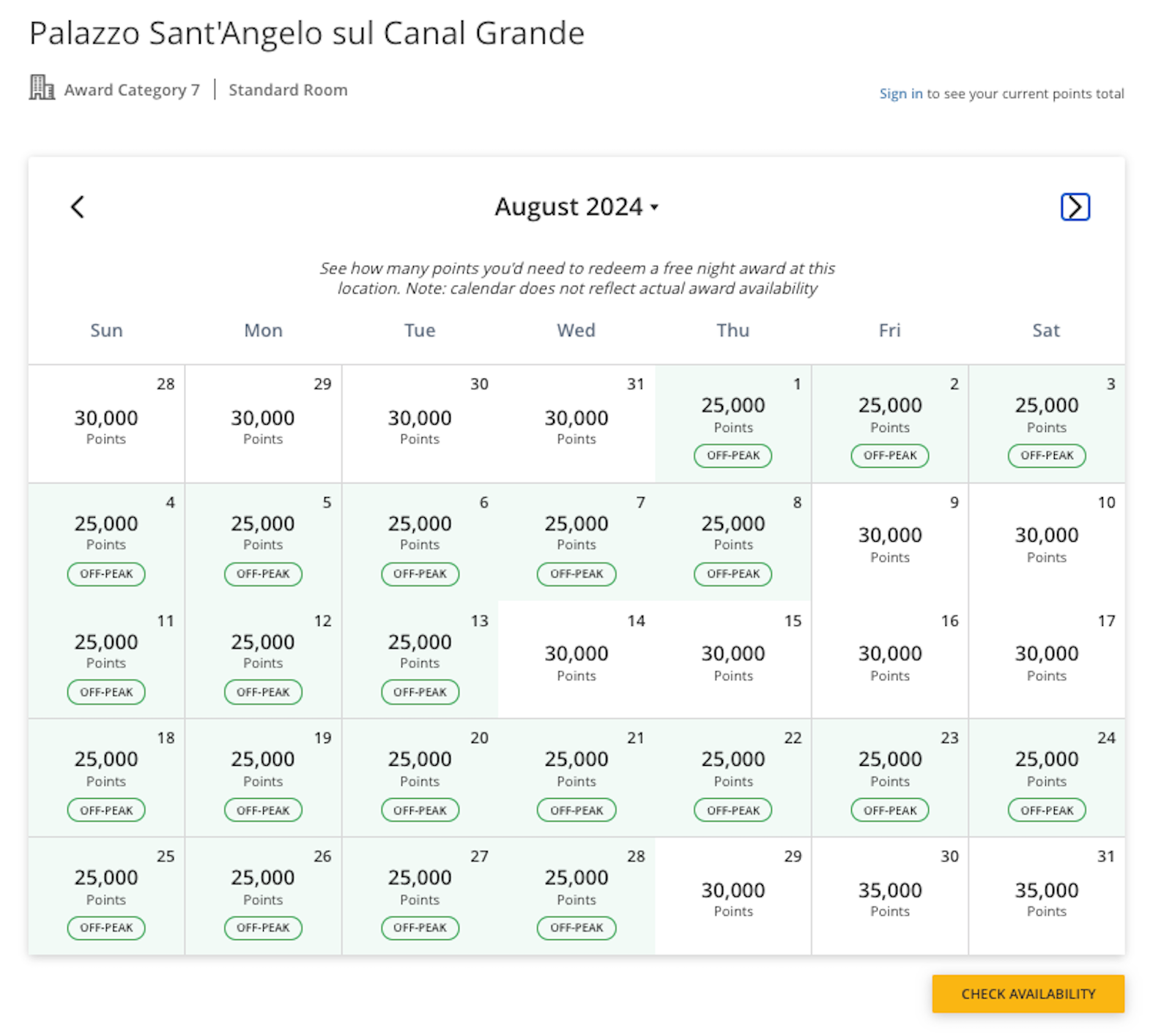 Keep in mind Hyatt Globalist members can book points-advance reservations. That means they can book a stay without having the required points in their account and then earn them closer to their stay.
Also, award stays are generally refundable, so if your plans change or you find a better deal, you can typically cancel and rebook at the same property or a different one.
That means even for members of loyalty programs that use dynamic award pricing, such as Marriott Bonvoy, if you're comfortable tying up your points in a summer 2024 reservation now, it really can't hurt to go ahead and book if you find a rate you love. You can always go back and make a change later if you need to.
Book refundable or cancellable hotel stays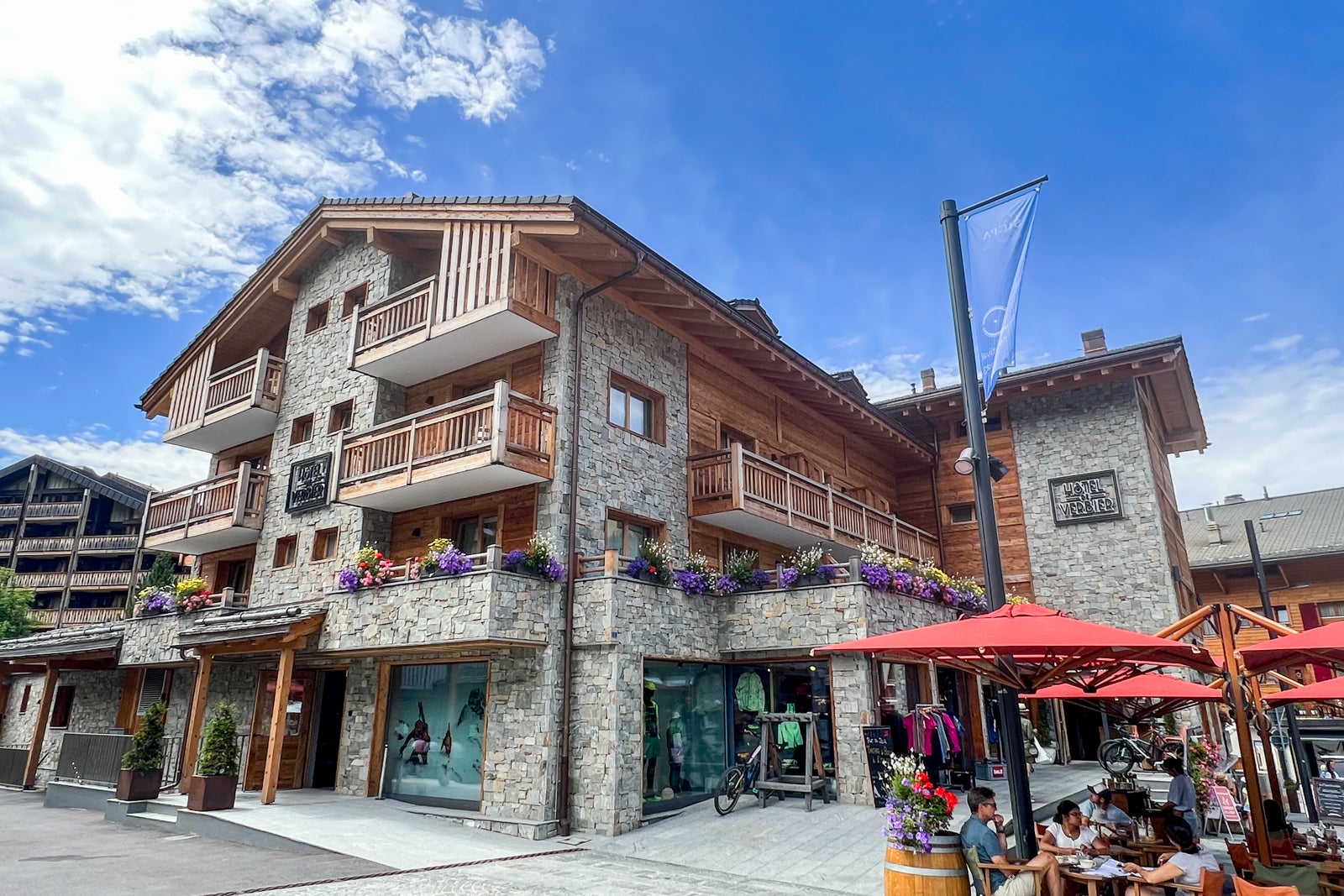 For hotel reservations, it's much more important to act quickly if you'll be competing for award space, but it can still make sense to book now, even if you are paying cash. 
Cash prices are likely to fluctuate significantly between now and next summer at any given property. In fact, it's likely prices will drop at some point.
However, as long as you're not prepaying for the stay, you might as well get a reservation on the books if you know where you're going. Doing that, you'll know you have a room reserved, and you'll also know the price won't go up from there. This could help you guard against the risk of further inflationary pressures, for instance, which might drive up room rates over the course of this year.
You can always cancel and rebook or otherwise make a change if the prices drop later.
Make your cruise deposit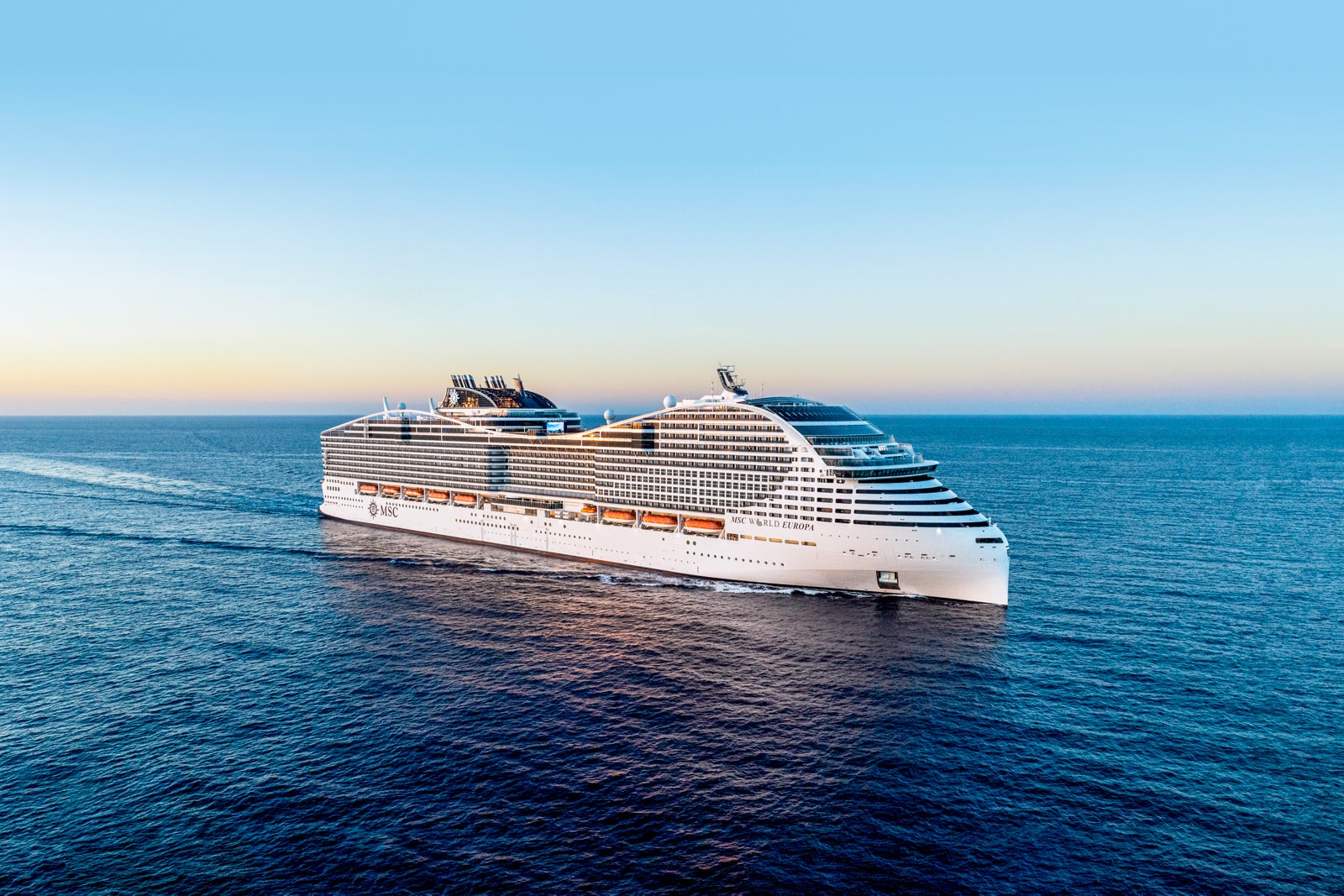 Booking a cruise six months to a year in advance is not unusual. Currently, the average booking is made 235 days before sailing, according to a research note from Truist analyst Patrick Scholes. In the cruise world, booking a cruise within 90 days of sailing has always been considered last minute.
With demand on the rise for 2024 (and even 2025) cruises, it's a smart idea to lock in next year's summer cruise to Alaska, the Caribbean or the Mediterranean now. As cruise ships fill up, pricing for the same sailing will only increase. You'll get the best deals, especially on popular summer itineraries, by booking early. Keep an eye out for promotions offering value-added perks to sweeten the deal because those pandemic-era discounts are quickly disappearing.
A better price is not the only reason to book your 2024 summer cruise now. By reserving in advance, you'll have the largest selection of cruise ships and itineraries, not to mention available accommodations and dining times. A spacious suite, family cabin or solo room on a hot new ship will sell out further in advance than a standard room on an older vessel. If you're picky, the earlier you book, the better.
For most cruises, you only need to put down a deposit when you book your cruise. That means you can lock in your preferred cabin now but still have the flexibility to change your mind in a few months.
Also, if you're flying to your cruise port, booking early allows you to jump on award tickets as they're released or take advantage of airfare sales, rather than overpay for booked-up summer flights to your departure port.
Related: 6 trips to book a year in advance
Bottom line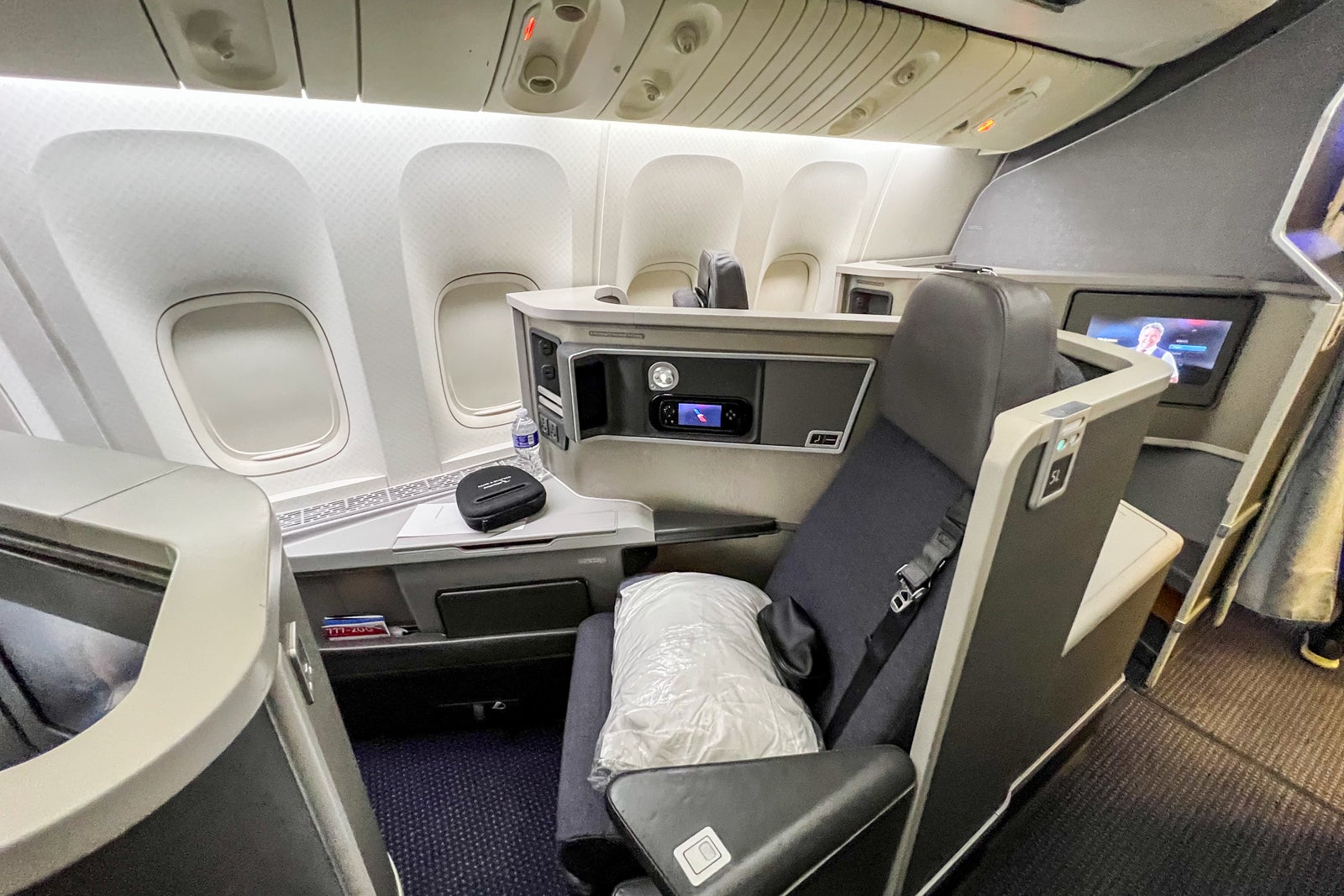 Booking those desirable and expensive summer trips now can dramatically improve your odds of getting what you want.
Cruises fill up, especially in the summer, so for some lines, it's now or never. You're likely to get the best price booking way in advance.
Although we don't recommend booking cash airline tickets now, it is the best time to see if you can lock in mileage redemptions on major airlines while things are more open.
You should already know when the booking window opens for airlines you want to fly and get busy booking. We recommend finding out when the booking window opens and then setting a calendar reminder a day or two before, so you can start checking availability. Hopefully, you'll get lucky and score a unicorn booking like a Qantas first-class fare to Sydney. 
Remember that most U.S. airlines will now refund your miles if you have to cancel or if you have a change of plans. This far ahead, it's all about locking in the redemptions if you can.
Hotels are slightly different, but you should definitely book award space in hotels, too, if it is available. We also recommend locking in refundable cash rates if you are eyeing a special property. However, make sure you can get your money back if something changes or if you find a cheaper rate; the same goes for rental cars, which are often cancellable. Better safe than sorry.
Happy booking!
Related reading:
Additional reporting by Sean Cudahy and Erica Silverstein.