Editor's note: This is a recurring post regularly updated with new information.
Traveling with babies and children requires bringing a lot of extras along for the journey — and one essential you often can't travel without while the kids are little is a stroller. With so many options, choosing which stroller to buy for travel can be enough to make your wheels fall off (that's a stroller joke, by the way).
Large strollers offer all the bells and whistles but may be too heavy, too large or just plain inconvenient to lug around an airport or onto a plane. They can also be challenging to maneuver in your travel destination.
Compact or umbrella strollers may work better for flying, as they're often lightweight and small enough to fold up quickly and easily. In fact, some of these strollers designed for travel will even fit in the overhead bin on your plane.
However, the smaller design can make it tricky to find something comfortable enough for your child or baby to sit in for extended periods of time or to handle the rough terrain at some destinations. In other words, there are trade-offs when you pick the best travel stroller for your family.
Related: When to bring a stroller on a trip (and when to leave it behind)

As parents and frequent travelers, we've tested some of the top-rated travel strollers on the market to help you find the perfect stroller for your family. With those road-tested miles logged, here are the best travel strollers that passed the test and a few tips for your next trip.
Babyzen Yoyo2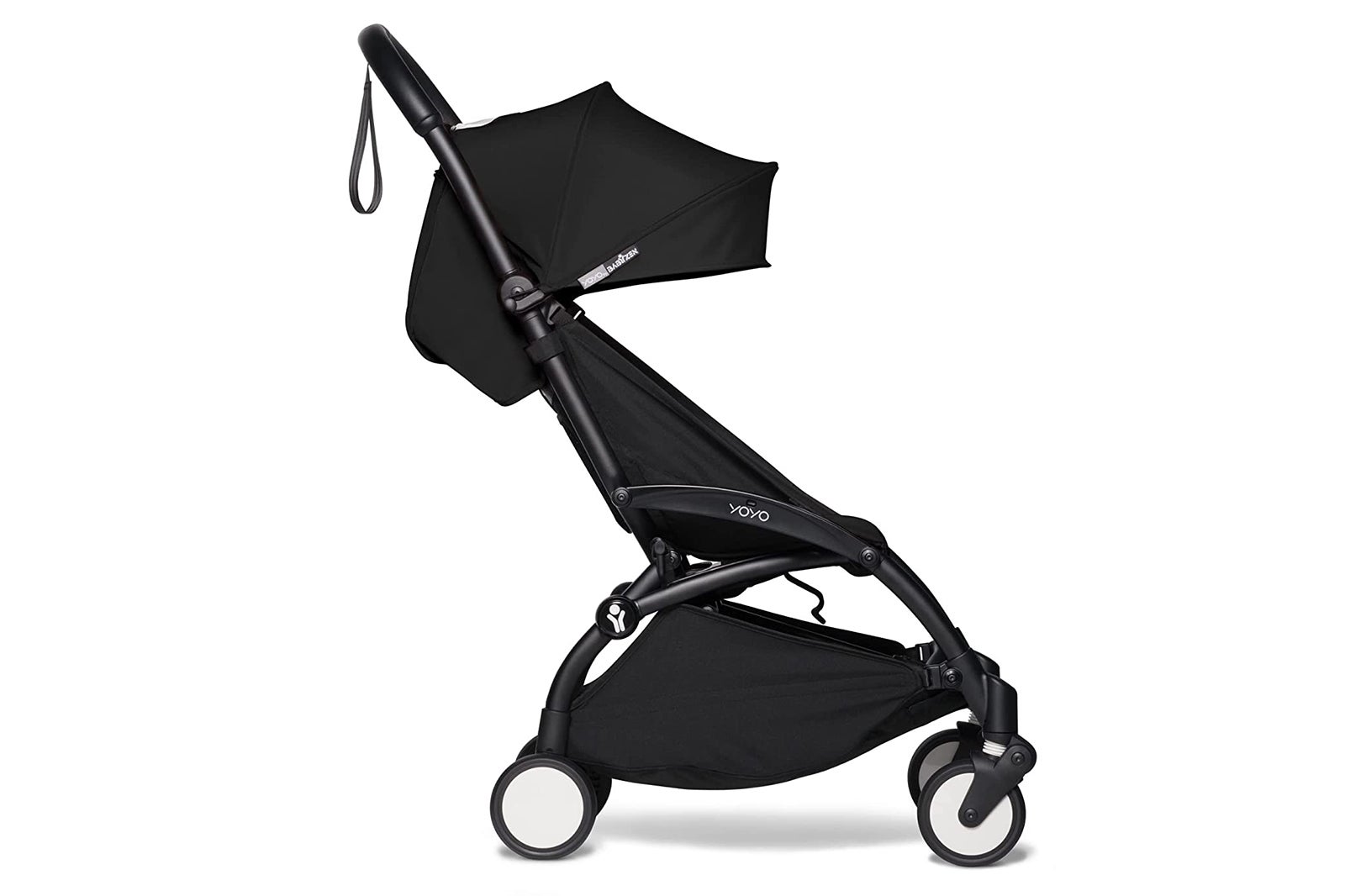 Why Babyzen Yoyo2 is a good travel stroller
The Babyzen Yoyo2 is accepted by most airlines as cabin baggage when folded. Despite its small stature, this stroller is built for long-lasting use beyond just travel, making it especially apt for families living in small spaces in need of one easy-to-maneuver stroller that can do it all.
When you add on the optional newborn pack ($180), the Babyzen Yoyo2 can be used from birth on. With a substantial sun protection factor of 50-plus for its canopy, plus a gradual recline, an under-seat storage bag that supports up to 11 pounds, a zipper pocket and a padded shoulder strap for carrying the stroller when folded, the Yoyo2 is as durable and comfortable closed as it is open.
It's not the most budget-friendly option on this list, especially if you purchase extras like the newborn pack. Unless you purchase the newborn pack, however, the stroller doesn't fully recline for babies ages 0 to 6 months.
TPG senior aviation business reporter David Slotnick is a big fan of this stroller when he flies with his family, sharing, "It folds up small enough to go in the overhead bin and is super lightweight and durable. Every single time the flight attendants are surprised by how compact it is."
GB Pockit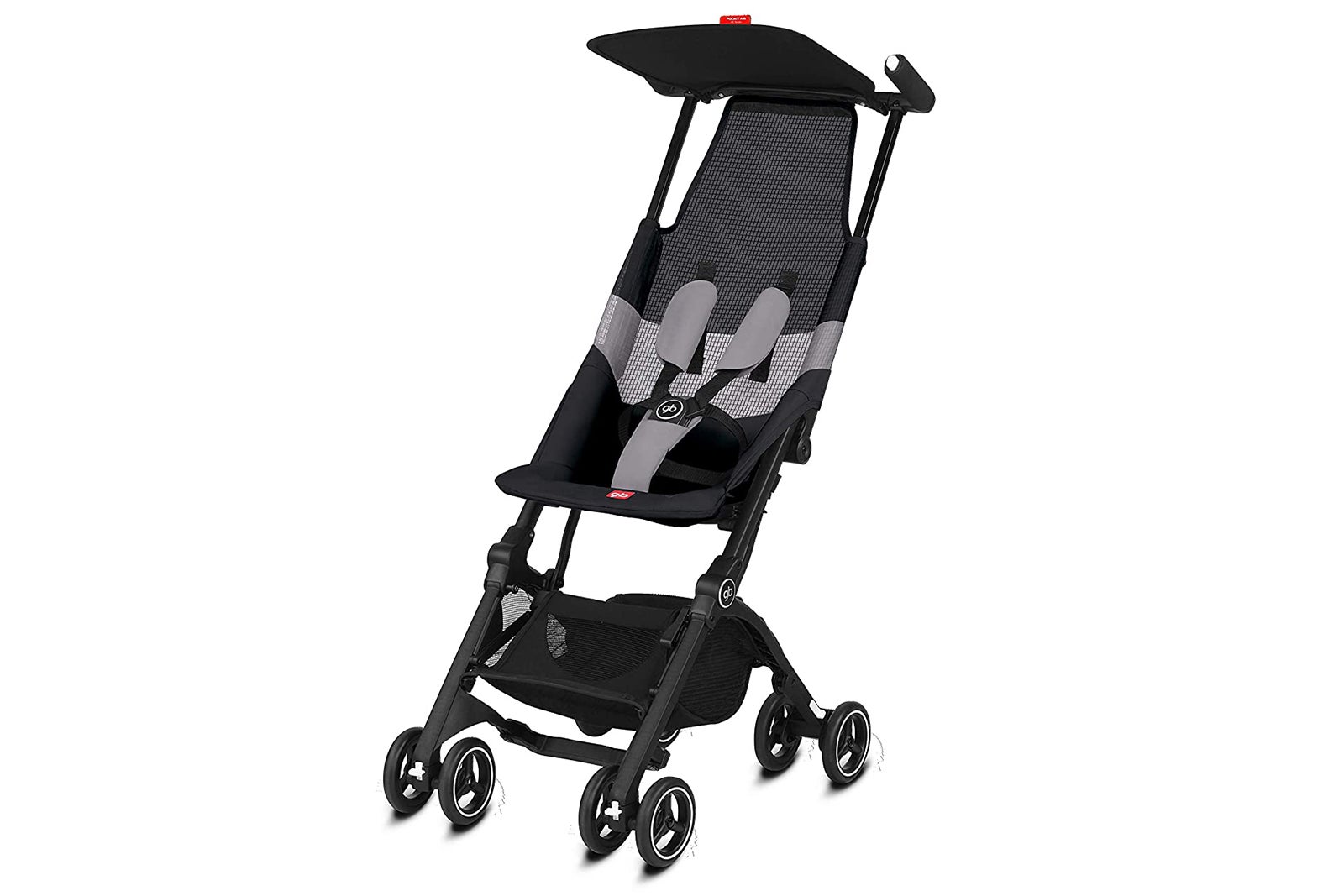 Why GB Pockit is a good travel stroller
The GB Pockit has been named the world's most compact stroller by the Guinness Book of World Records, folding up in just two easy steps. Don't let its small size fool you. It still has a weight capacity of up to 55 pounds and can handle a bumpy sidewalk as well as it handles the moving walkway at the airport.
Although the no-frills GB Pockit doesn't come with all the extra bells and whistles (which is why it folds up so easily), it does have a mini sun canopy, an adjustable harness and a small storage space underneath the seat.
The GB Pockit is designed for babies 6 months and older, so parents of newborns will have to wait a bit to use this small-but-mighty stroller.
Summer 3Dlite Convenience Stroller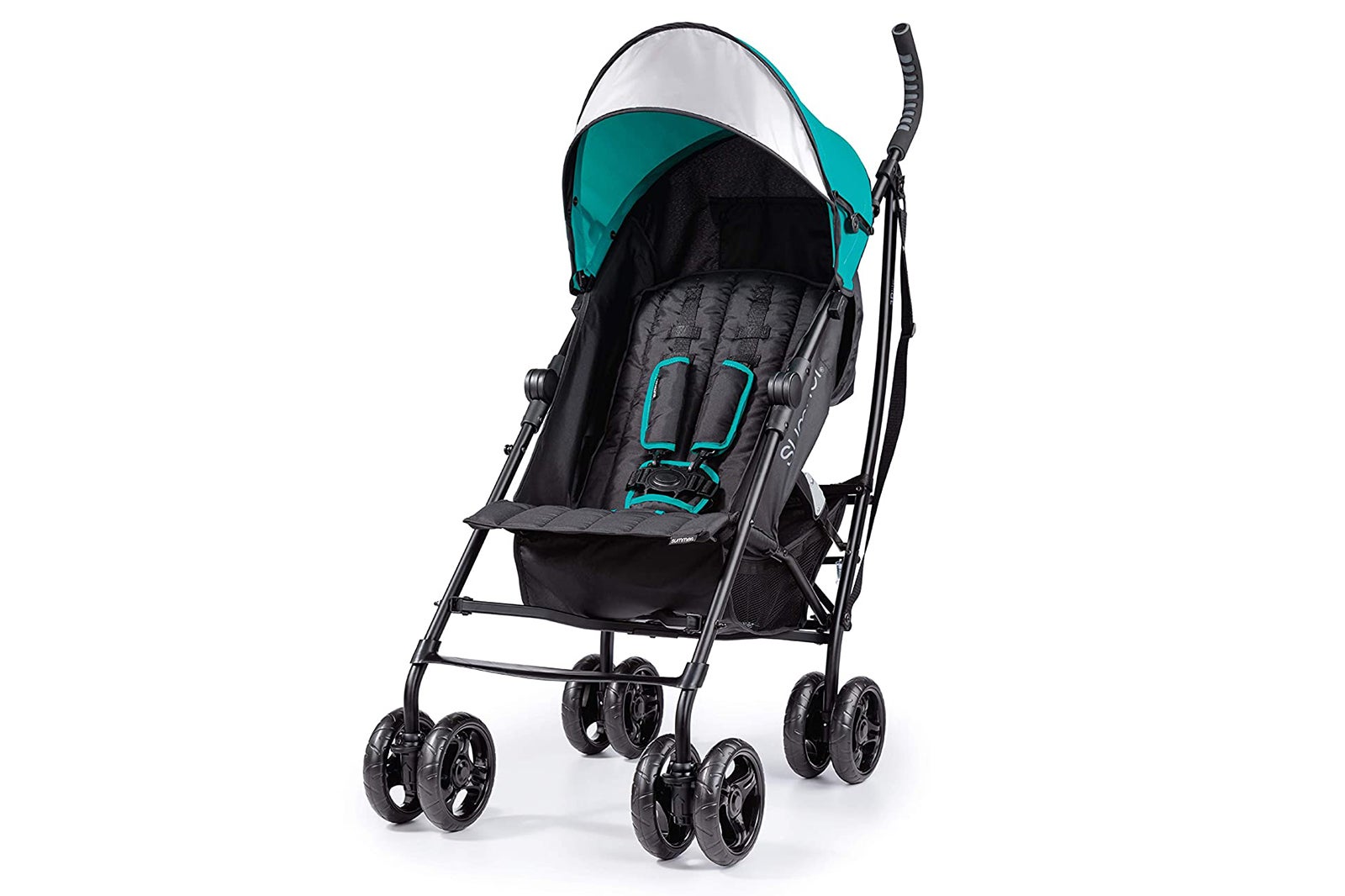 Why Summer 3Dlite is a good travel stroller
Budget-savvy parents will likely be immediately drawn to the price of the Summer 3Dlite Convenience Stroller, but that's far from the only thing to love about this lightweight stroller.
The 3Dlite has a full canopy, anti-shock front wheels and a four-position recline that almost lies flat. It can hold kids who weigh up to 50 pounds, and the storage basket underneath can hold up to 10 pounds of baby travel necessities.
Speaking of extras, this affordable stroller comes with a cup holder, a velcro pocket and a carry strap too. One thing it doesn't come with — adjustable handles. Parents on the taller side may not find this stroller comfortable for long periods of time.
Like similar lightweight strollers, the 3Dlite is made for babies 6 months and older, so parents of newborns will have to wait to use this stroller.
Joolz Aer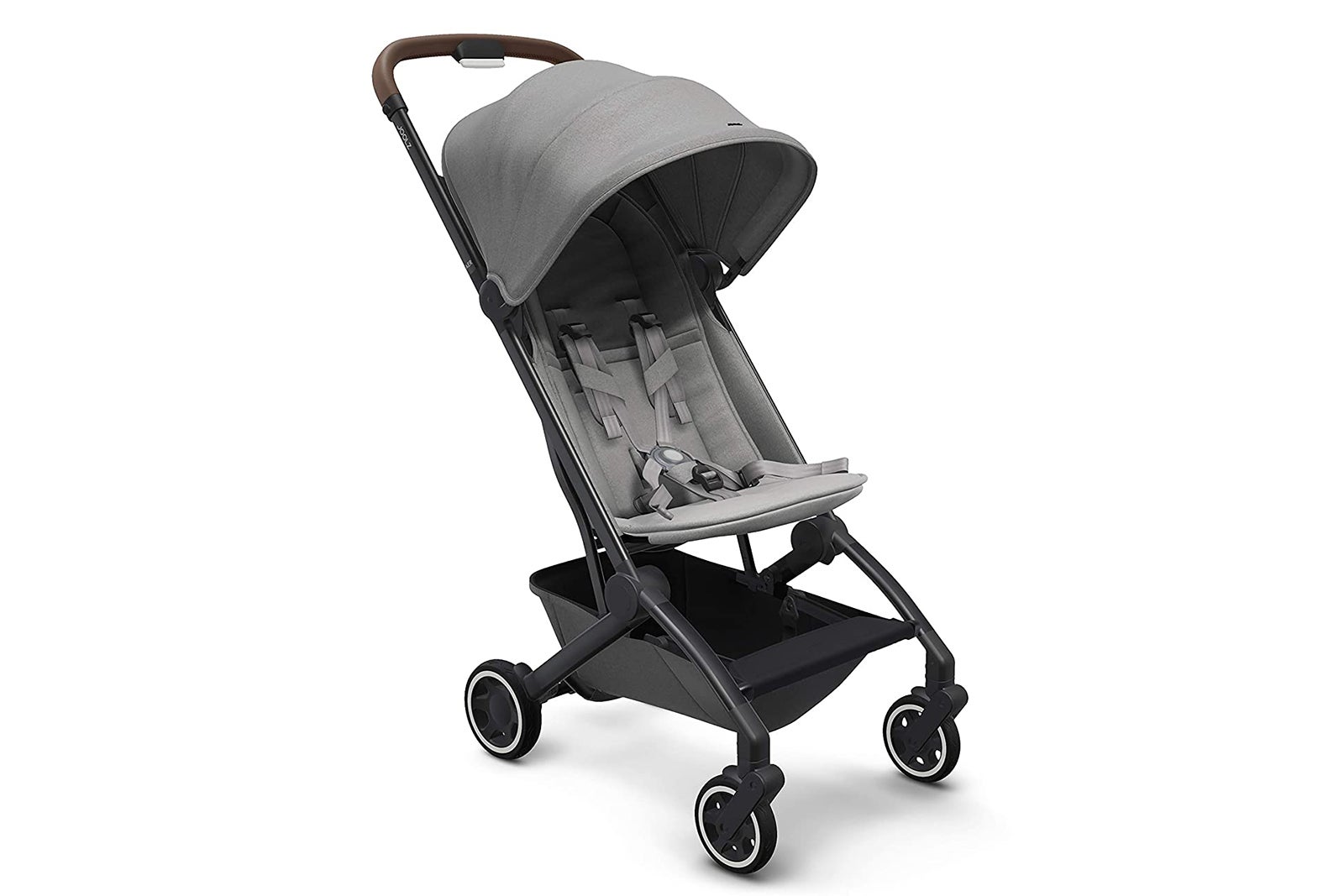 Why the Joolz Aer is a good travel stroller
The Joolz Aer folds up in one second with just one hand, ideal for anyone holding additional luggage (or a child) in their arms. When folded, the stroller easily slides into most airlines' overhead storage bins.
The seat is lightweight but made to be especially comfortable for kids. The foldable seat provides support and cushion for the child's neck and back in all positions of reclining, and the sides conform to the body for additional comfort and support.
The included sun hood provides UPF 50+ sun protection, and there is a large storage basket underneath. Joolz does offer add-on products like a cup holder, footboard and car seat adapters, but you must purchase those separately.
Although the stroller is adjustable, it's designed for kids 6 months and up (the stroller has a 50-pound maximum weight limit) and doesn't fully recline. If you plan to use this stroller with a newborn, you can buy a newborn carrycot ($219) to use for babies.
UPPAbaby Vista V2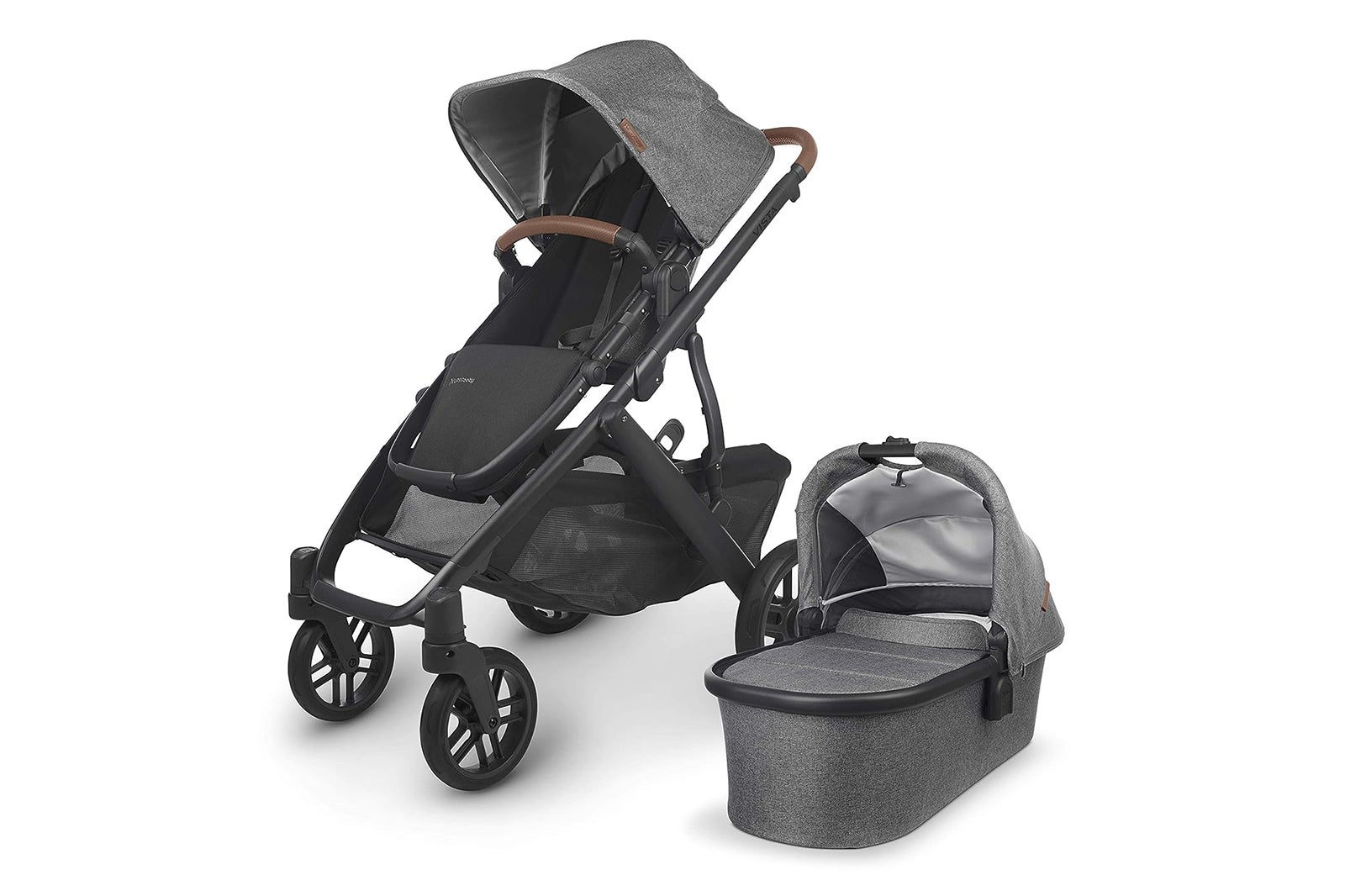 Why the UPPAbaby Vista V2 is a good travel stroller
The UPPAbaby Vista V2 is a luxe travel stroller that can grow with your child. The standard bundle comes with a stroller frame, a toddler seat, an infant seat and base and a bassinet, so you can begin using the stroller as soon as you bring your baby home and up until they reach 50 pounds. This stroller folds in one easy step and can stand on its own when folded.
The UPPAbaby Vista V2 can be further configured to seat up to three children, with the addition of a rumble seat and/or ride-along board. In addition to being versatile, the UPPAbaby Vista V2 provides a smooth ride with spring-action all-wheel suspension, comes with a UPF 50+ sunshade and holds all of your travel essentials in the oversized storage basket that can hold up to 30 pounds of baby gear.
TPG's vice president of marketing and communications chose the UPPAbaby Vista V2 as her first travel stroller. "We are expecting our first baby in just a few short weeks and decided to go with the UPPAbaby Vista V2 for our stroller because we live in NYC and wanted something that is durable, long-lasting and able to convert to multiple combinations," she shared. "This stroller rolls like butter and the storage basket is incredible spacious. It comes with a bassinet and toddler seat, but I love that there are also a ton of accessories you can purchase separately to make the stroller meet your needs," she added.
Related: The best baby travel products according to TPG readers
It's not the lightest or smallest stroller on this list, but the multitude of use options, durability, and thoughtful details like full-grain leather accents, a rain cover and multiple color options make it a great choice if you want a do-it-all stroller that you can use for the long haul.
Doona Car Seat & Stroller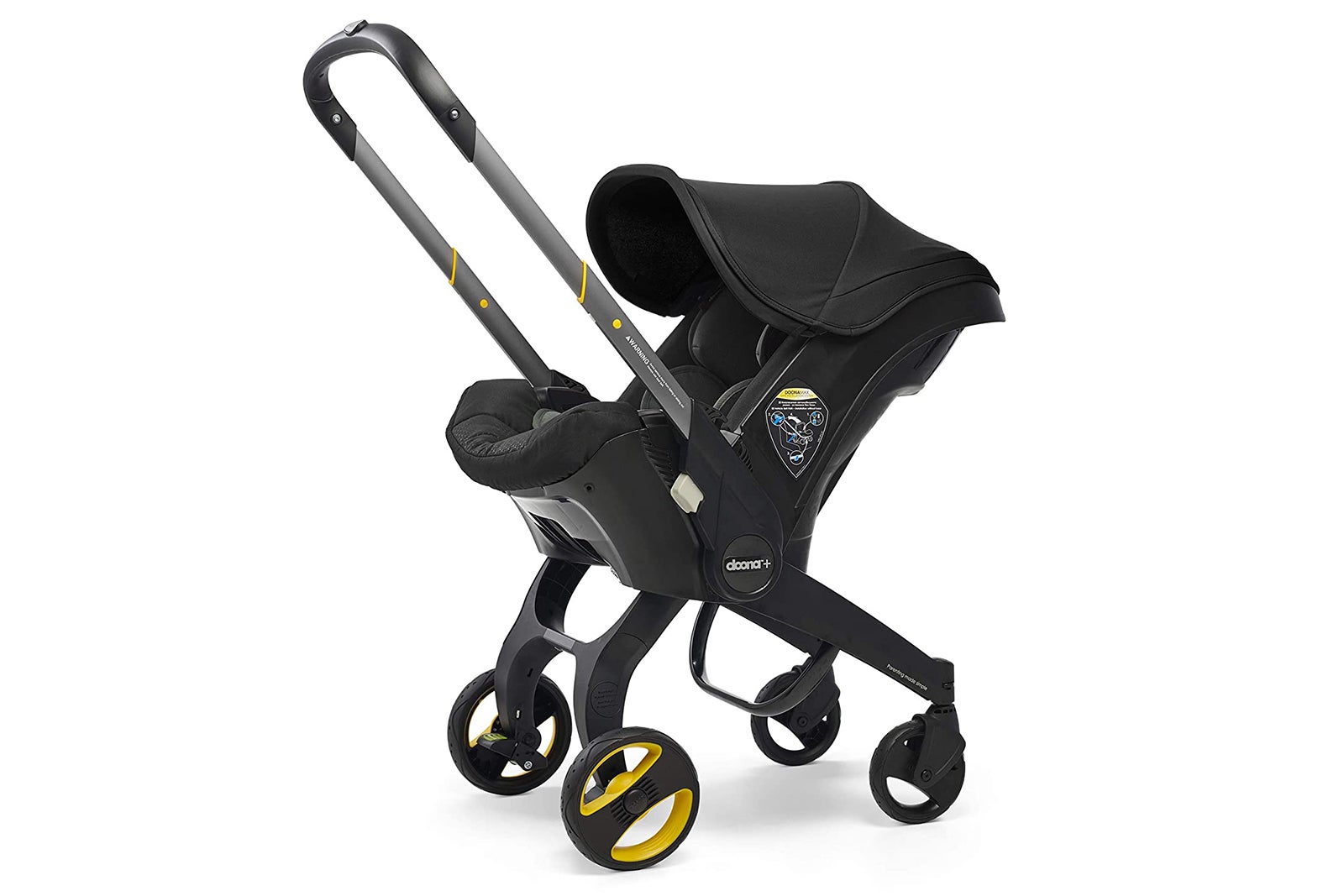 Why the Doona is a good travel stroller
The wheels of the Doona Car Seat & Stroller snap up to transform it from a stroller into a car seat, making it ideal for globetrotters who are always on the move. Having this one-of-a-kind product ensures you won't need to figure out a car seat plan when arriving at your destination or lug extra gear around the airport.
There are certainly cheaper strollers out there, but when you consider that you are getting a stroller and car seat for one price, the Doona is a surprisingly economical choice.
The Doona looks sharp with faux-leather detailing and sleek black fabric and performs well with an extendable handlebar, canopy shade and a storage bag that attaches to the handlebar. You can purchase a larger storage bag, sunshade and travel bag separately.
The Doona is suitable for babies and kids weighing between 4 and 35 pounds and can only be used as rear-facing, so your baby is likely to outgrow this stroller more quickly than other travel strollers. For the newborn stage, though, it doesn't get much better than the convenient, compact Doona.
Thule Chariot Double Jogging Stroller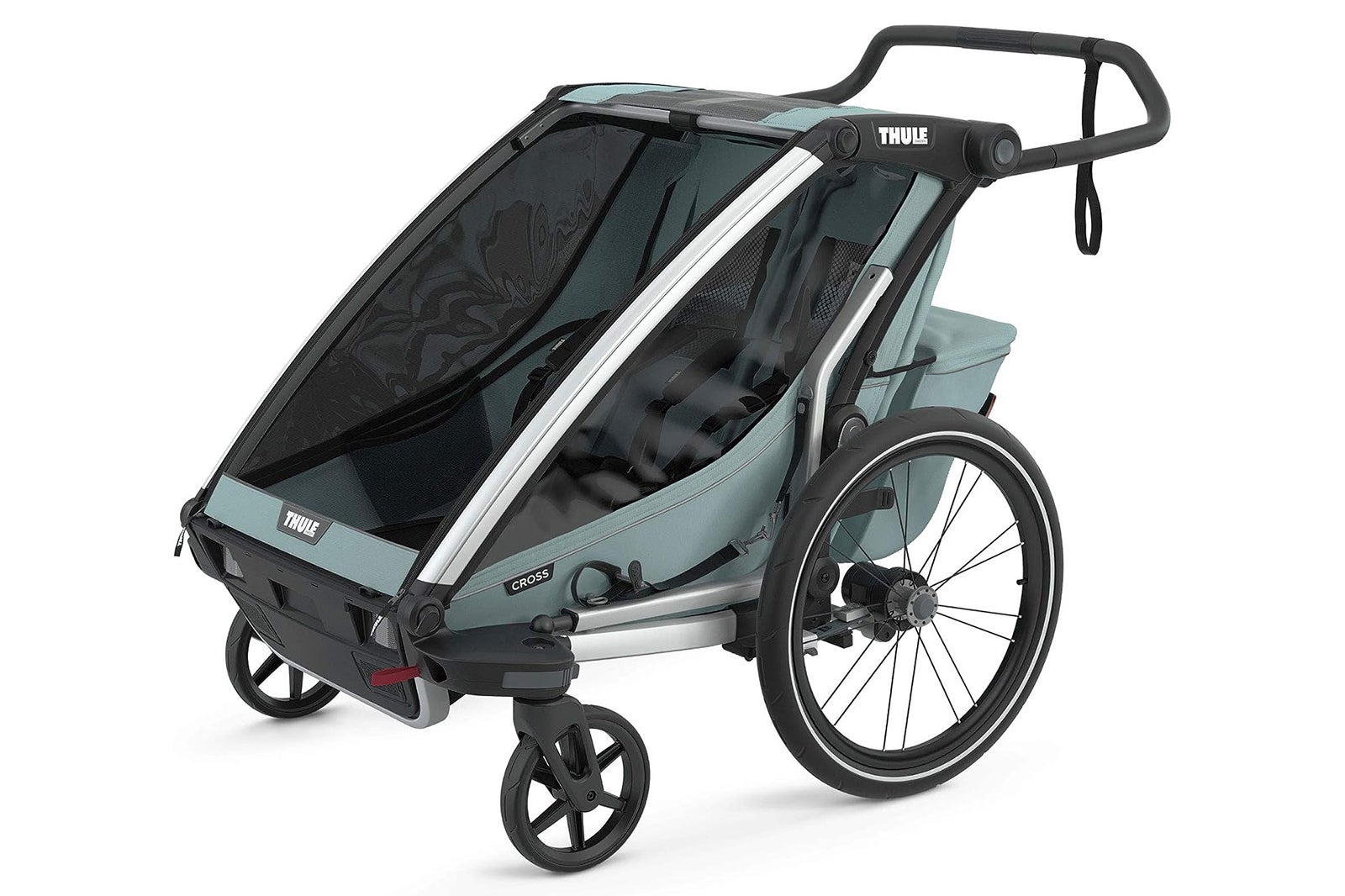 Why Thule Chariot Double Jogging Stroller is good for travel
The Thule Chariot Double Jogging Stroller may not immediately strike you as a travel-friendly stroller option, but if your travels include hiking, biking or camping (skiing and jogging kits can be purchased separately), you'll be glad to have multi-sport trailer and stroller along for the ride.
As far as trailers and strollers go, the Thule Chariot is top-of-the-line. It folds up smaller than similar strollers, has independently-reclining seats for napping on the go, adjustable suspension for a smooth ride no matter the surface, adjustable ventilation and a large storage basket.
Because of its design, you'll have to gate-check the Thule Chariot when you fly, but TPG's senior director of engineering Mitchell Stoutin believes the stroller's larger size is one of the biggest benefits. "It can double as a 'napping cave' or even a luggage cart in the airport, but the real reason I bought it is because I wanted to do a car seat-free trip with my kids," he said.
When he flew to Sitka, Alaska, with his family, he brought along the bike trailer attachment and rented bikes to use on the island. "Even while towing the kids behind the bike during a downpour, both kids stayed dry and warm," Stoutin shared. "The Thule enabled us to take a different kind of vacation with our kids."
Baby Jogger City Mini GT2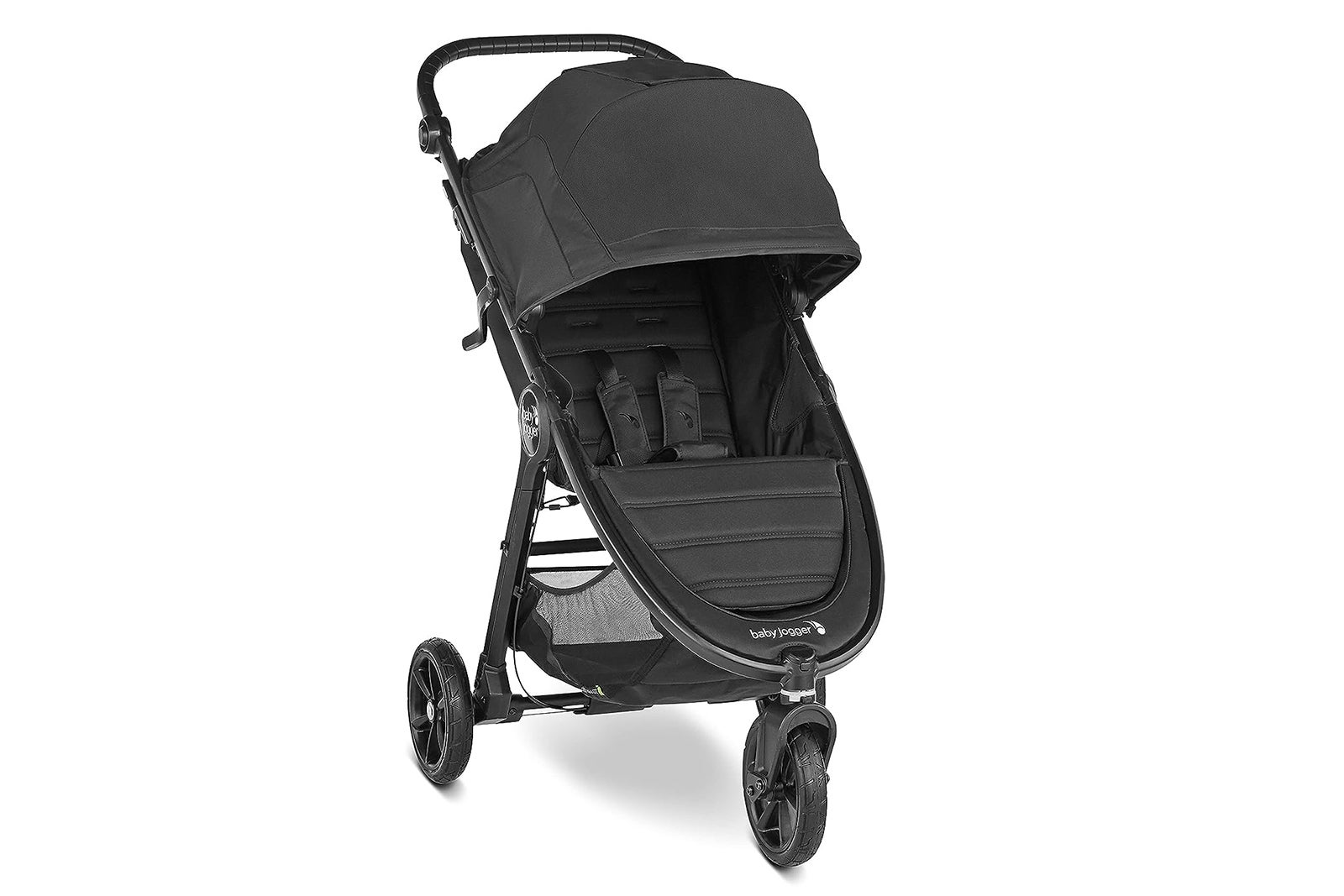 Why the Baby Jogger City Mini GT2 is a good travel stroller
The Baby Jogger City Mini GT2 is a top-tier stroller with a mid-tier price. While not the lightest or smallest on this list, it is made to last. Stoutin, who has had this stroller for six years and used it with three kids, shared that it still functions perfectly.
The City Mini GT2's durability is thanks to its "forever air" rubber tires that never need to be inflated and all-wheel suspension, making it swift and nimble no matter the terrain. It's also highly customizable with an adjustable handlebar and the ability to add an infant car seat, pram, glider board, parent console and child tray (all sold separately).
This stroller folds up quickly and easily with a one-hand fold and keeps your baby comfortable with a near-flat reclining seat and adjustable calf support. There's also a large under-seat basket that holds up to 10 pounds.
The City Mini GT2 can be used with a newborn, using the Baby Jogger infant car seat (sold separately) or the included car seat adapters, and all the way through the toddler stage with an impressive maximum weight limit of 65 pounds.
Joovy Kooper X2 Double Stroller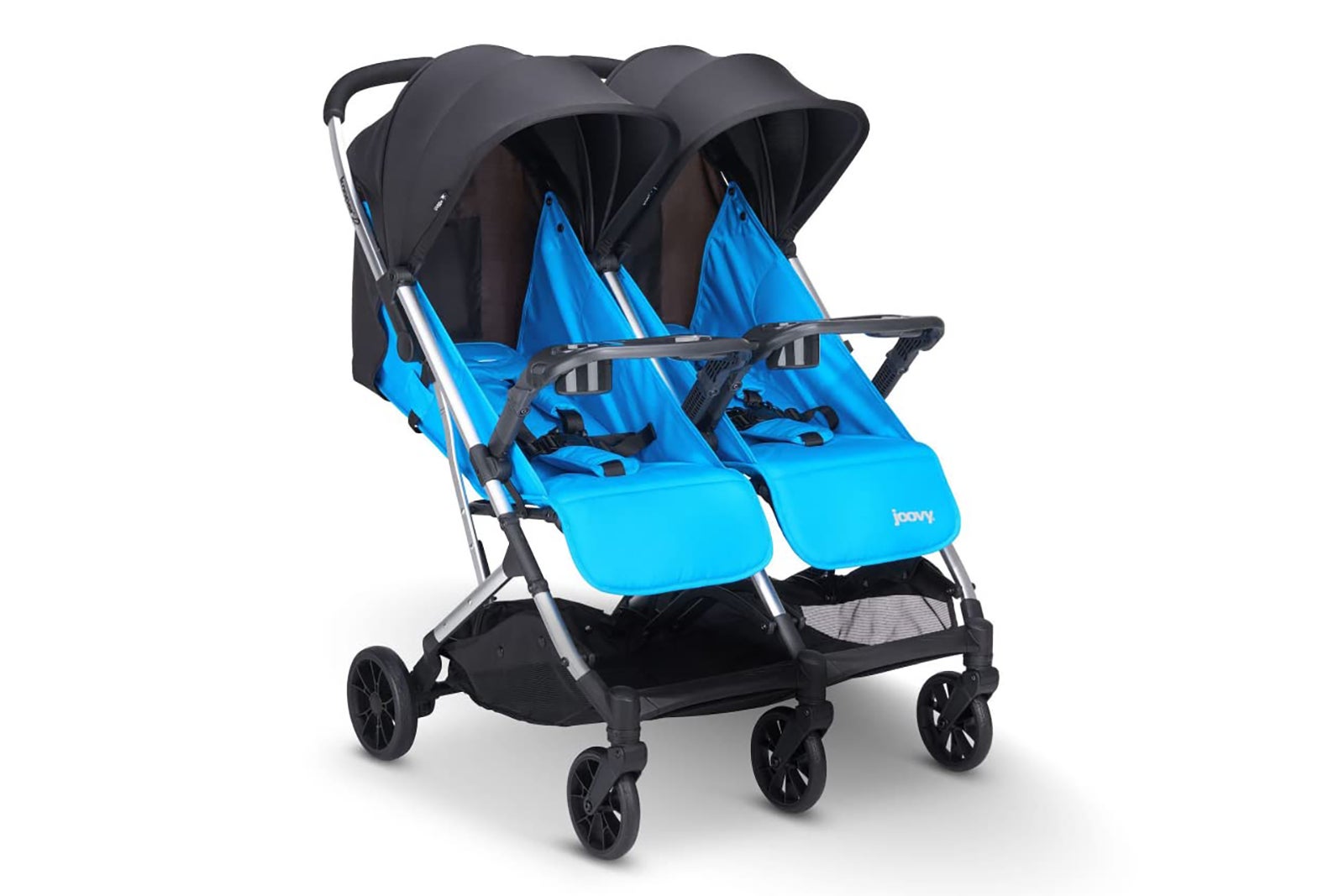 Why the Joovy Kooper X2 Double Stroller is good for travel
Finding a side-by-side double stroller that meets your needs is no simple task, but the Joovy Kooper X2 ticks all the boxes. It has wide, comfortable, adjustable seats for your kids but is slim enough to easily fit through doorways. It folds up easily with one hand and stands on its own when folded. Also, the must-have extras like snack trays, shade canopies and multiple storage spaces are all included.
The seats and shade canopies adjust independently so you can accommodate your children when nap time arrives, and the under-stroller storage basket holds up to 22 pounds (because more kids always means more stuff). If you have a theme park trip in the future, the Joovy Kooper X2 meets Disney World and Disneyland's stroller size requirements.
Each seat is designed to hold a child up to 50 pounds, but it is not compatible with infant car seats, so you can't start using it until your child is at least 3 months old.
Nuna PIPA urbn + TRVL Stroller and Car Seat Travel System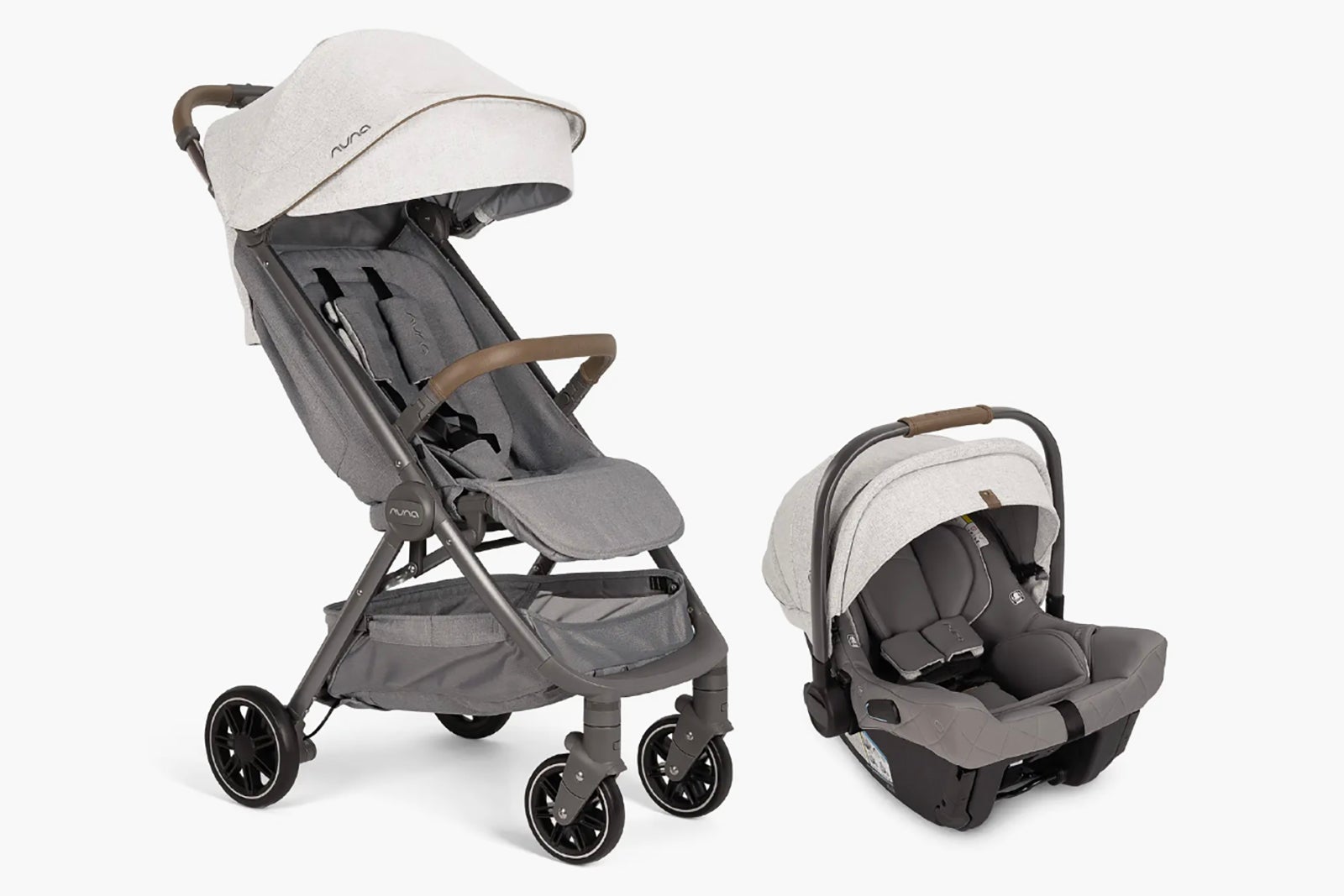 Why the NUNA is a good travel stroller
The PIPA urbn + TRVL system from NUNA is one of the most lightweight and easy-to-use travel systems on the market. The included infant car seat has a baseless latch installation system, so you can use it in a cab, ride-hailing vehicle or airplane seat as easily as you can use it in your own car.
With the car seat removed, the stroller base folds with one hand to a super-compact size that makes it easy to carry. You can even utilize the included carry bag or remove the wheels for an even smaller folded size if necessary.
TPG's director of marketing, Caroline English, uses the NUNA with her child at home and on the road. "It's great on smooth surfaces and can do a full 360-degree turn on a dime," she said. "Also, the folding is incredible. On a recent trip to Cape Cod, we could fold it up small enough to bring into restaurants and carry it around easily," she added.
The NUNA also comes with a UPF 50+ shade canopy, leather-like accents and a storage basket. Once your baby has outgrown the PIPA urbn car seat, the TRVL stroller's toddler seat can be used for children up to 50 pounds.
Tips for flying with a travel stroller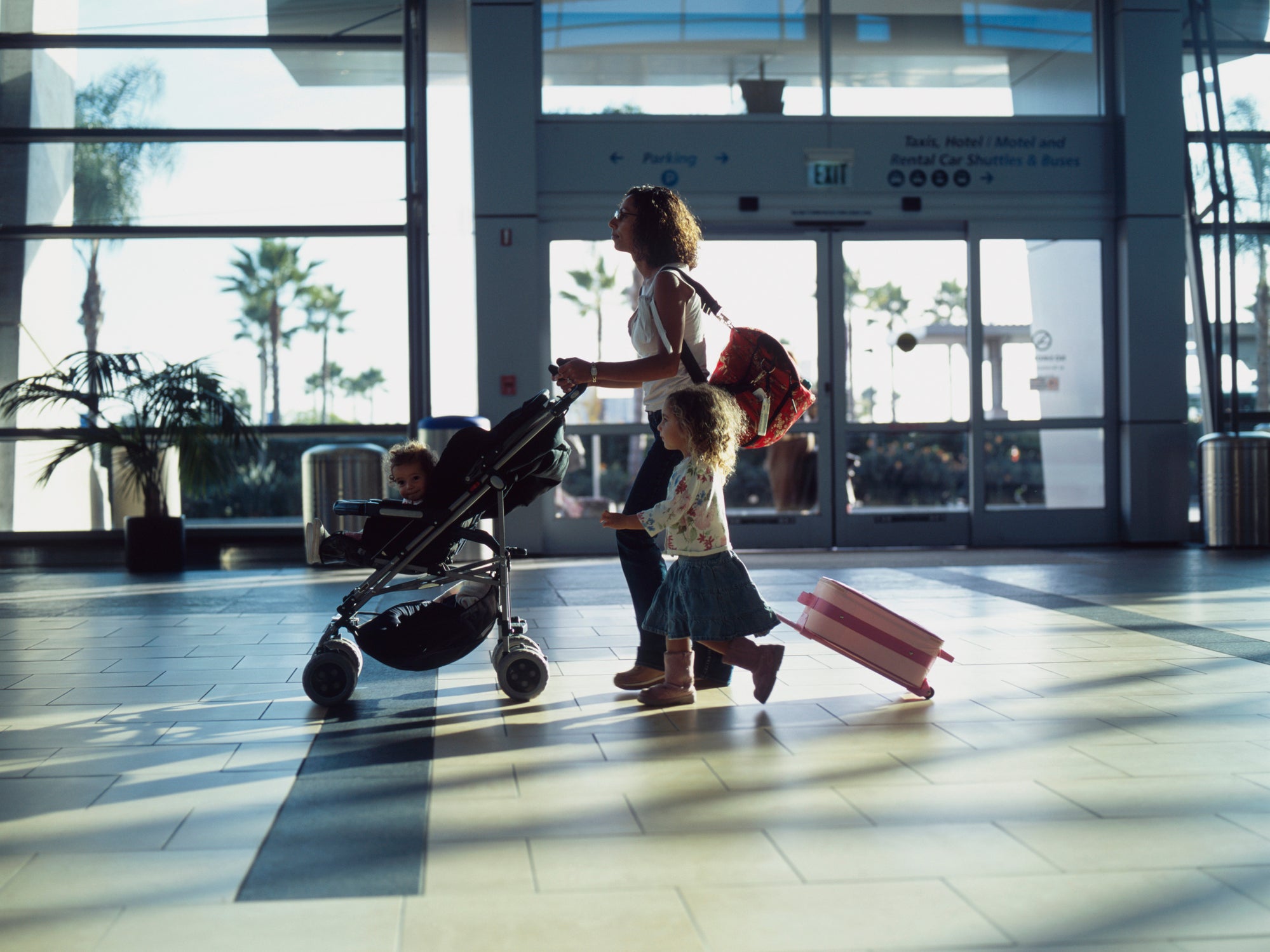 Where and how to check your stroller when flying
Some airlines require you to check your stroller at the gate; others have rules about checking it at the ticket counter if it's greater than a certain weight.
It's more convenient to take your travel stroller to the gate, as your little one can ride (or nap) in it until you board. If you prefer to check it earlier, though, you can do so at the ticket counter and use a baby carrier to get your baby or toddler through the airport.
Before you get to the airport, make sure you check the regulations for the airline that you're flying so you're adequately prepared for what's to come. Some compact strollers are designed to fit in overhead bins, but whether they will be allowed on board depends on the stroller, the airline and ultimately the flight attendants.
Related: 21 airline stroller policies around the world

Preventing damage
When checking your stroller either at the gate or the ticket counter, it's best to take a few photos before traveling. That way, if the stroller arrives damaged, you may have an easier time proving a claim. Each airline has its own rules about what is eligible for a claim, and some, like Southwest, do not cover any type of damage, only loss.
To reduce the chances of damage, cover your stroller with a storage bag when you check it. One may come with your stroller when you purchase it, depending on which model you choose. You can also order a cover for your car seat and/or travel stroller on Amazon.
Unfortunately, you should also always have a backup plan at your destination in case your stroller is lost or damaged, as this can and does happen. It is also a good reason to consider some of the smaller and/or less expensive strollers for travel unless you have a true need for a more robust model.
Make note of a website for stroller rentals in your destination in case you need to resort to plan B. Also, don't rule out a quick trip to a local Walmart or Target, where available. Airline baggage claim offices also sometimes have basic strollers available for use in the case of delayed or damaged strollers.
Getting through security
You will typically be asked to fold up the stroller and place it on the belt when going through TSA checkpoints. If your stroller is not foldable or won't fit on the belt, it may not be the best for travel through the airport — but security can do a visual or physical inspection of it when they deem it necessary.
Bottom line
Picking the right travel stroller greatly depends on your situation. There's no perfect one for all scenarios and situations, so you need to prioritize what matters the most for your trips. Do you want it to fit in the overhead bin? Do you want it to be economical so it's not a huge hit if it is lost or damaged on your trip? Do you want it to be the most comfortable option for your baby for those trips when they will be spending long periods of time in the stroller?
The most compact stroller may not be the best stroller for rugged terrain, and a stroller designed for a newborn may not be the best choice once your child is older.
Once you've figured out what you need and want to prioritize, you can more easily decide which travel stroller on this list best fits your budget, travel preferences and family.
Additional reporting by Lori Zaino.