Come 2024, Americans and Brits will be required to apply for European Travel Information and Authorisation System authorization and pay a small fee to visit Europe.
ETIAS is set to launch sometime in 2024, though the launch date has been pushed back many times (and could be again). In fact, the region has talked about instituting the program since 2016.
The new program will require travelers from countries outside the Schengen Area of Europe to fill out an application before arrival and pay a fee of 7 euros (about $8 or 6 British pounds) to enter any European Union or Schengen Area country.
What does this mean for future trips to Europe? Here's everything you need to know about the new ETIAS program.
What is the ETIAS 'visa'?
ETIAS is a visa-waiver program similar to the current Electronic System for Travel Authorization used in the U.S. for European visitors.
The form will act as a preauthorization system to allow travelers from 63 countries outside the Schengen Area, including the United Kingdom and the U.S., to enter the region for up to 90 days within a 180-day period without a full visa.
ETIAS will cross-check visitor information with government databases and watchlists before issuing authorization to enter. The information collected will also be used in data tracking for business and tourism purposes.
Why is the region rolling this program out?
"We need to know who is crossing our borders," Jean-Claude Juncker, former European Commission president, said. "This way, we will know who is traveling to Europe before they even get here."
Is ETIAS a visa?
ETIAS is not a traditional European visa and will only require a seemingly quick online application.
You'll fill out an online form with basic personal information, travel plans and history and answer a few security questions. The authorities promise that most applicants will be approved within an hour. However, if your application is flagged, it could take up to four days.
Which countries will require ETIAS?
Quite a few nations will require ETIAS approval. They include full Schengen members that previously didn't require any authorization for Americans, such as Spain, France and Italy.
Also included are European Free Trade Association nations like Iceland, Norway and Switzerland.
Several future Schengen member nations, including Bulgaria and Cyprus, and smaller territories like Andorra and Monaco will also require ETIAS.
Here is the full list of counties that will require ETIAS:
Andorra
Austria
Belgium
Bulgaria
Czech Republic
Cyprus
Denmark
Estonia
Finland
France
Germany
Greece
Hungary
Iceland
Italy
Latvia
Liechtenstein
Lithuania
Luxembourg
Malta
Monaco
The Netherlands
Norway
Poland
Portugal
Slovakia
Slovenia
Spain
Sweden
Switzerland
Do American and UK citizens need to apply for ETIAS?
American citizens (and those from the 62 other non-European Union countries that are not currently required to apply for visas — including the U.K.) will need ETIAS authorization to enter the EU for visits of up to 90 days. This includes transit passengers.
If you have applied separately for a visa to enter Europe, you will not need to complete the ETIAS application.
How much will ETIAS cost?
The ETIAS will cost 7 euros (about $8 or 6 British pounds) for a three-year permit that allows "third-country nationals" to enter the Schengen Area for up to 90 days within a 180-day period.
Only visitors between 18 and 70 will need to pay the application fee, but all ages will need ETIAS authorization to enter.
How do you apply for ETIAS?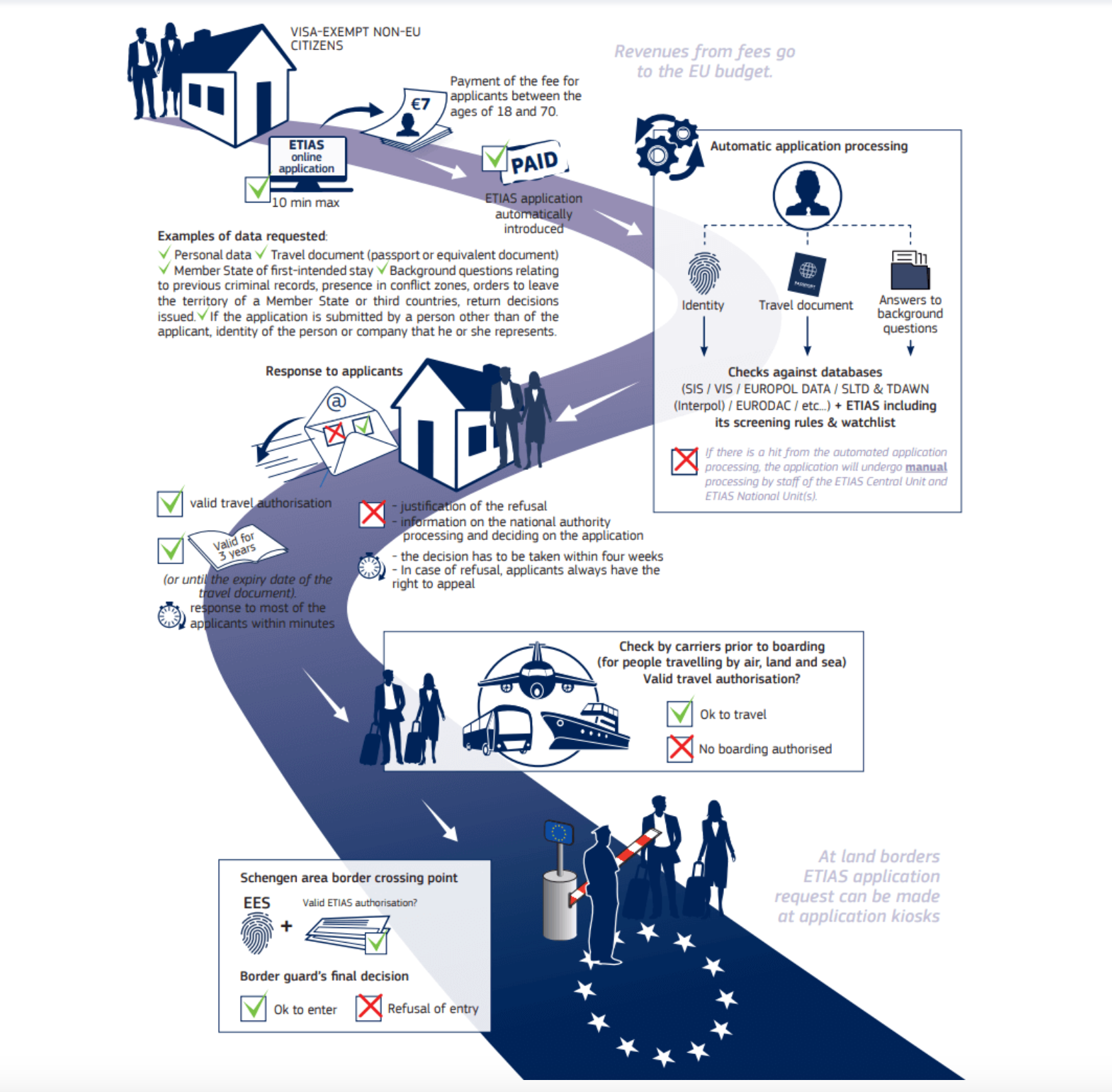 Before traveling, you must access the ETIAS online application to input passport information, name, date and place of birth, email address, phone number and a credit or debit card to submit the payment fee.
You'll also need to provide your destination and answer a few background and profile questions. The ETIAS website indicates the form should take about 10 minutes to complete.
Travelers will be asked to provide details of health, education and criminal convictions.
Here is what you'll be required to fill out, according to schengenvisainfo.com:
Biometric information, including your first name, last name, last name at birth, date of birth and place of birth
Information regarding your citizenship
Address
Email and phone number
Education and work experience
First EU country you intend to visit
Background and eligibility questions about your medical condition, travel to war countries or places where you were deported or rejected, as well as criminal records
For minors, the legal guardian must apply for ETIAS
For family members of EU citizens from other countries, you must submit proof of relationship, residence card and other background information
How long will the approval process take?
Approval for most applicants should take a matter of minutes. However, a manual review will occur if an item is flagged in the application. The applicant can correct the improper information or appeal a denial decision.
When will ETIAS start being required?
The launch of this long-planned system has been pushed several times over the years, but it sounds like it could finally happen in 2024.
At that point, airlines, cruise ships and other transport systems will be required to check for ETIAS authorization before allowing passenger boarding.
All visitors will be required to complete the application process before traveling. At land borders, visitors should also, in some locations, be able to complete the application at an electronic kiosk.
How long does ETIAS last, and will I need to apply for each Europe trip?
Once approved, your ETIAS will be valid for up to three years and can be used on multiple trips. You won't be required to apply for a new ETIAS each time you travel to Europe unless it's been more than three years since your last visit.
After three years have passed, you will be required to apply for a new ETIAS.
Is there a renewal process?
When your ETIAS is coming up to its expiration date, you should receive an email to the address you registered during your application.
You can apply for a new ETIAS authorization up to 120 days before the expiry of the current ETIAS.
How will your personal data be stored?
The European Commission has attempted to soften privacy fears by insisting that the ETIAS is not a visa and includes a far less intrusive application process.
"There is no need to go to a consulate to make an application, no biometric data is collected, and significantly less information is gathered than during a visa application procedure," the European Commission said.
Bottom line
Fortunately, Americans and Brits planning to visit Europe don't need to take any immediate action.
However, be prepared to go through one more step and pay one more fee in the travel process as part of the ETIAS implementation sometime in 2024. Stay tuned to TPG for further developments related to this program.
Related reading:
Additional reporting by Jordan Waller, Matt Blake and Bill Fink.